6 Shops Where You Can Buy the Best E-scooters in Singapore for Kids
Looking for the perfect gift for your kids? Then you may consider the best e-scooter in Singapore as one of your options.
They'll absolutely love something that they can ride on whenever they want to play around. Unlike traditional scooters, e-scooters come with automatic functions that secure the safety of your child.
Anyway, here's our list of shops where you can buy the best e-scooters in Singapore! All of these carry scooters that are designed with ensured safety features and offered with affordable prices!
1.

MINIMOTORS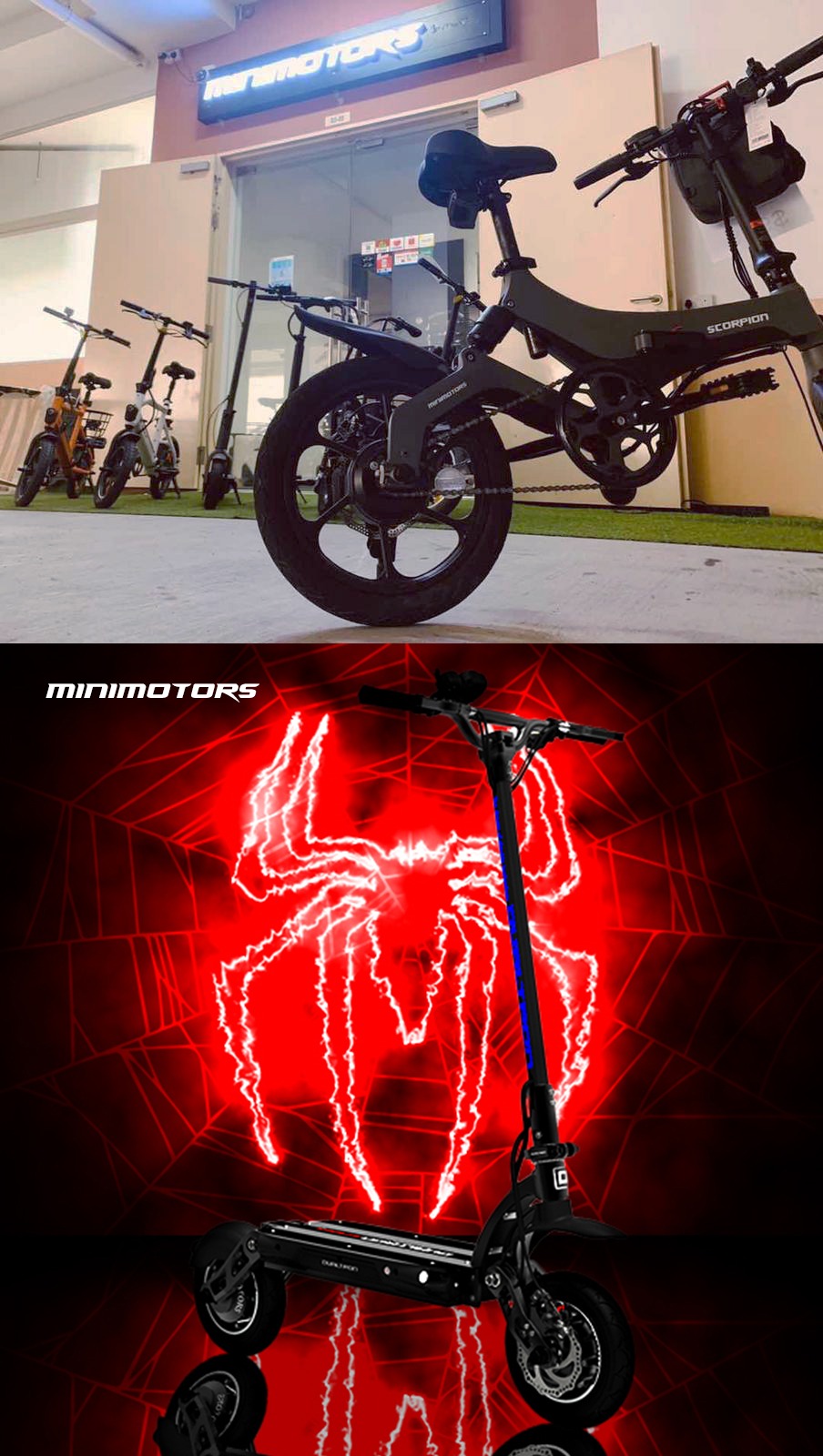 | | |
| --- | --- |
| BEST FOR | High – End Electric Scooters |
| PRICING | Shop |
| WEBSITE | https://minimotors.sg/ |
| ADDRESS | 11 Woodlands Close #03-05, Singapore 737853 |
| CONTACT DETAILS | WhatsApp/Call: 89403744 | [email protected] |
| OPERATING HOURS | Monday-Friday: 11AM-8AM Saturday-Sunday: 1-8 PM |
Minimotors creates machines that will bring you to places as safely as possible while giving you maximum comfort and satisfaction. They continue to build stronger and faster vehicles that aims to go further.
Their eScooter models are the hottest products on the market in 8 different countries. You can even personalise them with accessories of your choice. Minimotors has the longest warranty period with its 12 months of extended warranty.
Highlights
After sales services
Wide range of accessories
2. Decks and Scooters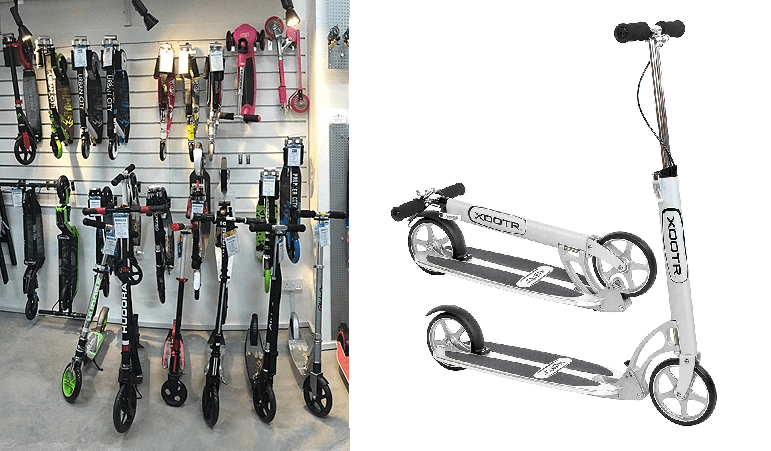 BEST FOR
Kids scooters replacements
PRICING
Collections
WEBSITE
https://www.decksandscooters.sg/
ADDRESS
Unit 03-12A (beside staircase) LTC Building B (formerly Lion Industrial Building B) 12 Arumugam Road Singapore 409958
CONTACT DETAILS
6519 0241
OPERATING HOURS
Weekdays: Closed, 7pm to 8pm by appointment only.
Weekends: 12:30 to 6 pm
Being a kick scooter specialist shop, Decks and Scooters has an excellent collection of kids scooters. They feature established brands such as Micro, Madd Gear, MicMax, and Zycom.
They also provide a buying guide for choosing the right scooter for kids so you can easily determine which one best suits your kid's age. Pieces for replacements are also part of their services, making it easy for you to repair any damage.
Highlights
Kids scooter accessories
Rental services
Customer Reviews
Customers complimented the knowledgeable staff and the wide range of Decks and Scooters' collections. A customer posted this review on Google Reviews:
"Great service and very knowledgeable boss. He was very patient in explaining all the various scooter and recommending the right one for my kid."
3. Falcon Pev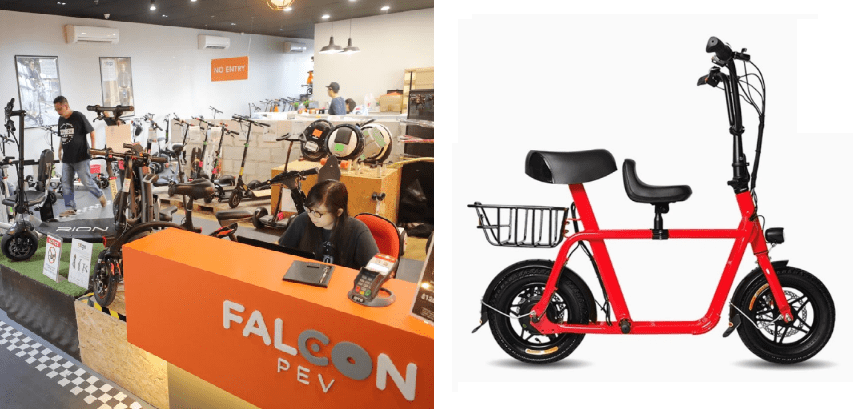 | | |
| --- | --- |
| BEST FOR | Seated electric scooters |
| PRICING | Collections |
| WEBSITE | https://www.falconpev.com.sg/ |
| ADDRESS | 2 Alexandra Road #06-06 Delta House Singapore 159919 |
| CONTACT DETAILS | +65 6745 7882 |
| OPERATING HOURS | Mon – Sat: 10am – 7pm |
Falcon Pev features a generous range of high-quality e-scooters and e-bikes. Each of their products is made with absolute portability, a strong build, and flexible functions.
For the parents who want to have a matching e-scooter with their kids, their selections are mostly designed with a chic black style suitable for everyone! Moreover, if your kid is around 12 years and above, you can definitely find the ideal e-scooter at this shop.
Most of their collections are being sold by some of the leading dealers around the island. That's because they have some of the best e-scooters in Singapore.
Highlights
Specialises in e-mobility
Spare parts services
Customer Reviews
Most customers had a satisfying experience at Falcon Pev as they mentioned the inclusive advice and services of the friendly staff. A customer from Google Reviews wrote:
"Just purchased two e-scooters at Falcon PEV. Great experience! Received comprehensive advise to select the right scooter. Tucker: also many thanks for your registration support. Looking forward to our first rides!"
4. PassionGadgets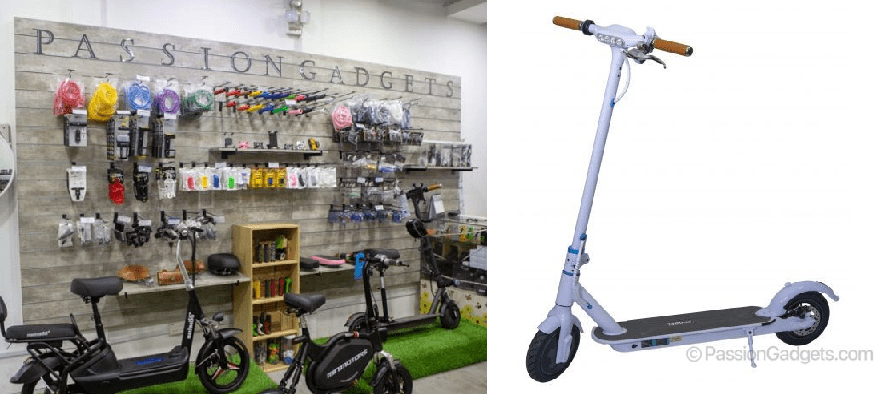 BEST FOR
Affordable e-scooters
PRICING
Collections
WEBSITE
https://www.passiongadgets.com/
ADDRESS
1 Irving Place, #01-16 The Commerze @ Irving Singapore 369546 (Nearby Tai Seng MRT)
OPERATING HOURS
Mon – Fri: 10am – 7.00pm
Sat – Sun: 10am – 6.00pm
(Mon-Sun Avoid Lunch 2-3pm)
(Closed on Public Holidays)
If your kids prefer a chic style over bright colours, then PassionGadgets may have the best e-scooter in Singapore for them! Their collections mostly consist of either black or white designs for a stylish look.
Unlike other stores, they offer high-quality e-scooters for as low as $400. This is a great deal for those who are on a tight budget!
Highlights
Special promotions
Wide range of products
Customer Reviews
Passion Gadgets has received a lot of positive responses from customers saying that they truly offer cheaper prices despite the competent quality. A customer gave this feedback on Google Reviews:
"This place sells Escooter at level 5. The shop name is Passion Gadgets . For those who wanna buy e scooter , this is the best place to visit. The price is quite cheap and affordable. They also provide repair servicing.. Highly recommended"
5. Scooter Hub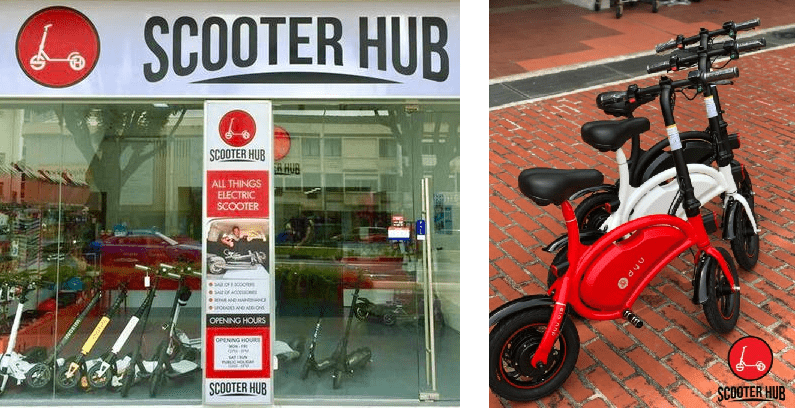 BEST FOR
Repair and maintenance services
PRICING
Collections
WEBSITE
https://www.scooterhub.com.sg/
ADDRESS
Blk 354 Clementi Ave 2 #01-212 S120354
CONTACT DETAILS
+65 8202 4885
OPERATING HOURS
Tuesday to Friday: 12–8pm
Weekends: 10am–6pm
Scooter Hub sells a variety of e-scooters with different types, styles, and colours, giving you a bunch of collections to choose from! They feature well-known brands such as XiaoMi, Tempo, Fildo, and DYU.
Electric bicycles and accessories can also be found in their shop. They also consist of a group of skilled technicians who provide repairs, maintenance, add-ons, and upgrade services for any electric scooter model — this is why they're said to offer the best e-scooters in Singapore!
Highlights
Additional services
Local warranty
Customer Reviews
Scooter Hub has earned the trust of many customers with their reliable services and quality products. A customer left this post on Google Reviews:
"Friendly service. Bought a escooter from them. The staff was friendly and knowledgeable. As a 1st time buyer i have lots of wierd and funny questions. Staff was happy to answer all my questions. Feel so happy that i make my purchase at Scooter Hub Clementi. Thank you for the service."
6. Inlinex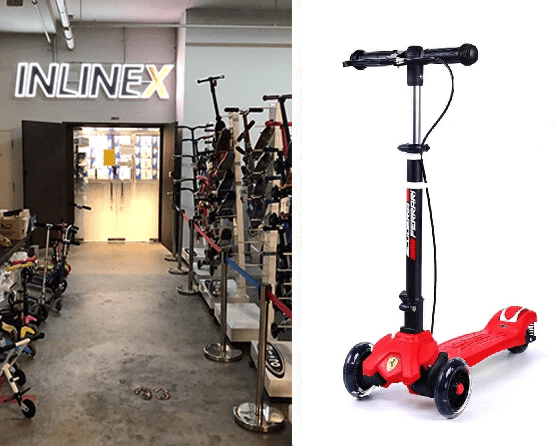 BEST FOR
Wide range of scooters
PRICING
Collections
WEBSITE
https://www.inlinex.com.sg/
ADDRESS
3 Ang Mo Kio St 62 #02-13 [email protected] Singapore 569139
CONTACT DETAILS
6858 2887 / 8123 3425 Whatsapp
OPERATING HOURS
Mondays – Fridays: 12.00 pm to 8.00 pm
Weekends and Public Holidays: 10.00 am to 8.00pm
Inlinex is widely known to be the biggest Singapore shop that features a full range of skate and roller blades, scooters, and skateboards. When it comes to their e-scooter products, their top sellers are the ones made for kids!
Their kid's scooters come from famous brands like Razor, Micro, Madd Gear, Zycom, and more! They have lightweight and durable designs, making it long-lasting and efficient.
They're also available in vibrant colours and for more safety, protective gears are also provided at their shop. These are the reasons they're said to have the best e-scooters in Singapore!
Highlights
Free local and Asia delivery
60 days exchange policy
Customer Reviews
Many customers have recommended the accommodating customer service of Inlinex. A customer from Google Reviews shared this experience:
"Joseph was fantastic and explained the various pros and cons of the e-scooters that I wanted to buy. Additionally, due to my unique schedule, he was able to offer a solution to accomodate my timelines! This was so refreshing as most other shops did not even have this option. If anything, this should be an example of great customer service and business and should serve as a model to how businesses should be done (at least in SG). Totally recommend InlineX.
Keep up the gr8 work InlineX team!"
And that's a wrap for our list of the best e-scooters in Singapore! If you've got more e-scooter shops in mind, share them with us and tell us all about their offered products and services!
If you'd like to try some online shopping too, see our other list of shops (online ones this time) for the best kids' scooters in Singapore! For those who don't have enough time to visit a store, those shops should be just what you need.
*Images are taken from each company's official websites/social media.