The 5 Best Private Driving Instructors in Singapore
Want to take some driving lessons for beginners or corporate training? If so, there's nothing better than taking lessons from the best private driving instructors in Singapore — you'll have more comprehensive courses and focused attention on your skills.
There are tons of private driving centres on the island, though, so it might not be easy to find the most reliable ones. We'll help out with that today by listing the best private driving instructors in Singapore.
If you're wondering how we got our picks, we've selected the most recommended places that offer inclusive driving lessons, professional instructors, as well as reasonable rates. Here they are:
1. Bukit Batok Driving Centre

BEST FOR
Full range of driving lessons
WEBSITE
https://www.bbdc.sg/
ADDRESS
815 Bukit Batok West Ave 5, Singapore 659085
CONTACT DETAILS
1800 666 8888 (hotline) | (65) 6561 1233 (Tel)
OPERATING HOURS
Customer Service Operating Hours
Mon – Fri: 08:30 – 19:30hr
Sat & Sun: 08:30 – 13:00hr
Closed on Public HolidaysTraining Operating Hours
Mon – Fri: 07:30 – 22:50hr
Sat & Sun: 07:30 – 15:00hr
Closed on Public Holidays
Bukit Batok Driving Centre is one of the leading driving schools in Singapore. They offer different types of courses where you can learn how to ride a motorcar, motorcycle, and bus.
They offer systematic training that'll match your pace. Their quality training includes safe driving tutorials, risk forecast, driving circuit lessons, and many more.
They also provide a proven track record to monitor your progress and 1-year personal accident insurance.
Highlights
1-year personal accident insurance
No extra charge for driving circuit lessons
Customer Reviews
Bukit Batok Driving Centre has received countless positive reviews from customers who've experienced their inclusive lessons and met with their friendly instructors.
This is why they're considered to have the best private instructors in Singapore. A customer from Google Reviews posted this review:
"One of the major driving school and test centre in issuing drivers license in Singapore. Famous for providing professional knowledgeable yet attentive approachable instructors with timely comprehensive advice for all classes of driving licenses including motorcycle scooters lorries long vehicles and safety driving refreshing courses. Conveniently located at neighbourhood heartland of Bukit Batok walking distance to Bukit Gombak MRT station and HomeTeamNS Bukit Batok with plenty of dinning shopping Fairprice entertainment supermarkets and amenities nearby. Friendly cosy comfy welcoming ambience for romantic intimates groups students expats locals visitors and families.."
2. Singapore Safety Driving Centre

Singapore Safety Driving Centre is known to have the world's first multi-storey driving circuit, so whether you're a novice driver or someone who wants to try different courses, they have all the services that you need.
They offer driving courses for motorcar, motorcycle, heavy vehicle, and more. You can take a look at their class schedule online so you can see if you can manage to fit it into your daily routine.
Highlights
Heavy vehicle course
Shuttle bus service
Customer Reviews
Many customers mentioned the professional and accommodating staff as well as the convenient location of the centre. Some even claimed them to have the best private instructors in Singapore.
A customer left this feedback on Google Reviews:
"Friendly and helpful staff and instructors. Took my 2b, 2a, 2 and 3. Passed easily with flying colors. Hope I revoke license soI can retake it again from this school. Love ssdc. Because near my house too and traffic here very smooth."
3. ComfortDelGro Driving Centre

The ComfortDelGro Driving Centre offers a wide range of courses including motorcar, motorcycle, as well as traffic police driving course and re-training. They have a group of some of the best driving instructors in Singapore who specialise in certain courses so you can receive proper and comprehensive lessons.
They also provide corporate training where they have defensive riding, driving training, assessment tools, and workshops. You can also convert a foreign license through their services.
Highlights
Unlimited circuit usage
24/7 online service
Customer Reviews
Most customers have expressed their gratitude and delight towards the instructors who were very attentive and patient during lessons. This is the main reason they're known for their best private instructors in Singapore.
A customer left this post on Google Reviews:
"Had so much fun taking my class 2B here. Each and every instructors are nice and thoughtful and will help you every way for you to pass and get your license. Especially if you're struggling or if you need help, they'll always be there to guide you. Overall it was fun and definitely a memorable experience with them."
4. Driving Instructor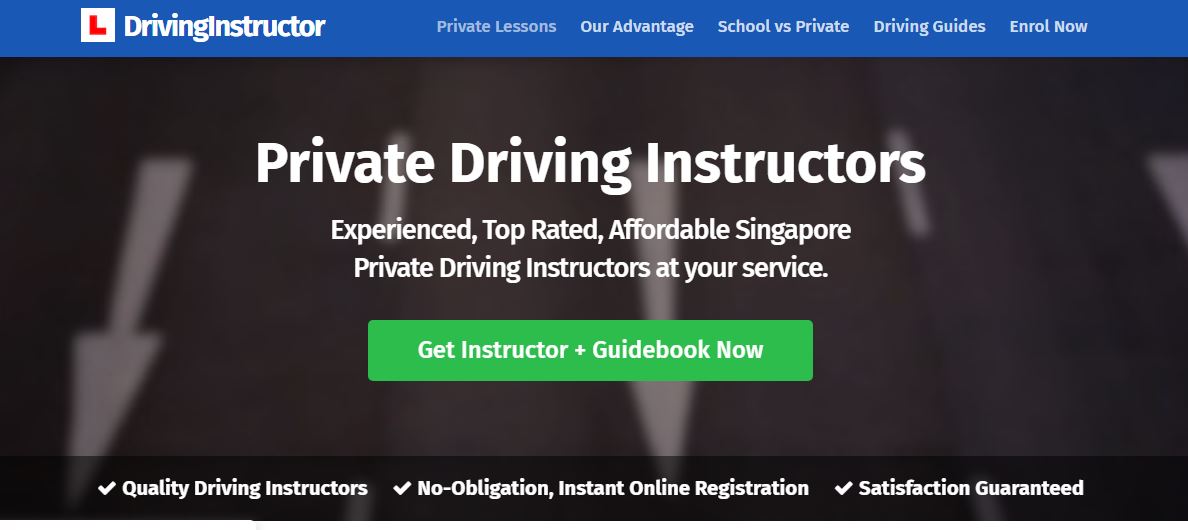 Driving Instructor features well-experienced and top-rated instructors who'll help you learn how to handle manual and automatic cars. They also offer the lowest possible rate, which is $57 per lesson.
After online registration, within 48 hours, they'll provide the best driving instructor in Singapore for you. They're also available for weekend lessons, making it easier for you to include the classes in your busy schedule.
Highlights
Weekend lessons
Online Registration
Customer Reviews
Customers were very satisfied with the overall services of Driving Instructor. They complimented the skills of their best private instructors in Singapore with reviews like this one from Google Reviews:
"It was so easy and affordable to register on the website compared to the others, and that's not even mentioning the instructor's skill and coaching ability! I absolutely loved the service provided."
5.  Private Driving Singapore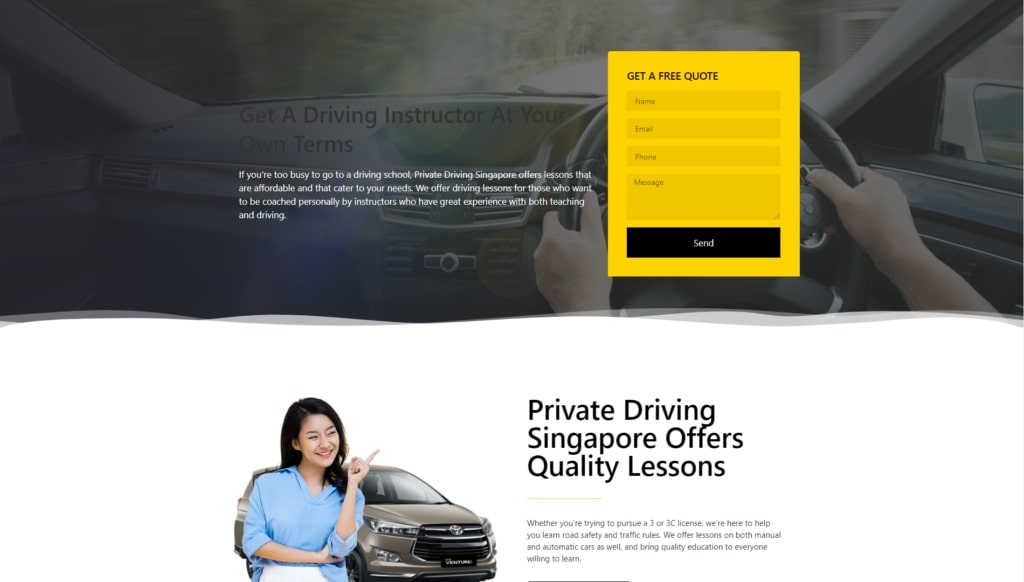 Private Driving Singapore offers quick, affordable, and effective driving lessons. Their services are particularly useful for people who don't have time or budget to go to a driving school.
Their driving instructors are experienced when it comes to not only driving, but also teaching others to drive. They offer lessons for both manual and automatic cars.
Scheduling won't be an issue, since they'll make sure to adjust to your free time. As long as you're willing to learn, Private Driving Singapore will do their best to help you get your driver's license.
Highlights
Flexible schedule
Affordable rates
And that's our list of the best private driving instructors in Singapore! If you'd like to suggest more options, share them with us, as we'd like to know more about their services.
It might also be helpful for you to see these options too for the best car insurance in Singapore. They offer different kinds of insurance for novice drivers, corporate drivers, and more… and you'll definitely need that once you hit the roads by yourself.