The 20 Best Gift Delivery Services in Singapore
Are you having a hard time finding the perfect gift for a friend's birthday? Well, we're about to make things a lot easier for you with our list of the best gift delivery services in Singapore.
Not only do our picks have an extensive collection of gift items, but they can make sure that your present reaches your friend on time too! You'll get to know more about them here, along with what customers have to say about them.
Before we start, though, we'll go over how much Singaporeans typically spend for presents each year to help you prepare your wallet.
The Best Gift Delivery Services in Singapore
Now that you have the general idea of how much to spend for gifts, let's go over our picks for the best gift delivery services in Singapore!
1. Giftano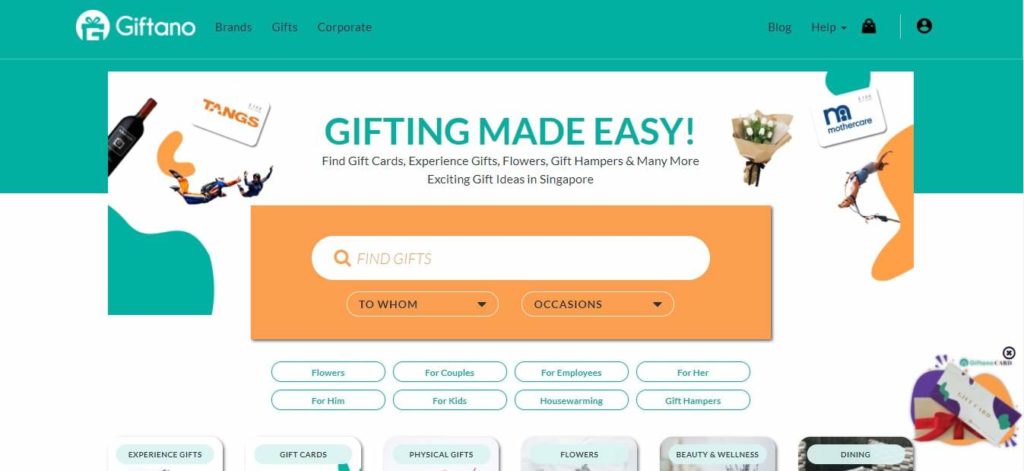 If you have a friend who loves gift cards and vouchers, you'd want to get them something from Giftano. It's an online gift shop that carries a wide selection of handpicked and premium gift items, ranging from physical to experience gifts.
These aren't your ordinary gift cards and vouchers. The ones sold at Giftano's give recipients access to the services and products of the largest retail stores, grocery chains, dining spots, and fashion stores all over the island.
Some of these brands include Spa Infinity, Garibaldi, The Market Grill, The North Face, Palate Sensations, Cold Storage, GrabFood, Gastrobar, and many more. Who knows, your favourite restaurant and spa may be included here!
Another thing we like about Giftano is its user-friendly online store that anyone can easily navigate, even those who aren't tech-literate. You can browse its collection by occasion, type of gift, brand, and price.
Apart from gift cards and vouchers, Giftano also sells traditional gifts fitting for any type of occasion, including flowers, gift hampers, and corporate gifts. We're more than sure that you're going to find what you're looking for here.
To top it all off, Giftano doesn't charge any shipping fee. It sends out orders as soon as possible as well, so no need to worry about your friend receiving their gift a day or two late.
Customer Reviews
Here are some comments from customers:
"I love Giftano! I have bought gift cards a few times via the platform and it never fails. Their customer service is very prompt and professional. I will definitely use their service again." -Lucas
"I'm a last-minute person and rarely have time going around the city buying gifts. That's why Giftano is SO convenient! I think they have a great selection of merchants and so far they have always delivered as promised, in a timely manner." -Tracy
2. The Imprint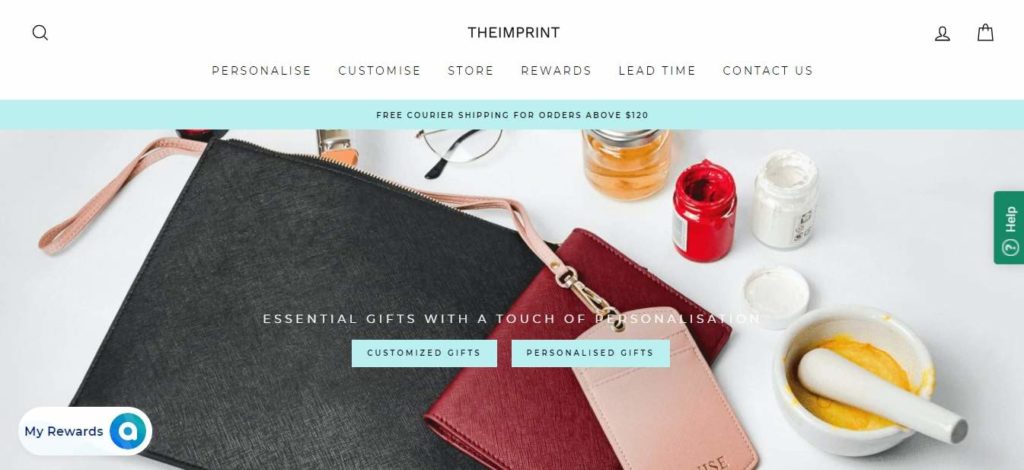 Do you need budget-friendly gift recommendations in Singapore? In that case, there's no better online gift store to check out than The Imprint.
For one, it makes every gift stand out by monogramming it with the initials of the recipient, making your present even more special. It customises a bunch of everyday essentials like laptop sleeves, phone cases, cardholders, notebooks, and lanyards, among others.
We like that its gift items can match any type of personality. If you have a friend who loves travelling, then he'd surely want a personalised passport holder, while a sociable and extroverted friend would appreciate a customised phone case.
However, we can't really recommend The Imprint for last-minute gifts because of the longer production time. It takes about one to four days to customise an item, so make sure to order ahead of time.
In terms of deliveries, customers can choose between free shipping or courier shipping. The former takes about two to nine days, while the latter guarantees that your gift will be delivered in less than three days.
Customer Reviews
Here's what a customer had to say about The Imprint:
"Highly recommend purchase from The Imprint. Delivery was within 3 days and the quality was top-notch. The laptop bag was nicely personalised as requested and the texture of the bag was furry and comfy. I recommend choosing the tracked courier method as tracking will be provided via email which is very efficient. Love the product and the great service." -RK
3. Rainbowly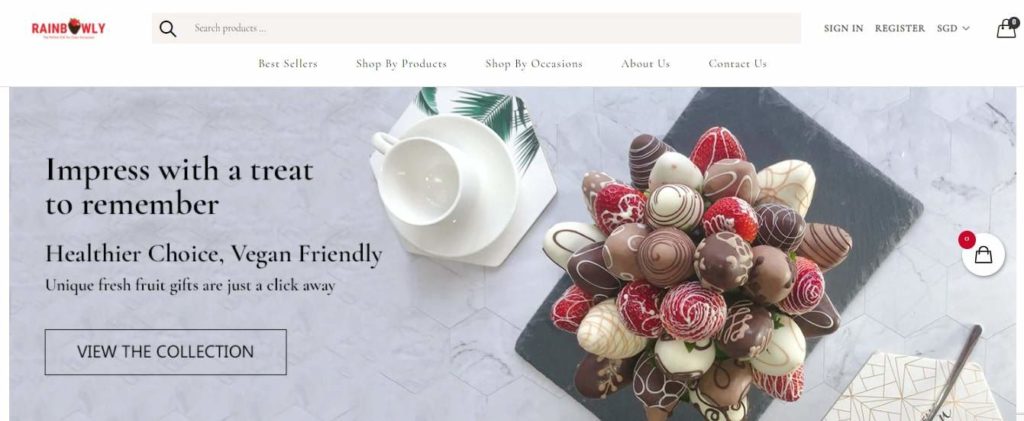 Established in 2013, Rainbowly is a fruit arrangement company in Singapore specialising in a variety of healthy gift options. Here's why it earned a spot here:
For one, its fruit baskets are nothing short of gift worthy as they're made with fresh fruits and high-quality ingredients. Every order is prepared on the day of delivery, so there's a guarantee your present will arrive as if the fruits were just picked.
Its expertise doesn't end with making amazing fruit baskets, though. Whether it's a gift hamper or a flower bouquet, the folks at Rainbowly will make sure that your present will match the vibe of the occasion.
Rainbowly's fruit baskets and chocolate hampers have been called "Instagram-worthy" too, but that's no surprise given that its artists are trained in the UK. That should give anyone an idea of how presentable its gift items are.
Like our previous pick, Rainbowly has an expensive shipping fee. It delivers islandwide at a flat rate of $20 per address, so make sure your pockets are prepared if you're sending gifts to more than one person.
Customer Reviews
From the easy ordering process to receiving their orders, Rainbowly is considered one of the best gift delivery services in Singapore. Take a look at what a customer named Viv had to say:
"From ordering online, to making changes to the message, the customer service was fantastic! During delivery they even asked if they can call the recipient directly to check if he is home to receive the item. The final item when delivered is as beautiful as what they had shown on the website. Totally impressed with them and the careful handling of the customer. Highly recommended and definitely going to buy from them again!"
Fenny shared this comment on Google Reviews:
"My 3rd order with Rainbowly and they never fail to impress! Service is great, they are very accommodating. I am so ashamed to say that I may be one of the difficult customers from trying to choose my own colours of wrappers and sprinklers to arranging my preferred time slot for delivery. Their response is always one with the best heart of the customers. My recipients felt so loved with their gifts & the amazing presentation. Highly recommended for people looking for unique gifts that are well designed with good quality berries."
4. Printcious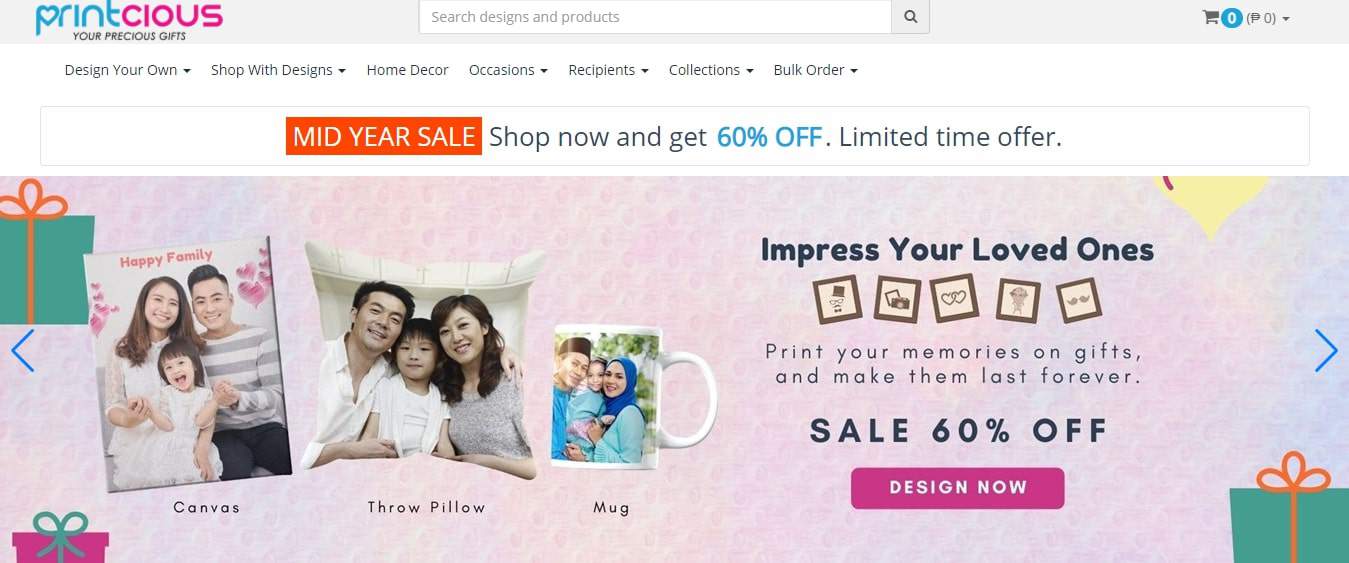 If you want a gift to celebrate your friendship with someone, Printcious might have what you're looking for. It's a printing shop that personalises any item that you can think of, from throw pillows down to coffee mugs.
Other people may consider personalised items a thing of the past, we think giving one is a sweet and sincere gesture. It's a common gift idea among older people, so surprising your parents with a personalised mug will definitely make them smile.
Printcious also offers personalised gift sets, which typically include a shirt, mug, mouse pads, and a set of pins. You can add other items to the set as well, like phone cases, keychains, cushions, puzzles, and even pillows.
Another reason to consider giving personalised gifts is their budget-friendly price. On top of that, Printcious rewards its customers with discounts as large as 80% off, proving that there's no need to spend hundreds of dollars for a gift.
5. Lanos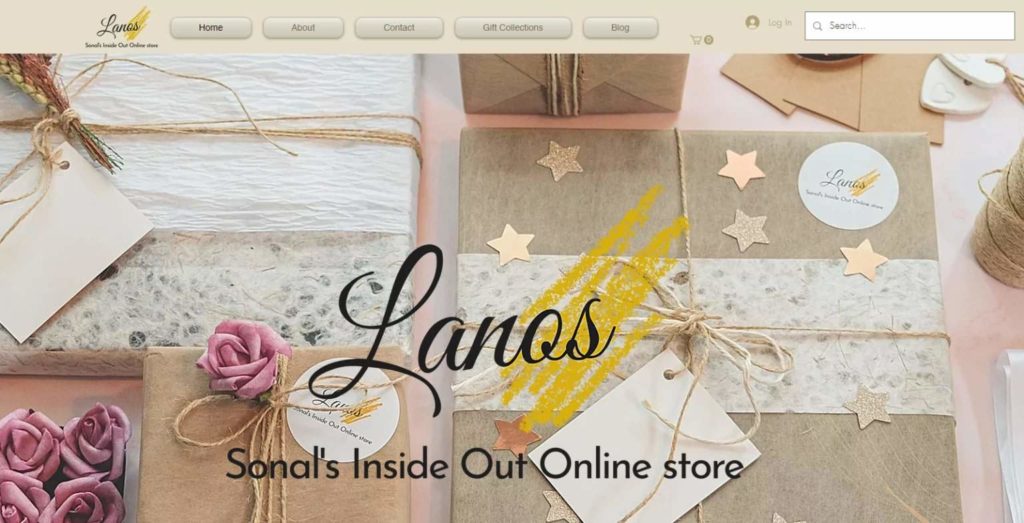 Lanos helps solve the problem of having to go out to buy gifts at the last minute with its specially curated gift collection. Here, you'll get to choose from a wide range of premium and unique items, all reasonably priced!
What we love most about it is that its gift collection changes every month. The chances of getting your friend a gift that's been widely used by other people in Singapore is low if you purchase from Lanos.
Currently, its gift collection includes vintage items, graphic shirts, hand painted tea glasses, white gold jewelry, and other household items. Some products even cost less than $60, which is perfect if you have a tight budget.
Moreover, Lanos's customer service doesn't miss, with staff getting into contact with clients for any inquiries. Customers can also acquire exquisite gift-wrapping at no added cost when shopping here.
In terms of deliveries, Lanos can accommodate both same-day and standard deliveries, but customers who don't want to spend much on shipping are advised to place their orders at least three to four days earlier.
All in all, Lanos is a great choice if you're looking for a variety of unique gift items with shipping fees that won't make your pockets hurt.
Customer Reviews
Lanos has attained a 5-star rating on Google thanks to its high-quality items and great customer service. Here are some comments left by previous customers:
"Thank you very much for your amazing service with such quality gift. Everything is in good order. You put smiles on everyone's face. You guys deserve a 5 star review! Thank you from the bottom of my heart. "
"Very much satisfied with the service. They get in touch with you immediately when you need to ask something. The item bought was beautifully wrapped and all my instructions were met. Will definitely order again from them next time I needed to give someone something unique and special. Thank you, Lanos!"
6. Ferns N Petals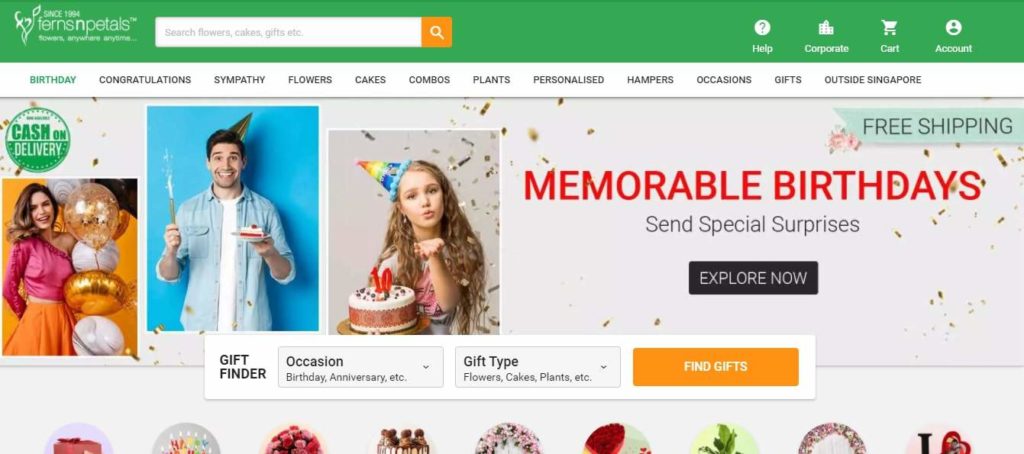 Founded in 1994, Ferns N Petals is a renowned flower shop in Singapore that can make gorgeous floral arrangements for any occasion. It landed a spot here mainly for its extensive collection of fresh blooms, but there's more to it than that.
Its delivery time is one of the fastest we've encountered here in Singapore. Ferns N Petals is perfect for those looking for last-minute gifts as all orders placed before 9PM are eligible for same-day delivery.
More than that, your flower bouquets can reach the recipient in less than an hour, which is something that not only flower stores on the island can do. Orders placed before 9PM will be delivered before the clock strikes midnight.
Ferns N Petals is fully operational even on weekends, so no need to wait for the next business day if you placed your order after the cutoff on Friday. Its customer service is accessible 24 hours a day as well.
Aside from flower bouquets, Ferns N Petals also delivers chocolate hampers, gift baskets, birthday cakes, fruit baskets, corsages, mugs, photo frames, and dried flowers. It's basically a one-stop store for all your gifting needs.
Best of all, Ferns N Petals doesn't charge anything for shipping, not even a cent. Even if your friend is living in the most northern part of Singapore, you can be sure that your present will arrive on time.
Customer Reviews
Take a look at these comments posted on Google Reviews:
"The gift selection & budget range was to my satisfaction. Website was relatively easy to navigate, and payment was simple. Was pleasantly surprised by the numerous emails tracking my order all the way up to delivery and acceptance. My friend sent me a pix of the cake with flowers and thanked me for it, saying it was very nice and everyone loved the cake especially. Am going to place another order this week so please send me my discount voucher pronto so that i can order more :)"-Harold Hee
"Lots of selections and budget range. Easy to use website. Ordering and payment was straightforward and simple. Love the email communication of order out for delivery to being delivered. Saw a Photo of the gift received, very pleased of the quality, Look and presentation:)) thank you. Will definitely use this site for future gift ordering" -Laura Bong
7. Xpressflower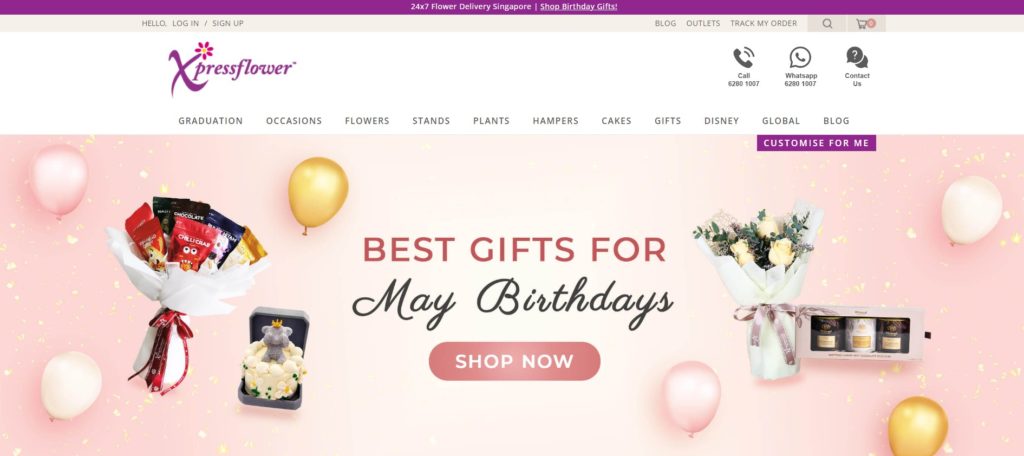 Next on our list is Xpressflower. What we like about them is that their products can be a perfect gift for all occasions including Birthdays, Anniversaries, Graduation, Funeral and more.
Similar to other florists, they offer 24/7 flowers and gifts delivery.
But what makes them stand out is how they are the only Disney-licensed florist in Singapore! So if your loved one is a fan of Disney, scrolling through their website will definitely make it easier for you to find that perfect gift.
Aside from this, we prefer them because they serve online customers via the website and 20 retail outlets island wide. On top of this, their seamless website has a customer service support from 6:00 in the morning to 12:00 midnight.
Regarding delivery, you do not need to worry because, in comparison to other shops, their comprehensive and secure delivery system can give you timely updates to track your order/s.
Customer Reviews
Here are testimonials from their satisfied customers:
"This arrangement is perfect for celebratory openings. It is medium sized and a good choice for venues with limited reception areas. The inclusion of lilies also bring a pleasant aroma to the area."
"XpressFlower is always very prompt in their response. Always there for the customers. keep up the good work!"
"I chose this because of the different bright colours instead of just white. Though it is for a funeral, colours would still brighten up the feeling and give strength to the family."
8. Far East Flora
A gorgeous flower arrangement can convey emotions that no words can – and that's exactly what Far East Flora can do. If you're planning to give a loved one a surprise that's full of flowery love, it should definitely be on your list.
Far East Flora has more than two decades of experience in arranging flower bouquets and gift hampers, and delivering them on time. Its florists can do more than a thousand gift arrangements in total, but customers can request a personalised design.
It has two retail stores located at Thomson Road and City Square Mall, but if you don't have the time to visit any of them, you may opt for its online store. Everything that's displayed at its physical stores can be purchased on its website.
One thing we noticed about its online store is how user-friendly it is, which is good news for older people who often struggle navigating the Internet.
Far East Flora also has you covered if you've just remembered an important occasion. Through its same-day delivery service, you can be sure that your present will reach the recipient within the same day.
By the way, Far East Flora can do international deliveries as well. If you want to send gift hampers to a friend overseas, its staff will take care of that for you.
Customer Reviews
Here are some comments shared on Google Reviews:
"Easy and straightforward ordering experience. Nice selection of wreaths. Only thing I would suggest is more descriptions of the flowers to help us make a fitting choice, for those of us who are not too familiar with the different varieties." -Claire Gaite
"I live in Toronto, Canada now but I always order flowers from Far East Flora for my mom in Singapore. There are so many choices and great prices. My mum loves them and they are always so beautiful. We are always very satisfied with what arrives at her front door. The flowers always bring a smile to my mum's face. Great customer service at well" -Michelle Wood
9. Box Green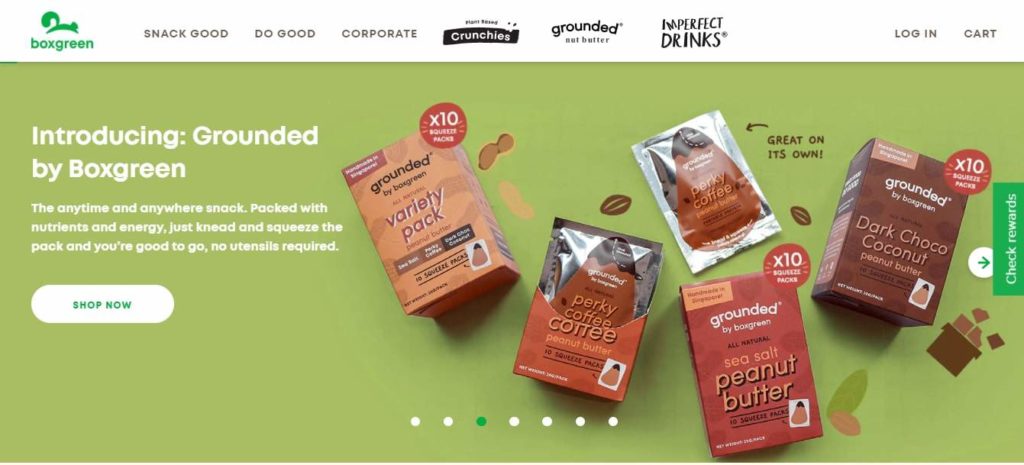 Who says that gift items are limited to stuffed toys, flower bouquets, and cakes? If you have friends and loved ones who are watching their diet, we recommend surprising them with a box of healthy snacks from Box Green.
Box Green carries different types of natural, plant-based crunchies that can be eaten anytime of the day, even as a midnight snack. There's no added guilt because it's healthy, vegan, and free from artificial flavouring.
Instead of grabbing salt-heavy chips whenever you're hungry, Box Green can satisfy your hunger without adding a chunk of calories to your diet.
The best thing about Box Green is that there's no need to consult with a specialist if it's suitable for your diet. Its products are recommended and approved by dieticians and nutritionists themselves.
The average cost of Box Green's healthy snacks ranges from $20 to $100, but if you want a cheaper option, you may customise the box to reduce the cost. Either way, we think it's a steal considering the benefits of its plant-based snacks.
Delivery may take about five days, though, so we recommend placing an order ahead if you want to make sure your gift arrives on their special day.
Customer Reviews
Take the next step to a healthier you, learn from these people who signed up for the meal plan.
"It was a no-brainer for me to sign up. It's convenient and slightly cheaper. Then, what I'm used to buying elsewhere plus I get a good mix and I love surprises so everything is awesome."
"I signed up with boxgreen because I love to snack but I find packing my own packet taxing; more so since it has to be healthy. I love that you have a variety of fruits, nuts, and pretzels. It's easy, convenient, and healthy."
10. Wogi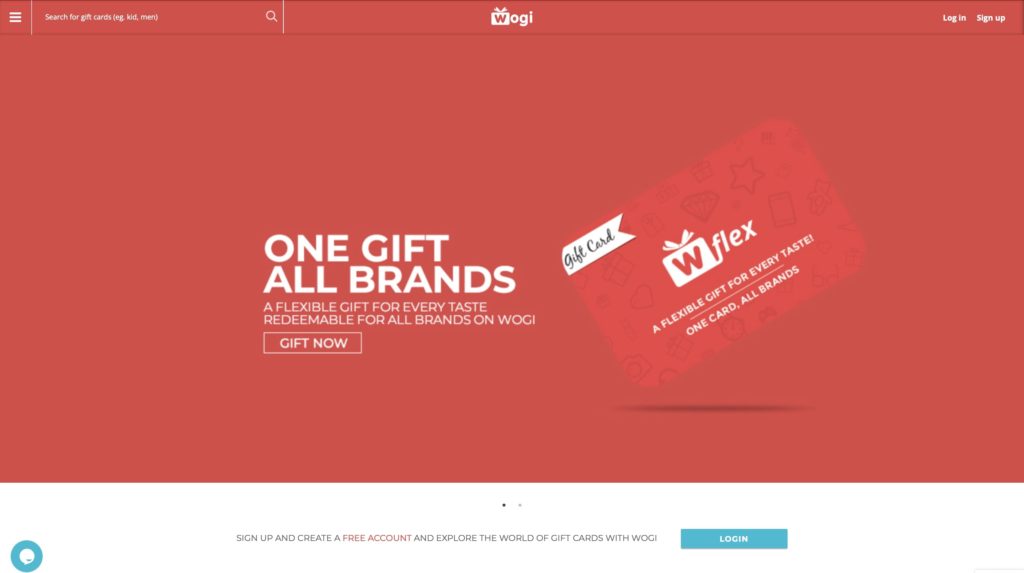 Wogi makes buying and sending gifts as easy as a click, so if need last-minute gift ideas, you might have just hit the jackpot with this one.
There's no better way to surprise a friend who loves shopping than giving them a gift card from their favourite retail store. Wogi offers gift cards for some of the most in-demand brands in Singapore, including Adidas, Sephora, Zalora, Amazon, and even Lazada
The best thing about Wogi is that its gift cards aren't limited to retail stores. If you have friends who love travelling and dining out, there are gift cards to local dining spots and travel packages as well.
If you're not sure which brand to go with, Wogi has a flexible gift card that can be redeemed for all the brands posted on its website. Is there a more perfect gift to give to your nieces and nephews on their birthday than this?
Finally, there's no need to wait because all gift cards are processed instantly. Once you've successfully placed your order, the recipient will be able to use their gift card as soon as the minute after.
11. Lillie And Luca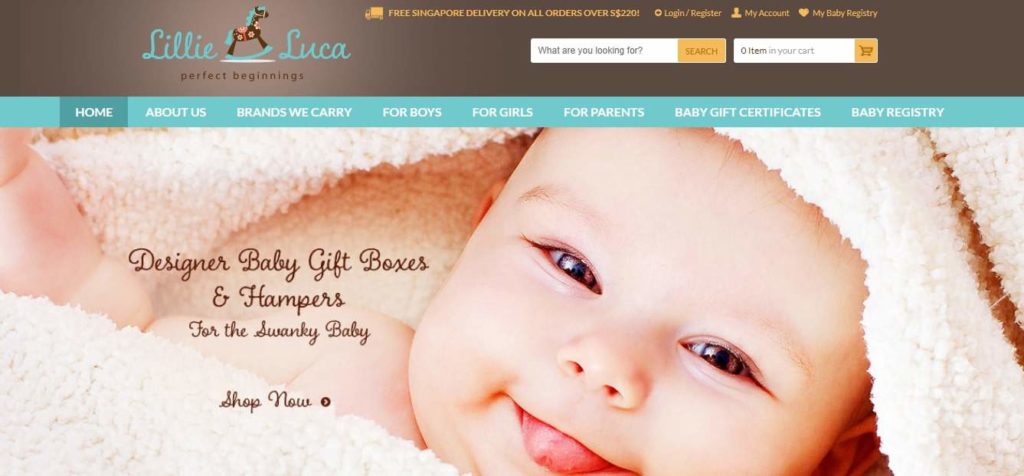 If you've been invited to your first baby shower and don't know what to bring, we highly suggest checking out Lillie and Luca. It's an online baby store with an extensive collection of gifts and hampers for baby showers.
Lillie and Luca is operated by a group of mothers, which means that none of its products would have been included in the collection if the owners wouldn't use them on their babies. We like that some gift hampers and boxes are made and handpicked by these moms.
It carries more than a thousand baby shower gifts and hampers, all of which are sourced from trusted and safe baby brands. These include Finn + Emma, Carter's, Hudson Baby, Yoga Sprout, Jefferies Sock, and Petit Bateau, among others.
One thing that makes Lillie and Luca unique from other online baby stores is that it carries gifts for expecting and longtime parents as well. A haggard parent with no sleep would definitely want a bottle of champagne!
If your order goes above $200, Lillie & Luca will package it themselves using a sophisticated gift bag made from premium quality tissue paper. No need to struggle wrapping up the gift yourself!
Finally, when it comes to delivery, Lillie & Luca doesn't disappoint. It has some of the most expensive delivery fees we've seen, but you can be sure that your present will be delivered within the day.
12. Hello Chocolate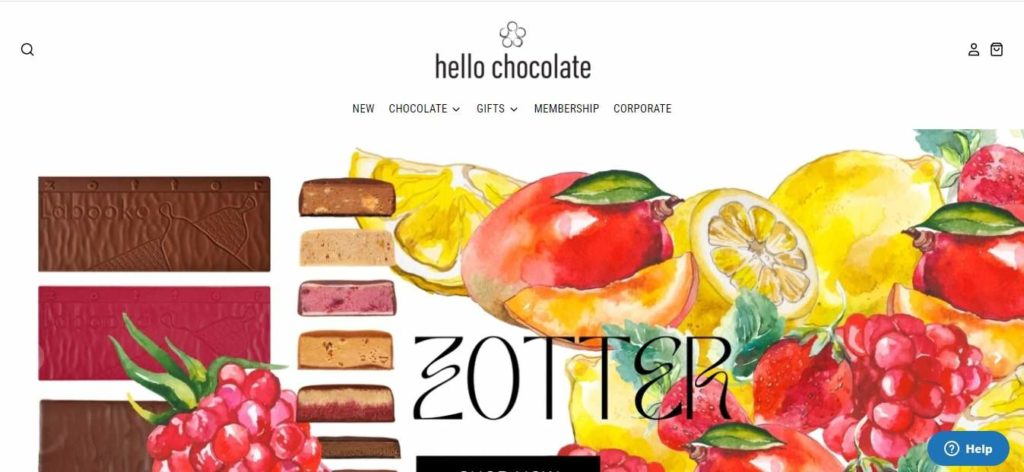 Do you want to surprise a friend with a sweet tooth? In that case, Hello Chocolate could be the online shop you're looking for!
First off, when it comes to variety, Hello Chocolate surely doesn't disappoint. Apart from the typical milk and dark chocolates, some of its chocolates are alcohol-infused, vegan, raw, and even halal!
Despite the diverse collection of sweets, it mostly carries budget-friendly chocolates, with some priced as low as $10. We can't recommend it enough if you want to give a friend a high-quality but affordable chocolate for their birthday.
Hello Chocolate is a sustainable and environmentally conscious store too! Its chocolates are wrapped in 100% reusable handmade linen furoshiki, so you earn plus points for not adding waste to the environment.
If you want your order to be delivered within the day, make sure to place it before 10 AM. Orders placed after the cut-off will be delivered the next day, which is still an acceptable timeline if you're not rushing.
It's common for other stores to charge higher delivery fees for same-day shipping, but that doesn't apply to Hello Chocolate. As long as your order is placed before the cut-off, you will only have to pay $8 for shipping.
Customer Reviews
A lot of Hello Chocolate's previous customers have really adored their collection of deliciously crafted chocolates. They even claimed to have recommended the shop to their friends and families. For a more concrete proof, here are some of the feedback that they left on Google Review.
"I love their chocolate! The guys choose the best chocolate in the world and it is really the best. The only place where I buy chocolate. "
"Excellent customer service, delivery of the finest chocolates the world, has to offer brought right to your doorstep! What more could one ask for?"
13. Tee-Saurus
Tee-Saurus has a collection of unique shirt designs that will surely put a smile on anyone who receives them as a gift. Based on the shirt designs, we're sure that children and teenagers would love to get their hands on them.
If graphic shirts aren't your cup of tea, though, worry not as there are other items in its collection that would be a perfect gift idea. For example, there are graphic printed tote bags that any teenager would go crazy for.
Tee-Saurus may seem like a store catering only to youngsters, but we found other items in its collection that would be practical gifts for adults.
If you haven't decided what to give to your officemates, you may want to check out Tee-Saurus's collection of office stationeries, planners, and art prints. All these can be used to decorate an otherwise boring workstation.
Another thing we like about Tee-Saurus is that it offers free shipping to orders with less than three items, regardless of the total amount. If your order is bound to Malaysia, you won't have to pay anything for shipping still.
The speed of delivery is quite decent too. Compared to normal postage, your present will arrive at your recipient's doorstep in less than two days.
14. Noel Gifts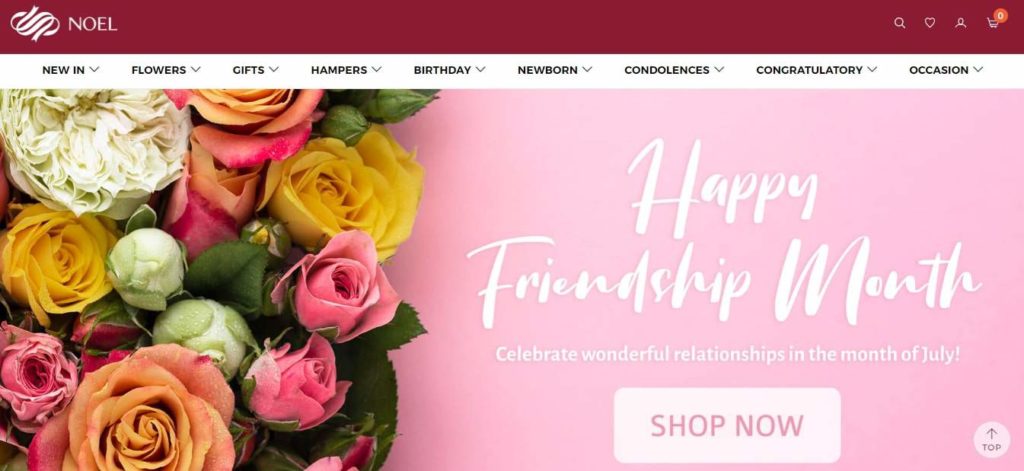 Established more than 44 years ago, Noel Gifts has grown into one of the most trusted gift stores in Singapore. It started as a hamper packaging company, but is now a one-stop gift shop that carries all your gifting needs.
If you've ever asked for florist recommendations from your friends, you've probably heard of Noel Gifts multiple times. It's popular in Singapore for its gorgeous and handcrafted floral arrangements.
For those who want to surprise their colleagues, we recommend sending gourmet hampers and wine gifts to their office desks. Noel Gifts has mastered the art of making these hampers as perfect corporate gifts.
There's more to Noel Gifts than just hampers and flowers, though. Overall, its collection includes more than 400 gifting options for different occasions throughout the year, including Chinese New Year, Valentine's Day, and Christmas.
We'll surely run out of space if we try to talk about all the products sold by Noel Gifts, so just check out their website to know more about them. You'll easily find what you're looking for on its user-friendly online store.
Noel Gifts tries to send out orders as soon as possible, but delays may happen as it processes a huge number of orders every day. You may track the status of your order on its website, though.
If there are any concerns regarding your order, don't hesitate to get in touch by calling their hotline or sending an email. Its staff has been praised for efficiently handling the demands of its large customer base.
Customer Reviews
Take a look at these comments posted on Google Reviews:
"Got a hand bouquet and flower arch for my wedding. Had a seamless experience with Noel Gifts team from the delivery to the venue set up. The fresh flowers bloomed so well on my wedding day and I appreciate that it was delivered in a vase with a cardboard box. Thank you team!" -Vernissa Chia
"Noel Gifts has a large variety of flowers, gifts and hampers for various occasions in Singapore. The website also runs a few promotions from time to time so make sure you sign up for the newsletter for timely updates because the stock goes fast!! Staff are generally friendly and have good customer service." -Wilson Leong
15. Aquaholics Gifts Pte Ltd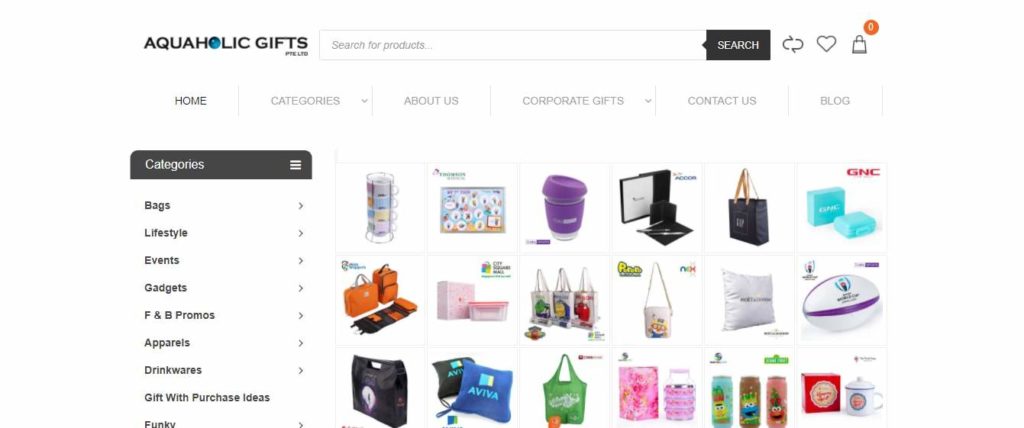 Whether you're a small business or a large company, Aquaholics is readily available to supply your team with presents. It's one of the most dependable sources of corporate gifts in Singapore, dare we say.
For those who are planning to host a team building or corporate outing soon, you'd want to get in touch with Aquaholics. Its shelves are constantly filled with a variety of corporate gifts, including bags, gadgets, leather goods, and even travel items.
Compared to other corporate gift companies, Aquaholics is upfront and honest when it comes to prices. It doesn't beat around the bush and will provide straightforward rates as soon as you ask for them.
Corporate gifts are commonly purchased in bulk, but no need to worry about the total price because all Aquaholics products are priced reasonably. You may even get a discount if you're a repeat customer.
Aquaholics is not that well-known compared to our other picks, but its customer service surely doesn't miss. Its customer care agents will make sure that all your concerns and questions are answered as soon as possible.
Finally, it doesn't disappoint when it comes to deliveries. It's a common complaint among corporate gift companies to be late, but Aquaholics guarantees fast and on-time deliveries.
Customer Reviews
Here's what customers had to say about Aquaholic Gifts:
"The team is super fast and efficient! Eng Hwee is always readily available whenever I have enquiries. He doesn't turn down requests. He ensured that we received the keyboard on the date that we needed them! Thank you once again" -Sxbby
"Thanks Eng hwee for the speedy delivery of our customised cooler bag. Quality is good and up to our expectations. Will hear from me soon." -Alicia Cheong
16. Happy Bunch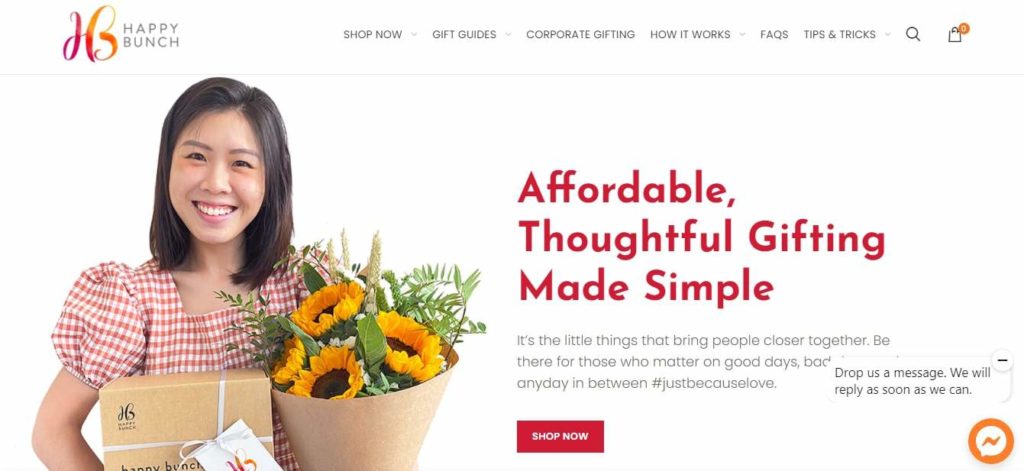 Happy Bunch is one of the best flower shops to consider if you're in need of an affordable floral bouquet and customisable gift boxes. Here are the reasons it earned a spot here:
First, Happy Bunch can create flower bouquets for any type of occasion, including solemn and somber ones. It specialises in festive and lively flower arrangements, but its florists can adapt to all sorts of designs.
Second, Happy Bunch employs a team of friendly and professional florists, all of whom are ready to accommodate the demands and needs of customers. Every florist will go the extra mile to make sure that all customers are satisfied with the finished product.
If you're looking for same-day delivery for either flowers or gifts, Happy Bunch will be happy to arrange that for you. It offers both same-day and regular delivery, but those in a rush can expect that their surprise will be delivered within the next few hours.
As the icing on the cake, Happy Bunch doesn't charge anything for shipping. All local orders are eligible for free shipping, except on weekends and public holidays.
Customer Reviews
Here are a few feedback shared by customers on Google Reviews:
"Thank you Happy Bunch for the great service you provide by helping us send happiness to our loved ones! It is the third time I have ordered flowers from you and I couldn't recommend your thoughtful and beautiful flower arrangements. I love the ease of ordering from your website and your flower offerings which are different from the usual shop. I will definitely continue to use your services." -Simon Sim
"This was the first time that I ordered from Happy Bunch and I must say that their service is very professional! My flowers came just as ordered – no frills, perfectly packaged and on-time! I would surely recommend Happy Bunch to all those who plan to give gifts for any special occasions 🙂 Thank you once again!" -Karthik Rajaraman
17. A Better Florist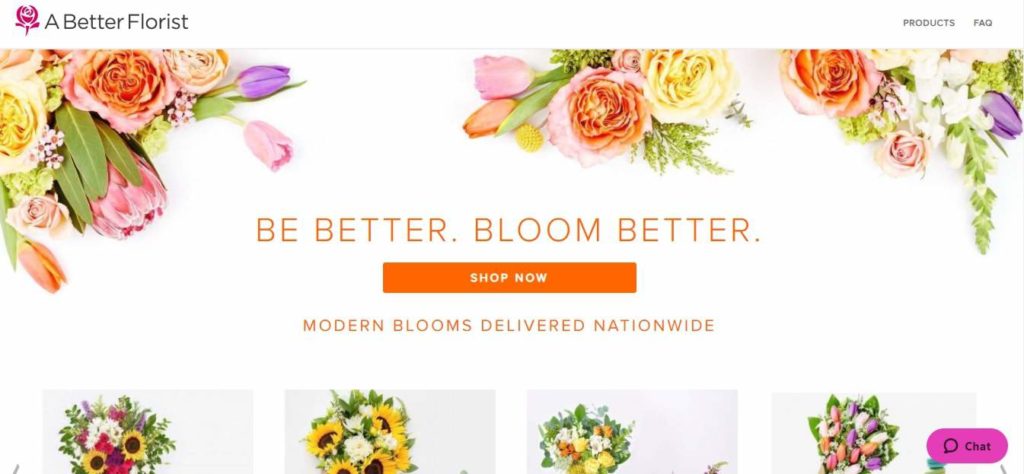 If you want to surprise someone with flowers on a weekend, then we recommend ordering a flower bouquet from A Better Florist. It's one of the few floral shops in Singapore that operate 12 hours a day, seven days a week.
Another thing we like about A Better Florist is that it can make flower arrangements for any occasion, whether it's a friend's birthday or your parents' anniversary. You can have the flower bouquets and hampers personalised as well!
When it comes to speed to delivery, A Better Florist is the one to beat. It can deliver your present safely and securely to any spot in Singapore in no more than 90 minutes, faster than what most local florists can do.
If you have any questions regarding your order, get in touch with them as soon as possible. A Better Florist has friendly customer service agents who are always ready to answer the queries of its customers.
Aside from flower bouquets, A Better Florist also offers fruit baskets, gift hampers, grandstand flowers, and even condolence wreaths. It's truly a well-rounded flower store that can do more than just flower arrangements.
Customer Reviews
A Better Florist has been featured on various media publications such as Forbes, Yahoo, The Strait Times, Venture Beat, and many more. These recognitions prove that they are consistent in proving high-quality products and services. Joanna had a very wonderful experience and left this positive review on the official website:
" A few weeks ago I received a truly gorgeous A Better Florist bouquet which also lasted very well. I was so pleased that I subsequently ordered a bouquet for my mother. She said they were absolutely beautiful."
As most people say, it's the thought that counts which is exactly true. Just the fact that you remembered to give them a gift and even have it personalised and delivered, is enough to let them feel that you appreciate and love them.
18. KayithJ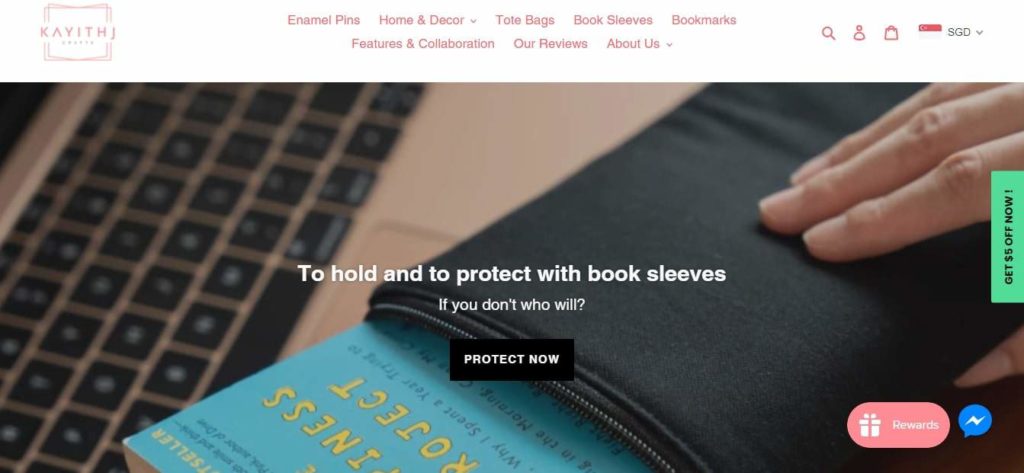 If you're looking for the perfect gift for your bibliophile friends, then look no further than KayithJ. Instead of the traditional book accessories, it carries handcrafted book sleeves in various whimsical designs, some of which feature iconic cartoon characters.
These book sleeves are not only fun to look at, but functional as well. They're waterproof and can fit standard books or reading devices depending on the size chosen.
Aside from handcrafted book sleeves and bookmarks, KayithJ sells tote bags as well. If you have bibliophile friends, you'd know that most of them prefer canvas tote bags over backpacks and shoulder bags.
Much like their special product, these tote bags come in fun designs and are waterproof. Plus, they offer enough space to fit in productivity essentials like books, laptops, planners, notebooks, and pens.
Other everyday items that can be purchased from KayithJ includes enamel pins, wall art, throw pillows, and even face masks. It's a small craft store, so it doesn't carry an extensive range of products, but we like that all of its products are useful.
KayithJ ships to almost every corner of Singapore, free of charge! It uses local courier services, though, so we suggest placing your three to four days ahead to make sure it arrives on your friend's special day.
Customer Reviews
Here are some comments left by happy shoppers:
"The bags were great. Design very unique. Material of good quality. Intrigue workmanship. Each bag meticulously packed in a box and delivered. Makes a great gift" – Ravindaran K. "Seller has very good skills. The handmade pouch is perfect. My kiddos love it! My 2nd purchase from her and she is so thoughtful to add a little surprise. Will definitely look for her if I ever need an impeccable well made item" – luvlucas
19. Simply Hamper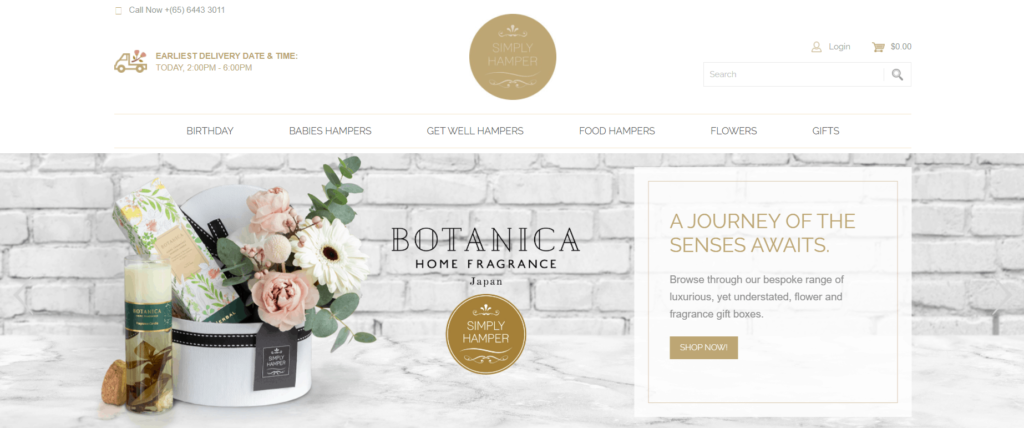 Very few items can beat hampers when it comes to gifts made with heart. Simply Hamper's gift baskets are the perfect example, given their simple, yet tastefully curated hampers of all types and sizes.
Their wide selection of hampers ensure that you can find a gift suited for any occasion. No matter what hamper you choose, Simply Hamper will use only the best quality products from brands around the world to create it.
Their assembly team is composed of individuals with an excellent eye for detail, so you can rest assured that any hamper you purchase will be pleasing in aesthetics and content. Moreover, hampers with delicate contents are made as only when the order is received, so it gets to the recipient in its freshest state.
Simply Hamper delivers to most areas in Singapore. Best of all, their normal deliveries are free of charge.
If you're planning to order, they start accepting orders 10 days in advance. Same day delivery is also available as long as you order before 2 pm.
20. Gift Hampers Singapore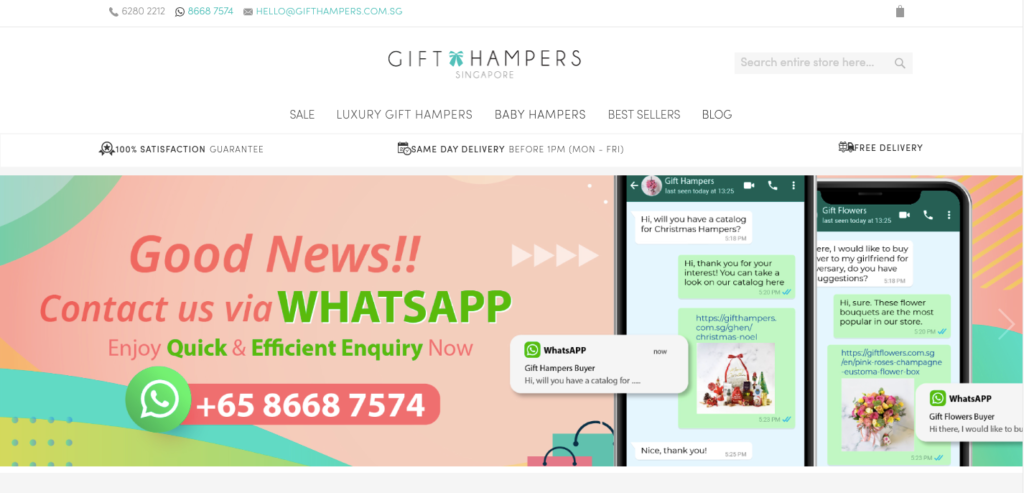 Gift Hampers Singapore is Singapore's premier online gift hamper store. With cutting-edge and stylish items for Hari Raya, Mid-Autumn Festival, Christmas, Chinese New Year, and everything in between – their gifts are suitable for all occasions.
Their knowledgeable staff has spent years curating the ideal gift sets, ensuring that each one contains a variety of treats and necessities. As a result, we created a spectacular collection of gifts for corporate events, grand openings, baby showers, and any other occasion where you want to express gratitude.
They are committed to providing professional, dependable services as well as high-quality products. Discover our exceptional hamper designs and give an extraordinary gift that inspires.
FAQs about Gift Delivery Services in Singapore
---
And that's it for our picks for the best gift delivery services in Singapore. If you're in a rush to send a gift to a friend, don't hesitate to call any of these gift stores!
If you know other gift stores in Singapore that should've been included here, tell us their names so we can check if they're worthy of being featured here.
Do you want to surprise a friend with a delicious cake too? Well, we have you covered with our list of the best cake delivery services in Singapore.