The 10 Best VPS Hosting in Singapore
Are you looking for a more secure and stable server for your website? If so, then we highly recommend signing up for the best VPS hosting in Singapore that allows visitors to access your website smoothly.
Compared to shared hosting, the best VPS hosting in Singapore uses virtualization technology to give you private resources on a server with multiple users. The rule is, if your website has medium-level traffic, then it's time to pay for your own dedicated server.
Anyway, if you're curious to know which ones are the best VPS hosting in Singapore, don't stop reading just yet — we have a list of what you're looking for!
Check out our picks for VPS hosts below to see which one fits the requirements of your website.
1.LayerStack
LayerStack is a Singapore cloud computing solutions company.  It offers a wide range of cloud servers for a variety of workloads, including shared and dedicated vCPU. Their cloud servers are equipped with the enterprise PCIe Gen4 NVMe SSD and the Intel® Xeon® Scalable/ latest generation of AMD EPYC™ processors.
With 18 years of cloud experience, LayerStack has been providing unlimited traffic cloud servers and 7/24 technical human support.  They committed to maintaining a simple, scalable and stable cloud environment with the aim of providing multiple solutions for cloud deployment.
Furthermore, LayerStack supports massive features, including Load Balancers, Firewall, Backups, 20Gbps DDoS Attack Protection, etc. to enhance users' cloud capabilities.
Highlights
Same price regardless of the traffic usage

Free basic cloud managed service

Powered by the AMD/ Intel CPU & NVMe SSD

Free cloud migration service
Customer Reviews
Here's what some people have to say about them:
"Thanks to LayerStack, we are glad that network downtime, sluggish connection and lousy backend support are all in the rearview mirror now."
"We are able to slice a huge chunk of our operating expenses as LayerStack offers everything we need in a server at a lower price but better hosting performance among other providers out there."
2. Exabytes
BEST FOR 
Cloud and digital solutions
PRICE
Register .SG Domain for as low as S$1
WEBSITE
https://www.exabytes.sg/
CONTACT DETAILS

WhatsApp: 65-67272279 (Chat only)

Email: [email protected]

PAYMENT OPTIONS
Contact for more details
Exabytes is an all-in-one website builder that offers web hosting services to help you grow online—whether it's for your business, portfolio, or even for simple personal use.
Their company is trusted by 160,000 customers around the world. They also offer 24/7 customer support for 365 days, and have been providing cloud support since 2001.
With their different tools and features, Exabytes turns your ideas into reality, creating the perfect website with the theme and functions you've always wanted.
Optimised for all devices, it's as simple as dragging and dropping elements on your webpage. With readily available web themes, Exabytes is one of the best website builders in Singapore.
Furthermore, their great network and server uptime ratings make them one of the best companies to turn to for VPS in Singapore.
Highlights
100-day risk-free guaranteed
Website design
Logo design
eCommerce design
3.  VPS Server

If you're looking for a VPS that can offer worldwide protection, then VPS Server comes highly recommended. It's considered one of the best VPS hosting in Singapore due to its low price paired with multiple features such as numerous OS options, on-demand and live backups, virtual private network, easy firewall setup, and a whole lot more.
On top of this, VPS Server also offers flexible billing with its no-contract policy. It's up to you how long you want to keep the server — if you're no longer satisfied, then you're free to cut it off without pressure.
VPS Server also has an excellent customer service team that will be willing to answer your queries any time of the day.
Highlights
No contracts
Easy firewall set up
Affordable
4.  OVHcloud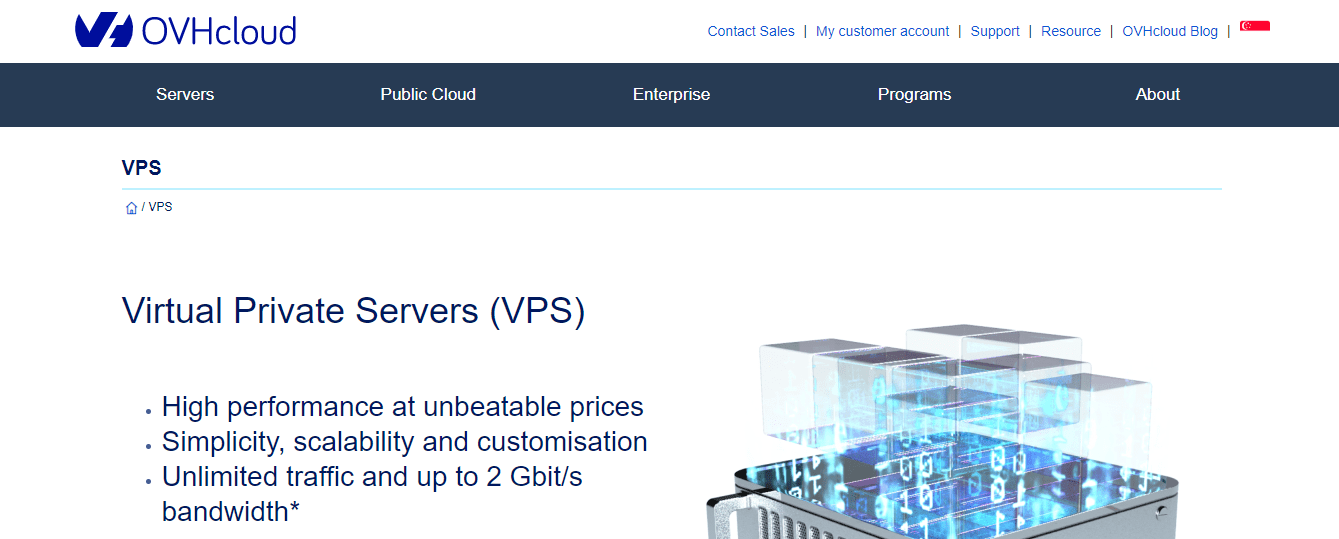 OVHcloud offers a 4-tiered VPS server that allows website owners to choose which one suits the needs of their website best. For as low as $7.36 a month, your website will run on a server with optimum performance and a dedicated environment.
What's more, website owners don't need to worry about hardware constraints and technical problems because every server is built to perfection. You can even choose from its wide array of pre-installed operating systems and hosting control panels.
And of course, the traffic for your VPS server will be unlimited, allowing you to host various services and applications. That's why we've named it one of the best VPS hosting in Singapore.
Highlights
4-tier VPS plans
Increased performance
Backup options
Unlimited traffic
5.  Router Hosting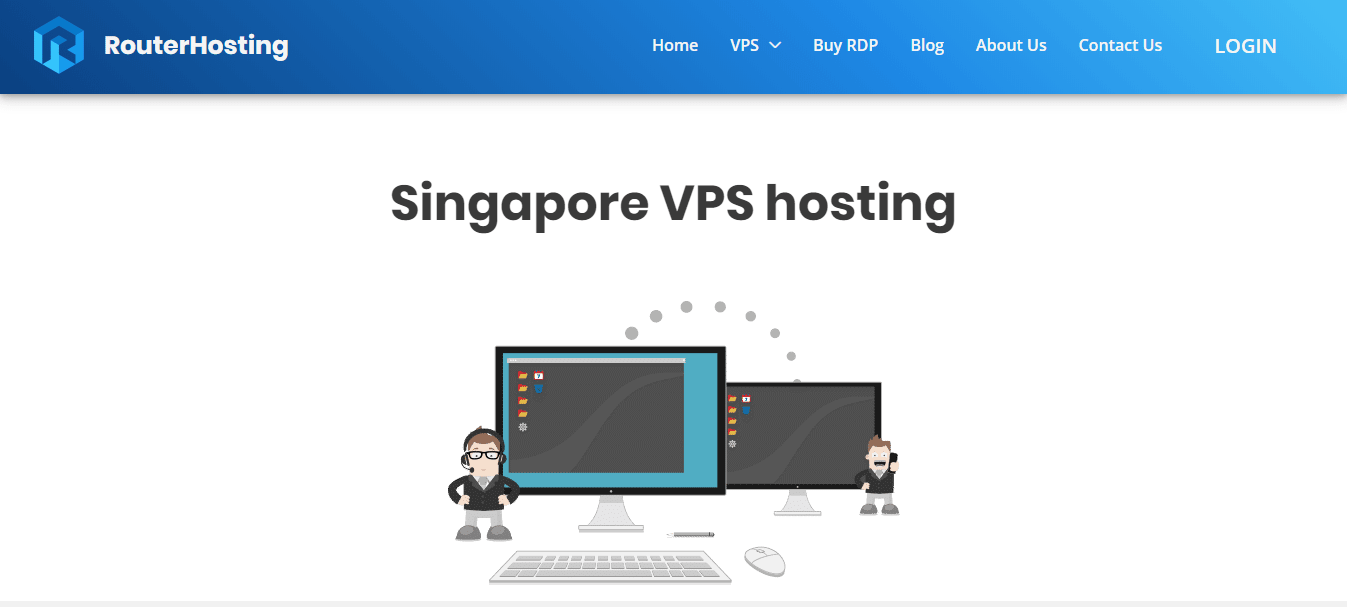 With over 12 years of experience, Router Hosting has been providing websites with unlimited traffic and dedicated servers since it started operating. It aims to make hosting services more affordable and convenient for people around the world, especially those in Singapore.
The prices of its VPS plans range from $7.95/month to $54.90, a bit cheaper compared to the rates of other VPS companies. Router Hosting also boasts that it has one of the best uptimes on the planet.
If you end up not satisfied with its services, Router Hosting offers money-back options and will return your money down to the last cent.
Highlights
24/7 tech support
DDOS protection
Easy and instant setup
Pure SSD NVMe storage
6.  Fast Comet

If you're looking for a VPS hosting that allows you total control over your server, then look no further than Fast Comet. While other VPS hosting says that website owners have control over servers, more often than not, it isn't true — but consider Fast Comet different.
Despite starting only in 2013, Fast Comet has managed to build 11 data centres all over the world, proving that its clients consider its services topnotch.
Its servers are powered by cPanel, one of the best and most powerful website hosting control panels on the planet, so rest assured that the server will be working efficiently round the clock.
Highlights
Rapid deployment of servers
Powered by cPanel
Backup & snapshots
24/7 customer support
Customer Reviews
Take a look at what customers have to say about the services of Fast Comet:
"FastComet has been exceptional and I couldn't be happier. They have helped me with several issues on my sites. Just off the top of my head they've helped me with email, site speed, addressing issues that have popped up on analytics and webmaster tools. I've been very pleased with their support."
"The technical service was simply great and fast. Even too fast! I started working on my new website on my vacation time, during the Christmas time, and I was assisted on a weekend evening during that period. I thought it was crazy when the customer service answered the chat with me instantly!"
7. Trading Fx VPS

Trading Fx VPS offers premiere customised VPS services specifically for traders. Their company aims to provide traders with dependable VPS solutions and cater to their complex automated trading needs. Their team consists of various professionals that are knowledgeable about computer security, networking, and system administration.
They have constantly received good reviews for efficient, knowledgeable, and affordable services. Their servers are equipped with SSD RAID10 disk arrays, built on high-speed SAS and SSD drives, so you can rest assured that you are hosted on a powerful, reliable, high-end server.
Highlights
Computer Security
Networks and Systems
Customer Reviews
"I've been using TradingFXVPS to host a number of MT4 terminals in their 2 core offering. Customer support has been outstanding and so has the performance. I've tweaked all my MT4 instances and it runs super smooth. Best yet, being co-located in London allows my trades to happen in under 2ms. A little pricey, but they are focused on the needs of a FOREX trader which means no unexpected reboots, 100% uptime, and built-in security to protect your Windows Server 2016 instance. Love them!" 
"Good VPS providers and dedicated to Forex users. Latency to broker's servers is as advertised. No down time at all so far, unless you decide to upgrade Windows. Fast, no lags and reliable. Pricing can be better, especially for dedicated servers, and maybe more options for regular VPS setups."
8. WebHost
Besides being an excellent hosting service provider, WebHost SG also offers these services at a very low price. If you're planning to start a business, they will be the partner you can rely on. They offer the widest selection of website security solutions in Singapore– all from Top Website Security Brands around the world.
From anti-malware scanners to website Cloud backups, they've got you covered. The goal of WebHost SG is to lessen the burden of website management, helping clients accomplish the more important tasks of their business. If you choose them, you're sure to be satisfied with their services.
Highlights
Website Security Solution
Affordable Price
9. HostNoc

Picture this — you are excited to have your very own website published online, but then you find out that uploading it on a normal server appears to be a bothersome process. You learn that availing a VPS will help speed up the entire ordeal; you just haven't got any idea which brand will work best for you without being overly pricey.
HostNoc will provide you just the VPS you need. It provides servers known for their topnotch, speedy performance, all capable of loading applications without stutters and lengthy boot times. These servers are also quite durable; they are not susceptible to damaging factors such as heating and hardware degradation. Furthermore, customers will not have a hard time accessing their functions on their respective devices.
Dedicated servers could be quite costly; save yourself a great sum of cash by purchasing a VPS from HostNoc instead. Visit their website to check out which deals will suit your budget and interests best.
Highlights
Customer Reviews
Take a look at what customers had to say about the services of HostNoc:
"Easy to setup, and support was wonderful. Spoke with a Freddy in support and he answered everything quickly and knew exactly what he was talking about. I am glad that i picked HostNoc to host my server."
"I recommend HostNoc and their team to anyone looking for a very knowledgeable and professional hosting organization. They are on top of tickets 24/7 when I have questions or issues."
10.  Usonyx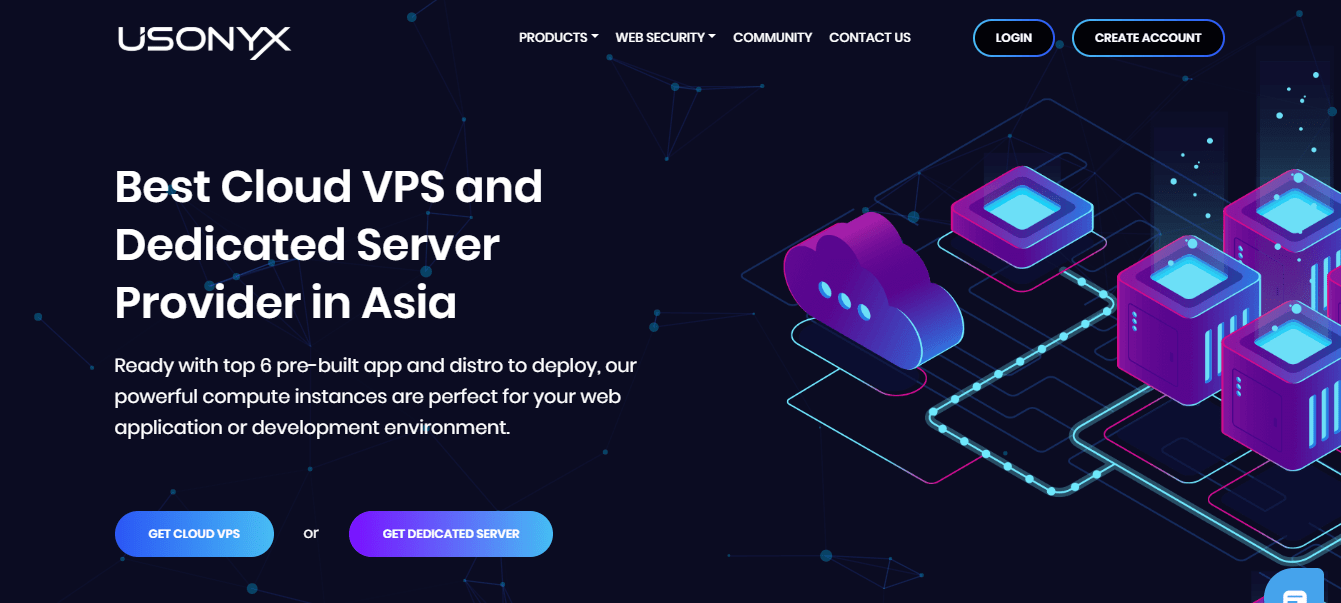 It's no surprise that Usonyx is on our list because it's been called one of the options for the best VPS hosting in Singapore and in the entirety of Asia as well. Established in 1997, it's been a constant source of web hosting solutions for government agencies and corporate clients.
Despite having a cheap monthly rate, Usonyx offers clients unlimited resources. Every plan offered comes powerful bandwidth and huge SSD storage, allowing websites to run various applications.
More than these, Usonyx ensures the privacy of its clients by having data centres protected with fault protection, fire-suppression systems, water detection systems, uninterrupted power supply, and everything else to make sure that data is safe.
Highlights
Competitive rates
Protected data centres
Reliable customer service
And that's it for our list of the best VPS hosting in Singapore. If you've tried any of these VPS servers before, please tell us what you think of their services.
By the way, if your company has recently encountered an IT-related problem, you might want to seek help from the best Singapore IT companies. These companies have the best staff to deal with your company's IT concerns.