The 9 Best Chocolates in Singapore for Your Diet
Craving delightful treats but hesitating because you're on a diet? Well, if so, you're on the right track: we've already narrowed down your options to give you the best chocolates in Singapore for those on a diet!
But before we go right into our selected picks, you should also know that when you're buying chocolates, there are a lot of things to consider. Especially, if you're on a diet or you're health-conscious.
Here are some of the things to keep in mind so you can know more beyond the luxurious packaging of the best Singapore chocolates.
Factors to Consider When Buying Chocolates for Health
Some chocolates are good for your health and some are not. So, as you step into the store or start to shop online, make sure to check the following features first.
1. Percentage
Chocolates come in different types: dark, milk, and white. Each contains different percentages of cacao content. Finding the right percentage depends on your personal taste.
A higher percentage typically means that there'll be less sugar in the bar, making it a healthier option. Also, with a chocolate bar that contains 85% or higher cocoa, you'll feel satisfied with just a few bites.
Still, bars with below 85% cocoa content are usually hyper-palatable — which means that it's highly pleasing to the taste buds and you might not be able to control the amount you eat.
Dark chocolates mostly have 70% to 99% cocoa. That means it'd be better to choose this type of chocolate if you're watching your weight and sugar intake.
2. Emulsifier-free
When processing chocolates, there are technically 3 necessary ingredients, including cocoa powder, cocoa butter, and a sweetener.
However, many products on the market are being made with additional ingredients that provide no purpose and some may even be bad to our health — such as emulsifiers (carboxymethylcellulose and polysorbate-80).
These are usually added for a smooth and creamy feel that can be found on ice creams, coffee creamers, and chocolates. This ingredient can be a source of inflammation, reduced metabolism, and even weight gain.
So make sure to check the ingredients list first and see if it contains carboxymethylcellulose and polysorbate-80. You don't want those!
3. Alkali-free
Alkali is used to darken and smoothen the cocoa for a more mellow flavour and deep brown hue. However, it can also greatly affect the health value of cocoa.
It reduces several health benefits for chocolate. Therefore, it's advisable to choose the one that hasn't been processed with alkali.
4. Avoid lead and cadmium contamination
Some chocolates contain cadmium and lead compounds that are harmful to our health. Eating chocolates that contain these kinds of ingredients may lead to severe diseases.
This includes damage to the kidney, liver, and bones. Learning disabilities and lower IQ are also part of the health issues so such chocolates are bad for everyone, particularly for the children.
Best Chocolates in Singapore for Dieting
Now that you know more about picking a chocolate treat or bar, we'll help you find the best chocolates in Singapore that are also good for your health. Here we've listed the most recommended chocolate bars made by well-known brands.
They contain high cocoa content and the exact amount of sweetness that'll surely satisfy your taste buds! Despite coming from international brands, our selections are available at affordable prices in Singapore, so you'll absolutely love them!
1.   Lindt Excellence 90% Cocoa Dark Supreme Chocolate
Best for Atkins Diet and Weight Loss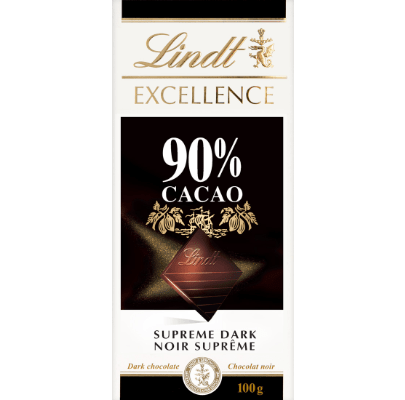 Price: $11.62
The Lindt Excellence 90% Cocoa Dark Supreme Chocolate has a smooth and rich texture with a profound cocoa flavour. It's also filled with vanilla, espresso, and toasted nuts, giving you a delightful combination of flavours.
It's made with low-fat cocoa powder so it's a good option for those who are on a diet. And since it has 90% cocoa content, it's an organic and healthy bar for everyone.
Highlights
Velvety chocolate
90% cocoa content
Low-fat cocoa powder
Customer Reviews
Customers loved the intense flavour of the Lindt Excellence 90% Cocoa Dark Supreme Chocolate. They also said that it's indeed one of the best chocolates in Singapore because of its low sugar content yet well-balanced sweetness.
A customer gave this review:
"This is my favourite Lindt chocolate, I always buy it in bulk if I see it on sale. It's really smooth, but with an intense chocolate flavour. I eat a few squares after dinner on most days. It leaves a lovely, strong chocolate flavour in my mouth, but also leaves my teeth feeling clean as the sugar content is much lower compared to other chocolates. It's perfect because it's good for my health and tastes amazing. If I try to eat other dark chocolates now they all taste too sweet."
2.   Michel Cluizel Noir Infini 99% Chocolate
Best for Clean Aftertaste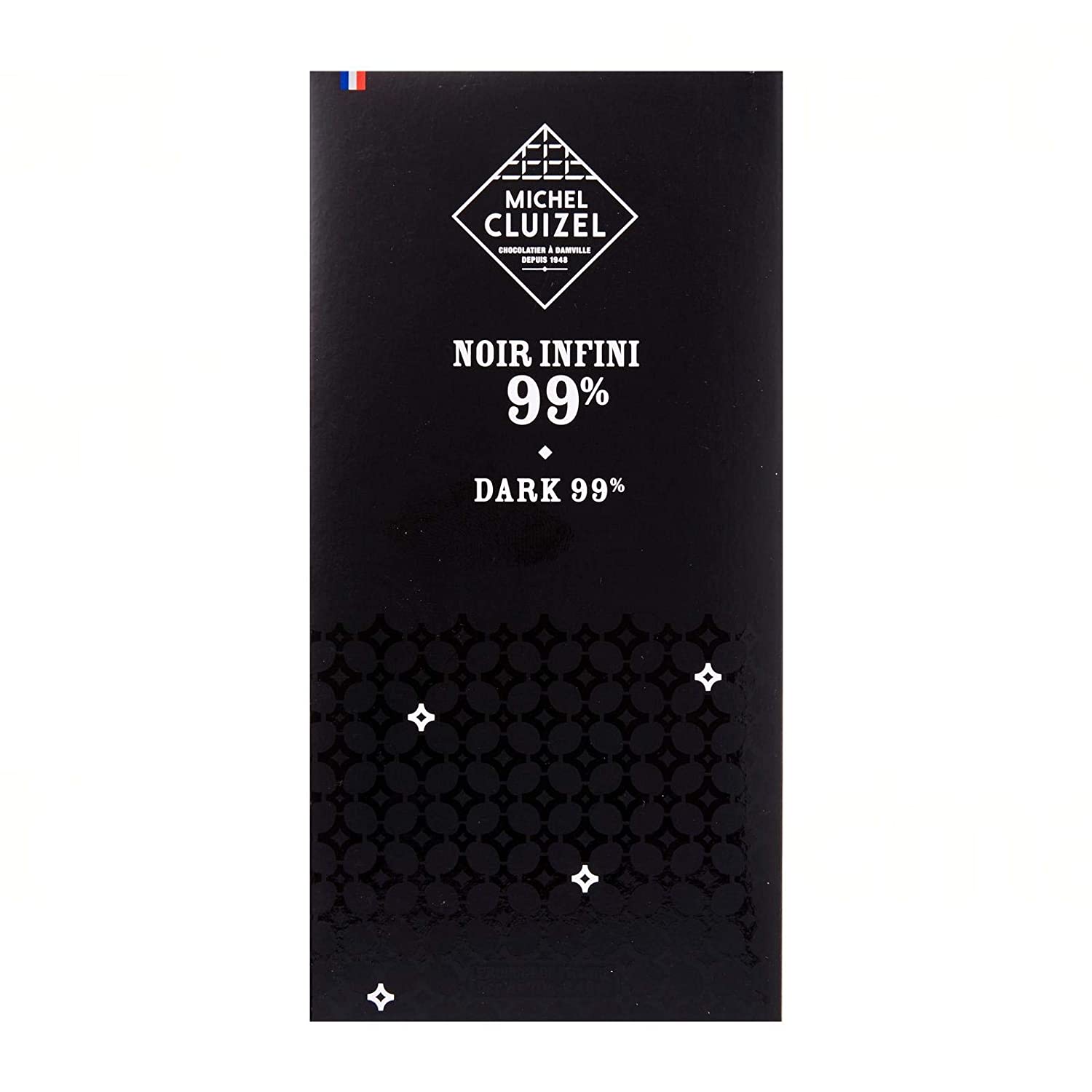 Price: $11.50
The Michel Cluizel Noir Infini 99% Chocolate features a higher cocoa content of 99% that's perfectly blended with quality cocoas. For the chocolate lovers out there, you'll have a blast with its deep and dense flavour that is rarely found in most chocolate nowadays.
It's also known for its subtle and smooth aftertaste. You can pair it with a delicious cup of coffee or tea without causing an increase in your blood sugar.
Highlights
99% cocoa content
Smooth aftertaste
Deep chocolate flavour
3.   Green and Black Organic Dark Chocolate Bar 85% Cacao
Best for High Blood Pressure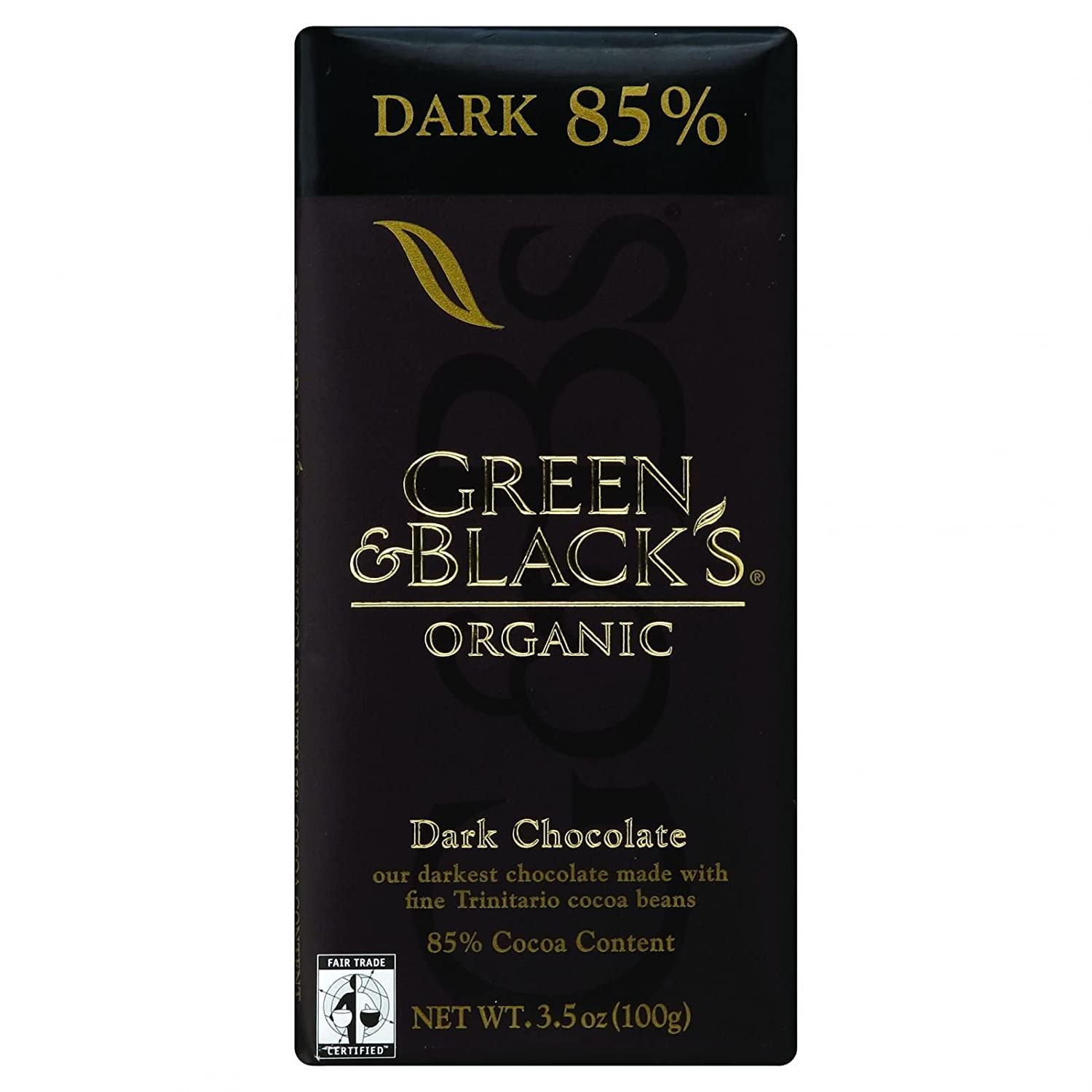 Price: $5.85
The Green and Black Organic Dark Chocolate Bar 85% Cacao features a healthy combination of intense cocoa flavour and enough sugar, eliminating the acidity. It also has a taste of organic vanilla that adds more flavour and softens the bitterness.
This is why it's a great option for those who usually have high blood pressure. In this way, you can savour your favourite sweet treats without worrying about the risk of it.
Highlights
85% cocoa content
Finest and organic cocoa quality
Full and dynamic flavour
Customer Reviews
Many customers had a satisfying experience with the Green and Black Organic Dark Chocolate Bar 85% Cacao. They said that it has a creamy flavour and smooth aftertaste, claiming the bar as the best chocolate in Singapore.
A customer posted this feedback:
"I eat a lot of dark chocolate, and I've tried every kind that we have in our local good-food store and normal grocery stores. This is by far my favorite. It has such a bold flavor and creamy mouthfeel.I will never go back to 82%"
4.   Alter Eco Organic Deep Dark Blackout Chocolate
Best for Keto Diet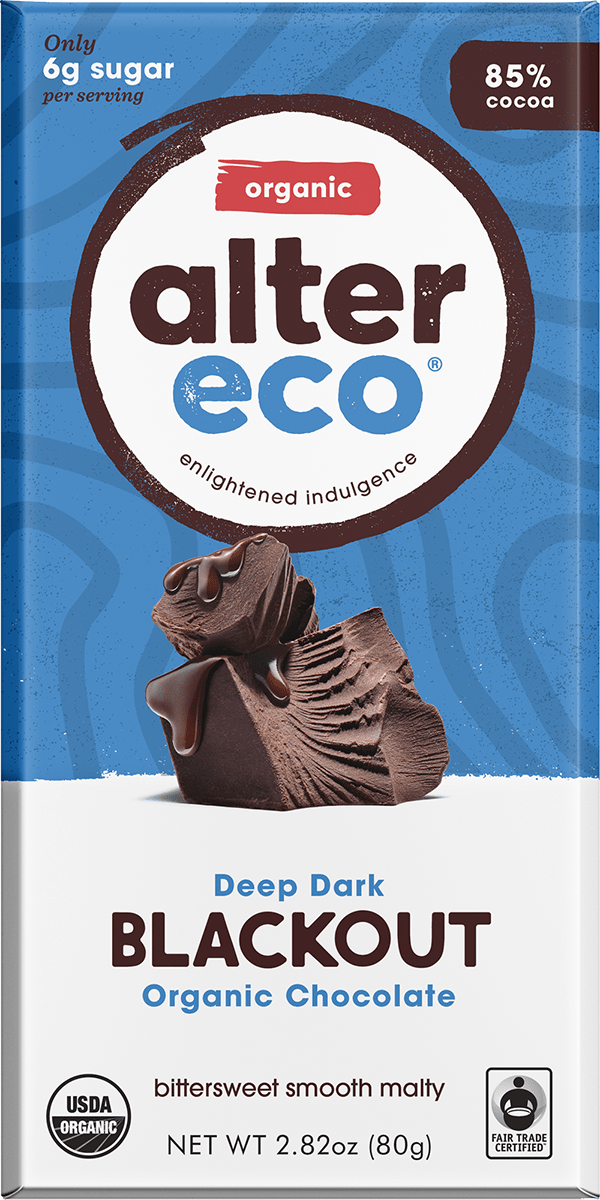 Price: $17.00
The Alter Eco Organic Deep Dark Blackout Chocolate features a malty intensity of cacao without any mix of artificial flavours. It also has a round and creamy finish that'll certainly satisfy your chocolate craving!
It doesn't have any emulsifiers, making it the best chocolate in Singapore to add to your diet routine.
Highlights
Gluten-free
No sou
Non-GMO
Customer Reviews
Most customers said that theatre Eco Organic Deep Dark Blackout Chocolate is a great option to restrict carbs and they recommended it for those who are on a keto diet.  A customer left this review:
"I have searched a long time for a super dark chocolate bar that also has mint in it. The darkest I have seen were only around 70%-72%, so I was pleased to find this Super Dark Mint Crisp 90% dark chocolate bar by Alter Eco. I was hesitant to try it, since their Blackout and Super Blackout dark chocolate bars have a really chemical taste to me that I have not noticed from other brands."
5.   Endangered Species Strong + Velvety Dark Chocolate
Best for a Touch of Fruit and Spice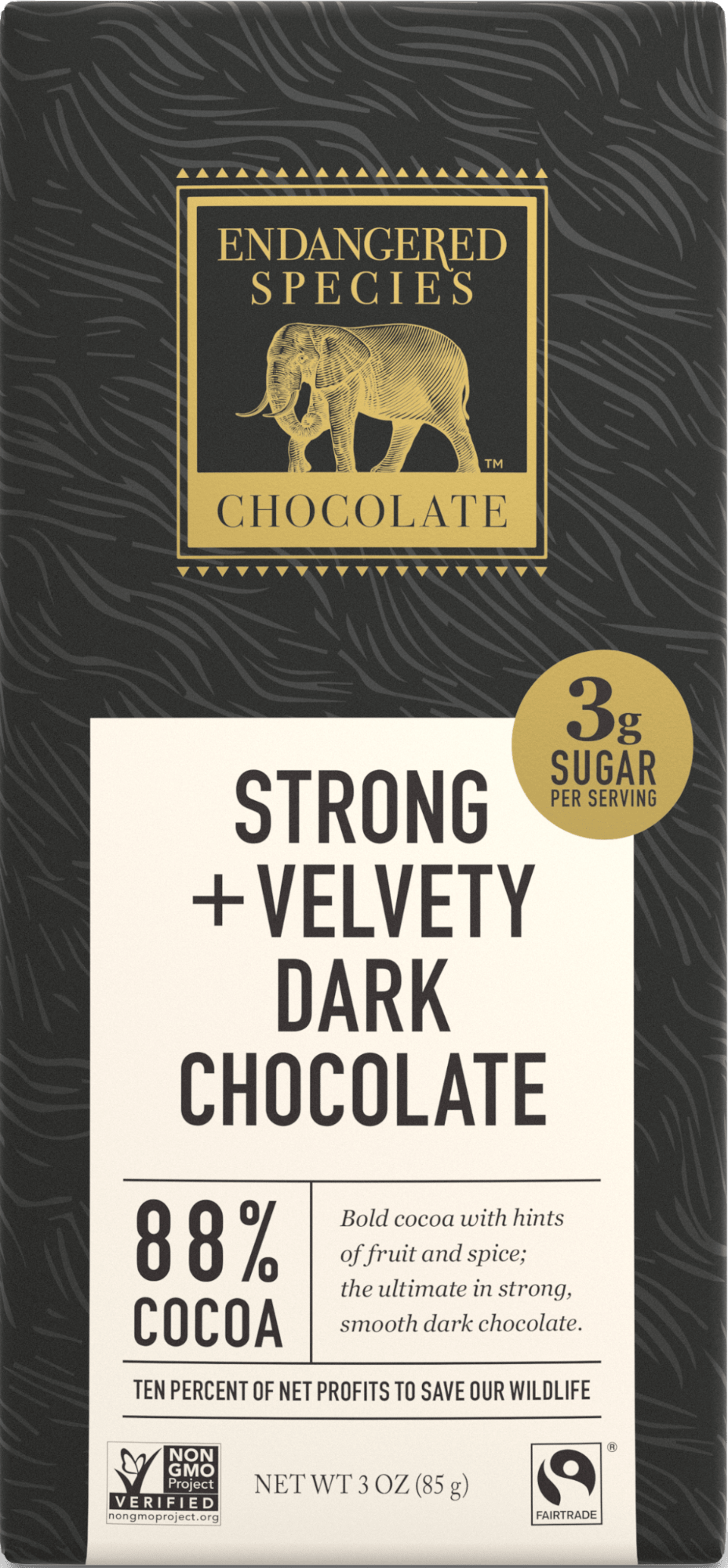 Price: $34.05
The Endangered Species Strong + Velvety Dark Chocolate is filled with bold cocoa mixed with hints of fruit and spice — the combination is unique compared to the other options.
Being made with a high percentage of cocoa content, it still has a silky smooth flavour, bringing out the richness of the chocolate.
Highlights
88% cocoa content
Strong and smooth chocolate flavour
6.   Chocoelf Kaya Merlion Milk Chocolate Bar (No Sugar)
Best for Coconut Jam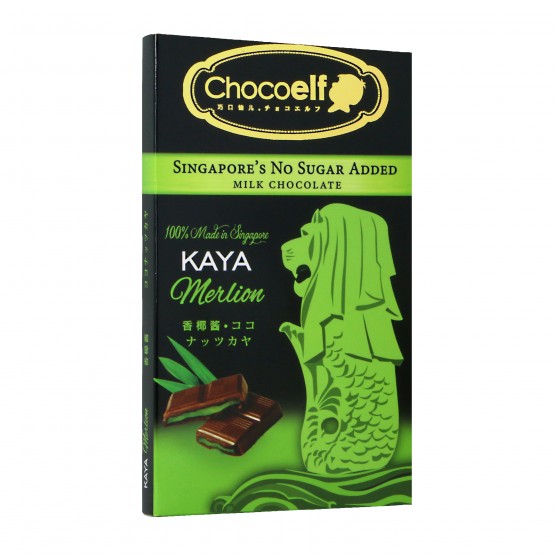 Price: S$9.90
Known as Singapore's most famous and popular coconut jam, Kaya is a chocolate bar that will keep your cravings satiated while also keeping your body feeling good and healthy.
Its unique flavor comes from the gentle aroma of the pandan leaf. That's why this product by the Chocoelf is truly wonderful with its interplay of coconut, pandan and chocolate.
Authentically produced in Singapore, Chocoelf's Kaya chocolate bar can also serve as the perfect souvenir for travelers. Besides enjoying it as a treat, you can also give it is a gift for your relatives and friends!
Highlights
Singapore's most famous and popular coconut jam
A perfect souvenir for travelers
7.  Chocolate Gift – Dark & Milk Chocolate Set
Best for Chocolate Gifts
Price: S$80.00
Thinking about giving chocolates as gifts? Well, Hello Chocolate has got it all ready for you! With carefully curated best dark & milk chocolate bars from around the world, they've created the perfect set of sophisticated treats.
Comprised of 5 bean-to-bar craft dark & milk chocolate bars tied with a ribbon, it also comes with a special gift. If you ever want to give a special message along with the chocolates, you can do it by leaving a message in the cart page– it will be printed and attached to the chocolate.
Make someone happy by giving them a Chocolate Gift – Dark & Milk Chocolate Set. Make them feel your love and sincerity through these chocolate treats.
Highlights
Best Dark & Milk Chocolate Bars from around the world
Can include a printed gift message
Customer Reviews
Here is a review left by a very satisfied client:
"The birthday girl who received the chocolates was very happy and satisfied with the quality and variety of chocolates." – Ellen Ong
8.   Bouchard Dark Belgian Chocolate NAPOLITAINS
Best for Belgian Chocolate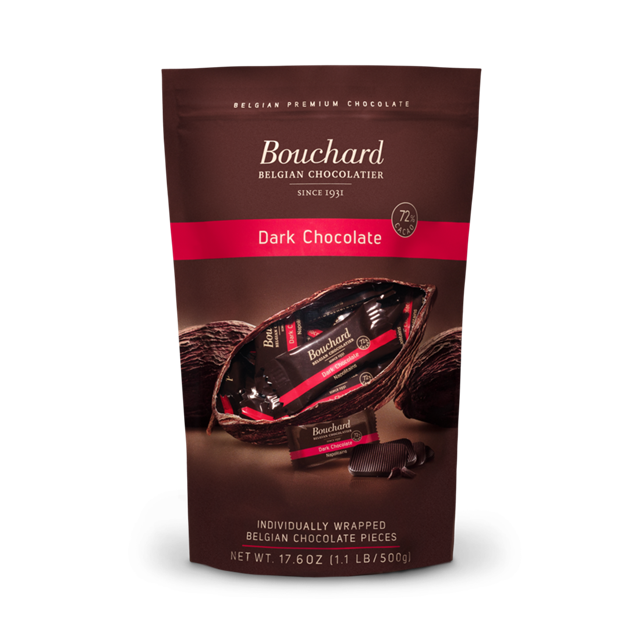 Price: Inquire for Price
Candy Empire's Bouchard Dark Belgian Chocolate Napolitains is definitely a product that everyone can enjoy, literally. Aside from being deliciously bittersweet, these napolitains are both vegan-friendly and keto-friendly, so you can share these goodies with all your friends without worry! It's also a perfect treat for those who are doing diets, as it is as nutritious as it is yummy.
Another fact to note is that it's actually sourced from Belgium, one of the most popular countries that manufactures mouth-watering chocolates and other delicacies, so you know that its quality won't fail you.
Highlights
72% Dark Chocolate Naps
Diet friendly
Vegan friendly
Sourced from Belgium
9.   Aalst 70% Dark Dramatic Intense 100g
Best for Dark Chocolate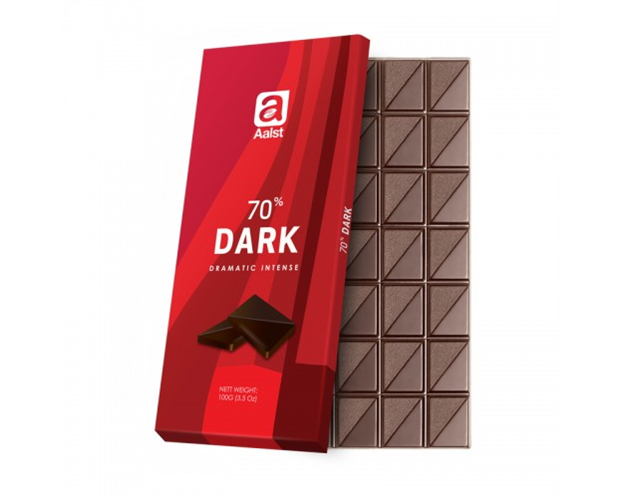 Price: Inquire for Price
Choco Express has released yet another best selling chocolate bar for you to indulge in. Aalst 70% Dark Dramatic Intense is made with premium dark chocolate that was directly sourced from South Africa. With 70% cocoa concentrate, you're sure to get that perfect chocolate goodness with each bite.
Along with its impressive bitter taste, you also get a hint of floral and fruity after tastes to help balance it all out. It's definitely something to recommend if ever you want something that's bittersweet yet not overpowering for the palate.
Highlights
Cheap price
Sourced from South America
70% Cocoa
And that's our list of the best chocolates in Singapore for dieters! If you'd like to recommend more options, feel free to share them with us!
And if you're particularly looking for gift sets, see these best chocolate hampers in Singapore! These selections have a variety of luxurious chocolates offered at reasonable prices!