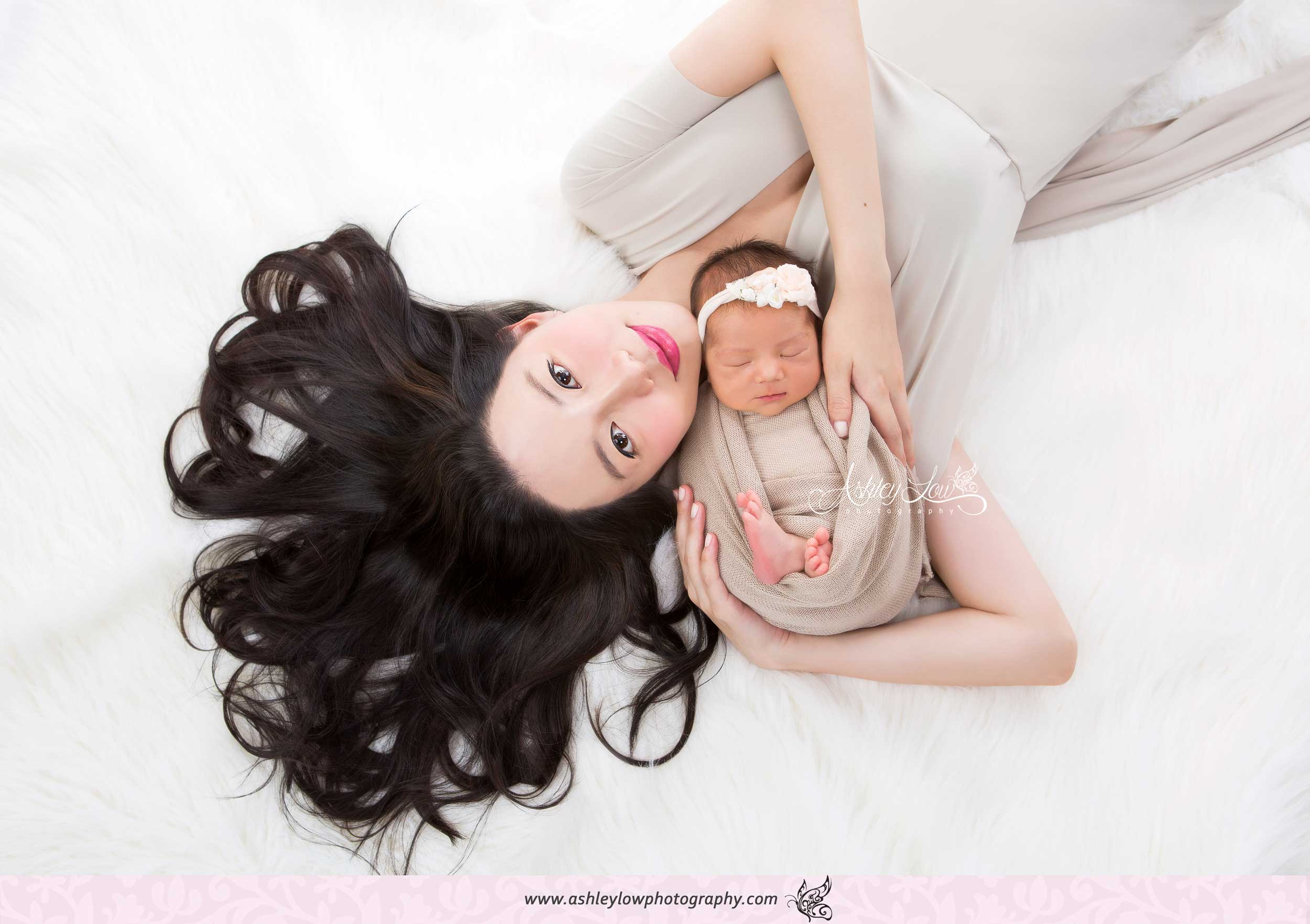 Image Source: White Room Studio
Taking family photos has always been a great way to celebrate the bond of the family or a milestone. So, it'd be nice to know the studios that offer the best family photography in Singapore.
We went looking for the most accessible and talented photographers in the country for that purpose. Without further ado, here are the ones whose studios offer the best family photography in Singapore.
1. Ashley Low Photography
Image Source: Ashley Low Photography
There's nothing more delightful to see than a beautiful newborn child. But, you know how time flies so suddenly and before you know it, those little feet which you used to be able to fit in a pocket can be able to stand, walk, and run. 
Thankfully, there are amazingly professional photographers who are able to capture your favorite moments with your newborn. Ashley Low Photography promises to give you real and authentic as well as colourful and playful photos of your baby that you can keep for a lifetime.
When it comes to creativity, there is no doubt that Ashley Low Photography can do such magic. Sure, your child is a whole lot of beauty but when combined with the studio's stunningly wonderful set and props, the results are certainly indescribable.
Highlight
Award-winning photographer

Creative and fresh ideas for shoot

Perfectly applied colour theory and floral designs
Customer Reviews
We can all agree that babies are truly a handful, but probably not for Ashley. She is praised for her patience and shockingly great skills with handling kids, especially toddlers yet being able to produce wonderful photos. One client has left this feedback on Google Review.
"Our baby was a nightmare to shoot but Ashley handled it so well! The studio environment was great and comfortable, and there was even a play area section with tons of toys to entertain our little one. Despite our baby being so difficult and fussy, Ashley remained ever patient and calm during the entire session. We were very pleased with the outcome of the photos and the photoshoot itself was an experience of its own for our family!"
2. Bambini Photography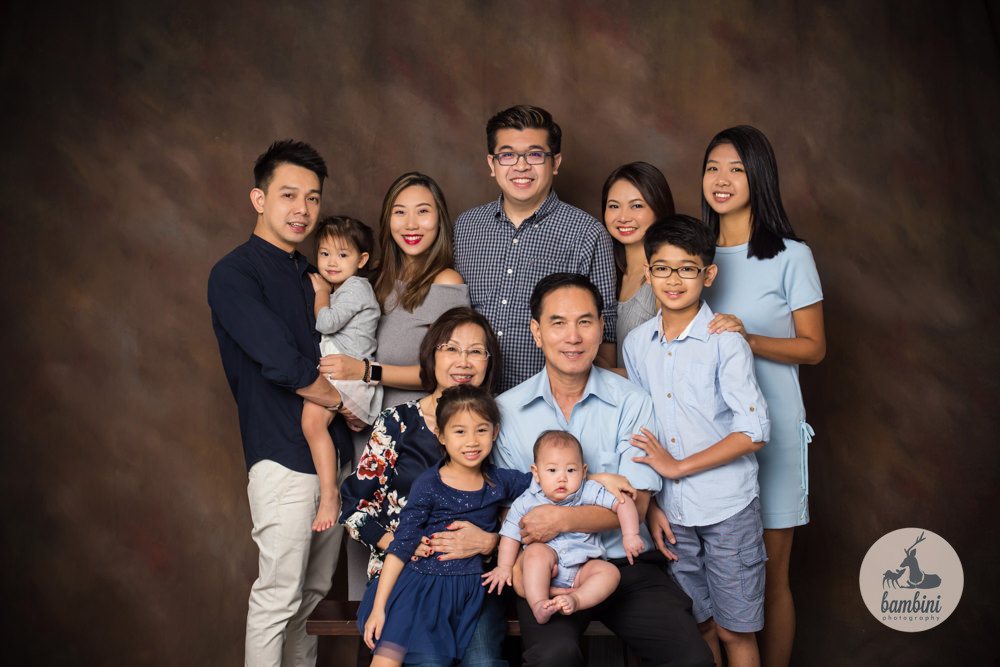 Image Source: Bambini Photography
Bambini Photography have been photographing expectant mums, babies and families since 2009. The most impressive thing about them is their extensive selection of studios. You can have maternity, newborn, family, babies, children and corporate photography in their studios. They even have an adult sized bath tub in their studio for maternity milk bath photoshoots.
Whether you have a small or big family, they can accommodate up to 25 people in their large studio, capture beautiful moments with your loved ones, and help you have fun!
They've consistently been rated Top 10 Family Photo Studios in Singapore by various online and offline media and gained a lot of awards including the Singapore Prestige Brand Award 2017. They also hold trademarks to the brand around the region, making them one of the go-to places for the best family photography in Singapore. 
Highlights
Outdoor locations
Corporate photography
Gift vouchers 
Customer Reviews
Clients were impressed and satisfied with the skilled photographers, creative team, and friendly staff service of Bambini Photography. A customer left this feedback on Google Reviews:
"We recently had some family photos taken with Bambini Photography and were very happy with the complete experience, from the photo session to the resulting photos and canvas prints. The session was quicker than we had expected, light hearted and fun. The photos are fabulous!! The photos for selection arrived promptly, as did the canvas prints which we ordered. Thank you to the team at Bambini Photography for a great experience and lasting memories."
3. Bespoke Photography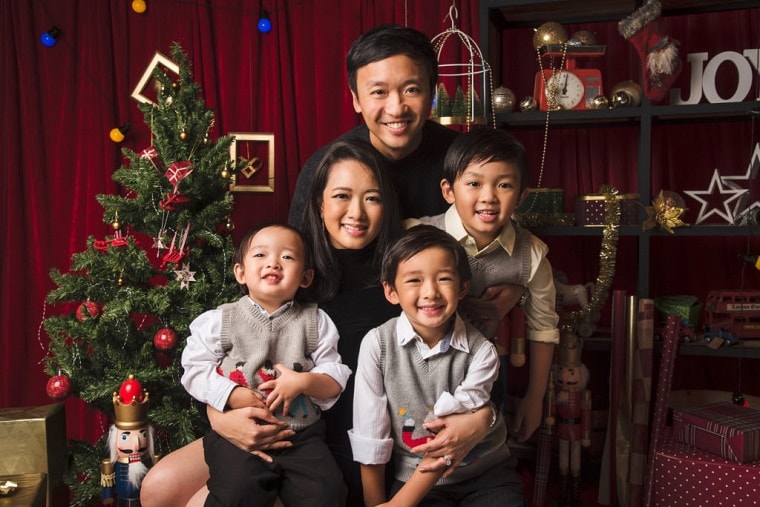 Image Source: Bespoke Photography
For those who are searching for a photo studio where you can do themed pictorials such as Christmas, Mother's Day, Chinese New Year, and more, Bespoke Photography might be the place that has the best family photography in Singapore.
Moreover, they'll take on unique themes if you have one in mind. They take suggestions from their clients, so just tell them if you want something particular for your session.
They also offer other services, including photography for weddings, maternity, newborns, corporate occasions, events, and more. They even have product photography that can be helpful for business owners to promote their shops or restaurants. 
Highlights
Themed pictorials
Product photography
Event videography
Photobooth services 
Customer Reviews
Their customers had a delightful experience with the team of Bespoke Photography. They shared that the photos they received were beautiful and well-captured.
A former client recommended their services and wrote this review on Google Reviews:
"My family was in Singapore for the Christmas holidays in 2018 and wanted to do an outdoor shoot. Overall the experience was great while shooting with our photographer, Benedict. We were able to do various shots (my parents, my sister's family, us siblings etc) and maximized the different spots in the condo. What impressed me was how Benedict artistically captured the photos, using the greenery and sunlight to add "flavor" to the photos. I definitely recommend Bespoke Photography for outdoor family shoots, so much so that we are doing it again this year."
4. JJ Photography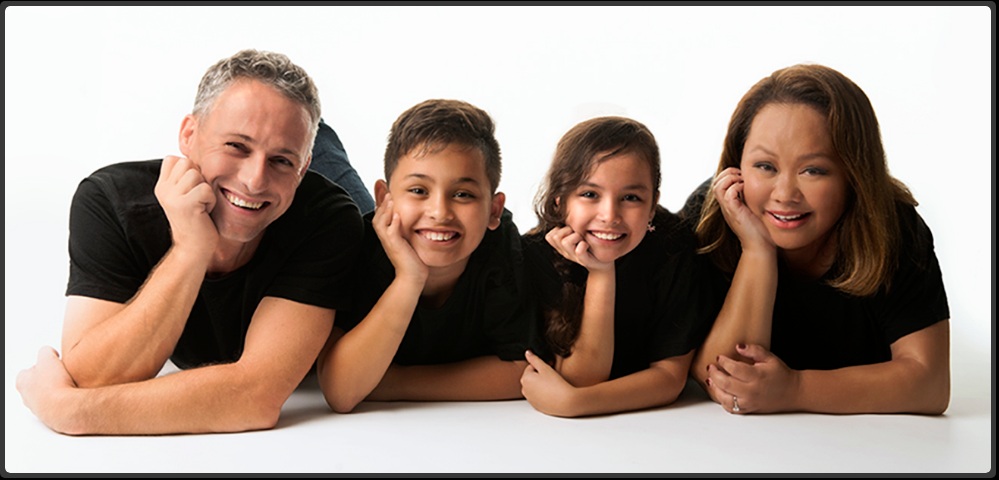 Image Source: JJ Photography
JJ Photography is applauded for their outstanding photography sessions that primarily features newborn and maternity shoots. The studio offers various packages so you can select the one that perfectly suits your budget and preferences.
Their team also allows pictorials outside their studio, should you wish to do so. 
Another thing that JJ Photography is praised for is their efficiency and overall wonderful customer services. They promptly answer queries and other concerns and patiently explain each of the services offered for your convenience.
Highlights
Team of professional photographers and staff

Flexible packages

Outdoor locations
Customer Reviews
Their clients highly appreciate the team's effort to quickly respond to their messages and make booking of appointments easier for them. More importantly, they do not only match their clients expectation but rather exceed them.
A client shared his experience with JJ Photography
"Our second son was born in May, and for such a special occasion we needed a special newborn photographer. We already had several photo sessions and hence high expectations. JJ was recommended to us, and we can honestly say that we were more than happy with our choice from initial contact to the handover of the last pic. What we liked most:"
5. Katie Martin-Sperry Photography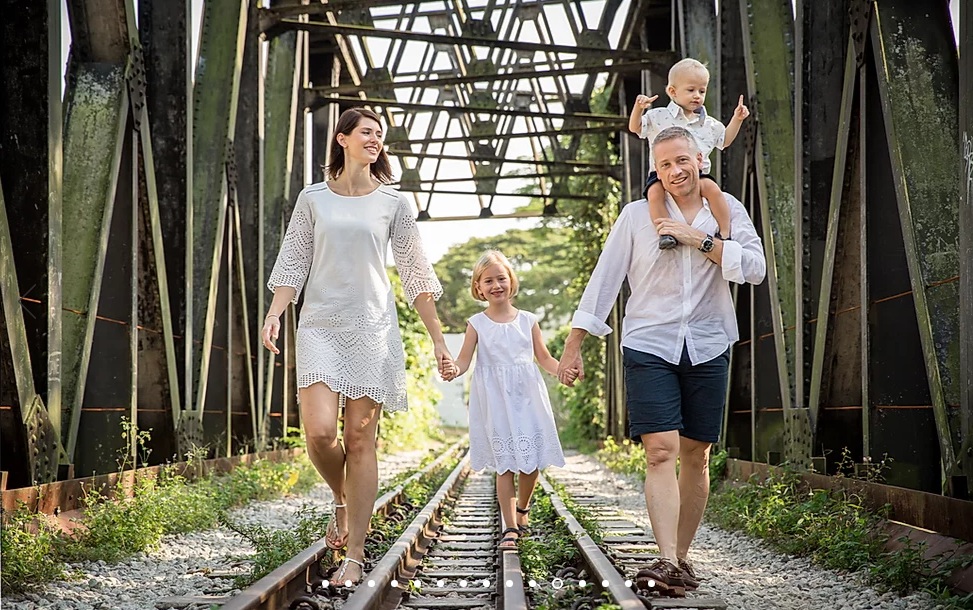 Image Source: Katie Martin-Sperry Photography
Katie, the photographer herself believes that photographs should show real beauty through simplicity that is why she's not a fan of heavily retouched photos. 
Most of the shoots of Katie Martin-Sperry Photography are done in a friendly home environment or outdoor location, so if you like this kind of setup, do not hesitate to get in touch with them.
Should you need some advice from the expert herself, Katie has dedicated a specific section for pre and post photoshoot so you'd be more prepared for the actual session especially when it includes newborns.
Highlights
Corporate and Events Photography also available

High quality photographs

Accommodate bespoke photoshoots
Customer Reviews
Katie consistently receives rewarding reviews especially for her toddler shoots that truly require skills and patience to capture delightful photos. Here's one of the reviews posted on their website.
""Katie has taken the most divine photos of my cheeky boys. It was an incredibly hot Singapore morning and neither child was particularly in the mood to listen or perform for the camera. Despite that, she took so many wonderful shots that perfectly capture their personalities we are finding it hard to choose the ones we like the best!"
6. Larry Toh Photography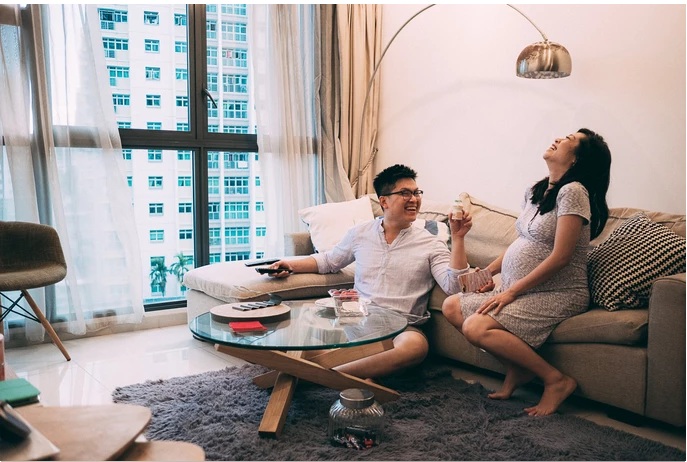 Image Source: Larry Toh Photography
Larry Toh Photography leans to a less conventional way of taking family portraits— through a documentary. This means that 90 percent of the shots are unposed and candid. This rawness shows a more realistic and natural story of a family while keeping the aesthetic alive.
Props and outfit are not too much of a concern as the photographs aim to capture the everyday life of your family. So, you can wear your most comfortable clothes, no need for fancy drapes, and you can be as messy as it normally is.
While the photographer himself mostly plays with black and white photographs, yours will be edited in both monochromatic and colour and will be arranged in sequence to stitch the whole story sequence.
So, have your family's tale be shown through images and hire Larry Toh Photography.
Highlights
Simplicity and rawness

Shoots weddings

Outdoor and Indoor locations
7. Little Ones Photography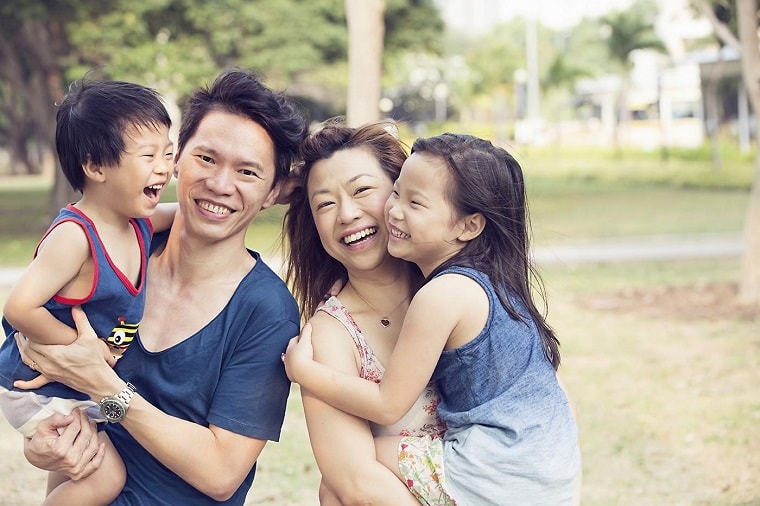 Image Source: Little Ones Photography
Being a photo studio that has been providing services for over a decade, Little Ones Photography is a well-known studio for many locals. It's managed by two sisters who are award-winning family photographers in Singapore, so family pictorials are indeed their forte.
Photoshoots can be done at their boutique studio, at home, or at any outdoor location. Just make sure to book a schedule if you're planning to have it in a specific location.
Aside from this, they also offer maternity, newborn, children and babies, seniors and teens, and even cake smash photoshoots.
They make each capture more special by taking it naturally and spontaneously. This is why they're in our list of the studios offering the best family photography in Singapore.
Highlights
Outdoor locations
Maternity, seniors and teens, cake smash pictorials
Accessible location 
Customer Reviews
Little Ones Photography had nothing but praise and gratitude from their customers. They mostly complimented the talented photographers who can make clients comfortable in front of the camera.
A customer posted this feedback on the studio's official Facebook account:
"Kate made it super enjoyable for the shoot with my wife Pearlyn Chua and son, Adler, who was about 4 months old at that point of time. She was able to bring out the biggest smiles in him and best of which, precious moments that were captured on camera. Timely enough, we now have a beautiful family photo to bring into our new home. Thanks for everything Kate!"
8. Picspirations Photography
Image Source: Picspirations Photography
We have to admit that we cannot always trust are mere memories to remember everything that happens over the years. 
So do not miss the chance to capture your baby's every milestone through the professional lenses of Picpirations Photography and have those memories treasured and kept forever in a photograph. 
Picspirations Photography is committed to help you create memorable portraits which you can look back into in a few years time through their exceptional family portrait services.
Whether you want to do the shoot in a studio or outdoors, their team will gladly capture beautiful memories for your family to enjoy forever.
Highlights
Competitive prices

Creative outdoor shoot

Professional photographers and staff
Customer Reviews
The clients of Picspirations Photography highly appreciate the team's very accommodating and gentle treatment towards them especially with babies and toddlers. Families truly enjoy shooting with them and having a little bonding on the side. Here's a review posted by a client on the studio's Facebook page.
"We found Alexandria's studio through a Google search. We were really appreciative that her studio is so close to where we live, making it easier for us to coordinate the photo shoot with our newborn.
Alex is friendly, accommodating, and most importantly gentle with our baby. She is great to work with, fast in her responses, great turnaround time with her prints. Overall it was a relaxed, well-directed, and fun shoot.
We are really happy with how the pictures turned out, plus it's a real hit with our friends and family! Highly recommend."
  9. The Studio Loft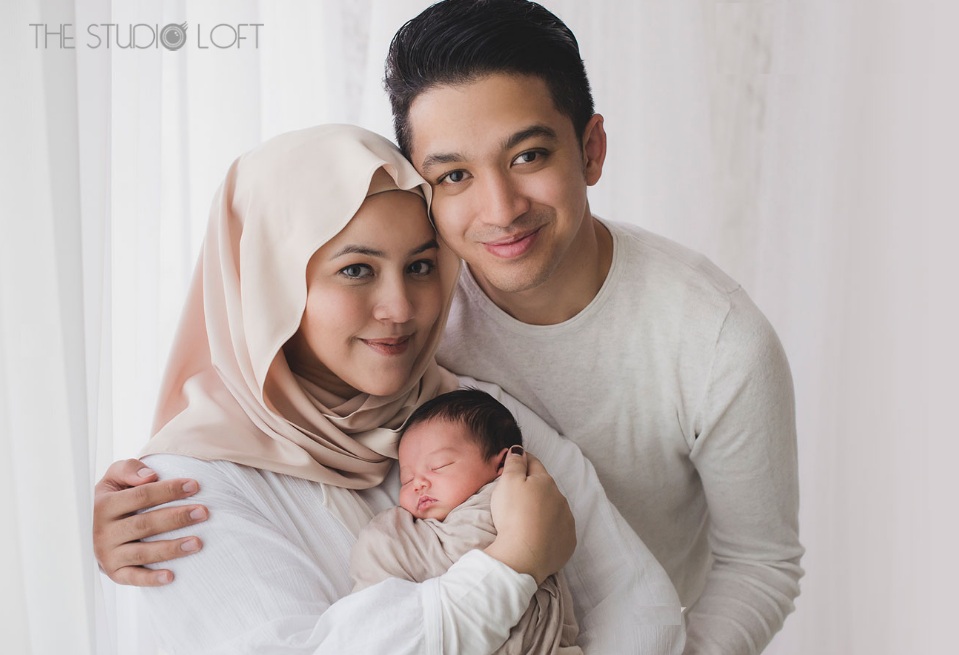 Image Source: The Studio Loft
BEST FOR

Maternity and newborn photography

PORTFOLIO

https://www.thestudioloft.com.sg/portfolio/

WEBSITE

https://www.thestudioloft.com.sg/

ADDRESS

71 Ubi Road 1, #09-39 Oxley Bizhub

Singapore 408732

CONTACT DETAILS

+65 6235 3696/+65 8810 9460 | ask@thestudioloft.com.sg

OPERATING HOURS

Mon to Fri – 10AM to 5PM

Saturdays – By appointment only

Closed on Sundays and public holidays
The Studio Loft is an all-woman team, committed to making the journey of every pregnant woman and their babies in Singapore even more beautiful by capturing their wonderful milestones. They keep their services stylish yet gentle so their clients would always feel comfortable and beautiful.
13 years of experience in the studio has made the team an expert especially when handling kids. You can trust them to provide you with fresh ideas and tasteful shots that you will treasure and hold forever.
Should you wish for some fun snippets of the shoot, The Studio Loft also offers behind-the-scene video footage for you to enjoy with your family.
Highlights
Unique seasonal sets every year

Accommodates events shoots

Friendly environment
Customer Reviews
Their clients loved how their team keeps a warm and comfortable environment while doing their shoot. They also make sure to promptly respond to their clients' inquiries and concerns especially in booking appointments. Here's what a client wrote on Google Review.
"Studio Loft was easily contactable via Whatsapp. They helped us find a suitable time slot for our tight schedule and accommodated us when we arrived early on photo shoot day. The studio itself is very cosy. Val & team made us feel so comfortable that they were able to take such beautiful photos of our family. They were very well taken. We esp loved the candid ones which my niece and nephew said they want to hang in their rooms. Oh, and we received the digital photos within a week from the photoshoot!
Thank you Studio Loft for the beautiful photos and the memories you have created for my family."
10.  Theresa Olesen Portraits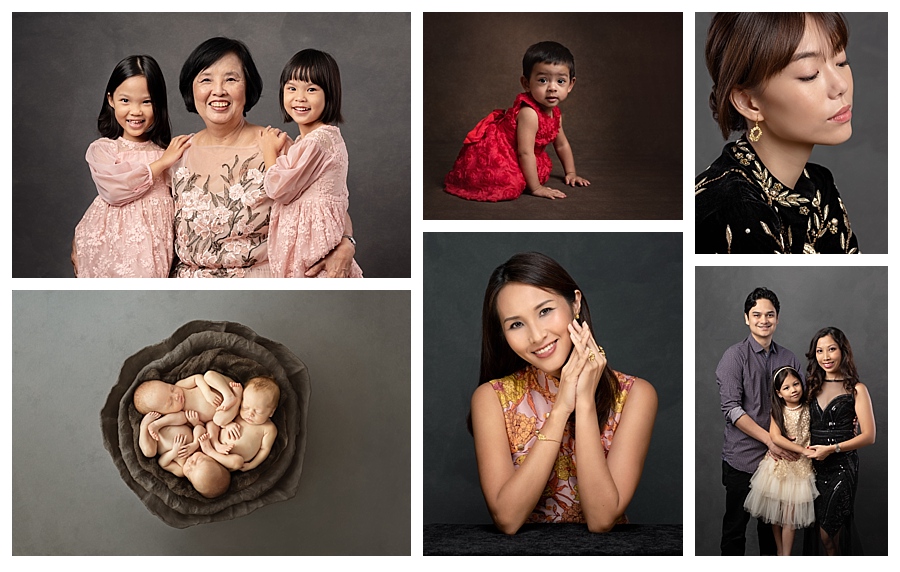 Image Source: Theresa Olesen Portraits
Theresa Olesen Portraits is an award-winning photography studio that has a truly magnificent portfolio featuring a wide range of family portraits including maternity, newborn, babies, children and adults. 
They also make their best effort to make their clients comfortable while in shoot. As a matter of fact, they do not set a time limit and give you the liberty to enjoy the shoot until you are finally satisfied with a set of 20 images. 
You may also opt not to bring any more outfits because the studio already has a collection of props, baby outfits and dresses all sizes for girls and ladies. Plus, the team is backed with an incredibly talented makeup artist who is willing to give your face a pop of color, as you wish.
Highlights
Extensive studio wardrobe

Internationally-recognized photographer

Dogs Christmas portraits
Customer Reviews
Theresa Olesen Portraits is applauded for its masterpiece work in portrait photography. The team's professionalism and incredible talent makes their clients go back to them for more portraits. Here's a review from Cecile Corea posted on Google.
"I had a really really lovely session with Theresa. Her photo studio is absolutely incredible. I felt like I was in a movie set. She made me feel comfortable and made it easy for me to pose. When I saw the pictures I was in the wow and felt really happy with the quality of the pictures. Theresa is really professional. I would go again for sure for my next photo session."
11. Tomato Photo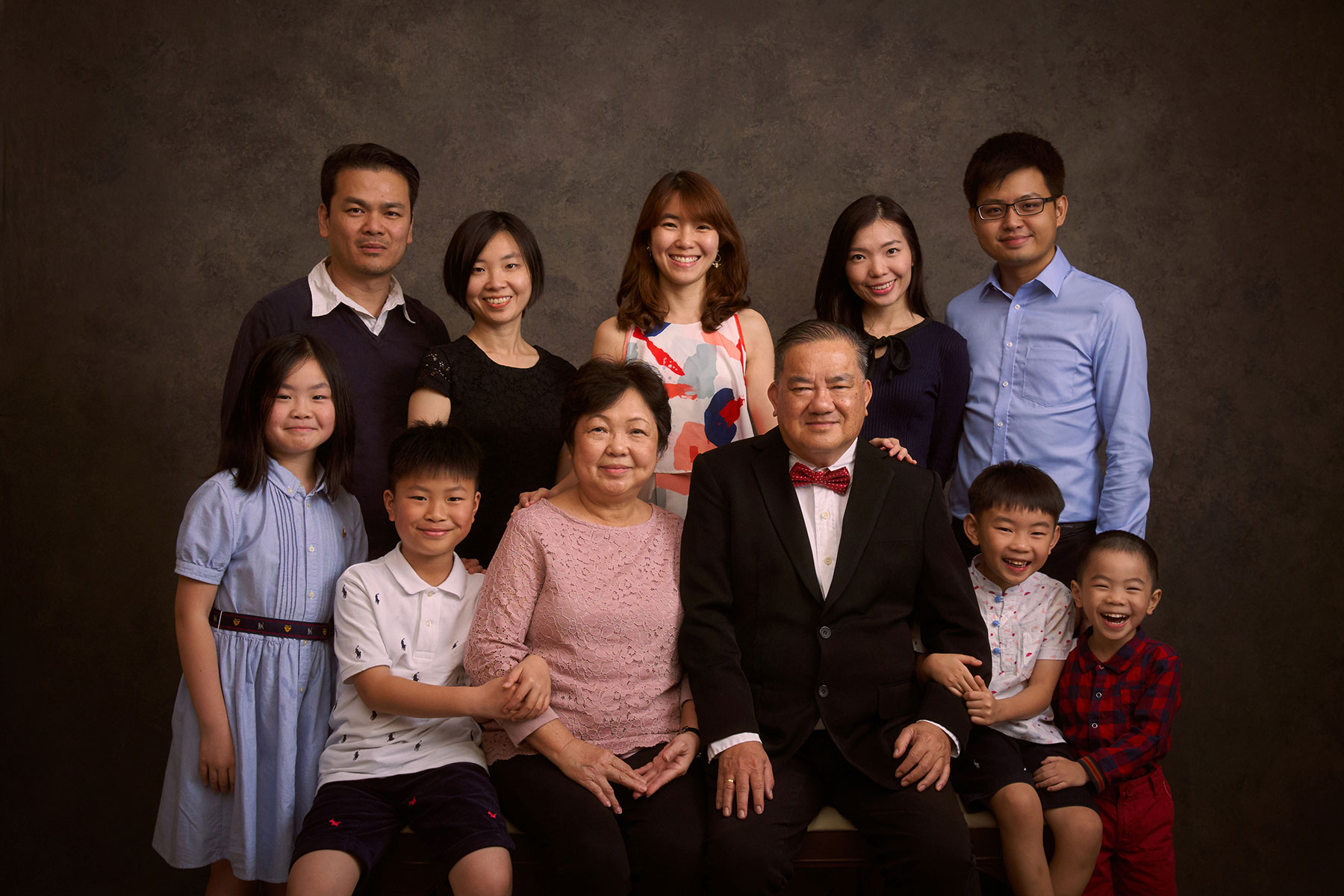 Image Source: Tomato Photo
Tomato Photo has always been voted as one of the best photography studios in Singapore. They make the process of you having your family photography easy, you can simply just leave everything to the studio and truly enjoy yourself.
The studio is the pioneer in newborn photography in Singapore and popularized the natural unscripted family photography for busy family who is looking for tangible memories. The studio is helm by Master Photographer, Hart Tan, known for his easy going personality that put people at ease as well as unparalleled consistency. They are the only studio that offer written 100% satisfaction guarantee.
Feel free to send them an inquiry and their highly dedicated team will gladly assist you and your family.
Highlights
Big studio that can accommodate family up to 35pax
Lift Landing Studio for easy access for those on wheelchair, stroller or walking aid.
Offer both Casual and formal shots with multiple backdrop choices.
Customer Reviews
Handling kids while in shoot is not an easy task but the team of Tomato Photo managed it very well and their clients highly appreciate such skills. Ren Jong left this review on the studio's website.
"There were about 20 of us. Ages spanned from 98 to 2, members of the family who wanted to play photographer, children who did not want to smile for the camera and tired members of the family from travelling. Yet, Hart took it all in his stride. He was easy going, warm and made everyone feel right at home. He took great natural shots of all of us and we absolutely love love love the photos." – Ren Jong
12. White Room Studio
Image Source: White Room Studio
The White Room Studio is another award-winning place that has been recognised by many.
Once you enter the studio, you can immediately see the elegant set-up that gives a sense of home. Therefore, you can immediately feel at ease throughout the photo shoot.
They also do pictorials at outdoor locations and many other services, including corporate photography. So if you're going on a company outing, it'd be good to acquire their services and have simple memorabilia of the experience.
Moreover, you can have the photos printed on canvases, books, table blocks, wall frames, albums, and even in a digital CD. If you're looking for one of these services, then they may have the best family photography in Singapore for you!
Highlights
Customized gifts
Corporate photography
Gift certificate promos
Customer Reviews
Most customers recommended White Room Studio for their overall services. The whole setup and their creativity and skills have received amazing responses from clients.
A customer gave this feedback on Google Reviews:
"Have been here twice now for different photo shoots – both times the shoots have amazed me: wonderful and skillful photographers, great settings within the studio, post production work is amazing and we got some brilliant photos which are now family treasures. The team are absolutely awesome in every respect, and I like the fact that they focus on guiding you rather than being pushy sales people – a big plus! I would highly recommend the folks at White Room Studio, they are a great team producing excellent photos!"
13. Photo Rikki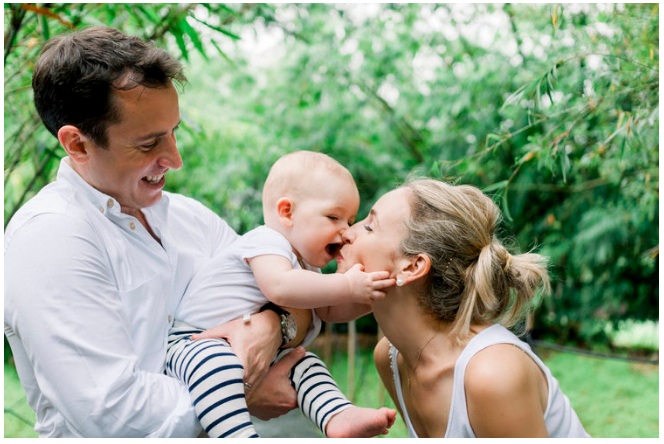 Image Source: Photo Rikki
Photo Rikki was established out of realizations how photos can store so much memories and can be so important to different persons. The owner, Shiwen, was a former anthropology teacher in an art school. She left her job to pursue motherhood. Through the course, she found himself amused of the photos she took. This is when Photo Rikki started.
The studio helps you, if not recreate the moments, relive the memories that is captured in every photos. It is in the belief that pictures help remember people, places, happenings, etc. 
Highlight
Transparent packages

Customizable shoots

Flexible arrangement
In any case, that rounds out our list of places to go when you're planning to have the best family photography in Singapore. If you've already gone to your favourite studio from our picks, share with us your experience!
For those who want to capture their most cherished moments anytime and anywhere, though, you may prefer to turn to the best camera phones in Singapore. You don't always need a studio to take great family photos, after all!