12 Best Van & Lorry Rental Services in Singapore for 2021
Going on a trip with your family and friends would always be a great escapade from our usual routine of busy work schedules and all the hassles that come with it. However, these tripes will be quite tiring and a bit complicated if we do not have our own car to hop on. That is why there has been a lot of car rentals that let the locals and tourists borrow their well-conditioned vehicles for a particular span of time.  Whether it is an out-of-town or international venture, having a list of the best van or lorry rentals in Singapore will surely come in handy!  
1. Pan Pacific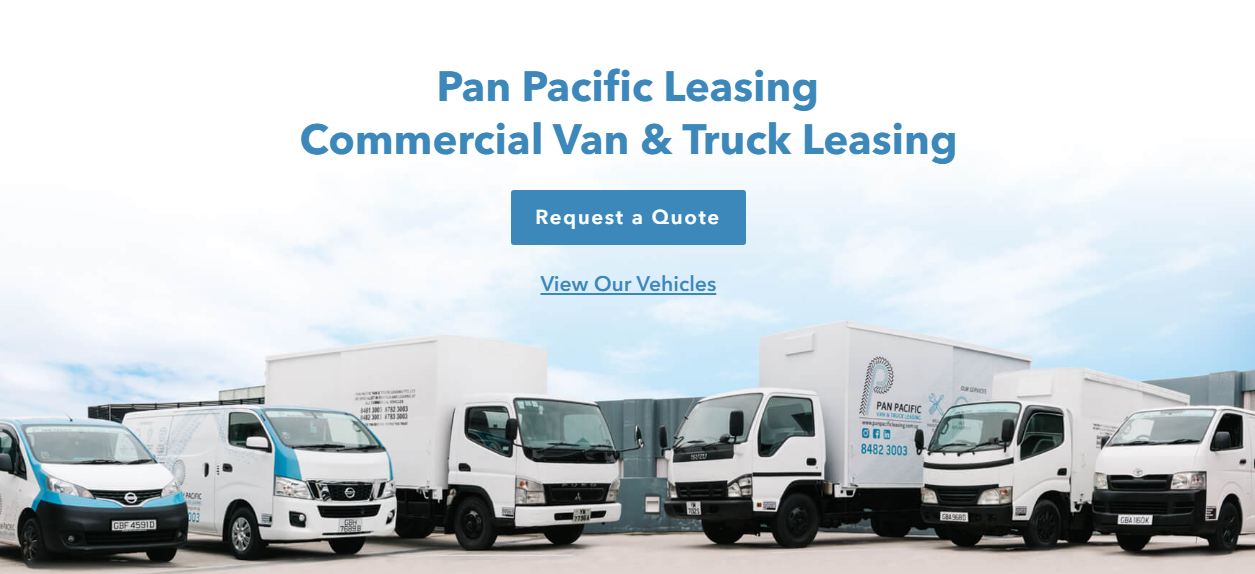 BEST FOR 
Well-maintained Vehicles, 24/7 Service Center, Affordable Rates
SERVICES
Vehicles
WEBSITE
https://www.panpacificleasing.com.sg/
ADDRESS
52 Joo Chiat Road, Singapore, 427374
CONTACT DETAILS
+65 8482 3003
OPERATING HOURS
Monday to Friday – 9:30am–6:30pm

 

Saturday – 9:30am–1:30pm
At Pan Pacific, they provide a broad range van and lorry rentals in Singapore that opt for reasonable prices. They offer commercial vans & lorries with various sizes and specifications so you can get choose which one is suitable for your long or short term trip. Their offered brands include Toyota, Nissan, Fuso, Isuzu, and many more. Their services cater to both personal and business purposes in which you can have customizations and other requests. The rates for their van rental in Singapore vary depending on your desired duration.
Service Highlights
GPS vehicle tracking available
24/7 vehicle replacement scheme
Special promotions
Customer Reviews
Throughout the years, Pan Pacific has been serving large corporations such as Aramex, Bosch, C&W Services, SMRT, and Singapore Post. their vehicle solutions cost flexible rates and their customer service is highly responsive. Tan Chin Yeo gave these compliments on the company's official website:
"Fuss-free and professional in terms of vehicle availability and inspection of the vehicle. Price is very reasonable as compared to others. Speedy and prompt response to my questions and is willing to go the extra mile for the customer. Vehicles are well maintained and looked after. Recommended for drivers who are looking to lease vehicles."
2. TheLorry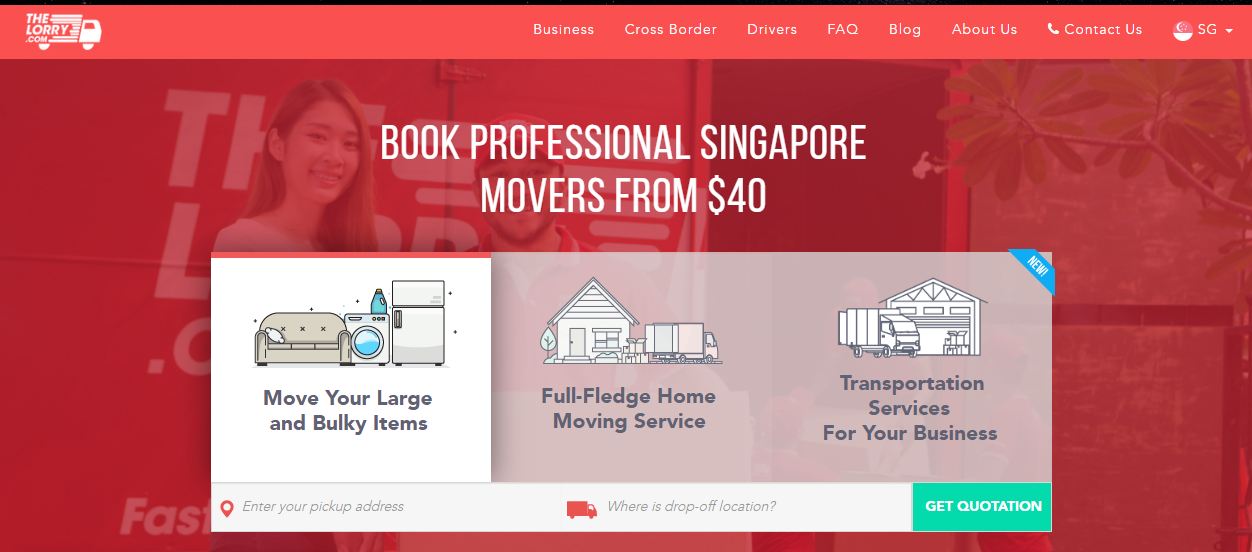 BEST FOR 
Vehicle Rentals for Business Purposes
PRICING
Rates
WEBSITE
https://thelorry.com/sg
ADDRESS
Mapletree Business City, 20 Pasir Panjang Road, #03-22/24, Singapore 117439
CONTACT DETAILS
+65 31389164
OPERATING HOURS
Monday – Saturday: 9AM – 6PM

 

Expect delays on Sunday & public holidays
If you need to rent a lorry in Singapore for personal or business use, it's good to consider The Lorry. 
TheLorry's services include lorry and van rentals for lorry transport, house, and office relocations. Compared to other options, this company has their own skilled and well-trained drivers that will help you transport your things to your desired location, without any complications and hassles. So if you are currently looking for a rental company that can provide moving services, this is the ideal choice for you! For the business owners who need a lorry for rent in Singapore and don't have enough time to look for a reputable driver, you can easily go through the accessible booking and payment process on their mobile application.
Service Highlights
International moving deliveries
Instant quotations
Same-day delivery 
Customer Reviews
TheLorry is well-loved by many customers because of their practical rates for daily van rental in Singapore, and convenient solutions. Marilyn Chong recommended their services and wrote this feedback on the official website:
"Helpful and responsible mover. Kept calling me to confirm the timing. Would totally recommend this service to anyone!"
3. Index Rent-A-Car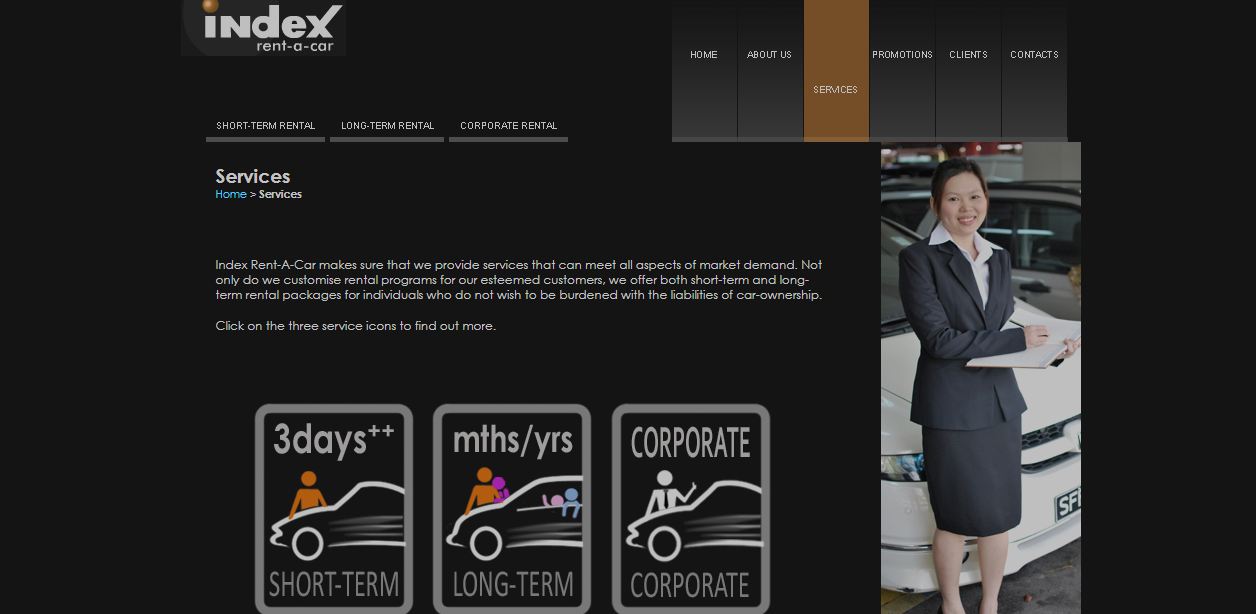 Index Rent-A-Car has all the vehicle rental choices for the whole family and for business transactions. They take in specific fed requests for a more personalized experience. In case of emergency, they have 24/7 customer support service to assist you. Their rental services range from short-term, long-term, and corporate and the brands include Suzuki, Peugeot, Mazda, and Toyota. As it is a subsidiary of Index Group of Companies, aside from the rental services, they can also accept used cars if you want to sell your car and have it placed in a good facility.
Contact them if you need information about van rental with driver in Singapore.
Service Highlights
Efficient motoring solutions
After-sales services
Delivered within 3 days for short-term rentals
Customer Reviews
Most Index Rent-A-Car's clients are impressed by the quality of the cars which made them feel like they are driving a brand new one. Here are some testimonials from the official website:
"I remember I urgently needed to extend my rental by 3 days. I appreciate that my call was answered in the middle of the night and I can continue to drive the vehicle."
 "Index is efficient when it comes to corporate rental. They delivered to me a replacement that is of no lesser standard than the one scheduled for servicing."
4. Ethoz Group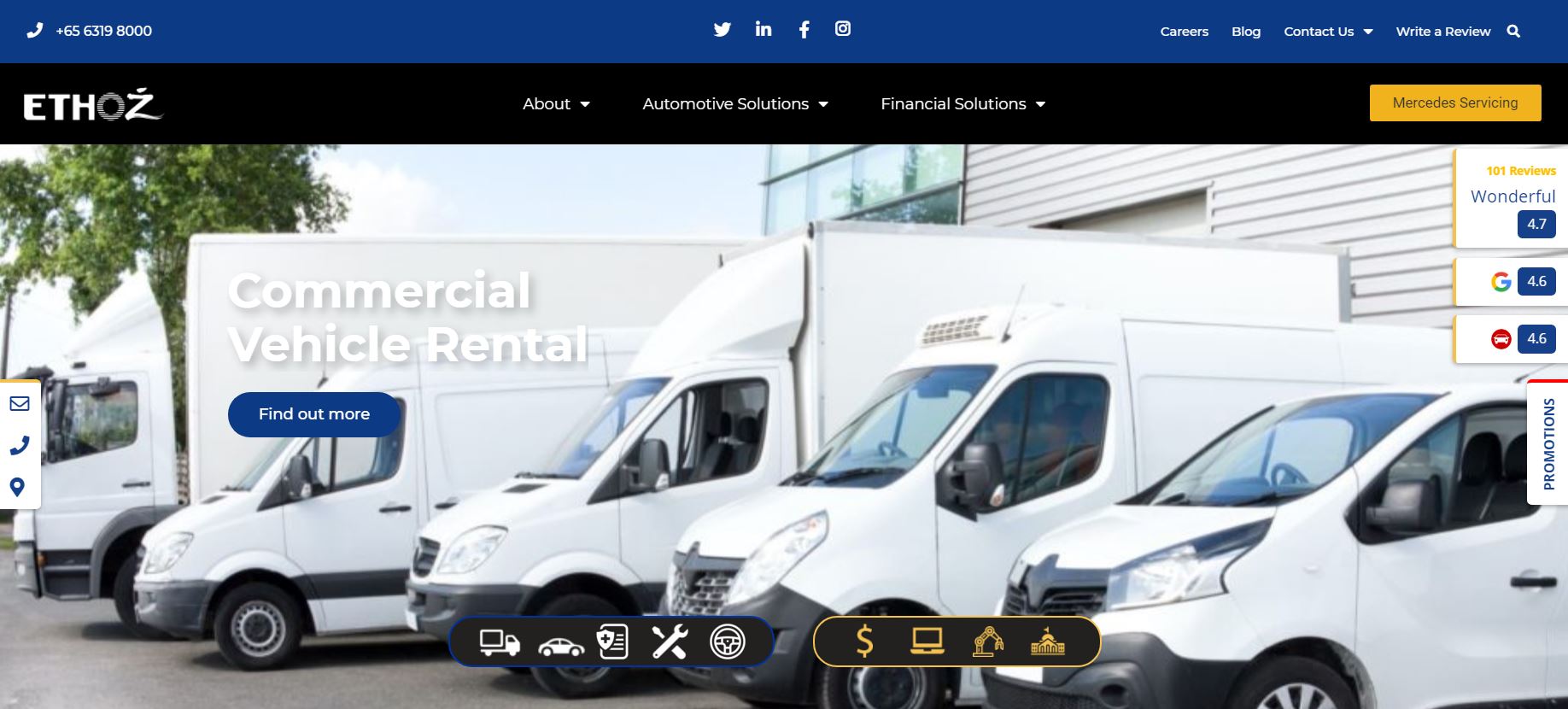 ETHOZ provides commercial vehicle rental to businesses seeking to optimise their operations. Zero downtime, predictable operating costs, and controlled cash flow — these are all paramount to any business, and can be offered by ETHOZ through the company's services.
Aside from that, ETHOZ is also known to work with customers to meet these objectives through short term and long term leasing of commercial vehicles. 
Apart from the regular Passenger Van Rental, Cargo Van Rental, Pickup Truck Rental and Lorry Rental, ETHOZ is also able to tailor commercial vehicles of all configurations and customisations to their customers. Examples include and are not limited to Box Truck Rental and Freezer Truck Rental.
ETHOZ's track record is evidenced by the growing SME and MNC clientele pool from various industries: government-linked companies, logistics and warehousing, freight forwarding, construction, food and beverage.
Service Highlights
Chauffeured Services
Motor insurance coverage
On-call concierge services
Customer Reviews
Ethoz Group has been truly prioritizing their client's needs by providing free replacement and 24/7 roadside assistance services. These accommodations have captured the trust of many customers. Ivan Poh shared this wonderful experience on Google Reviews:
"Rented a Mazda 2 from Ethoz back in July last year. Registration was easy, rental officer was clear and concise in her briefing and explanation. Collected the car at tampines and car was in good condition, the officer took his time to explain the functionality of the car and there I drove off. The car had no issue, went back to their workshop to remove a nail and the service was prompt and efficient.Returned the car at tampines outlet, checking out was a breeze. Overall good experience, thank you Ethoz!"
5. Legend Motors & Leasing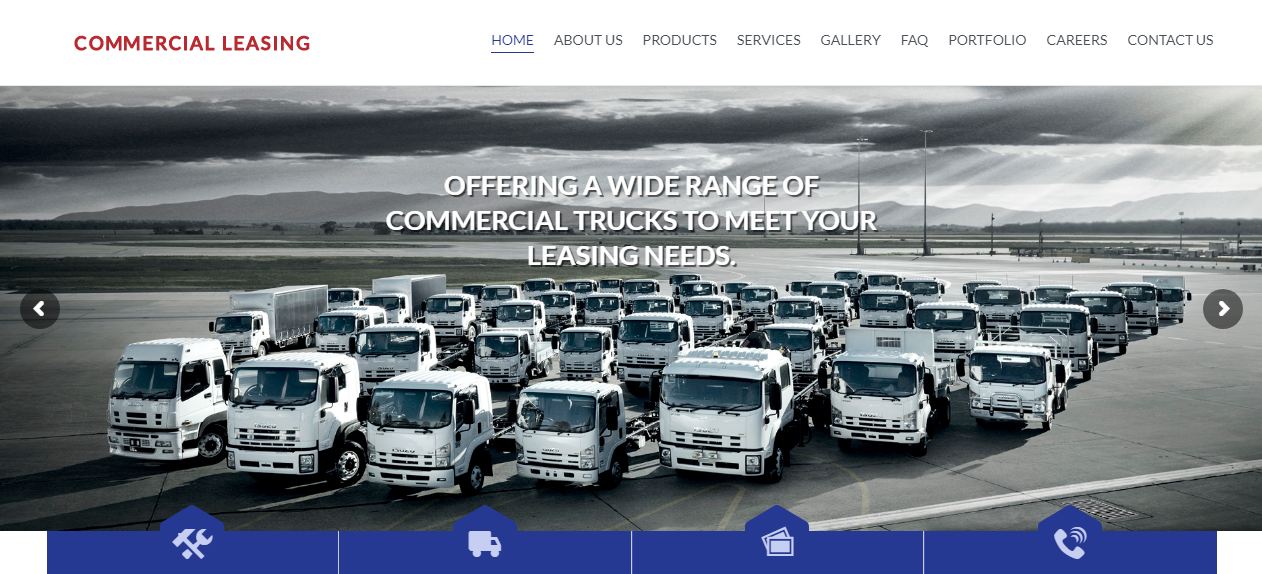 If your business needs require lorry rental in Singapore, look no further.
Unlike other rental services company, Legend Motors & Leasing focuses on providing commercial vehicles for the business owners. Whether you have a start-up or an established brand, they have all the options for truck rental in Singapore for you and transactions will certainly be much easier with their services. Their capacity of the trucks varies based on light, medium, and heavy-duty. All of their offered vehicles are made by Isuzu so the quality is surely certified. Since the vehicles used by corporations may go a long way to transport goods, they offer full maintenance which includes replacements and breakdown services.
Contact them now to get details on lorry rental price in Singapore.
Service Highlights
No insurance & road tax cost
Low upfront investment
Low maintenance cost
Customer Reviews
Legend Motors & Leasing has never failed to deliver premium quality cargo van rental in Singapore and services to their clients due to their reliable customer service and economical solutions. A reviewer left his 5-star rated feedback on Google Reviews:
"Had afew problems with some of the leasing company but legend leasing did a great job on my trucks. was up to my expectation. Very good customer service they gave me, super efficient . So far so good, doesn't have any problems with them or the trucks. Definitely will stick to legend & get more from them."
6. Edmund Vehicle Rental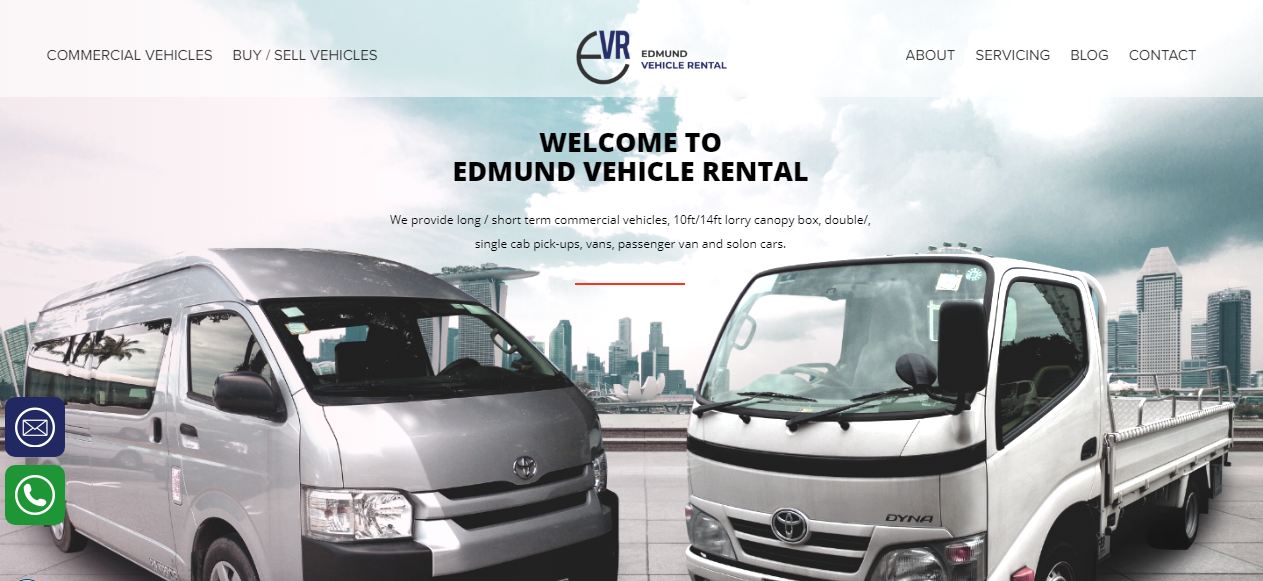 If you need to rent a lorry in Singapore for your personal or business use, you should have a look at Edmund Vehicle rental. 
At Edmund Vehicle Rental, they provide rentals for commercial vehicles, lorry canopy box, cab pick-ups, cargo vans, passenger van, and solon cars. They are one of the longest-running car leasing company in Singapore that has been serving versatile solutions for both locals and tourists. Before releasing and delivering your car, they check the overall condition and capacity of the vehicles so you can be ensured that they are highly maintained. They also have buy and sell services for those who want to sell their car or purchase a new one.
Service Highlights
Discounted promotions
24-hour breakdown recovery services
GPS vehicle tracking
Customer Reviews
Edmund Vehicle Rental is an award-winning company and they have been extending their services throughout the decades. A reviewer wrote this feedback on Google Reviews:
"Fast and easy process. Always keen to help when I needed help. Vehicles are always of top quality."
Once you go on a trip, there's no need to worry about transportations for Singapore has a lot of car rental options for you!
7.

 Lorry Rental with Driver

 

BEST FOR

HIghly-maintained Lorries with Professional Drivers

SERVICES

Vehicles

WEBSITE

https://www.lorryrentalwithdriver.com

 

ADDRESS

55 Tuas Crescent, #05-01/02, Singapore 638743

CONTACT DETAILS

Phone: +65 6898 4994

 

Mobile: +65 9475 1494

Email: [email protected]

OPERATING HOURS

From 8 AM to 5 PM, from Monday to Friday

 

From 8 AM to 12 PM on Saturdays
Lorry Rental With Driver has been on the business since 1986 has amassed loyal customers both big and small since then. They are trusted by over 2000+ people and are still working with large companies such as Bostik, Nippon Paint, and SolarGy. 
Besides lorries, they also offer forklift with drivers, warehousing & storage, and vehicle rent. They assure you that all their drivers are all professionals with multiple years of experience. And are all highly capable of assisting you in packing and handling all your stuff.
Service Highlights
Always on Time

Drivers will contact you an hour before your scheduled pickup & delivery time

Highly trained and experienced professionals in both driving and packing your items
Customer Reviews
8. SKYLINK AUTO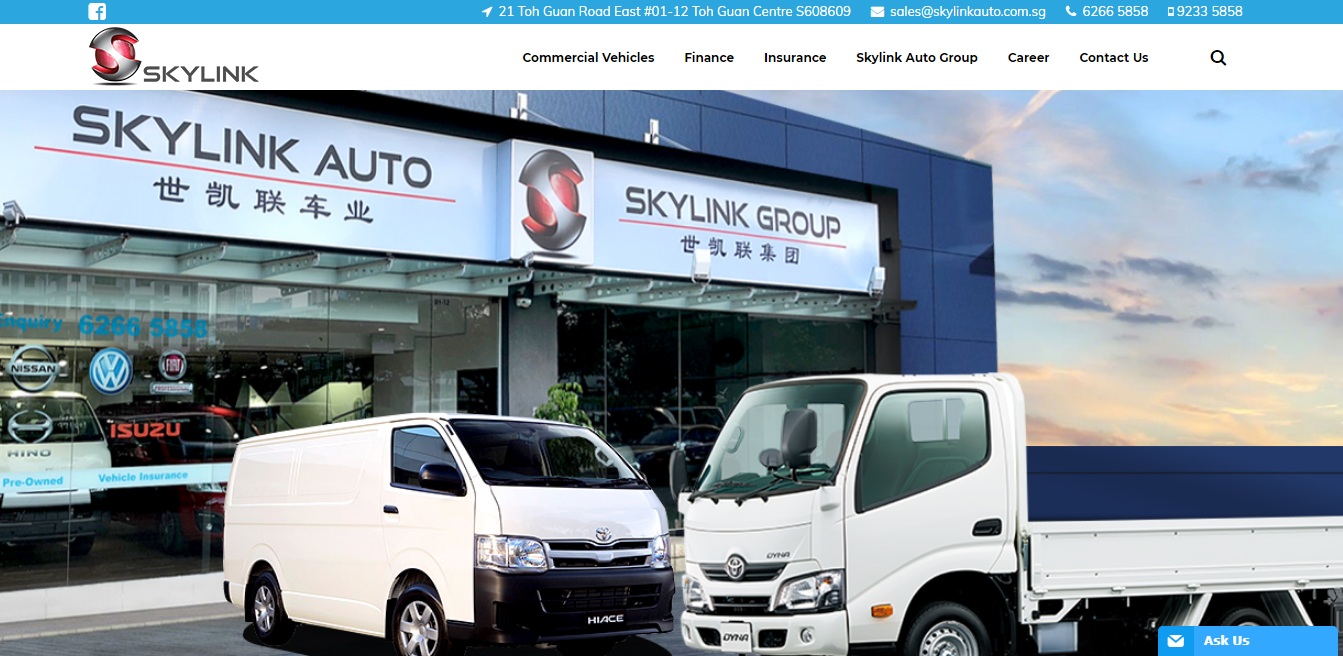 Skylink Auto ensures business owners that they will experience a professional and reliable service for vehicle rentals. They have a large selection of both private and commercial vehicles from mini vans to heavy trucks. They also ensure that they have ready stock and will be able to deliver your vehicle as soon as possible.
Aside from their vast selection of vehicles, customers can also select new or pre-owned vehicles that will match their needs. Skylink Auto also offers flexible financing options to ensure that you are able to rent your vehicle without any stress involved.
If you can drive yourself, contact their office now for information and rates for lorry rental without driver in Singapore. 
Highlights
Ready stock

Fast delivery

Durable

Comprehensive manufacturer's warranty

Flexible financing option available
9. Rentalorry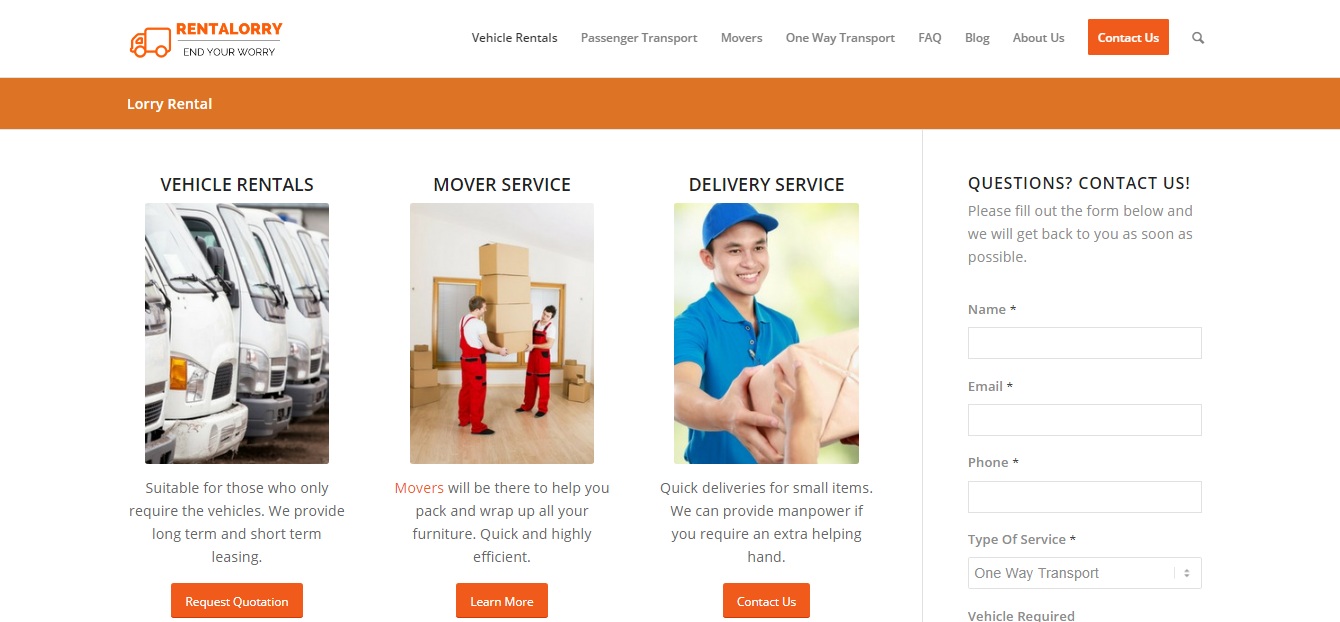 BEST FOR

Flexible Rental Packages

SERVICES
WEBSITE
https://www.rentalorrysingapore.com/
ADDRESS

22 Woodlands Link #03-27B, Singapore 738734

CONTACT DETAILS

6589 8964 |

[email protected]

  
OPERATING HOURS

Monday

9am–6pm

 

Tuesday 9am–6pm

Wednesday 9am–6pm

Thursday 9am–6pm

Friday             9am–6pm

Saturday 9am–6pm

Sunday Closed
Rentalorry was established in 2013 and since then they have not failed their clients in providing reliable lorry rentals. 
If you need a commercial vehicle for your work or activities, they can provide a good service for you. Their service offers moving, transportation and vehicle rentals that can be rented for long-term or short- term use.
Aside from that, they also provide professional and experienced mover. They can help you properly wrap up your things or furniture so it will not break while moving your things to your destination.
Service Highlights
Well-Maintained Vehicles

Professional and Experienced Movers

Online Support
Customer Reviews
Rentalorry really provides what their clients need. Their service was really good and satisfying.
"Rentalorry provided a very courteous service. They were on time and provided all that we asked for. The truck came with a tailgate which was very useful especially while moving the couch and the washing machines. Trolleys were also available to move other stuff. I'm sure the price is reasonable as well. We were able to move houses in a couple of hours. I'd highly recommend this service if you want to move houses. For other applications, I'm sure they'd have the appropriate service to suit your needs. "
10. FCY Enterprise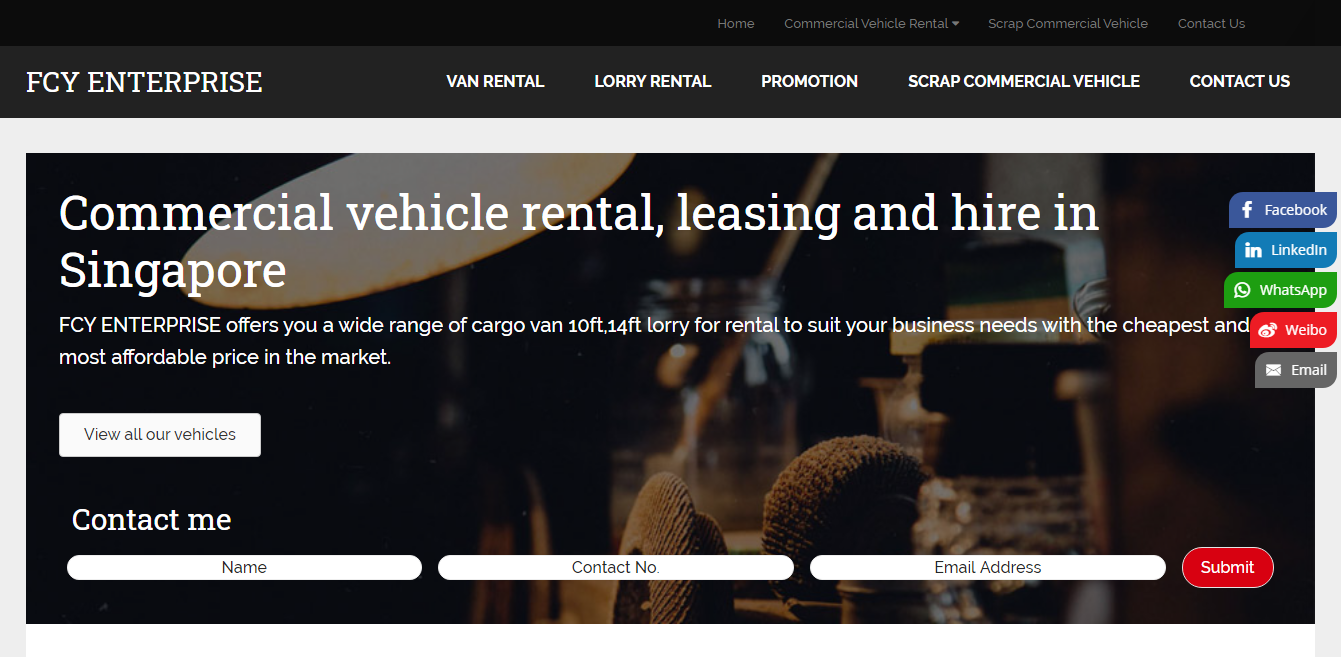 BEST FOR
 Vehicles rentals and leasing
SERVICES
Van Rental
Lorry rental
10ft Lorry
14ft Lorry
Scrap Commercial Vehicle
WEBSITE
https://www.fcyenterprise.com/
ADDRESS
9 Tampines Ave, Singapore 529787
CONTACT DETAILS
Ms Keh 9018 7303 / Mr Foo 9111 1086 l [email protected]
OPERATING HOURS
Open from 8am to 10pm every day
For more than 20 years, FCY Enterprise has been providing rentals for commercial vehicles, including van and lorry services. They are known as one of the best vehicle renting and leasing companies due to their wide array of services and years of expertise.
Their team consists of highly experienced mechanics who are all highly capable of maintaining the vehicles and ensuring that they stay in good condition. If your vehicle experiences difficulties, they can easily provide you a replacement vehicle so that you will be ready-to-go again. You can also avail their services for the cheapest rates. With them, you can rest assured that you will receive premium-grade vehicles with a price that fits your budget.
Entrust your vehicle rentals and leasing with them– they can assure you that you will have the vehicle that matches your needs!
Service Highlights
Ready stock
Affordable rates
Wide array of cargo van and lorry
Customer Reviews
FCY Enterprise is well-loved by many customers because of their practical rates, and convenient solutions. Derrick Foo recommended their services and wrote this feedback on the Google:
"Affordable pricing, they even deliver to you for monthly rental"
11. Rhino Rental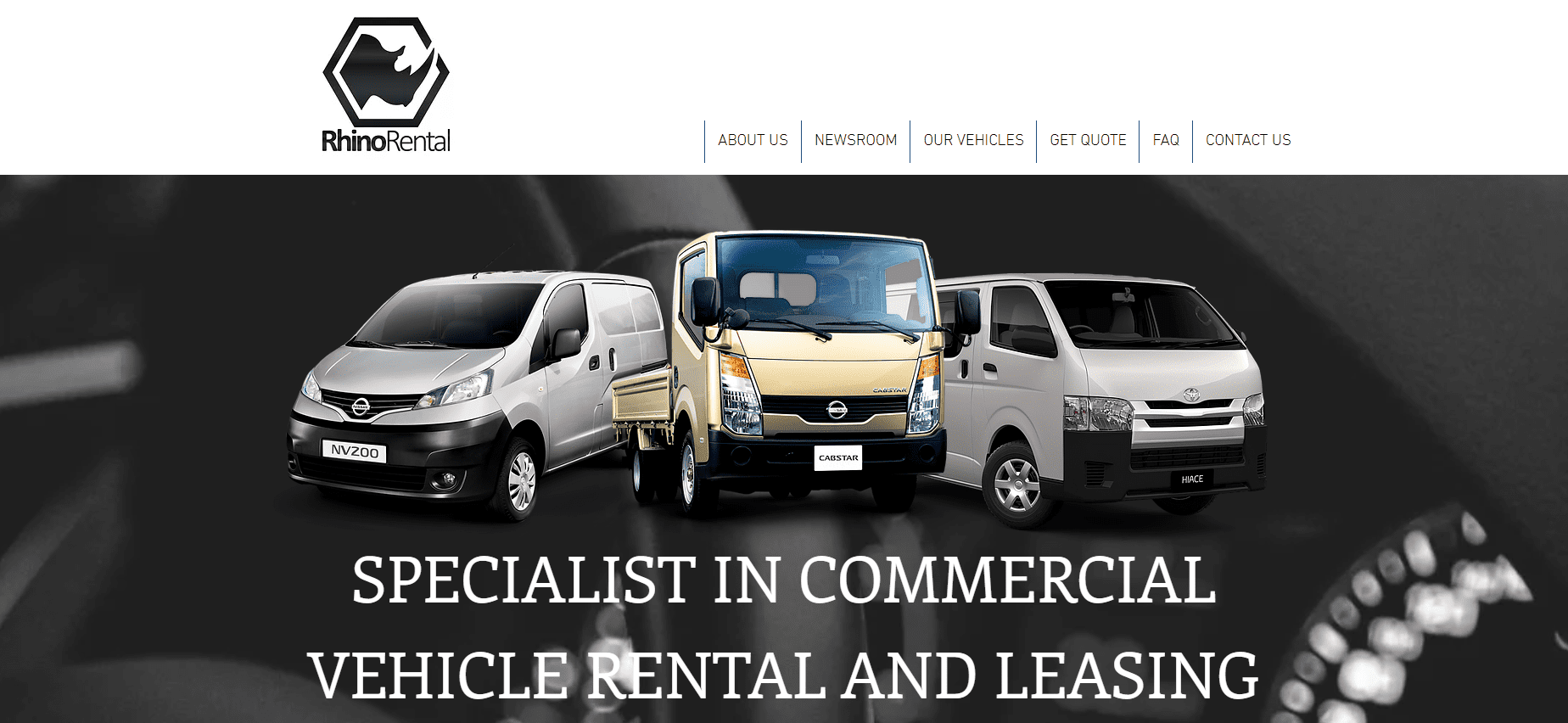 BEST FOR
Commercial Vehicle Rental and Leasing
SERVICES
Short-term Rental, Long-term Leasing
WEBSITE
https://www.rhinorental.sg
ADDRESS
5 Soon Lee Street
#01-59 Pioneer Point
Singapore 627607
CONTACT DETAILS

Tel: 6254 8858
Fax: 6250 9702

Whatsapp & SMS: 8858 0588
8666 4445

Email:
[email protected]

OPERATING HOURS

Mon – Fri: 9:00am – 6:00pm
Sat: 9:00am – 1.00pm
Closed on Sun and PH
Rhino Rental is a company that aims to provide reliable services to SMEs around Singapore. Many praise them for having reasonable rates and excellent value for money.
After many years of serving their clients, they've grown to become a rental company that offers a wide range of commercial vehicles to their clients. Each and every one of their vehicles are legally licensed, which means it comes with valid insurance and road tax.
They have a team of expert customer service professionals available to help you with any vehicle concerns you may have. In case of emergencies, they also have roadside assistance services that can go to you at any time of day.
Rhino Rental caters to clients of all kinds with their extensive set of vehicles and comprehensive set of services. Their efficiency in their work is something that will leave you wanting for nothing, no matter what you may need.
Service Highlights
More than 30 years of experience
Licensed rental vehicles
Wide selection of vehicles at various rates
Roadside assistance available
12. Popular Rent A Car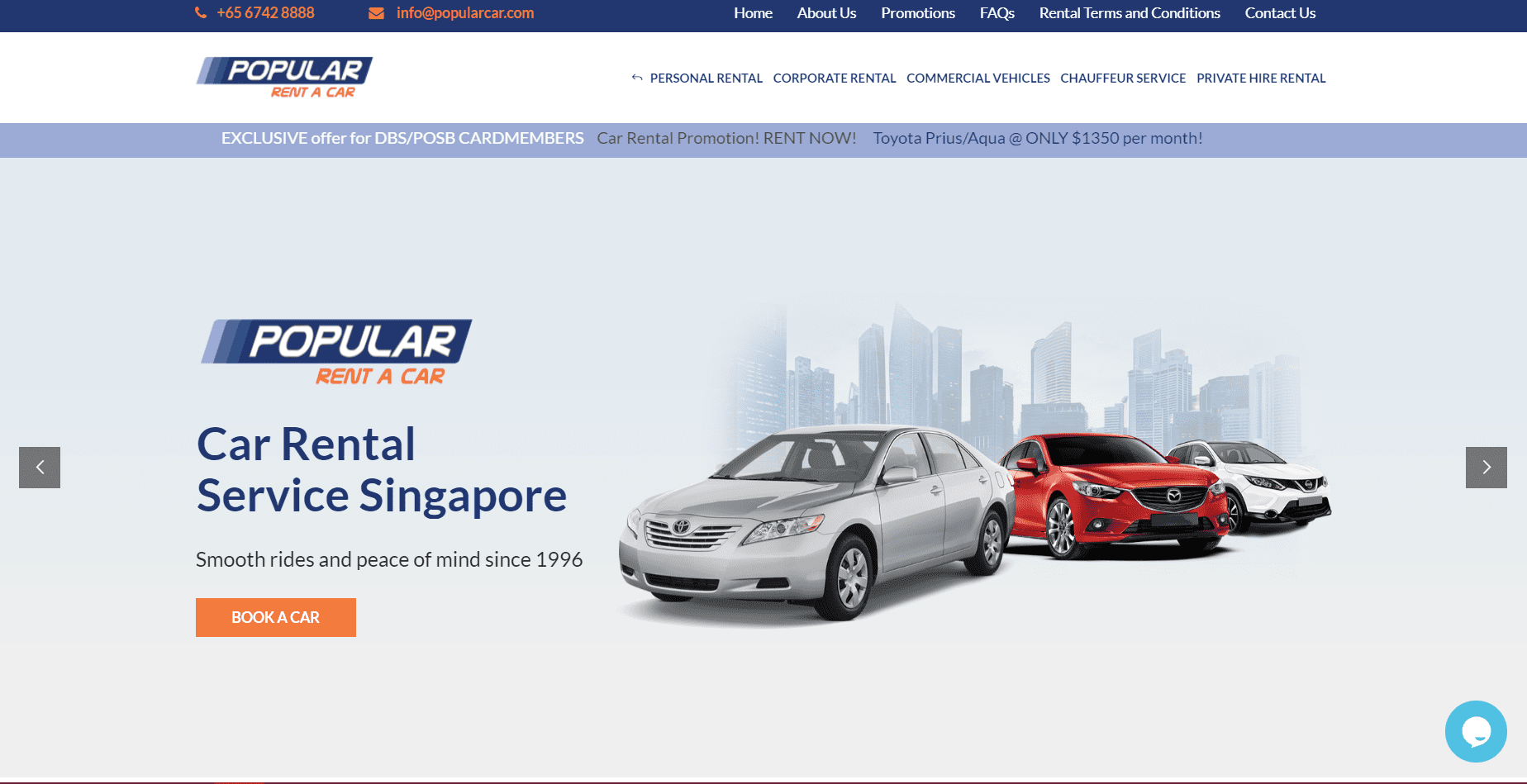 BEST FOR
High-quality Rental and Chaffeur Services
SERVICES
Personal Rental, Corporate Rental, Commercial Vehicles, Chaeffeur Service, Private Hire Rental
WEBSITE
https://www.popularcar.com/
ADDRESS
501 Guillemard Rd, Singapore 399840
CONTACT DETAILS

6742 8888
6743 3003
[email protected]

6741 5828
(24 hr roadside assistance)

OPERATING HOURS
Monday to Friday 9am to 6pm
Saturday 9am to 2pm
Closed on Sunday and Public Holidays
If you need to get around the island, there's no better car rental service to call than Popular Rent A Car. They strive to deliver personalised services to any client that approaches them.
They have a wide range of car rental services to offer, which not only include personal and corporate car rental services, but also chauffeur services. Moreover, they have a diverse fleet of vehicles to choose from– commercial vehicles included.
Their team of vehicle maintenance experts and customer service professionals are motivated to deliver only the best to their customers. To keep their services at the highest standard, they maintain and upgrade their fleet frequently.
To top it all off, they're available for roadside assistance at any time of the day. When it comes to top-notch car rental servicing, Popular Rent A Car comes second to none.
Service Highlights
More than 20 years in service
Wide range of services
Caters to different customer groups and needs
Personalised services at reasonable prices
Images are taken from each company's official websites/social media