10 Best Car Cameras in Singapore to Capture Your Drive 2021
Car cameras, or dashcams as it is more culturally known, records memories of your travels along the way. Make the road your adventure reel by using these top-notch dashcams. We've compiled a list of the best car cameras in Singapore which we hope you find useful. 
1.      YI Mini Dash Car Camera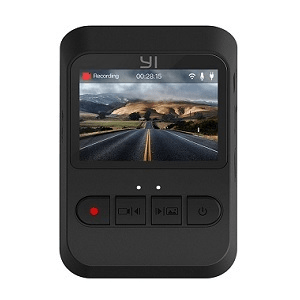 Price: $69.00
The YI Mini Dash Car Camera has a small design entailing a sleeker look in the car. It boasts crystal resolution for recording road trips in surreal sharpness. Since it is a tiny camera, it can be installed on the rear-view mirror to prevent blocking view from the windshield. Little lens capture big trips as seen through the YI Mini Dash Car Camera.
For its competitive price, this is the best car camera in Singapore when you're on a budget.
Why You Should Take this Camera on the Road – Essential Info
2-inch LCD screen for compact viewing
1080p HD resolution
Emergency recording – integrated g-sensor technology stores, locks, and secures footage from a collision
With built-in 2.4GHz Wi-Fi
2.      BlackVue DR900S-2CH Dashcam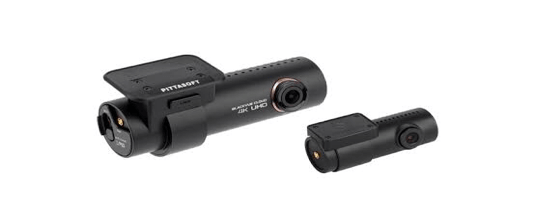 Price: $988.00
Record super detailed footage with the BlackVue DR900S-2CH Dashcam. This in car camera in Singapore is built with 4K HD resolution for viewing sharp pictures. It is also equipped with a GPS system that specifies location and speed. Drive in clear speed and perspective focused by the  BlackVue DR900S-2CH Dashcam.
Why You Should Take this Camera on the Road – Essential Info
4K Ultra HD resolution
With built-in GPS & dual-band Wi-Fi
With impact & motion detection system
Optimized File Management + BlackVue Over the Cloud app for online storage
3.      Xiaomi 70MAI Wifi Dashcam
Price: $52.90
Powered with a 1080p resolution, the Xiaomi 70MAI Wifi Dashcam records mind-blowing images albeit its price tag being cheap. The camera has light-sensitive sensors for reeling in clear videos even at night. Its 130-degree full view lets drivers see a wide perspective to navigate in supreme vision. Fuller views drive the road whilst installing the Xiaomi 70MAI Wifi Dashcam in the car.
This is definitely one of the highest resolution and best dash cam in Singapore for those who are on a budget.
Why You Should Take this Camera on the Road – Essential Info
130-degrees wide view
1/2.9-inch lens
Designed with Sony IMX323 image sensor
Has a built-in Wi-Fi
4.      Thinkware F800 Pro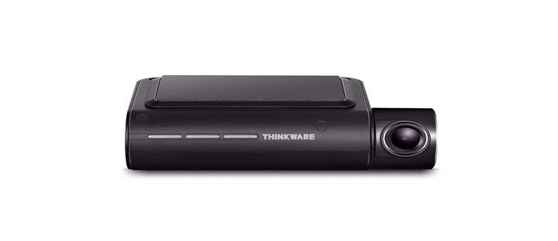 Price: $582.72
Driving views are made extra clearer through the Thinkware F800 Pro. This dashcam that's available in Singapore captures footage with its rear-view lens, so drivers can see ahead of their car's behind. The camera is intended to save extended footage via the Economy Parking Mode which records 3 times longer in the front and rear lens. Using the Thinkware F800 Pro, drivers can see all the road's views.
Why You Should Take this Camera on the Road – Essential Info
Super Night Vision 2.0 for crystal images during nighttime
With built-in GPS and Wi-Fi
Full HD resolution
Thinkware Cloud Service for online storage and remote vehicle tracking
5.      Xiaoyi Yi Car Dashcam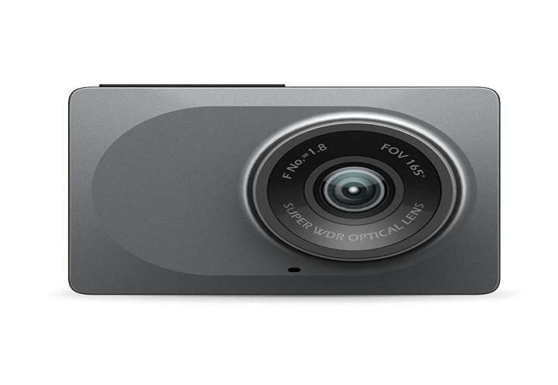 Price: $61.49
View the road in thrilling perspective with this dash cam in Singapore! The Xiaoyi Yi Car Dashcam provides a 165-degree wide vision to capture enormous spaces even in small glances. Drivers can see the road in stunning 1080p clarity. Record with driven eyes as the Xiaoyi Yi Car Dashcam shoots footage in extremely sharp scenes.
Why You Should Take this Camera on the Road – Essential Info
1080p full HD resolution
With built-in G-Sensor
2.7-inche LCD screen
Compatible with Android 4.1 and IOS 7.0 and above
6.      BlackVue DR590-1CH DashCam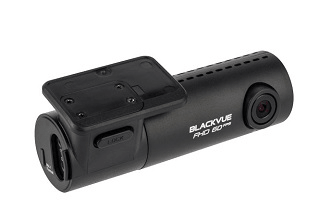 Price: $198.00
Aside from having a crystal view, the BlackVue DR590-1CH DashCam is modeled with motion detection. The car camera focuses on movement and records it completely. Operating with 60 frames per second, it can capture fluid footage in mesmerizing precision. All road views are seen by the BlackVue DR590-1CH DashCam.
Why You Should Take this Camera on the Road – Essential Info
With built- in impact & motion detection
Manage files thru the Blackvue App (IOS, Android) and Viewer (Windows/ MAC)
Has Wi-Fi and GPS
Optimized File Management
BlackVue Over the Cloud for online file control
7. KENT CamEye Dash Cam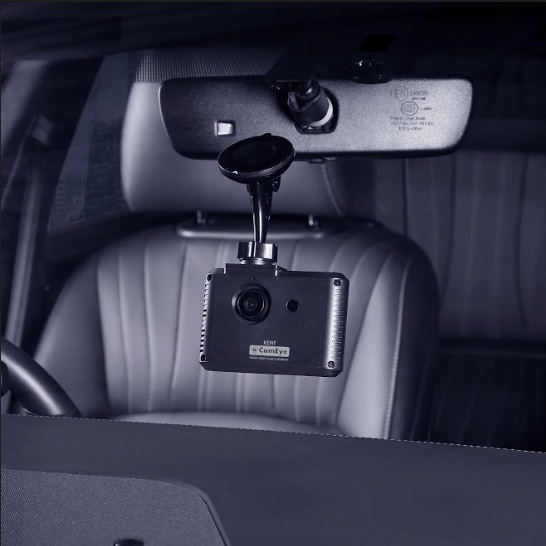 Price: ₹ 17,999 with 3 months free subscription
KENT CamEye is one device that ensures not just the safety of your vehicle but the people sitting in it. It boasts of a dual-camera technology that covers the view of inside and outside of the vehicle. It even offers live video streaming of either of the cameras that are accessible from anywhere in the world.  The device also offers real-time location tracking of the vehicle and even shares the route playback on the map.
Why You Should Take this Camera on the Road – Essential Info
Live Video Streaming and video recording on cloud/SD card

2-way calling with car occupants

4G enabled data transfer to secure cloud storage (up to 90 days)

AI-based smart alerts e.g. unknown driver detection & over speeding

Non-OBD based plug & play installation

Records with no connectivity and battery backup of up to 24 hours
8. EKLEVA 2K Car Mirror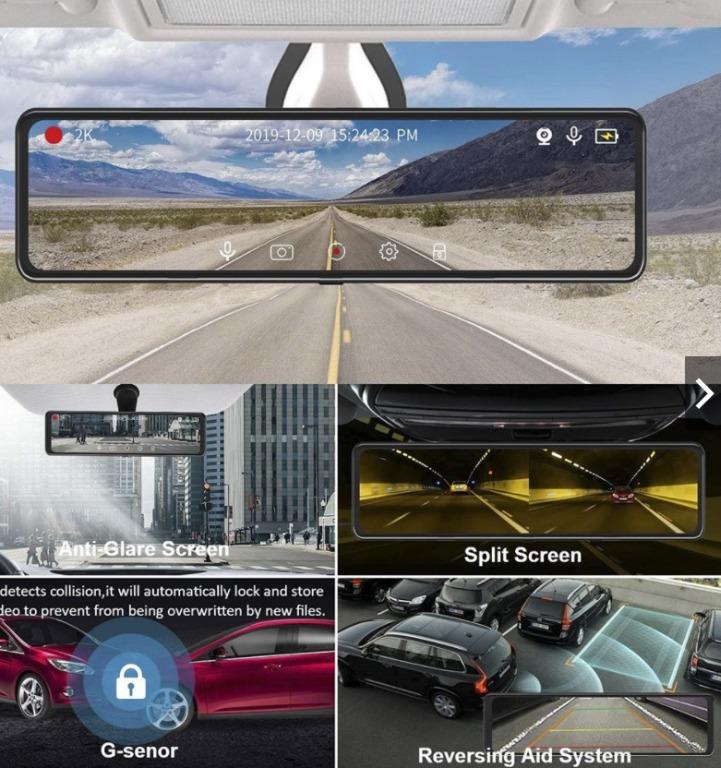 | | |
| --- | --- |
| BEST FOR | Clear cut footage / high resolution |
| COST  | $183.42 SGD |
| RESOLUTION | Front: 2K (2560X1440P) Rear: 1920x1080P  |
| WHERE TO GET IT | Shopee Singapore |
While it's not quite 4K resolution, the Ekleva 2K Car Mirror's 2K front view resolution is already clear enough for you to review and see the small details of your drive. This is great if you want to monitor and capture your scenic long drives.
What caught our eye in this car camera is the size of it's monitor: a whopping 12 inches. This works best if you want to make use of its split screen feature so you can see both frontal and rear view of your vehicle at the same time. 
The car camera's enhanced night vision allows it to record clearly in day and night conditions without any auxiliary light required. It also has a 24-hour parking monitor feature, where it will keep monitoring your car for 24 hours even when its parked and engine is off. It will start recording when it detects vibration and movement from the outside so this is great to ensure your personal belongings inside the car is kept safe. 
Pros
High resolution
Split-screen feature
Extra security features such as 24-hour parking monitoring
Cons
Some might find the 12-inch monitor too big
Customer Reviews
The EKLEVA 2K Car Mirror has a fair number of reviews online left by customers. 
Here's a recent one from Ritchel who seems quite satisfied with the product:
It's excellent. Video is good you can easily notice the plate number. But you have to prepare your own SD card maybe 16gb is good because the video is looped. But it is 32gb capacity. Prepare also 2 port car chargers because the camera will consume the charger. Delivery of course takes time but it's worth it.
9. APEMAN Dash Cam C770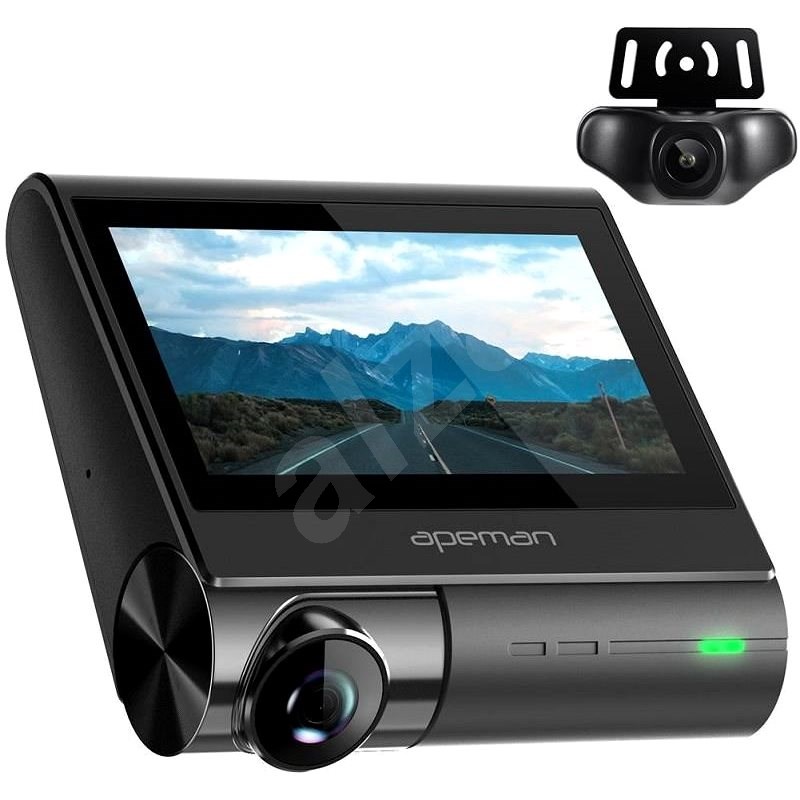 | | |
| --- | --- |
| BEST FOR | Affordable 4K resolution |
| COST | $199.00 SGD |
| RESOLUTION | 4K front, 1080P rear |
| WHERE TO GET IT | Shopee Singapore |
Chinese brand Apeman was founded in 2016 and they focus in making action cameras, dash cameras, trail cameras and projectors. They have several types and models of dash cameras, and the Apeman Dash Cam C770 has caught our eye not just because of its slim and neat design but its overall features. 
At just $199.00 SGD, it proves to be a very affordable 4K car camera in the market. We love how Apeman has kept the design of this dash cam very compact while retaining the features of a nifty car camera. 
The Apeman Dash Cam C770 has a 3-inch touch screen so it does not have clunky buttons that some car cameras have. This unit is WiFi enabled so not only can you check and download your footage, but you can also upload it on social media from the device. 
For its small and compact size, the Apeman Dash Cam C770 packs on a lot of features such as a detachable GPS module so you can track location, direction and speed, a Sony sensor that helps capture clearer footage on low-light conditions, a parking monitor and others. 
It's the most recommended car camera in Singapore to those who want 4K recording on a budget.
And if you are worried about dash cam installation in Singapore, check some Shopee sellers who, from time to time offer their dash cam installation in Singapore services for free along with a purchase of their product. 
Pros
Unobtrusive design and size
Affordable for a 4K
Comes with a GPS
Touchscreen
Cons
The 3-inch monitor may be too small for some
Customer Reviews
Because Apeman has been around for quite some time now, they have gathered a number of online customer reviews from all over the world. 
Here's one review of the Apeman Dash Cam C770 from  a customer and user named Chintankumar Hansalia:
This is amazing. It records clear 4k video and has a really wide angle view. Nice tuning with app. I can easily download videos and change settings of camera. Back camera view is great for parking and normally. Night vision is clear.
10. Garmin Dash Cam Mini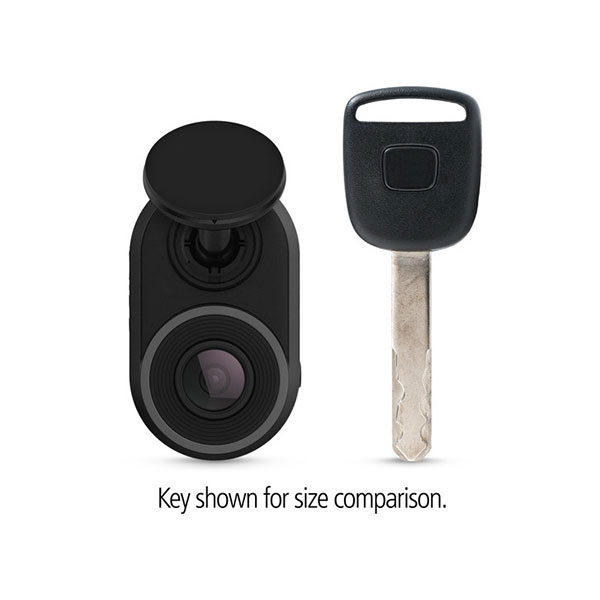 | | |
| --- | --- |
| BEST FOR | Tiny but reliable car camera |
| COST | $199.00 SGD |
| RESOLUTION | 1080P |
| WHERE TO GET IT | Shopee Singapore |
Founded in 1989, American company Garmin has made their name not just in GPS technology but also across aviation, marine, fitness, outdoor recreation, tracking and mobile apps.
We were tickled pink when we saw that Garmin has created what can possibly be one of the smallest dash cams in the market. They weren't kidding when they said that the Garmin Dash Cam Mini is key-sized!
Measuring 3.1 x 5.3 x 2.9 cm, the Garmin Dash Cam Mini weighs just a mere 28. 7 grams yet has all one needs in a reliable and sturdy dash camera for cars. It has a G-sensor for incidents, captures video in 1080P, a Parking Surveillance mode and can be auto synced in your mobile through the Garmin Drive app. 
We like that the with the Garmin Dash Cam mini, you can drive and operate your car as though you don't have a car camera. With how tiny the unit is, it can easily attach to the back of the rearview mirror (facing the windshield) and it remains unobtrusive. 
Great for enjoying your car ride views while keeping safe and vigilant as the Garmin quietly records. It's absolutely the best dashcam in Singapore for those who want a reliabe car camera without the fancy bells and whistles.
Pros
Perfectly compact and small
Decent resolution of 1080P
Two power cable options
Discreet
Cons
Requires external memory of at least 8GB (microSD)
Customer Reviews
This little pocket rocket has impressively been named by the NY Times as one of the best dash cams in 2021. Many customers also seem to have been satisfied with this unit. 
Here's a review from customer W. Wang:
I only used it for a few days so far. Video footage is not bad. I'll upload more over the coming weeks. Great dash cam if you're afraid of people breaking into your car for a lcd screen dashcam. . It's so small you can just leave on your windshield and just plug in power when you get in car.