*Photo from Pinterest
By Colin Ng
When cleaning, you're like an artist preparing your canvas. You need the best tool to dust your precious space and a vacuum cleaner is the answer. That's why you need to know about the best vacuum cleaners in Singapore!
With the right vacuum cleaner, you can enjoy faster, stress-free tidying-up. From bagless and bagged to cordless and smart, we've rounded up the absolute best ones you can buy on the island.
Types of Vacuum Cleaners
Before we go into our list of the best vacuum cleaners in Singapore, let's take a look first at the types of vacuums we rounded up. These run the gamut from bagless ones to wet and dry vacuums.
Each of these has a strength and a weakness. One may thus be better-suited to your situation than others, depending on your circumstances.
Thus, we'll go over the pros and cons of each type quickly here. This way, you'll have a better idea of which of our selections may fit your needs best once we get to the list of best vacuum cleaners!
1. Bagless Vacuum Cleaners
The most common and user-friendly vacuum cleaner. This is the one most people look for when buying a vacuum for personal use.
PROS
Designed traditionally, the bagless vacuum cleaner should be the easiest to operate, if only for its familiarity to users.
It has a built-in dust container that eliminates the necessity for replacement bags.
Intended to be portable, so you can roll it out on every space in your home or bring it to a cleaning session anywhere.
CONS
Emptying the vacuum can be a chore since the dust is collected inside the machine's built-in container.
The filters are considerably fragile. Thus, caring for the vacuum's parts is as essential as using it for personal maintenance.
2. Bagged Vacuum Cleaners
Iconic machines that remain the most trusted dusters for those in the cleaning profession and finicky homeowners. 
PROS
Its dust bag firmly seals dirt inside.
Makes trash disposal effortless, as you just take the sealed dust bag out.
Because the bags are replaced with each use, the bagged vacuums are the most hygienic sweepers.
CONS
Bagged vacuums require high maintenance since the dust bags should be replaced with each use.
When the bag nears its holding capacity, the power suction of the machine lowers to accommodate its ability to sweep dirt.
Not meant for portability. Best to use it indoors only.
3. Cordless Vacuum Cleaners
These are great alternatives if you want something similar to a bagged or standing vacuum but still want portability. Especially good for those who are accident-prone (no wires to trip on!).
PROS
No need to plug and unplug the machine from room to room.
Slim and portable.
Battery-operated, so you can use it even when there's a power outage.
CONS
May require frequent charging or battery replacement
Designed with smaller dirt containers
4. Smart Vacuum Cleaners
Convenient sweepers with intelligent cleaning mechanisms. These are usually capable of operating by themselves, so they're great if you don't want to have to direct the vacuum all the time.
PROS
Time-saving – lets you do other chores while it cleans hassle-free.
Smart vacuums can be remotely controlled and set up for scheduled sweeping even when you are on the move.
Operates on a pre-designed cleaning path to swab dirt according to your heart's content.
CONS
Requires you to download an app to operate it. If you have issues using the software, that may make it difficult to use the actual vacuum.
Follows only its pre-planned cleaning path; may not reach some tight areas.
The battery is the measure of its cleaning capacity.
5. Wet & Dry Vacuums
Heavy-duty machines for a deep clean, these are more often used by professional cleaners than homeowners. They also tend to be more commonly used for outdoor surfaces.
PROS
Use it to attain cleaner floors than ever before.
Extremely powerful, thorough cleaning.
CONS
Although also designed for outdoor use, a vacuum of this type cannot be easily transported anywhere due to its bulky build.
Sweeps with extreme noise.
The machine also needs general cleaning after use.
The Best Bagged Vacuums
1. Electrolux UltraSilencer (ZUS4065OR)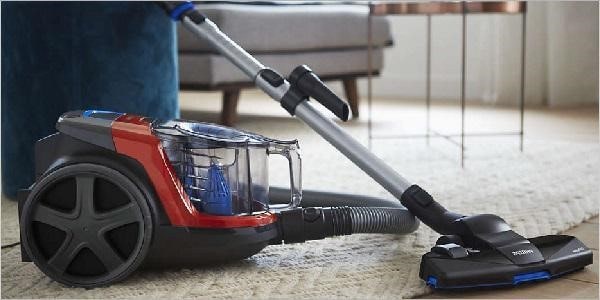 Sweep the floors peacefully with the Electrolux UltraSilencer. Using the vacuum is a neat meditation on absolutely noiseless efficiency through the trademark Sound Shield (emitting 65-decibels only).
It runs on a quiet 1800W motor plus dynamic suction with the AeroPro 3-in1 nozzle, which can reach tight spaces. You'll get downright speck-free floors since the nozzle allows for continuous use even after a round of sweeping.
The vacuum's HEPA filter locks in even the tiniest dirt inside the machine. The Electrolux UltraSilencer comes with a 2-year warranty too!
Product Highlights
On sale at $299
Sound Shield – ensuring noise-free cleaning
Provides spotless floors for countless hours of vacuuming
HEPA filter – collects any and all dust
Customer Reviews
Customers love the 3-in-1 nozzle since it cleans even the narrowest corners. The silence of the vacuum cleaner is a delight, providing a serene experience to the chore.
Containing and eliminating dust has been smooth-sailing thanks to the HEPA filter of the Electrolux UltraSilencer, say users. Look at this review, for instance:
"Love this product. It's really silent and the suction power is good. If it has more attachments like nozzles to reach those narrow spaces, this will definitely be the perfect vacuum cleaner. The bag is also good to prevent dust mites from escaping." – Daniel C. via Lazada.
2. Tefal Compacteo (TW5243)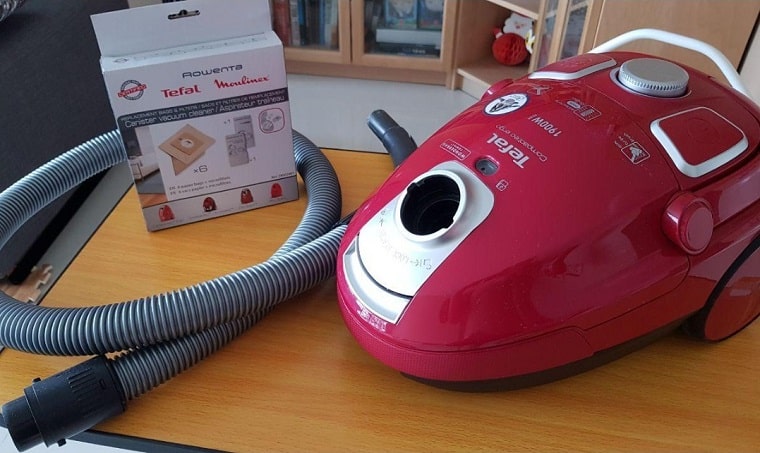 The Tefal Compacteo packs compact impact in its 1900W motor that vacuums dirt up with amazing competence.
Furbaby lover? Pet-owners have a mini Turbo Brush that purges fur from the room.
The vacuum's super-lightweight, compact body ensures small spaces are cleaned big time, and its portable design unleashes mobility for breezy swabbing around the pad. The huge 3L dust bag is also perfect for long, exhaustive cleanup.
Product Highlights
Priced at $350.00
1900W motor allows continuous vacuuming
Large 3L dust bag for collecting loads of dirt
Mini Turbo Brush – sweeps fur away
3. Aerogaz AZ-1400VC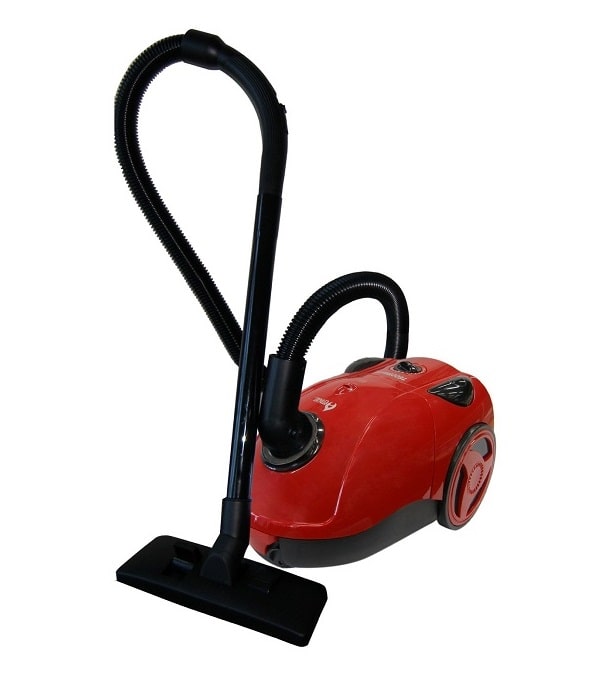 If you're trimming your budget, the Aerogaz AZ-1400VC is the vacuum cleaner you need! Primed with a washable cloth bag, it cuts out the necessity of buying a new container during every use.
The cloth bag remains hygienic and is easy to sanitise. Aerogaz's 1600W motor cleans with amazing efficacy too. 
Product Highlights
Priced at $69.80
Budget-friendly
Washable cloth bag for low-cost but hygienic reuse
1600W for boosted tidying flow
Customer Reviews
Ordering the Aerogaz AZ-1400VC is like a walk in the park. Customers say the vacuum arrives swiftly upon placing their order; arriving within 3 days at their doorstep. Receiving praise as well are the machine's budget-friendly price and its portable mechanism.
"I placed order on monday and delivered wed..i tried wen the delivery man just put at my doorstep and leave just there cant even put at least inside but at least he say mam ur item is here blah blah..and off to go..anyway the product is overall ok since i tried already ..small and handy ..like it..tnx seller.." – Private Buyer via Qoo10
The Best Bagless Vacuums
4. NEATO ROBOTICS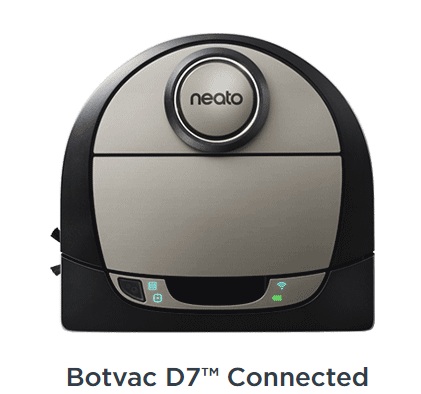 Neato Robotics presents to its customer high quality products which are all good for your home. This time, they have the Botvac Connected—a vacuum cleaner that has everything you wish for. 
It has wireless connectivity; thus, allowing users to connect their devices to the machine. Further, you can schedule the cleaning task of the vacuum. So, wherever you go, you are ensured that your home is clean. 
Another thing about this vacuum cleaner is that it has an advanced laser floor plan. This makes it easier to plot areas that are in need of cleaning. 
PRODUCT HIGHLIGHTS
Wireless connectivity

Schedule cleaner

LaserSmart Mapping and Navigation

DShape Corner Clever

Quick Boost

Maximum Hair Pickup

Longlasting

Price at $1,299
CUSTOMER REVIEWS
Nothing beats a good vacuum cleaner for those who are always busy with other work. So, Neato Botvac Connected is a surprise for most of the customers. Here's a good sentiment from one of their users:
The Neato D7 has been an awesome addition to our home. It was incredibly easy to set-up and quickly learned the nuances of our space. It has consistently picked up all dirt and other small objects in its path and can cover all 2k+ square feet in one single charge. I highly recommend this robot to anyone looking for this type of product – DK42 (username)
5. Philips Power Cyclone 6 (FC9714)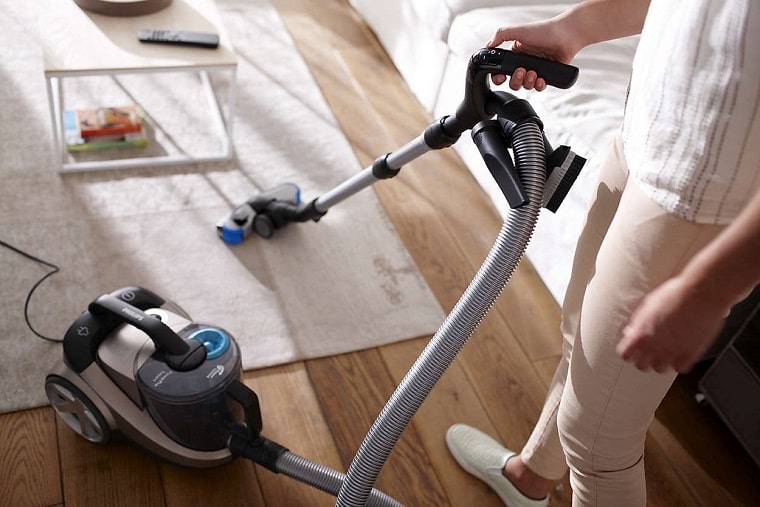 Breathe the cleanest air as the Philips Power Cyclone 6 vacuums virtually all the dirt away through its powerful suction and TriActive nozzle.
This innovative vacuum cleaner features an easy-grip handle and remote control for ready use in dusting your space. You can take the cleaning anywhere since it is also lightweight… plus, the filter is designed for effortless washing every day.
What's more, it comes with a 2-year guaranteed warranty!
Product Highlights
Price is discounted at $349.00
TriActive nozzle + powerful suction for sucking up all dirt
Easy handle and remote control
Ready-wash filter for effortless maintenance
6. Philips Power Cyclone 5 (FC8760)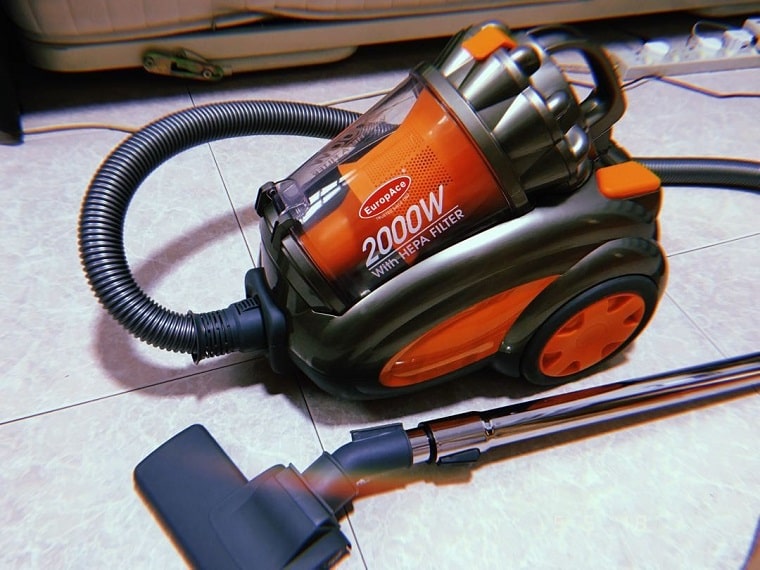 For its price tag, the Philips Power Cyclone 5 has cleaning power that exceeds expectations. Powered with 2000W motor with peak 360W suction power, the vacuum is an all-around dirt-terminator fit for every household.
Due to its impressive specs, it tidies up in just a second, pulling off a complete clean! The vacuum's compact design also allows for smooth roll out to every corner of the house.
Product Highlights
Currently on sale at $376.75
2000W motor + 360W suction for lightning-fast cleaning
Compact design for smooth mobility
7. Europace EVC 2006P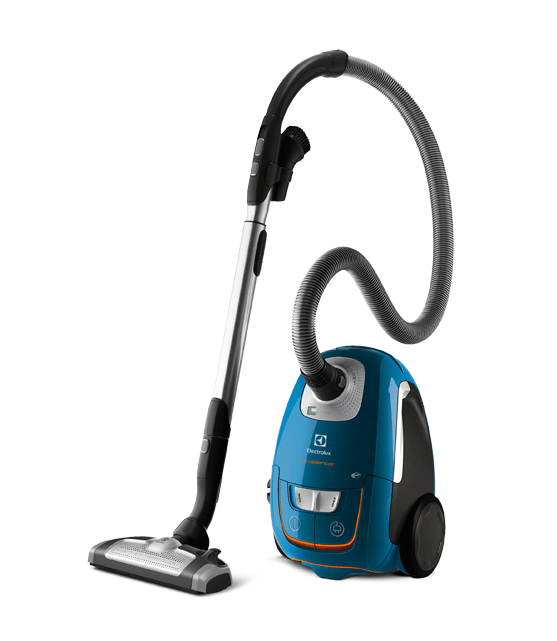 The Europace EVC 2006P is the budget-friendly sweeper you need! Equipped with a turbo 2000W motor, it vacuums more powerfully than machines twice its price.
Say goodbye to the mess in your room because the Europace EVC 2006P has a spacious 2L cylinder to collect accumulated dust. It comes with a washable HEPA filter as well.
Product Highlights
Priced at $300
Dynamic 2000W motor for boosted cleaning
Large 2L dust cylinder to collect mounts of dirt
Washable HEPA filter
The Best Cordless Vacuums
8. Dyson V7 Fluffy Plus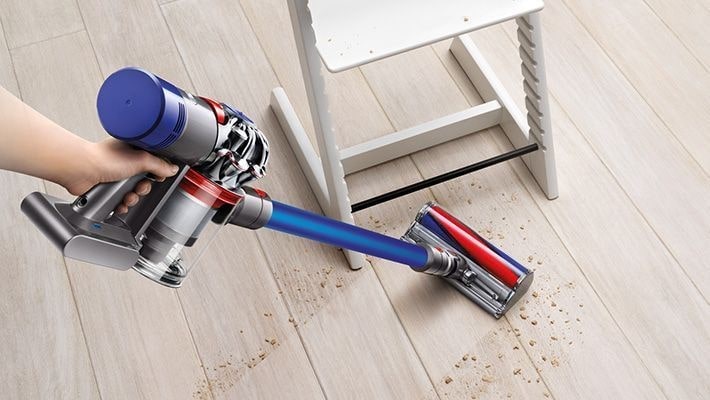 Boosted by the V7 digital motor, the Dyson V7 Fluffy Plus creates the perfect suction potency for tidying up to 30 minutes. Sweeping hard floors is easy as ABC with the vacuum's roller head, providing plush mobility.
Weighing in at a feather-like 2.4kg, it's perfect for dusting ceilings and transformable into a handheld vacuum for pleasant use.
Finally, it lets you dispose of dust in a flash through the built-in hygienic dirt ejector.
Product Highlights
Priced at $90.00
Powered by 15 Dyson cyclones
Lightweight – 2.4kg
Up to 30 minutes of suction
Customer Reviews
Every spot is cleaned with the Dyson V7 Fluffy Plus! The 15 cyclones capture all specks of dirt, and its sleek design is comfortable for its users.
Its 30 minutes of suction is a wonder for most owners too, who note that many other cordless vacuums have batteries only half as strong. Here's a happy user's review:
"V7 is enough for 440sqft small size condo. Use my friends' V7 for a year, it is good enough. So bought one for myself. – caoqian1991312 via Shopee"
9. Electrolux 2-in-1 Handstick (ZB3311Ak2)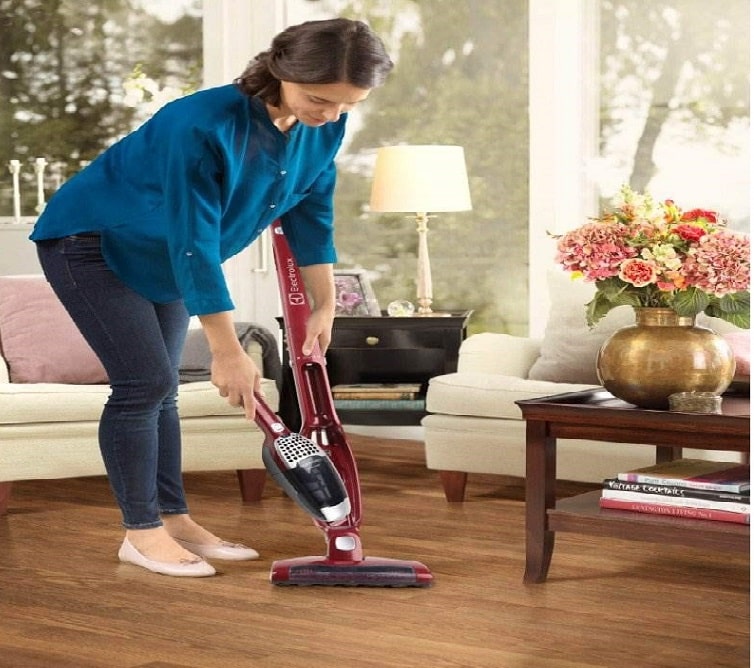 Be free from allergy with the Electrolux 2-in1 Handstick — it's equipped with an advanced allergy filter to catch 99.99% of micro dust (1-3 microns).
Cordless and slim, the handstick cleans with dynamic suction for up to 48 minutes. Its sleek design allows smooth grip and operation.
Moreover, the vacuum has LED lights, so you can spot and expel dirt from dark spaces easilyy.
Product Highlights
Priced at $229.00
With advanced allergy filter to suck up micro dust
Up to 48 minutes of suction
LED lights for dirt sighting in shady corners
10. Dibea C17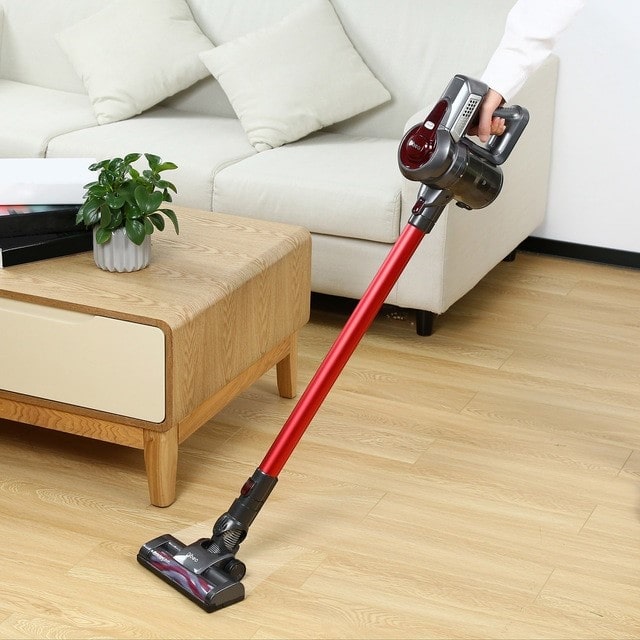 The most affordable cordless vacuum in the market, the Dibea C17, tidies down to the last tiny spot. Its mechanism lets it transform into a handheld vacuum in a flash.
The C17's head is rotatable to 120 degrees, for optimal access to the narrowest places.
Product Highlights
Priced at $151.30
Transformable to a handheld vacuum
Vacuum's head is rotatable to 120 degrees
11. Gtech AirRam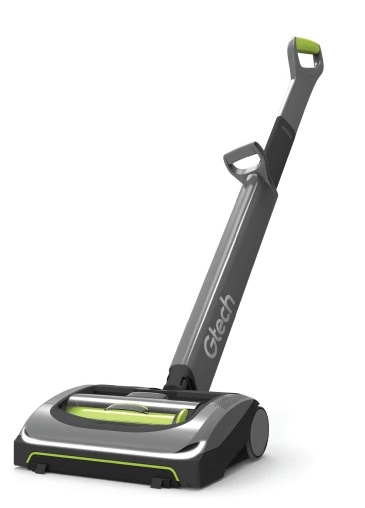 Use Gtech AirRam conveniently even at night with its illuminating feature that allows you sweep through every corner of your home and see through in the dark. 
It being a cordless vacuum does not hinder its performance to achieve maximum quality. As a matter of fact, it has a long run time of 40 minutes. Should you need more time, you can just easily remove and swap the batteries so you can enjoy using it for as much as 80 minutes.
Its superior suction also effortlessly picks up even heavy, large debris. It also has a high-speed rotating brush bar that makes it ideal for removing stubborn dirt and can be used on any floor surface.
Product Highlights
Price $519.00

Low maintenance

Flexible runtime

Lightweight design
12. AZTECH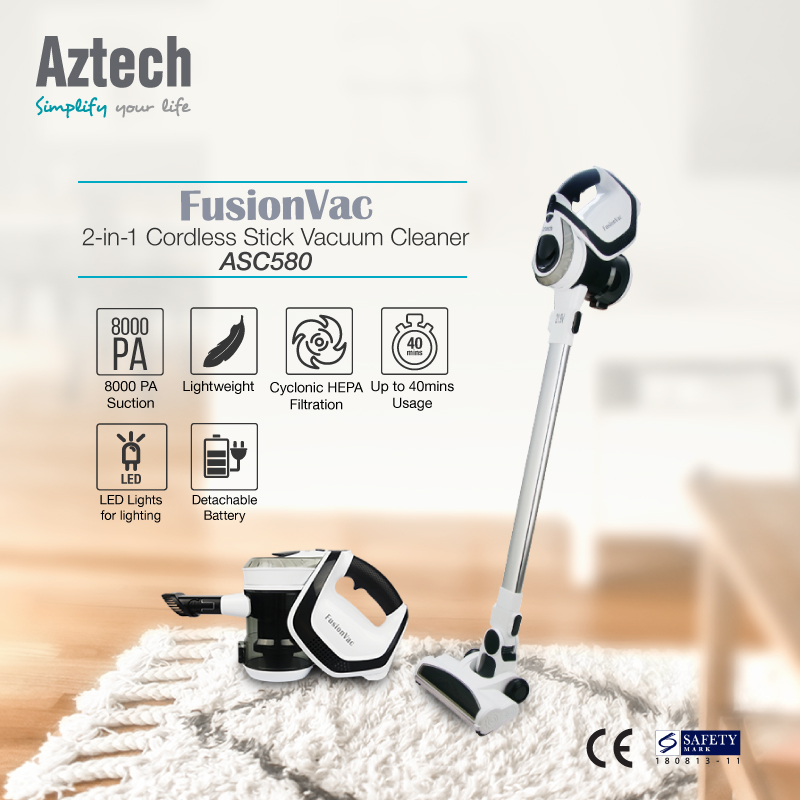 You can also rely on Aztech for your household necessities. They have various products that will help you in doing chores easier and more convenient than before. One of which is the ASC580. This is a 2-in-1 stick vacuum cleaner which are perfect for any person in your house.
This can be used as a stick vacuum cleaner. But in case you want a more flexible machine, you can detach the long tube and make it into a handheld vacuum. In this manner, you can control the device faster.
It has a power indicator which notifies you about the status of the battery. This means that you will know when to recharge your device or not. That being said, you will not be left hanging with your cleaning.
PRODUCT HIGHLIGHTS
2-in-1 stick and handheld vacuum

Multi-cyclone system

Washable filtration system

Wide cleaner mouth

Durable

One-click bottom release dump

Wall mount

Price at $149.00-328.00
CUSTOMER REVIEWS
Customers loved the flexibility of this vacuum cleaner. One buyer wrote this review for the product:
I bought this vacuum for my mom who wanted a vacuum stick similar to Dyson's but without spending hundreds so I bought this as Aztech is a reputable local company that specialises in wireless appliances. The suction power isnt the comparable to those traditional vacuums as the motor is only 100w, however for its size and prize it does what is required for dry vacuuming – san***
The Best Smart Vacuum
13. Xiaomi Mi Robot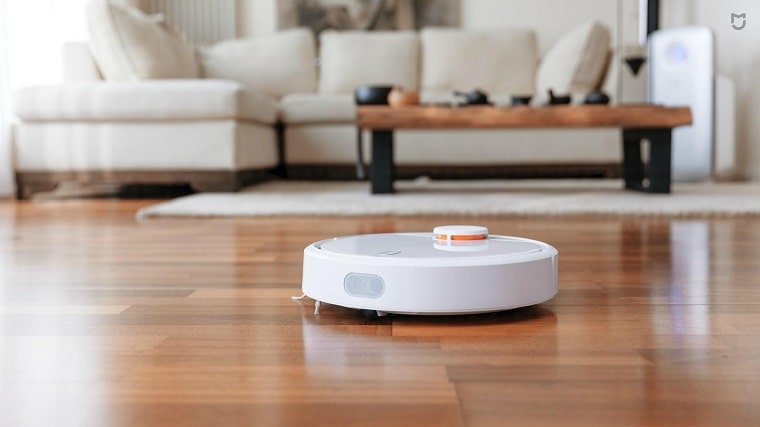 Having a smart vacuum cleaner eliminates not only dust, but the chore of physically operating the machine.
The Xiaomi Mi Robot does the sweeping for you, dusting the floors, walls, and ceilings at your own convenience since it is controllable via the Xiaomi app.
Relax as the intelligently moving vacuum cleans your home ! It has a 5200 mAh Li-ion battery for extended hours of tidying.
Product Highlights
Price discounted at $619
Intelligent movement and sensing – cleans on smart planned path
Remotely operated through the Xiaomi app
5200 mAh Li-ion battery
Customer Reviews
The Xiaomi Mi Robot can be set to various voices for user interaction. Easy to use, the smart vacuum lets the owners enjoy a day off while it cleans.
Great buy, say customers, who also enjoy the fact that it can be set to use different voices when responding to instructions.
The Best Car Vacuums
14. Black and Decker PD1200AV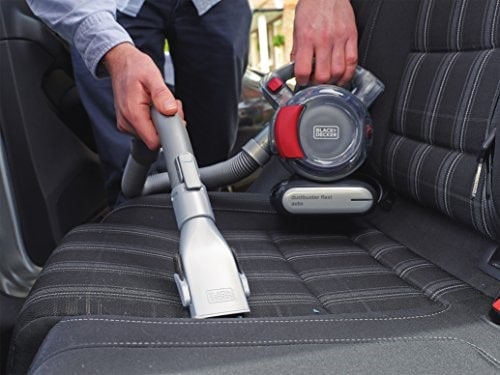 The Black and Decker PD1200AV, boosted through the car's power adaptor, expels dust efficiently from your vehicle's interior.
It's amazingly portable, so you can take the vacuum on your trips for a dirt-free ride! Having your own cleaner like the Black and Decker PD1200AV saves your budget from endless car washing, too.
Product Highlights
Can often be found on sale at $79.95
Powerful suction for dusting micro-dirt
Portable – take it with you on your drives
Customer Reviews
Strong suction garners the glory for the Black and Decker PD1200AV. Customers applaud its powerful cleaning mechanism, saying it works just as well as expected. Clearly the best choice for a car vacuum!
15. Black and Decker NV1210AV
At a considerably low price, you can get a neat treat for your car. This Black and Decker model is one of the best car vacuums we could find on the island!
Use the Black and Decker NV 1210AV's attachable crevice tool to sweep dust from the furthest spaces of the interior. Never be fooled by its size either, as the vacuum can clean every spot like a champ.
Product Highlights
Price discounted at $44.60
Has an attachable crevice tool for assisted cleaning
Compact design for use on trips
Customer Reviews
It's so mobile and agile that owners say cleaning with the Black and Decker NV1210AV is a smooth adventure! Customers commend the fast delivery, too.
For its size, the car vacuum ensures sufficient neatness for the entire interior of their car. Many were also pleased by the price.
The Best Wet & Dry Vacuum
16. Karcher WD1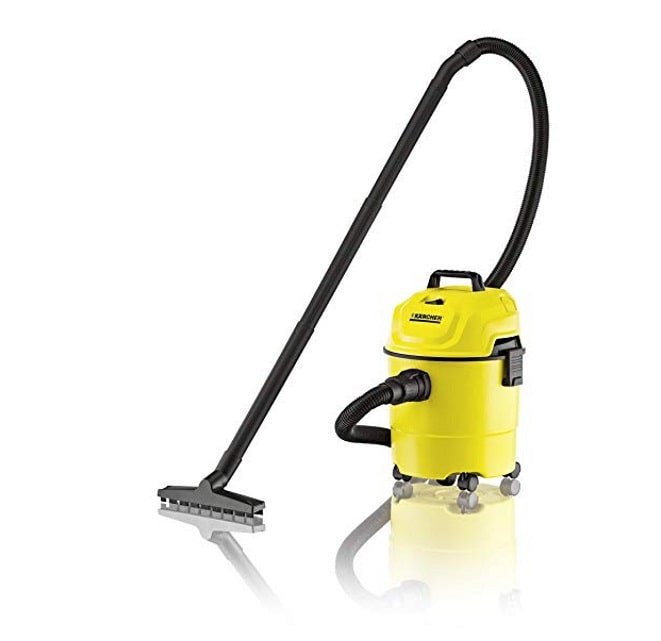 Spilled milk or messy leftovers, nary a drop of stain and dust survives the sturdy Karcher WD1. Best believe that this wet & dry vacuum can deal with even the worst the elements (or clumsy people!) have to throw at it.
Liquid mess? Vacuumed. Dry waste? Expelled.
If the smudge is staggering, the Karcher WD1 can still clean it with its blower attachment. In short, it's the heavy-duty vacuum you need if you're dealing with major dirt or sloppiness.
Product Highlights
Available for $132.50
Blower attachment for various messy situations
Sturdy design – built for cleaning wars
Customer Reviews
Karcher WD1 owners adore its powerful suction, which they say is practically industrial-grade. In addition, the vacuum is tough enough to run for many months on end. Some have even said that the Karcher WD1 is the workhorse of the home vacuum industry.
In any case, you now know the best vacuums in Singapore. With this list, choosing the best vacuum for your tidying no longer has to be messy.
Just take a look at the appliances above and you will definitely find the perfect cleaning partner to sweep away your stress! Of course, if you find that you'd also rather leave the actual work to someone else, we have solutions for that as well.
Just take a look at our list of the best cleaning services in Singapore. These services should be more than capable of giving you the clean spaces that you need.