22 Best Vacuum Cleaners in Singapore for Modern Homes 2021
When the dust bunnies come to play, it's time to bring out the vacuum cleaner. Keeping your home clean and allergy-free becomes easier with the help of the best vacuum cleaners in Singapore.
With the right vacuum cleaner, you can save yourself from inefficient and time-consuming conventional cleaning methods. Lucky for you, we've rounded up the absolute best vacuum cleaners in Singapore that you can buy.
But we proceed with our top picks, let's first check out the different types of vacuum cleaners and find out which one fits your needs the best.
Types of Vacuum Cleaners
Nowadays, there's a whole range of vacuum cleaners in Singapore out in the market, each offering a different kind of convenience. Each of the types also has pros and cons, depending on different circumstances and kind of usage.To help you in picking out the best one for your needs, we'll talk more about each kind in detail below. 
1. Bagless Vacuum Cleaners
The most common and user-friendly vacuum cleaner. This is the one most people look for when buying a vacuum for personal use. If you're looking for the best bagless vacuum cleaner in Singapore, we've got that covered in our list too!
Pros
Designed traditionally, the bagless vacuum cleaner should be the easiest to operate. 
It has a built-in dust container that eliminates the necessity for replacement bags.
These are intended to be portable, so you can roll it out on every space in your home or anywhere that needs cleaning.
Most bagless vacuums usually come with clear dust containers, so you'll easily know when it's time to empty it out.
Cons
Emptying the vacuum can be a chore since the dust is collected inside the machine's built-in container.
The filters are considerably fragile. Thus, caring for the vacuum's parts is as essential as using it for personal maintenance.
You are more exposed to dust and other allergens, especially when you're emptying out the dust container.
2. Bagged Vacuum Cleaners
Iconic machines that remain the most trusted dusters for those in the cleaning profession and finicky homeowners. Most recommended for those with allergy problems.
Pros
Its dust bag firmly seals dirt inside.
It makes trash disposal effortless, as you just take the sealed dust bag out.
Because the bags are replaced with each use, the bagged vacuums are the most hygienic sweepers.
Cons
Bagged vacuums require high maintenance since the dust bags should be replaced with each use or regularly, depending on the vacuum.
When the bag nears its holding capacity, the suction power of the machine lowers to accommodate its ability to sweep dirt.
Not meant for portability. It's best for indoor use only.
3. Cordless Vacuum Cleaners
Great portable alternatives to standing vacuums. Perfect for people who hate wires and having to do plug-unplug routine. 
Pros
No need to plug and unplug the machine from room to room.
Slim and portable.
Battery-operated, so you can use it even when there's a power outage.
Cons
May require frequent charging or battery replacement.
Most are designed with small dust containers.
Suction power may not be as strong as other vacuum cleaners
4. Robot/Smart Vacuum Cleaners
Convenient sweepers with intelligent cleaning mechanisms. Can clean the house autonomously, perfect for maintenance and keeping your house clean at all times.
This is a good vacuum cleaner in Singapore for those who are busy and prefer to multi-task. 
Pros
Lets you do other chores while it cleans the house.
Can be remotely controlled and set up for scheduled sweeping even when you're outside your home.
Can operate on a cleaning path of your own design.
Can clean hard-to-reach places like under the bed, the sofa, etc.
Cons
Not suitable for the non-tech savvy people. An app or software is usually required to operate the vacuum.
Follows only its pre-planned cleaning path; may not reach some tight areas.
Battery life is the determining factor of how long it can clean.
5. Handheld Vacuum Cleaners
Small vacuum cleaners that are perfect for cleaning on-the-go. These are the most portable alternatives to traditional vacuum cleaners. Perfect for storing inside your vehicle or for travels.
Pros
Easily manoeuvrable; can be operated with one hand
Easy set-up and use
Portable and can be stored away easily
Cons
Weakest suction power among other vacuum cleaner types
Limited capacity for dust
Not suitable for cleaning floors and other large surfaces
6. Wet & Dry Vacuums
The best wet and dry vacuum cleaners in Singapore are heavy-duty machines for deep cleaning sessions. These are mostly used by professional cleaners and are built for outdoor surfaces. 
Pros
Superior suction power among all vacuum cleaner types.
Aptly named as it can suck up all kinds of dirt and debris, be it wet or dry.
Cons
Big and bulky; hard to store in small closets.
The machine also needs general cleaning after a while.
Usually the most expensive option.
And that covers pretty much all of the types of vacuum cleaners that are available on the market. Now that you have an idea what type of vacuum cleaner you should get, here's our list of the best vacuum cleaners in Singapore!
The Best Bagged Vacuums
1. Electrolux UltraSilencer (ZUS4065OR) 
Best Bagged Vacuum for Noise-free Cleaning Sessions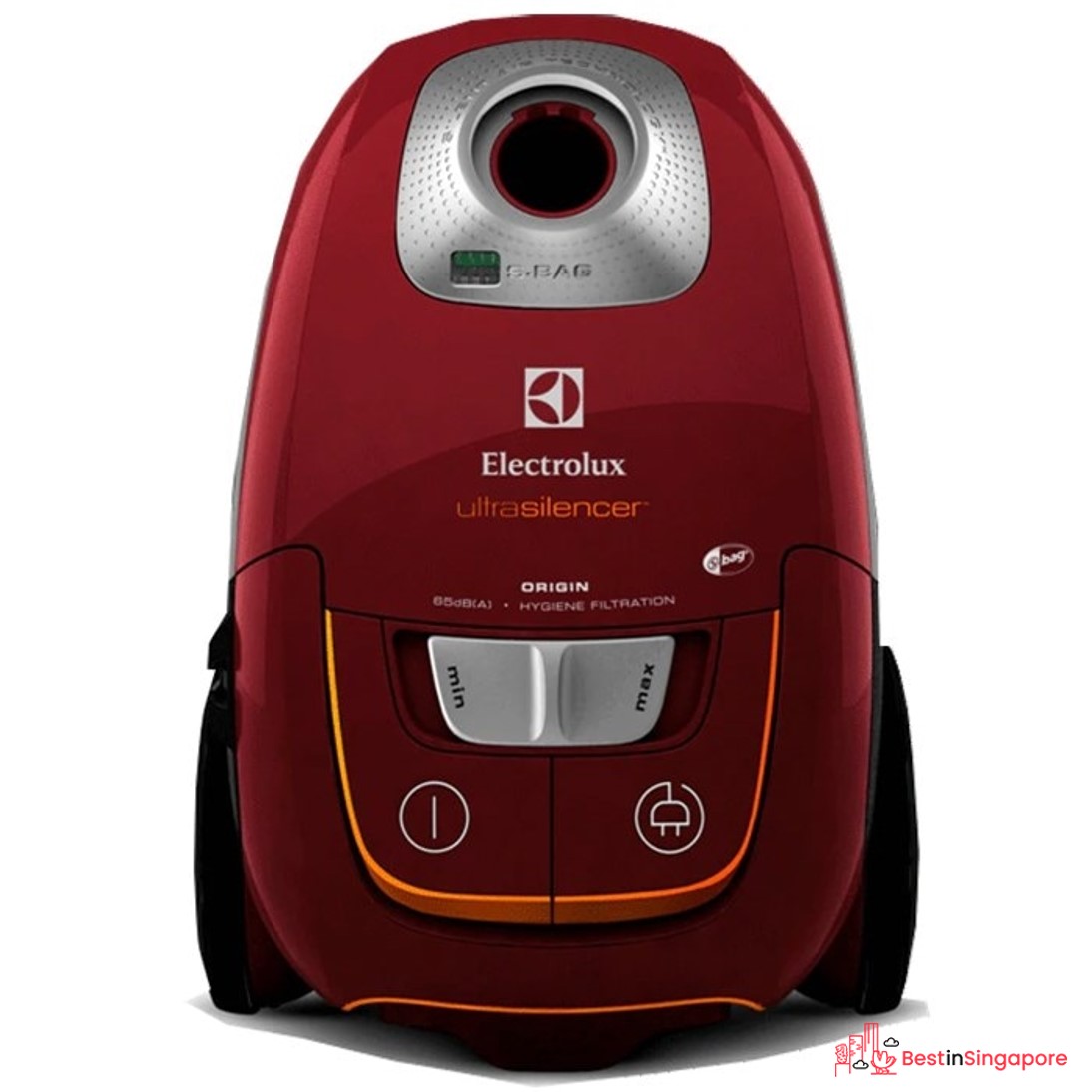 Price: S$279.00
If you like to clean during mornings and want to avoid waking up other people, the Electrolux UltraSilencer could just be the best silent vacuum cleaner in Singapore.
It features the AeroPro Silent Air Technology™ which gives you quieter cleaning sessions without sacrificing performance. For added convenience, you also get the AeroPro™ 3-in-1 brush nozzle add-on to help you clean all the nooks and crannies in your home.
You vacuum up all the dust and dirt in your home with full confidence knowing that the Electrolux UltraSilencer sports a HEPA filter.
If that's not enough for you, it also comes with a 2-year manufacturer warranty to give you peace of mind.
Product Highlights
Sound Shield™ – helps keep noise to a minimum
AeroPro™ 3-in-1 Brush Nozzle – good for cleaning different kinds of surfaces and hard-to-reach places
HEPA filter – collects any and all dust up to 0.3 microns small
2-year manufacturer warranty
Customer Reviews
Customers love the convenience and peaceful cleaning sessions that the Electrolux UltraSilencer brings. For instance, check out this review from a satisfied UltraSilencer owner:
"Love this product. It's really silent and the suction power is good. If it has more attachments like nozzles to reach those narrow spaces, this will definitely be the perfect vacuum cleaner. The bag is also good to prevent dust mites from escaping."
2. Tefal TW2253 Micro Space 
Best Bagged Vacuum for Small Living Spaces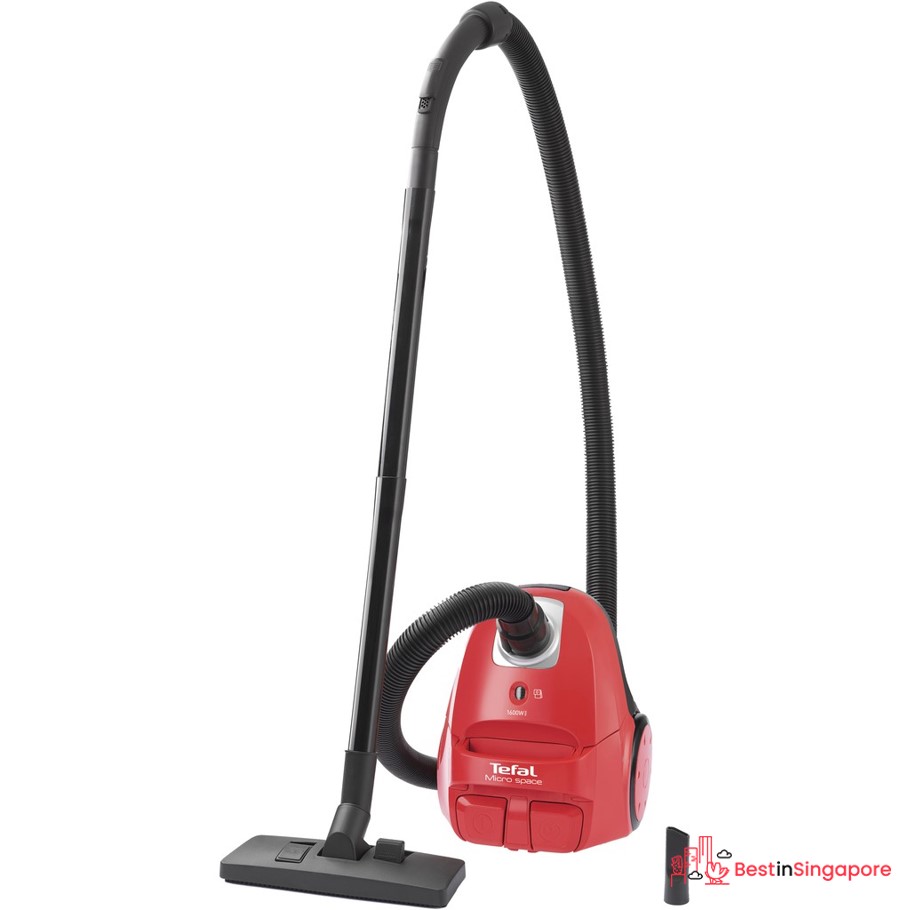 Price: S$80.99
The Tefal TW2253 Micro Space is a compact little vacuum that packs a whopping 1600W motor for superior suction power. This makes it the perfect bagged vacuum cleaner for small living spaces.
Because of its small form factor, you can bring it across the house or up the stairs with ease. It also comes with various brush nozzles that will help you clean nearly every surface of your home, from curtains to fuzzy carpets.
The Tefal TW2253 Micro Space has a maximum dust bag capacity of 1.5L, which regular cleanups. The vacuum cleaner has a washable Microfilter dust bag, so no need to buy disposable dust bags.
When it comes to a small but powerful factor, this is possibly the best we've come across in our vacuum cleaner reviews in Singapore.
Product Highlights
1600W motor for strong suction power
Various brush nozzles
1.5L capacity dust bag
Washable Microfilter dust bag
3. Aerogaz AZ-1200VC
Best Bagged Vacuum for Budget-friendly Cleanups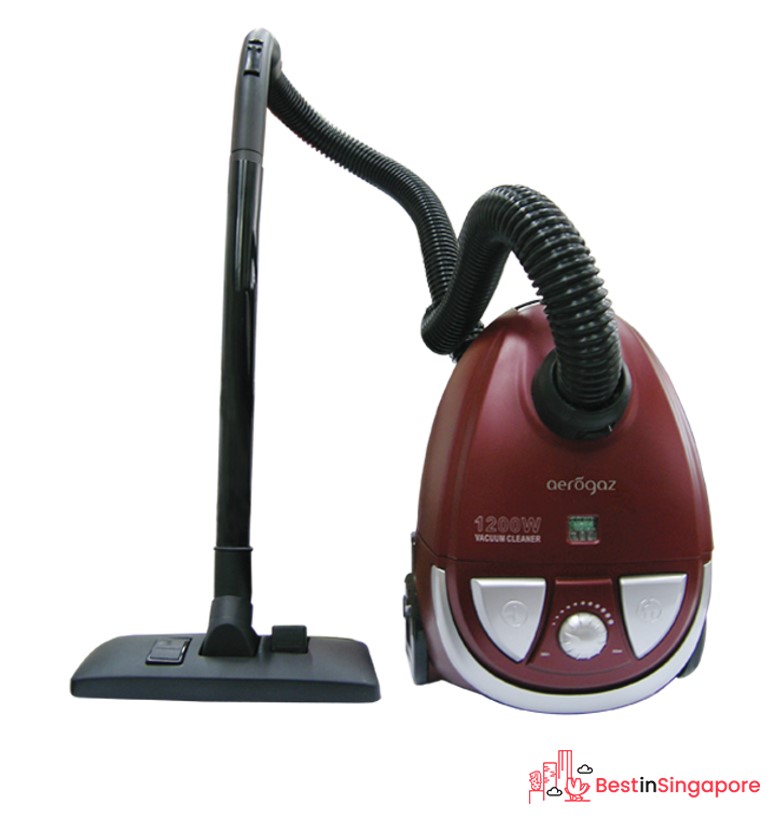 Price: S$52.99
If you want a budget-friendly but reliable bagged vacuum cleaner, the Aerogaz AZ-1200VC is the perfect option for you. It's a cheap and portable bagged vacuum that proves that quality can come with a small price tag.
The Aerogaz AZ-1200VC features a durable washable cloth dust bag, eliminating the need of having to buy replacement dust bags every now and then. The washable dust bag helps you save money, all while helping out the environment.
There's no need to sacrifice quality for the price, as the Aerogaz AZ-1200VC features a capable 1200W motor for quick and efficient cleaning. It also comes with a 1-year manufacturer warranty.
Hands down we consider the Aerogaz AZ-1200 VC to be the best budget vacuum cleaner for small spaces. 
Product Highlights
Budget-friendly price
Durable washable cloth bag
1200W motor
1-year manufacturer warranty
4. Philips Performer Compact (FC8383/61)
Best Bagged Vacuum for Superior Suction Power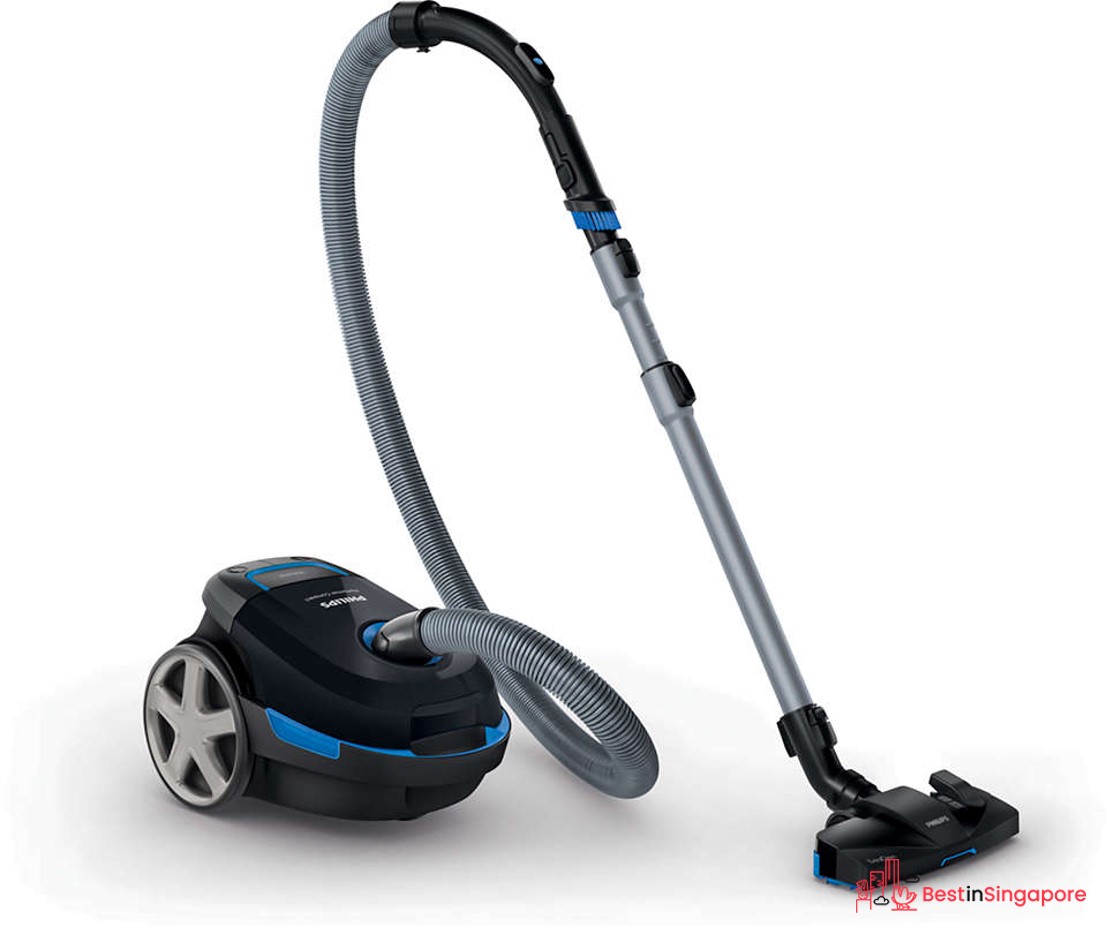 Price: S$159.00
If suction power is your main buying factor for bagged vacuums, then you should get Philips Performer Compact. When it comes to power, this vacuum cleaner is second to none.
Despite its small form factor, it has a 2000W motor to give you maximum cleaning performance and convenience. Its Super Clean Air filter can capture nearly the harmful particles in the air, leaving you with clean and fresh air in your home.
The Philips Performer Compact comes with the S-bag, a durable synthetic dust bag that has a capacity of 3L. With its ActiveLock couplings, switching between brush nozzles becomes quick and effortless.
Product Highlights
2000W motor
Super Clean Air filter
Synthetic dust bag with 3L capacity
ActiveLock couplings
Customer Reviews
Customers look forward to using the Philips Performer Compact for their cleanups because of its convenient and reliable features. Take a look at these customer reviews:
"The peformer compact vaccum cleaner FC8383/61 does it job very well. It has great suction power and the floor is very clean after vacuuming. The only bane is that the machine is quite loud but i guess this is because of the powerful suction feature. As it comes with a dust bag, I need not have to empty it after each use….time saving. Its a good purchase and will recommend to anyone who is into really clean floorings. From: a satisfied customer"
"Powerful vacuum cleaner compared to those cleaners that I've used in the past. Nice design and the power cord is long enough to not having to change the power sockets in the house."
The Best Bagless Vacuums
1. Philips PowerPro Compact (FC9352/61)
Best Bagless Vacuum for Deep Cleaning
Price: S$168.00
The Philips PowerPro Compact is the solution to all your allergy problems. It features the Allergy H13 filter system that's capable of targeting even the finest of dust particles.
If you want a more thorough cleaning, the PowerPro Compact is more than capable with its 1900W motor. The vacuum cleaner also comes with a rotating Turbo Brush that's specifically designed to scoop up all dust and dirt from different surfaces—even fuzzy carpets!
You'll never have trouble cleaning out the vacuum because of its easy-to-empty dust container. You also save home space because of its lightweight and compact build.
Product Highlights
Allergy H13 filter system 
Rotating Turbo Brush for deep cleans
1900W motor
Customer Reviews
With PowerPro Compact around, you can finally say goodbye to frequent allergy attacks. Here's what customers have to say after using the PowerPro Compact:
"The most remarkable asset of this Philips vacuum cleaner is the intensity of the suction power. You end up by gaining so much time cleaning your house. It also has an integrated brush, easier to use on the furnitures or to fit in the corners. I also found I could clean my house deeper as my dust allergy significantly reduced after using the product during one week. What matters a lot for me is the surprisingly decent noise made by the vacuum regarding how much power it has. Also, the size of the product is pretty small and it fits easily in a cupboard. At last, you can clean the dust box very fast and easily."
"It is a very elegant light weight equipment, all accessories are attached to the tube (no need to hunt for them) and very easy to couple them. Easy to maneuver of this 2 wheelers and suction noise is reduced compared to my current vacuum. Love the extension feature of the tube for cleaning further distance as well as shortening it for storage. Visibility of the dust collected in transparent dust container make awareness of disposure of collection. Managed to collect fine dust from mattress, carpet & floor. Most of all, it has very strong suction power. Love it very much!"
2. EuropAce Super Cyclone EVC 3201W
Best Bagless Vacuum for Cheap but Quality Cleaning
Price: S$128.00
The EuropAce Super Cyclone is a budget-friendly option that doesn't skimp out on performance. Its small price tag comes with a big 2000W motor that's perfect for cleaning up big messes.
Its Super Cyclone Separation system is coupled with a HEPA filter for intensive cleaning. Whether you're in a rush or just taking your time while cleaning, you can adjust the speed of the suction system for your convenience.
Product Highlights
2000W motor
Super Cyclone Separation system
HEPA filter
3. Karcher VC 3 Premium Plus
Best Bagless Vacuum for Efficient but Quiet Cleaning
Price: S$135.00
Does that musty vacuum smell bother you or trigger your allergies? With Karcher V3 Premium Plus, that won't be a problem.
It uses a multi-cyclone technology to deliver strong and consistent suction power and a HEPA 13 filter to make sure that it only expels clean, healthy air for your home. You can clean the house in peace because the 1100W motor keeps noise to a minimum.
The Karcher V3 Premium Plus comes with a variety of nozzles and add-ons to help you clean all the gaps and corners of your house. Be it the corner ceilings, dusty fans, or under the sofa—the Karcher V3 Premium Plus has you covered.
Product Highlights
Multi-cyclone technology
HEPA 13 filter
Quiet 1100W motor
2-year local manufacturer warranty
Customer Reviews
Despite having a lower-powered motor than other vacuums, the Karcher V3 Premium Plus more than makes up for it in terms of efficiency. Here are some reviews from customers who deem the vacuum a worthy purchase:
"Works very well for both hard floors and carpets. At 1100W, it's more effective than my other vacuum cleaner which has a 1800W motor. Comes with many nozzle attachments. Bagless and it's very easy to detach, open and empty the dust collection container. Am very happy with it. Great value! Highly recommended!"
"bought 2 units 1 month ago. Working fine. Quiet and lighter compared to my other vacuum cleaners. Karcher product quality and after sales service are excellent!"
4. Philips Powerpro Expert (FC9728/61)
Best Bagless Vacuum for All-around Cleaning
Price: S$278.00
If you want effortless but powerful cleaning, check out the Philips Powerpro Expert. It offers powerful suction, thorough filtering, and innovative design in one convenient package.
The Powerpro Expert uses Philips PowerCyclone8 technology, which actively separates the dust from the air and passes it through the Allergy H13 filter system for maximum filtration. Its lightweight, classic build is easy to wield and straightforward to use.
There's no need to switch up the nozzles as its TriActive nozzle can perform 3 cleaning actions all at once. Furthermore, you get a 2-year manufacturer warranty, applicable worldwide.
Product Highlights
PowerCyclone8 suction technology
Allergy H13 filter system
TriActive nozzle
Customer Reviews
The Philips Powerpro Expert won the 2018 iF Product Design award for its innovative design and functions. But more than that, it has received many positive reviews from satisfied homeowners around the world:
"When I received the Philips PowerPro Expert Bagless Vacuum Cleaner, I was sceptical. Bagless, with bag, big bulky vacuums, small vacuums – I have tried them all. And this one doesn't look promising with its small, compact size. It also claims to picks up and locks 99% of fine dust. Ok, i thought. We will see. So I gave it a shot and boy was I impressed. At its highest power (you can control the suction power) the head was uck to the floor, which tells you how strong the suction is. As I used the vacuum, I realised how lightweight it is and even my kids found it easy to carry and maneouver. At the end of usage, I opened the compartment where the dust accumulate to clean it up and I was surprised to see all these tiny fine dust. So yes, it does live up to its promises. I am very satisfied and happy with this product."
"The product was easy to use, amazing suction power, while light on hands. Was able to reach corners and difficult corners easily. The bagless container is good, compact, easy to clean. I could efficiently work without spending much time reading the manual. Great product with ease of use."
The Best Cordless Vacuums
1. Lupe Technology Pure Cordless Vacuum Cleaner
Best Cordless Vacuum for its Light Weight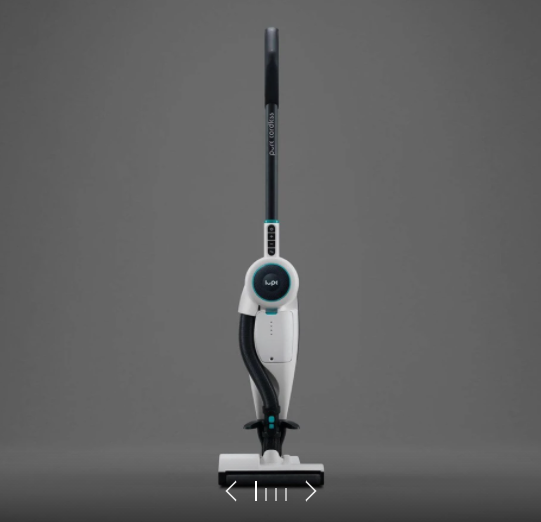 Price: £569.00
In comparison to the other vacuums on this list, Lupe Technology is the only company that offers a pure cordless vacuum cleaner. It is also the only vacuums that is super durable with easily replaceable parts.
According to Forbes, this product is "the Rolls Royce of Vacuums." The reason behind this is other than it offers the usual features of detachable hoses, powerful suction, and versatile cleaning, it is one of the vacuums that are very easy to clean. charge, and to empty. A previous buyer mentioned that their carpets were visibly a different color after vacuuming them and it was also able to suck bigger debris that other vacuums struggled with.
What is unique about this product is how it only has one head yet still has an optimum pick-up across different surfaces and types of debris. Another factor why people prefer to but this is is how its charging time is only 3 and a half hours.
In line with the battery, another amazing feature of the Lupe Pure Cordless Vacuum Cleaner is its three modes, eco, normal, and max. Eco is the power level for maximum cleaning since you can use it for about 60 minutes. Normal is the default level that is perfect for general use and it can last up to 30 minutes of usage. Max is the last mode that can be used for about 15 minutes and has an enhanced power that is suitable for dirty areas.
Product Highlights
Bagless 4 stage filtration
HEPA filtration
Washable lifetime filters
Motor: 400W
Battery: 81Wh
 Uses 9 Murata high drain, high capacity lithium-ion cells
Height: 1145mm (660mm with the wand removed)
Width: 175mm
Depth: 260mm
Weight: 4.6kg/10.1lbs (upright), 0.5kg/1.1lbs (in hand for high reach cleaning)
Customer Reviews
Here are some reviews from their previous buyers:
"This machine is amazing! The best vacuum I have ever had! I love it."
"Ordered online arrived within a couple of days. Excellent service"
"We tried a cheaper stick vacuum and promptly returned it. Lupe is much quieter, better performance, and we appreciate the thoughtful design to make a versatile and effective product. I also appreciate the carbon neutrality & commitment to repair & circular economy rather than just throwing products in a landfill. Stay ambitious with your environmental objectives and you'll always have loyal customers."
"Innovative, effective and great looking tech, backed up by the best customer service and readily available spares and repairs. Top marks!"
2. Dyson V7™ Fluffy+
Best Cordless Vacuum for Versatility
Price: S$599.00
Underneath the hefty price tag is a vacuum cleaner packed with many convenient features. If you want a versatile cleaning tool for home cleaning, the Dyson V7™ Fluffy+ is a perfect choice.
Aside from the usual features like cordless cleaning and HEPA filtration, the Dyson V7™ Fluffy+ stands above other cordless vacuums because of its superior battery power and ingenious design.
When fully charged, you can get up to 30 minutes of consistent suction power. Furthermore, the Dyson V7™ Fluffy+ is light enough to clean ceilings and corners easily and can even be used as a handheld vacuum.
The Dyson V7™ Fluffy+ comes with a convenient docking station that acts as a charging and storage port so that it'll always be ready for spontaneous cleaning sessions.
If you have the budget to spare, this is the best cordless vacuum cleaner in Singapore available in the market. 
Product Highlights
30 minutes of fade-free suction
HEPA filtration
Lightweight at 2.4kg
All-in-one charging and docking station
Customer Reviews
Dyson has built up a reputation for being a provider of high-quality vacuum cleaners throughout the years. As such, it's no wonder that the Dyson V7™ Fluffy+ is also considered to be one of the best cordless vacuum cleaners by many Singaporean consumers.
Check out these reviews that attest to the quality of the Dyson V7™ Fluffy+:
"This vacuum is worth the money you spend. It has so many attachments and is so easy to use. It also acts as a duster with one of the attachments. The only downside is the battery only lasts about 12 minutes so when you aren't using it between cleaning always have it plugged in. It's super light and easy to empty and doesn't clog! So happy with the vacuum."
"I've had several Dyson vacuums and I'm not disappointed in this one. We have wood floors and for quick cleanings it's great. Picks up everything. Lightweight and easy to handle"
3. Electrolux 2-in-1 Allergy Ergorapido®
Best Cordless Vacuum for Allergy Sufferers
Price: S$198.00
If you have a problem with allergies, the Electrolux 2-in-1 Ergorapido is a lifesaver. Aside from being conveniently cordless, its superior suction power can suck up all manners of dust, dirt, and other allergens in your home.
It has an Advanced Allergy Filter that's capable of picking up microscopic dust particles so ensure a thorough cleaning. Its HD Lithium battery can provide you with up to 48 minutes of cleaning time.
Furthermore, the brush nozzle comes with LED lights so that you'll be able to easily spot dust in the darkest of areas. There's no need to reposition your vacuum every time you move because its EasySteer™ system lets you swivel the nozzle for up to 180 degrees.
Parents of young children have considered this to be the best cordless vacuum cleaner in Singapore for 2020. 
Product Highlights
Advanced Allergy Filter
48 minutes of cleaning time
EasySteer™ system for easier handling
LED Dustspotter
Can turn into a handheld vacuum
Customer Reviews
The Electrolux 2-in-1 Ergorapido is lightweight but powerful enough to give your home a deep clean. Check out how customers feel about this cordless vacuum:
"Easy to assemble and use. Great to use as can be used in many ways – on hard floor and carpet, on bed and curtains and car. Happy to have purchased!"
"I have used this product in my son's house and it is so easy to use, very convenient to clean small spills of powder or biscuit crumbs. So easy to maneuver under tables and between chairs. It's also quite powerfull."
4. Dibea D18 Pro
Best Cordless Vacuum for 2-in-1 Capability
Price: S$199.00
The Dibea D18 Pro gives more value for its users because it functions both as a cordless and handheld vacuum. Its brush nozzle comes with 2 roller bars; one for carpets and the other for hardwood floors.
Aside from its roller bars, it also comes with various attachments and accessories to help you clean more surfaces in your home. Its powerful motor can give you suction power of up to 19,000Pa.
You can also change between two speed settings with just a press of a button. The low speed setting is perfect for daily cleaning and small messes, while the high speed setting can handle heavy-duty large cleanups.
Product Highlights
2 roller bars: for hardwood and carpets
Up to 19,000Pa suction power
Two speed settings
Can turn into a handheld vacuum
5. Airbot Supersonics 2.0 Upgraded
Best Cordless Vacuum for Budget-conscious Customers
Price: S$95.90
When it comes to convenience, the Airbot Supersonics 2.0 comes out on top—with a smaller price tag to boot! Its small and light build, coupled with its 19,000Pa suction power, will let you clean your home without breaking a sweat.
With a charging time of 4 hours, you can get around 45 minutes of uninterrupted cleaning. It also has two speed settings: Low Speed for quick cleanups and High Speed for deep surface cleaning.
Its BLDC motor allows you peaceful cleaning without sacrificing power. And if you want more functionality, you can opt for the bed mites brush and flex tube add-ons.
Product Highlights
19,000Pa suction power
45 minutes of cleaning time
Two speed settings: Low Speed and High Speed
Quiet BLDC motor
Customer Reviews
If you're having second thoughts about getting the Airbot Supersonics 2.0, check out these positive customer reviews and see if they'll change your mind:
"Very slim and light weight. Bought it mainly to clean my carpet and it works. Cleaning power adequate for normal household. Noise level low-moderate. For a vacuum cleaner <100dollars, couldn't ask for more"
"Ok JFYI. my pad is 1000sq & I'm physically fit. By the 700sq-ish.. my wrist is a tad tired even though I need not press on to the start button. But honestly- NOT Complaining. Its a very Good product for this price!! & I've dogs."
6. Aztech ASC580 FusionVac 2 in 1
Best Cordless Vacuum for Ease of Use
Price: S$149.00
With its aluminium alloy build, the Aztech ASC580 FusionVac can give you easy handling and cleaning precision. And if that isn't enough, with just a click of a button, you can turn your cordless vacuum into a handy handheld vacuum.
The Aztech ASC580 FusionVac carries a 0.5L dust canister, much more than other cordless vacuums. It comes with a detachable battery that can give you up to 40 minutes of consistent cleaning. 
Its easy swivel feature eliminates the need for awkwardly positioning your vacuum every time you shift positions. Despite only having 8,000Pa suction power, its Multi-Cyclone System makes up for it with its high-efficiency cleaning.
Product Highlights
Multi-Cyclone system
Washable filtration system
0.5L capacity
Up to 40 minutes of cleaning
Customer Reviews
Many customers buy Aztech ASC580 FusionVac as a cheap alternative to more expensive, higher-end cordless vacuums. But despite being cheaper, the Aztech ASC580 FusionVac can still deliver satisfying cleaning performance.
Take a look at what this customer has to say after trying out this vacuum:
"I bought this vacuum for my mom who wanted a vacuum stick similar to Dyson's but without spending hundreds so I bought this as Aztech is a reputable local company that specialises in wireless appliances. The suction power isnt the comparable to those traditional vacuums as the motor is only 100w, however for its size and prize it does what is required for dry vacuuming"
The Best Smart Vacuums
1. Xiaomi MiJia Robot Vacuum 1C
Best Smart Vacuum for Small Spaces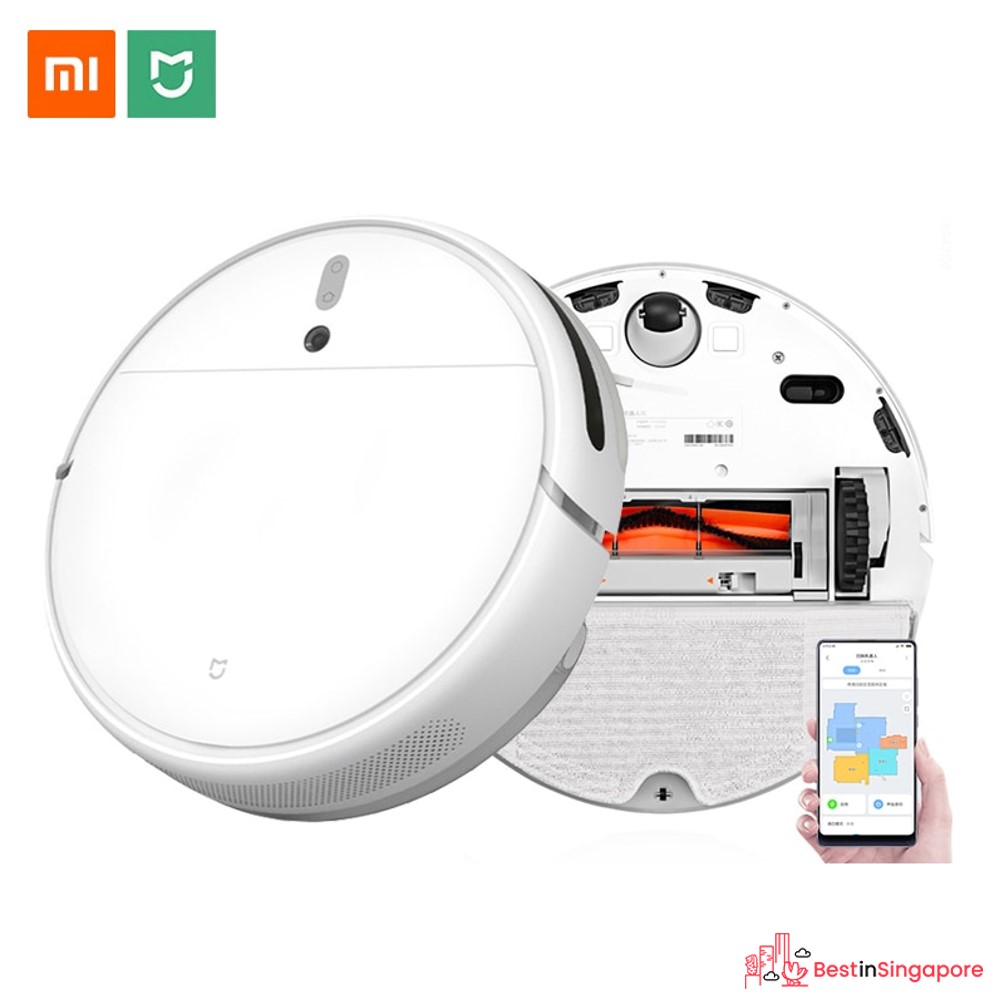 Price: S$260.00
If you want high-performance cleaning that won't break the bank, get the Xiaomi MiJia Robot Vacuum 1C. Whether you're using it for your house or apartment, its capable 2600mAh can give you up to 1.5 hours of cleaning time.
With the help of over a dozen sensors, the Xiaomi MiJia Robot Vacuum 1C creates an internal map to be able to vacuum and mop every inch of the room with accuracy. Being fully-automated, after it's done cleaning, it will recharge itself for the next cleaning session.
You can control, track, and manage the Xiaomi MiJia Robot Vacuum 1C using the Mi Home app. It's also compatible with Google Assistant and Alexa.
Product Highlights
1.5 hours of cleaning
Compatible with Google Assistant and Alexa 
15 smart sensors
Mop-and-vacuum capability
Customer Reviews
Many homeowners consider the Xiaomi MiJia Robot Vacuum 1C to be a great but cheap alternative to other expensive smart vacuums. Take a look at what these customers have to say about this vacuum:
"Very efficient and effective cleaner. Able to cover entire home and can travel past curbs into rooms easily. Worth buying for the excellent price and performance."
"Very happy with this vacuum cleaner! It moves in a pattern that covers all areas. From the Mi Home app, it shows the area it covered. It will move inches away when gently hit on furnitures or if there is a step down."
2. Dibea GT200
Best Smart Vacuum for All-around Cleaning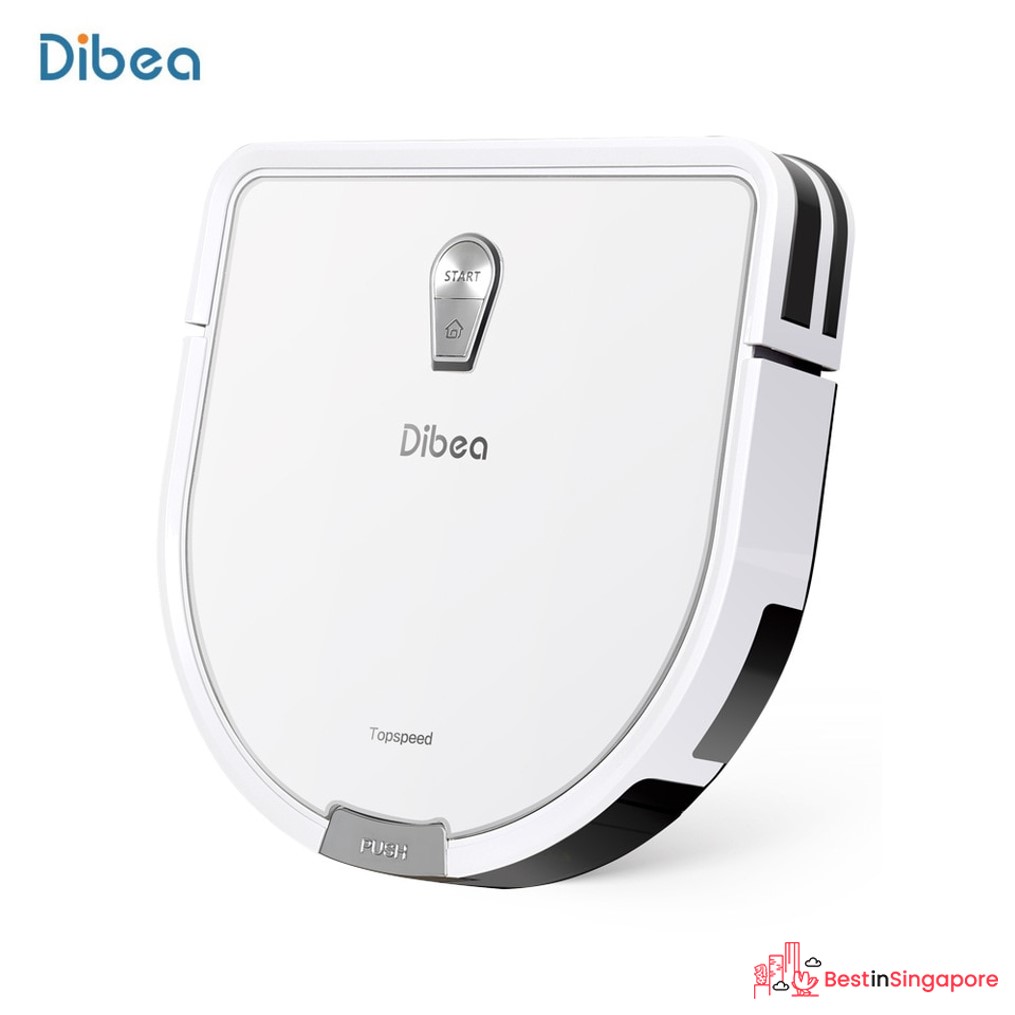 Price: S$225.00
The Dibea GT200 is your all-in-one cleaning companion because aside from vacuuming and mopping, it also sweeps and humidifies! You can also schedule cleaning sessions regularly so that you can have peace of mind knowing that you'll come back to a clean home.
The Dibea GT200 is also capable of cleaning your entire house, as it can easily deliver up to 120 to 150 minutes of cleaning time. From marble floors to carpets, this smart vacuum can easily clean a wide range of surfaces in your home.
You can control every aspect of cleaning using its mobile app or remote control. With its quiet but powerful motor, you can relax in peace as it does all the cleaning for you.
Product Highlights
Vacuums, sweeps, mops, and humidifies
120 to 150 minutes of cleaning time
Mobile app and remote control
1,200Pa suction power
Customer Reviews
The Dibea GT200 has impressed many homeowners for its superior cleaning performance and budget-friendly price tag. Here's what GT200 owners have to say the vacuum:
"Definitely one of my best but for 11.11 sale… Item came in neat n secure box.   Ordered on 11.11  n received on 12.11… Superfast delivery.. N it really vacuums up fine dust n hassle free cleaning for the whole house.. Even on carpeted floor.. N its not noisy  Overall am satisfied"
"My house is 120sqm and it cleans up thoroughly. Tried the mopping as well, not bad too. It helps to save our time and effort on doing daily cleaning. Delivery was quite fast, got it like 3 days later."
3. Roborock S6 MaxV
Best Smart Vacuum for Pet Owners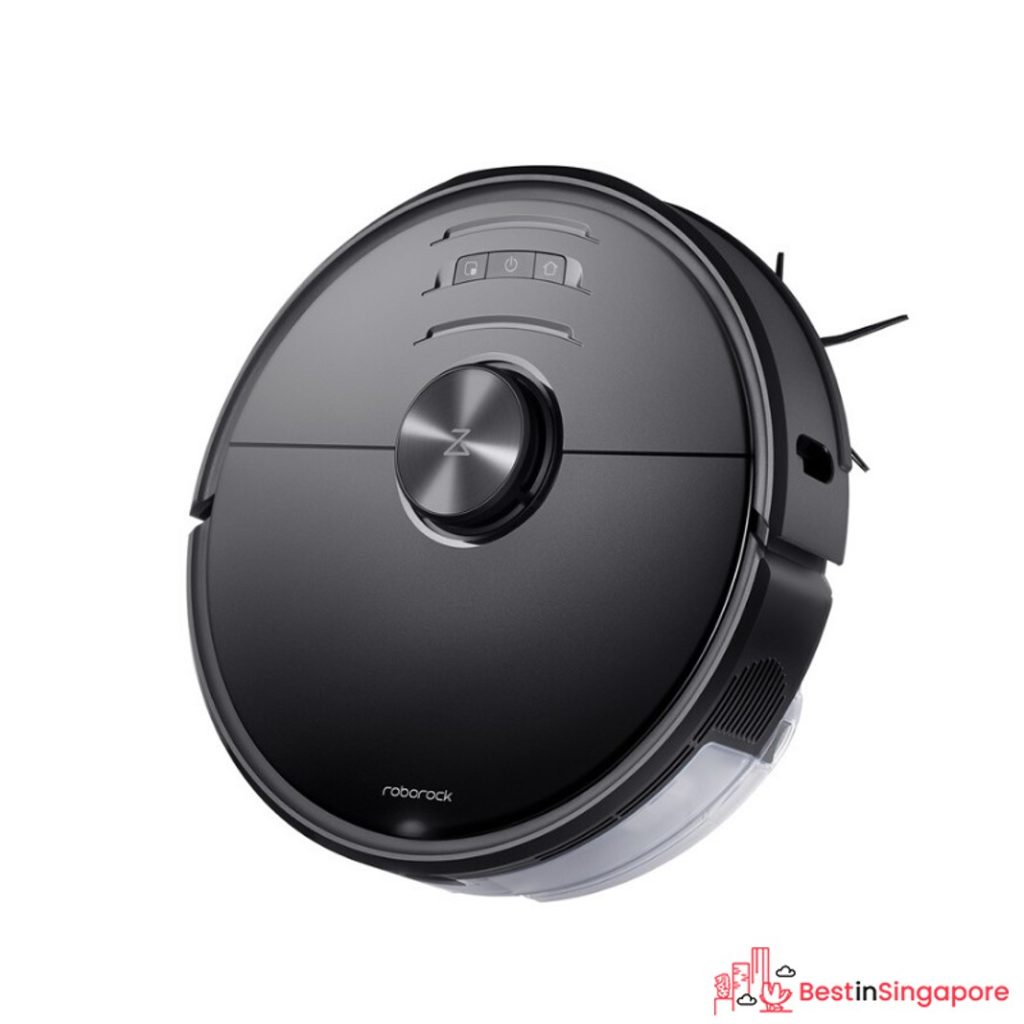 Price: S$699.00
The Roborock S6 MaxV is one of the top performers in the world of smart vacuums. Despite being the most expensive pick in our list, it more than makes up for it in terms of performance and value.
Its smart sensors are capable of creating an accurate map of your home to make sure it doesn't miss out any spot while cleaning. If your house is a bit cluttered, there's no need to worry as it can easily avoid collision and potential damage to your belongings.
If you have pets in your home, this smart vacuum is the right option for you. It has dedicated settings for cleaning animal hair, droppings, and other messes your animal companions may make.
Using the vacuum is also hassle-free as its mobile app is straightforward and easy to use. According to many Roborock S6 MaxV owners, this nifty little smart vacuum completely replaced all mops and vacuums in their households. 
Product Highlights
True Visual AI
2,500Pa suction power
Washable EPA filter
5,200mAh battery
Customer Reviews
The Roborock S6 MaxV has been a gamechanger for many Singaporean homeowners. With this smart vacuum, you're sure to get your money's worth and keep your home clean and dust-free for you and your family.
Check out these customer reviews to see how they feel about this smart vacuum:
"Received my Roborock well in time..n it is giving me a time of my life😊…hassle free cleaning n mopping 👍🏻 Must say it is smart to find its own way around nooks n corners and in between furniture too..!! Super impressed n happy customer 😊👍🏻"
"Bought S6 MaxV without any regrets. Super easy to use. Even my mom who was skeptical in the beginning is loving this as she no longer need to vacuum nor mop. 😅"
The Best Handheld Vacuums
1. Black and Decker PD1200AV
Best Handheld Vacuum for Car Interiors
Price: S$75.00
The Black and Decker PD1200AV is designed to be small and compact enough so that you can store it in your car for cleaning on the go. Using this handheld vacuum is straightforward—just plug in its 12V adapter into your car's power outlet and you're good to go.
You can use its soft brush to make sure your seats are spick and span. You can also give your vehicle a thorough clean using the long crevice brush nozzle, capable of sucking up dust and dirt from tight and hard-to-reach places like under and in-between seats.
No need to worry about accidentally tugging on the wire as its 5 metre cable is enough to vacuum your entire vehicle. You'll also find its cyclonic action suction and triple action filtration system more than enough to keep your car fresh and clean.
Product Highlights
Cyclonic action suction system
Triple action filtration system
5-metre cable 
Soft brush and long crevice nozzles
Can be plugged into car power outlet
Customer Reviews
The Black and Decker PD1200AV is a great cleaning tool for vacuuming your car interior. Take a look at these customer reviews that praise the vacuum for its usefulness:
"Handy vacuum for keeping on top of the kids mess in the car. 12v cable is more than long enough to reach from the socket at the front to the boot.
Retractable brush tool is great for doing the vents but retracts itself when having to apply any pressure to it."
"Great car vac. Do not expect it to pick up dog hairs that have imbedded themselves into the carpet or fabric seats. But I was very surprised just how capable this little 12v vacuum is. I am very pleased."
2. Xiaomi Deerma CM1900
Best Handheld Vacuum for Bedsheets and Sofas
Price: S$86.90 – S$89.90
Bed bugs preventing you from having a good night's sleep? With Xiaomi Deerma CM1900, you can eliminate any unwanted pests from your beds, sofas, curtains, and more.
Its lightweight and compact build is easy to wield and use, allowing effortless cleanups around the house. It has a 5-fold filtration system and comes with 3 brush heads for cleaning different surfaces.
The Xiaomi Deerma CM1900 has a suction power of 12,000Pa, higher than most handheld vacuums. Aside from strong suction, it also has a UV lamp that sterilises and kills off any remaining mites that weren't sucked up during the process.
Product Highlights
5-fold filtration system
UV lamp for sterilisation
12,000Pa suction power
Optimised brush nozzle for bed mites
Customer Reviews
Customers were wowed with the Xiaomi Deerma CM1900's strong suction power, something that's uncommon with competitor handheld vacuums. Coupled with the UV lamp, this handheld vacuum becomes a formidable cleaning tool for bed mites and other microscopic creepy crawlies.
Take a look at these glowing customer reviews:
"Yup. It really does suck up dust from your bed, cushion or couch. Pretty long wire for you to move it around. Doesn't stop halfway or anything like that. Does heat up but so far have not encountered it stopping. Noise level is bearable."
"Awesome product! It's amazing for cleaning the bed. I'm very pleased with what it did! The amount of non-visible dust that it collected from my bed is very impressive! Thanks seller, I like it very much!"
3. Karcher VCH 2
Best Handheld Vacuum for Portability
Price: S$69.00
If you're looking for a no-frills handheld vacuum that you can bring anywhere easily, the Karcher VCH 2 is your best bet. It weighs less than a kilogram and will fit nicely inside your travel bags.
It runs on a rechargeable battery, so you don't have to deal with tangled and messy cords—just flip the switch and you can clean away. Of course, it comes with a charging dock that can also act as storage.
If you're worried about its performance since it's battery-powered, don't be—its two-step filtration system can suck up all the dirt and dust easily and pass them through a fine steel mesh and a HEPA 12 filter for in-depth cleaning.
Product Highlights
Battery-powered 
Two-step filtration system
Weighs less than a kilogram
Removable and washable filter box
Customer Reviews
The Karcher VCH 2 is a tiny powerhouse of a vacuum cleaner that can help you clean up small messes around your home or in your vehicle. Take a look at what this customer has to say about this vacuum:
"The sturdy and ergonomic build screams German. Never used a portable vacuum before. I would say serves god in tight spots in car. Good to do away with loose dirt. Power backup is decent. Saw a battery warning with few mins of charge out of box. Not sure bout how long it lasts for minutes of operation."
The Best Wet & Dry Vacuums
1. Karcher WD1
Best Wet & Dry Vacuum for Functionality
Price: S$102.99 – S$125.99
If you need a reliable wet vacuum cleaner in Singapore for heavy-duty indoor and outdoor cleaning, the Karcher WD1 has got you covered. This multi-purpose vacuum is powerful enough to clean up the biggest of messes but also compact enough for easy storage and portability.
The Karcher WD1 has a container capacity of 15L and high suction power for efficient cleaning. It also uses smart technology to give you consistently strong suction power with low energy use.
And if you're looking for more functionality, the Karcher WD1 also transforms into a capable leaf blower to help you keep your yard tidy.
Product Highlights
15L capacity
Compact and impact-resistant build
High suction power at low energy use
Doubles as a leaf blower
2. PowerPac Wet & Dry Vacuum Cleaner (PPV1500)
Best Wet & Dry Vacuum for Convenient Cleanups
Price: S$79.90
Unlike other wet & dry vacuums, the PowerPac PPV1500 is capable of delivering high-performance cleaning with ease of use. With its 3-stage HEPA filtration system, rest assured that you can clean up any kind of mess efficiently.
Its 3.5-metre long cable and 10L dust container will give you quick and hassle-free cleanups. In addition, its swivel hose can help you reach corners and tight spaces for effective cleaning.
The PowerPac PPV1500 also comes with 3 brush nozzles to help you clean your floors, carpets, sofas, and more. You can also keep the noise to a minimum during cleaning sessions because of its noise reduction feature.
Product Highlights
3-stage HEPA filtration system
10L capacity
Different brush nozzles
Swivel hose
And with that, we conclude our list of the best vacuum cleaners in Singapore! Keeping your home or office clean and tidy will be a breeze with any of these capable vacuum cleaners.
Did you find the right vacuum for your needs in our list? Let us know your thoughts in the comments section.
Did we miss anything in our list? Share it with us in the comments below!
If you're too busy to clean and would rather have someone to do it for you, you might want to check out the best cleaning services in Singapore. These cleaning services offer top-notch cleaning for the best rates, so check them out!