The 5 Best Portable Aircons in Singapore
One of the best ways to fight the heat during the summer season is to have an air conditioner at home/office. However, installing a unit in every room can cost a lot and require a bit of effort — this is where having the best portable aircons in Singapore can be a much better option.
Portable air conditioners offer a great alternative if you want a cooling unit that requires near-zero installation effort and that can be wheeled from one room to another. But with the countless options to choose from, how can you find the right one to buy?
We'll answer that today, besides listing the best portable air cons in Singapore. Whether it's your first time to buy one or you want to replace an old unit, we've listed some of the essential factors that you need to look out for.
So, we'll start with out buyer's guide first. After that, we'll go over the best portable units we found in the country. Let's begin!
Things to Consider When Buying a Portable Aircon
To prevent yourself from buying a unit that can't do what you want, you must keep these key features in mind:
1. Size
Portable air conditioner units come with various sizes, just like the fixed ones. To determine which one is the most suitable for your room, you must check its British Thermal Units (BTUs) per hour.
Units with higher BTUs provide more cooling power, giving larger room coverage. Having a model that's appropriate for the room can help save energy costs so make sure to consider its BTU rating first.
For a standard room with 8-foot ceilings, you may use these estimations:
8,000 BTUs will cover 200 sq. ft. (1,600 cubic feet)
10,000 BTUs will cover 300 sq. ft. (2,400 cubic feet)
12,000 BTUs will cover 400 sq. ft. (3,200 cubic feet)
13,000 BTUs will cover 450 sq. ft. (3,600 cubic feet)
14,000 BTUs will cover 500 sq. ft. (4,000 cubic feet)
But this isn't a hard-and-fast guide, because environmental factors may affect the required number of BTUs. Areas with heat-producing appliances or insulation might need a unit with a slightly higher BTUs.
For example, if your room is 200 square feet, the guide above says you should pick a unit with 8,000 BTUs. But if your room also happens to be on the second floor (which is always warmer), above a kitchen, and facing the setting sun, you may well need one with at least 10,000 BTUs instead.
That's why you have to take into account all the factors that could add heat to your current space. Even the best portable aircons in Singapore won't help if you pick a machine that's undersized for your demands of it.
2. Noise
Most electric appliances such as a portable aircon produce noise as they generate airflow within the room. That's why it's also important to compare the decibels (dB) produced by each unit.
If a unit creates noise higher than 55 decibels, then you might need to consider other options. That's because anything above that can be a serious disturbance to your comfort.
3. Maintenance
This kind of appliance requires maintenance but the amount of work that you need to do varies depending on the unit. Most units contain a tank to collect the water and you just need to pull the tank out and empty it.
There are also units that feature an auto-evaporation system that expels the moisture into the outside air with an expeller hose (these units are commonly placed near a window). Some offer both methods with continuous drainage.
It pays to check reviews online for this, as owners of a portable aircon model usually post about the maintenance involved for it.
The Best Portable Aircons in Singapore
Now you have a general idea of how to pick a portable aircon that will meet your needs. In any case, here are few of the best portable aircons in Singapore!
We've carefully selected these based on functionality, efficiency, and cost-effectiveness, so you'll surely find the right one for you.
1. Honeywell MN-10CES Portable Aircon
Best for Continous Operation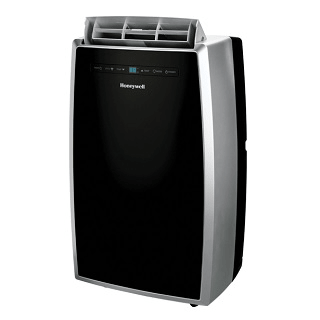 Price: $799.00
The Honeywell MN10CES Portable Aircon features advanced technology that provides excellent cooling , dehumidification, and fresh ventilation. You can control each feature to set up a personalised setting suitable for your space and your preferences.
Moreover, it has an auto-evaporation system that comes with a flexible exhaust hose and easy-to-install window vending kit. With this feature, you can use the unit for continuous operation with no water to drain & no bucket to empty — this is why it can be one of the best portable aircons in Singapore for offices and other work areas.
Highlights
10,000 BTUs
53 dB
Fan only mode and dehumidifier mode
Washable electrostatic filter
Auto-evaporation system
900W
Customer Reviews
Most customers were highly satisfied with the overall features of the Honeywell MN-10CES Portable Aircon.
They said that it can truly cool down a room within a short span of time. They also complimented the effective dehumidifier function as well as the easy installation.
A customer wrote this feedback to explain why he thinks it's one of the best portable aircons in Singapore:
"This air conditioning unit is very high quality and cools a room down very quickly. It is easy to install and uninstall making it a great pretty unit. It is not silent but the noise is easily tolerable. Dehumidifier also works quite well to get rid of moisture. Great air conditioning unit overall."
2. Sona SACN6203 Portable Aircon
Best for Multifunctionality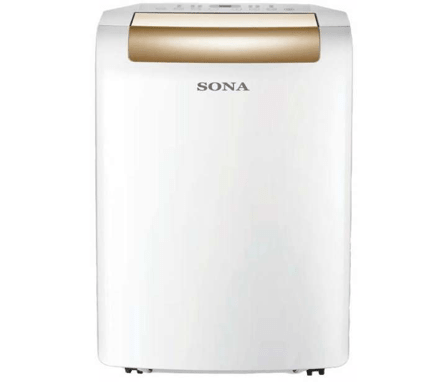 Price: $1,040
The Sona SACN6203 Portable Aircon is known for its all-in-one solution where you can cool down, dehumidify, as well as purify the air inside a room. With its automatic horizontal swing louvre, it offers a faster cooling process that's perfect for the summer season!
This best portable aircon in Singapore can cover medium to large spaces due to its higher BTUs. It also has an auto-evaporation system for easy maintenance.
Highlights
14,000 BTUs
50-54 dB
Dehumidifier, air purifier and cooler functions
Auto-evaporation system
Automatic horizontal swing louvre
1850W
3. TCL TAC10CPA/H Aircon
Best for Multiple Modes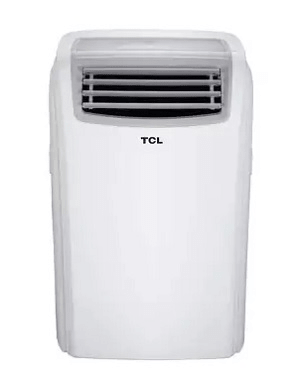 Price: $429.00
The TCL TAC10CPA/H Aircon can be set into different types of modes including timer mode, sleep mode, and eco mode.
With the timer mode, you can choose between 24 or 12-hour operation, while for the sleep mode, it'll automatically adjust the temperature in various time periods so you can comfortably sleep all night.
For the eco mode, the unit will turn off the compressor when the room reaches the desired temperature. The best thing about it is that it has a self-troubleshooting feature where it'll shut down once an abnormal operation is detected.
Highlights
10,000 BTUs
52 dB
Self-troubleshooting feature
Filter-cleaning reminder
Auto-evaporation system
2850W
Customer Reviews
Customers said that the TCL TAC10CPA/H Aircon is so easy to use because every essential item for maintenance is already included. They also loved the eco mode feature that saves energy costs.
This is why the unit has become one of the best portable aircon in Singapore. Here's a feedback from a customer:
"Performance wise, it cools like a champ. I've had mine since March 2017 and its been running pretty consistent since purchase with the summer inbound here in Southern California. Haven't had to empty the evaporation water tank once yet (the unit will tell you on the LCD display when its getting full). Everything you would essentially need to mount the exhaust pipe to the window is included. I use it in a medium sized bedroom. If the ambient temperature before activation is around 82F and I set the unit to 78F to cool down to, it would bring it down within minutes and then the compressor would turn off automatically and then attempt to maintain that temp."
4. iFan IF9090 Portable Aircon
Best for Minimal Cleaning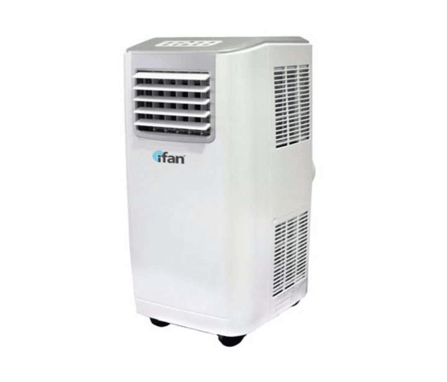 Price: $359
Unlike other options, the iFan IF9090 Portable Aircon has an anti-bacterial water tray inside the unit to prevent the build-up of germs and mould. Together with its washable dust filter, it'll certainly keep you from long hours of cleaning.
This best portable aircon in Singapore also features a 2-speed selector and sleep function. Moreover, it has an active carbon filter for better air quality.
Highlights
9,000 BTUs
55 dB
Active carbon filter
Sleep function
1020W
5. EPAC 14T6 Portable Aircon
Best for Multiple Purification Filters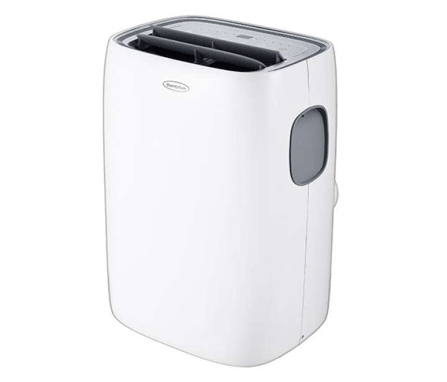 Price: $849
The EPAC 14T6 Portable Aircon produces absolute clean air with its purification filters. So, aside from cooling down the room, it can also help to maintain a healthier environment.
It also has a dual motor for a faster cooling process, making it more energy-efficient. Since it has 14,000 BTUs, it can be the best portable aircon in Singapore for those who need it for medium to large-sized rooms.
Highlights
14,ooo BTUs
50-54 dB
HEPA filter
1200 W
And that's the end of our list of the best portable aircons in Singapore! If you've got more options in mind, feel free to share them with us for we may also include them on our list.
And if you want to consult with a technician first before buying a new unit, here are some service providers that offer the best aircon repair in Singapore. These may tell you which portable aircons require the most repairs or maintenance!