The 9 Best Car Aircon Services in Singapore
When the summer season is finally coming and we'd like to enjoy some fun road trips, the only thing that can probably save us from extreme heat is our car aircon. But what if it stops working? To prepare ourselves before the season arrives, it'd be wise to check your car through the best car aircon service in Singapore!
To help you find the most accessible car services, here's our list of the best car aircon services in Singapore. These are the ones that'll give you long-lasting and excellent solutions to prevent further failures.
1. 1 Car Service Workshop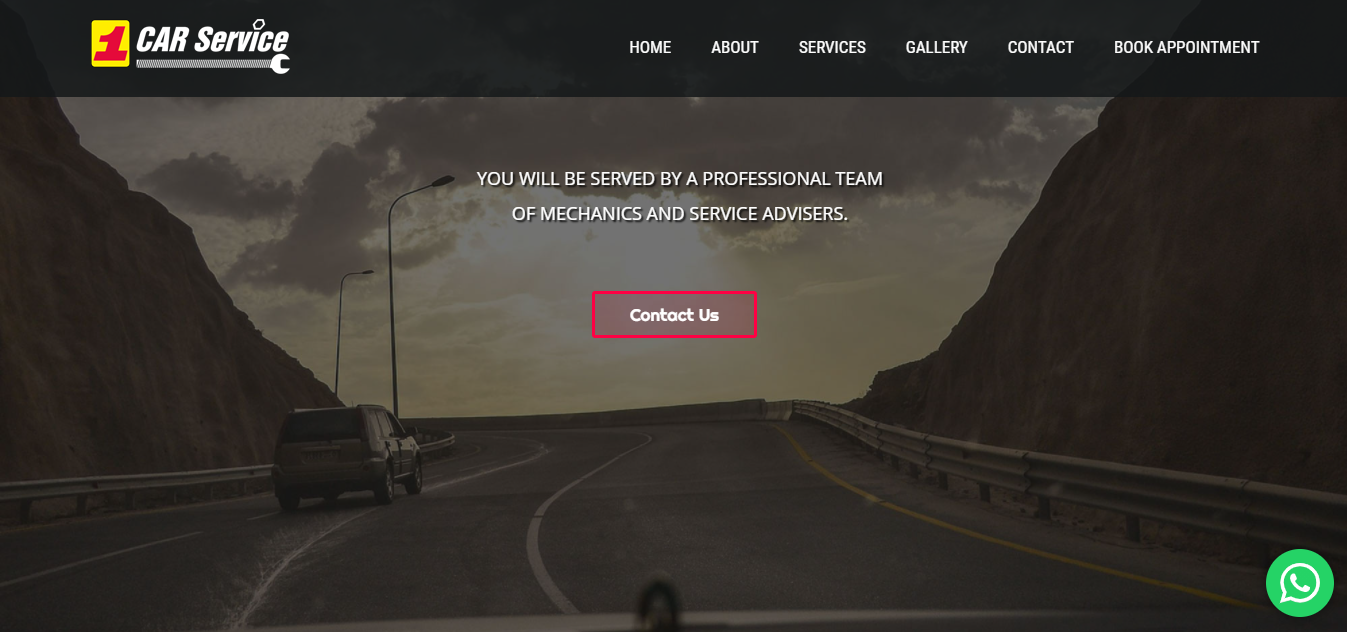 1 Car Service Workshop is one of the best car workshops in Singapore, with full technical capabilities to solve any aircon issues you might face. We rank 1 Car Service Workshop as our top choice for aircon repairs due to the following reasons:
Firstly, they have a very strong team of mechanics with high technical capabilities. Unlike other service providers, they work quickly yet meticulously.  Many customers choose 1 Car Service Workshop for their accuracy in diagnosis of aircon related issues, which helps car owners save a lot of costs. Sometimes all it takes is a change in rubber seal to fix your aircon!
They are also the top rated car workshop on Google, with 4.9 stars from 200 reviewers. This is the result of their exceptional customer service and technical skills. Customers can always expect them to provide the best advice on all their repair needs, with highly transparent pricing. You can put your mind at ease and rest assured that they have your best interests.
Finally, they also happen to be the best workshop for gearbox and engine repairs. They have the lowest prices for Engine overhauls and Gearbox overhaul, and provides the longest warranty period in the market. Engine overhauls come with a lifetime warranty, and Gearbox overhauls come with a 2-year warranty.
Highlights
Helps you save cost by eliminating unnecessary repairs
Honest and transparent pricing 
Professional team of highly skilled mechanics trained in all makes and models
Excellent customer service
Comfortable lounge and with complementary snacks and coffee 
Customer Reviews
Here are some of the positive reviews left by their previous clients on their Facebook page:
"Team was very efficient when I brought my Honda Fit in for servicing. Ryan also provided good advice & was very courteous and patient. Would definitely recommend 1 car service to anyone who needs this service."
"Always responsible and gives expert opinions when it comes to the car well being and maintenance. Very reasonably priced and never pushy. Just a great partner to have when it comes to advising on my car."

"Ryan and his team were extremely patience and professional when they were dealing with my car. Ryan was honest, friendly and delicated to resolve my car issue. Definitely will introduce all my friends and family members to service their cars with them. I'm luckily to find a car workshop like this. Well done!"

2.  Edwin Garage

Edwin Garage provides a wide range of car repair solutions and one of them is their best car aircon service in Singapore. They use high-quality materials to solve all kinds of air-con issues and also provide cleaning & maintenance.
Other services include repair of the engine, undercarriage, wiring, and more. They also offer 100% cashback in case you're not fully satisfied with the outcome or if the issue is not yet completely resolved.
Highlights
Full delivery
100% cashback
Customer Reviews
Customers were amazed by the fast services of Edwin Garage. They also mentioned the accommodating staff who helped them solve their car aircon issues in no time.
A customer from Google Reviews left this feedback:
"Edwin and his team is very quick in diagnosing the root cause of my car's aircon problem. Very friendly and helpful."
3.  JS Auto Airconditioning Service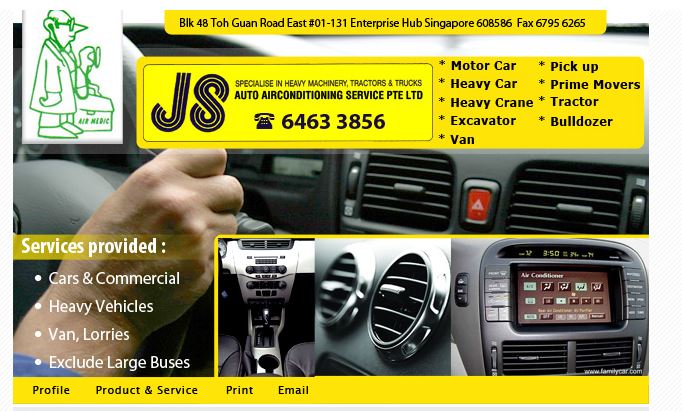 | | |
| --- | --- |
| BEST FOR  | Services for all types of vehicles |
| WEBSITE | http://www.jsauto.org/ |
| ADDRESS | Enterprise Hub #01-131, 48 Toh Guan Road East, (S)608586 |
| CONTACT DETAILS | 6463 3856 |
JS Auto Airconditioning Service is one of the longest-running service companies that offer a whole set of airconditioning services for car and commercial properties. When it comes to their auto aircon services, they cover almost all kinds of vehicles including motor cars, vans, pickups, and more.
Aside from this, heavy trucks, cranes, tractors, excavators, bulldozers are also covered by their repairing services. This is the reason why they're considered to have one of the best car aircon services in Singapore.
Highlights
Customer Reviews
Many customers have recommended the services of JS Auto Airconditioning Service because of their excellent solutions and affordable rates. A customer wrote this review on Google Reviews:
"Was worried the workshop will make me do an expensive overhaul of my car aircon system but the team did a very fast but thorough diagnosis and provided honest services. In the end it turned out to be a relay issue and I was charged reasonably for an effective solution. No tussle. Recommended."
4.  7Days Aircon Servicing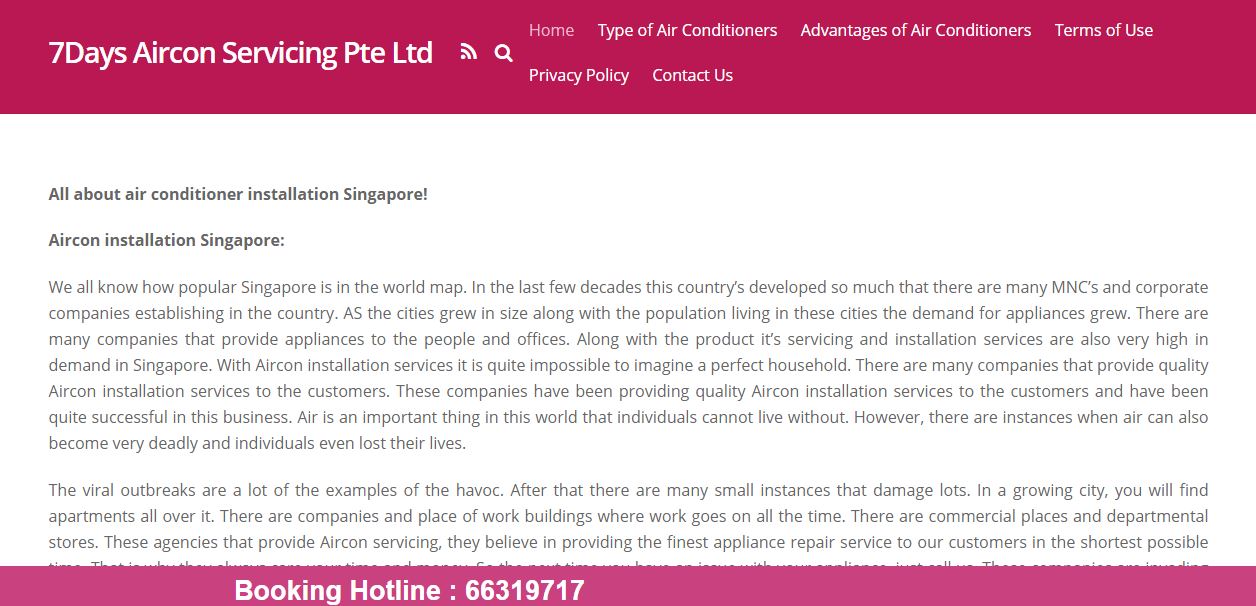 If you're looking for a service company that can fix your car aircon as well as the ones at your home, then 7Days Aircon Servicing can offer the best car aircon service in Singapore for you. They provide inclusive repair solutions for all types of aircon, giving you a complete range of services.
Moreover, they manage custom-made air conditioners, so if you're currently experiencing some issues with your customised aircon and you can't find any shops for it, their services might be the perfect choice for you.
Highlights
Custom-made air conditioners services
5. Accord Auto Services Pte Ltd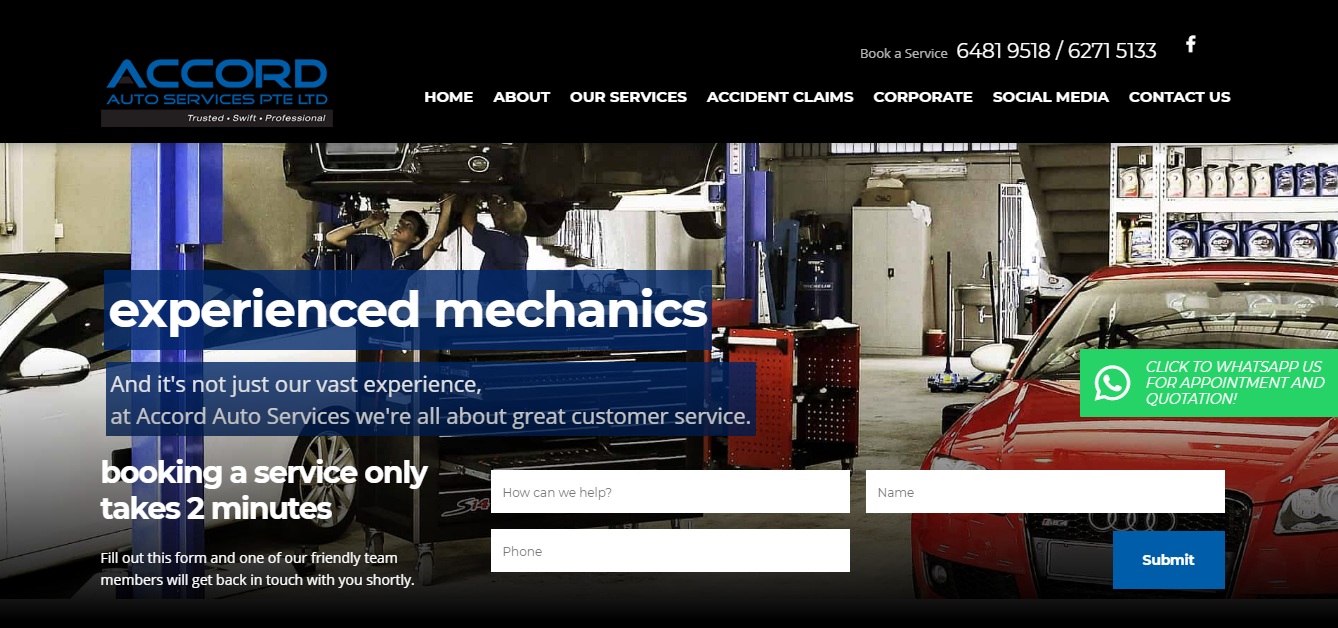 Only entrust your car with a reliable and professional auto service company such as Accord Auto Services Pte Ltd. Their team of dedicated technicians are always available to help resolve your car concerns such as aircon repair and maintenance.
They specialize in work on BMW, Audi, Mercedes, Porsche, Range Rover, Volkswagen, and other mainstream brands.
When you allow Accord Auto Services Pte Ltd to manage your air conditioning unit, guarantee that you will have a cool and comfortable drive.
Highlights
State-of-the-art Diagnostic equipment

Caters an extensive selection of car brands

Trusted and reliable team
Customer Reviews
"Thorough servicing. Excellent and fixed issues left behind by other service centers. Knows Mercedes very well. Accurate diagnosis of problem."
6. Precise Auto Service

| | |
| --- | --- |
| BEST FOR | Car Services and Car Rental |
| WEBSITE | https://www.preciseauto.sg/ |
| ADDRESS | 1 Kaki Bukit Ave 6, #02-34/36 Autobay @ Kakibukit, Singapore 417883 |
| CONTACT DETAILS | +65 6745 7367 |
| OPERATING HOURS | Monday to Saturday: 9:00 am to 7:00 pm |
Cars are listed as one of the investments or assets of every individual. Thus, keeping it in good condition and on its best is what the Precise Auto Service is known for. They have been in the service for more than 30 years and are in the limelight as one of the best car servicing in Singapore. Mr. Eric Ong as the founder of the company, dedicated most of his time on dealing with automotive and attending different courses to keep on track of the modern technological advances. They have been known in the industry for the quality of the work that they've done. 
Aside from car services, they also install air conditioning to cars. Further, the shop accepts repair of car air conditioning systems. With their skilled mechanics, you can always rely on Precise Auto Service.
Highlights
Affordable Cost

Well maintained Car

Fast and Reliable
Customer Reviews
A lot of customers really loved the services offered by Precise Auto Service as well as the accommodation of all the staff. One of the satisfied customers wrote this:
Great experience with Precise Auto. Rented an Altis from them. Car was in great condition! Marcus was helpful in arranging for viewing and sorting out the paper work. Fuss free in picking up and returning the rental, quick and prompt communications from all of them. Highly recommended! – Marcos Wee
7. NH Auto Pte Ltd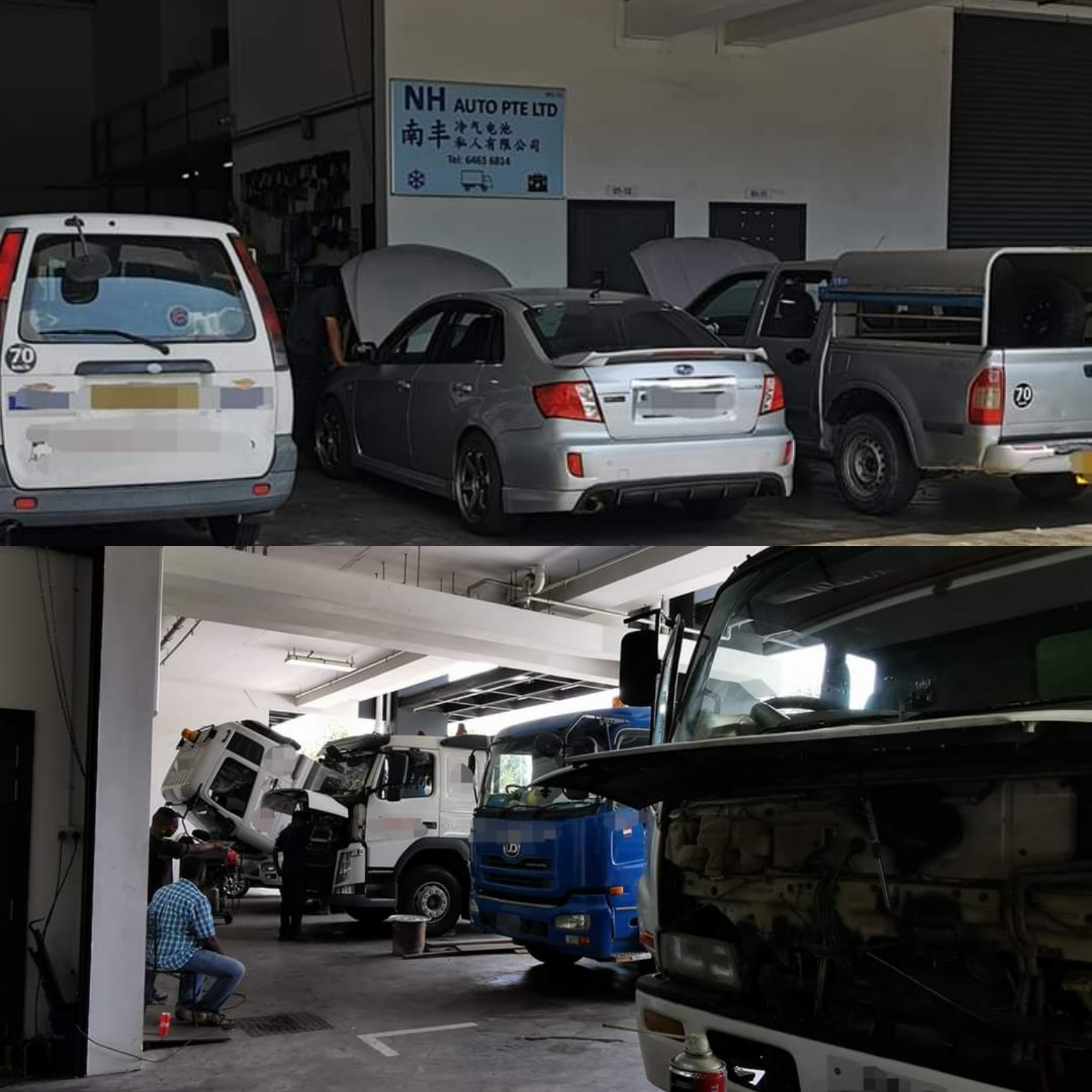 BEST FOR

Private and Commercial Car Air Conditioners and Batteries

WEBSITE

https://nhautopteltd.wixsite.com/website

ADDRESS
2 Buroh Crescent #01-12 [email protected] Singapore 627546
CONTACT DETAILS

Phone: +65 9297 1160

OPERATING HOURS

Monday – Friday: 8:30AM – 6PM

 

Saturday: 8:30AM – 5PM
NH Auto is an automotive servicing company that first began its operations in 1997. They have unfailing provided quality services in their 23 years, and continue to exert their full potential when working with clients.
The team at NH Auto specialises in the repair of any vehicle's air conditioner unit, most notably commercial vehicles. However, their expertise doesn't stop there. They're also well adept at maintaining any vehicle's battery.
NH Auto continuously attending different kinds of training on mechanics to equip themselves with enough knowledge and expertise. That being said, they have gained the trust and confidence of their customers. In addition to repairing and installing air conditioning, the shop also repairs batteries and other car accessories. 
Highlights
Experienced Mechanics

Provides service for all kinds of vehicles 

Fast and efficient service
8. Class Auto Air-Con Accessories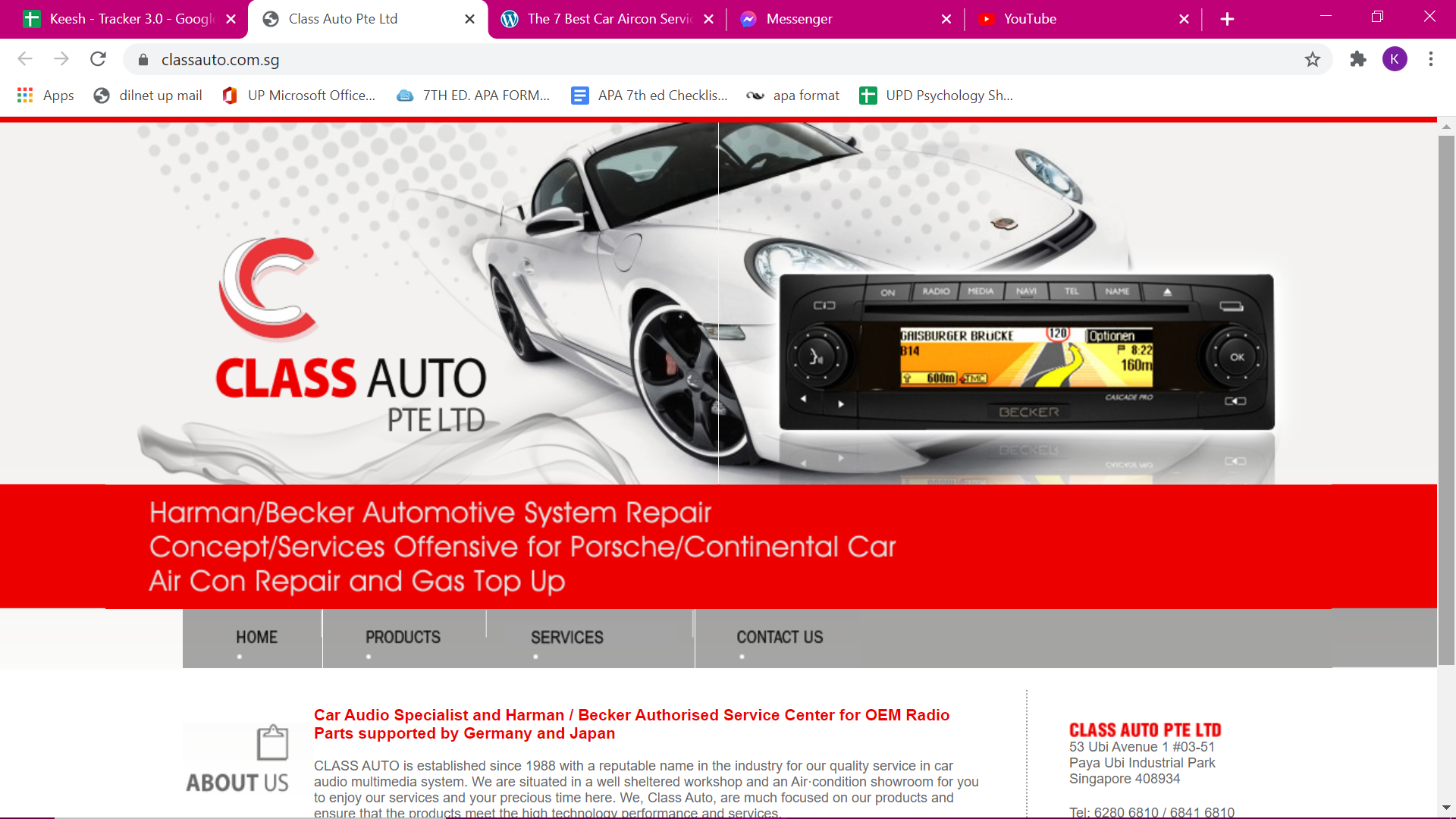 BEST FOR
Airconditioning and audio service
WEBSITE
https://www.classauto.com.sg/
ADDRESS
53 Ubi Avenue 1 #03-51
Paya Ubi Industrial Park
Singapore 408934
CONTACT DETAILS
OPERATING HOURS

Daily from 10.00 am to 7.00pm
Closed on Sunday & Public Holiday
Class Auto has been providing car enthusiasts the best automobile services since they first started in 1988.
Make sure to consider their assistance whenever you're in need of airconditioning or audio services as they'll do it for you in the best quality, at the most affordable price.
Check out more details on their site!
Highlights
Amazing aircon service and repair
Customised audio systems
Factory/troubleshoot audio system
9. E-Rev Motor Sports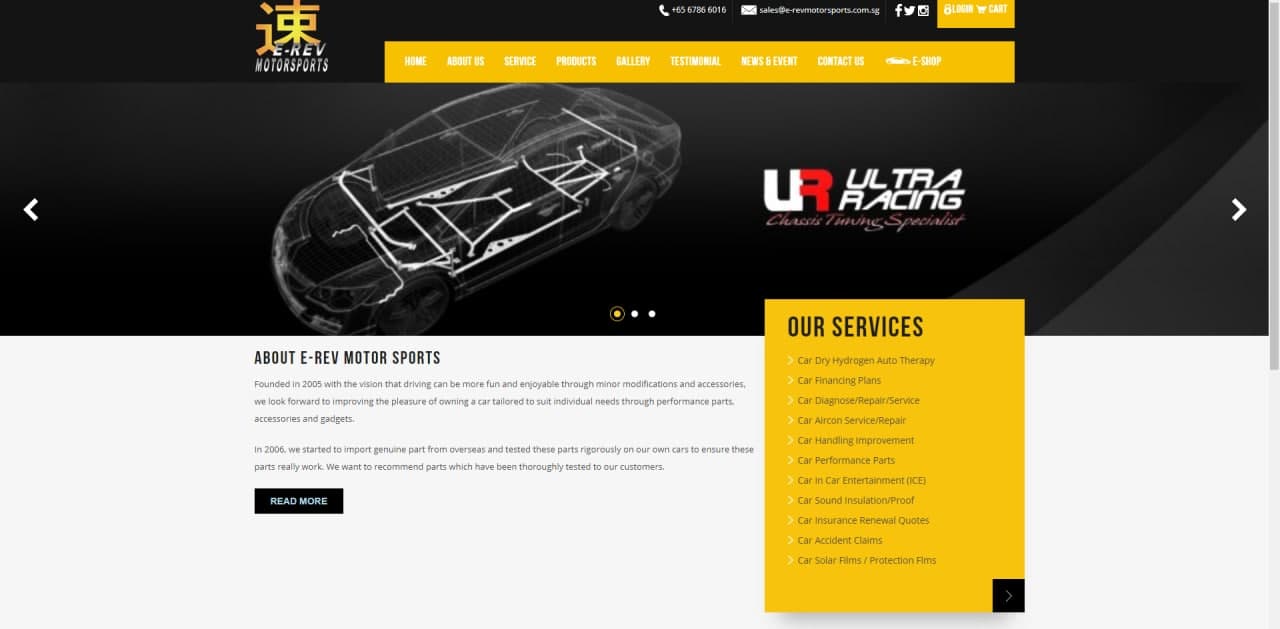 Founded in 2005, E-REV Motor Sports believe that driving can be more fun and enjoyable. Minor modifications and accessories improve the pleasure of owning a car tailored to suit individual.
Through performance parts, accessories and gadgets, a vehicle can be a dream come true. Not only that, the to import genuine part from overseas and tested these parts rigorously to ensure these parts really work.
They also like to recommend parts which have been thoroughly tested to by their regular customers. E-REV Motor Sports will ensure that their customers will be very satisfied.
Highlights
Car financing plans
Car diagnose/repair/service
Car handling improvement
Customer Reviews
Here are some reviews left by previous clients:
"Hi, I had my Volkswagen GTI strut bars installed with E-REV. Mechanic is professional and careful while handling my car. The bars enhance the cornering of my car, now can turn at a faster speed. Personally like the way they do things. Keep up the good work! Thanks."

"Hi, E-Rev Guys, Just did it for my A4B7 2.0na yesterday. One of my most value for $ mods! Can attest to the improved handling! Huat ah!"

"Thanks for the help for doing customize for my car mat. Good workmanship from you guys. Upz for you bro. Best Regard."
And that's the end of our list of the best car aircon service in Singapore! If you'd like to suggest more car repair shops that offer aircon services, you may also share them with us!
For overall car maintenance, see these shops doing the best car detailing in Singapore. Some of them also provide repair and replacement services, leaving you with more options to choose from.