11 Vendors for the Best Used Cars in Singapore
In need of a car to save yourself from long hours of waiting for a cab or a bus? To help you search for a quality yet affordable vehicle, we've found you the most reliable shops that offer a great selection of the best used cars in Singapore.
We've selected the ones that provide well-maintained cars and flexible payment options. See our list below to find out where you can get the best used cars in Singapore!
1. Asia Carz Credit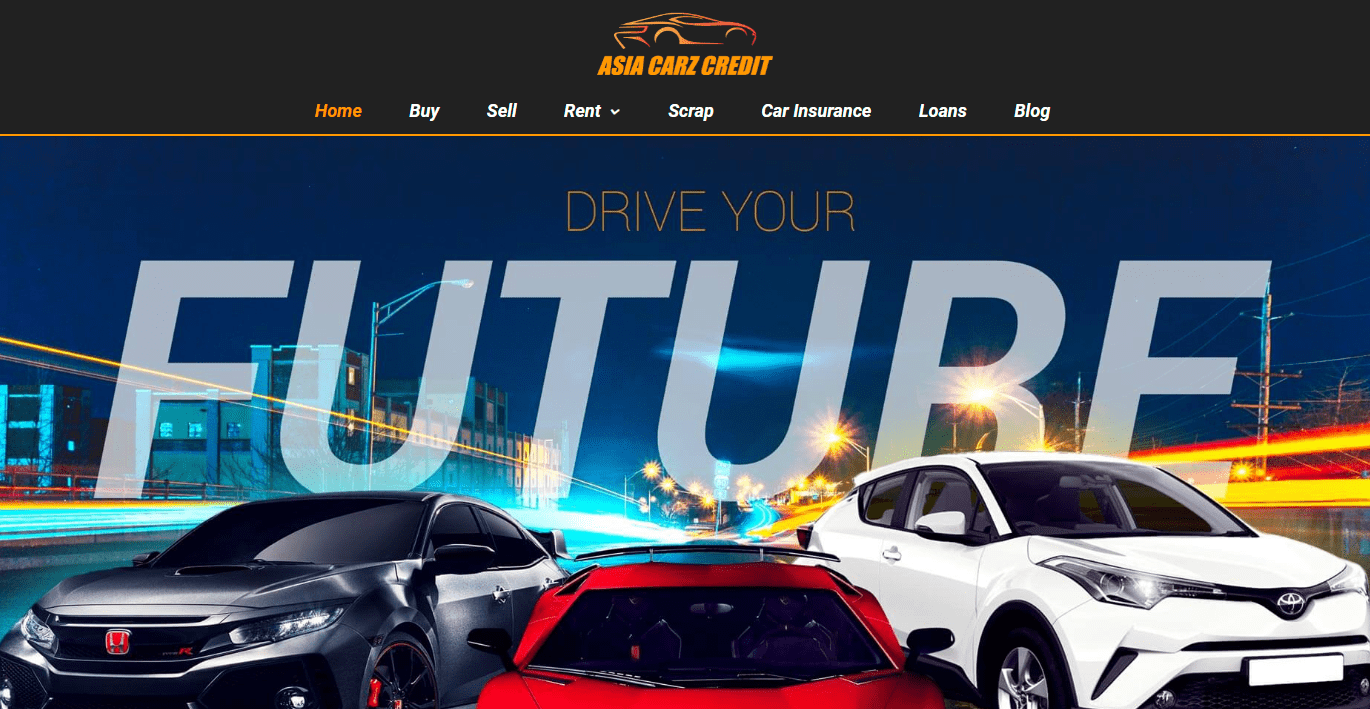 | | |
| --- | --- |
| BEST FOR | Fast approval, Low down payment |
| WEBSITE | https://www.asiacarz.com.sg/ |
| ADDRESS | 1 Bukit Batok Crescent #02-57 Wcega Plaza Singapore 658064 |
| CONTACT DETAILS | +65 6262 4666 |
| OPERATING HOURS | Daily, 11am–7pm |
At Asia Carz, you'll find a wide range of pre-owned cars, suitable for any lifestyle. Each one from their selection was carefully examined to ensure the highest quality as well as safety standards.
Their best used cars in Singapore are offered with manageable payment methods. This includes pre-approved bank loans and even in-house loans at reasonable rates.
Aside from this, their skilled staff can also help you choose which car insurance is the best for your budget. With this extensive range of services, you can easily get your dream car, even if it's pre-owned!
Highlights
Well-maintained cars
Bank loans and in-house loans
Estimates car insurance quotes online
Customer Reviews
Asia Carz Credit has received positive feedback from customers who've experienced professional services and reasonable quotes. A customer shared this experience:
"Can't say more about good service… when you in trouble on getting what you want, this is the place you may try to write in your visiting list. The staff really convince me on the right choice. With good knowledge and recommendations, I'm sure to come back again. Thanks again."
2. Speedo Motoring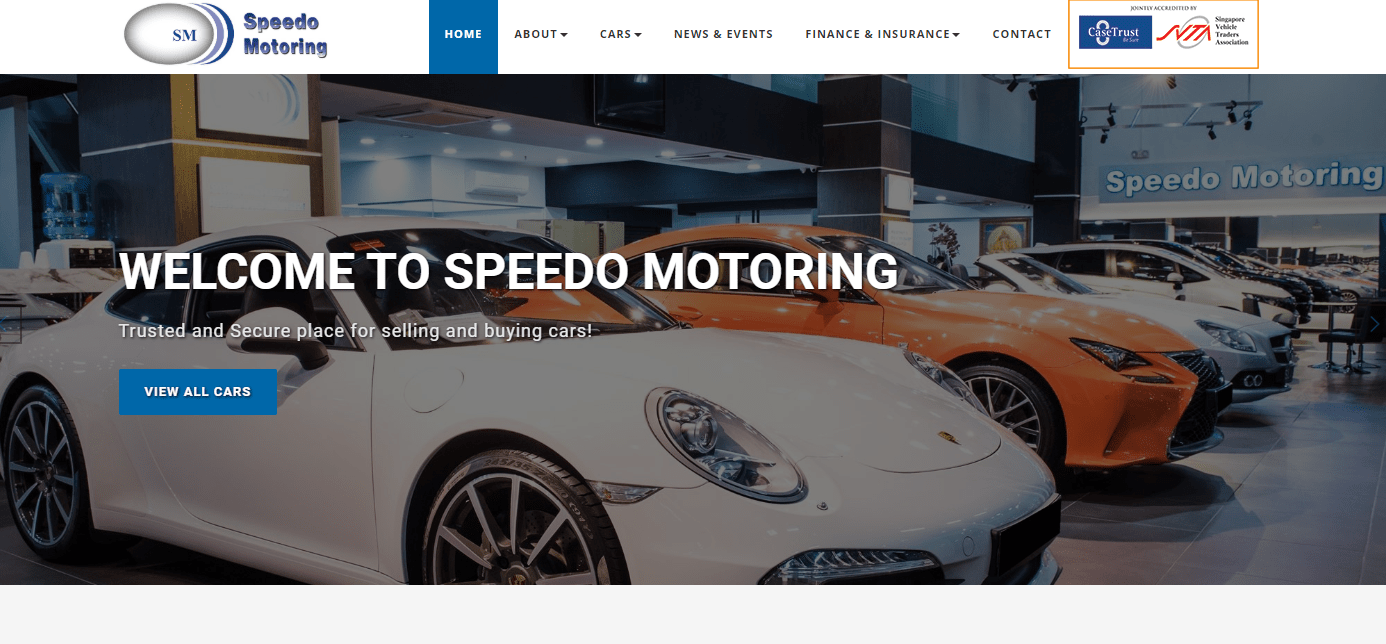 BEST FOR
Premium selections of used cars
PRICING
List
WEBSITE
http://www.speedomotoring.com.sg/
ADDRESS
33 Ubi Avenue 3 Vertex, #01-75/76/77 Singapore 408868
CONTACT DETAILS
6763 7757
OPERATING HOURS
Weekdays: 9:30am–7:30pm

Saturday: 10am–7:30pm

Sunday: 10:30am–6pm
Speedo Motoring is known for their best car sales packages with exclusive insurance coverage! They have a great collection of pre-owned cars featuring BMW, Honda, Mercedes Benz, Toyota, and many more!
Their car selections are categorised by brand, body type, engine, and even price, so it'll be easy for you to choose the one that best suits your needs. When it comes to their payment services, they also offer in-house/bank financing.
For over a decade, they've served thousands of clients with dedicated and personalised service so you can be sure that every transaction will be safe and secure.
Highlights
Quality range of pre-owned cars
Authorized auto loan financing agent
Consignment service
Corporate fleet management
Customer Reviews
Being an award-winning car business company, Speedo Motoring has successfully gained the trust of many clients because of their excellent customer service and suitable car solutions.
And, so with their car selections and services, you can surely find the best used car in Singapore. A customer gave this feedback:
"It's been about 8 months since we got our white Honda Shuttle from Speedo, so far so good! It was love at first sight, I would say the car they brought in were in really good conditions and a steal. The whole process from arranging viewing, negotiating and delivery by the representative Kai Hong was really pleasant, he's really sincere helping us push for the price we want. I had bad experience from my previous time buying cars from other dealers but I would say Speedo made me trust this experience again."
3. DirectCars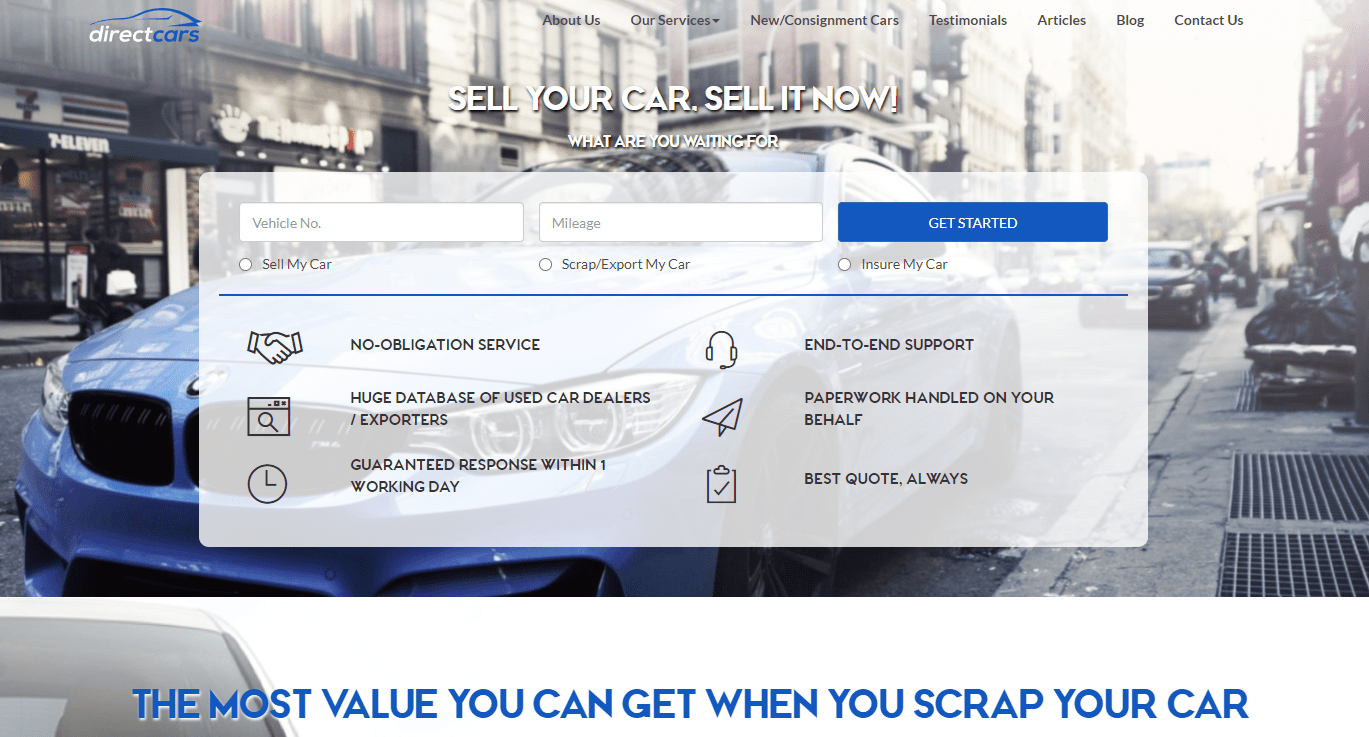 | | |
| --- | --- |
| BEST FOR | Large collection of used cars |
| PRICING | List |
| WEBSITE | https://www.directcars.com.sg/ |
| ADDRESS | 10 Ubi Crescent #07-18 Ubi Techpark Lobby B Singapore 408564 |
| CONTACT DETAILS | +65 6681 6677 (24 Hrs) |
| OPERATING HOURS | Daily, 10am–5:30pm |
DirectCars is partnered with various used car dealers/exporters, giving you countless options to choose from. Through their one-stop driver's portal, you can have islandwide access on all car dealers with an impressive pre-owned car range.
This includes Suzuki, Toyota, Hyundai, BMW, Mercedes Benz, and more car brands! Their experienced consultants will accommodate you with every enquiry, letting you have the best car deal that fits within your means.
As soon as you've inquired with them, you can instantly get an estimate of overall insurance coverage at the lowest price! It also comes without any obligation so you can freely consult them, then explore other options afterwards so you can make the right decision.
Highlights
Instant quote
No-obligation service
Large network of used car dealers
In-charge of paperwork
Customer Reviews
Clients were impressed with the professionalism of the staff as well as the fast response and hassle-free transactions. This is why DirectCars has always been recognized for their best used cars in Singapore and reliable customer service.
A client recommended their service and wrote:
"Hassle free transaction thru direct cars. Found buyer within 24 hrs and arrangement for viewing was done smoothly. Save lots of time! Highly recommended."
4. Carro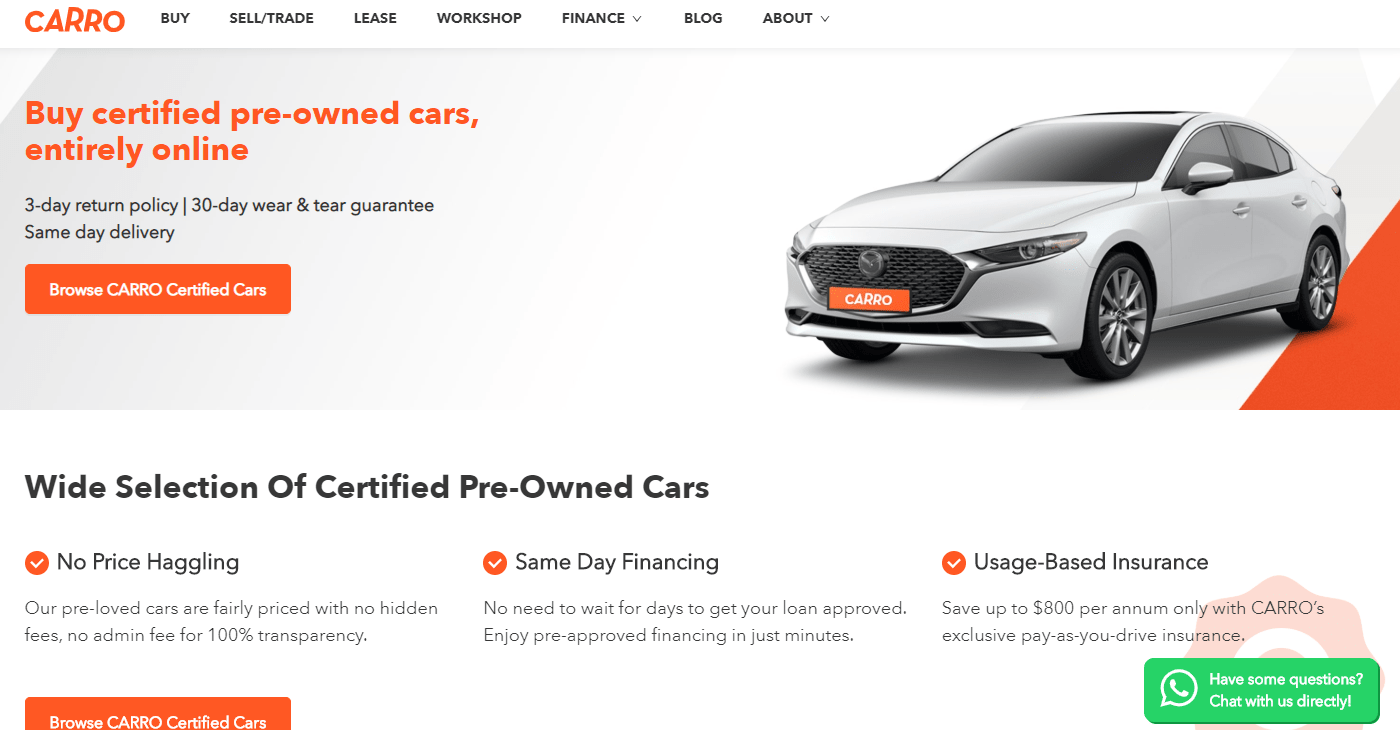 BEST FOR
Usage-based insurance program, Same-day loan approval and full paperwork settlement
PRICING
List
WEBSITE
https://carro.sg/
ADDRESS
CARRO Lounge 28 Sin Ming Lane, #01-134 Singapore, 573972
CONTACT DETAILS
(65) 6714 6652
OPERATING HOURS
Monday to Friday: 9am to 6pm

Saturday & Sunday: 10am to 6pm

Excluding Public Holidays
With Carro, you can have flexible and convenient transactions when you buy a preowned car. With just a few clicks, you can choose and buy one from their collection and receive it on the same day — this is because of their pre-approved financing service.
The best thing about them is that you can save more than a hundred dollars per year with their pay-as-you-drive insurance program — in which case you can lower your monthly subscription with rebates!
Apart from being fairly priced, their used car selections are highly certified and can be categorised by model brand, body type, mileage, fuel type, and even registration year.
This way, you can easily find the car model that you've always wanted.
Highlights
3-day return policy
30-day wear and tear guarantee
Low-Interest car loans
No hidden fees
24/7 roadside and breakdown assistance
Customer Reviews
Many clients had a satisfying experience with the overall services of Carro. They said that they were able to buy a pre-owned car without any financial commitments due to the usage-based insurance program!
A customer gave this review:
"I was being served by Francis. He is a friendly person, with patience and perseverance, he took effort to demonstrate my dream car's history and explain the buying process. The process of getting car loan, insurance and ownership transfer all took place in just within a week. Swift and reliable, I highly recommend this company and their team."
5. Republic Auto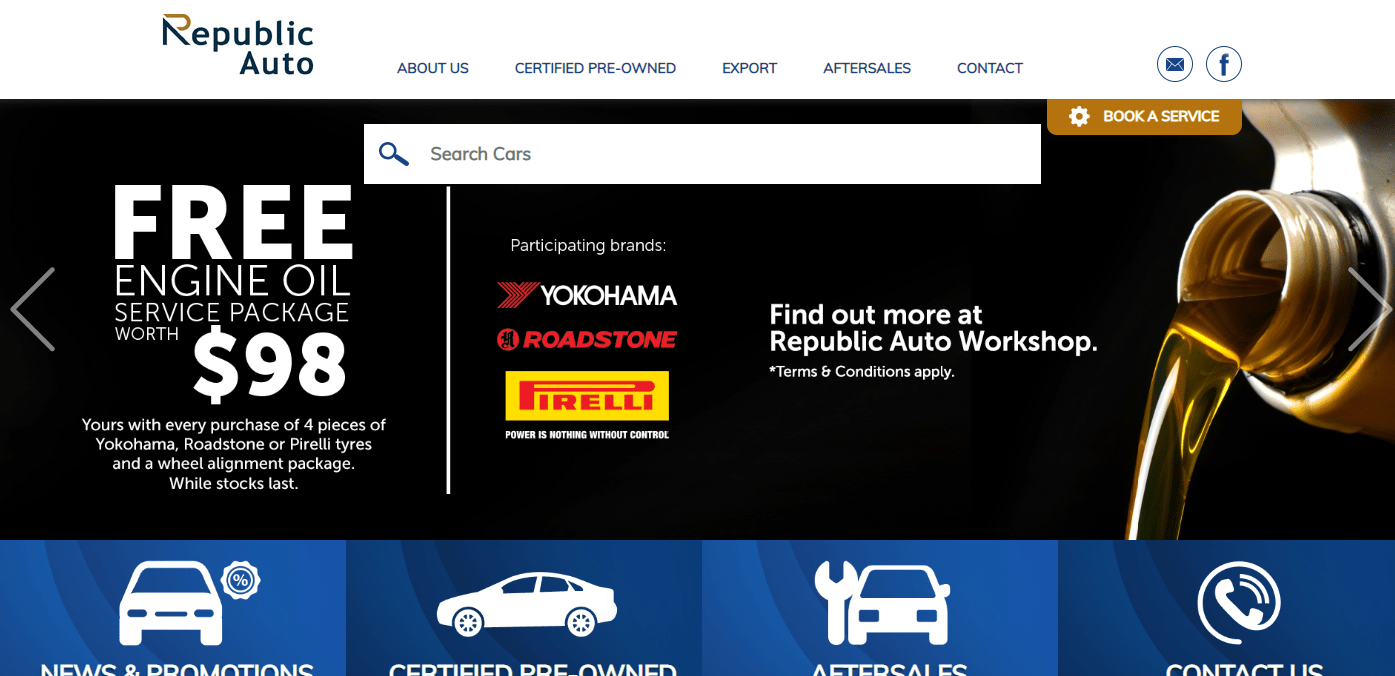 | | |
| --- | --- |
| BEST FOR | Exclusive serving package |
| PRICING | List |
| WEBSITE | https://www.republicauto.com.sg/ |
| ADDRESS | 209 Pandan Gardens, Level 3 Cycle & Carriage Auto Hub, Singapore 609339 |
| CONTACT DETAILS | +65 6567 2000 |
| OPERATING HOURS | Daily, 9am–6:30pm |
Republic Auto features a huge collection of used cars including famous car brands like Audi, Volvo, Mazda, Mitsubishi, Nissan, Volkswagen, and more! All of their pre-owned vehicles are meticulously inspected and well-restored to their best optimal conditions.
They consider each selection based on the age, mileage, drive, and history of the car to make sure that it still has good value.
After buying one from their collection, you can opt to have regular car services such as car detailing, ceramic paint coating, engine treatment, and more maintenance services.
Highlights
In-depth car inspection
Additional after sales service
Warranty and servicing credits
Customer Reviews
Clients mentioned the outstanding value of the car collections at Republic Auto. This is why many locals have claimed that the shop has the best used cars in Singapore.
A client left this feedback:
"Very reliable being the used car arm of cycle & carriage. Lots of good quality used cars available as they only select few years and low mileage ones to sell. They also have their workshop and respray one level above so I was able to get my paint touched up without any issue. Definitely highly recommended."
6. Cars & Stars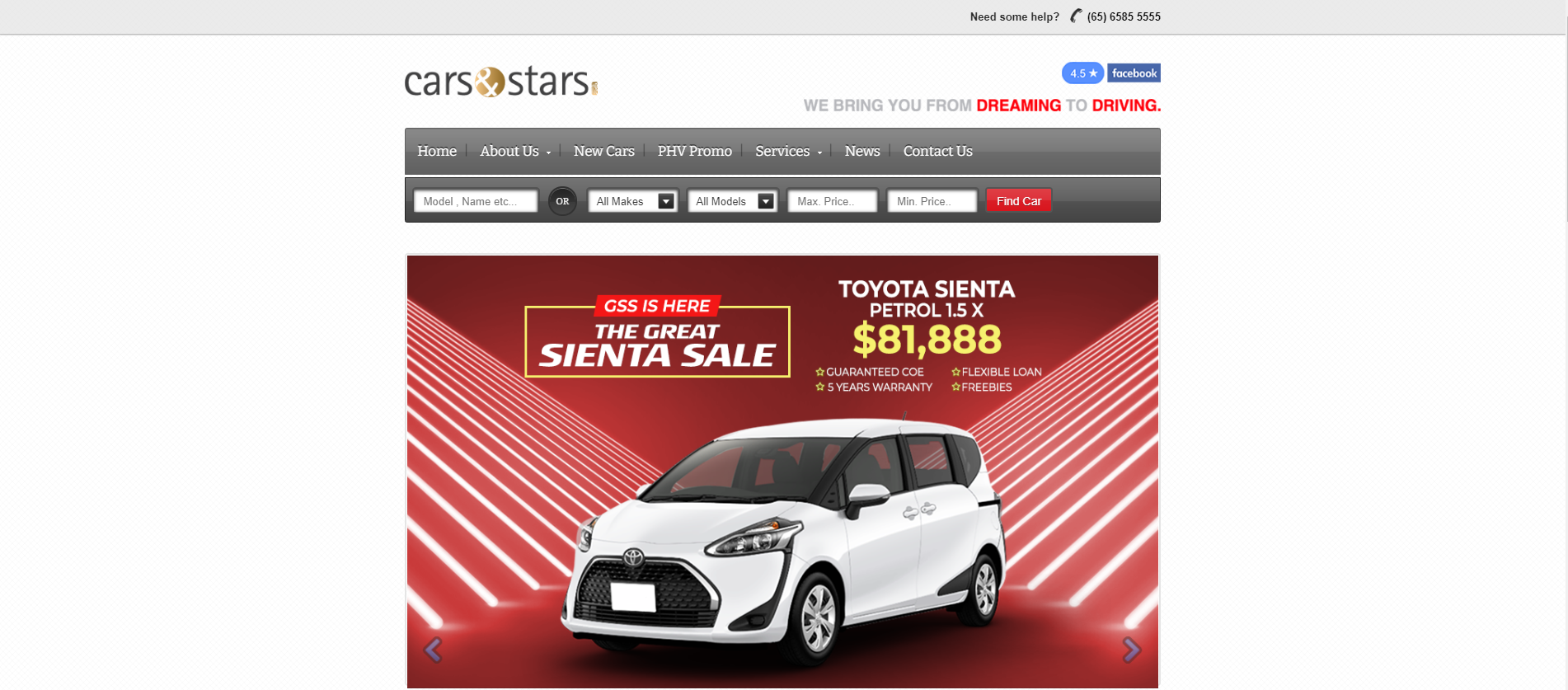 BEST FOR
Wide Range of New and Used Cars
PRICING
List
WEBSITE
https://www.carsandstars.com.sg/
ADDRESS
50 Ubi Avenue 3 Frontier, #01-01/02 Singapore 408866
CONTACT DETAILS
Email: [email protected]
Hotline: (65) 6585 5555
Fax: (65) 6444 4455
OPERATING HOURS
Monday – Sunday: 10:00am-6:00pm
(Including Public Holidays)
Cars & Stars offers a wide range of cars in both make and model. At the heart of their excellent services lies a passion for pursuing customer satisfaction.
With their 17 years of experience, you can rest assured that they know what they're doing. Their staff will do their best to help you find what you need, may it be a new or used car, or even car accessories.
When it comes to used cars, Cars & Stars is one of the best. Check out their website to see what they have for sale!
Highlights
17 years of experience
Offers a wide variety of new and used cars
7.

Otua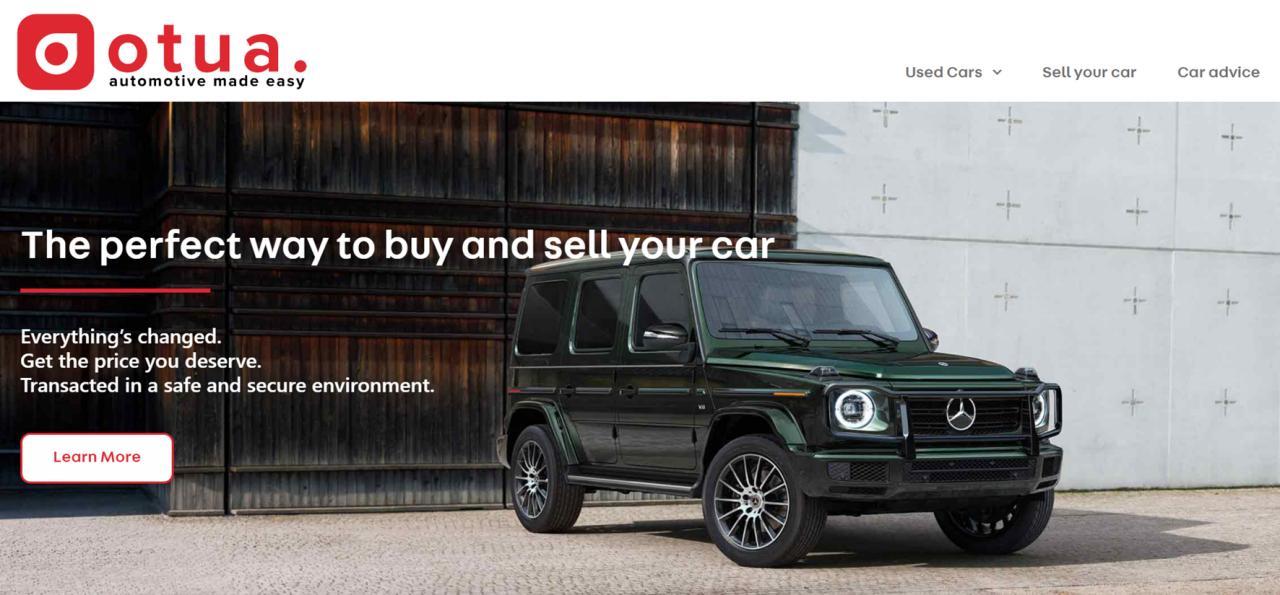 | | |
| --- | --- |
| BEST FOR | Auto Trade |
| WEBSITE | https://otua.sg/ |
| ADDRESS | 18 Sin Ming Ln, #06-17 Midview City, Singapore 573960 |
| CONTACT DETAILS | +65 8781 0323 |
| OPERATING HOURS | Monday – Friday: 10am–7pm |
Otua is the perfect platform for buy and sell used cars. They ensure a safe environment for negotiations and have a team of professionals on call for a seamless transaction.
Aside from great prices when it comes to selling, buying cars at Otua has a lot of benefits too! You'll get a lot of perks when you decide to buy your new ride, enjoying a $5,000 otua protection on your deposits, a voucher kit, and a car starter pack just by allowing them to assist you in finding the perfect car.
Consult with them now and get a free consultation and recommendations from the experts at Otua.
Highlights
No surprises or unnecessary costs
Loose payment terms
Amazing cars
Customer Reviews
Clients of Otua has been claiming only good things from the company. From their initial service until the end of the transaction, Otua ensures that they felt comfortable and satisfied.
Read this feedback from one very happy customer:
"It was a good experience at Otua Auto. Marco was the point of contact. Courteous and non-pushy. Felt very comfortable with all the terms laid out on the table. No surprises and unnecessary costs. This gives the whole service a good comfort feel. When a potential buyer came by, Marco was efficient in liaising with them for all the necessary– loans, insurance etc. Great experience and I would certainly engage them again. Good job!"
8.

Inchcape Pre-Owned
BEST FOR
Low Down Payment
WEBSITE
https://inchcapepreowned.com.sg/
ADDRESS
33 Leng Kee Road
Borneo Motors Level 2
Singapore 159102
CONTACT DETAILS
6303 6303
OPERATING HOURS
Sunday: 10:00-18:00
Monday: 09:00-18:00
Tuesday: 09:00-18:00
Wednesday: 09:00-18:00
Thursday: 09:00-18:00
Friday: 09:00-18:00
Saturday: 09:00-19:00
Inchcape Pre-Owned offers quality used cars for the most affordable prices. They carry a wide range of makes and models.
Their cars are all Certified Pre-Owned, which means that you can rest assured that it is high-quality. With their dedication to excellent customer-oriented services, there's no doubt that they're one of the best.
Highlights
Convenient location
Certified COE Renewal cars
9. Global Net International (Singapore) Pte. Ltd 


BEST FOR
High-end cars
PRICING
Contact shop for specific pricing details
WEBSITE
http://www.globalcarexports.com/
ADDRESS
108, Owen Road, Singapore 218915
CONTACT DETAILS
[email protected]
+65 81 803 292 | +65 63 968 603
OPERATING HOURS
Daily: 9am–7pm
Global Net International stays true to their name as their clientele reaches far and wide from all over the globe. They don't just stop in Singapore and Japan, but have already entered the market of different countries as well, like New Zealand and Africa.
They're widely known for their service of exporting a multitude of used cars that comes directly from Japan. They have varying models of different pricing, ensuring that one fits every budget a customer may have. Available vehicles with Global Net International includes Toyota, Audi, Daewoo, Jaguar, Mazda, Chevrolet, and so much more.
What's more, is that through their website, clients are able to specify the car that they're aiming to get, starting from the make and model, to the year and even the transmission if needed. This makes things so much easier to filter and arrange, which proves the company's efficiency in their work.
All in all, Global Net International provides high quality cars, excellent customer service, and fast processing, which are perfect qualities for a company delving into exporting and sales. They're one to consider for the top notch experience in buying your first ride or your dream one.
Highlights
Good as new vehicles
Continental and affordable cars are available
Arranges shipping services
Competitive rates
10. 88 Motor Trading

BEST FOR
Extensive range of pre-owned cars
PRICING
Contact shop for specific pricing details
WEBSITE
https://www.88motortrading.com/pre-owned-cars/
ADDRESS

Showroom
200 Jalan Sultan
Level 7 Textile Centre
Singapore 190018

CONTACT DETAILS
Tel: 6333 9441
Fax: 6883 2418
After office hours: 9767 1329 (24 hours)
OPERATING HOURS
Daily: 10am–7pm
88 Motor Trading first opened its doors to the public in 2009, with the goal of becoming a one-stop service centre for all motoring needs. 
Currently, 88 Motor Trading offers a wide range of services, including but not limited to in-house or bank loan for new or used car financing, insurance quotation, consignment of private or commercial vehicles, and vehicle valuation.
Aside from that 88 Motor Trading also features an expressive showroom containing a large range of used cars that will fit every lifestyle. It's also worth noting that each and every vehicle from 88 Motor Trading are guaranteed to be of high-quality and will last a long time.
Those who are looking for a vehicle that will fit their needs are easily accommodated by 88 Motor Trading's team, which comprises polite, courteous, and knowledgeable individuals. 
88 Motor Trading is conveniently located in city central and is only 5 minutes walking distance from Nicoll Highway (CC5) Circle Line MRT station.
Highlights
Wide array of quality pre-owned cars
Professional sales and admin team
Transparent rates
Trade-in and consignment available
11. Auto Midas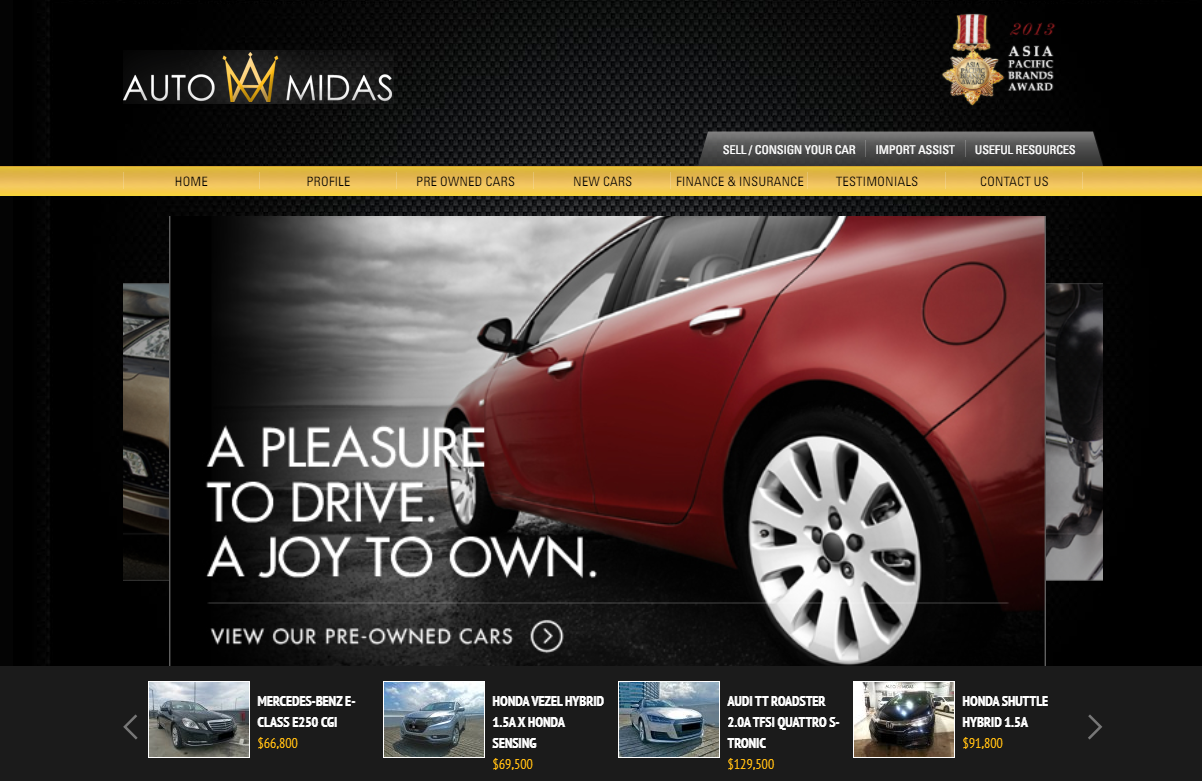 BEST FOR
Quality Pre-Owned Cars
PRICING
Online Catalogue
WEBSITE
http://www.automidas.com.sg/
ADDRESS
1 Bukit Batok Crescent
#03-57 WCEGA Plaza
CONTACT DETAILS
Telephone(65) 6659 2767
Fax(65) 6659 2949
OPERATING HOURS
Daily, 9AM to 6PM
Next on our list is one of the more notable names in Singapore's auto industry.
Auto Midas has been operating for many years now, and is currently known for its exemplary customer service as well as extensive catalogue of new and pre-owned cars, which features day-to-day models, high power vehicles, and luxury makes.
Now, Auto Midas endeavours to provide the complete experience to all of its customers.
One of the things Auto Midas has done to achieve such a feat is to offer a wide array of vehicle related services, including but not limited to automobile financing, automobile insurance, vehicle spray painting, and retail sale of vehicle parts and accessories.
No matter the service, Auto Midas' team members never fails to deliver quality and punctuality.
These individuals are knowledgeable in the trade, highly professional, and personable. With their help, clients new and old can easily acquire what they need in no time.
Highlights
Extensive range of new and pre-owned cars
Excellent customer service
Offers an array of vehicle related services
And that's it for our list of shops that have the best used cars in Singapore! If you've got more options in mind, you may also share them with us!
And for those who are planning to lease a car instead of buying one, here are some places that provide the best car leasing in Singapore.