8 Best Plumbers in Singapore
While simple leaks and clogs can be fixed with DIY know-how, many other plumbing problems require professional help. Unless you want to deal with the possibility of complications then, it's wiser to let the best plumbers in Singapore take over.
To help you find the perfect Singapore plumber for your needs, we've compiled a list of the best plumbers in Singapore here. These are the most versatile, experienced service providers with various specialisations, including water-related plumbing work and sanitary plumbing.
1. PLUMBER SINGAPORE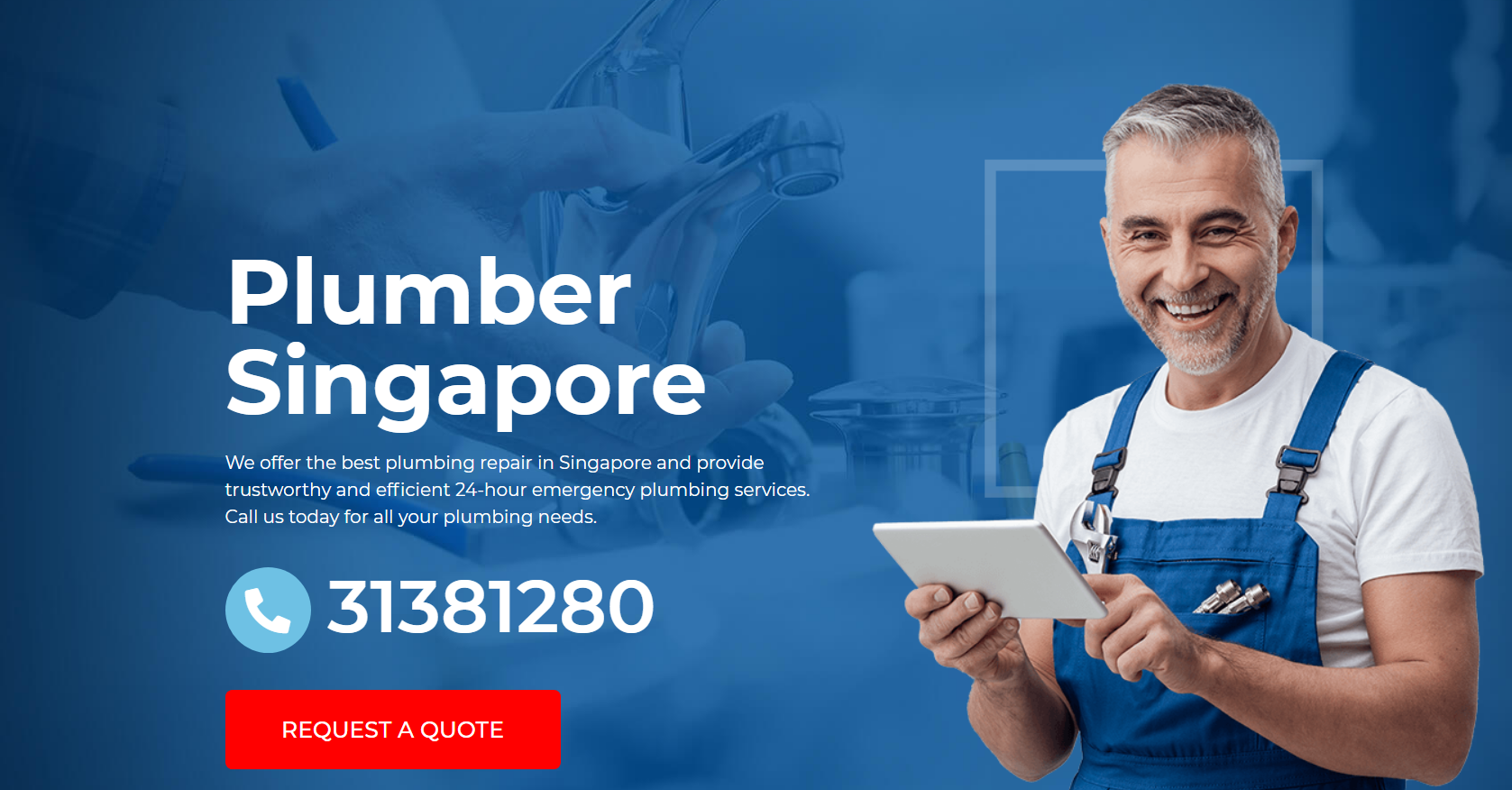 BEST FOR
Highly reliable plumbing services
SCOPE OF SERVICES

Water Pipe Leak Repairs

Plumping Repairs

Bathroom and Kitchen Appliance Installation

Water Heater Installation

Faucet Installation

Drain Cleaning

Water Filter Cleaning

24/7 Emergency Plumbing Services

PRICING
Enquire for details
WEBSITE
https://www.plumber-singapore.com/
ADDRESS
Singapore 
CONTACT DETAILS
(65) 64328213 | [email protected]
OPERATING HOURS
Mon – Fri 7AM-5PM
Sat 10 AM-5PM
Sun 10 AM-3PM
Plumber Singapore offers the best plumbing repairs in Singapore. Count on them to provide you with trustworthy and efficient 24-hour emergency plumbing services.
Their team can handle any clogs or repairs that your toilet bowl, urinal, wash basin, water pipe, floor trap, or manhole may need. Your satisfaction is our number one priority, which is why we strive to foster constant communication to ensure that everything is going according to your wants.
Service Highlights
Trusted by the people
Go-to plumbing company
Constantly delivers excellent results
Accurate quotes
Cleans as they go
Impressive response time
Customer Reviews
Over the years, Plumber Singapore has proudly served various residential and commercial clients. In fact, they have built a positive reputation for themselves due to the quality of their work as well as the punctuality and professionalism displayed by all their plumbers.
2. National Home Helper

BEST FOR
Global directory
SCOPE OF SERVICES

Plumbing

Carpentry

Repairman

PRICING
Enquire for details
WEBSITE
https://nationalhomehelper.com/
ADDRESS
Singapore 
CONTACT DETAILS
+6564328260
OPERATING HOURS
Contact for more details
National Home Helper can help you find reliable providers for the best home helper services wherever you are in the world. That includes repairmen for all sorts of home gadgets or fixtures!
They have the ultimate cheat sheet of trusted repairmen all over the globe. Save yourself from the hassle of researching with their help! You can simply leave them your details and they will search their global directory for a skilled plumber, carpenter, or appliance repairman based on your requirements.
Service Highlights
Wide range of services
Has a long list of home helper contacts around the world
Makes sure that their contacts are the best at what they do
3. MR. PLUMBER.SG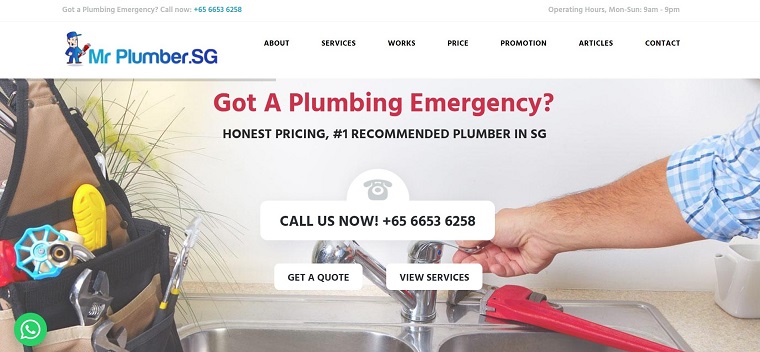 BEST FOR
Accurate and 100% transparent quote, affordable pricing, complete one-stop plumbing services
SCOPE OF SERVICES
Plumbing Chokes & Repair
Water Heater Installation, Toilet Bowl Installation, Toilet Flush System Installation, Water Tap / Faucet Installation, Shower Installation

 

Plumbing Installation / Replacement & Repair
Toilet Bowl Choke, Drain Choke / Floor Trap Choke, Clogged Sink / Sink Choke

Plumbing Leaks & Pipe Repair
Water Pipe Leak Repair & Re-piping Services

PRICING
Services (all prices inclusive of material, labour & transport):
1. Clogged toilet bowl / clearing toilet bowl choke: from $120
2. Clogged floor trap/ clogged drainage pipe/ clearing floor trap choke: from $120
3. Rectify water discharge into toilet bowl by installing new siphon: from $140
4. Labor & material to repair leak at exposed copper pipe or UPVC pipe: from $130
5. Supplying & replacing toilet/WC flush system: from $140
6. Replace shower set: from $140
7. Replace kitchen sink/ bathroom tap / faucet (basic type): from $120
8. Replace instant water heater: Price on ask
9. Replace storage water heater: Price on ask
10. Supply & replace bottle trap for kitchen sink: from $90
11. Replace sink/ basin/ cistern flexible hose: from $100
12. Labour & equipment to detect water leakage of concealed pipes in HDB flats and condominiums: $300 and above
13. Labour & equipment to detect water leakage of concealed pipes in landed property: $500 and above
14. As above described in commercial and industrial properties: call to enquire

 

Replacement Work
15. Supply & install toilet bowl set: from $390
16. Supply & install basin: from $180

WEBSITE
https://www.mrplumber.sg/
ADDRESS
3 Phillip Street, Singapore 048693
CONTACT DETAILS
 +65 6980 0909  (Phone) / +65 8241 0032 (WhatsApp) | 

[email protected]

OPERATING HOURS
Monday to Sunday: 9am to 9pm 
Mr Plumber Singapore provides the full range of plumbing services with a team of licensed plumbers who are available for emergency plumbing.
They have over 10 years of plumbing experience and have completed thousands of plumbing jobs for both residential (landed, condo and HDB plumbing) and commercial plumbing.
Service Highlights
Highly reputable plumbing services
#1 reviewed Singapore plumber on Google & Facebook
Fast response, easy & convenient process of service delivery
Honest and transparent pricing before going on-site
Complete one-stop plumbing services
More than 10 years' experience
PUB-licensed plumber (PUB License No: WS06471998) & BCA-certified plumber
All plumbers are experienced and deliver quality workmanship
Plumbers have done thousands of plumbing projects and cases
Specialise in both residential plumbing (condo, landed, HDB plumber) and commercial plumbing
Clean & friendly service
Plumbing service warranty provided (different warranty period applies to different jobs)
Established company (trustworthy and reliable)
Customer Reviews
Responsive, friendly and prompt are some of the words used to describe Mr. Plumber.SG's service in the many 5-star ratings they received on Google Reviews. Customer Jude Pinto added reasonable pricing as another strength when his heater was delivered and installed with no delays, stating that they delivered efficient and quality work.
4. GREENWOOD ELECTRICAL & PLUMBING SERVICES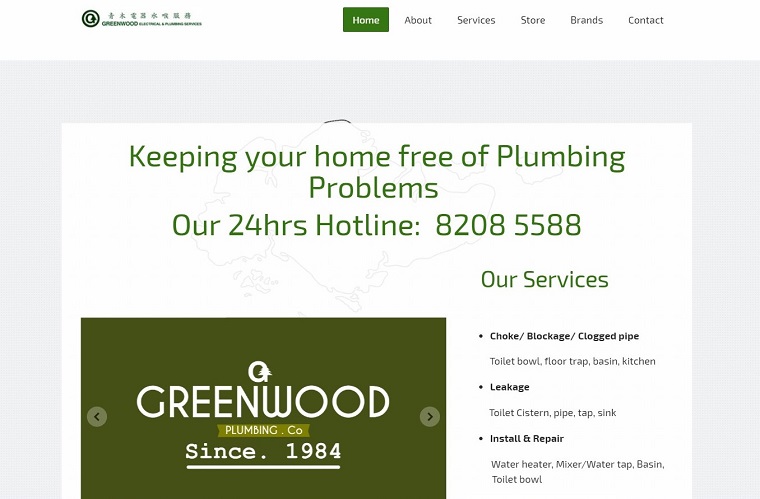 BEST FOR
Installation, maintenance, and repair plumbing work
SCOPE OF SERVICES

Choke/ Blockage/ Clogged Pipe
Toilet Bowl, Floor Trap, Basin, Kitchen

Leakage Diagnosis and Repair
Toilet Cistern, Pipe, Tap, Sink

Install & Repair
Water Heater, Mixer/Water Tap, Basin, Toilet bowl

PRICING
Contact the company for a quote.
WEBSITE
https://www.greenwoodplumbingsg.com/
ADDRESS
Suites @ Bukit Timah
68 Jalan Jurong Kechil
#01-14 Singapore 596180
CONTACT DETAILS
8208 5588
OPERATING HOURS
24/7 Emergency Hotline
Greenwood Plumbing has over 30 years of industry experience. This gives its customers a sense of security and peace of mind when availing of the company's services.
They can handle plumbing jobs in the bathroom or kitchen, such as installation, repairs, and replacement to overall plumbing needs. Their hotline is available 24/7 for any emergency, making them not just one of the best plumbers in Singapore but also one of the most convenient.
Service Highlights
24-hour emergency plumbing services
Transparent charging system
Economical charges
Quality and workmanship guarantee
Fast response time
Customer Reviews
Greenwood Electrical & Plumbing Services uses their expertise to also educate their customers to avoid future plumbing issues. This is one of the perks often cited by customers who gave them a high Google Review rating.
They also provide thorough assessment to make sure they fix the true cause of each issue.
5. HW SINGAPORE PLUMBING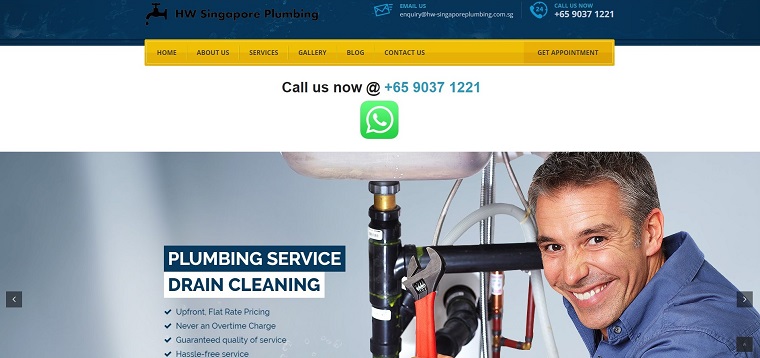 BEST FOR
Expert 24-hour plumbing services in Singapore
SCOPE OF SERVICES
Residential Plumbing, Sanitary & Plumbing Fixtures, Sanitary Installation / Repair / Replacement, Pipe Leakage Detection & Repair, Pipe Installation and Pipe Choke Repair, Repair & Replacement of Taps and Traps, Repair & Replacement of Toilet Accessories, Water Heater Supply & Installation, Dustbin Supply & Installation, New / Re-Piping Whole Units (Copper, PVC or Stainless Steel Pipes), Toilet Choke Repair
PRICING
Contact the company for a quote.
WEBSITE
https://hw-singaporeplumbing.com.sg/
ADDRESS
HW Plumbing
41A Cambridge Rd,
Singapore 211041
CONTACT DETAILS
 +65 9037 1221
OPERATING HOURS
Open 24/7/365
HW Singapore Plumbing provides 24-hour plumber repairs and services to both residential and commercial clients. They guarantee 100% satisfaction with their highly-skilled and trustworthy staff who manage all plumbing work.
Clients can benefit from over 20 years of industry experience under their belt. They also supply a 30-day service warranty on any repair or installation, which is yet another reason they're among the best plumbers in Singapore. 
Service Highlights
Over 20 years of plumbing experience
24/7 availability
Speak to an experienced plumber in seconds
No travel charges
Free estimates
30-day service warranty
Customer Reviews
HW Singapore Plumbing gets a perfect rating in Google Reviews not just for their speedy service, but also for going beyond their job description. A cursory glance at their reviews is enough to show why they're among the best plumbers in Singapore.
One review said that unlike other providers, there is no transport charge. Another appreciated their plumber for fixing their drainage problem at a reasonable price.
One other review said they completed the job and changed a stopper in less than 30 mins. They even provided advice on what to do if it happens again.
6. TOM PLUMBING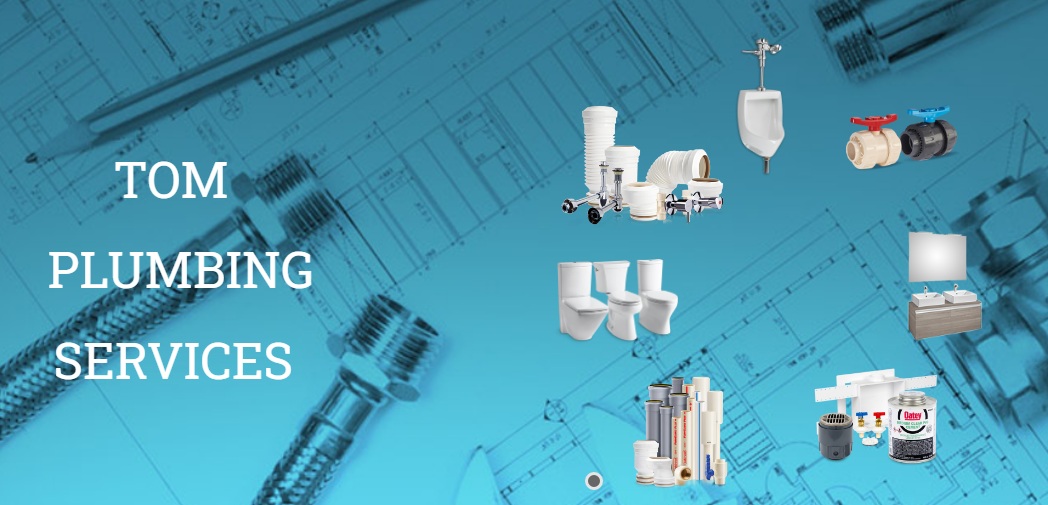 BEST FOR

Strategic plumbing and maintenance services

SCOPE OF SERVICES

running of water supply pipes, drainage pipes (uPVC / Cast Iron), floor traps, installation of kitchen accessories, toilet accessories, water heaters, replacing grating covers, water filtration system and water hammering detection.

PRICING

General repair, changing bottom trap and clearing drainage choke: S$120 onwards

Installation of new kitchen and bathroom accessories (Water heater, sink mixer, bathtub, etc): $150 onwards

Running of water supply and drainage pipe: S$250 onwards

Replacing of rubber expansion joint: S$400 onwards

Replacing of ball float valve: S$400 onwards

Scheduled water-tank cleaning and submission for PUB water testing: S$850 onwards

Water-saving assessment: S$250 onwards

Sale & rental of water dispensers, quarterly maintenance and carbon filter replacement: S$200 onwards

Installation of private water meter: S$350 onwards

Application and installation of PUB water meter: S$700 onwards

Concealed leakage detection (Underground/Within Wall): S$250 onwards

12. Water hammering source detection S$280 onwards

WEBSITE

ADDRESS

10 Buroh Street, #08-22 West Connect, Singapore 627564

CONTACT DETAILS

+65 9630 9636

OPERATING HOURS

Monday to Friday, 9:30am-5:30pm; Saturday, 9:30am-3pm
Tom Plumbing has been operating since 1975. With over 40 years of experience, the shop is guaranteed to deliver high standard services especially in the field of industrial, commercial and residential plumbing.
Before proceeding with the actual work, the team of Tom Plumbing carefully analyzes and plans your floor plan and plumbing structure to ensure the quality and standard of the output. This process of strategic plumbing makes the job easier and faster for both the clients and the team of Tom Plumbing.
The team of also guarantees that all of their procedures are in compliant to the Public Utilities Board (PUB), Singapore's National Water Agency.
If you want to try out their service, you can always get a free, no obligation quotation from them.
Service Highlights
Team of expert plumbers

Transparent and reasonable rates

Compliant to quality standards
Customer Reviews
If there is one thing that Tom Plumbing is really applauded for, it is their ability to address plumbing issues in an instance and provide a really good quality service. One of their previous clients has left a review on their website.
"Responsive and very very good workmanship. Able to fix premium accessories brand with ease, the plumber before them is clueless when they see the fittings, I almost had to see the brand distributor to send their own plumber which will cost even more. I will recommend Tom Plumbing to my clients."
7. PLUMBER SINGAPORE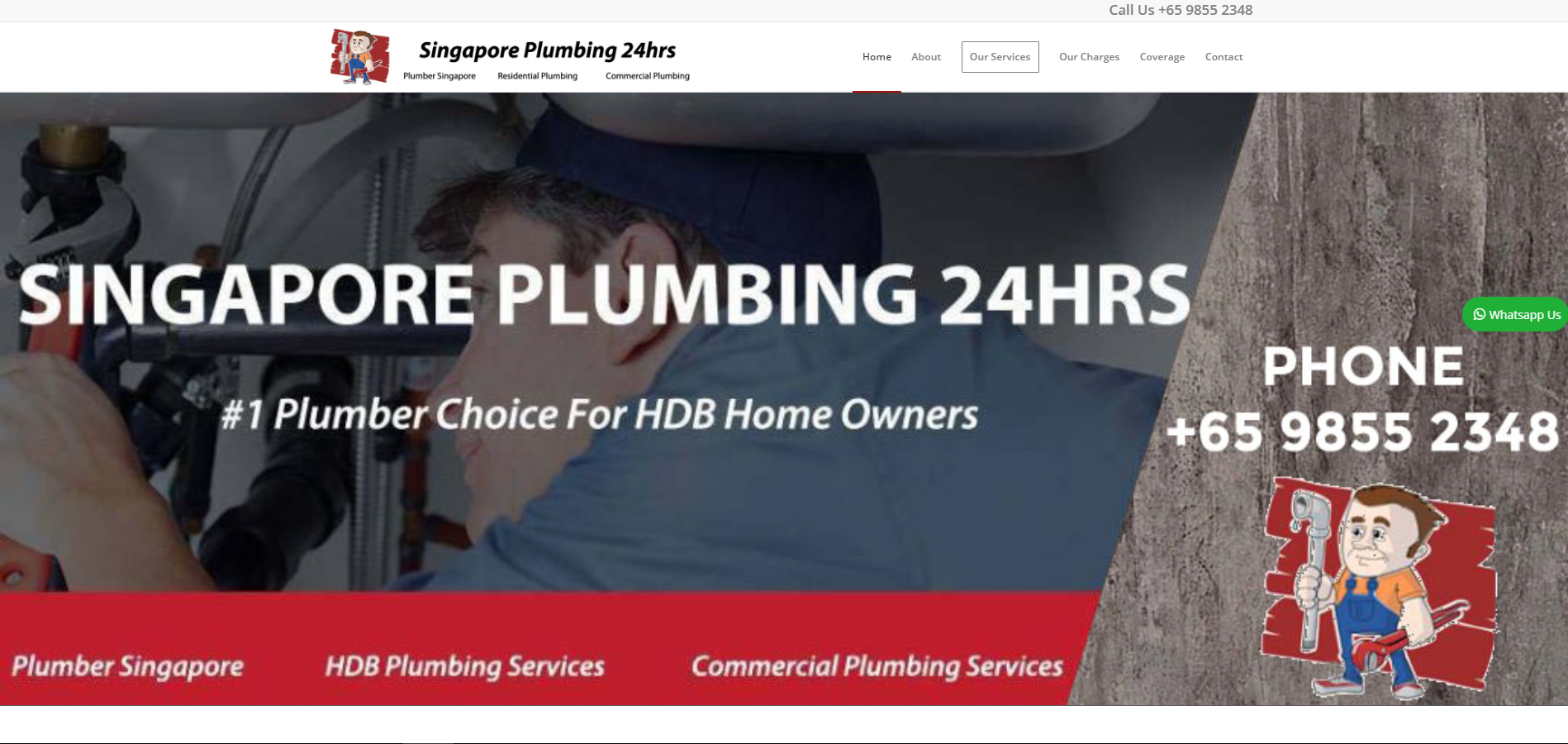 BEST FOR

24 Hour Services

SCOPE OF SERVICES

HDB Plumbing Services
Water Heater Repair & Installation
Toilet Repair
Toilet Bowl Repair
Commercial Plumbing Singapore
Sewer Camera & CCTV Inspection

PRICING

Enquire for more info

WEBSITE

http://singaporeplumbing24hrs.com.sg/

ADDRESS

31 Woodlands Close

#07-19 Woodlands Horizon

Singapore 737855

CONTACT DETAILS

Tel: +65 9855 2348

Email: [email protected]

OPERATING HOURS

 N/A
Singapore Plumber is a plumbing company that has been in service for more than ten years. Their professional team of plumbers are available 24/7.
If you're working with a budget, you won't need to worry– they'll make sure to offer expert advice and services at the most affordable prices for you. Contact them now!
Service Highlights
10 years of experience
Available 24 Hours, 7 Days a Week
Repair Options To Fit Your Budget
8.  Everyworks Singapore: Plumber Services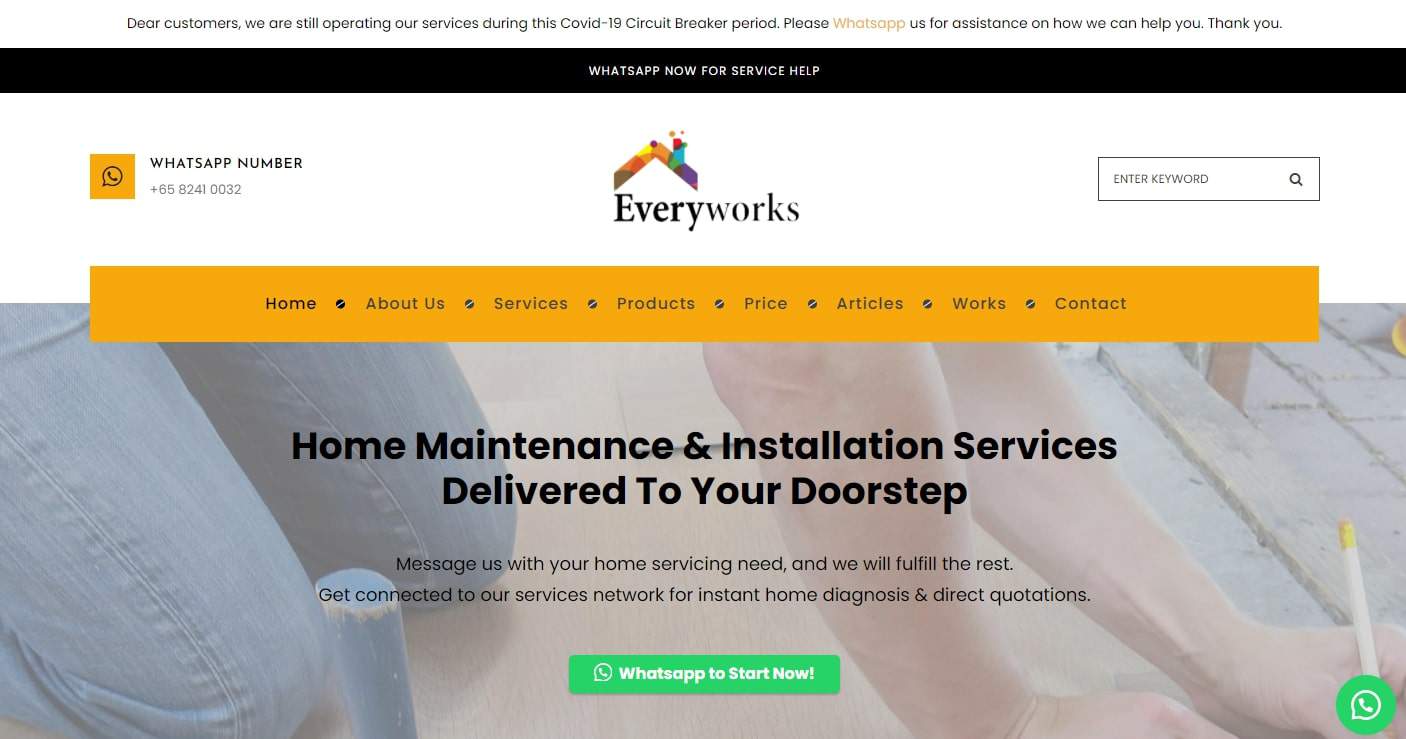 Everyworks offers a diverse set of home maintenance services for their clients. They provide aircon servicing, plumbing services, electrician services, and other handyman services.
Their qualified and licensed professionals are experts in their work, so you can count on them to be prompt and efficient in their work. With their transparent prices and detailed quotations, you're sure to get your money's worth.
Service Highlights
Instant diagnosis
Direct quotations
24/7 services
Anyway, this is the last entry in our list of the best plumbers in Singapore. Is there another company you think we should add and why? Let us know in the comments!
You can also take a look at our list of the best cleaning services in Singapore while you're at it. These cleaners can mop up and fix whatever messes your plumbing issues may have caused in your space.