9 Best Water Heater Repair and Installation in Singapore
Do you have a busted water heater system at home that badly needs repairing? If so, it's time to ask for help from the companies that offer the best water heater repair and installation in Singapore.
It's hard to do household chores when the water heater isn't working properly. Instead of letting it sit around broken, it's ideal to have it checked immediately to prevent further damage.
While there are a lot of plumbing companies all over Singapore, only a few offer both water heater repair and installation. That's why we've come up with a list of the options for the best water heater repair and installation in Singapore.
1. Water Heater Repair Singapore

Water heaters can be hard to maintain by yourself, so you'll end up needing professional assistance more often than not. If you're looking for one of the best water heater companies, turn to Water Heater Repair Singapore.
When it comes to water heater repairs and installation, their expert team of plumbers know what they're doing. In addition, their professional services are available for an affordable price.
If you have any water heater concerns, choose Water Heater Repair Singapore. You certainly won't regret it.
Highlights
Affordable Prices
Professional Plumbers
2. Kiasu Plumber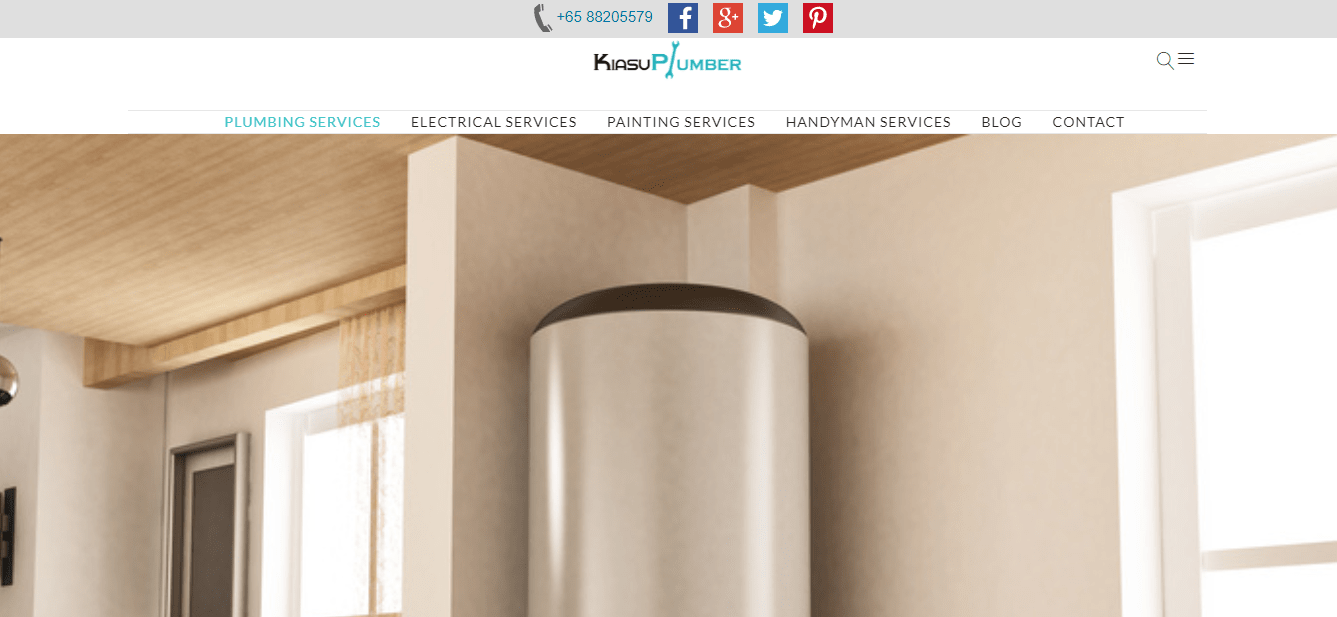 | | |
| --- | --- |
| BEST FOR | Handyman Services |
| SERVICES | Plumbing Services, Electrical Services, and Painting Services |
| WEBSITE | https://kiasuplumber.com/ |
| ADDRESS | 20 Maxwell road #09-17 Maxwell House |
| CONTACT DETAILS | 88205579 |
| OPERATING HOURS | Open 24 hours |
Kiasu Plumber offers a wide range of plumbing services such as water heater repair and installation, toilet bowl repair, leaking pipe repair, shower screen replacement, and more.
It aims to be a one-step shop for all your repair needs, and that's why it's also widened its scope of services to electrical and handyman repairs.
With over 25 years of experience, Kiasu Plumbers knows how to fix just about any water heater issue, so you're confident that the people you let into your home are the most qualified for the task.
On top of that, the team behind Kiasu Plumber is known for being efficient and punctual. If a plumber is near your area, it will respond and be at your place in just under 40 minutes!
Unlike other repair companies, it doesn't shock customers with hidden charges. And that's why we think it's the top option for the best water heater and installation in Singapore.
Highlights
No hidden cost
Drug-free workforce
Customer Reviews
If there's one thing that most customers love about Kiasu Plumbers, it's its team of punctual plumbers. Customers also noted how they can do the entire work in just a day without rushing anything.
A customer also said the following:
"Highly recommend Good Plumbing. Great service ! We needed a plumber fast. He took care of our problem quickly and we couldn't be happier! My family and I would recommend Best to anyone with plumbing needs! We're so glad we found them!.I would definitely call them again for any plumbing issues."
3. SG1 Plumber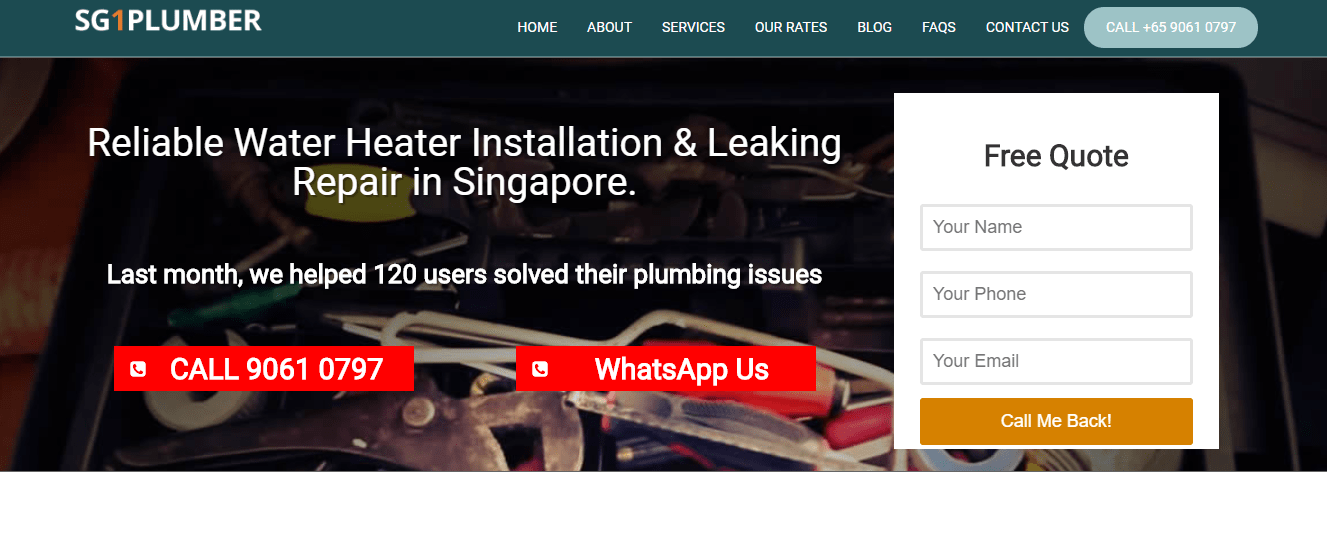 | | |
| --- | --- |
| BEST FOR | Affordable Rates |
| SERVICES | Water Heater Repair and Installation, Toilet Repair, Toilet Flush Repair, Roof Leaking Repair, and Waterproofing |
| WEBSITE | https://sg1plumber.com/ |
| ADDRESS | 8 Burn Road, #15-13 (Trivex) 369977 Singapore |
| CONTACT DETAILS | 9061 0797 |
| OPERATING HOURS | Monday – Friday, 9:00 AM to 10:00 PM |
If you're looking for a quality yet affordable water heater service, then SG1 Plumber would be a great match for you. Despite starting only in 2015, it's managed to garner a wide following from both residential and commercial sectors.
What's more, it's considered the top option for the best water heater repair and installation in Singapore for its quality workmanship. It can also deal with both types of water heaters, namely storage and instant water storage.
Its team of plumbers is headed by a lead plumber with more than 11 years of experience, so there's no doubting the quality of its services.
SG1 Plumbers also offers a guaranteed follow up service after 7 days to make sure that the water heater is still working perfectly. Next-day services are also available for customers with really urgent needs.
Highlights
Competitive rates
Emergency Services
Follow up services
Customer Reviews
SG1 is deemed one of the best options for water heater repair and installation in Singapore. Here's some evidence of its excellent workmanship:
"We came back from summer holidays and found our toilet running continuously. I called up SG! Plumber for the toilet repair and requested a licensed plumber for service. The guy arrived in less than half an hour and diagnosed a crack valve seal on the flapper. He replaced it in no time and saved us from the fuss. I am really impressed by their quick problem-solving skills and great customer service. Highly recommended!!"
"When I was selected as an administrator to a 25 storey building, I was really glad at my accomplishment. It was all going smooth until the day came when a drain valve of an apartment at the 10th story was found clogged and subsequently the drainage of the whole side of the building got blocked. There were residents on one hand and the higher management on the other, all on my nerves. I searched for the best plumbing services in Singapore and came across SG1 plumber. I scheduled an emergency plumbing service and saved myself from the huge impact. Now they have a customer for life."
4. Mr Plumber SG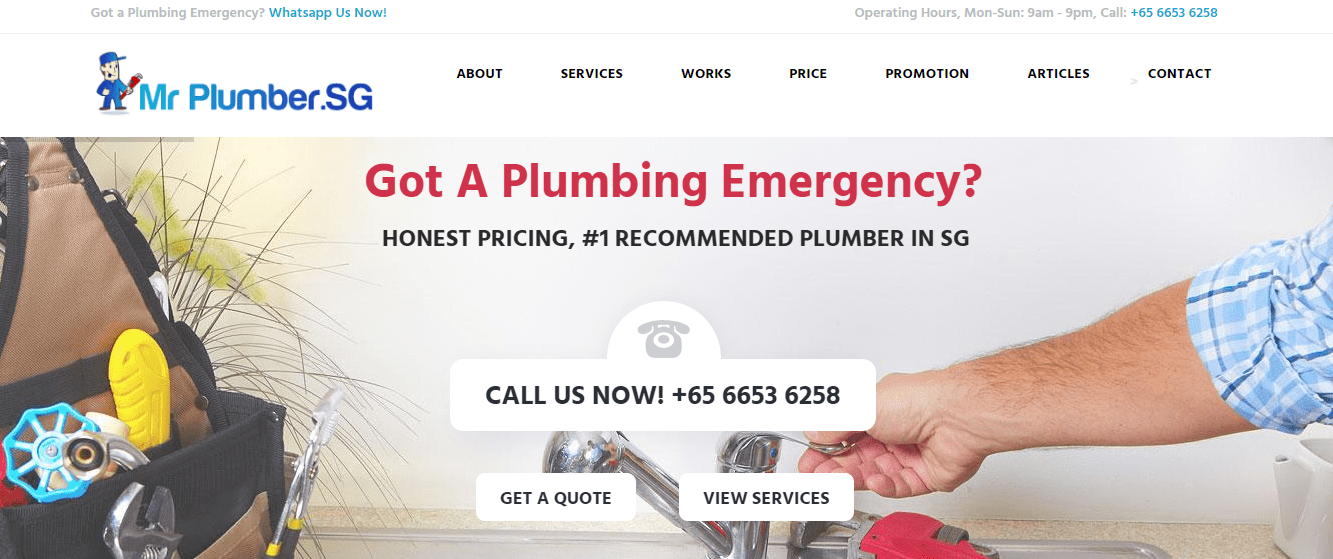 | | |
| --- | --- |
| BEST FOR | All Types of Plumbing Repairs |
| SERVICES | Water Heater Repair and Installation, Toilet Repairs, Sink Repairs, Pipe Repairs, and Leakage Detection and Repair |
| WEBSITE | https://www.mrplumber.sg/ |
| ADDRESS | 3 Phillip Street, Singapore 048693 |
| CONTACT DETAILS | 65 6653 6258 |
| OPERATING HOURS | Monday – Friday, 9:00 AM to 10:00 PM |
Mr Plumber Singapore is an all-around plumbing service provider with a reliable team of experienced and professional plumbers. It was established only 10 years ago, but it's managed to provide services to thousands of residential and commercial spaces.
Moreover, Mr Plumber Singapore is the best-reviewed plumbing company on the entire island, with rave reviews from across various reviewing sites. If thousands of customers swear by its services, it can definitely provide the services that you paid for and expected.
In terms of client list, Mr Plumber Singapore remains unbeatable. Among its famous commercial clients are Charles & Keith, Kohler, Bugis Junction, and of course, Gucci.
Highlights
10 years of experience
Transparent pricing
Free quotation
Customer Reviews
Take a peek at some of the reviews given by satisfied customers:
"I initially engaged in the company's services when there was a leak in the kitchen, their plumber came and did the job fairly quickly however this caused a second pipe to fail and leak in the living room. While most people wouldn't have bothered to come back, these guys did. It did cost me a lot more than I expected but they fixed the problem."
"Engaged Mr Plumber to change my storage heater that was beneath a false ceiling. The whole experience from quote to getting the job done was superb! Communication via WhatsApp was clear and fast and the quotes were competitive. The guys who came down to replace the heater were very professional and did the job well. Overall a very positive experience. I would definitely contact them again for any future plumbing works."
5. Water Heater Expert

| | |
| --- | --- |
| BEST FOR | Cash on Delivery |
| SERVICES | Water Heater Repair and Installation (Instant Heater and Storage Heater) |
| WEBSITE | https://www.waterheater-expert.com/ |
| ADDRESS | Blk 3014, Ubi Road 1, #02-234, Singapore 408702 |
| CONTACT DETAILS | 91181815 |
| OPERATING HOURS | Monday – Friday, 9:00 AM to 6:00 PM |
Water Heater Expert can end all your water heater problems if you hire its services. While more known as a water heater installer, it's expertise in water heater repairs is also worth noticing.
It prides itself on being a plumbing company that follows the guidelines of PUB and HDB in providing effective plumbing services. Going back to water heaters, it can fix and install both instant heaters and storage heaters.
On top of this, it's also a BizSafe level 3 certified company, meaning it has a safe and healthy workplace that helps in delivering satisfactory services to every client. This is what makes it the best company for the best water heater repair and installation in Singapore.
Moreover, should you only need water repair installation, it also offers same-day service and delivery for a faster and more convenient transaction.
Highlights
Experienced plumbers
Same day services
No hidden charges
6. HDB Plumbers

BEST FOR
24/7 Service
SERVICES
Water Heater Repair and Installation, Bathroom Plumbing, Leaks and Pipe Repairs, and Toilet Choke and Drainage
WEBSITE
https://hdbplumbers.com.sg/
ADDRESS
Bukit Batok Street 11, #02-294, Singapore 650153 Block 153, Singapore 650153
CONTACT DETAILS
84916116

84916116

OPERATING HOURS
Monday – Friday, 6:00 PM to 2:00 AM
HDB Plumbers is a plumbing service provider that's been operating in Singapore for more than 20 years now. It has a team of experienced plumbers who can fix all types of bathroom and water heater problems.
It specialises in both residential, commercial, and industrial buildings, so it has clients from different sectors who love its services. To make sure that its services meet the expectations of its clients, its plumbers only use state-of-the-art equipment that yield excellent results.
Lastly, it promises to be transparent when it comes to prices and not shock customers with a bill filled with charges they had no idea about.
Highlights
Qualified plumbers
Transparent pricing
Modern plumbing equipment
7. Water Heater City
BEST FOR
Water Heater Services
SERVICES
Water Heater Sales, Water Heater Installation and Repair
WEBSITE
http://www.waterheatercity.com
ADDRESS
1090 Lower Delta Road, #03-07D Singapore 169201
CONTACT DETAILS
WhatsApp: +65 8241 0032

Phone: +65 6797 8775

Email: [email protected]

OPERATING HOURS
Mon – Sun

9AM – 9PM
Water Heater City offers the complete set of water heater services, from installation to repair. They also have water heaters from major brands for sale.
Their team has more than a decade of experience in the industry, which allows them to work in residential, commercial, and industrial properties for the most affordable prices. You can count on them to get the job done.
Highlights
Excellent prices
Experienced plumbers specialising in Water Heater Installation Services
Clean friendly service
Prompt and excellent workmanship
8. Joydom Engineering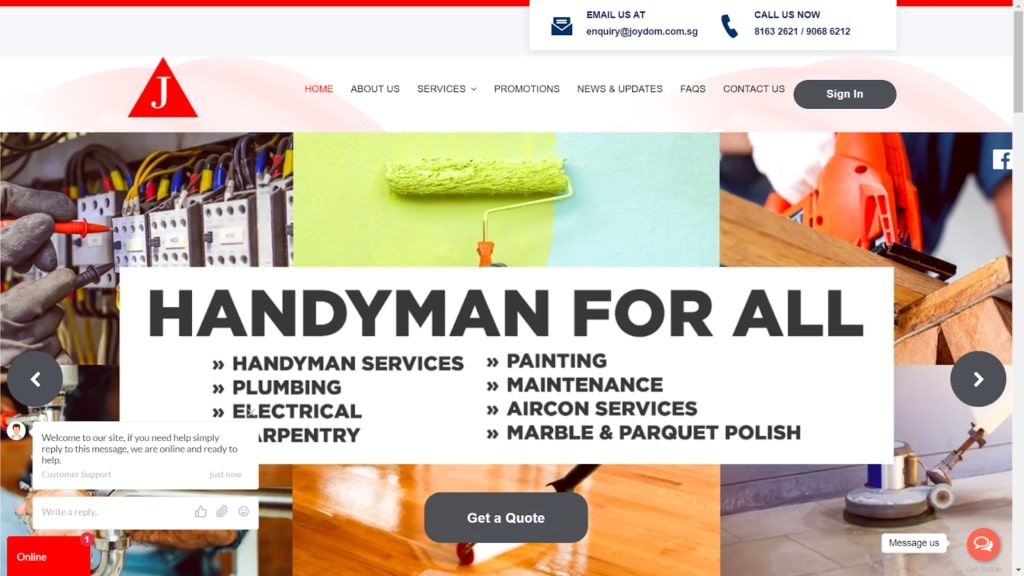 BEST FOR

Handyman Services

SERVICES

Handyman Services, Plumbing, Electrical, Painting & Varnish, Aircon Servicing / Installation, Door, Window Repair & Replacement, Marble & Parquet Polish

WEBSITE

https://www.joydom.com.sg/

ADDRESS

5 Little Road, #03-01 Cemtex Industrial Building, Singapore 536983

CONTACT DETAILS
Email: [email protected]

Mobile:8163 2621 / 9068 6212

OPERATING HOURS

Daily, 8:30 AM – 6 PM
Joydom Engineering offers a wide variety of handyman services may it be commercial, residential, and industrial needs. They are a team of highly-skilled workers that will attain your needs.
Making their customers satisfied is their top priority and they do this by offering good quality services at an affordable price.
Highlights
Responsive

Professional

Affordable
Customer Reviews
Here's a review from one of Joydom Engineering's clients:
"They are experienced and will check before proceeding the works. Admin, Mandy is also very helpful and responsive. Called them twice to help in repairing light fixtures and another time for light switches. Their prices are pretty reasonable. Would recommend them if you really need an electrician or any other handyman services." – Cherie Fong
Here's another one:
"Handymen's work were neat, fast and polite. Really happy with the service. Most of all I was impressed with how the customer service consultant handled the arrangements and our needs. Kudos to Mandy at Joydom. 🙂 Thank you." – Stacy Thumboo
9. AOS Bath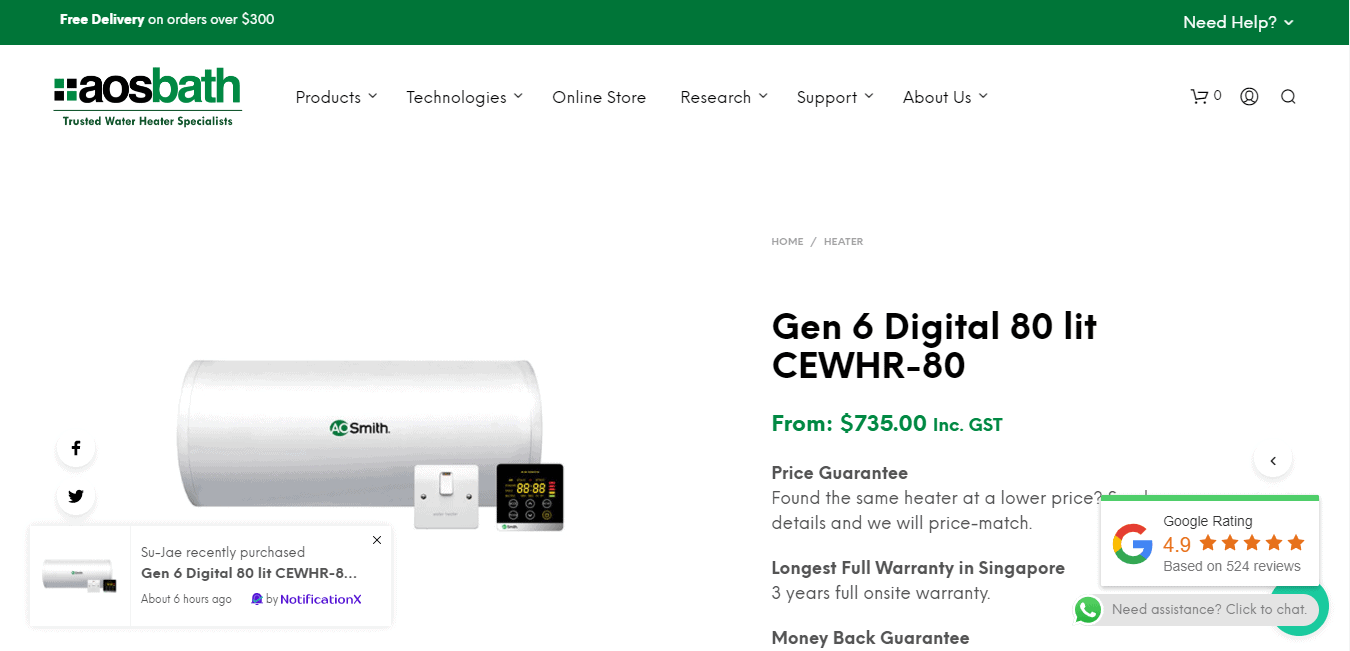 AOS Bath features its high-tech water heater, the Gen 6 Digital CEWHR heaters. With up to 100 litres of capacity, Gen 6 Digital CEWHR-80 can get enough warm water flowing for a family household.
As its name suggests, AOS Bath's Gen 6 Digital CEWHR-80 has its very own digital remote. With this digital feature, homeowners can even set timers so that they can enjoy daily baths that are not too hot and not too cold.
AOS Bath specialises in helping homeowners and businesses create the perfect 5-star hot shower experience. Their heaters deliver great water pressure and consistent temperatures. Some can even save 80% on heating bills, more efficient than solar heaters. 
They are the sole distributors of  A. O. Smith Heaters, the #1 Water Heater company in USA. They have been established for 145 years. 
The popular patented Digital Heater range offers speed heating and can triple your hot water volume. Energy saving Heat Pump water heaters save households thousands of dollars every year. They believe technology can and should make your life easier.
During installation, clients can also request for the water tank and cables to be concealed for a neat look within your bathroom.
Aside from this long warranty, AOS Bath also provides a price guarantee, where it will match prices from its competitors. Additionally, the company swears by its moneyback guarantee, which means that they'll provide refunds for water heaters that can't be installed in your home.
Highlights
3-year installation warranty
Moneyback and price guarantee
Digital remote with timer
50-100 litre water heater options
Customer Reviews
Here are some customer reviews to tell you what exactly it is that AOS Bath provides its clients:
"We have been using AOS water heater in our new place since Dec 2020 and enjoying the hot showers. Works almost like instant heater! We only turn it on once in the evening daily for evening showers and the hot water lasts until next morning for our morning shower."—Fiona Lim
"Replaced my spoilt city gas heater with AOS Smith Digital Heater. Been using it for about 6 months and really satisfied with the product. It produced hot water almost instantly which I can regulate the temperature of the hot water. The product made from a high quality materials and expect to last for years. The technician recommended me to install the controller in the bathroom and showed me how to operate it. Spot on to the technicians for the good work. Overall I am satisfied with product and the services. Thanks AOS Bath."—Shaiful Mohtar
Water heaters are one of the most vital instruments inside a Singaporean home — that's why you must make sure that they're always in perfect condition. We hope you were able to pick one plumbing company on our list that you think can provide you with the best water heater repair and installation in Singapore.
If you believe we missed out on some great plumbing companies, share their names with us and we'll add them to our list.
In case you're also looking for durable water heaters, you might also want to see our list of the best water heaters in Singapore. These water heaters can make sure that there's always enough supply of warm water inside your home.