Our 7 Picks for the Best Tree Cutting in Singapore
Are there hazard trees in front of your house that you've been wanting to get rid of? If you don't want to do the work of cutting them down yourself, then we highly recommend that you hire the services of the landscapers that offer the best tree cutting in Singapore.
Hazard trees pose potential risks to people and properties if not cut down immediately. Instead of ignoring and allowing them to get bigger every day, it's best to cut them down immediately to prevent accidents.
Since there are a lot of tree cutters in Singapore, we've done thorough research to help you find the best ones.
So, without further ado, here's our list of the people to call for the best tree cutting in Singapore. Most of these also do some of the best tree pruning in Singapore, in case you'd rather not cut down the tree concerned.
1. Landscape Contractor Singapore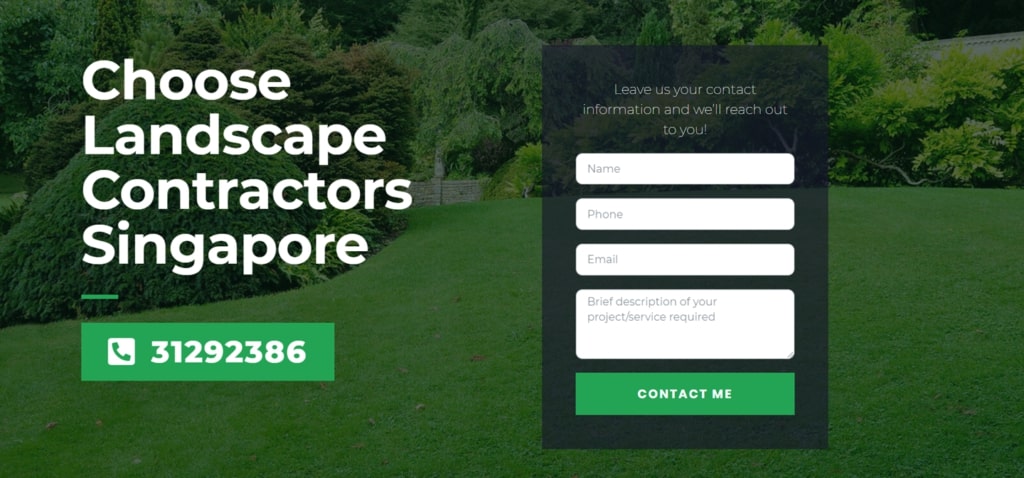 BEST FOR

Transparent, Affordable, Landscaping Services

SERVICES
Tree care
Plants
Grass maintenance
Pathway maintenance
Driveway clearing
Landscape design and installation
Landscape maintenance
Garden installation
WEBSITE
https://www.landscapecontractorsingapore.com/
ADDRESS

N/A

CONTACT DETAILS
+65 6432 8265
If you're looking for experts at landscaping and want only the best company to fix you your desired environment, then you're looking in the right place.
Landscape Contractor Singapore is proven to bring your dreams to life. Whatever you are envisioning, they make sure to create, and sometimes, make even better! Whether it's landscape, hardscape, softscape, or simply an escape, you can bet that you can have them do it for you– all at a fraction of the usual price.
The company prides itself for not only having the highest quality materials, but also for being detailed and thorough with each of their contracted work. They make sure to have you oversee every step of the way, ensuring that from the initial designs, through the process, and of course the outcome, that you'll be left feeling nothing but satisfaction.
Highlights
Amazing outdoor landscape designs
Highly trained, ultra-professional staff
Detailed landscaping
Customer Reviews
Here's what a very satisfied client had to say about Landscape Contractor Singapore's amazing service:
"I used to have artificial lawn installed in my yard until I realized it wasn't good for me. I looked for landscaping services in Singapore and found these guys. They took out my turf, planted fresh flowers and added a cobblestone walkway on my yard. Now my garden looks so alive when I come home." – Dorian Sy
2. Prince's Landscape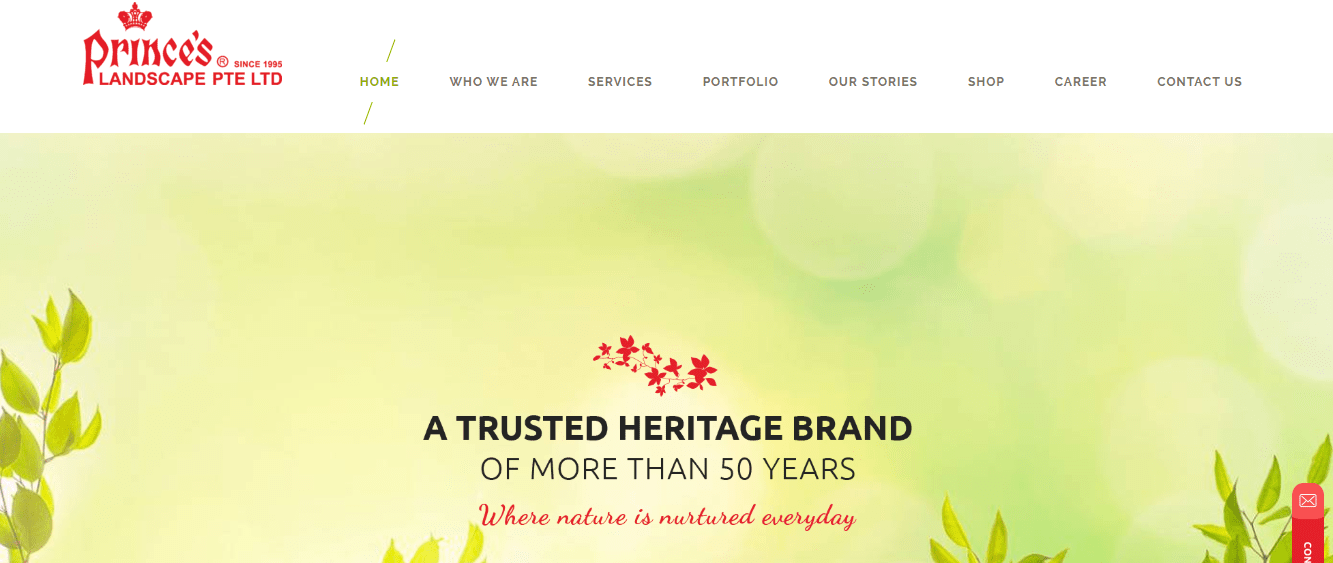 | | |
| --- | --- |
| BEST FOR | Landscape Construction |
| SERVICES | Tree Cutting, Tree Pruning, Landscape Maintenance, Turfing, Irrigation System, Vertical Wall, and Home Garden |
| WEBSITE | https://www.princelandscape.com/ |
| ADDRESS | 53 Sungei Tengah Rd, Singapore 698998 |
| CONTACT DETAILS | 65 6763 7000 |
| OPERATING HOURS | Monday – Friday, 8:30 AM – 5:30 PM |
If you're looking for the best tree cutting in Singapore, then Prince's Landscape is the right option for you. With over 50 years of experience, it's one of the oldest nurseries on the island.
Its team is composed of experienced florists, designers, engineers, and horticulturists who deal with all types of gardens. Every person on its team is qualified to do the work because of the training and programs they've undergone.
One of the things we love about Prince's Landscape is its 24/7 emergency tree removal services. You don't need to wait for the next working day to have a fallen tree removed, especially if it caused damage or injury to someone.
Highlights
50 years of operation
Award-winning projects
Emergency services
3. Ken Landscape Services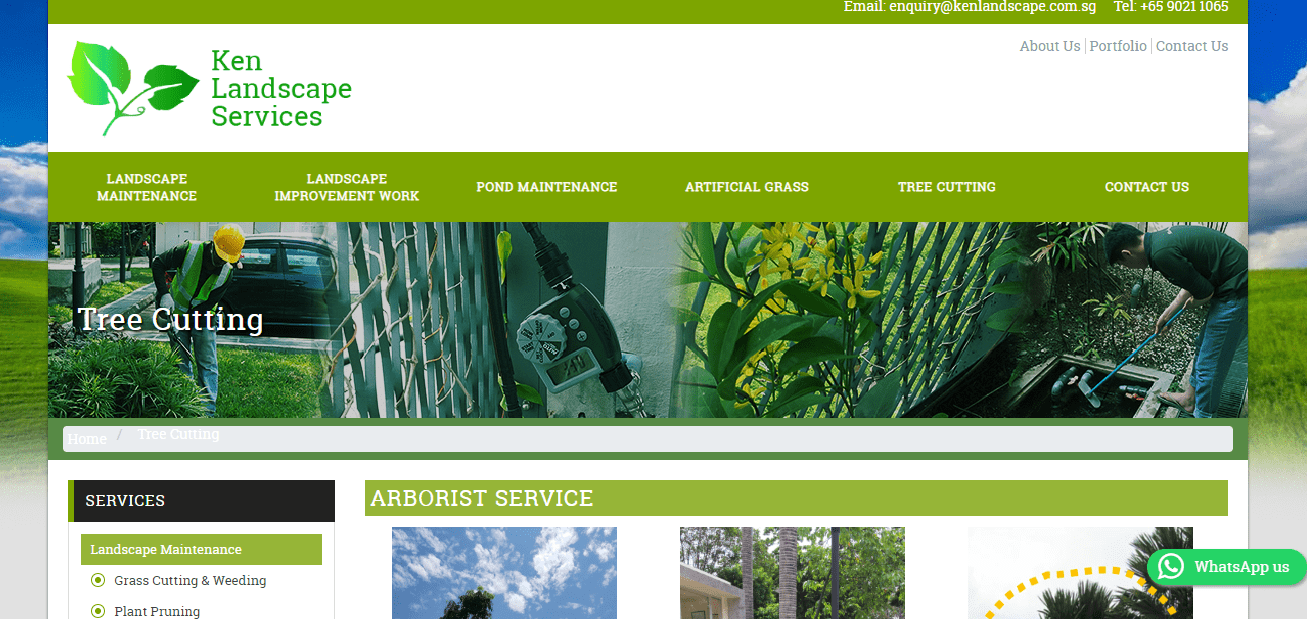 BEST FOR
Commercial and Residential Services
SERVICES
Tree Cutting, Tree Pruning, Pond Maintenance, Artificial Grass, Grass Cutting and Wedding, and Irrigation System
WEBSITE
https://www.kenlandscape.com.sg/
ADDRESS
Blk, 50 Choa Chu Kang North 6, #17-02 Yew Mei Green, Singapore 689574

Lavender Street, 04-01, Block 116, Pek Chuan Building, Singapore 338730

CONTACT DETAILS
+65 9021 1065
OPERATING HOURS
Monday – Friday, 8:00 AM – 5:00 PM
Ken Landscape Services has been in the landscape and greenery industry for quite some time now, with customers from both residential and commercial sectors. It started as a one-man team, but over the years, as it gained more customers, it grew into a team of 20 expert arborists and technicians.
It specialises in tree removal and tree pruning, but it has other services to offer. Some of these services are irrigation system development, grass cutting and weeding, pond maintenance, plant pruning, and a whole lot more.
As one of the top landscapers with the best tree cutting in Singapore, it promises to deliver tree cutting and landscaping services at the best possible price.
Highlights
Experienced arborists
Advanced technologies
Reliable customer service
4. Goodview Gardening & Landscape Construction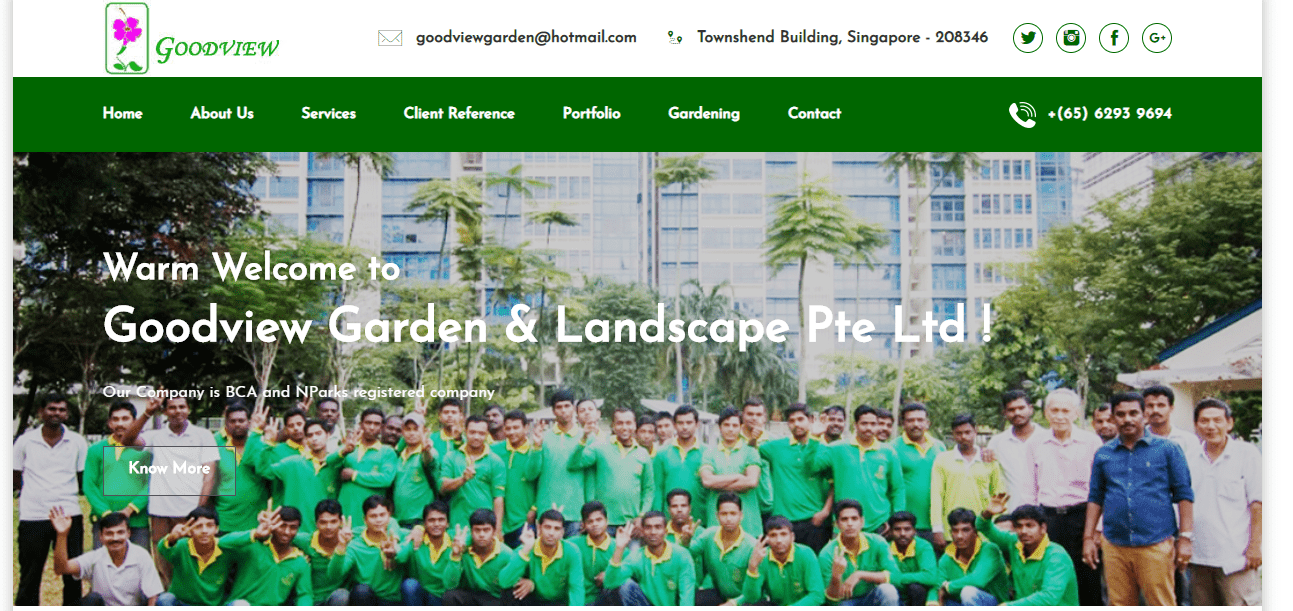 | | |
| --- | --- |
| BEST FOR | Landscape Constructions and Supplies |
| SERVICES | Tree Cutting, Landscape Designs, Landscape Consultation, and Regular Maintenance and Controls |
| WEBSITE | http://goodviewgarden.com.sg/ |
| ADDRESS | 54 Maude Rd, #03-02 Townshend Building, Singapore 208346 |
| CONTACT DETAILS | (65) 6293 9694 |
| OPERATING HOURS | Monday – Friday, 8:00 AM – 5:00 PM |
Goodview Gardening and Landscape Construction is one of the most in-demand landscapers in Singapore for its wide variety of services. It's been around the island for more than 20 years now, and it's helped over thousands of people in improving their gardens and removing hazard trees.
Since it's been around for years, you don't need to worry about the quality of services you will receive. You can also be assured that the people sent to your area are the perfect people to do the work.
What makes it one of the top options for the best tree cutting in Singapore is its strategic and accessible location. With just one call, its team of arborists will be on its way immediately to take care of the situation.
In short, they're among the most convenient options on the island. They also do some of the best tree pruning in Singapore, take note.
Highlights
Accessible location
Competitive rates
Experienced arborists
Customer Reviews
Goodview Gardening has an average rating of 5 on Google Reviews, making it one of the best-reviewed landscapers in Singapore. Most customers noted how friendly and approachable its team is, on top of being professional and efficient.
Take a look at this review:
"I'm very happy with the tree pruning by Goodview. The service team is very professional, they removed the huge branch which was on the top part of the tree with little effort. Throughout the entire job, the team was friendly, efficient and detailed. They cleared out all the debris and cleaned up my garden. They did a great job, they totally exceeded my expectations. I strongly recommend Goodview to anyone who is looking for quality service. The charges are reasonable too."
5. Green Garden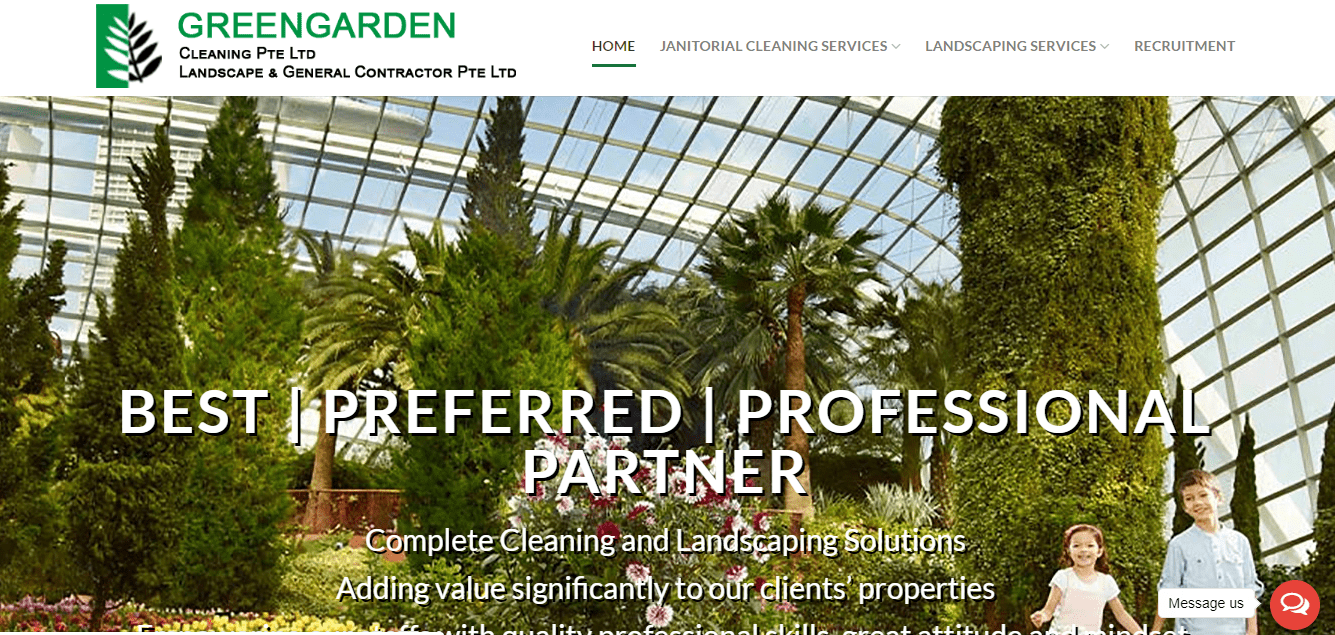 BEST FOR
Janitorial and Landscaping Services
SERVICES
Tree Cutting, Tree Pruning, Condominium Cleaning, and Commercial Cleaning
WEBSITE
https://greengarden.sg/
ADDRESS
2 Sims Close [email protected] 06-10, Singapore 387298
CONTACT DETAILS
+65 6747 5301

+65 9880 3799

+65 8488 5000

OPERATING HOURS
Monday – Friday, 8:00 AM – 5:00 PM
Green Garden is known for both janitorial and landscaping services, both of which it does magnificently. It boasts a team of expert and experienced cleaners, contractors, landscapers, and arborists.
In terms of reputation, Green Garden has kept a positive profile throughout its operation. It's also been accredited multiple times by industry leaders for its quality workmanship and competent staff.
With its tree cutting services, it aims to make every customer's house much safer by removing the risks brought by hazard trees. Its tree pruning services are also worth checking out if you want to keep your trees stronger and healthier.
Highlights
Professional staff
Affordable services
Family-friendly services
6. BSG Services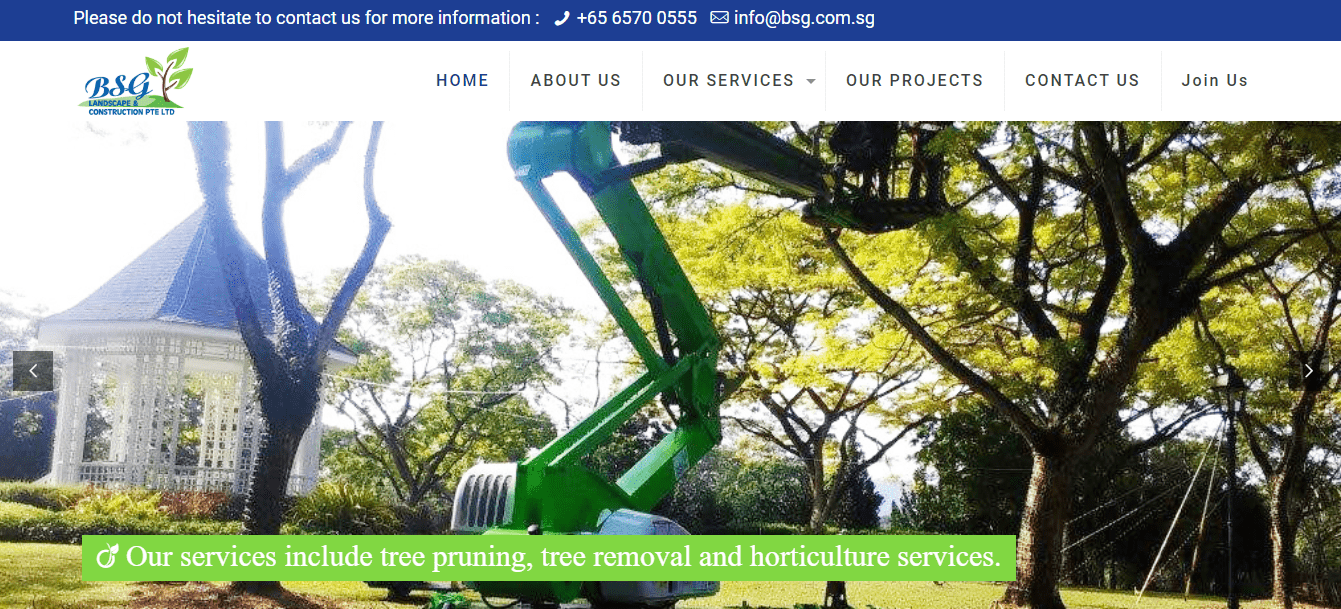 | | |
| --- | --- |
| BEST FOR | Landscaping and Maintenance Services |
| SERVICES | Tree Cutting, Tree Pruning, Tree Trimming, Tree Transplanting, and Horticulture Services |
| WEBSITE | http://www.treecutting.com.sg/ |
| ADDRESS | 2 Yishun Industrial Street 1, #03-29 Northpoint Bizhub, Singapore 768159 +65 6570 0555 |
| CONTACT DETAILS | +65 6570 0555 |
| OPERATING HOURS | Monday – Friday, 9:00 AM – 6:00 PM |
BSG Services has been helping Singaporeans deal with all their landscaping and horticulture concerns for over 11 years now. It offers a long list of services but among its areas of expertise are tree cutting, tree pruning, and horticulture services.
If you want to increase the value of your property, then BSG Services has you covered. It makes use of advanced and effective technology in creating landscapes and removing trees to improve the appearance of your property.
What makes us consider it one of the best tree cutting in Singapore is its team of technicians and arborists who can deal with all sorts of trees, also making sure that nobody gets harmed during the process of cutting.
Highlights
11 years of experience
Competent technicians and arborists
7. Complete Services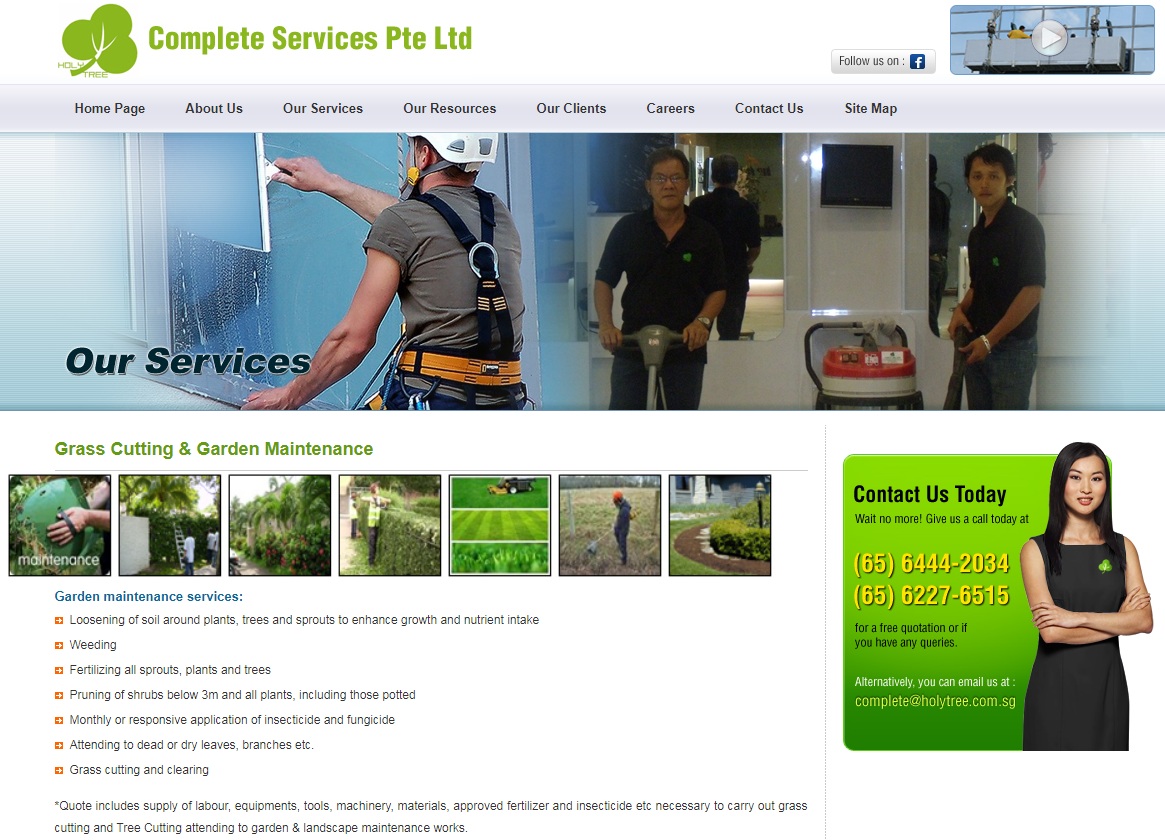 BEST FOR

Full range environmental cleaning services

SERVICES

Carpet Cleaning

Execution of the Carpet Mites

External Facade Cleaning

General House Cleaning

Grass Cutting & Garden Maintenance

High Pressure Jet Cleaning

Leather Cleaning

Marble Polishing

Mattress Cleaning

Toilet Steam Extraction Cleaning

Upholstery Cleaning

Vinyl Tile Cleaning & Waxing

WEBSITE

http://www.holytree.com.sg/

ADDRESS

Bizlink Centre, 59 Ubi Ave 1 #04-15, Singapore 048 938

CONTACT DETAILS

(65) 6227 6515/(65) 6444 2034 |

[email protected]
Complete Services Pte Ltd would not be called such if they do not offer a complete range of cleaning and maintenance services, both indoors and outdoors.
From their list of services, you will already have a hint of how large their scope of area is that they almost have all kinds of services you will be needing in keeping your home at its best condition.
Their tree and grass cutting service are handled solely by their well-experienced technicians who guarantee a seamless and hassle-free process and make sure o keep your garden and landscape clean and fresh.
Highlights
Elite garden maintenance

Extensive range of indoor and outdoor cleaning services

Competitive rates
Customer Reviews
"Great friendly and professional service. We used Complete Services for office spring cleaning, which was done to a very high standard. Would certainly recommended them and will be using them again in the future."
And that's the end of our list of the landscapers with the best tree cutting in Singapore. If you know other landscapers that offer great tree cutting services, don't hesitate to share them with us!
By the way, if you're also looking for someone to work on your garden or yard, then you may want to check out our list of the best landscape services in Singapore. Any of these landscapers can make any space look more beautiful with their green thumbs!