Our 9 Favourite Clinics for Allergy Tests in Singapore
Are you struggling with frequent allergies but don't know what's triggering them? Well, there's no better way to identify their cause than an allergy test.
For today's article, we've put together a comprehensive list of clinics that offer the allergy tests in Singapore for your convenience. We made sure to include only those with medical services and positive feedback from patients.
Before we start, we'll go over the average cost of getting an allergy test on the island. We've answered some questions about allergy tests as well, so make sure to read until the end.
How Much Do Allergy Tests Cost in Singapore?
Here's a table of the common allergy tests in Singapore clinics and their estimated costs:
| | | |
| --- | --- | --- |
| TYPE OF ALLERGY TEST | NOTES | ESTIMATED PRICE |
| Single allergy test | For food allergens, house dust, mites, mould, and animals | $65 to $80 $100 to $150 (skin prick test for crabs) |
| Comprehensive allergy test | For household pets, mould, mites and dust, food allergens, condiments and drinks, seasonings, and seafood | $1,500 to $3,500 |
| Milk cereals and egg allergy test | For egg, milk, wheat, gluten, rice, buck wheat, and cow's milk | $200 to $600 |
| Seafood allergy test | For shrimp, codfish, crab, tuna, salmon, and clam | $375 to $500 |
| Nuts allergy test | For almond, hazelnut, cashews, peanut, walnut, and pistachio | $690 to $750 |
| Animals and insects allergy test | For dogs, cats, guinea pigs, hamsters, rats, and cockroaches | $375 to $500 |
| Inhalant allergy test | For mites and fungus | $535 to $1,500 |
| Children's allergy test | For food allergens and animals | $600 to $700 |
| Eczema allergy test | For food allergens and animals | $600 to $700 |
The Clinics for Accurate Allergy Tests in Singapore
Now that you have an idea of how much allergy tests typically cost, it's time to go over which clinics have accurate allergy tests in Singapore.
Our list is in no particular order, by the way.
DB Medical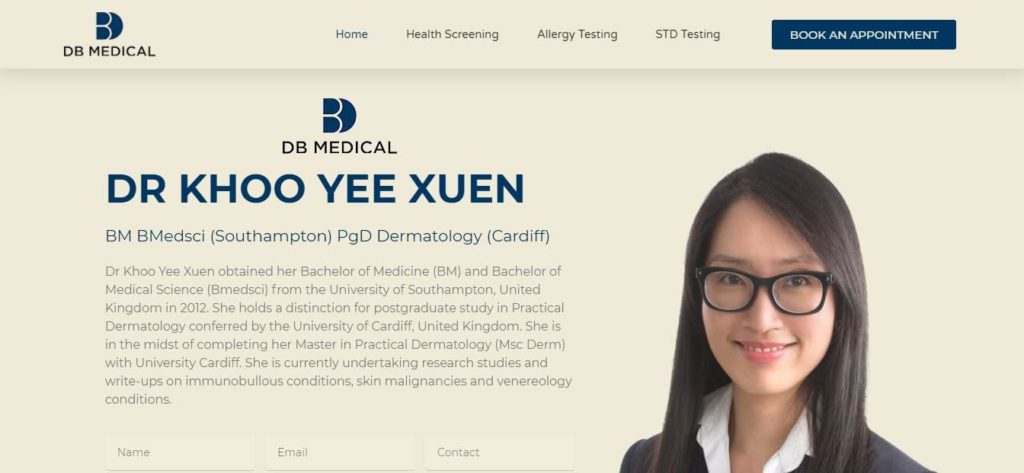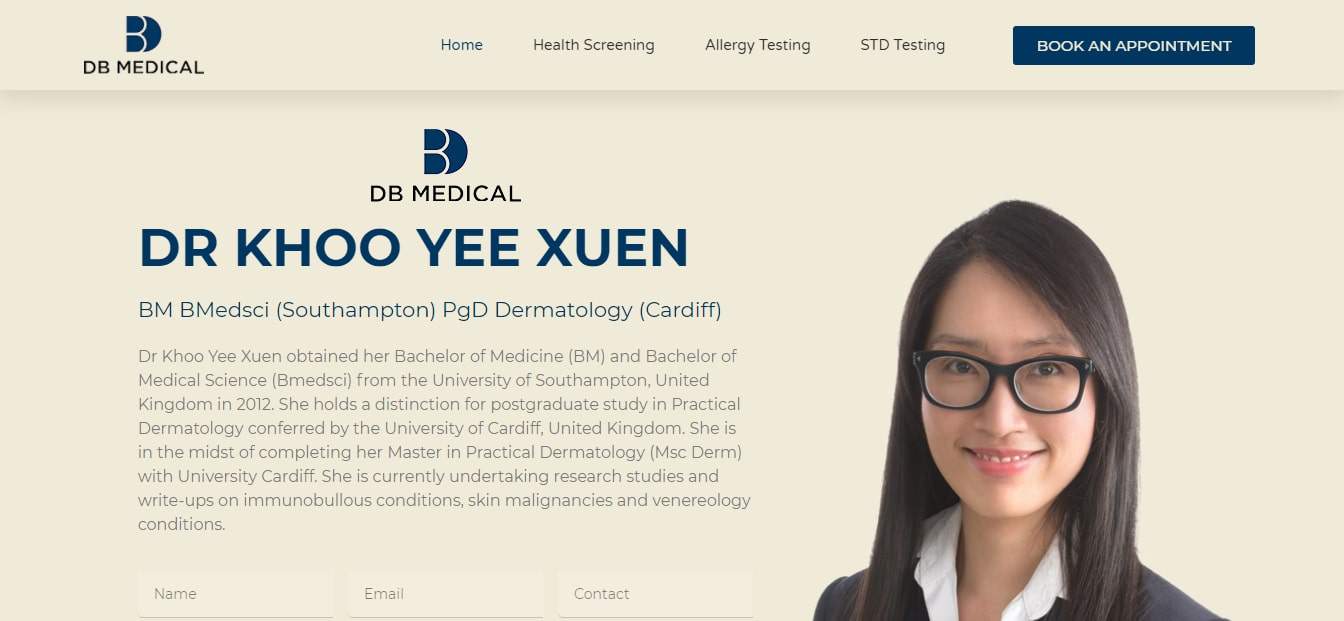 SERVICES
RAST blood testing, skin prick testing, health screening, and STD testing
WEBSITE
https://healthscreensingapore.com/
ADDRESS
290 Orchard Rd, #14-10 Paragon Medical Centre, Singapore 238859
CONTACT DETAILS
+65 6432 8229


[email protected]

OPERATING HOURS
Monday to Friday: 9:00 AM – 6:00 PM
Saturday: 9:00 AM – 1:00 PM
DB Medical is headed by Dr. Khoo Yee Xuen, a dermatologist who specialises in internal health and sexual health issues of both genders. Her impressive resume is pretty much what earned her a spot in our list.
Dr. Xuen earned her bachelor's and postgraduate degree from the University of Southampton and University of Cardiff, respectively. We believe that graduating from prominent universities overseas gives her an edge over our other picks.
There's more to her than her credentials, though. Dr. Xuen's clinic is known for its one-stop, personalised medical services that range from general health screenings down to allergy testing and STD testing.
DB Medical's allergy testing covers RAST blood test and skin prick test, both of which are effective in identifying an allergy. Dr. Xuen recommends the former to patients with severe skin conditions, and the latter for those adults and childrens of all ages.
As a small clinic, however, DB Medical is unable to do extensive allergy tests as most established clinics do. But if your goal of getting an allergy test is purely confirmatory, then you wouldn't have any problem with this clinic.
Impressive credentials
Open to patients of all ages
Easy booking of appointment
ENT Doctor Singapore – Dr. Dennis Chua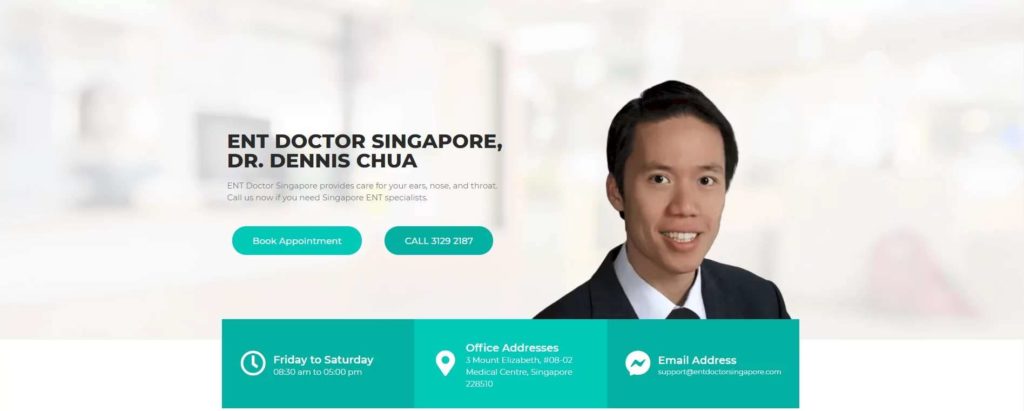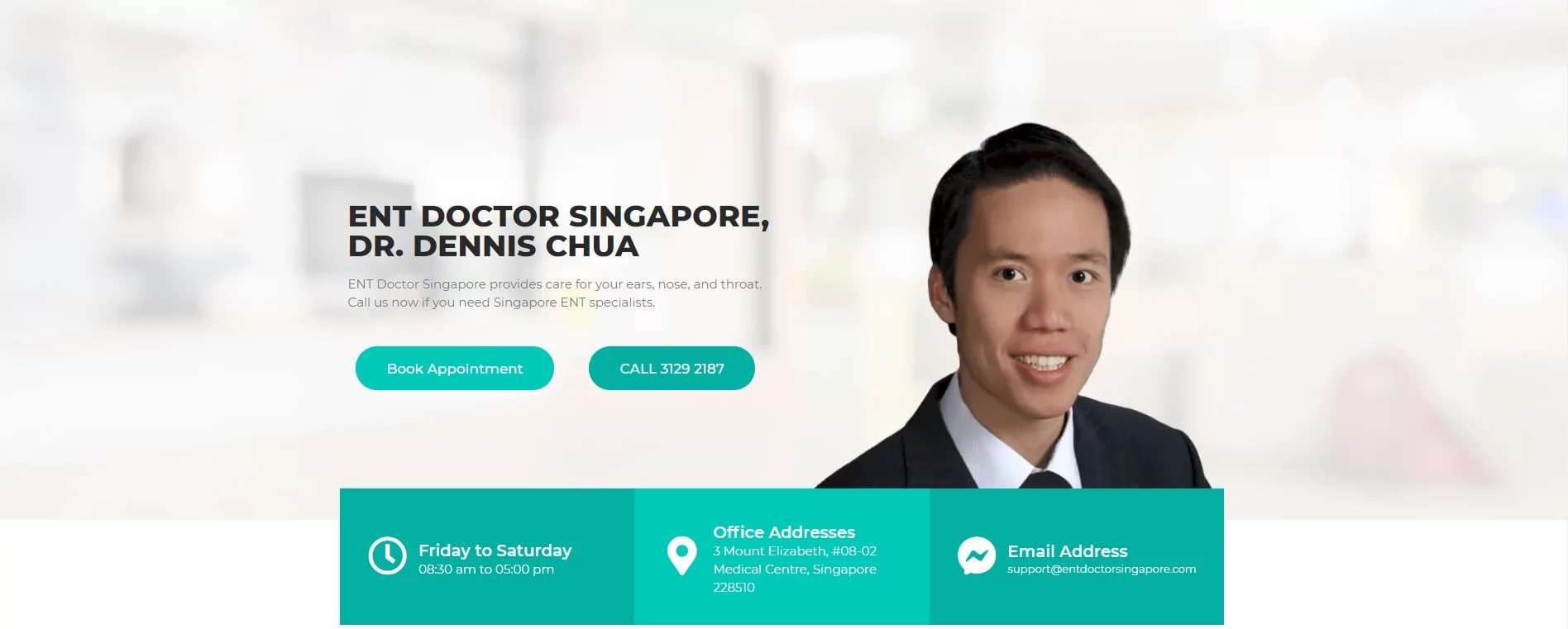 SERVICES
Allergy testing, sleep disorders, facial plastics, sinuses, allergies, throat and thyroid problems, and paediatrics ENT
WEBSITE
https://www.entdoctorsingapore.com/
ADDRESS
3 Mount Elizabeth #08-02 Mount Elizabeth Orchard Medical Centre, Singapore 228510
CONTACT DETAILS
+65 6432 8230


[email protected]

OPERATING HOURS
Monday to Friday: 9:00 AM – 5:00 PM
Saturday: 9:00 AM – 12:00 PM
If you are looking for a full-service ENT clinic, then we suggest taking a look at ENT Doctor Singapore. It's led by Dr. Dennis Chua, an ENT specialist with a subspecialty in facial plastics and reconstructive surgery.
He completed his medical undergraduate degree at the National University of Singapore and earned subsequent otorhinolaryngology training in local clinics and hospitals, so there's no denying that he's an experienced specialist.
Dr. Chua's subspecialties may seem disconnected from allergy tests, but as an ENT doctor, he's the doctor who should come to your mind in case of an allergy attack. Aside from allergies, he can deal with asthma, voice problems, and swallowing problems.
Another reason we added him to our list is his holistic approach to medical conditions. Every patient can expect that he will go beyond traditional medical procedures and prescriptions if your medical condition calls for it.
Full-range ENT clinic
Easy-to-find location
Open on Saturdays
Courteous receptionist
Walk-in patients may have to wait, so booking an appointment is recommended
Dr. Tan & Partners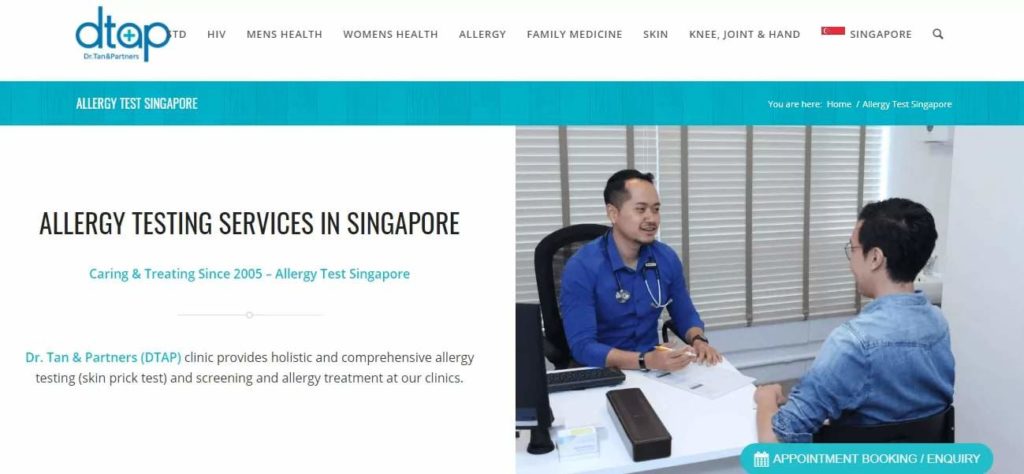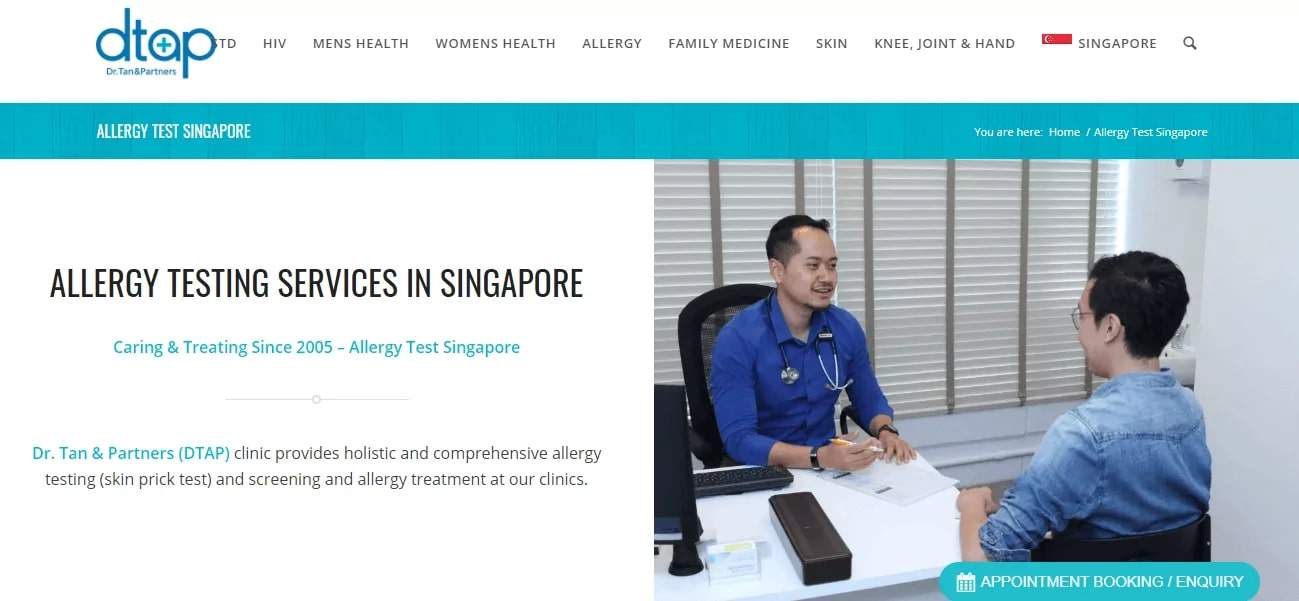 | | |
| --- | --- |
| SERVICES | Single allergy test, food allergy test, seafood allergy test, allergy test for children, animal and insect allergy test, eczema test, STD test, HIV test, and general health screening |
| WEBSITE | https://www.dtapclinic.com/ |
| ADDRESS | 20 Cecil St, #02-01 PLUS, Singapore 049705 |
| CONTACT DETAILS | +65 6962 7144 |
| OPERATING HOURS | Monday to Friday: 8:00 AM – 5:00 PM |
Dr. Tan & Partners is a fully accredited clinic with an extensive array of medical services, including general health screening, sexual health screening, and allergy testing. It's the one to beat when it comes to the range of medical treatments.
The list of its allergy tests basically cover all types of methods to detect allergies, such as food allergy tests, children's allergy tests, and skin prick allergy tests. It even has allergy tests safe for those with eczema and other skin conditions.
Dr. Tan & Partners is capable of providing relief from different forms of allergies too. It provides a treatment called Sublingual Immunotherapy that induces tolerance of your immune systems for allergens.
Apart from allergy testing, Dr. Tan & Partners offer medical treatments for acute and chronic medical issues, and severe skin disease. It's a well-rounded clinic that can look after patients with all sorts of conditions.
If you have other medical concerns but don't have time to personally drop by, you may opt for its teleconsultation service. It's affordable, fast, and accepts almost any form of medical emergency.
Best of all, Dr. Tan & Partners has multiple branches scattered all over the island, making its superb medical services more accessible to every person living in Singapore.
Multiple branches
More than 15 years of experience
Teleconsultation is available
Comprehensive allergy tests
Handles a huge number of patients every day, so delays may happen
Singapore General Hospital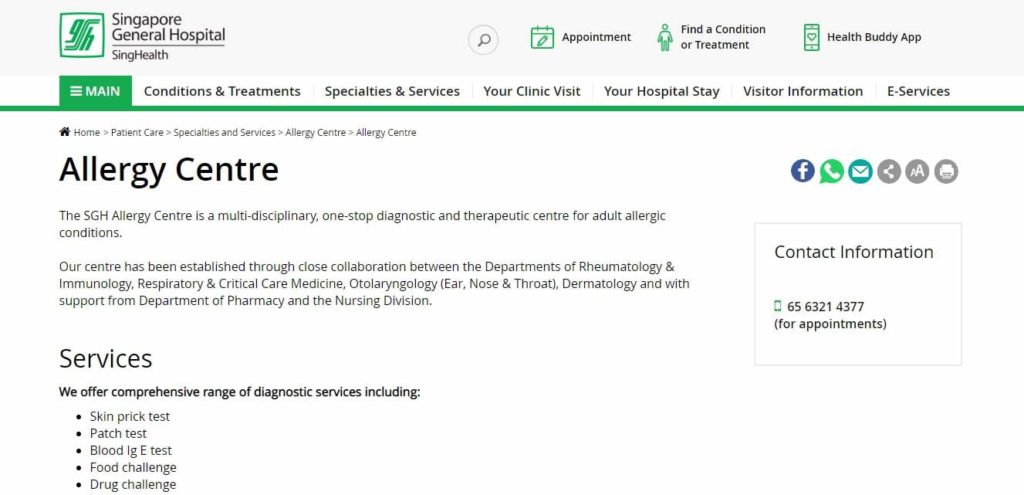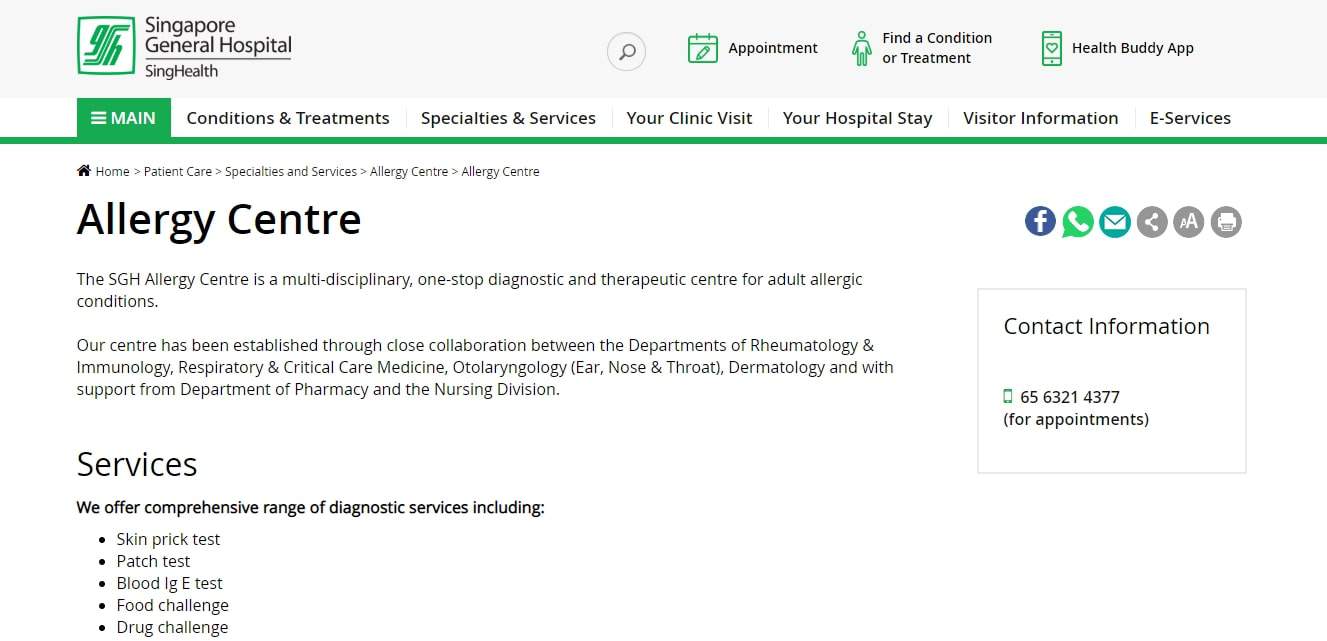 | | |
| --- | --- |
| SERVICES | Skin prick test, patch test, blood Ig E test, food challenge, drug challenge, and nasoendoscopy |
| WEBSITE | https://www.sgh.com.sg/ |
| ADDRESS | Outram Rd, Singapore 169608 |
| CONTACT DETAILS | +65 6222 3322 |
| OPERATING HOURS | Open 24 Hours |
If you're after the allergy tests in Singapore for adults, then look no further than Singapore General Hospital. It's no surprise it earned a spot here considering that it's one of the most prominent hospitals on the island.
Singapore General Hospital has always been consistent with the quality of its medical treatments and making them more accessible to every person on the island. It's government-owned too, so no worries about excessive medical bills.
It houses an allergy centre that stands as a one-stop diagnostic and therapy centre for adult allergies. The types of allergy tests patients can get here include skin prick tests, food allergy tests, drug allergy tests, patch tests, and immunoglobulin E tests.
For more accurate results, SGH's allergy centre collaborates closely with the different departments like immunology, rheumatology, respiratory medicine, and dermatology. This makes it easier to detect if you have serious underlying conditions.
If you're confirmed to have an allergy too, there's no need to transfer to another clinic because it comes with free consultations for skin allergies, allergic rhinitis, and even asthma.
Multi-disciplinary approach
Operates for 24 hours
Safe allergy tests
Free consultations
Booking an appointment is quite hard
Dr. Annabelle Leong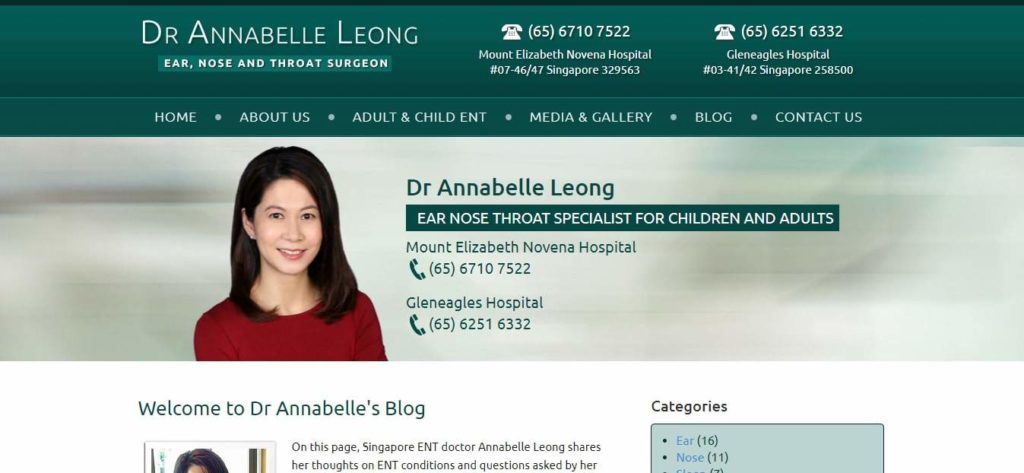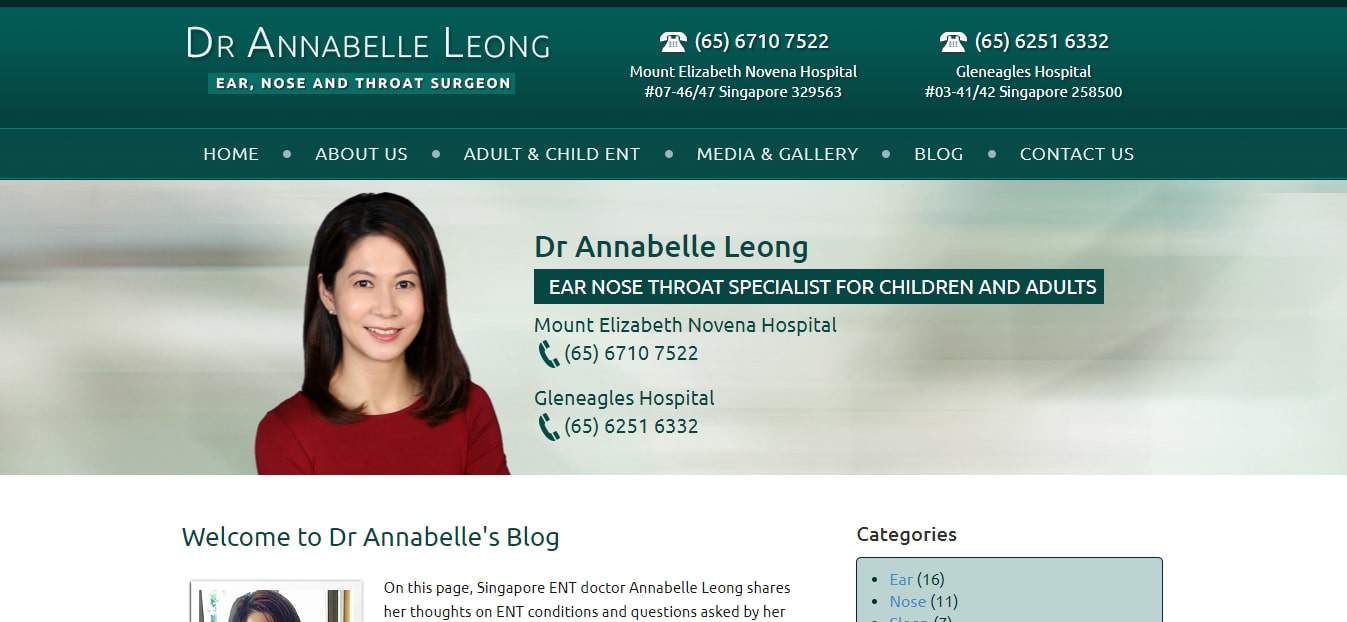 SERVICES
Allergy testing for sensitive nose, sleep and snoring problems, nose and sinus, ear and heating problems, dizziness and imbalance, throat and voice problems, and head and neck
WEBSITE
https://www.drannabelle.com/
ADDRESS
Mount Elizabeth Novena Hospital #07-46/47 Singapore 329563
Gleneagles Hospital #03-41/42 Singapore 258500
CONTACT DETAILS
(65) 6710 7522
(65) 6251 6332
OPERATING HOURS
Monday to Friday: 9:00 AM – 5:00 PM
Saturday: 9:00 AM – 1:00 PM
Dr. Annabelle Leong is another ENT specialist who managed to earn a spot on our list. We highly recommend dropping by her clinic if you want an allergy test to determine the allergens that trigger your sensitive nose.
When treating sensitive noses, Dr. Leong follows a series of steps that starts with allergy testing and ends with desensitisation therapy. She identifies the triggers through a skin prick test or a blood test, both of which can identify several allergens.
Not only can Dr. Leong determine the causes of your allergies, but she can put an end to them as well. Every patient has the option to opt for sublingual immunotherapy, which is a treatment used to calm down the immune system when exposed to allergens.
However, be prepared to take medications for up to three years because that's how long it takes to achieve long-term protection against allergens that trigger your nose.
That aside, another thing we like about Dr. Leong's is that she looks after patients of all ages, from children down to elderlies. She'd be the perfect doctor if your son or daughter inherited your allergies.
All in all, visiting Dr. Leong would do for anyone who's been struggling with nasal allergies their whole life. You'll finally have the upper hand against your allergies when you choose her as your doctor.
For patients of all ages
Open on Saturdays
Two clinics in Singapore
Specialises in nasal allergies
Booking an appointment ahead of time is recommended
Innoquest Diagnostics (formerly Innovative Diagnostics)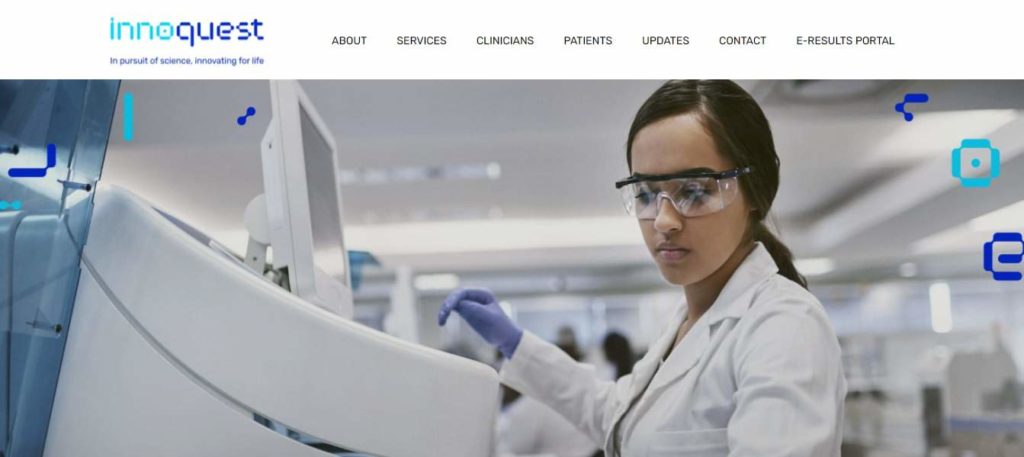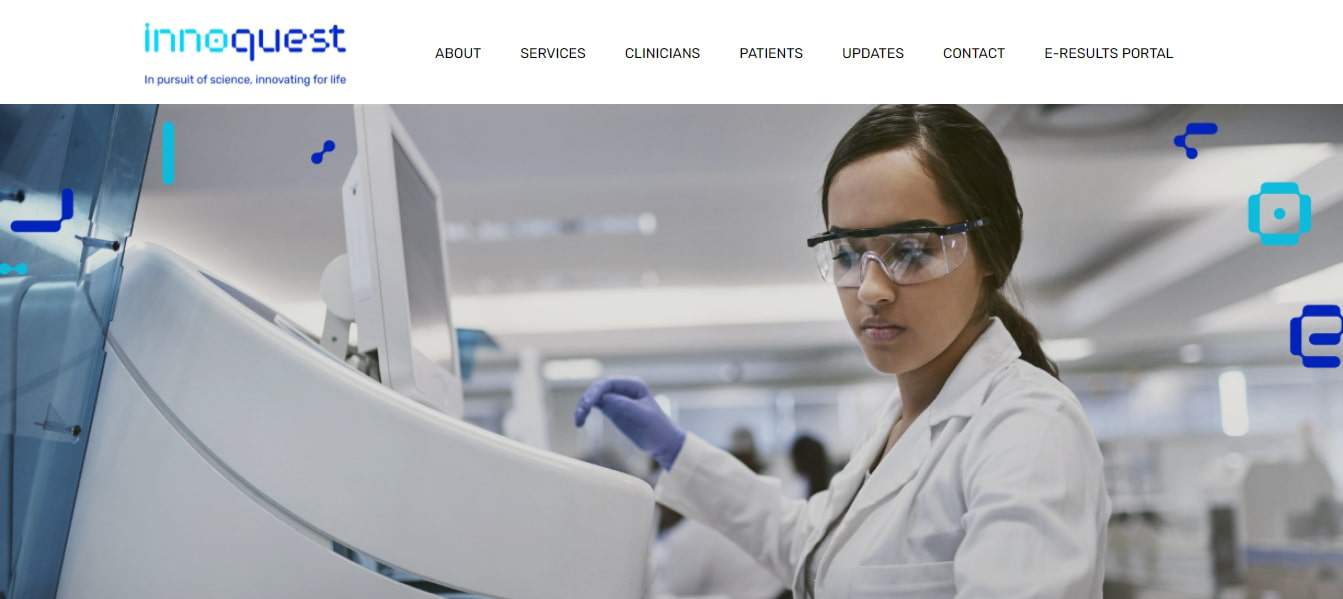 | | |
| --- | --- |
| SERVICES | Allergy testing, biochemistry, cytopathology, haematology, histopathology, immunology, industrial toxicology, microbiology, molecular biology, serology, special chemistry, and health screening |
| WEBSITE | https://www.innoquest.com.sg/ |
| ADDRESS | Level 5-01 to 5-07 15 Jalan Kilang Barat Singapore 159357 |
| CONTACT DETAILS | 6235 6950 |
| OPERATING HOURS | Monday to Friday: 8:30 AM – 5:30 PM |
Innoquest Diagnostics isn't technically a medical clinic, but we still added it here because it offers one of the diagnostics services in Singapore, including allergy tests.
Apart from being a diagnostics laboratory, it's worth checking out because it's equipped with cutting-edge and groundbreaking medical technologies — sometimes including ones that even the most advanced clinics in Singapore can't get.
In fact, Innoquest Diagnostics is serving hundreds of clinics, hospitals, and medical centres all over the island, further proving that its diagnostic tests are accurate.
And if other clinics take a couple of days before releasing your allergy test results, you can receive them within the day with Innoquest Diagnostics. It has the capacity to perform tests on at least 10,000 patients per day, thanks to its automated laboratory system.
There's also an online platform where patients can view the results of their tests, so there's no need to visit the lab to know the results.
Results are posted online
Fast release of results
Equipped with cutting-edge technology
No operations on weekends
Certified Medical Diagnostics Pte Ltd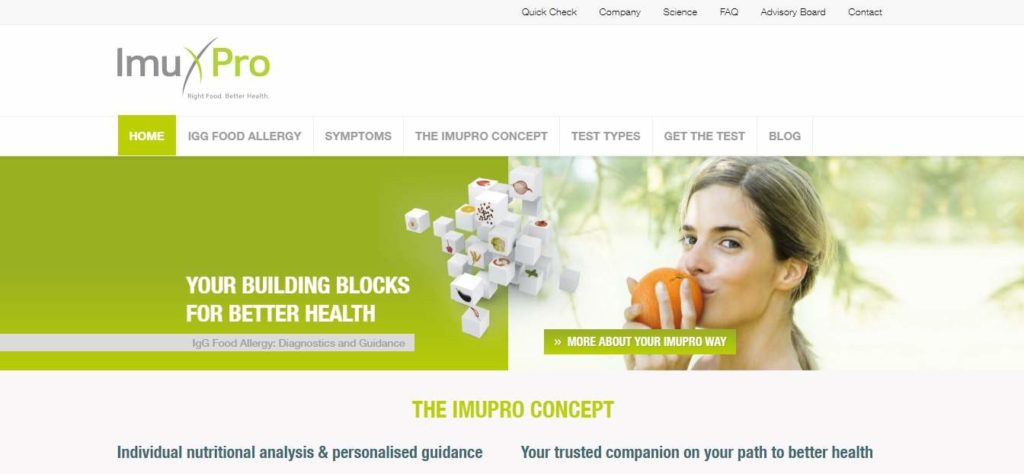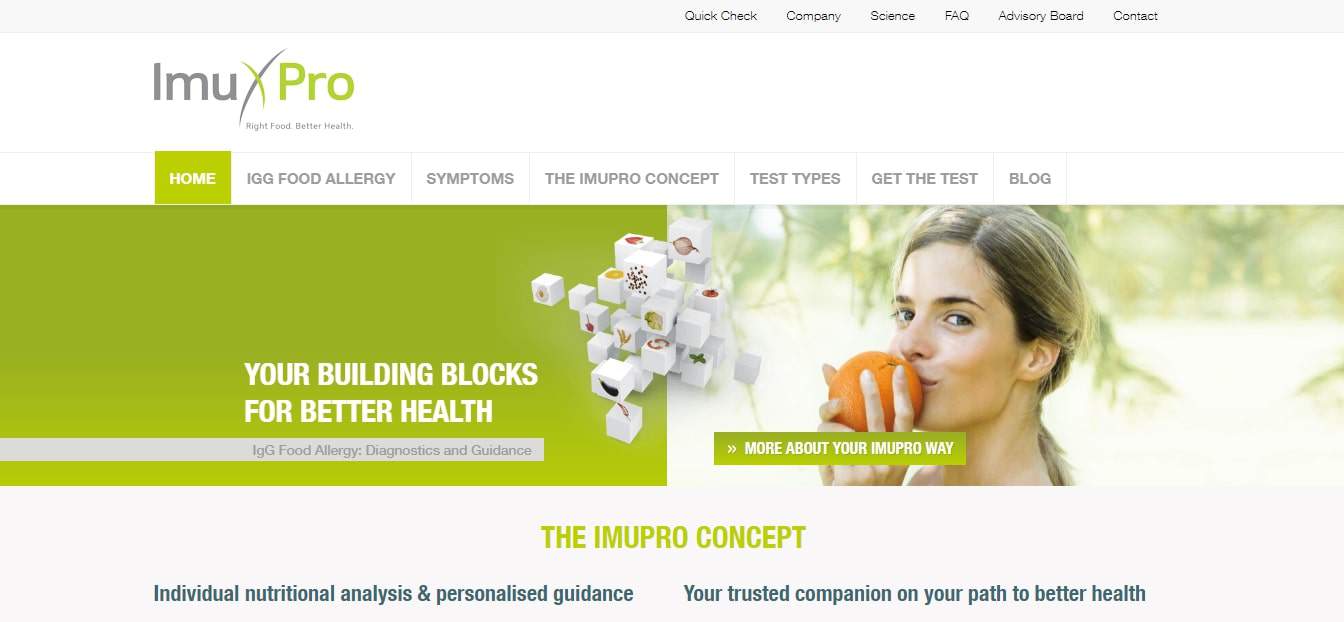 SERVICES
22 food allergens test, 44 food allergens test, 90 food allergens test, and 270 food allergens test
WEBSITE
http://www.imupro.sg
ADDRESS
60 Paya Lebar Square
#12-36 Paya Lebar Square
Singapore 409051
CONTACT DETAILS
8838 0363


[email protected]

OPERATING HOURS
Call their hotline for more details
Certified Medical Diagnostics created a partnership with ImuPro to provide food allergy testing for diagnostics and nutritional purposes. We highly recommend its tests to those who are planning on improving their lifestyle and diet.
Food allergies manifest in various ways, including bloating, headaches, gastrointestinal complaints, and even excess weight. ImuPro's multiple allergy tests can determine which part of your daily diet is causing these, without needing to consult with a specialist.
ImuPro's food allergy tests have the capacity to analyse 22 to 270 food allergens, which is something that most medical clinics in Singapore can't do. To make this even better, you don't need a fortune to get your hands on them.
Aside from their competitive price, the thing we love most about ImuPro's allergy tests is that they come with a brief summary report, personal nutritional guide, and recipe book.
The nutritional guide and recipe book are even tailored to your personal needs to help you achieve your diet goals, so there's no need to consult with a nutritionist anymore!
Can test up to 270 food allergens
Competitively priced
With personalised nutritional guide and recipe book
Accurate diagnostic tests
Operating hours are unavailable
Dr. Gan Eng Cern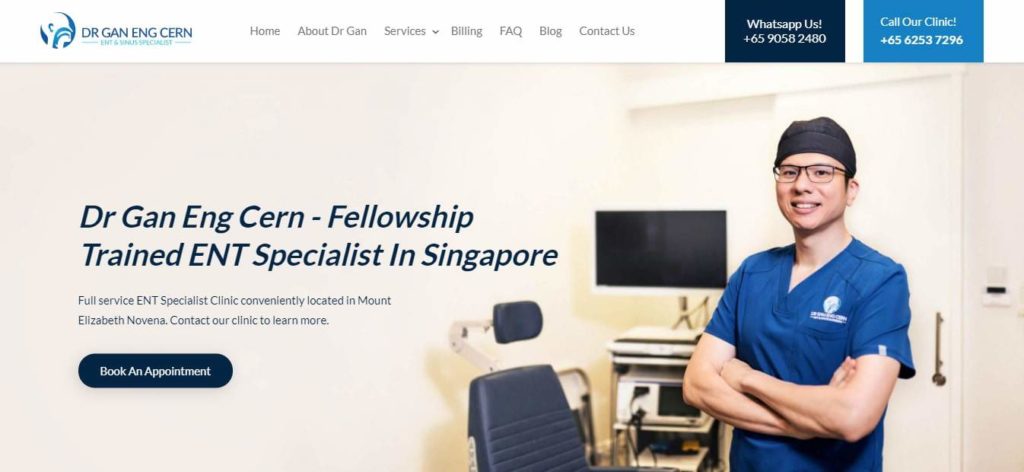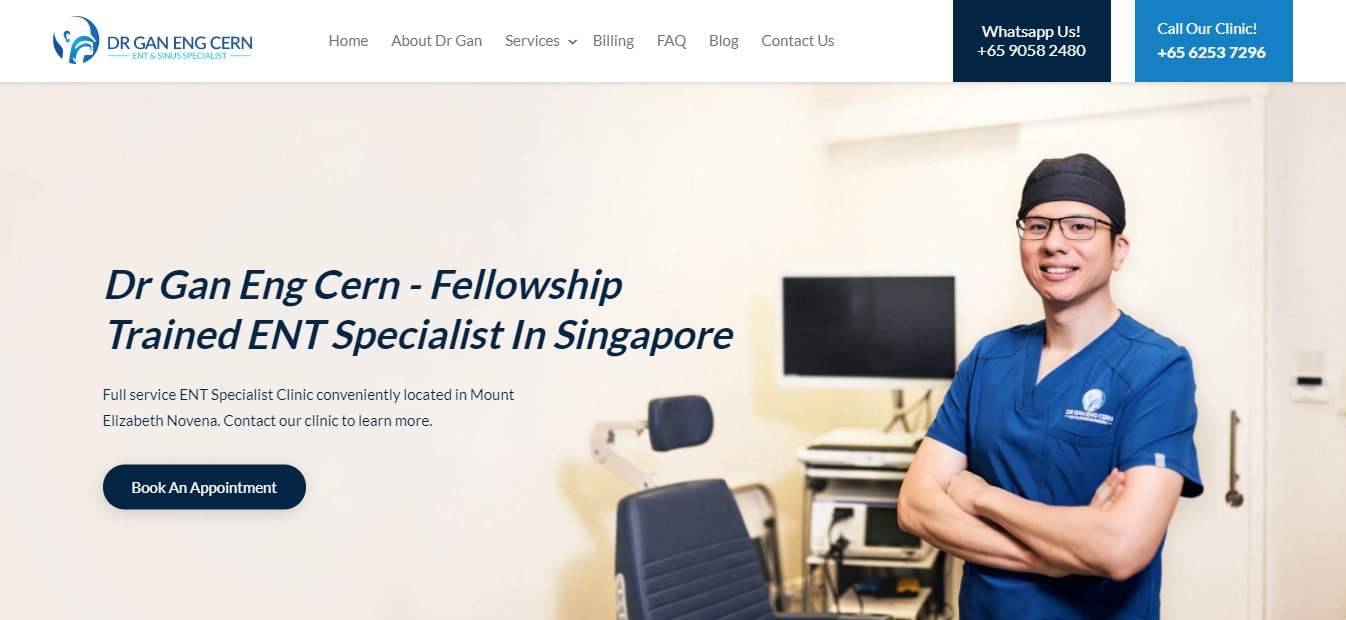 SERVICES
Allergy testing, rhinitis, sinusitis, nasal polyps, epistaxis, snoring, children's ENT, ear infections and bumps, hearing loss, throat cancer, nose cancer, and mouth lesions
WEBSITE
https://www.drganent.com/
ADDRESS
38 Irrawaddy Road #08-45 Mount Elizabeth Novena Specialist Centre Singapore 329563
CONTACT DETAILS
(65) 6253 7296
(65) 9058 2480 (Whatsapp)


[email protected]

OPERATING HOURS
Monday to Friday: 9:00 AM – 5:00 PM
Saturday: 9:00 AM – 12:00 PM
Another ENT doctor you can go to for testing and treating your allergies is Dr. Gan Eng Cern. He's an experienced specialist who focuses on allergies, noses and sinuses, snoring, and ear and balance, among others.
All patients can expect a high level of ENT care at Dr. Cern's clinic because it's equipped with advanced ENT equipment and facilities, allowing him to diagnose and treat a wide range of allergies such as sinusitis and rhinitis.
The common feedback that most patients have about Dr. Cern's clinic is its relaxing and peaceful vibe, which puts them at ease before a treatment. This is great news for those who get anxiety from visiting hospitals and clinics.
Aside from diagnosing allergies, Dr. Cern treats nasal polyps, ear infections, hearing loss, impacted earwax, throat cancer, mouth lesions, and even nose cancer. Basically, he's an ENT specialist who can deal with minor and serious medical conditions.
There are even various financial options open to all patients to ease their financial burden. Its medical staff can even assist patients in their insurance claims, including organising and filling the necessary paperwork.
Can assist in claiming insurance
Spacious and comfortable clinic
Friendly and approachable staff
Equipped with advanced ENT equipment
Not all procedures are covered by insurance
The Health Advisory Clinic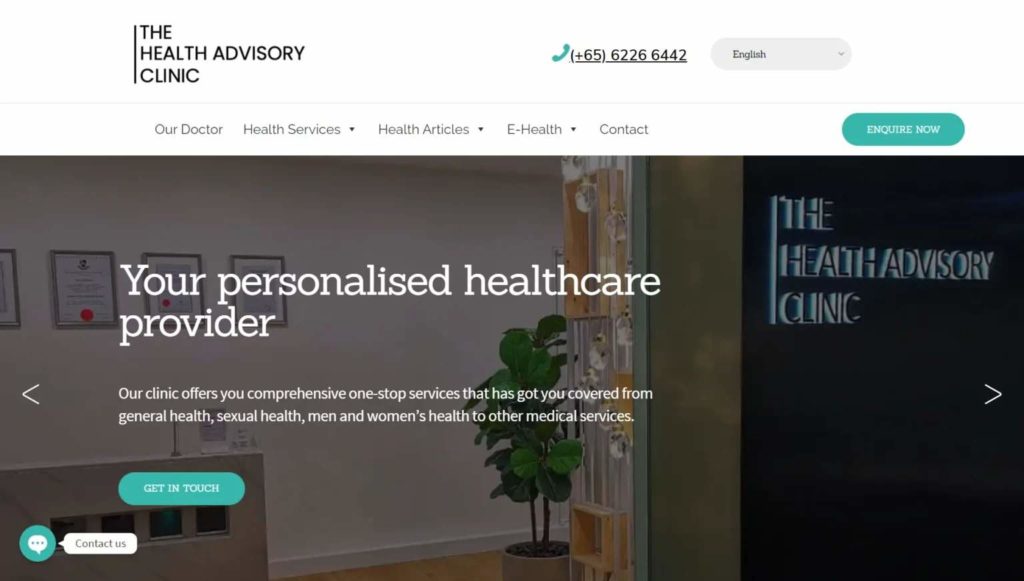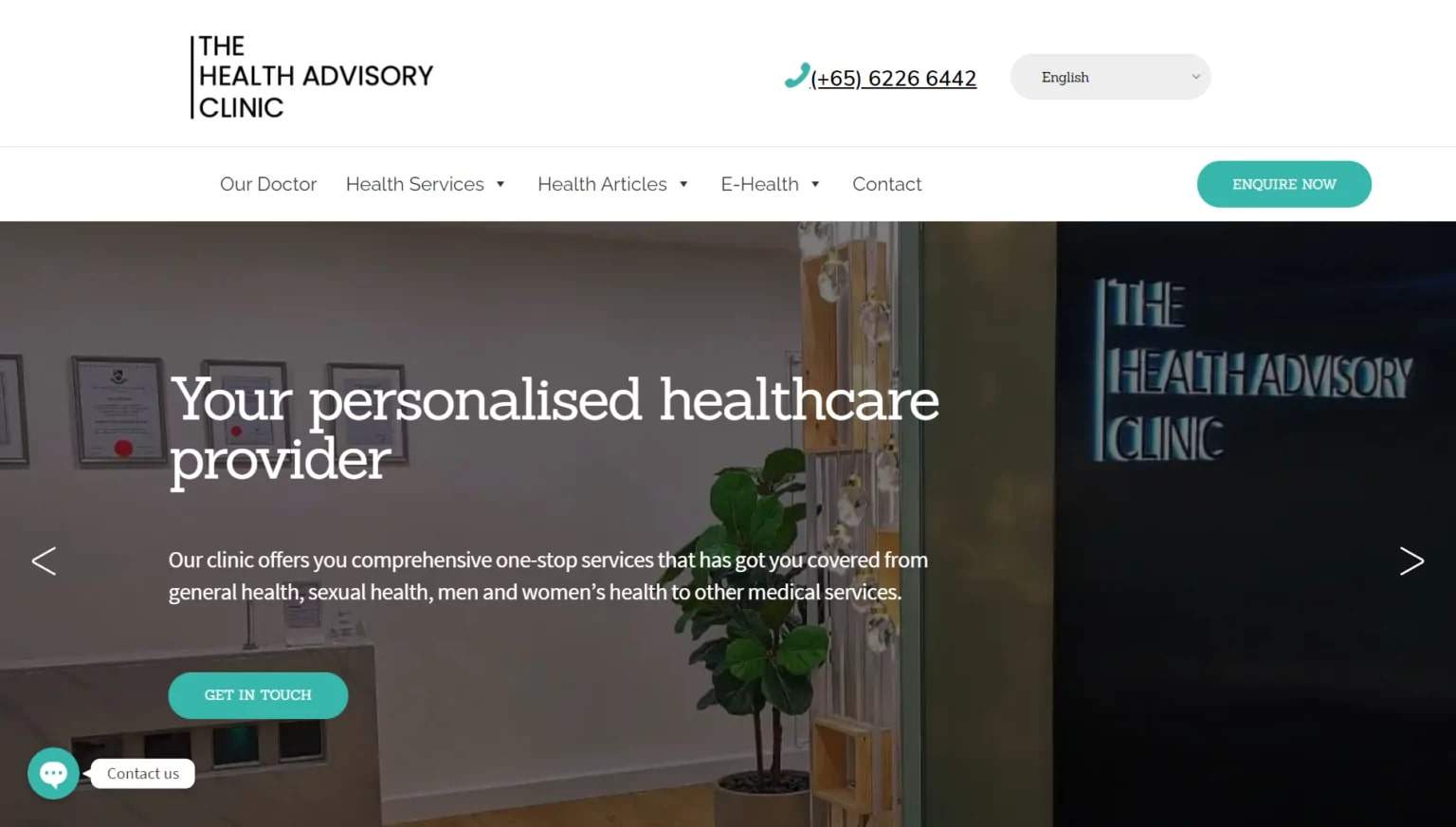 SERVICES
Allergy testing, health screening, vaccinations, women's health screening, cancer screening, and weight loss treatment
WEBSITE
https://healthclinicgroup.com/
ADDRESS
1 Raffles Place #04-49 Singapore, 048616
CONTACT DETAILS
(+65) 6226 6442
(+65) 9886 6442


[email protected]

OPERATING HOURS
Monday to Friday: 9:00 AM – 6:00 PM
Saturday: 9:00 AM – 2:00 PM
If you're looking for a well-rounded medical clinic, then you might want to check out what The Health Advisory Clinic can offer. It earned a spot here based on three main reasons.
First, it's primarily known for its general and women's health screenings, but we've tried its allergy tests, and we stand by their quality and accuracy. It provides testing for various allergens like dust mites, mould, food, and insects, among others
Second, The Health Advisory Clinic breaks the notion of doctors being snobs and inaccessible. In fact, any patient can reach out to its doctors by calling their hotline and sending them an email.
It's extremely easy booking an appointment with them too. You don't have to go through hoops just to secure a slot on your most preferred date and time, which can't be said about other clinics in Singapore.
As it's a full-range medical clinic, you won't have to transfer to other clinics if you have concerns beyond allergies. It also offers cancer screening, women's health screening, vaccinations, and even weight loss treatments.
It's located at the heart of the Central Business District, so as long as you know how to commute, we promise you won't get lost trying to find it.
Full-range medical services
Easy booking of appointment
Convenient location
Personalised healthcare
Rates are slightly above average
FAQs about Allergy Testing
---
And with that, we conclude our list of the places offering the allergy tests in Singapore. With these clinics, you will be able to put a name to what's been causing your allergies.
If you know other clinics with the allergy tests in Singapore, don't hesitate to share their names with us and we'll check if we can add them to our list.
And if after doing an allergy test you find out that your allergy is connected to your respiratory system, we highly recommend that you seek another opinion from the respiratory specialists in Singapore to prevent further damage to your respiratory system.