The 13 Best Landscape Services in Singapore
Who doesn't want to see well-maintained outdoors filled with beautiful flowers and green grass every day? If you've been wanting to improve your garden, consider yourself lucky because we're listing the best landscaping services in Singapore today.
With the best landscaping services in Singapore, you don't have to do the work of cleaning up and planting flowers in your garden. All you need to do is sit back and relax while these landscaping experts do their magic!
1. Landscape Contractor Singapore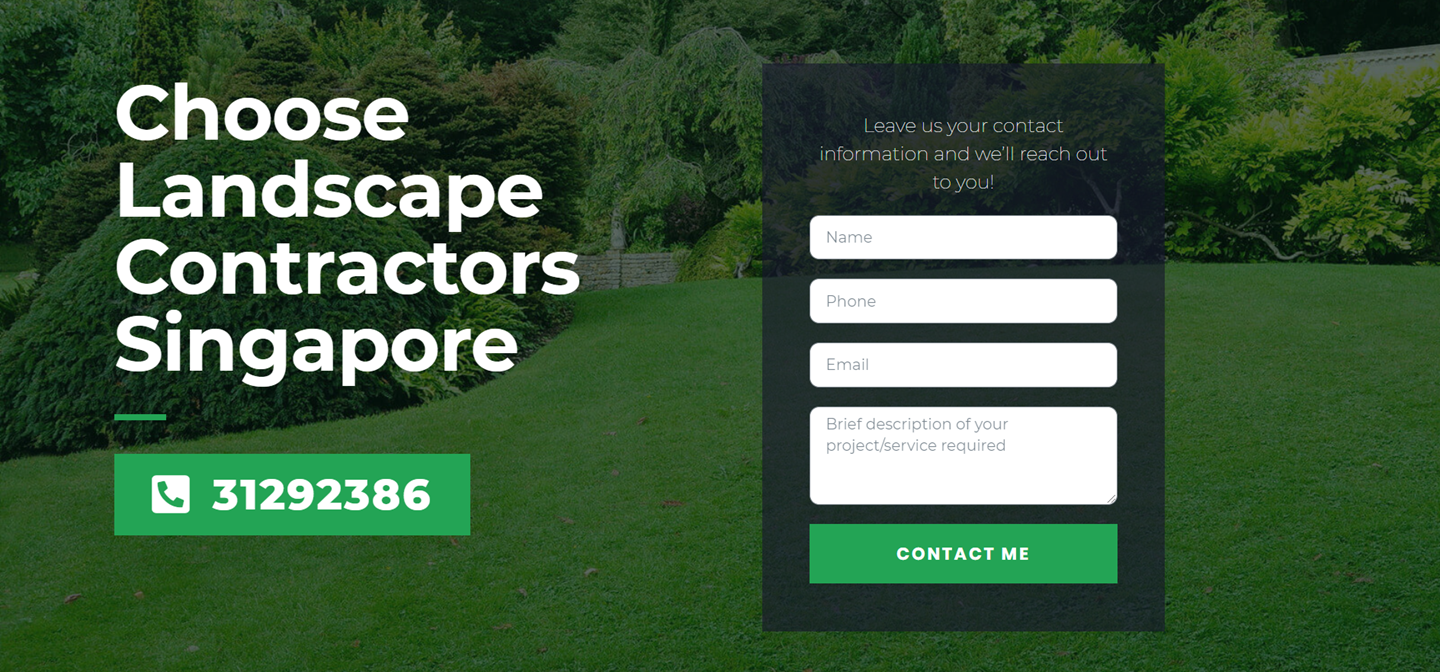 BEST FOR

Transparent, Affordable, Landscaping Services

SERVICES
Tree care
Plants
Grass maintenance
Pathway maintenance
Driveway clearing
Landscape design and installation
Landscape maintenance
Garden installation
WEBSITE
https://www.landscapecontractorsingapore.com/
ADDRESS

N/A

CONTACT DETAILS
+65 6432 8265
When it comes to quality landscaping, you deserve the best– choose Landscape Contractor Singapore. They are known to deliver only the finest landscaping services to all of their clients.
May it be hardscape or softscape, they offer a variety of services for an affordable price. Their services remain excellent thanks to their professional team of experts. They have specialists for every part of the job, from design to installation.
If you want to see how they work yourself, that's no issue– they guarantee transparency on each step of the installation process. Customer satisfaction is their priority, so you can be sure that they'll fulfill all of your landscaping needs. You can count on them to bring your vision to life on just their first try.
Highlights
Amazing outdoor landscape designs
Highly trained, ultra-professional staff
Detailed landscaping
Customer Reviews
Here's what a very satisfied client had to say about Landscape Contractor Singapore's amazing service:
"I used to have artificial lawn installed in my yard until I realized it wasn't good for me. I looked for landscaping services in Singapore and found these guys. They took out my turf, planted fresh flowers and added a cobblestone walkway on my yard. Now my garden looks so alive when I come home." – Dorian Sy
2. Earthscape Concepts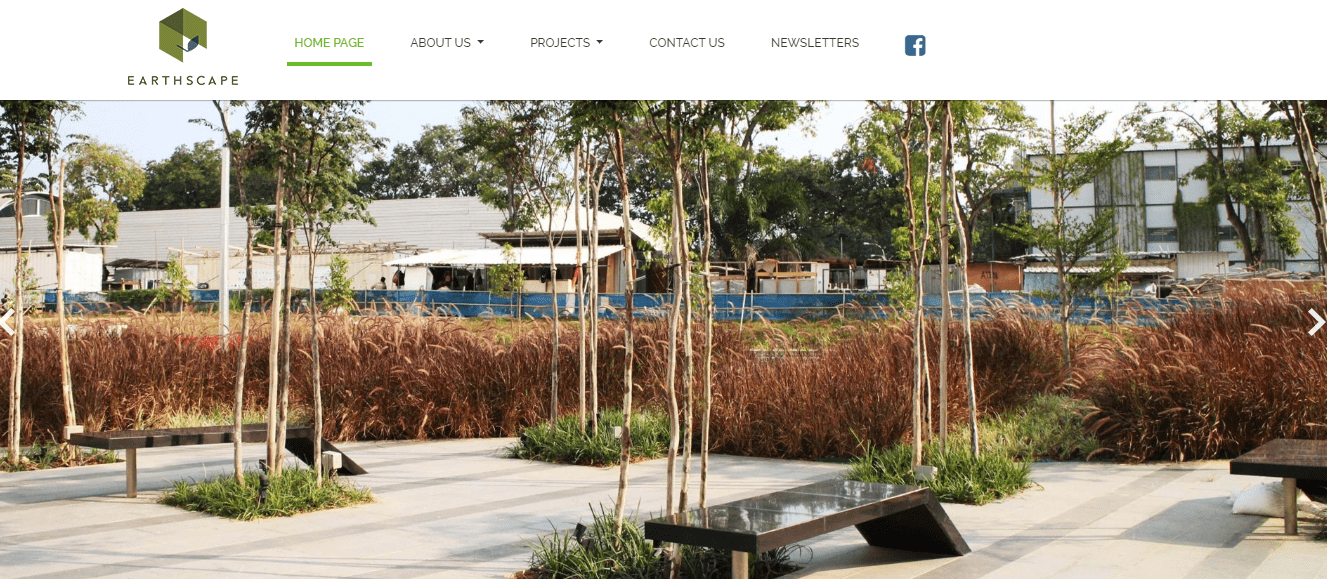 | | |
| --- | --- |
| BEST FOR | Residential Landscaping |
| SERVICES | Design Consultancy, Design and Build, Project Implementation, Landscape Maintenance, and Corporate Plant Rental |
| WEBSITE | https://earthscape.com.sg/ |
| ADDRESS | 15 Joan Rd, Singapore 298899 |
| CONTACT DETAILS | +65 6848 9449 |
| OPERATING HOURS | Monday – Friday, 9:00 AM – 5:00 PM |
Earthscape Concepts is a landscaping expert that offers full-range services to both residential and commercial spaces, including design consultancy, project implementation, maintenance, and many more.
With over 14 years of experience, its team of consultants and technicians are also experts in turning gardens into works of art.
It's also committed to making Singapore into a cleaner and greener space — that's why it strives to improve almost every garden on the island. As a customer, you're confident that the people you hire care for the environment as much as you do.
Earthscape Concepts can help you build a greener home amidst the highly urbanised place that is Singapore. That's why we're listing it among the best landscape services in Singapore.
Highlights
14 years of experience
Sustainable services
Experienced technicians
3. Eco-Scape
| | |
| --- | --- |
| BEST FOR | Eco-friendly Services |
| SERVICES | Landscape Design, Landscape Maintenance, Florist Services, and Cleaning Services |
| WEBSITE | https://www.eastec.com.sg/ |
| ADDRESS | 201A Jln Eunos, Singapore 415803 |
| CONTACT DETAILS | 6747 5282 |
| OPERATING HOURS | 9am-7:30pm, Monday to Sunday |
Eco-Scape has been operating in Singapore since 2004, providing gardening and landscaping services to residential homes. We consider it among the best landscaping services in Singapore for its environmentally friendly solutions.
In terms of staff, Eco-Scape also doesn't fall short. It boasts highly trained and experienced staff who can deal with all types of gardens, no matter how small or big they are.
On top of that, everyone on Eco-Scape is dedicated to meeting the demands and expectations of its clients. If you sign up for its services, you don't have to worry about receiving the quality of service that you paid for and expected.
What's more, it also sells gardening tools and decorations online in case you're in the mood to do some gardening work.
Highlights
Wide range of services
Online for gardening
Experienced staff
4. Green Fingers Landscaping Services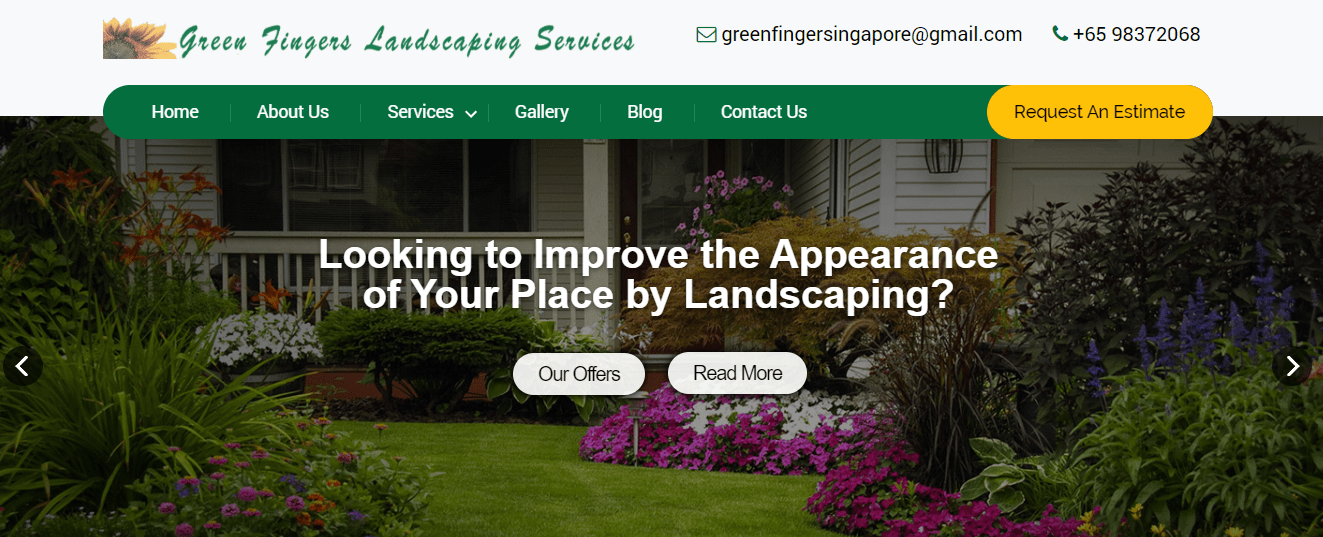 | | |
| --- | --- |
| BEST FOR | Residential Services |
| SERVICES | Landscaping, Garden Irrigation, Plant Decorations, Potted Plants, Maintenance, and Herb Planting |
| WEBSITE | http://greenfingers.com.sg/ |
| ADDRESS | 6 Battery Rd, #30-01, Singapore 409909 |
| CONTACT DETAILS | +65 98372068 |
| OPERATING HOURS | Monday – Friday, 9:00 AM – 7:00 PM |
If you're seeking a landscaper that can turn your ugly garden into a green paradise, then Green Fingers Landscaping Services comes highly recommended.
It provides customers with comprehensive gardening services that include grass cutting, pest control, fertilisation, and a whole lot more.
Moreover, Green Fingers also promises the following if you hire its services: increase home value by 20%, improved overall atmosphere of the house, lowered noise level, optimised outdoor space, among many others.
It's one of the best landscape services in Singapore in terms of variety of services and their benefits.
Green Fingers is also known as a company that's passionate about plants, so it commits to planting flowers and plants in its customers gardens. Its workers are also supervised to ensure that they deliver quality services at all times.
If you sign up for its services now, you don't have to pay for a consultation fee!
Highlights
Supervised workers
Competitive price
Free consultation
Customer Reviews
Take a look at some reviews received by Green Fingers Landscaping Services:
"It's a pleasant experience working with Green Fingers. Queenie and her teams always attended our problem promptly. She's really passionate about her work in this field. Throughout the entire work, we received constant updates on the progress.We are happy with the result she delivers. Thanks once again"
"Green Fingers Landscaping service provides the best service for plant maintenance. They always keep your plants healthy and the garden clean. They also have a water dripline irrigation service with the tidy and neat dripline cable position"
5. Tai Kwang Garden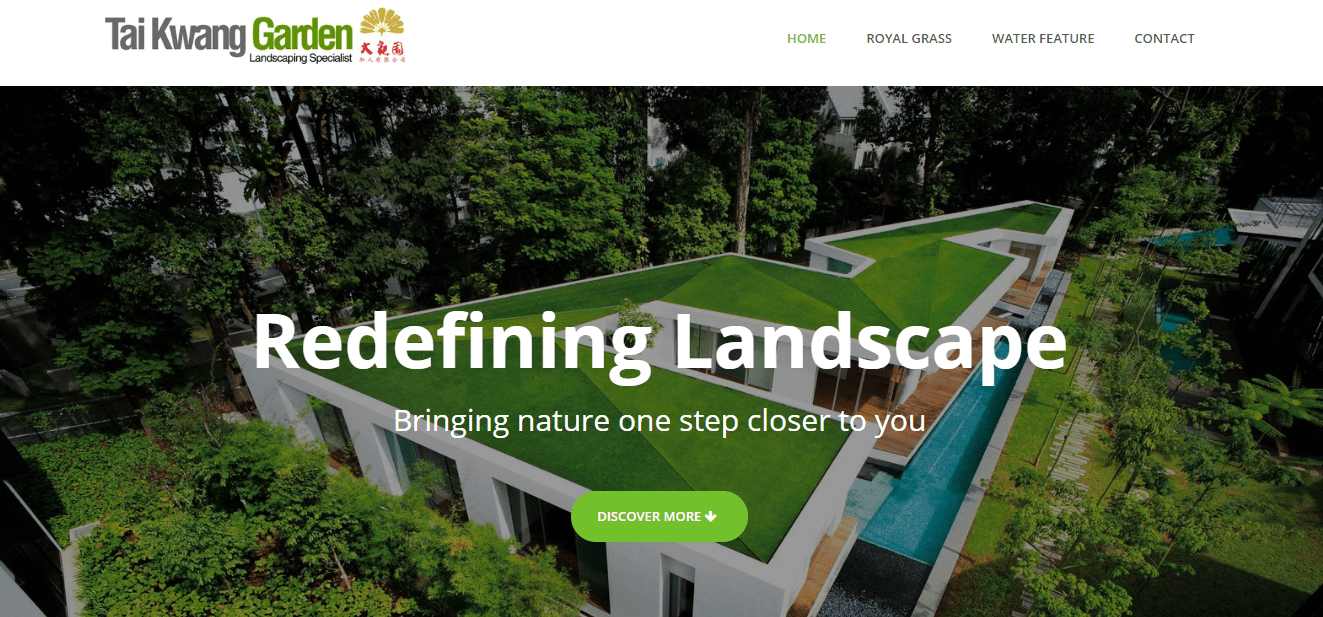 BEST FOR
Superior Workmanship
SERVICES
Landscaping, Water Features, and Royal Glass
WEBSITE
https://www.taikwang.com.sg/
ADDRESS
2 Jurong Gateway Rd, #01-09/10 SPARK Singapore, Singapore 608512
CONTACT DETAILS
(+65) 6793 7779

(+65) 9069 1948

OPERATING HOURS
Monday – Friday, 9:00 AM – 6:00 PM
With more than 25 years of landscaping, Tai Kwang Garden has grown into one of the best landscaping services in Singapore, with clients from both commercial and residential spaces.
It's no surprise that its services are in demand because its workers have always been known for their excellent workmanship that competitors can't seem to match.
Despite being in the business longer than most, its rates remain affordable and competitive. Its owners believe that everyone deserves to have access to quality services.
On top of this, it also remains quick and efficient when it comes to formulating designs and plans.
In terms of services, Tai Kwang Garden focuses only on landscaping, water features, and royal grasses. It may be a short list of services, but any one of these can improve the atmosphere of your home significantly, without draining the contents of your wallet.
Highlights
Competitive prices
Well-reputable
Experienced staff
Customer Reviews
As one of the top landscaping services in Singapore, Tai Kwang Garden has been constantly loved by its customers.
"Recently engaged Tai Kwang Garden services. They are prompt & professional in giving suggestions to beautify the landscape in proper manner. Everything was properly setup & arranged according to plan. Seeing the end result was the happiest moment. Thank you Tai Kwang Garden & Christine. A landscaping company you can trust!"
"Awesome experience at Tai Kwang Garden. I was attended to by Celeste. She was very patient. She offered us many options and displayed it to us so that we can better visualize the final design. We are very happy with our purchase!"
6. Chin Ling Nursery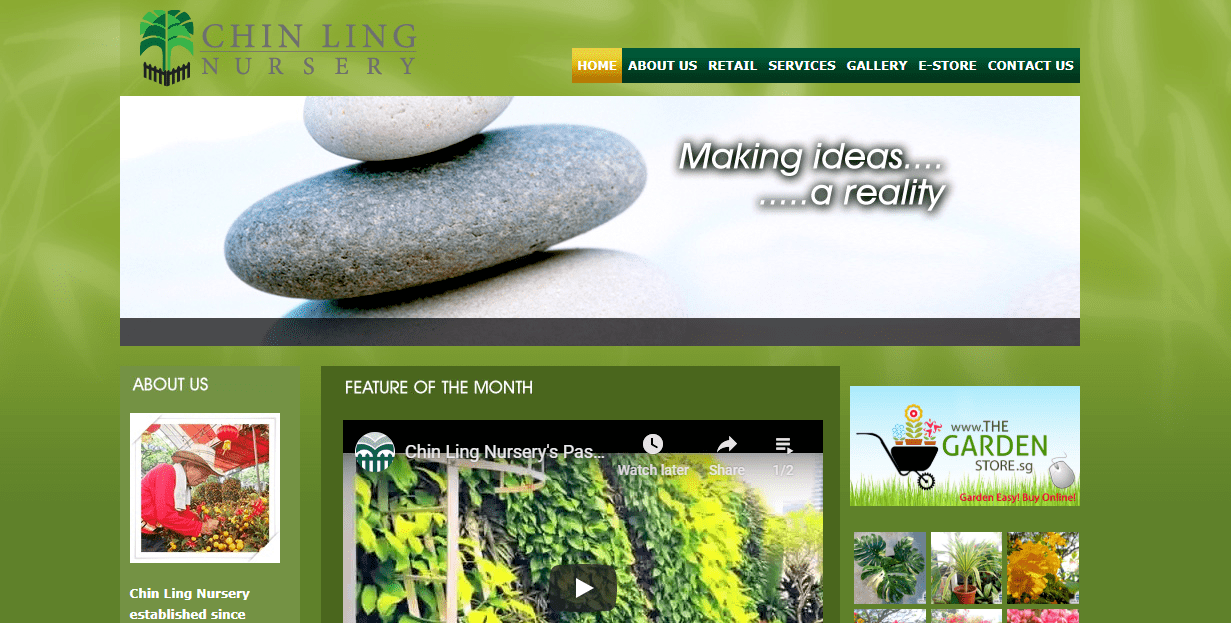 | | |
| --- | --- |
| BEST FOR | Landscape Designing |
| SERVICES | Landscaping, Landscape Consultation, and Landscape Maintenance |
| WEBSITE | http://www.chinling.com.sg/ |
| ADDRESS | 10 Bedok S Rd, Singapore 469274 |
| CONTACT DETAILS | +65 6448 8602 |
| OPERATING HOURS | Monday – Friday, 8:00 AM – 7:30 PM |
Chin Ling Nursery offers both landscaping services and landscaping tools and decorations to customers in Singapore. Since 1984, it's been making lives easier for locals through its quality services and helpful gardening tools.
In addition, its team of technicians and gardeners only use the most advanced gardening equipment to make their job faster and more efficient. They will also be with you in every step of the landscaping process to answer all your questions and concerns.
Over its years of operation, it has received multiple awards of award-giving bodies, proving that its services haven't wavered through the years. Just last year, it was awarded the LIAS Award of Excellence for the retail category.
Highlights
36 years of experience
Advanced gardening tools
Experienced gardeners
7. Hawaii Landscape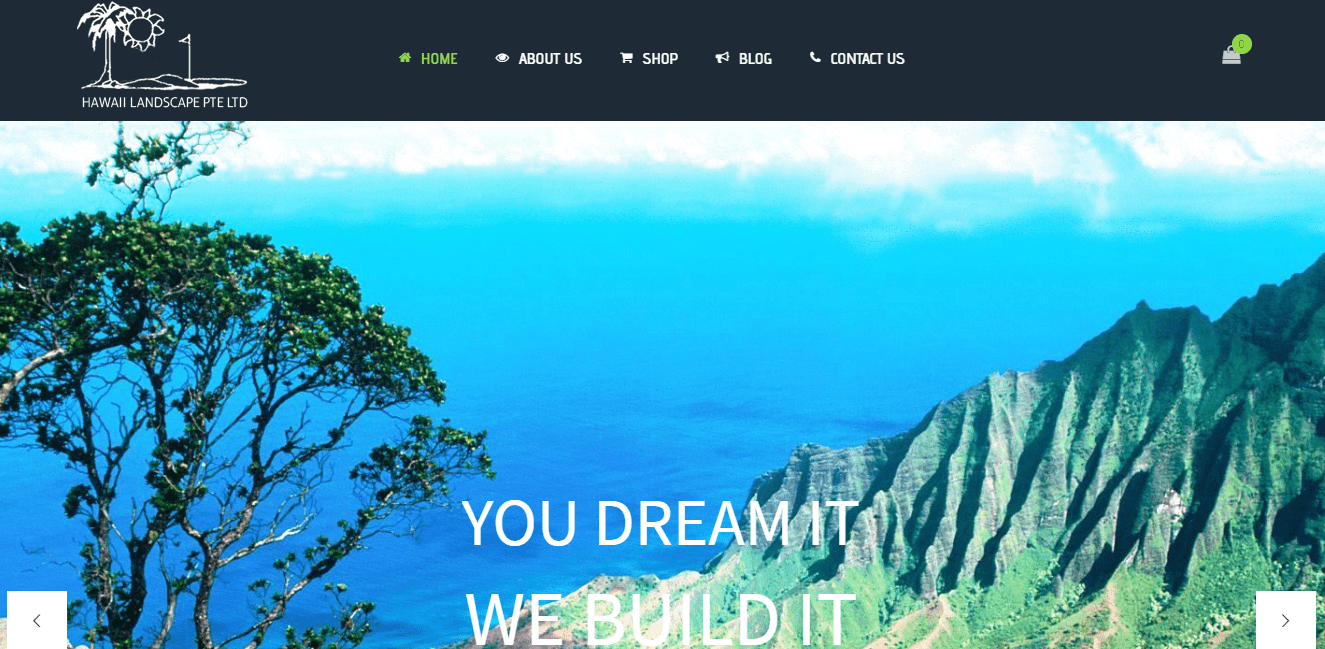 | | |
| --- | --- |
| BEST FOR | Landscape Architecture |
| SERVICES | Landscaping, Timber Works, Water Features, Residential Landscaping, Swimming Pools, Nurseries, and Golf Course |
| WEBSITE | https://hawaii.sg/ |
| ADDRESS | 559 Thomson Rd, Singapore 298182 |
| CONTACT DETAILS | (+65) 6251 3963 |
| OPERATING HOURS | Monday – Friday, 9:00 AM – 7:00 PM |
Hawaii Landscape has been operating on the island since 1968, making it one of the pioneers in landscaping services in Singapore.
Over the years, it has proven to a lot of customers that it's definitely the best in terms of landscaping services through the various awards it's received.
A few of its in-demand services are roof gardens, water features, golf courses, commercial landscaping, swimming pools, and a whole lot more.
With its wide range of services, you no longer need to call the services of other gardeners and landscapers!
Highlights
One-stop landscaping services
Site investigation and surveys
8. Guan Lee Heng Contractor Pte Ltd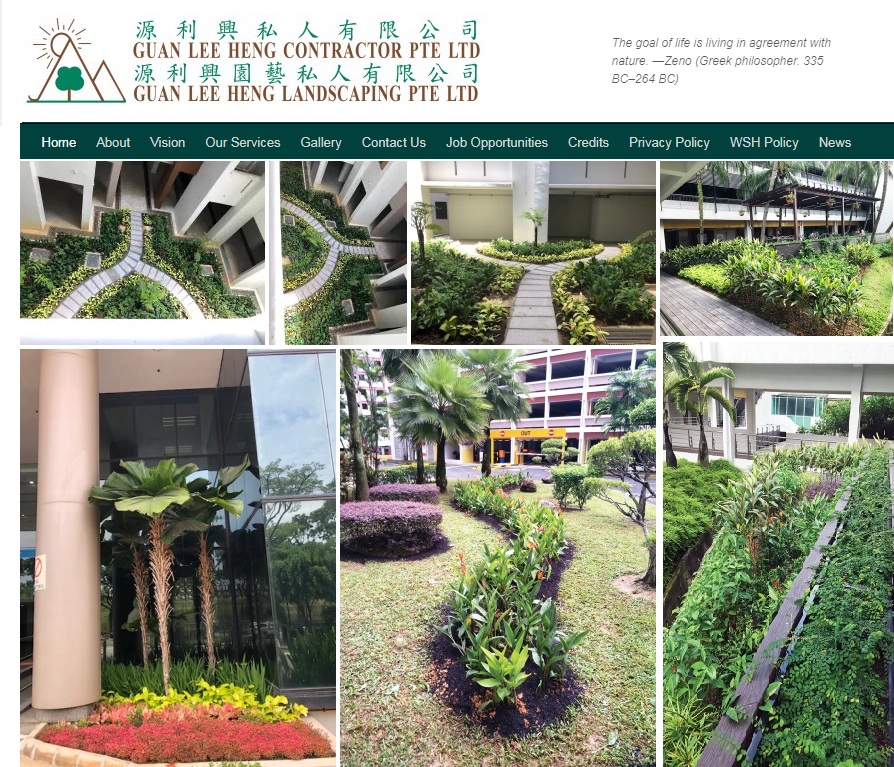 Guan Lee Heng Contractor Pte Ltd is a Singapore based firm that you should know about when looking for the best landscape service providers near you. Their more than 41 years of experience in this industry and the multiple awards they've won just proves this company's capacity to continue to excel and improve year after year.
They specialize in a number of landscaping areas including arboricultural, horticultural, and conservancy services. If you want a beautiful and sustainable backyard that will thrive for a long time, trust these experts.
Highlights
Winner of Singapore Outstanding Enterprise 2016 and Singapore Entrepreneurs Award 2015-2016

Creative landscape designs

Expert conservancy services
9. Satori Landscape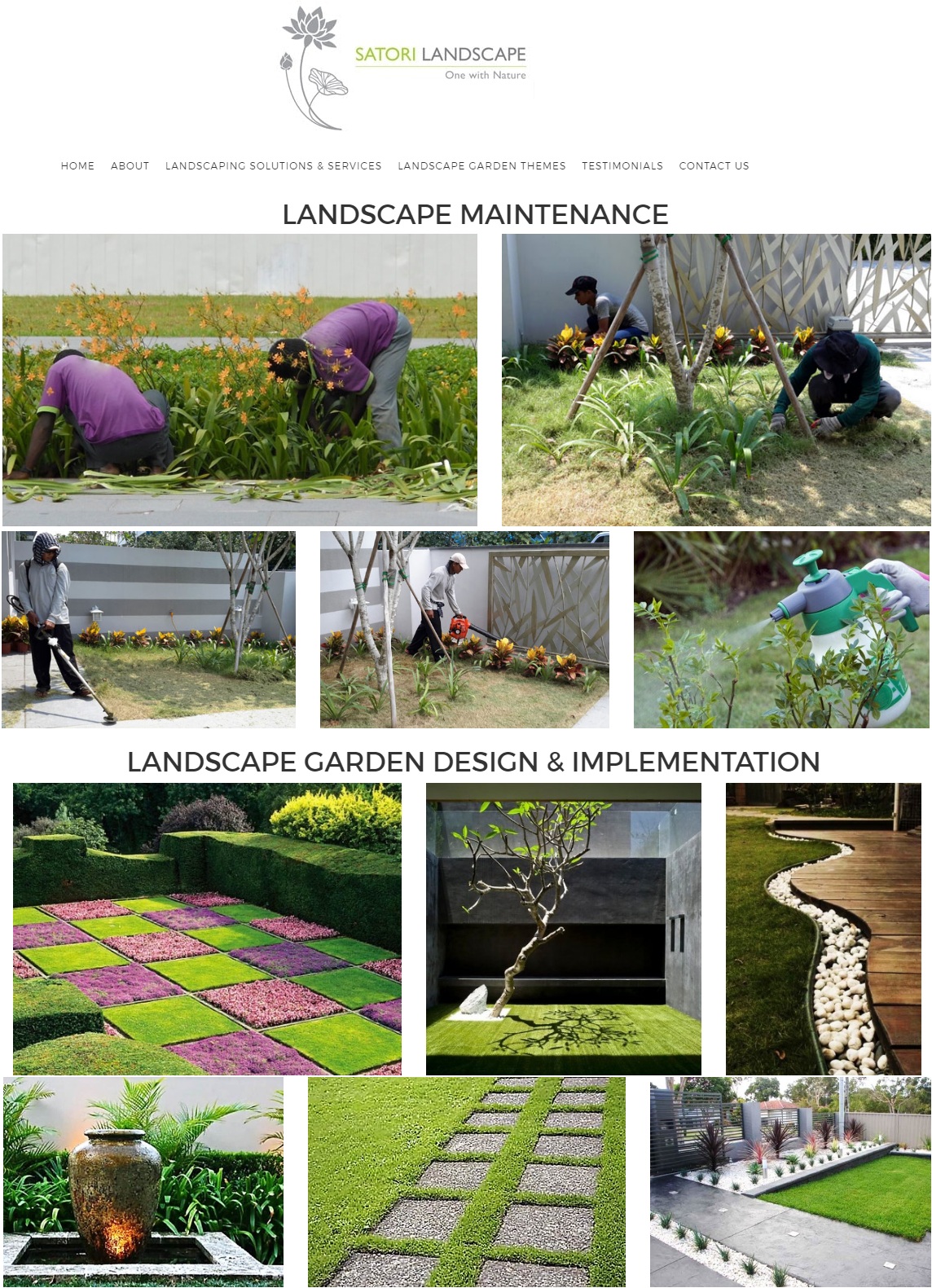 Satori Landscape is definitely one of the big guns in the landscape services scene in Singapore. This company has handled small and big clients alike, working their magic on various spaces they're given with.
Aside from exemplary landscaping services that cover the basics in gardening, we love that they offer the more innovative services that homeowners can enjoy while helping in keeping the earth healthy such as Indoor Planting and Green Roof And Green Wall Systems.
Both are easy to maintain with their help and will really help in cooling down your house in a world that seems to heat up day by day.
Highlights
Sustainable Green Roof And Green Wall Systems

Easy Care Indoor Planting Services

Friendly Landscaping and Gardening Specialists
Customer Reviews
Here are a few words from a Satori Landscape client:
"Kevin designed a courtyard garden, a few balcony planters and corner gardens for us. We are very happy with his work. He is very creative and he understands the plants. He is able to translate concepts into reality and he takes time to do his job thoroughly. In short, he cares. We would highly recommend him if you want something unique and top quality.
XIAODAN & MARCO @ OCEAN DRIVE, SENTOSA"
And that's it for our list of the best landscaping services in Singapore. We hope you were able to pick one to trust with beautifying your garden and outdoors.
10. Vertical Green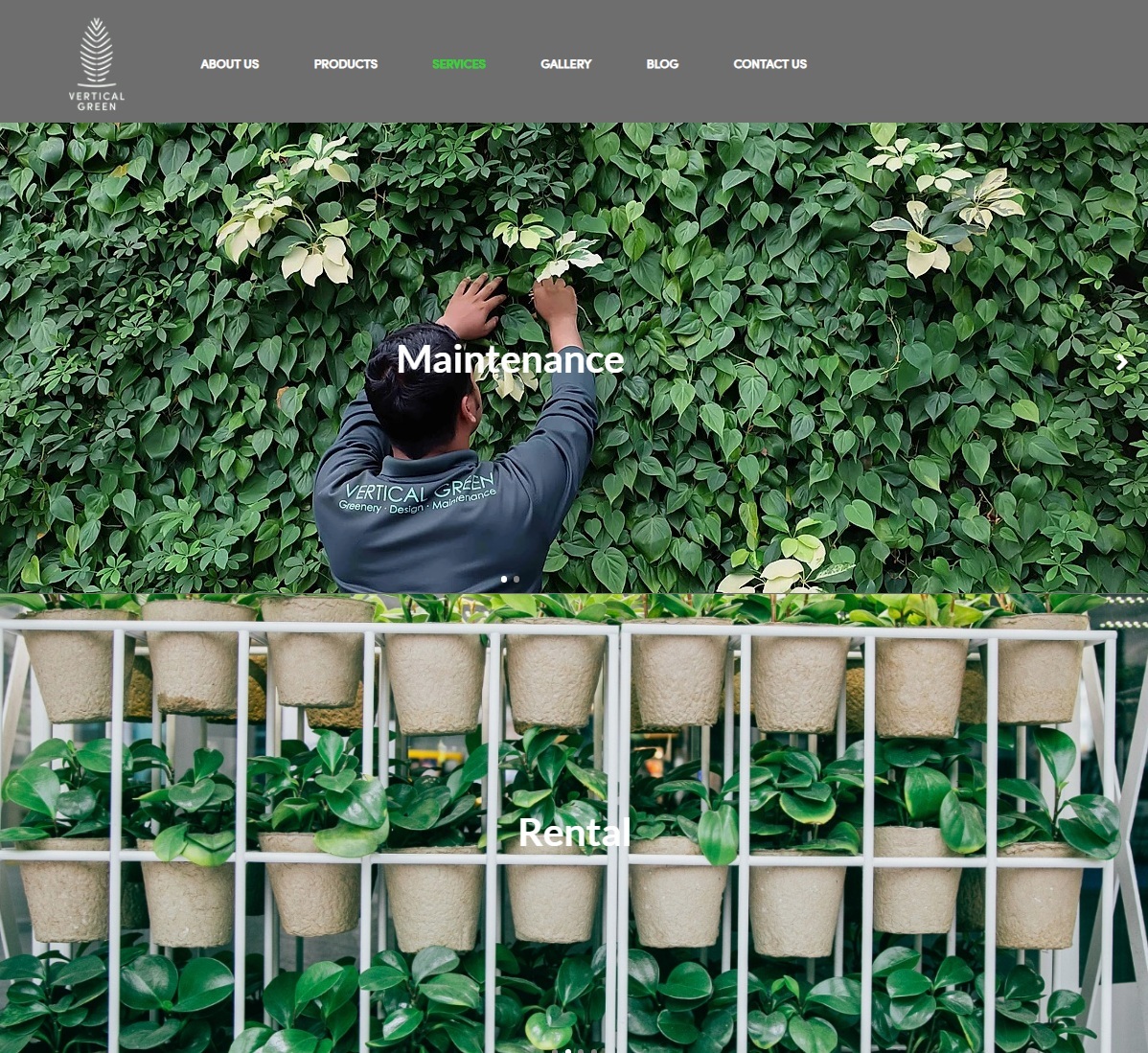 BEST FOR

Innovative vertical landscape

SERVICES

Design, Maintenance, Rental, Greenery Restoration

WEBSITE

https://www.verticalgreen.com.sg/

ADDRESS

1 Soon Lee Street, #06-14/15 Pioneer Centre Singapore 627605

CONTACT DETAILS

+65 6909 9981 |

[email protected]

OPERATING HOURS

Monday – Friday, 830am – 6pm
Vertical Green is all about making the most out of your greens. Unlike the typical landscape work that merely stays in household gardens, Vertical Green took quite a few steps higher and worked around to a more innovative approach in landscaping.
Their landscaping services are a combination of gardening and architectural beauty. They perfectly mix and match greens with concrete through their vertical gardening which is currently a trend in many establishments.
If you want to give your place a breath of fresh air, you can trust Vertical Green to deliver an aesthetically beautiful work that will give the best value for your money.
Highlights
Modern landscape designs

Indoor and outdoor landscapes

Interdisciplinary team

Specialised in green wall maintenance
Customer Reviews
"Great vertical green wall variety and nice office. First time seeing edible green wall. Very knowledgeable and friendly owner whom is ready to share his wisdom on greening your home and office. If you want to get high on greens, vertical green is for you!"
11. Singapore Landscape Design
BEST FOR
Landscaping
SERVICES
Landscaping, Landscape Consultancy
WEBSITE
https://www.singaporelandscapedesign.com/
ADDRESS
Office: 345 Jurong East St 31, #01-23, Singapore 600345
Nursery: 3 Lim Chu Kang Lane 6, Singapore 718860
CONTACT DETAILS
Tel: +65 9487 9868
Email: [email protected]
OPERATING HOURS
N/A
Singapore Landscape Design is experienced in designing bespoke gardens for their clients. Their team of professionals consists of experts in various fields.
Devotion to customer satisfaction is one of the reasons they continue to offer quality services to their customers. With their help, you're sure to get your landscaping ideas brought to life.
Highlights
Experienced in hydro-culture
Experts in building and designing bespoke gardens
12. Everview Landscape


BEST FOR
Landscape Construction
SERVICES
Landscape Construction, Landscape Maintenance, Turfing
WEBSITE
https://www.everview.sg/
ADDRESS
46 Evans Rd,
Singapore 259374
CONTACT DETAILS
+65 6235 9963
[email protected]
OPERATING HOURS
By appointment
Next on our list is Everview Landscape, a landscaping company that has been working the field for over 20 years now.
Everview Landscape is made up of trained, highly professional landscape artists and engineers whose years of experience allow them to confidently and competently work on landscape construction and maintenance. They are also capable of turfing services.
Aside from that, it's also worth noting that Everview Landscape caters to residential and commercial clients alike, giving them an edge when compared to other landscaping companies on the island.
Finally, Everview Landscape is aware that the job doesn't truly end after construction and maintenance, which is why the company regularly provides aftercare service to ensure the beauty and longevity of landscaping projects. 
Highlights
Caters to residential and commercial clients
Maintains and creates landscape designs
Excellent after-care service
13. VJ Roots

When it comes to landscaping services, it's best to depend on a company that's passionate about their work and knows how to get the job done right the first time around.
VJ Roots is one such company, and they have been serving the people of Singapore for more than a decade now, having established themselves in 2004. Since then, the VJ Roots team has worked tirelessly to provide top-notch landscaping services of various kinds to people from all sectors and backgrounds.
Some of the services that VJ Roots has to offer include horticultural maintenance, landscape design and installation, landscape construction, tree services, turfing, irrigation system, and arboriculture consultancy.
Beyond landscaping, VJ Roots can also provide estate and building maintenance, corporate cleaning services and maintenance, and specialised cleaning services.
No matter the service chosen by the client, they can rest assured that VJ Roots will deliver nothing but success in a timely manner. The VJ Roots team has been trained extensively, each of them possessing great skill and knowledge in their respective fields.
Aside from their capabilities, VJ Roots is also known for their dedication to their craft, as previously mentioned. They take great care in every project they receive, and always consider what the clients ask of them.
All in all, when it comes to quality landscaping and property maintenance services, it would be remiss to not include VJ Roots on this list.
Highlights
Extensive range of landscaping, building maintenance, and cleaning services
Trained and highly skilled landscaping team
Accommodates clients from any sector
If you already have some experience with some landscaping services on the island, share them with us! We always want to hear from you!
Now, if you're done having your garden fixed, then it's time to have picnics and camping with the family in your own garden! If you ever need tents to complete the camping experience, you may check out our list of the best tents in Singapore.
Or, if you want your interiors to match your spectacular new garden, try our list of the best landed house interior designers in Singapore. That way, your surroundings will be picture-perfect indoors or outdoors!