The 7 Best Tents in Singapore for Camping/Backpacking
There's nothing better than spending the holiday season at a serene camping site, watching a bonfire while enjoying some good food and telling camping tales. But for that, you need the best tent in Singapore that can accommodate your whole family and friends.
Do you know how to buy the right camping tent in Singapore? There are a lot of considerations to it, like it having convenient setup, lightweight and durable design, and ample space for your needs.
It should also be firm and weatherproof to provide comfort and safety. Don't worry if you're unsure of how to check for that, though, as we're here to help. And you no longer have to worry about where to buy a tent in Singapore because all these tents are available online. We've provided the link for your convenience.
Today, we're listing the best tents in Singapore for campers and hikers of all kinds. Take a look at these first when trying to find a good tent for your outdoor ventures.
1. Kelty Salida Tent
Best for Easy Setup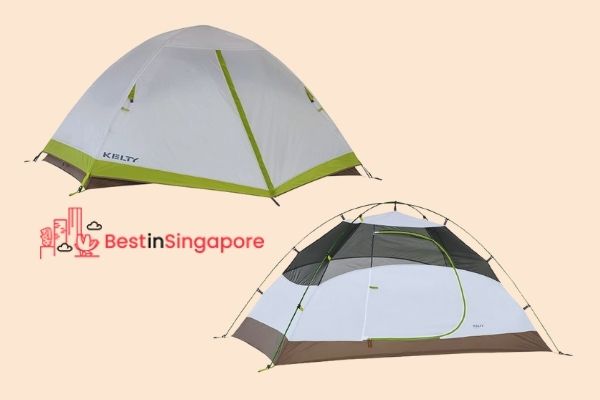 Price: $337.82
The Kelty Salida Tent is widely known for its backpacking-friendly features, so if you often enjoy camping and other outdoor activities, this could be the best tent in Singapore for you!
Aside from the user-friendly setup, it's also lightweight and has an ample amount of space. After your desired adventure, you can easily pack it up and bring it as a roll-top cube carry bag.
It has the basic elements, which include internal storage pockets, wide d-shaped door, and seam-taped structure as well as colour-coded clips. If you're a student or just starting out, this might be the best camping tent in Singapore for you.
Highlights
Backpack-friendly compact folding poles
High mesh sidewall protection
Customer Reviews
Some customers have considered this 2-person tent the best tent in Singapore due to the good ventilation, quality materials, and of course, the easy setup.
They've also said that the Kelty Salida Tent doesn't come with an additional footprint, though, so it might be a bother for some to buy a separate one. Regardless, it's still highly recommended by many users.
A reviewer from Amazon wrote:
"I bought this tent a little over a year ago and have had the opportunity to use it several times. I have taken it to Joshua tree a few times, sequoia and yosemite and every time I have loved it. I am 5'9″ average build and it is the perfect size. I have not tried it with two people, but it seems to me it would be a little tight, but I like to sprawl out when I sleep. The set up is very quick and easy and the tent is very sturdy. It rained on me all night in Sequoia and the roof never leaked and the floor never got wet. (I was using the footprint and I set it up above where all the water was running to.) There are these cool little guides on the inside that i like to run the wire for my usb light through and clip it on the ceiling of the tent. I look forward to having this tent for a long time."
2. Coleman 2-Person Sundome Tent
Best for a Cosy Camping Experience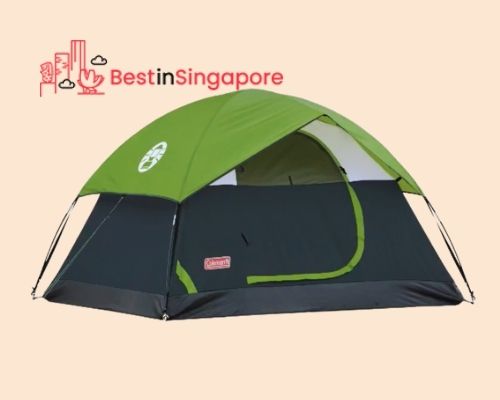 Price: $115.00
Whether travelling alone or with someone, the Coleman 2-Person Sundome Tent is an excellent choice. It offers an intimate and cosy camping experience but still gives you sufficient space to keep and cover up your stuff.
For absolute protection against heavy rain, this tent is built with a tub floor, covered zipper, and protected seams. This dome-shaped tent also has a robust frame that can endure strong winds.
For a more livable space, it provides a ground vent to keep it cool and storage pockets for an organized setup. When you're getting ready to go home, you can just pack it up into a flexible carry bag.
With these features, it could be the best tent in Singapore for those who prefer minimalist and simple structures. Here's a tip: this may be a 2-person tent but you can also use it solo for an extra 'luxurious' camping experience!
Highlights
Protected seams
Snag-free and continuous pole sleeves
Customer Reviews
Customers who have purchased the Coleman 2-Person Sundome Tentare are mostly satisfied with the overall experience. A reviewer from Amazon shared these thoughts:
"I travel on the road a lot. I had the tent for about 6 months still going strong this has been on a long road trip. Up the northern coast of California and all through Oregon. It has seen the woods and the coast. It has gone through mild winds. Short periods of rain, not one leak or any problems. I bought this tent because of its size easy to get in tight spaces when stealth camping. For one person and two packs a 90 L and both 50-litre pack, I was comfortable with space inside. I love the fact that this tent has two windows for ventilation and to interview out there is not many tense these days with that feature. I was able to create an outer lean-to and protective cover for the tent"
3. Mountainsmith Vasquez Peak 3 Tent
Best for a Three-Season Tent
Price: $294.45
The Mountainsmith Vasquez Peak 3 embodies a perfect harmony of weight and strength. It provides competent durability even while weighing in at only 5-pounds.
Since it's supposed to house 3 persons, you might think that it wouldn't have much space left for your stuff and equipment. But with its inter-connected pole setting, the area is maximized, giving you more space than you might expect.
It has a two-door entry and waterproof body panel to shield you against the extreme weather. This tent in Singapore is ideal for two adults and a child.
Highlights
Brow pole for enhanced interior headroom
Steep sidewalls to maximize space
Tent fly ventilation windows
4. REI Co-op Passage 2 Tent
Best for Customisable Setting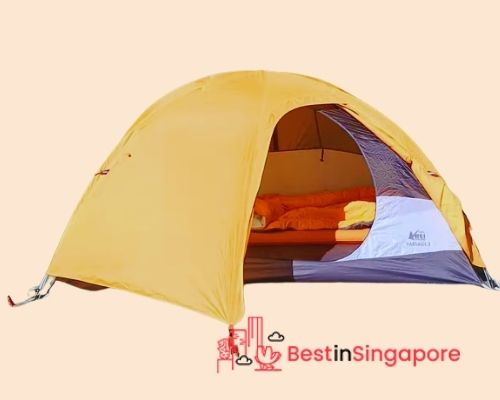 Price: $102.93
If you're going camping with your partner or your best friend, the REI Co-op Passage 2 Tent would be a good choice.
This 2-person tent is designed with an aluminium pole set that supplies an extended vertical space. Though it has a smaller capacity than some others, it can still provide areas for storage and more.
For easy setup, it has same-sized and colour-coded poles. It may be simple, but it provides the support that you need during a backpacking trip.
Highlights
Adjustable ceiling vents
Extended vertical space
Customer Reviews
Even with the limited capacity and not being able to provide full weatherproof coverage, customers still recommend the REI Co-op Passage 2 Tent.
They were very impressed with the accessible setup and fair price, which is why its included here as one of the best tents in Singapore.
A customer left this review on the brand's official website:
"Excellent budget-friendly tent. Purchased the tent after doing extensive research on backpacking tents for a bike-packing trip. The Passage 2 came up consistently as a budget-friendly, relatively lightweight (less than 5lbs) option. Colour-coded tabs mean you have the tent pitched in less time – important when you get to your campsite and it's raining despite all forecasts. The walls aren't vertical but it still feels spacious inside – space for you and all your gear on solo trips; space for you and your plus one and some of your gear for duo trips. The mesh pockets on the side won't hold much but there is a mesh "shelf" at the top that is handy for a headlamp – or use the small fabric loop to hang a small light. I particularly like the two doors and vestibules – each person has the space they need. I have not noticed any leakage during rain. The tent is a breeze to pack up and be on your way quickly."
5. Nemo Hornet Ultralight Tent
Best for Night Guide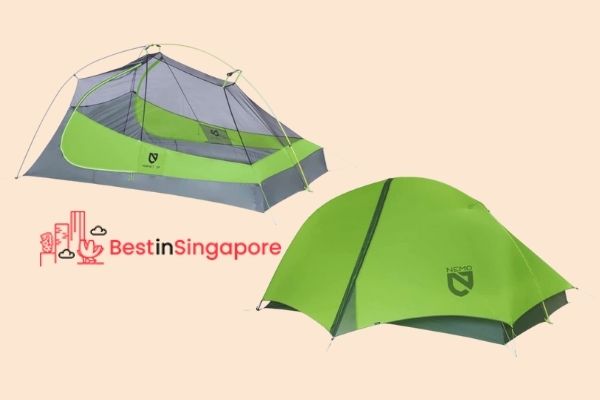 Price: $555.58
The Nemo Hornet Ultralight Tent may seem a little bit overpriced for its 2-person capacity. However, once you've seen its premium features, you'll realise that it's worth it.
The most special thing about this durable and waterproof tent is the well-built nylon material. It offers unparalleled privacy and a mesh canopy that improves breathability.
To see things clearer even during the night, you can set a headlamp on the overhead sleeve, which has light-diffusing fabric. This camping tent in Singapore also comes with a stuff sack, repair kit, stakes and more.
Highlights
Light-diffusing fabric
Volumising pole clip
Customer Reviews
Those who have tried the Nemo Hornet Ultralight Tent complimented the lightweight frame and its notably ability to withstand strong winds.
Some shared that it'd be wise to buy more stakes as the ones included on the package were not enough, though. Apart from this, customers still highly recommend the product and name it as one of the best tents in Singapore.
"Very excited for this new piece of gear. Very light and compacts down incredibly small when the poles are packed away separately. Right around 2 lbs or less. The material for the 10D fly is thin but feels durable. The fly bars are a nice improvement from the old hornet and create more headspace inside the tent. Pretty small for a two-person but with two doors/ vestibules, it can be done no problem. For one person it's huge. The bathtub floor is durable but I would still use something for a footprint, I used a small bit of painters plastic. Stood solid in high winds without using the guy lines. Haven't tested it in the rain yet so I cannot comment on that. Overall I think this is a great little tent. Lightweight & good material. We'll see how she holds up in future backpacking trips here in Minnesota."
6. Big Agnes Copper Spur HV UL Tent
Best for Traditional Yet Lightweight Design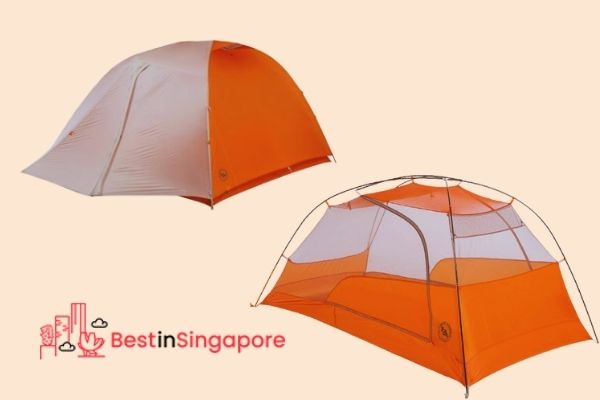 Price: $735.61
Despite being a super lightweight tent, the Big Agnes Copper Spur HV UL provides strong support against harsh weather. It's the perfect piece of travel gear to bring when you go on long treks away from home.
You can easily enter the tent through its dual-zipper doors. The overall surface is highly durable and inside, the tent is roomy enough to fit up to 4 occupants.
Given that it's weatherproof, it gives extensive protection and coverage regardless of the season. It also features huge pockets and portals for storage and cable connections.
Aside from these, the two-tone mesh serves privacy and yet the right transparency so you can also gaze at the breathtaking night sky.
Highlights
Weatherproof
Lightweight
Sturdy build
Customer Reviews
This award-winning and best-selling tent from Big Agnes has been recognised by a lot of customers for its value. That's why it deserves to be named one of the best tents in Singapore.
They say that older versions had stronger builds. However, they allow that the Big Agnes Copper Spur HV UL now still has a firm and sturdy structure while also being much lighter and more portable.
The cost has also been noted by some owners. Nevertheless, many feel that the price is still reasonable for its capacity and features.
An Amazon Reviewer wrote:
"I bought the Big Agnes Copper Spur HV UL 2 to bring down my pack weight but was surprised at how light it was even so. I wondered if the construction was compromised, but found it to be just as solid on stand-up as my other heavier tents. The setup was easy with the clip system and matching colours between the fly, tent, and footprint. Note the footprint must be purchased separately, which is also very light. The space inside is excellent. The construction with a cross-bar on top of the poles gives a very tall airy feel to it. Fits two people shoulder-to-shoulder (cosy as expected for a two-person tent) with plenty of legroom. I'm not sure how tall it will fit but my 5' 10" son had plenty of legroom."
7. Marmot Halo 6 Tent
Best for a Large Group of People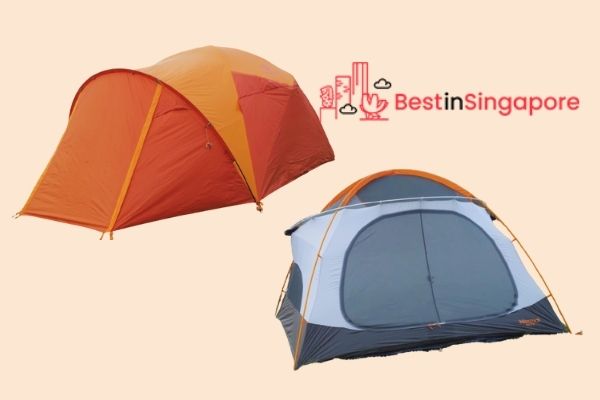 Price: $489.90
For those who camp with a larger family or group of friends, the Marmot Halo 6 should be at the top of your wishlist!
The innovative design of the tent caters to a group of 6 people. It even has an exceptional D-shaped double door for easier entry.
Every piece of equipment will surely have its own place here because the tent has a tremendous space inside. This is a big part of why we're including it in our list of the best tents in Singapore.
The full-coverage fly protects everyone and everything from the rain. It's also vented so it'd still be livable even when the door is closed.
For safety, it's built with a seam-taped surface that can prevent leaks. The light-reflective points create a simple path guide during the night.
Highlights
Colour-coded clips and poles
Full coverage fly with vents
Light-reflective points
Customer Reviews
Similar to the previous option, negative reviews are rarely given to the Marmot Halo 6 Tent. Most customers stated that they were able to have a delightful trip thanks to the efficiency of the tent.
Here's some feedback from an Amazon reviewer:
"Great tent for car camping. I'm 6'3′ and since a typical camping trip involves changing from hiking gear to golfing clothes, to mountain biking gear, I wanted a tent tall enough to stand up in. This works, in spades. I like the square floor dimensions – can set up the tent in any orientation. With the nearly vertical walls, has more than enough room for me and my wife, and a ton of gear. Although a large tent, it can be set up by one person. Great ventilation, even with the rain fly on since the entire vestibules (or just their doors) can be tied back. Apparently an upgrade from the previous models, the large main door screen has a zipped privacy panel, so you can leave the vestibule tied back for ventilation AND still get some privacy."
And there we have it! Whenever you want to escape from the busy city life and just unwind with countryside scenery, you can go on a backpacking journey with these best tents in Singapore.
If you've already chosen which one you'd prefer to be your travel-buddy, share it with us. We'd love to learn what tent you deemed worthy of taking with you for your camping trips.
By the way, note that camping sites and countryside areas can be dengue-prone areas. Mosquitos (and the diseases they bring) abound!
So, to round out your camping equipment, take a look too at our list of the best mosquito repellents in Singapore. These can protect you even when you have to step out of your tent in the evenings.