10 Best Thermometers in Singapore For The Whole Family
Looking for a good thermometer to add to your home or family medical kit? You're in luck, as we're looking at the best thermometers in Singapore today.
If you're not quite familiar with how to buy a thermometer, though, you should know first that thermometers fall into different types, with different features. Keeping these things in mind will help you decide on one.
To illustrate, we'll go over the types available, as well as the features you need to consider. If you think you don't need a primer on those, however, feel free to jump straight into our list of the best thermometers in Singapore.
Types of Thermometer
When we think of a thermometer, a small digital device is what immediately comes to mind. Many of us are not aware that there are several types and each of them caters to various purposes.
Let's now explore each type so know the one that best suits your preferences.
1. Digital Thermometer
This is the most well-known type, usually found at the drug stores or supermarkets and offered at a cheap price. They're very easy to use and read, and are fairly accurate as well.
Every digital thermometer in Singapore has a tip that acts as a sensor to measure the body's temperature. It's normally placed in the underarm but you can also use it and place it in the mouth.
2. Infrared Thermometer
This type is more expensive and it provides faster results than the previous one… but it doesn't mean that they're more accurate. It'll still depend on the particular model.
An infrared thermometer in Singapore is commonly used on the ear and forehead, and it can also be non-contact. Some models even come with a pre-warming feature (to improve accuracy, as a cool tip can lower results).
A non-contact thermometer is used by positioning it an inch or two from the forehead or temple, holding the button, and releasing it until the two red circles appear. After that, the temperature will be displayed.
It's very important to know that not all thermometers are suitable for all ages. For the infants, a non-contact model would be a wise option. For the babies that are 3 months old and above, it'd be better to use an ear thermometer.
Other Features to Consider When Choosing a Thermometer
Once you've decided on which type is suitable for your family, you must also take note of the other features that'll affect the results:
1. Accuracy
Having the wrong measurement will lead to false assumptions, affecting your health. Therefore, you should consider the accuracy of the model.
There are some thermometers guaranteed by medical specialists to provide precise results. So, make sure to check if you're buying a medically recommended or clinically tested model.
2. Speed
Response time is crucial, especially for kids. To ease the struggle of making them sit still as you measure their temperature, you must choose the one with that can give results within a few seconds.
Digital thermometers take more than 10 seconds. For the infrared types, they take up to 3 seconds… but then again, accuracy varies based on the brand and the model.
The Best Thermometers in Singapore
Now that you know how to find the most suitable thermometer for you and your family, let's find out which brand and model might serve you best. We've gathered the best thermometers in Singapore here, leaving you with practical and efficient options to choose from!
1. Braun ThermoScan NTF3000
Best for Overall Value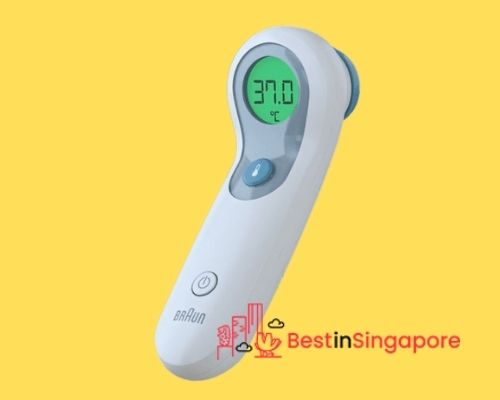 Price: $200.00
The Braun ThermoScan NTF3000 is a dynamic thermometer that features both touch and no-touch modes. In this way, you can quickly check the temperature of the baby when they're sleeping or when you're struggling to keep your kids in place. It can be used as a forehead or ear thermometer in Singapore.
If you're thinking that the no-touch mode may only cause inaccuracy, well, there's no need to worry about that. It has an ultra-sensitive sensor that can capture more radiated heat, resulting in a more accurate reading.
Since the position must always be on-point, this model even has a positioning guidance system. It'll help correct the distance between the forehead and thermometer.
You can easily read the result with its colour-coded large display too. This even has a backlight during nighttime reading.
Highlights
Touch and no-touch functions
Ultra-sensitive sensor
Colour-coded large display
Silent mode
Customer Reviews
Parents were very satisfied with the Braun ThermoScan NTF3000. According to their reviews, they were able to measure their kid's temperature in no time and read the results easily.
With all of these compliments, this model might be the best thermometer in Singapore for you if you're a parent. A customer from Influenster posted this review:
"I was really surprised by this thermometer. I was afraid it wouldn't be accurate, but after days of testing it against my tried and true oral thermometer, the Braun No Touch + Forehead thermometer is on the money every time! And it blows my old thermometer out of the water when it comes to ease of use. I can take my kids temperatures in under 2 seconds and if they're sleeping – they can stay that way. I really love this thermometer and I'm not dreading cold and flu season quite as much now that I have one!"
2. Omron Ear Thermometer TH-839S
Best for Temperature Monitoring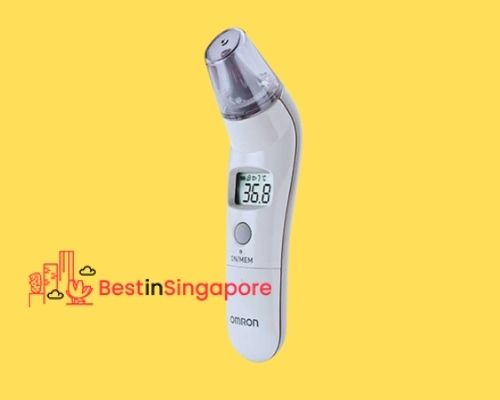 Price: $89.00
The Omron Ear Thermometer TH-839S has slightly more advanced features than most other digital thermometers in Singapore. It even has 9 sets of memory that can store your readouts so you can monitor changes of temperature.
Just put the probe cover on, press the measure button, and you'll instantly see the results in a second. If the measurement is higher than normal, you'll be notified with its fever alarm feature.
You can also choose between °C or °F. Due to its advanced features, we're in no doubt that it's one of the best thermometers in Singapore.
Highlights
Able to save 9 sets of temperature readouts
Fever alarm beeper
Easy to use
Additional accessories such as probe covers
Customer Reviews
The Omron Ear Thermometer TH-839S has received plenty of compliments and recommendations because of its fast response time and its ability to keep track of temperature readings.
Some customers advised using the thermometer properly by placing it exactly in the ear to see an accurate result. A customer from Tell Me Baby wrote:
"I bought this ear themometre because our son was really uncomfortable with the underarm ones when he was little. These are great with fast results, a memory of previous temperatures and hygienic too. You can change the covers so there's none else's earwax. The only issue I have had was getting an accurate reading if the themometre wasn't in the ear properly, however it is really is a time saver!"
3. Xiaomi iHealth Thermometer
Best for Infants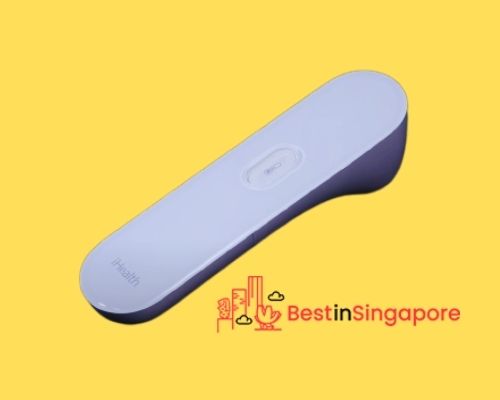 Price: $34.99
If you prefer to use no-touch forehead thermometer, then the Xiaomi iHealth Thermometer can be a great choice for you. Your child certainly won't be bothered during their sleep because once the results are shown, it'll just vibrate, without sounds or beeps.
It's built with a distance sensor and ultra-sensitive infrared sensor to prevent inaccurate readings. After placing it in the right position, you may simply press the button and the reading will be displayed within a second.
Since it has a no-touch design, it's also said to be more hygienic to use. Despite these superior qualities, it's available at a reasonable price too… which is why it's named as the best thermometer in Singapore by many.
Highlights
No-touch design
Distance sensor for precise results
Safe and hygienic
LED-backlit for nighttime reading
Affordable price
Customer Reviews
Most customers have found the Xiaomi iHealth Thermometer extremely helpful and convenient. They shared that it's easy to use and the display was very readable too.
There are also few who pointed out the false assumptions about inaccuracy. They said that it must be positioned properly to get precise readings. 
An Amazon customer gave this feedback: 
"I mainly purchased this for the middle of the night. My littles tend to spike their fevers at night and they always feel like they are 500 degrees. I wanted a way to take their temp without disturbing them. This is PERFECT for that. No beeping, no bright lights, easy to hold and use. That being said, the people complaining about inaccuracy aren't using it in the proper spot. I tested this by measuring different areas of the forehead and they are not all the same temp with or without a fever. You need to aim it at the center of the forehead about a fingers width away and you'll be all set!" 
4. Omron Eco Temp Basic Thermometer
Best for Affordability, Travel-use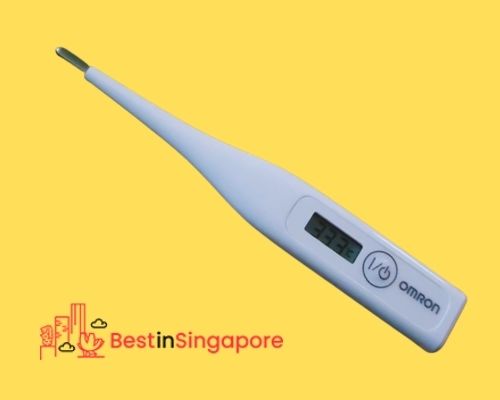 Price: $19.90
For a much simpler and more affordable thermometer, the Omron Eco Temp Basic Thermometer is a good pick. It's small and lightweight so you can also keep it in your bag and bring it during travel.
It can be used on the mouth, base, and underarm, providing an accurate and fast temperature reading. Once the measurement is finished, there'll be a beep sound to notify you immediately.
You can set the temperature unit, choosing between °C and °F. The battery is also replaceable, making it more practical for long-term use.
Highlights
Small and lightweight
Water-resistant
Easy to clean
Replaceable battery
Customer Reviews
Despite being slower than some others, customers still claimed the Omron Eco Temp Basic Thermometer was one of the best thermometers in Singapore and said that it's accurate.
They also praised its replaceable battery (the type of which is easily found at stores). A customer from Amazon posted this review:
"We have used this several times already, it's slow at 60 seconds, but when you are sick and laying down anyway it doesn't matter much. It's accurate & can be set for temperature in either Celsius or Fahrenheit. The battery is a standard button cell that you can buy at most stores, or possibly a jeweler as they repair watches & this is a battery used in watches. The instruction packet is huge, but it is written for about 10 or more languages so not much there really, just a scary thick packet of them."
5. Rossmax Temple Thermometer HA500
Best for Multi-purpose Use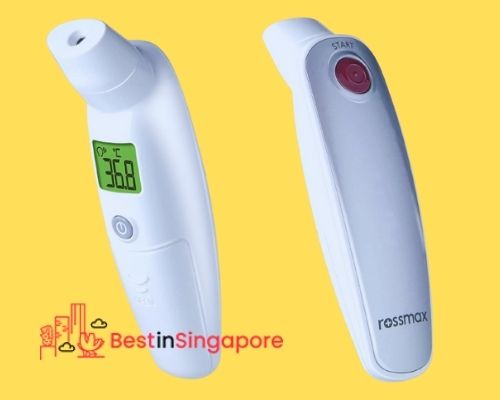 Price: $66.02
The Rossmax Temple Thermometer HA500 is unlike other options because of its non-contact temple feature. The temperature will be measured by placing the device in front of the temple with a 5-inch distance.
If you find it difficult to measure through the forehead, then this can be the best thermometer in Singapore for you. It also features 9 memory settings for regular monitoring and a fever alarm to alert you of higher temperature.
Aside from body temperature, you can also measure object temperature with this thing. That can be convenient for those making baby food and warm milk.
Other functions include switchable units of °C and °F, auto shut-off for energy efficiency, and a backlight for nighttime reading.
Highlights
Non-contact temple function
9 memories setting
Fever alarm
Low battery indicator
Self-diagnosis for malfunction
Customer Reviews
Many customers were impressed by the precision of the Rossmax Temple Thermometer HA500. However, some said that there's also a slight conflict when the unit is changed to Fahrenheit.
Nevertheless, they still recommended it. An Amazon customer left this feedback:
"It is good and fast enough to read the temperature. But you need to develop a skill to get consistent readings! Surprisingly, with one patient, as an exception, it showed a difference of ~1 degF, between the left and right temples, consistently through out the period for which the fever existed. The patient's left side temperature was almost same as the one measured under the tongue using the regular mercury thermometer!"
6. Braun ThermoScan 7 Thermometer
Best for All Ages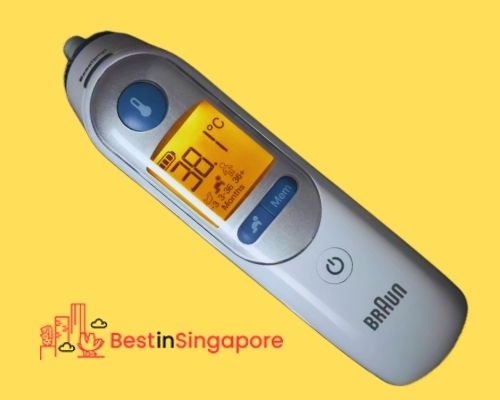 Price: $189.00
The Braun ThermoScan 7 Thermometer is a bit special compared to others. It has a patented Age Precision technology that considers the age in measuring the temperature.
This feature provides much better and accurate results for each member of the family. A wide-angle probe is also included for newborns.
It supports stable positioning and a pre-warmed tip for reliable readings. It can store up to 9 temperature results to help you better track the changes across readings.
This can truly be the best thermometer in Singapore for adults and kids. A fair number of medical specialists recommend it too!
Highlights
Age-precision technology
Pre-warmed tip
Colour-coded display
Night light for dark environment
Customer Reviews
The Braun ThermoScan 7 Thermometer has earned a lot of praises from the customers, saying that it's a great choice for everyone in the family.
An Amazon customer wrote this review:
"LOVE the light on the screen so when you take a temperature at night or in low lighting you can clearly see what the reading is. The button to change the age of the person you are taking a temp. from is easy to change. I hate the temporal thermometers because they don't always function correction and sometimes give inaccurate readings. TYMPANIC (ear) is the most accurate reading as someone who used to work in the Medical field. This new model by Braun is a dream! Must purchase for your little ones and adults. Easily operable. Fast and reliable."
7. Bion 2-in-1 Non-Contact Temple Thermometer HB500
Best for Body/Object Temperature and Price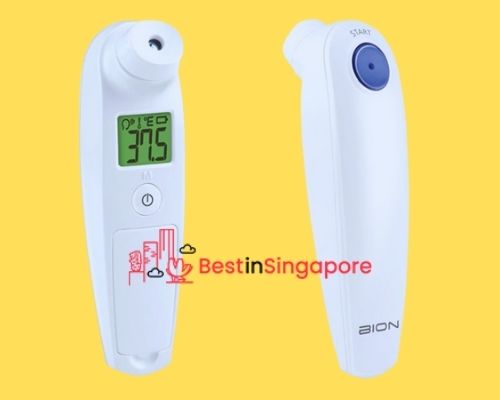 Price: $89.90
The Bion 2-in-1 Non-Contact Temple Thermometer HB500 is slightly similar to the Rossmax model. Yet, this one is offered at a much lower price, so if you're looking for a temple thermometer that can fit within your means, you should take a look at this product.
Be it body or object temperature, this thermometer can provide readings in just a second. It features 9 memory settings for monitoring and a fever alarm for high-temperature alerts.
All basic elements are also included such as the backlight, °C and °F units, auto shut-off, and more.
Highlights
9 memories setting
Fever alarm
Low battery reminder
Self-diagnosis for malfunction
Affordable price 
8. NOMEDC Micro-EDC Thermometer 
Best for portability and ease
Visit their Kickstarter page for more details
NOMEDC helps people to keep track of their body temperature anywhere, anyplace, anytime. With its manufacturers on standby for the completion of its Kickstarter funding round, the team at NOMEDC is actively collaborating with consumer-personal care companies, around the globe, in a bid to successfully implement its efficient micro-EDC thermometer worldwide.
In fact, the NOMEDC EDC thermometer brings forth many possibilities. Arguably the world's smallest thermometer, it does not cause irritation or disturbance when used by younger persons such as infants and babies. Also, NOMEDC could be very important for the flu season, with its unique ability to detect changes in temperature, easily, over a lengthy period of time.
Highlights
Arguably the world's smallest thermometer
Lightweight, ergonomic and highly-advanced design
Built like a flash drive
Provides digital temperature readouts on a clear, visible screen
Non-contact thermometer
9. Momax 1-Health Pro Thermometer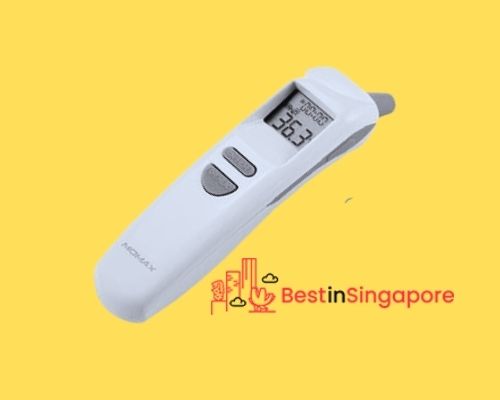 | | |
| --- | --- |
| BEST FOR | Accurate and convenient readings |
| SIZE | 175 x 104 x 55mm |
| PRICE | SGD 119.00 |
| WHERE TO GET IT | Shopee Singapore |
If you're looking for both an ear or forehead thermometer in Singapore, this one should interest you. The Momax 1-Health Pro Thermometer is a 2 in 1 Forehead / Ear infrared thermometer. It's perfect for those who want a choice in taking temperature with contact (ear) or non-contact (forehead).
It's absolutely perfect for everyone in the family so whether you have a crying, squirming toddler or a sleeping child, you can easily, safely and accurately get their temperature with this must-have thermometer in Singapore for every young family.
The best part is the Momax 1-Health Pro Thermometer is also versatile as you can use it to measure surface / object's temperatures when set in multi-mode. It stores the last 9 temperatures including time and date, so it really helps with recording medical data for your family.
We absolutely recommend this versatile thermometer in Singapore for young families.
Pros
Multi-use
1-second detection
ISO certified
Cons
Customer Reviews
Looking at the several online reviews left by users of the Momax 1-Health Pro Thermometer, it's great to see that a lot of them like its ease of use and the two ways you can get temperature whether it is with contact or no contact.
Here's a review left by one verified buyer and user named Valencia Tan:
GREAT BUY! Good Quality with ISO certification which is the standard for medical devices. Fast detection for the forehead non contact mode. Bought this to replace a cheap but lousy and now faulty Thermometer bought 2 mths ago.
10. Cofoe Infrared Thermometer (Non-Contact)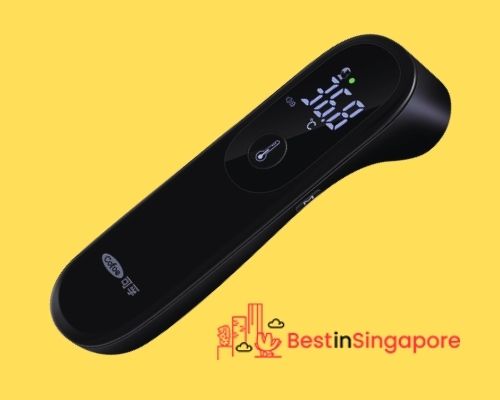 | | |
| --- | --- |
| BEST FOR | Straightforward, easy and simple use |
| MEASURING DISTANCE | 1-3cm |
| PRICE | SGD 15.84 |
| WHERE TO GET IT | Shopee Singapore |
If you're looking for a thermometer in Singapore that's simple to use, you probably can't get an easier than this. The Cofoe Non-Contact Infrared Thermometer fits those who don't want any complicated bells and whistles or fancy operations in a home family thermometer.
This thermometer is made for non-contact use, meaning temperature is taken from the forehead, in 1-3 cm distance. Operated with two double A batteries, this temperature has a clear LED display and also has a voice broadcast feature. It operates on a one-key measurement, so it's the best thermometer in Singapore for families with either young or elderly members so they can also easily use the gadget with ease.
Pros
Can also measure objects' temperatures
Extremely affordable
Stores up to 50 temperature records
Cons
Only for non-contact measurement
Customer Reviews
Many of the reviews for the Cofoe Infrared Thermometer praise it for its ease of use. If you want a thermometer that reads temperatures fast, quick and simple this seems to be the gadget.
Here's a review left by a user named Omnichz33:
Functional thermometer, comes with Chinese audio reporting of temperature. 2 settings, body temperature and general temperature of items.
Have you already decided on which among the listed products is the most suitable for your needs? Or do you have a favourite that should be added to the list?
In either case, let us know all about it! We'll try to update the list with more information or to add more products if we think they deserve to be in it.
Now, while a thermometer can help you keep an eye on your family's health, nothing still beats a trip to the doctor. If you think it's time for that, try our list of the places with the best health screenings in Singapore and start a healthier lifestyle!