7 Best Resistance Bands In Singapore: Workout Anywhere!
Want exercise equipment that you can use as a travel buddy or a more practical choice for your at-home workouts? If so, then you've come to the right page — today, we're looking at the best resistance bands in Singapore.
At first glance, resistance bands may seem like they're all the same. However, these exercise bands vary in areas like tension levels, length, and style.
In fact, their colours generally signify the resistance level, the length determines a proper form, and the style should be based on your desired type of exercise.
If you'd like to enhance your arms' strength, bands with handles would be a good choice, for instance. On the other hand, the looped ones are great for hips and glutes or cross-training.
In any case, you'll see what I mean that every resistance band in Singapore is different as we go through our picks. So, let's take a look at the best resistance bands in Singapore right now!
1. Fit Simplify Resistance Loop Bands
Best for Wide Range of Exercises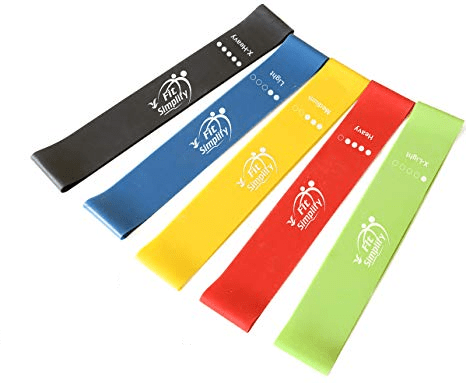 Price: $8.99
If you're looking for a resistance band in Singapore that can be used by everyone in the family of all fitness levels, this one's for you. The Fit Simplify Resistance Loop Bands cater to all kinds of user fitness levels as they offer high-quality bands for both beginners and experts.
The bands are made of natural latex, which is designed to stand both light and heavy exercise. They can be used for casual routines, weight programs, and even yoga or Pilates.
For athletes who are suffering from an injury, physical therapists encourage these types of bands. Such bands are also helpful for expectant mothers to use during and after pregnancy.
With that versatility, we can easily say that this is one of the best resistance bands in Singapore.
Highlights
Natural latex
Detailed instruction guides
Online video workout guides
Included carry bag
Customer Reviews
Customers pretty much commended the Fit Simplify Resistance Loop Bands' versatility and effectiveness. However, some did have some critiques, as there were also some who pointed out that they could have better durability and had a slight odour.
Nonetheless, they said that the bands are still worth buying. An Amazon customer wrote: 
"When I was in the hospital, my doctor recommended that I begin working out. I had seen these exercise bands before but wasn't sure if they really worked. I needed something low impact and could easily use. So I ordered them. It has been a few weeks and I have been pleasantly surprised. I can feel the difference. My arms and shoulders are getting stronger. I'm beginning to show some improvement that my wife is noticing. So much so that she is using them while I'm at work. This is a good product. Cheaper than weights and I believe more versatile. I can simulate exercises that I used to do while in the Corps. I wanted something low impact because of surgeries that I've had and these work great. Started with the lowest possible just to get used to them. Now working with the next higher resistance. After this quick workout, I feel like I've done something good for my health. Highly recommend"
2. SPRI Xertube Resistance Bands
Best for Upper-Body Strength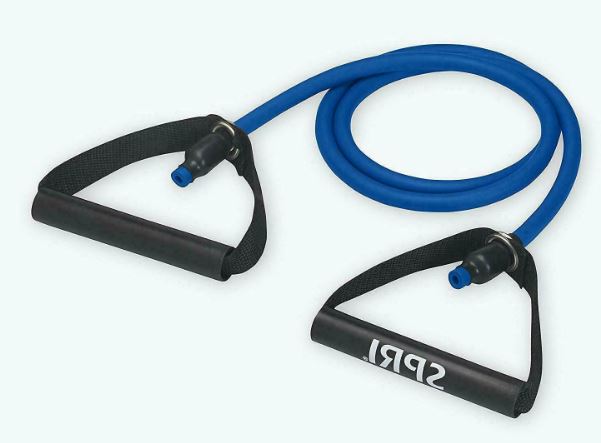 Price: $72.49
Now not all resistance bands are to workout the legs or lower body. If you're looking for a resistance band that works out your arms and upper body, then this could be the perfect fit for you. As you can see, the SPRI Xertube Resistance Bands come with handles, so they'd be a perfect option if you're working on your arms' strength. This will also strengthen your shoulders, chest, and back.
Similar to the previous option, the bands also cater to different fitness types. They're designed to be tear and abrasion-resistant so you can also bring them to travel, as they can withstand heavy use. Hands down, we definitely think that the SPRI Xertube are the best resistance bands in Singapore for effective workout for arms and the upper body.
Highlights
Enhance upper body strength
Tear and abrasion-resistant
Exercise guide
Customer Reviews
Most consumers were satisfied with their purchase of the SPRI Xertube Resistance Bands. They said that as long as you use the right resistance level, then this could possibly be the best resistance band in Singapore.
A customer from Amazon shared this experience:
"I ordered the blue with the door attachment. It has the perfect amount of resistance for upper body work out. It is secure in the door. I also used it for lower body and it again performed very well. I was pleasantly surprised to see that the handle covers are hard plastic tubes that roll independently of the cloth handle so when your hands rotate during a move, there is no slippage or friction on your palms. I am very pleased for this price point."
3. Letsfit Resistance Loop Bands
Best for Variety of Fitness Purposes, Durability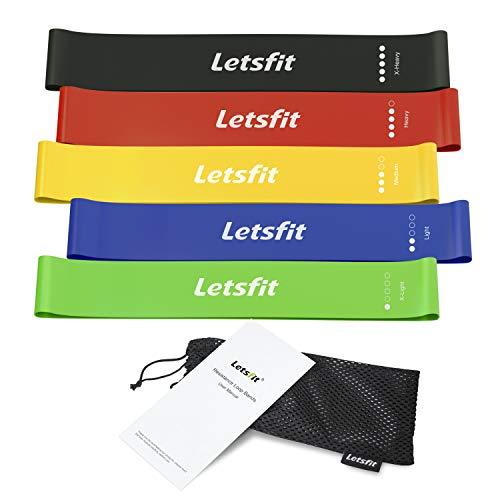 Price: $49.99
The Letsfit Resistance Loop Bands serve a lot of fitness purposes such as weight loss, resistance training, postpartum recovery, and even injury rehabilitation.
They're also made of latex, like the Fit Simplify band. Most resistance bands in Singapore have that rubbery smell that some find quite offensive. Not this one! These exercise bands are odour-free, non-toxic, and durable.
Highlights
Multifunctional
Odour-free
Durable
Mini pouch
Customer Reviews
The Letsfit Resistance Loop Bands were praised by users for the ease of level identification (due to the colour coding and markers on the bands) and their portability.
Some users also shared that the bands may roll up regularly if you do certain types of exercise. As such, they advised to choose the right type of exercise band based on your fitness routine.
An Amazon customer gave this feedback: 
"The bands are good quality and easy to identify the different resistance levels. You don't have to remember which color is which, because it states on the band the level. They all fit in a small black bag that you can take with you on the go, or easily store at home. The above the head arm spacing exercise helps with strengthening my beat up shoulder. I wouldn't say this is the only "exercise/gym" equipment you'd ever need, but for a low cost you can get some great quality bands to help with stretches and supplemental exercise." 
4. Perform Better Exercise Mini Band
Best for Upper and Lower Body Fitness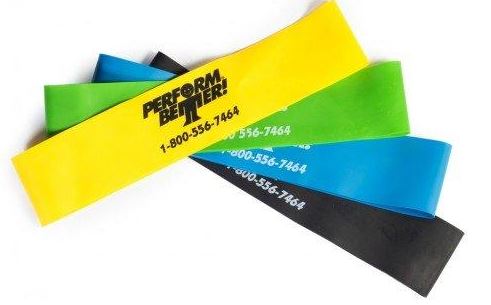 Price: $41.78
If you're in search of the best resistance bands in Singapore for a full body workout, you'll find these of great use. You might be thinking that this band would not be practical because of its short length. Surprisingly, the Perform Better Exercise Mini Band stretches up to almost double its length!
With this feature, it'd be the best resistance band in Singapore for doing lateral steps, which enhance leg and shoulder stabilisation. Exercises for hip and shoulders are also recommended.
Highlights
4 resistance levels
Upper and lower body training
Highly stretchable
Customer Reviews
Many customers had a good fitness experience with the Perform Better Exercise Mini Band. They complimented its flexible and long-lasting build.
Some also shared that to prevent the band from rolling up, it must be positioned properly. A customer from Amazon wrote this review:
"I ordered these bands in 2016. I've been using them consistently (once or twice a week) for two years and they're still going strong. I absolutely love them. They're small and fit in my purse or gym bag. I take them with me to the gym since most places don't provide this type of accessory. They're great for lateral band walks, sitting hip abductions, etc. As I've gotten stronger, I will double up the band (ex. black and yellow band). The only negative is that they can curl up but proper placement will prevent this from happening."
5. Black Mountain Ultimate Resistance Band Set
Best for Fitness Experts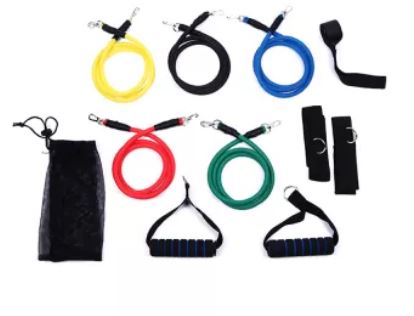 Price: $56.88
For those who are extremely active, the Black Mountain Ultimate Resistance Band Set is the ideal choice for you! Each band is designed for challenging workouts.
It's a complete setup that includes high-quality resistance bands, soft-grip handles, door anchor, ankle strap, and a carrying bag. What more could you ask for?
A starter guide is also part of the package, so it's a good option for beginners as well. The bands also have soft-cushioned foam for great comfort.
Highlights
Complete package
Durable
Starter guide
Customer Reviews
The Black Mountain Ultimate Resistance Band Set has received praise from many customers. Owners said that they were able to do various workouts (including very challenging ones) with this set.
They also said that some might prefer longer bands, however. The resistance level basically depends on the length so if you're searching for a longer one, then this might not be the best.
Regardless, they still stated that it deserves a spot on the best resistance bands in Singapore. A customer from Amazon wrote:
"I absolutely love this band set. I do a lot of lifting, and when Im not at the gym at work, these add a lot of flexibility to my home workouts. This set has the extra purple and yellow bands, and if you lift a lot these are definitely a must. When you add all of the bands together there is a huge amount of resistance, I usually end up using that for my shoulder shrugs or back rows. 
The door anchors and handles have worked excellently up to this point, thus far I have neither damaged a door or had a band come back and smack me in the face..haha. I was a bit concerned the first time I tried a row with the full resistance, but it was all for no reason. 
Overall, if youre looking to add a good bit of flexibility to your workout(or as a travelling kit, I took these to england to keep my workouts going), these are an awesome product at a very good price. Try and add this much resistance in free weights, youll go broke fast."
6. Theraband Resistance Bands
Best for Yoga and Pilates

Price: $72.26
Unlike others, the Theraband Resistance Bands are made of thermoplastic rubber that is flexible enough to be used for yoga and pilates exercises.
It helps improve your body curve, muscle lines, and even treat body aches such as muscle soreness. It can also strengthen your biceps.
For those who want to achieve a healthy and slim figure, this may be the best resistance band in Singapore for you!
Highlights
Enhance the body lines
Muscle improvement
7. Sportsco Mini Loop Resistance Band Set
Best for Beginners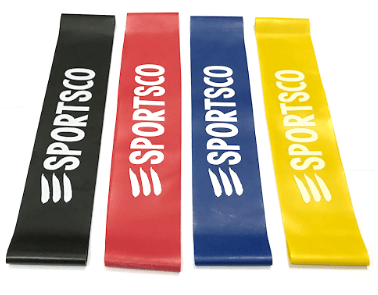 Price: $9.90
If you've only recently gained an interest in using resistance bands for your daily exercise routine, then the Sportsco Mini Loop Resistance Band Set is a great pick for you!
This band is specifically designed for beginners, to assist them during their early pull-up exercise phases. It features five different resistance levels, so it'll help you do progressive body training.
Highlights
Pull up, powerlifting, and CrossFit
Strengthening and toning
And that's it! Finding the right kind of band for your fitness type and level will be much easier now that you have a list of the best resistance bands in Singapore!
Do you already know which one suits you the most? Share it with us and let us know why you like it or what exercise you plan to do with it!
If you want more exercise equipment, check out our other posts on fitness products. For instance, we have a list of the best treadmills in Singapore too!
Alternatively, if you're interested in fitness classes instead, you may want to check out lists like our roundup of the best Pilates studios in Singapore.