8 Top Places for the Best Fish Tanks in Singapore
If you're an aquarium enthusiast in need of a new house for your pet fish, then you might be searching for the places where you can find the best fish tanks in Singapore. 
You can't just enter the first pet store you find and expect to get the ideal fish tank for your needs from it. Most stores have very limited inventories, and not all go to the trouble of vetting the items they sell before putting them on shelves.
So, to help you out, we went through the stores in Singapore with the best aquarium models in stock. The ones we found offer an amazing range of options as well as high-quality products, perfect for the discerning buyer.
If you're ready to see what we mean, let's dive right into the top places to shop for the best fish tanks in Singapore! 
1. Fresh N Marine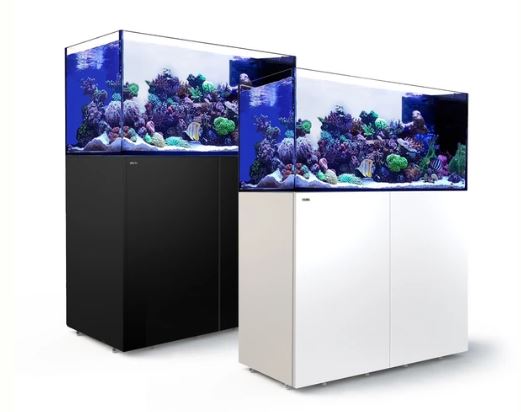 BEST FOR 
Extensive aquarium selections
PRICING
Collections
WEBSITE
https://www.freshnmarine.com/
ADDRESS
79 Upper East Coast Road Singapore 455219
CONTACT DETAILS
+65 65471575
OPERATING HOURS
Monday to Friday: 11.30am – 8pm

 

Saturday, Sunday & Public Holidays: 10.30am – 5pm

(Opens on public holidays except for Christmas and Chinese New Year)
Fresh N Marine is widely known to offer some of the best fish tanks in Singapore. They have many different kinds of freshwater and marine aquarium systems.
Their collections come in different sizes and shapes — some of them are made with crystal glass, light wood, marble finishes, and more. Aside from these, they also provide accessories, decorations, fish food and supplements, freshwater plants, etc.
For those who have never experienced buying a fish tank before,  this is the best aquarium shop in Singapore to begin with! There's a lot to explore and you might even find the one that best suits your needs.
Highlights
Deluxe aquarium sets
Online shop
Special deals
2. NA Nature Aquarium
BEST FOR 
Mini aquariums
PRICING
Collections
WEBSITE
https://www.nanatureaquarium.com/
ADDRESS
1 Thomson Rd #01-340 Balestier Hill Shopping Center Singapore 300001
CONTACT DETAILS
+65 62556051
OPERATING HOURS
Monday to Friday : 12pm to 7:45pm

 

Saturday           : 12pm to 5:30pm

Sunday & Public Holiday : 12pm to  5:30pm
Are you searching for simple but attractive aquarium and fish tank for sale in Singapore to place at your work desk? NA Nature Aquarium has the best fish tanks in Singapore that are mostly lightweight, slim, and compact enough to fit in smaller spaces.
Nano aquariums and breeding box satellites are the main highlights of their offered products. Most of them are made of acrylic, which is the best standard material for aquariums.
Similar to Fresh N Marine, accessories and other fish tank essentials are also available in their shop.
Highlights
Compact fish tanks
Low delivery fees
Special promotions
Customer Reviews
Most customers said that despite it having limited selections, the high-quality livestock and reasonable prices of NA Nature Aquarium are worth it.
Here are some of the reviews posted on Google Reviews:
"Over many years in the hobby (close to 20), NA has consistently been reliable with good advice and good prices. Not the widest range but they have everything you need equipment wise" 
"Small family style operating aquarium shop. Limited fish stocks n variety. Aquarium accessories adequately stocked. Price very reasonable. Only aquarium shop left in Balestier area."
3. OTF Aquarium Farm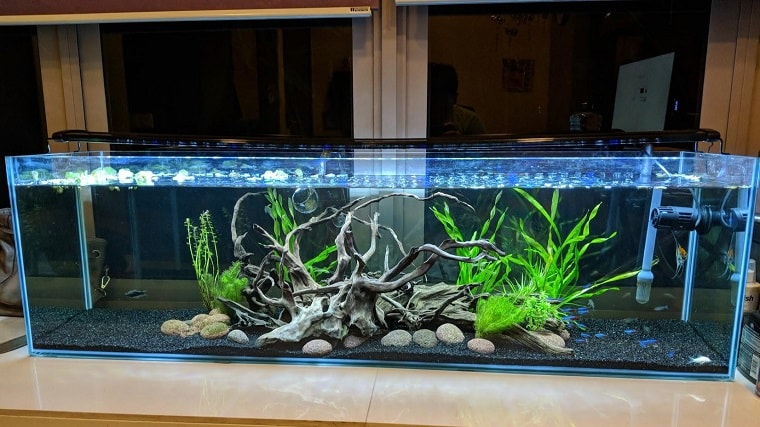 Image Source: Singapore Hardware Zone Forum
BEST FOR 
Premium quality aquariums
WEBSITE
https://www.otf.com.sg/retail.htm
ADDRESS
63 Pasir Ris Farmway 3,Loyang Agrotechnology Park Singapore 518233
CONTACT DETAILS
Mobile Number: (65) 98477176

 

Telephone: (65) 65847717

OPERATING HOURS
Daily, 9am–6:30pm
OTF Aquarium Farm is an award-winning company that is recognized as the leading breeder and exporter of farm-bred fish in its area. Along with this, they also offer a wide range of aquariums, aquatic plants, equipment, and accessories.
Their collections include both local and imported aquariums that are in excellent quality. Whether it's for your home or office, they have some of the best fish tanks in Singapore for your needs and preferences!
They also sell books and magazines that can help you gain more knowledge about aquarium setup, fish care, maintenance, medication, and more.
So, for first-time buyers who want top quality from the start of their new hobby, this is the best aquarium shop in Singapore for them.
Highlights
Aquatic set-up and maintenance services
Exotic and ornamental fish
Aquarium books and magazines
Customer Reviews
Customers claim OTF Aquarium Farm is a one-stop-shop for many aquarium enthusiasts. Still, some shared that it might not be a good choice to buy accessories here, due to the shop's limited options for those.
Still, most of them recommended the shop and customers gave these reviews on Google Reviews:
"Very knowledgeable and helpful. Good variety of freshwater fishes and freshwater plants. A very good place to visit if u would like to buy and start ur own aquarium" 
"A good aquarium farm to visit in the east as a hobbyist or bringing little ones there to see the fishes. There are many types of freshwater fishes and most prices are relatively low as compared to the neighbourhood. Owners are friendly and helpful. But I do see that many dogs and aquarium farm have been vacated, this extinct-soon farm might go off soon… Visit while it lasts!"  
4. East Ocean Aquatic Trading Centre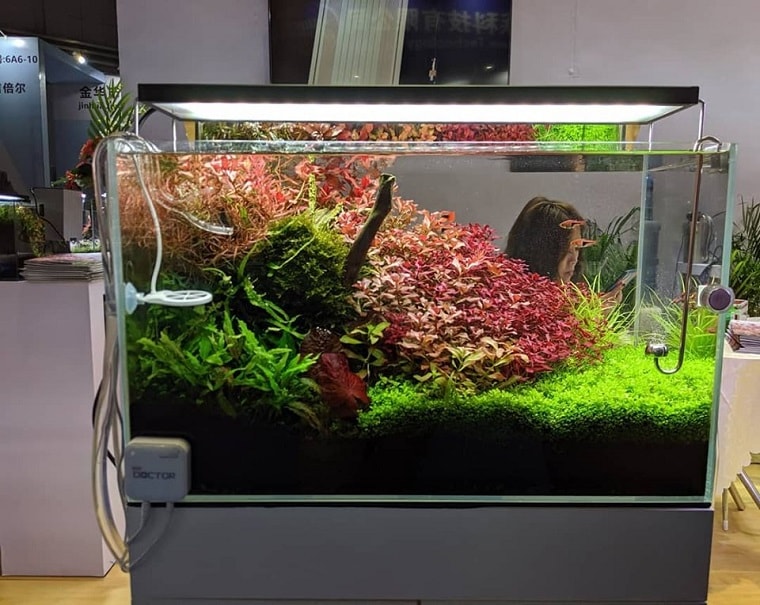 BEST FOR 
Aquarium business purposes
PRICING
Products
WEBSITE
https://eastoceansg.com/
ADDRESS
Blk 22 Havelock Road #01-699 Singapore 160022
CONTACT DETAILS
+65 6275 9220
OPERATING HOURS
Monday to Saturday: 9:30am – 8pm

 

Sunday & Public Holidays: 9:30am – 5pm
East Ocean Aquatic Trading Centre is one of the longest-running companies that sell fish aquarium in Singapore.
Apart from the best fish tanks in Singapore, they offer a variety of aquarium supplies such as filter and air equipment, food and feeding essentials, fish medication, water pumps, water test kits, and decorations and lighting equipment.
They've also expanded their services by producing solutions for pond and garden, paludarium, and marine setups. If you're preparing an aquarium business, having them as a partner would be a great start. 
Highlights
Large collection of aquarium supplies
Special sales
Free delivery
Customer Reviews
As East Ocean Aquatic Trading Centre offers some of the best fish tanks in Singapore, the place is well-loved by many consumers and business owners.
They have nothing but praise for their products and services. Customers posted these compliments on Google Reviews:
"Great service, great items- I knew what I was buying as they had pictures of the fish and were knowledgeable of the fish and items. The store was clean, tanks healthy looking and the staff very patient. Prices are very reasonable. They are my go-to aquarium store tho I live far away."
"Great selection of fish and friendly staff. Helped us with everything we needed to set up our first aquarium. Highly recommended"
5. Green Chapter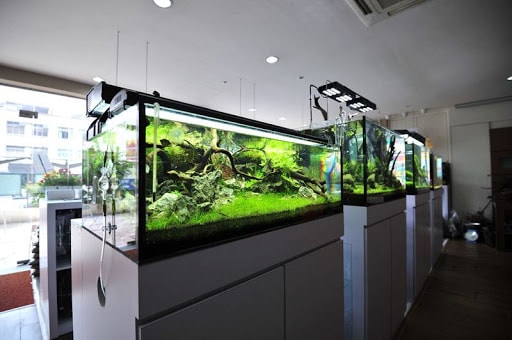 BEST FOR
Custom-made fish tanks
PRICING
Shop
WEBSITE
http://www.greenchapter.com/
ADDRESS
565 Macpherson Road #01-00 Singapore 368234
CONTACT DETAILS
+65 6775 7376
OPERATING HOURS
Monday to Friday: 12pm – 8:30pm

Saturday and Sunday: 10am – 6pm
For the aquarium hobbyists who want something unique, Green Chapter might be the place for you — they offer personalised aquariums built to your preferences!
Their team consists of aquatic experts who can conceptualise an exceptional aquarium setup based on your ideal design. Most of their projects are made for commercial establishments, which proves that they're capable of building just about any dream aquatic setup.
In their tanks and cabinets collection, they have planted, marine, and even terrarium systems. They also offer fish food, filters, live plants, and animal food.
With their production, maintenance, and restoration services, they're easily among the top options if your idea of the best fish tank in Singapore is a customized one!
Highlights
Personalized aquariums
Maintenance and restoration services
Aquarium accessories
Customer Reviews
Many customers who visited Green Chapter are very impressed and satisfied with the tank setups, livestock, and the place itself.
They've also pointed out that the number of staff was not enough to accommodate all customers, though. Regardless, they still recommended the shop and shared these experiences on Google Reviews:
"Beautiful aquascapes, range of healthy cichlids, shrimps, small sized-fish. Stocks Sera, Eheim products as well as the usual Seachem. Has a gallery area full of display tanks to show how your tank might look, as well as set-up tanks for sale. Sufficient walking space and the staff are knowledgeable. They have the largest range of shrimps as compared to the Clementi area cluster of shops as well as Seaview in Singapore. Good to pop in if you are in the Macpherson area."
"A well stocked to look for plants, equipments. Couple of well setup aquariums that you can get lost track of time. Service level is average as it seems to be understaffed. If you do your homework and know what you need to get, this will be the place to go to if you spot it on their webstore."
6. Aquatic Dreams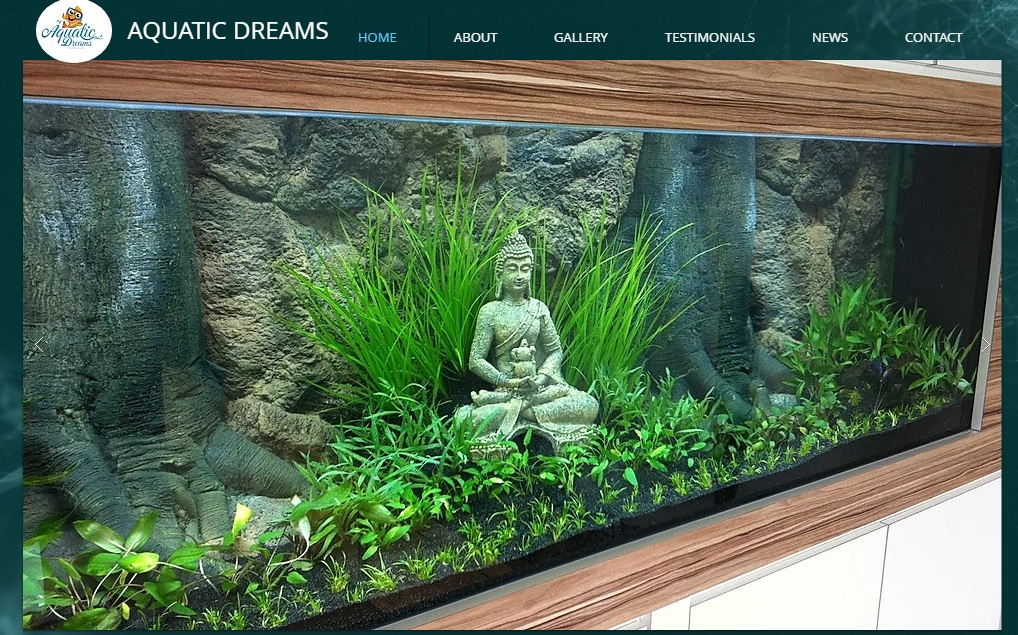 Aquatic Dreams is one of Singapore's premier manufacturers of custom made aquariums & cabinets. They ensure their clients with high quality and safe fish tanks, not any closer to leakages and cracks.
Their high quality tank uses only Germany-made aquarium silicone from Wacker 121 that are guaranteed to be safe for the fish. Meanwhile, their cabinets are made out of plywood with your choice of metal or solid kapur wood beams that are highly durable to resist heavy loads of water.
Aquatic Dreams does not only aim to provide you with high quality fish tanks but they also give full attention to design and build. Thus, they specialize in creating unique ones that would be suitable for your home setup, restaurants, hotels, and etc.
Highlights
Custom design fish tanks

Premium quality materials

Guaranteed 7 years warranty against leakage
Customer Reviews
A lot of the customers of Aquatic Dreams have been praising the company for their excellent work in creating and designing their fish tanks at very reasonable prices. They also claimed that the team did a very good job in conceptualizing the whole idea that will perfectly fit their facility interiors. Here's one feedback from Vincent Neo.
"Just got my tank yesterday from Aquatic Dreams. The workmanship of the cabinet is remarkable with the laminate corners nicely trimmed. Silicone work is also very nicely done. Overall, I'm a satisfied customer and will surely recommend my friends to have their tanks made with Aquatic Dreams."
7. N30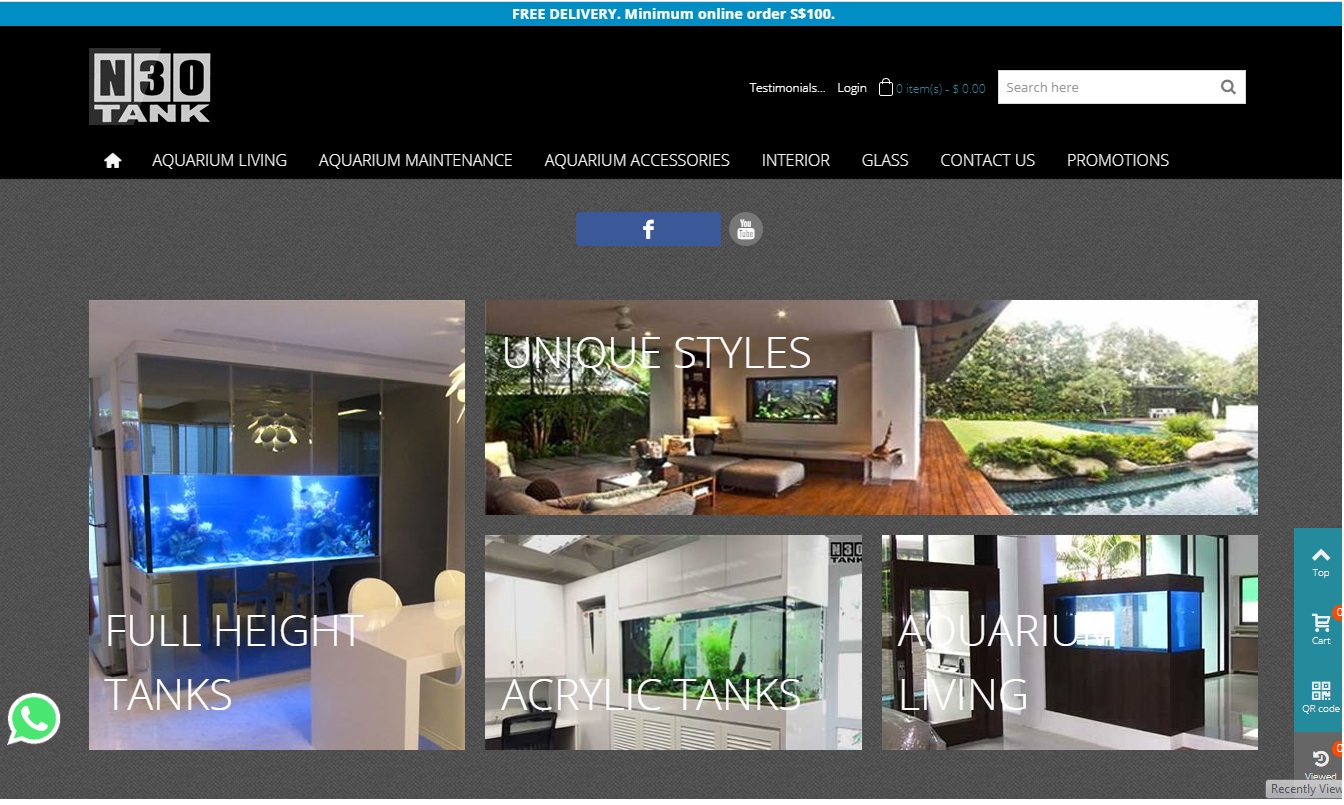 BEST FOR

Custom-made fish tanks

WEBSITE

https://www.n30.com.sg/

ADDRESS

Blk 5038, #01-427, Ang Mo Kio Industrial Park 2, Singapore 569541

CONTACT DETAILS

+65 6481 2629/+65 9667 2353 |

[email protected]

OPERATING HOURS

Mon – Fri (10am – 7pm) and Sat (10am – 3pm)

Closed on Sunday and public holidays.
Ever dreamed of having your own gigantic fish tank installed in your living room? Now, you can definitely make that happen with N30. It is one of the largest fish tank makers in Singapore offering customized ones in all sizes. Additionally, they design and construct large aquariums for outdoor facilities.
They can create up to 30-feet tall aquariums without the threat of leakage, thanks to their unique glass-sealing techniques. Aside from creating the actual fish tank, their services also include aquarium maintenance, supply of glass and glass works, and provision of retailing aquarium accessories.
Highlights
Full height tanks

Uniquely styled aquariums

Five Years Warranty against water leakage
Customer Reviews
N30 is praised for their high quality of work and wonderful overall service including prompt customer relations.
"Very friendly personnel from Admin staff to Sales. Prompt replies and patient with queries. High quality product and workmanship. One-stop shop for all your aquarium needs."
8. MyDymax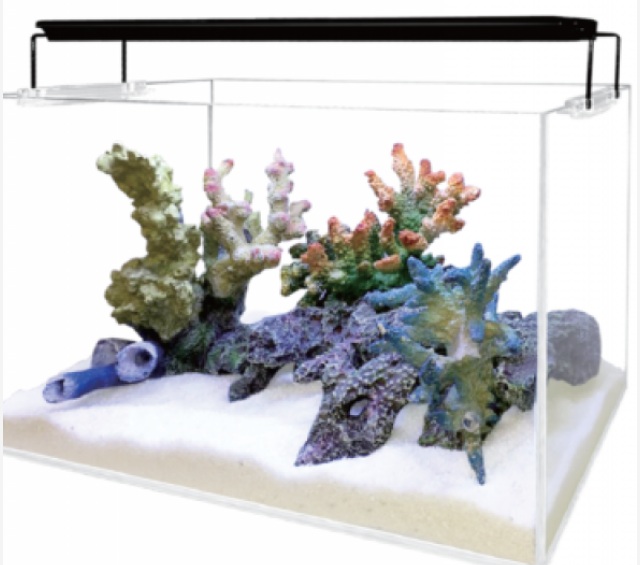 Dymax is one of the world leading innovators in terms of aquarium products. They take pride in manufacturing their own aquariums fusing the best materials available.
The company has been in the business since 1997. And up until now, they have consistently provided the community with their aquariums.
Service Highlights
Suitable for fresh and sea water

High powered led

Snart touch feature
Choosing the right aquarium setup can be hard if you don't even know where to get the things you need. Therefore, having a list of places where you can buy the best fish tanks in Singapore would be a wise decision. Now that you have an idea of the fish tank for you, we hope this will lessen your search of "aquarium shop near me" in the middle of the night!
Tell us which one you'd like to visit the most among our selections! Or if you've already gone and visited them, share with us your experience!
Note, by the way, that some aquarium setups may add a bit of unwanted humidity to your living space. Fortunately, the best dehumidifiers in Singapore will help you filter and purify the air in just about any area, so you may want to take a look at them too.