6 Best Epilators in Singapore Less Than $200
Have you already had your fair share of salon visits, expensive waxing strips, and shaving? If you want to have a better alternative where you can save time and go easy on your budget, you might want to opt instead for buying the best epilator in Singapore.
Aside from being cheaper than many other hair removal options in the long run, it's also more convenient to use. Just make sure that you choose the one with the needed body part coverage, a long-lasting effect, and easy-to-use features.
As there are a lot of options to choose from, we've decided to help. So if you're looking for cheap epilators in Singapore that deliver effective hair removal, here they are!
1. Philips Satinelle Advanced BRE632/00
Best for High-speed Epilation

Price: $86.18
The Philips Satinelle Advanced BRE632/00 takes pride in having a unique design made up of textured ceramic material that opts for a firm grip yet gentle hair extraction. With its dynamic disc rotation, it's also the fastest epilator of the brand.
Similar to the Braun model, it also has a wide epilator head that removes more hair than the average epilator in every stroke. For better control, it's built with an S-shaped handle that can help you move the epilator naturally.
It also comes with a trimming head, bikini comb, facial, and delicate area cap to help you eliminate unwanted hair from different body parts.
The massage cap gives a gentle approach during epilation too so there's no need to worry about extreme pain in particular. That's always a plus!
If you're one to keep hair-free but don't really want to spend hours in hair removal, this is the best epilator in Singapore for you.
Highlights
Faster hair removal
Cordless and wet/dry use
Anti-slip grip
Customer Reviews
Most customers particularly loved the S-shaped handle, efficient hair removal on delicate areas, and built-in LED. Some advised that regular exfoliation is important to prevent possible ingrown hairs and they also said it can't fully reach the finest hairs.
However, they still recommend it as one of the best epilators in Singapore, especially for those who don't have extremely coarse hair. Hair Free Life wrote this review:
"The Philips Satinelle Advanced Epilator/Shaver has a lot to offer and is a versatile, efficient appliance.  Well designed, easy and comfortable to use and from a well respected manufacturer. For travelling, it is ideal – this device plus a decent pair of tweezers for odd strays and brows would meet all the hair removal needs of most individuals."
2. Braun Silk-épil 9 9558
Best for Body and Facial Hair Removal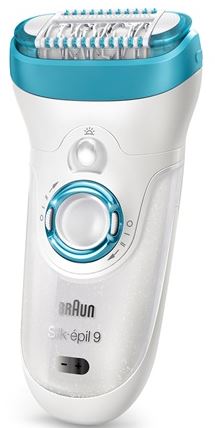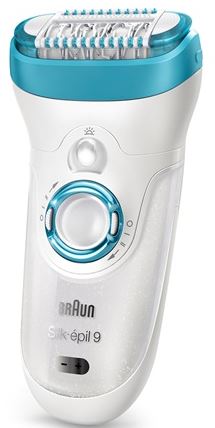 Price: $189.00
The Braun Silk-épil 9 9558 lets you have smoother and hair-free skin that can last up to 4 weeks.
Since it features a wider head than your average epilator, it provides larger coverage in one glide and more precision to remove the shortest hairs. You can also choose between two speed settings for either gentle or extra-efficient epilation.
It's also very safe and comfortable on the skin because it has a high-frequency massage system. It's absolutely waterproof and cordless so you can use it when in the bath or shower.
This model is also included with a Braun face epilator that has a thinner design for a more efficient facial hair removal.
The maximum battery life has a duration of 40 minutes, which is good enough for long-time use. With all of that, you can see why it's included among the best epilators in Singapore.
We highly recommend this for those who want to be smooth and hair-free but also practical. This is the best hair and body epilator in Singapore for you!
Highlights
Effects last up to 4 weeks
2 speed settings
Waterproof
Cordless
Convertible to a shaver
Customer Reviews
Based on customers' experiences, the Braun Silk-épil 9 9558 is very effective and easy to use.
Users have also stated that it's not totally pain-free, however. Some also noted that the manual is a bit confusing and it's quite fussy to clean.
Yet, these factors didn't become a major drawback for them, particularly as they tend to be true for most other epilators on the market.
An Amazon customer shared this experience:
"I've had this for around 4 months now and I'm really pleased with it. The facial one needs good batteries and it is very effective and very easy to quickly use. I've used an epilator for many years now and the hairs grow back less and less over the years and it's not as painful as when you first start out. I've found this one to be the best one yet. The light is really useful and it does everything that it says it does. I haven't used the other accessories yet though."
3. Panasonic ES2082
Best for Sensitive Skin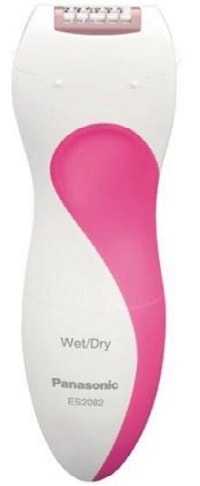 Price: $29.40
If you're having a problem buying an epilator due to sensitive skin, the Panasonic ES2082 might be the best epilator in Singapore for you.
It features a reliable skin guard that protects your delicate skin against extreme pain. It can also be used for wet or dry epilation.
It has two epilation heads so you can use it for the whole body, even in bikini lines. The model is battery operated too, perfect for travel use.
We also love the extremely affordable price. Who said you need to shell out big bucks to be hair-free? Hands down the best cheapest epilator in Singapore that's also travel-friendly!
Highlights
For sensitive skin
Great for removing thicker hair
Full-body use
Customer Reviews
The Panasonic ES2082 has been well-received by many customers. They shared that it actually does feel less painful than other epilators and only leaves minimal bumps.
The only downsides that they noticed were the slight noise during operation and short battery life. Hence, they recommend that owners use rechargeable batteries instead.
A customer from Amazon gave this feedback:
"This product actually works pretty well – this was my first epilator, so it took a little while for me to get used to using it, but I have no complaints. It doesn't hurt for arms/legs(though it does for bikini area and underarms! But no more than waxing).
It does seem to drain the batteries a bit – for a full body job (arms, legs, underarms) it took one set of batteries, but that also could've been because I wasn't confident in using it, so I went a lot slower, and had the epilator running longer than I would've otherwise. I would recommend trying out re-chargable batteries for it.
It is a little on the loud side (though I don't know the volume of other epilators!) and it seems to be pretty good at pulling out the hairs completely – and leaving very minimal bumps. I've found it even works well on the thin hairs on my stomach, though it works the best on thicker hairs."
4. Braun Silk-épil 5 5890
Best for Beginners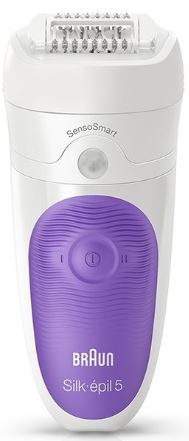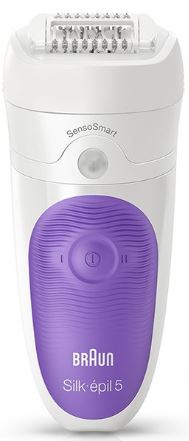 Price: $129.00
For those who are not familiar with using an epilator, you should consider the Braun Silk-épil 5 5880.
This can be the best epilator in Singapore for you because it features a smart sensor that guides your entire epilation process. So you can rest assured that you're using the right pressure.
Additional attachments such as massage rollers, beginner cap, protection cap, and skin contact cap are also provided for starters.
What's more, this waterproof epilator also has the trademark features of the brand, which includes the gentle hair removal, anti-slip grip, two speed settings, and many more.
Highlights
Additional attachments for starters
Effects last up to 4 weeks
Wet/dry use
Long-lasting battery life
5. Epilady Legend
Best for All Skin Colour and Skin Tone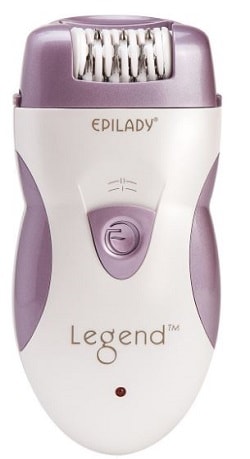 Price: $150.94
Are you still undecided due to your different hair colour and skin tone? If so, then the Epilady Legend is the perfect epilator in Singapore for you!
This rechargeable epilator ensures fast and smooth hair removal regardless of your skin colour and skin tone. It also has some of the longest-lasting effects — they can last up to 6 weeks, for it directly removes the root hair.
With its two razor speeds, you can get your full-body epilation done in no time. Due to its versatility, we just had to put it in this list of the best epilators in Singapore.
Highlights
Suitable for any hair colour and skin tone
Two razor speeds
Rechargeable, corded, or cordless option
6. Philips HP6420 Compact Epilator
Best for Leg Hair Removal, Travel Use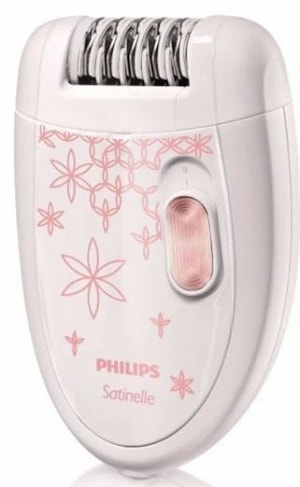 Price: $50.00
The award-winning Philips HP6420 Compact Epilator is mainly designed for leg hair removal. With its ergonomic grip, you can easily control it and glide it smoothly over your legs.
It's also built with gentle tweezing discs that effectively pulls out hair from its root. For ultimate hygiene, the epilator head is detachable so you can clean it thoroughly.
With its compact design, it's an ideal choice as a travel buddy. So, if you're struggling with keeping your legs hair-free during a trip, this could possibly be the best epilator in Singapore for you.
Highlights
2 speed settings
Washable epilator head
Ergonomic handle
Customer Reviews
Some customers said that despite not being able to remove the smallest hairs, they were still impressed by the long-lasting effect of the Philips HP6420 Compact Epilator.
An Amazon customer wrote this review:
"Used to have a Braun epilator in the past, but this one is so much better – less painful and seems to work better – I only had to touch up about 8-10 days later to keep the smooth finish – lasted much longer than I expected (thought I'd have to be epilating every 3-4 days at least), but this one is a good 8-10 day window which is brilliant. As someone who normally waxes, I'd be struggling to find an economic solution here in London and this works perfectly to keep legs smooth (I did get a wax and have used this to touch up since then – don't see myself going back for another wax in the foreseeable future!). Really glad I bought it – great timing for the summer as well."
There's nothing better than feeling smooth and flawless skin. That is why having the best epilator in Singapore is a must if you're not a fan of regular salon visits!
Get ready to have a refreshing day as you choose your favourite from our list. Let us know which one best suits your needs and preferences too!
If you want to try permanent hair removal instead, you may want to check out these places that offer the best laser hair removal services in Singapore. With professional help, you'll certainly achieve fully hair-free skin!