The 11 Best Barbers in Singapore
Do you want to have a nice and neat haircut for the summer or a new hairstyle just for a change? With the best barber in Singapore, you can achieve any style for your desired look!
Other than trims, a lot of men's barbershops are now offering a variety of hair care services. Whether you're preparing for a job interview, a date, or a grand event, we've got your back as we've listed the best barbers in Singapore that'll make you look like a dapper gentleman.
1.  Sultans of Shave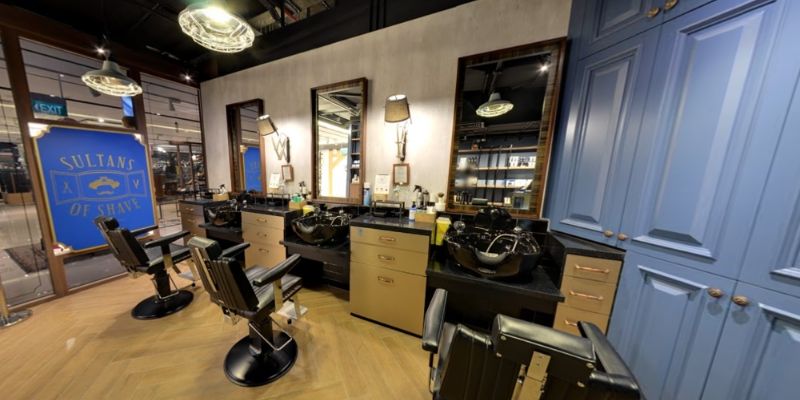 Sultans of Shave is a well-known barbershop on the island that provides different services such as shaving treatments, haircuts, colouring, and more. They also have additional treatments including massages and facial care.
One of the best things about them is that they offer special packages for father and son as well as for the groom and groomsmen. Having several branches all over the island proves that they have some of the best barbers in Singapore.
Highlights
Gift vouchers
Online product shop
Discounted packages
Customer Reviews
Sultans of Shave has received a lot of wonderful feedback from customers who said that they were very meticulous and detailed with their haircut services. A customer from Google Reviews posted this review:
"These guys are fantastic! They do a solid haircut but it's with their beard skills that they really shine! They take the utmost care to ensure your beard is sharp as can be!"
2.  DeepCuts Barbers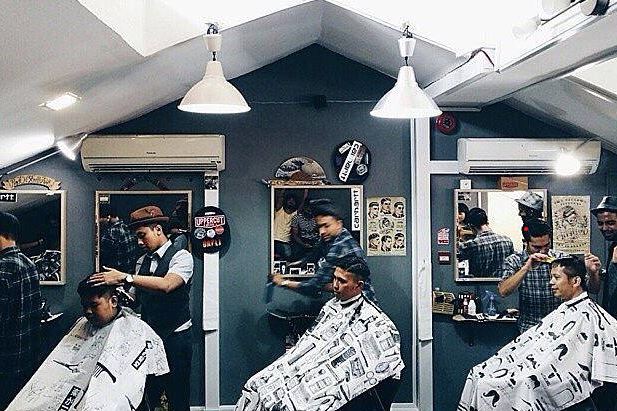 | | |
| --- | --- |
| BEST FOR  | Affordable services |
| PRICING | Services |
| WEBSITE | https://www.deepcutsbarbers.com/ |
| ADDRESS | 77 Kampong Bahru Rd, #02-01, Singapore 169376 |
| CONTACT DETAILS | +65 9023 3735 |
| OPERATING HOURS | Daily except Friday: 11am–9pm |
DeepCuts Barbers offers their haircut, shave, and beard trim or sculpt services with affordable prices starting from $20! You can achieve a classic gentleman's look without going over the budget.
They've also been recognised by many media outlets who claim that they have some of the best barbers in Singapore because of their genuine passion for barbering and male grooming.
Highlights
Beard sculpt services
Affordable prices
Customer Reviews
Most customers have been coming back for their services and some even became loyal customers for years because of DeepCuts Barbers' high-quality and cost-efficient services. A customer gave this feedback on Google Reviews:
"If you haven't tried Deep Cuts and explored one of Singapore's up and coming neighborhoods then you are surely missing out.  Not another shopping mall experience: Local guys who are passionate about and excellent at their craft and whose goal is to deliver a quality haircut at a very reasonable price point.  Afterward, take a walk through the neighborhood and try out some of the restaurants, coffee shops or bars (have a gin and tonic at the bar around the corner at Blair Road).  Kudos to Deep Cuts."
3.  Truefiit and Hill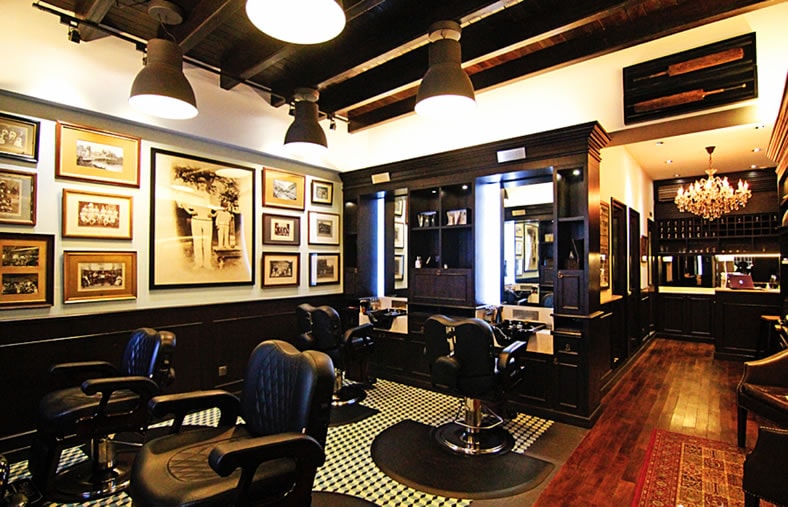 For an all-round service, Truefiit and Hill has all the grooming treatments that you need! Their skilled team of barbers and manicurists will give you a royal haircut, shave, nail care, and even massage!
They have a whole set of services including haircut, hair colouring, hot towel wet shave, beard trim, facial hair threading, waxing, spa manicure and pedicure, as well as head and face massages. With this range, they truly have the best barbers in Singapore for many locals.
Highlights
Kids cut
Full range of services
Customer Reviews
Customers were very impressed with the classic vintage style of Truefiit and Hill and the excellent haircut and shave services. A customer from Google Reviews shared this experience on Google Reviews:
"Interesting experience at a true barber place. Takes you back to the old English barber where you can get a clean shave and cut. Truly transforming. Very relaxed environment."
4.  Autocutt Barber Shop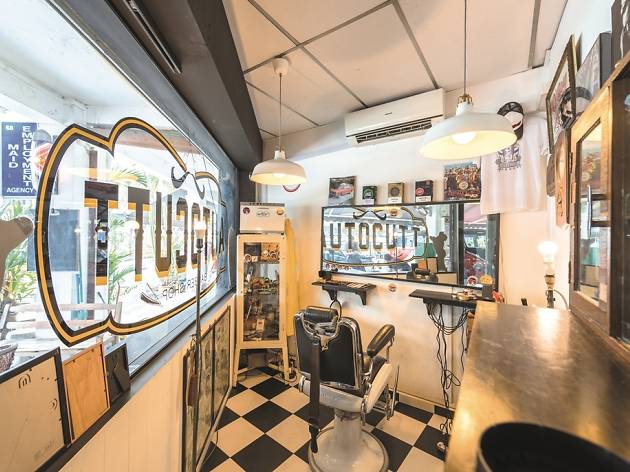 BEST FOR 
Hair tattoo design
PRICING
Services
WEBSITE
https://www.autocutt.com/
ADDRESS
47 Tanglin Halt Rd #01-313 Singapore 141047

 

68 Yio Chu Kang Road, Singapore 545569

CONTACT DETAILS
+65 9186 1233
OPERATING HOURS
Monday till Saturday 11am – 8pm
(Sunday subjects to prior arrangement)
Autocutt Barber Shop features a vintage vibe and old-school style! This will bring back the nostalgic memories of a classic generation as you have your gentleman haircut! Their services include haircut, hot towel shave, beard trim, and hair tattoo.
You can be styled with your own personalised hair tattoo design if you have a particular one that you'd like to have. Hairstyling products from a famous brand are also part of their services.
Highlights
Hair tattoo service
Hairstyling products
Customer Reviews
Many customers have recommended Autocutt Barber Shop because of the accommodating staff and of course, quality services. A customer left this review on Google Reviews:
"Best haircut I had in years. Very personal and lovely service. Even got a beer during my haircut. Will definitely return here."
5.  Splice Barbershop
BEST FOR 
Grooming and Dressing Up
PRICING
Services
WEBSITE
https://www.splicebarbershop.com.sg/
ADDRESS
Suntec City Mall, 3 Temasek Boulevard #01-487 (Near Tower 1), Singapore 038983
CONTACT DETAILS
88089768
OPERATING HOURS
Barbering Services: Daily 11AM to 9PM

 

Retail Shop: Daily 11AM to 8:30PM
Splice Barbershop is not only known for its prestigious service in haircutting, but also for their assurance that any man who enters their establishment will leave looking dashing and smart. Their staff's personable qualities along with precise approach on hair services add on to the positive atmosphere the establishment exudes.
Moreover, imagine having a place to have yourself groomed but also to buy accessories and other items that would adorn what was once a simple outfit. Well not to fret, you have something coming your way! Splice is basically a one-stop shop for hair fixings and being dressed up to the nines. Talk about a perfect combo for a perfect man.
Highlights
Accessible to all
Multiple Promotions
Tied in with several establishments
Customer Reviews
Splice Barbershop has received nothing but positive feedbacks from clientele whom they have provided their assistance in hair maintenance. A couple of them left reviews on google written:
"Best hair cut I have ever had. Professional and highly skilled. I cannot recommend this Barber Shop enough." – Chris
"I was traveling on business and needed a place for a good hair cut. Close to local hotels and the central downtown district. I had to only wait 15 mins and got a great cut and trim. Fast, simple and no fuss." – Peter Doolan
6. Bipolar Barber Shop
Bipolar Barbershop's main goal is to raise mental health awareness to the society, especially among men as most men are raised to "suck it up" or told by peers & family members that "it's all in the head". No loud music, no queues of people staring at the back of your neck waiting for their turn to cut their hair. You book an appointment online & come for it at your own chosen time.
Since their opening in 2016, it has been run by Redzwan Aman alone. He has attracted a lot of regulars with his expertise. Since he works on an appointment basis, you might want to book a session in advance if you're interested– it can take you about 7 to 10 days before you're able to secure a slot.
They offer haircuts and towel wet shaves– services that may be simple, but ones that they do well. For those interested, they also offer hair designs and tattoos. Besides top notch services, and perhaps more importantly– Redzwan offers a safe spot to relax in and a listening ear to talk to, for those who need it.
Highlights
Affordable Prices
Comfortable Environment
Customer Reviews
As proof of their excellent services, Bipolar Barbershop has received numerous positive reviews. Take a look at what one satisfied customer had to say:
"Amazing barber! One of the rare ones in Singapore! Very precise, patient, and offers you ideas how you could maintain the look and cut. Really loved the patience he had to listen and offer ideas. Humble and wonderful huma being as others have mentioned. I highly recommend him.
Have tried some hip new barbers around with zero customer service. But Wan is worth every bit of the money."
7.  Haar Attic
BEST FOR 
Meticulous hairstyles, updated hair trends
PRICING
Services
WEBSITE
https://www.haarattic.com/
ADDRESS
18A Keong Saik Road, Singapore 089125 (2nd Floor)
CONTACT DETAILS
(65) 98730235 | [email protected]
OPERATING HOURS
Weekdays 11AM-9PM. Last appointment at 8pm.

 

Saturdays 11AM-6PM. Last appointment at 5pm.

Sundays 12PM-6PM. Last appointment at 5pm.

Public Holidays: Closed
Haar Attic's job starts at cutting your hair, but it definitely doesn't stop there. Aside from giving superb haircuts to customers, the hairdressers give off a few tips to ensure that the longevity of the newly styled, beautiful hair is kept until the next appointment.
The shop believes that a masterpiece shouldn't be just a one time thing; your hair is a statement of its own, so it shouldn't be kept unkempt for even a short amount of time. Although giving off suggestions and viewpoints of their own, the stylists still never fail to deliver what the customer wants. Using traditional work with a mix of an artistic flair, you'll never step out of this salon with any negative feelings, just a new, jaw-dropping hair look.
Haar Attic offers not only cutting and styling, but also oil treatments to take care of your hair, with additional packages like perming, highlights, lowlights, and more. A variety of choices that leads only to perfection.
Highlights
Consistency of work
Amazing styling
Pleasant atmosphere
Customer Reviews
Here are some reviews left by satisfied clients of the establishment:
"Amazing service, hospitality and fantastic overall experience. Have since been coming here for over 5 years! Kelvin has been a true professional, giving great haircuts and invaluable advice for styling etc. Highly recommend Haar Attic! It's truly a place where you can sit back and relax and come out looking like a million bucks!" – Raymund Ashley
"I've been getting my hair cut and styled here for over 3 years, and I've never been disappointed. I'd recommend Bong.. he's technically solid and gives a great head massage/ wash too. Thank me later. :)" – Keith Neubronner
"Kelvin is very professional and honest. He told me about my hair quality and what he will do.. really helped me. He doesn't hard sell the products, which to me is always a plus. Second plus is there's no subscription to sign. Will visit them again." – Margie Loy
"Awesome stylist in Han, has followed him for several years. Meticulous, patient and customer serviced oriented coupled with strong techniques and always updated with current trends. Strongly recommended and reserve early to avoid disappointment." – Gareth Leong
8.  Kings Barber
| | |
| --- | --- |
| BEST FOR  | Clean fades, high quality haircuts |
| PRICING | Services |
| WEBSITE | http://kingsbarber.com.sg/ |
| ADDRESS | 400 Balestier Road, #01-16 Balestier Plaza, Singapore 329802 |
| CONTACT DETAILS | + (65) 8781-7032 | [email protected] |
| OPERATING HOURS | Weekdays: 10:30AM – 9PM Weekends: 10:30AM – 8:30PM |
Kings Barber is one of the best choices in all of Singapore given how their team's skills are unparalleled. They're known to incorporate classic styles with modern techniques, leaving clients with jaw dropping looks every time.
Not only are the barbers' skills unparalleled, but the products used also live up to the premier-feel and outcome of the establishment. From basic trims, to full-blown haircuts and shaves, you do not have to worry about anything else other than what you want it your hair to look like because they will surely deliver.
A little price to pay for such royal treatment, Kings Barber truly does live up to its name, treating each and every client, no matter the age, as nobility deserving of only the best.
Highlights
UK trained barbers
Skilled and personable staff
Best styling
Great ambiance
Student discount
Customer Reviews
A lot of people have recommended Kings Barber as a go-to barber shop for clients who want to be served a good old haircut but with great skill and style fit for kings. Some of them left feedbacks on google review:
"Thank you Jia Hui for the awesome cut you gave me today. You were really caring and understood what style fits me best. Looking forward to visiting soon." – Indradeep Chowdhury
"A very nice and well maintained shop. The staffs there are very skilled and knows what they're doing. Will recommend this place to students who are looking a relatively cheap but good haircut." – Lau Jin Kun
"Hands down the best barber in Singapore. I called on a Saturday and they were able to fit me in for an afternoon appointment. They were all friendly, and very understanding (since I ran late), and the experience was like no other I've ever had. They treat your hair like a work of art. You will come out of there feeling amazing!" – Janaka Rupesinghe
9.  Bodeiga Barbershop
Bodeiga Barbershop was founded by three amazing barbers with a single dream of having an established store known in all of Singapore. They managed to achieve it with amazing services, expert hands, and a personable approach to each of their customers.
The word Bodeiga is derived from the word "Bodega", which meant convenient corner store, and which the shop did not disappoint. With their low-cost rates partnered with high quality cuts, they have customers coming back as frequenters. And for something that's considered as a convenient corner store, Bodeiga Barbershop does provide services with a feel of prestige, that not all shops can afford.
Highlights
Reasonable price
Chill ambiance
Great music
Customer Reviews
With only five-star ratings received, Bodeiga is truly a star when it comes to giving haircuts. Below are some of the reviews left by their satisfied clientele:
"I found this place after some online hunting and mostly settled on it since it seemed like a cool and friendly place. The initial impression was correct and I had a great time talking to and getting a haircut from Taufiq. I'd definitely come back the next time I'm in Singapore."
"Awesome barbershop with a great atmosphere, perfect haircuts and nice barbers always up for a good conversation! Syahmi take care of me, and keep confirming I'm right to come back.
Their story, attitude and projects perfectly illustrate their mindset!"
10. Chez Vous Hair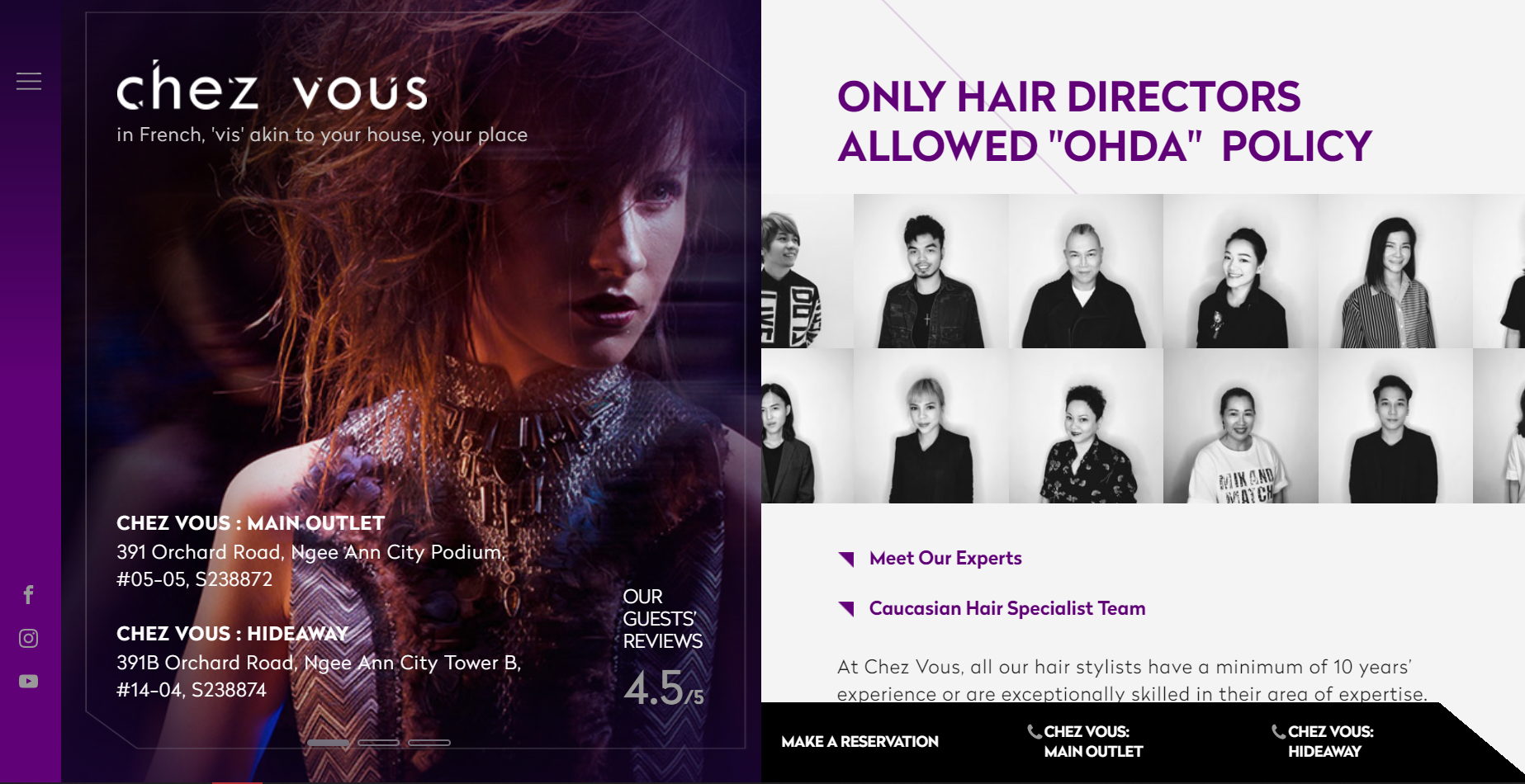 BEST FOR
Best ambience and comfortability experience
PRICING
Services
WEBSITE
http://chezvoushair.com/
ADDRESS
391 Orchard Road, Ngee Ann City Podium, #05-05, S238872
CONTACT DETAILS
(+65) 6732 9388 | [email protected]
OPERATING HOURS
Monday – Friday, 11:00 AM to 8:30 PM
Saturday – Sunday, 10:30 AM – 7:00 PM
You might be looking for a hair salon that does more than what the average barbers can offer. Chez Vous Hair offers a more creative and luxurious take on their array of hair services.
Hairdressers in Chez Vous carry multiple awards in their craft as well as at least a decade of experience. They are trained to handle various kinds of hairstyles whether it be a man or a woman's.
And because of this, they have an amazing skill set when it comes to hair treatments. It can range from simple hair trims to complicated hairstyles and even to coloring and hair repair therapy.
Of course, what's a credible hair salon without its comfortable ambience and lounging experience complete with snacks and refreshments? Their newly opened Hideaway salon is complete with this kind of experience. After all, "Chez Vous" in french means to be "at your house".
Highlights
Lounge area with snacks and refreshments
Friendly and professional staff
Variety of hair services and spa treatments
Customer Reviews
Chez Vous hair salon is highly regarded because of their exceptional customer service and hospitability.
On google, Nina left a review:
"Upon entering, the staffs are all super friendly & nice to talk to! You'll be guided to your seat & choose the drink. the hazelnut latte is superb!!!! I went for the Advanced Sugar Hair Lamination, which is the first in Singapore to have this! I woke up to zero-frizz hair, zero-tangles, and my hair is so smooth that my rubber band doesn't stay in place anymore! Moreover, my stylist, Charles, went the extra mile to teach me about curling my hair using different ways just because I asked about it. Super appreciative of it!

Also received & used the Oribe hair products and it is really the best product ever used. My scalp feels very clean and less oily after using & the smell is pretty pleasant too!! Highly recommend the services there as they are super gentle with your hair too."
Another customer wrote: 
"I have been going to Chezvous for more than 20 years. I enjoy their professional hairdressing services, friendly staff and a clean well kept hair salon. Reasonable prices and no touting of packages here like in other hair salons. Now my teenage girls are going there as well. It's our family hair salon!!"
11.

Barber25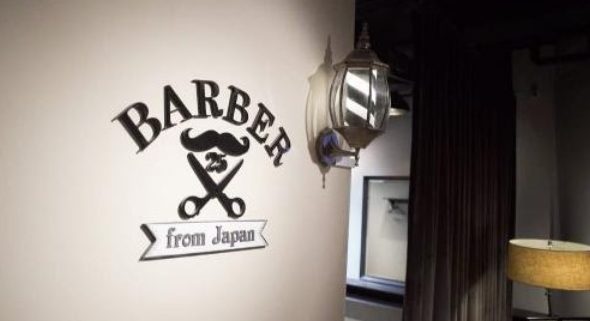 BEST FOR
Barber, salon, spa
PRICING
Services
WEBSITE
https://www.barber25.net/
ADDRESS
​​6A Shenton Way #03-16 OUE Downtown Gallery S'068815
CONTACT DETAILS
Tel: (+65) 6222 7551, WhatsApp: (+65) 94247051 | [email protected]
OPERATING HOURS
Monday – Friday, 10:00 AM to 8:00 PM
Saturday – Sunday, 10:00 AM to 6:00 PM
With 15 years of experience in the industry, Barber 25 is one of the best barber shops in Singapore that offers more than just your typical grooming services. From the impeccable Japanese hospitality to the personalised service coupled with high-level barbering and hairdressing techniques, Barber 25 gives assurance with the best quality.
Apart from the usual grooming services for the men, Barber 25 has recently partnered with Lily Head & Hair Spa to provide a salon experience for women as well. Couples can now have their perfect hair fix session together! To top the whole experience off, this barber shop offers spa and hair care treatments.
Some of their notable treatments is the Raw Honey Spa, Cream Bath, Organic Hair Care, Carbonated Hair Care and many more. A trip to Barber25 shop now doubles as a relaxation session.
Highlights
Japanese Styles and Techniques
Couple Salon Session
Hair spa and treatment
Customer Reviews
Previous customers left these reviews on google:
"I had a highlight service with Rie and I can say she is extremely the best. She is patient, professional and she goes above and beyond the expectation. Her warm personality also makes the entire session a whole lot of fun. Overall, I am happy with the result and the salon is very much recommended. Thank you Rie and keep up the excellent work. You are truly a star."
"I had my haircut and perm a few days ago in Barber 25. Overall, my experience was excellent. From the reception, to the haircut, washing, styling, until I exit the shop, the experience was really memorable and exquisite. For the haircut, I told Toya that I wanted to change my hairstyle and looking into perm. Showed him a few images and to my awe, he delivered. He really is a great stylist. He was kind and gentle. He gave me tips as well when I ended my appointment with him. Again, I highly recommend Barber 25. They're not only excellent in haircuts and treatments and all, but also in providing you with a great experience…the one I always look forward to. Thanks and keep it up Toya and the whole team!" 
Keeping yourself groomed will surely leave a nice impression for every person that you meet so come and visit at least one shop from our list of the best barbers in Singapore now! If we missed out on other great barber shops, share them with us, we'd like to know more about their services!
To see more options, take a look at these best hair salons in Singapore! They also do haircuts for gentlemen, helping them achieve a perfectly groomed look.