The 6 Best Cooker Hobs in Singapore
Are you still using an old and tarnished cooker hob that's about to break down any minute? Well, maybe now's the right to start looking for a new cooker hob that can make your life in the kitchen a whole lot easier.
If that's what you're after, then you've definitely come to the right place! We combed through the entire island in search of the best cooker hobs in Singapore that can elevate meal preparations to a different level of convenience.
Before we reveal our picks though, we're written a handy guide about the different types of cooker hobs and how to pick the right one that suits your needs in the kitchen.
Types of Cooker Hobs
Before we reveal the factors to consider when looking for the best cooker hobs in Singapore, it'd make more sense to go into detail about its different types first.
The three most common types of cooker hobs are gas hobs, induction hobs, and ceramic hobs. Here's our brief explanation of each type, along with their advantages and disadvantages.
Gas hobs
Gas hobs remain the most popular type of cooker hob because they're easy to use and almost everyone is familiar with how they work. They also tend to be the first choice for a lot of professional chefs, which says a lot about their convenience.
When a gas hob is turned on, a flame lights the gas flowing through burners on the cooktop, creating a fire to cook with. It can either be used with liquefied petroleum gas (LPG) or piped gas.
What makes a gas hob a great option is that it's easy to use, can create powerful heat in an instant, and can be used with any type of cookware. On the other hand, it can be quite a hassle to clean.
Induction hobs
An induction hob, on the other hand, uses electromagnetism to produce heat inside the cooking pan. It heats the pan directly, rather than creating energy that heats up the cooking surface.
In a way, an induction hob turns cooking pans into cookers, which then cooks food faster and more efficient without using a lot of energy. It typically comes with touch-sensitive buttons and different heat programmes for more calculated cooking.
Similar to gas hobs, induction hobs are extremely quick to heat up, on top of being energy efficient. One downside is that you can't use it with aluminium or copper pans, as it's only compatible with cast iron and steel cookware.
Ceramic hobs
Technically, some gas and induction hobs can be considered as ceramic hobs as well. However, most of the time, when a cooker hob is advertised as a "ceramic hob," it will be electric and can work in various ways.
In a way, ceramic hobs are similar to induction hobs, but the main difference is that the former uses an element underneath the cooker's surface for heating up and transferring the heat to the cooking pan.
Ceramic hobs are unbeatable in terms of aesthetics, so if you're looking for an elegant and modern addition to your kitchen, then better get your hands on them. Though, expect the price to be higher than the other types.
How to Pick the Best Cooker Hobs in Singapore
Aside from the type of cooker hob, other factors you need to consider are size, heat control, number of burners, ease of cleaning, and cookware compatibility.
Keeping these factors in mind will make it easier for anyone to find the right cooker hob that suits their needs in the kitchen, so allow us to elaborate on each point below.
1. Size
There's no standard size for cooker hobs, but most types use the same design which is two/four burners on a rectangular panel measuring 60cm wide and 50cm deep.
Cooker hobs have two sets of dimensions: the actual dimensions and the dimensions needed for the cut out in which the hob will be placed. Generally, the cut out dimensions are a few centimetres shorter than the actual dimensions.
We can't stress it enough to double-check the dimensions before taking home a cooker hob, especially if you're replacing the one you have at home.
2. Heat control
Heat control can be the key to a perfectly cooked dish. You can never go wrong with a cooker hob that comes with a wide range of heat control.
Gas hobs are capable of good heat distribution which can be adjusted through the knob. Meanwhile, induction hobs usually come with heating programmes that make it possible to boil a litre of water in as fast as five minutes.
Ceramic hobs get overshadowed when it comes to heat control because electrically-heated coil elements take time to heat up.
3. Number of burners
A one-ring or two-ring burner would be ideal for those who have limited kitchen space and only need to cook for themselves alone. It wouldn't be practical to go for a four-ringed cooker hob unless one regularly cooks meals for a large group of people.
However, if you're looking for a cooker hob that makes it possible to cook multiple meals at once, then going for a four-ring or five-ring hob would be practical.
4. Cookware compatibility
While gas hobs are compatible with almost any type of cookware, induction and ceramic hobs require specific types of cookware in order to work efficiently.
Since induction hobs have electromagnets, the most ideal cookware for them would be steel, enamelled steel and cast iron. Ceramic hobs, on the other hand, work best only with cookware with flat bases.
If you don't have a wide range of cookware, going for either a ceramic hob or an induction hob becomes an expensive option.
5. Ease of cleaning
After hours of meal preparation, you're going to be left with the mess that you created, most of which will be found on the cooker hob. Ceramic and induction hobs have smooth and flat surfaces, so there wouldn't be any trouble while cleaning them.
By contrast, gas hobs would require more effort because there are uneven and protruding parts, such as the drip plates, burners, and pan stands.
The Best Cooker Hobs in Singapore
Anyway, now that you know more about cooker hobs in Singapore than before, it's time to move on to our picks!
Check them out below to see which one can keep up with your daily needs in the kitchen!
1. Turbo Incanto T702SSV
| | |
| --- | --- |
| TYPE | Gas hob |
| NO. OF BURNERS | 2 |
| SIZE | 70 x 50 x 6cm |
| PRICE | S$379.00 |
There's no doubt that cooker hobs cost a lot of money, but luckily, there are cost-efficient options like the Turbo Incanto T702SSV. It's a two-burner gas hob made out of premium stainless steel, so there's no doubt about its durability.
It doesn't come with a lot of special features since it's a budget-friendly cooker hob, but it gets the job done just as well. It comes with a double burner affixed with an inner ring control device, on top of a cast-iron pot stand.
Another thing we like about the Turbo Incanto T702SSV is the copper alloy burners with a safety valve that minimises the chances of an accident happening. It's quite rare for cheap cooker hobs to have safety features, so it's definitely a special one.
As with all gas hobs, it needs to be connected to a gas line or pipe in order to work, so there's no need to worry about seeing an increase in your electricity bill.
When it comes to post-meal preparation clean-up, Turbo Incanto T702SSV doesn't require as much effort as other gas hops. It features a large and smooth surface that can be wiped clean with a wet microfiber cloth.
1-year warranty
Budget-friendly
Made out of quality stainless steel
Ignition system is battery operated
2. Aerogaz Vitro-Ceramic Hob AZ-7348VC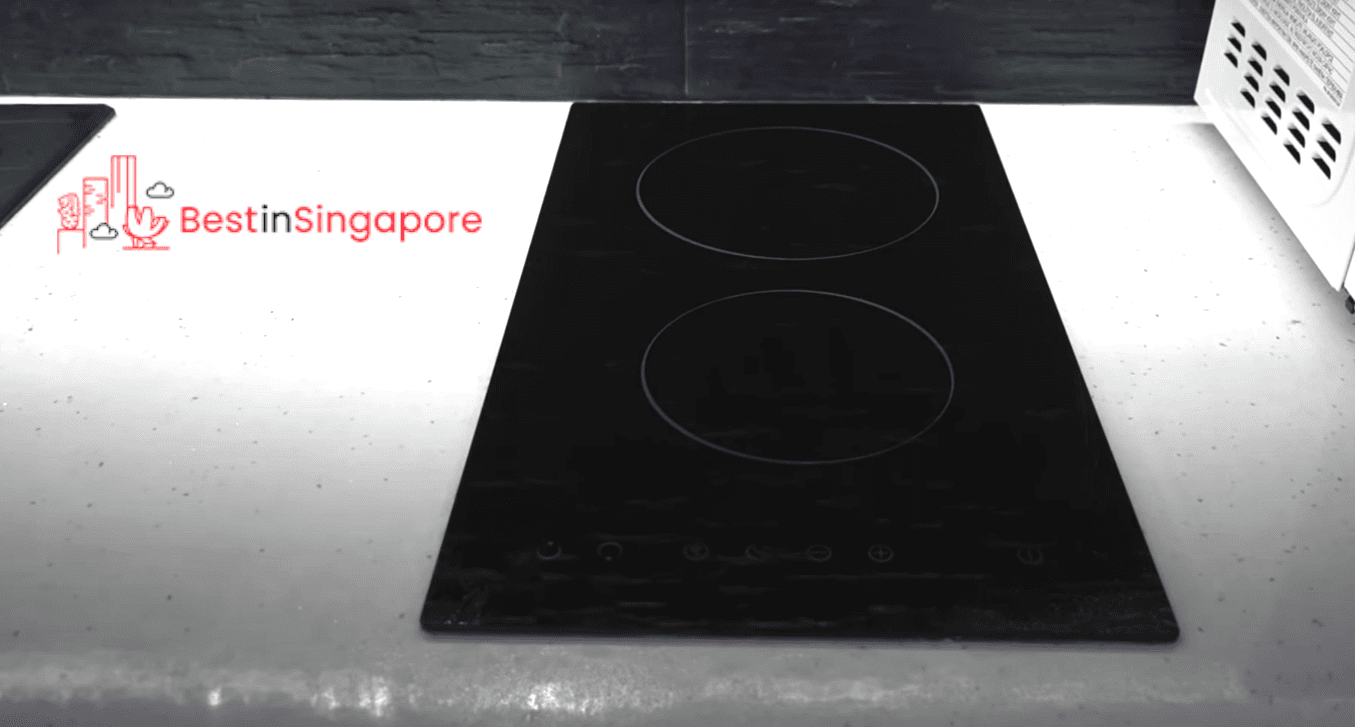 | | |
| --- | --- |
| TYPE | Ceramic hob |
| MAX. POWER OUTPUT | 2800W |
| NO. OF BURNERS | 2 |
| SIZE | 71 x 42 x 7.5cm |
| PRICE | S$429.00 |
The Aerogaz AZ-7348VC is a powerful ceramic hob that boasts a maximum power of 2800W, making it a perfect option for those who do a lot of bulk home cooking. It does require more energy though, so there may be a spike in your electricity bill.
It features a full-black and sleek crystal glass top that can complement any type of kitchen interior and won't be hard to clean as well. It has a durable metal housing as well which gives it a more contemporary look.
The Aerogaz AZ-7348VC comes with four digital displays where users can easily turn it on, adjust the heat, and monitor the residual heat for safety. We like that it's not complicated to control, unlike most induction hobs.
Speaking of safety, the Aerogaz AZ-7348VC is designed with a child-lock function that prevents the unsupervised use of children. It's why we've decided to call it one of the best cooker hobs in Singapore.
Safety features
High-power cooker hob
Easy to control and clean
3. Grunn Dual Induction Ceramic Cooker Hob GDIC-2900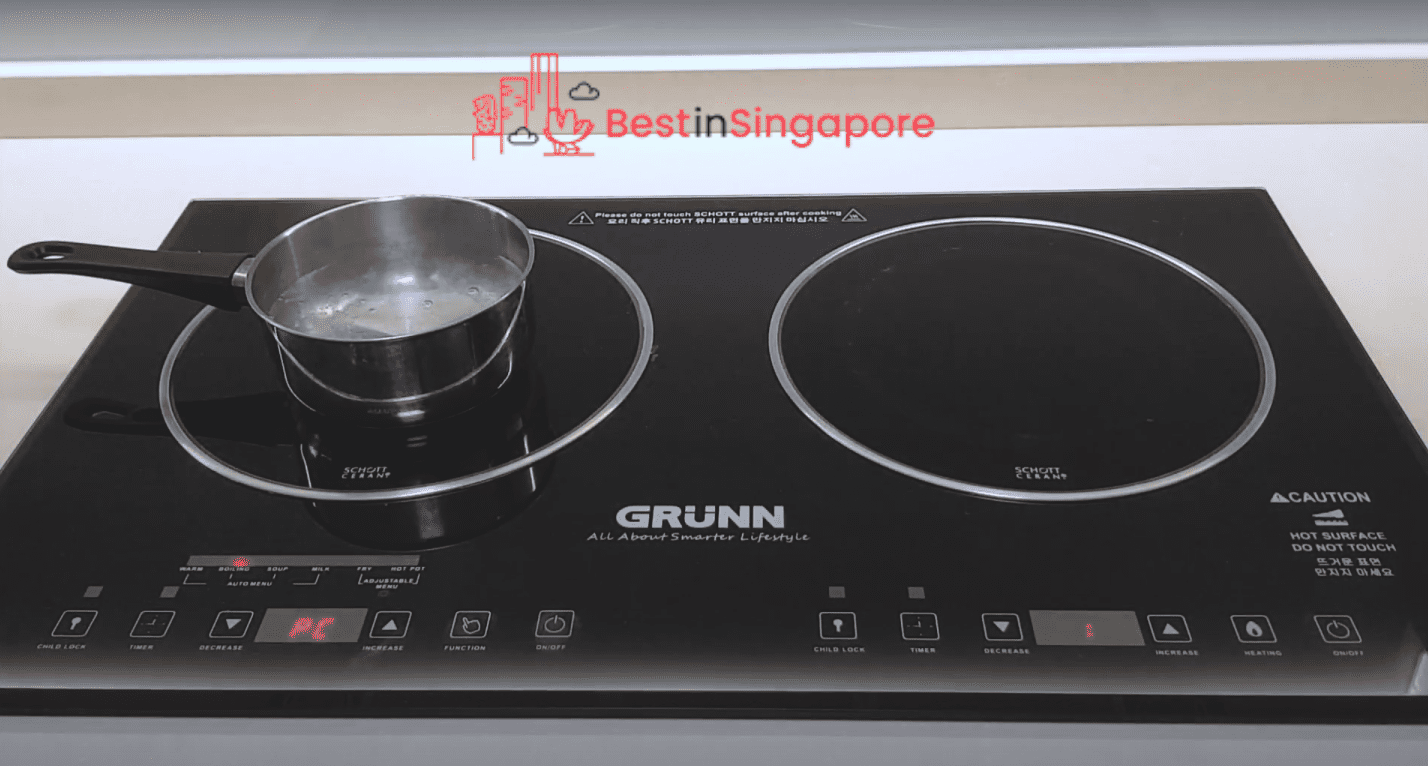 | | |
| --- | --- |
| TYPE | Induction-ceramic hob |
| MAX. POWER OUTPUT | 2900W |
| NO. OF BURNERS | 2 |
| SIZE | 73.5 x 43.5cm |
| PRICE | S$699.00 |
In terms of extra features, we believe that the Grunn Dual Induction Ceramic Cooker takes the top spot. For one, it can function either as a built-in or table-top cooker hob, so there's no need to hire a handyman to set it up for you.
The Grunn Dual Induction Ceramic Cooker is one of the few hybrid cooker hobs that allows both induction and infrared cooking, making it possible to use all sorts of cooking strategies.
It's designed with an EGO heater that evens out the heat distribution which can shorten cooking time. It's a feature that would come in handy if you're cooking for a group of people and don't have enough time.
One reason it's been called one of the top cooker hobs in Singapore is that it works well with all types and sizes of cookware because of the double infrared heating rings. You don't have to purchase other cookware in order to use it to its full capacity.
What's more, the Grunn Dual Induction Ceramic Cooker comes with an eight adjustable temperature setting that gives users total control over the heat. It has front display buttons, but it comes with side controls as well.
It's the only cooker hob in our list made from authentic German Schott CERAN® glass, so it's resistant to scratches and temperatures of up to 850 degree Celsius.
Scratch-resistant
Heat resistance of up to 850 degree Celsius
Installed with side controls
Suitable for all kinds of cookware
1-year on-site warranty
4. Tecno T788GI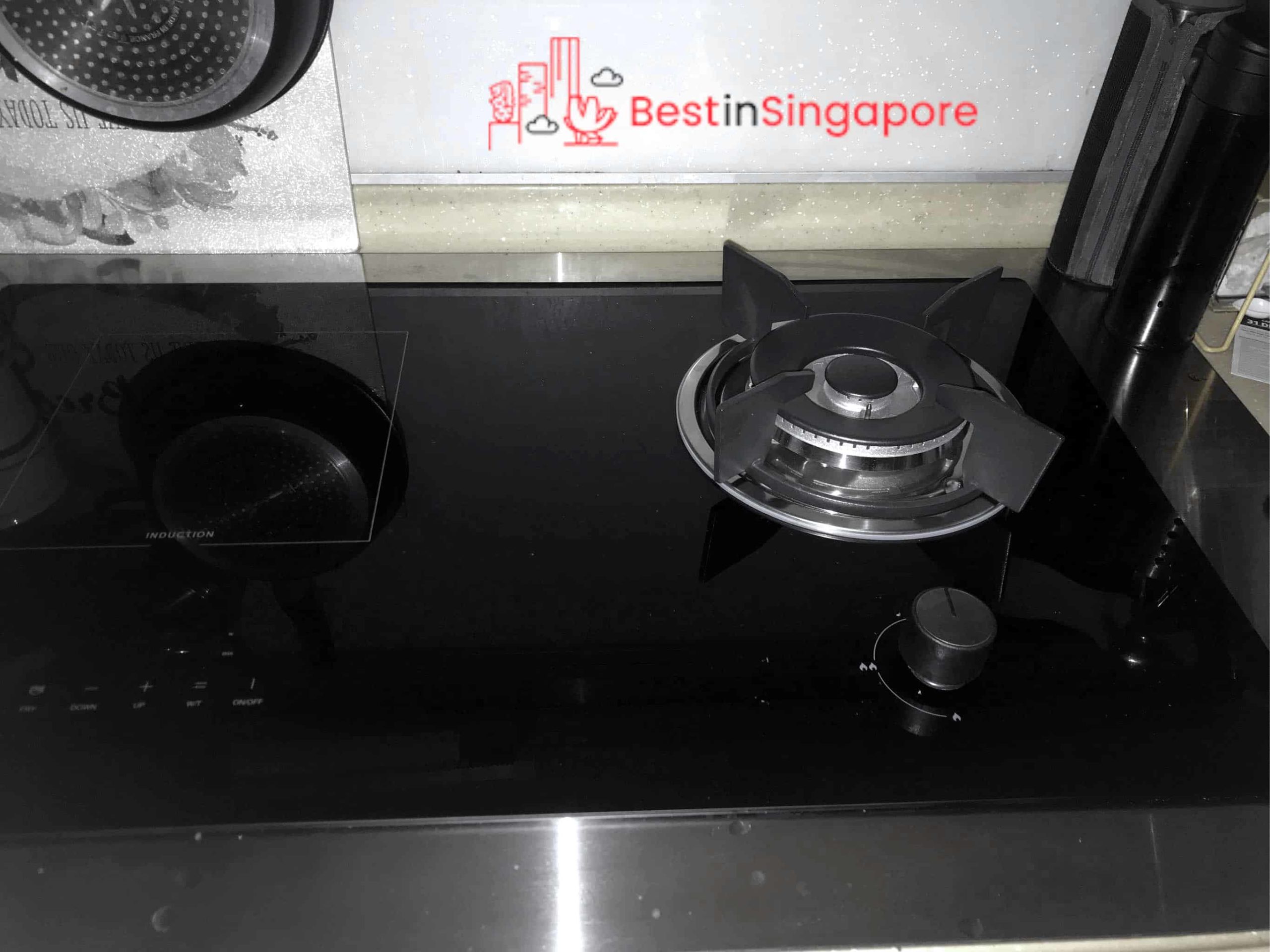 | | |
| --- | --- |
| TYPE | Gas-induction hob |
| MAX. POWER OUTPUT | 2000W |
| NO. OF BURNERS | 2 |
| SIZE | 67 x 37cm |
| PRICE | S$868.00 |
The Tecno T788GI is a heavy-duty hybrid cooker hob that combines gas and induction cooking. It's the ideal cooker hob for all types of meal preparation, from serious ones like cooking for a group of people down to basic ones like boiling water.
It's built with a high-power Italian Defendi gas burner and an induction burner with a maximum heating power of 2000W. It uses the latest smart constant heating platform that delivers consistent heating results, even on minimum heat.
Its induction burner is equipped with sensor touch controls, nine power level settings, and timer for up to 240 minutes.
The Tecno T788GI can accommodate all types of sizes of cookware too, including 2 XXL-sized woks. Its burners are large and versatile enough to handle pans of all materials and sizes.
In terms of built, the Tecno T788GI doesn't fall short. It's made from high-end ceramic glass that's both easy to clean and heat resistant.
On top of that, it features cool-touch knobs that reduce heat absorption from the burners to prevent users from getting burned.
Multiple safety features
Suitable for all kinds of cookware
With 9 power level settings
Heat resistant
Difficult to install (professional services recommended)
Expensive
5. Bosch Induction Hob PPI82560MS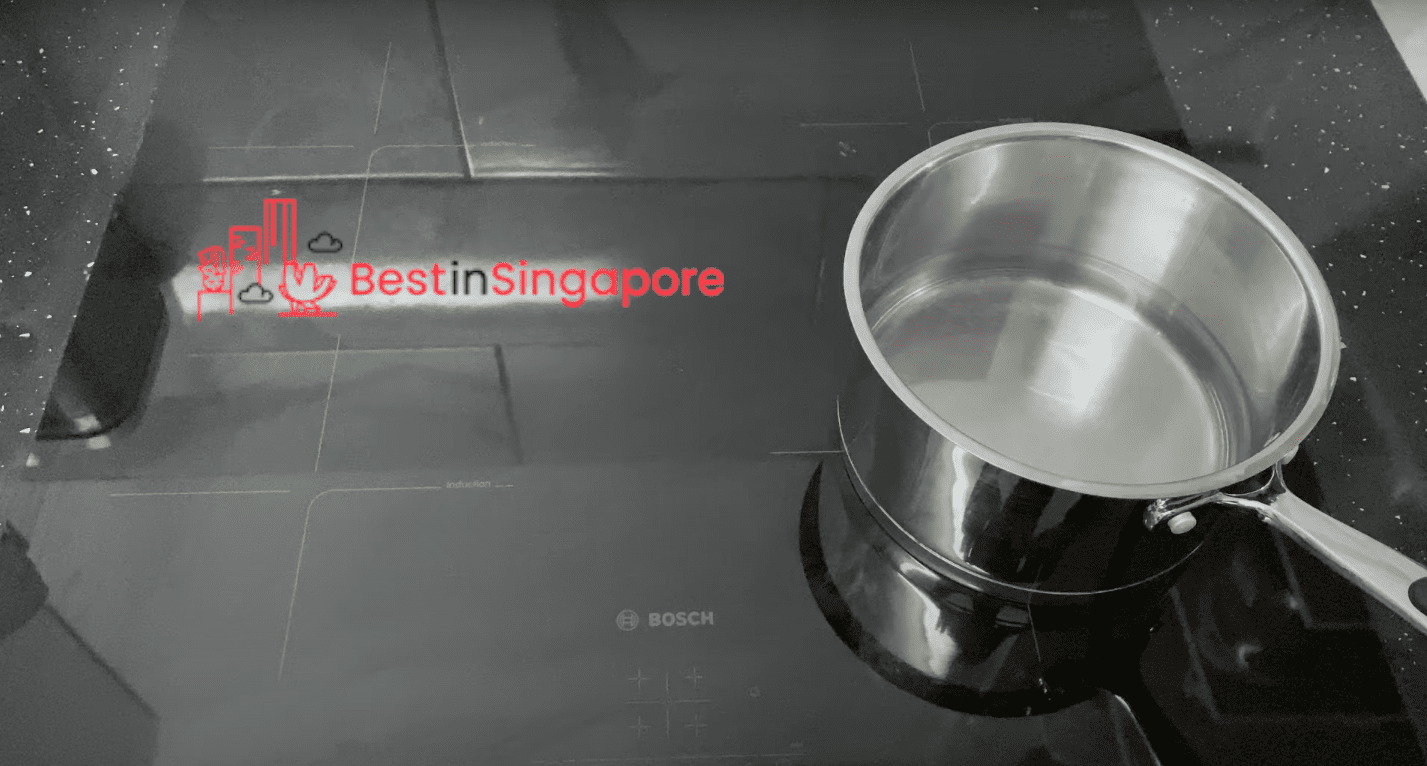 | | |
| --- | --- |
| TYPE | Induction hob |
| MAX. POWER OUTPUT | 3100W |
| NO. OF BURNERS | 2 |
| SIZE | 78 x 45 x 6cm |
| PRICE | S$919.00 |
If you're willing to spend close to a thousand dollars for a high-end cooker hob, then we recommend checking out the Bosch PPI82560MS. It's an expensive option, but it pays off with its impressive and advanced features.
The Bosch PPI82560M is an induction hob with a maximum power of 3100W, making it the most powerful option on our list. It's built with an improved PowerBoost function that adds more power and speeds up the cooking process.
As a result, it can now boil two litres of water almost thrice as fast as all the other types and hybrids. Some users even mentioned that it cut their meal preparation time in almost half!
The Bosch PPI82560M only comes with two cooking zones, just like all the other options in our list. What makes it unique is that each zone has nine-stage power settings that make it possible to cook two meals at the same time in different heat levels.
More than that, each cooking zone automatically shuts off when cooking is done to prevent injuries and limit energy consumption. Users can even monitor the remaining temperature through the residual heat indicator.
Contemporary design
Powerful burners
Automatic shut off feature
Residual heat indicator
Expensive
Complicated controls
6. EF Dual Flame Control Glass Gas Hob EFH 9733 WT VGB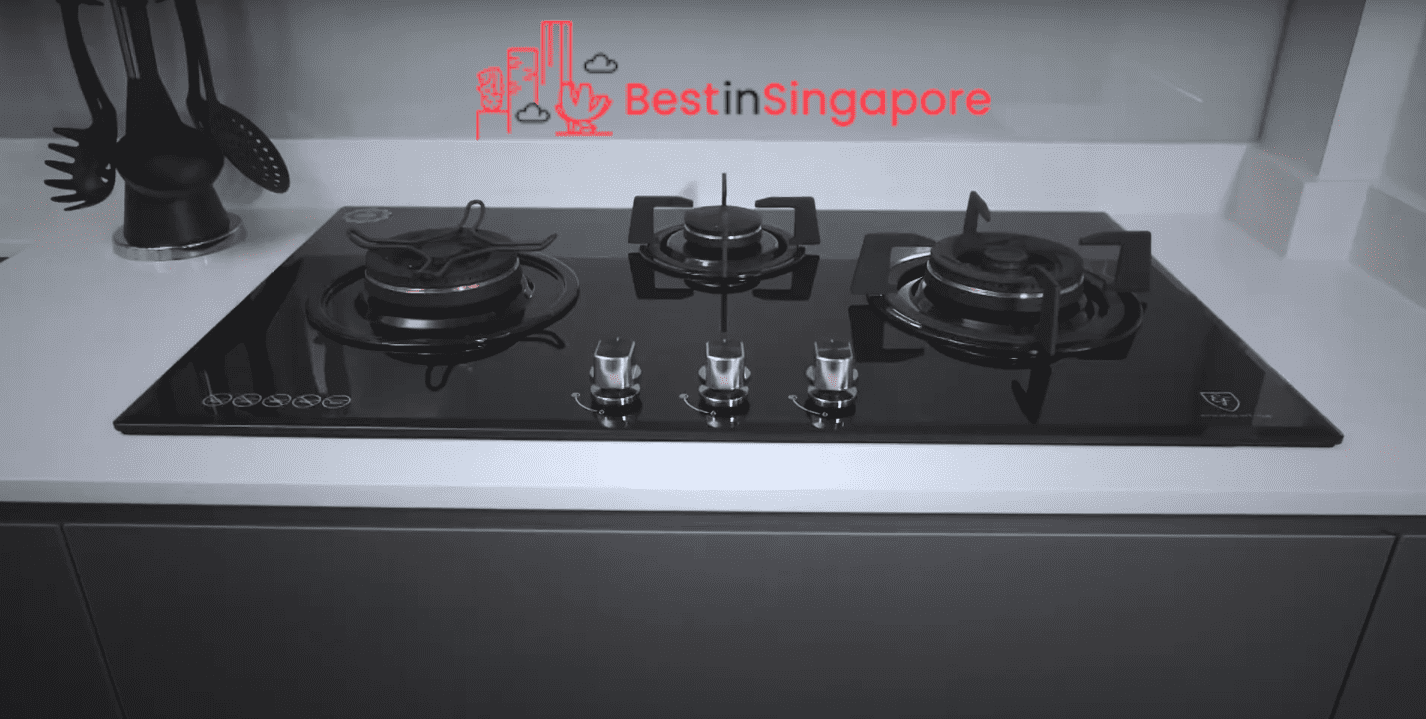 | | |
| --- | --- |
| TYPE | Gas Hob |
| MAX. POWER OUTPUT | 2.0kW – 5.0kW |
| NO. OF BURNERS | 3 Brass Burners |
| SIZE | W860 x D510 x H80mm |
| PRICE | $609.00 |
The EFH 9733 WT VGB is a gas hob made of tempered glass — sturdy, stylish, and suited for modern homes.
It comes with 2 wok burners and 1 smaller, semi-rapid burner. They may be few in number, but the functions of these burners more than make up for it.
The burners come with dual flame controls, with the outer ring suited for frying and the inner ring suited for simmering. As a plus, this model also features ergonomically designed knobs and intuitive indicators that make it easy to control the flame.
Finally, you won't need to worry about the igniter degrading too quickly since it's battery powered and can be resupplied quickly. With frequent cleaning and maintenance, this hob can serve you for many years of cooking — may it be for yourself or for more people.
Dual Flame Control
Triple Rings Burners
Power flame (max. 5.0kw) for 'wok hei' flavourful cooking
Flame Failure Safety Devices
Fully Sealed Burner Base
Cast Iron Pan Supports with Integrated Wok Stand
Battery Ignition
FAQS about Cooker Hobs in Singapore
---
And with that, we conclude our list of the best cooker hobs in Singapore. If you've used any of these cooktops in the past, share with us how it improved your cooking skills!
If you know other cooker hobs worth checking out, tell us their names so we can check if they're worthy of being part of our list.
By the way, if you're looking for cooker hoods as well, we recommend taking a look at our list of the best cooker hoods in Singapore. Most of these cooker hoods blend well with all types of kitchen interiors!