The 8 Best Employment Lawyers in Singapore
If you ever find yourself in conflict with your employer or employee, the right thing to do is to ask for help from the best employment lawyers in Singapore to know how to properly address the issue at hand.
Some of the things that the best employment lawyers in Singapore can help with are filing a complaint, explanation of rights, compliance with labor laws, wage and hour lawsuits, among others.
If your concern falls within any of those, you definitely need the protection of the best employment lawyers in Singapore.
Worry not if you don't know how to get in touch with the best employment lawyers in Singapore, though. Today, we're here to share our picks of the ones worth hiring.
Check out our list below to see which employment lawyer offers the services you're looking for.
1. Axis Law Corporation
BEST FOR
Professional Legal Services
EXPERTISE
Employment Law
WEBSITE
https://www.axislaw.com.sg/
ADDRESS
163 Tras Street,
#06-04,
Singapore 079024
CONTACT DETAILS
Tel : (65) 6535 6850
Fax : (65) 6532 3490
Email: [email protected]
OPERATING HOURS
N/A
Axis Law Corporation is a law firm committed to providing excellent legal services for value-adding solutions. They have many years of experience working in many areas of law.
Their team is dedicated to understanding each of their clients, may it be individuals or corporations. If you're in need of a firm well-versed in employment law, Axis Law Corporation is the one you should call.
Highlights
More than 20 years of experience
Proficient in many areas of practice
2. Farallon Law Corporation

| | |
| --- | --- |
| BEST FOR | Experienced Lawyers |
| EXPERTISE | Employment Law, Corporate Law, Criminal Law, Debt Collection, and Mergers and Acquisitions |
| WEBSITE | http://www.fl.sg/ |
| ADDRESS | 6A Shenton Way, #04-01 OUE Downtown Gallery, Singapore 068815 |
| CONTACT DETAILS | +65 6931 9000 |
| OPERATING HOURS | Monday – Friday, 9:00 AM – 6:00 PM |
As one of the most in-demand law firms on the island, Farallon Law Corporation is known for housing some of the best employment lawyers in Singapore. Its employment law team boasts extensive experience in helping individuals and companies.
One of its goals as a law firm is to provide simple and fast solutions to complex legal challenges. So, if you find yourself in need of a reliable employment lawyer who can provide comprehensive and customised legal advice, we strongly recommend their services.
Some of the areas of employment law that Farallon Law Corporation can help in are wrongful termination, workplace discrimination, salary-related matters, non-disclosure agreements, and employer rights, among others.
Highlights
Wide area of expertise
Licensed and experienced lawyers
For businesses and employees
3. Godwin Campos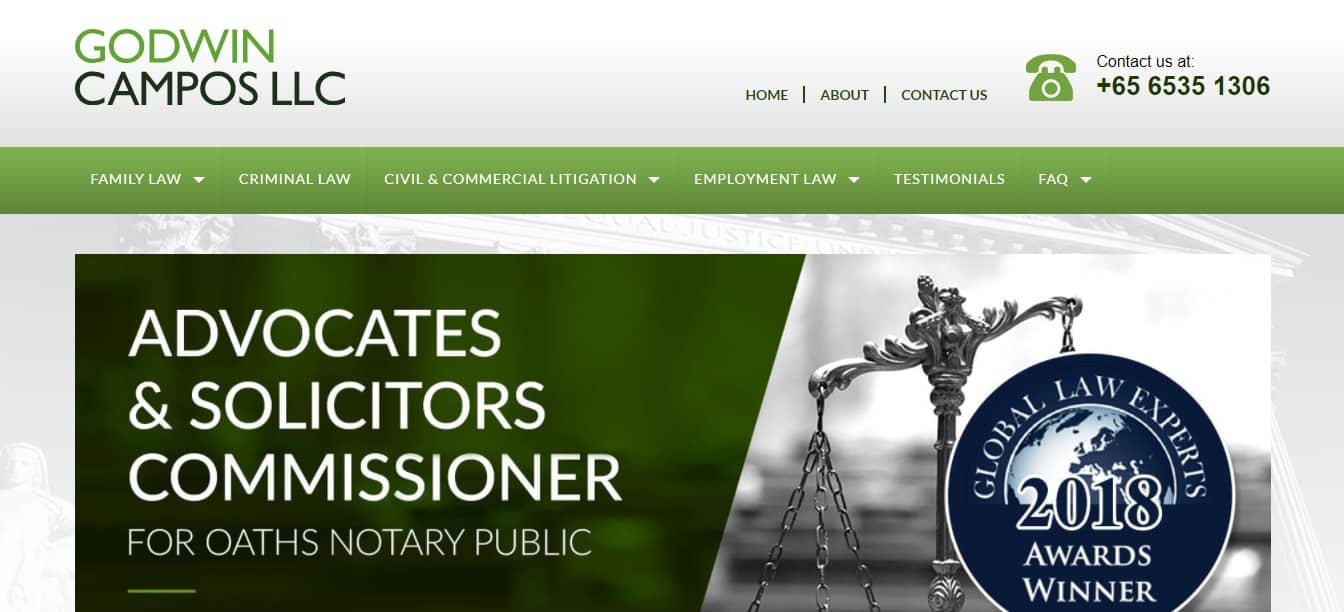 | | |
| --- | --- |
| BEST FOR | High Success Rate |
| EXPERTISE | Employment Law, Family Law, Civil Law, and Commercial Law |
| WEBSITE | https://www.godwincampos.com.sg/ |
| ADDRESS | 160 Robinson Rd, #14-06 SBF Center, Singapore 068914 |
| CONTACT DETAILS | +65 6535 1306 |
| OPERATING HOURS | Monday – Friday, 9:00 AM – 5:00 PM |
Godwin Campos is primarily known as a family law firm, but over time, it's proven that it employs some of the best employment lawyers in Singapore as well.
With more than 17 years of experience, Godwin Campos boasts a success rate of more than 90% based on a thousand cases resolved. In fact, it's received multiple awards for its work.
If you're worried by the expenses of hiring the best employment lawyers in Singapore, worry no more because Godwin Campos will make sure to offer a legal advice package that fits within your budget.
The firm's expertise in employment law is in drafting employment and business contacts. So, if you're in the early stages of building your business, you might want to consider hiring their services!
Highlights
17 years of experience
Wide range of services
With awards and recognitions
Customer Reviews
Here's what clients had to say about their experience with Godwin Campos:
"I was very assured when Godwin Campos handled my custody case. I was worried that the process would be extremely draining, but the legal team here helped to ease some of that stress when they handled everything efficiently and all with good strategy and advice."
"Despite being a busy and sought-after attorney, Godwin and his team remained highly attentive and detailed in resolving some unfavorable terms in my employment contract. He was very helpful and made sure I knew my employee rights. I'm very thankful to Godwin and will definitely choose him again."
4. Yuen Law

| | |
| --- | --- |
| BEST FOR | Extensive Range of Expertise |
| EXPERTISE | Employment Law, Family Law, Corporate Law, Real Estate Law, Criminal Law, and IIntellectual Property Law |
| WEBSITE | https://yuenlaw.com.sg/ |
| ADDRESS | 50 South Bridge Rd, #03-00, Singapore 058682 |
| CONTACT DETAILS | +65 9624 6855 |
| OPERATING HOURS | Monday – Friday, 9:00 AM – 5:00 PM |
Despite having only 8 years of experience under its name, Yuen Law has grown to become one of the most trusted law firms in Singapore for all types of legal concerns. It comes as no surprise, as it's composed of some of the best employment lawyers in Singapore.
On top of that, Yuen Law can provide legal assistance in a wide range of areas, including family law, commercial law, intellectual property law, and even real estate law. It's committed to serving every client with integrity, empathy, and professionalism.
Yuen Law knows that it's never easy dealing with employment conflicts, but with the help of its lawyers, the process will become a lot easier and less stressful.
Highlights
8 years of experience
Wide area of expertise
Lawyers with integrity
Customer Reviews
Take a look at what clients have to say about its services:
"I would like to thank Samuel and Yuen Law for their professional assistance with incorporating my company and applying successfully for an LOC for me as an employee of my company. They promptly provided all the documents for signature, guided me through the whole process and answered all my questions elaborately."
"Working with Yuen Law on property conveyance has been a pleasant and professional experience. Mr. Lim and his staff are quick to communicate and patiently accommodate our needs, even during the stressful circuit breaker. We highly recommend working with Yuen Law."
5. APEX Law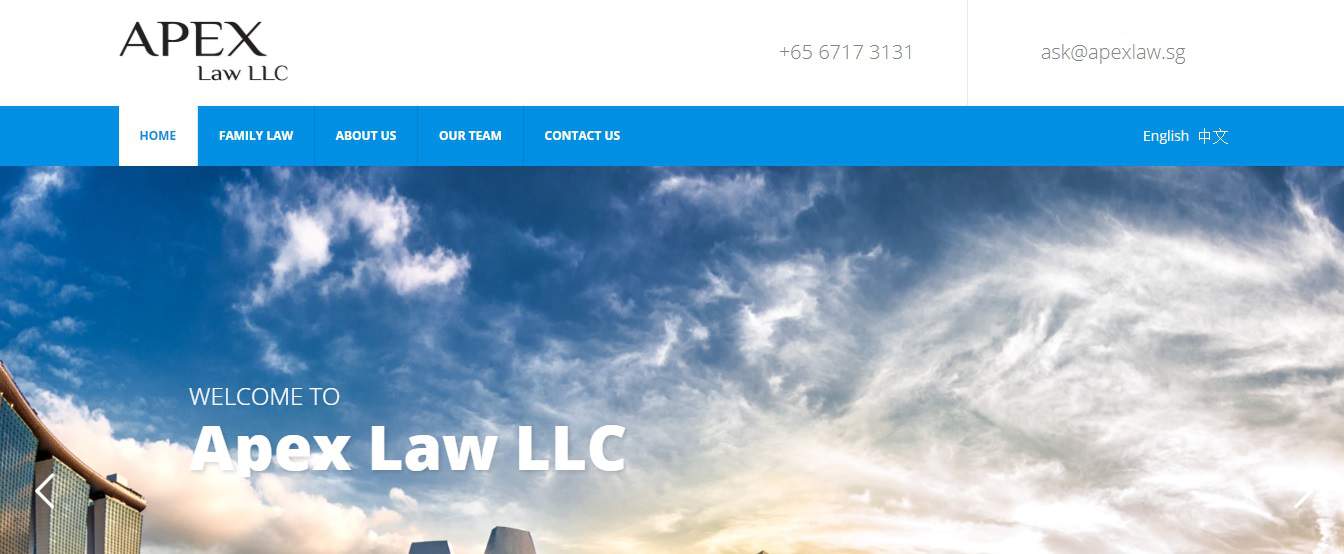 BEST FOR
Competitive Rates
EXPERTISE
Employment Law, Corporate Law, Criminal Law, Conveyancing, and Family Law
WEBSITE
https://www.apexlaw.sg/
ADDRESS
185 Toa Payoh Central, #02-342/344 346/348, Singapore 310185
CONTACT DETAILS
+65 6717 3131 | +65 9624 9200 |

[email protected]

OPERATING HOURS
Monday – Friday, 8:00 AM – 6:30 PM
If you're looking for a law firm with affordable rates, you might want to consider checking out APEX Law. It's made up of a large team of lawyers who are experts in employment law, corporate law, family law, property law, among others.
In line with that, it's no secret that it's considered one of the top law firms on the island. That's despite its legal rates remaining competitive, allowing more people to gain access to quality and reliable legal services.
In terms of its employment law services, its legal team can handle all kinds of concerns, from employment contracts down to non-disclosure agreements.
Highlights
Low, competitive rates
Licensed and professional lawyers
Personalised services
6. Syariah Lawyers

BEST FOR
Divorce and Separation
EXPERTISE
Syariah Divorce & Custody, Wasiat & Hibbah, Faraid, and more
WEBSITE
https://syariahlawyer.com/
ADDRESS
100 Jalan Sultan, #02-09/10
Sultan Plaza, 199001
CONTACT DETAILS
[email protected]
+65 6298 2537
OPERATING HOURS
N/A
Next on our list is one of the leading law firms in Singapore: Syariah Lawyers.
Collectively, the lawyers in this firm have over twenty years of experience. That time they have spent specialising in various aspects of the law, including but not limited to Syariah divorce, Wasiat and Hibbah, and other fields. 
Now, we must also commend the lawyers' dedication and diligence in every case they take on. They strive to acquire the best possible outcome for their clients, which is why Syariah Lawyers comes highly recommended. 
Highlights
Leading law firm in Singapore
Many areas of expertise
7. Eldan Law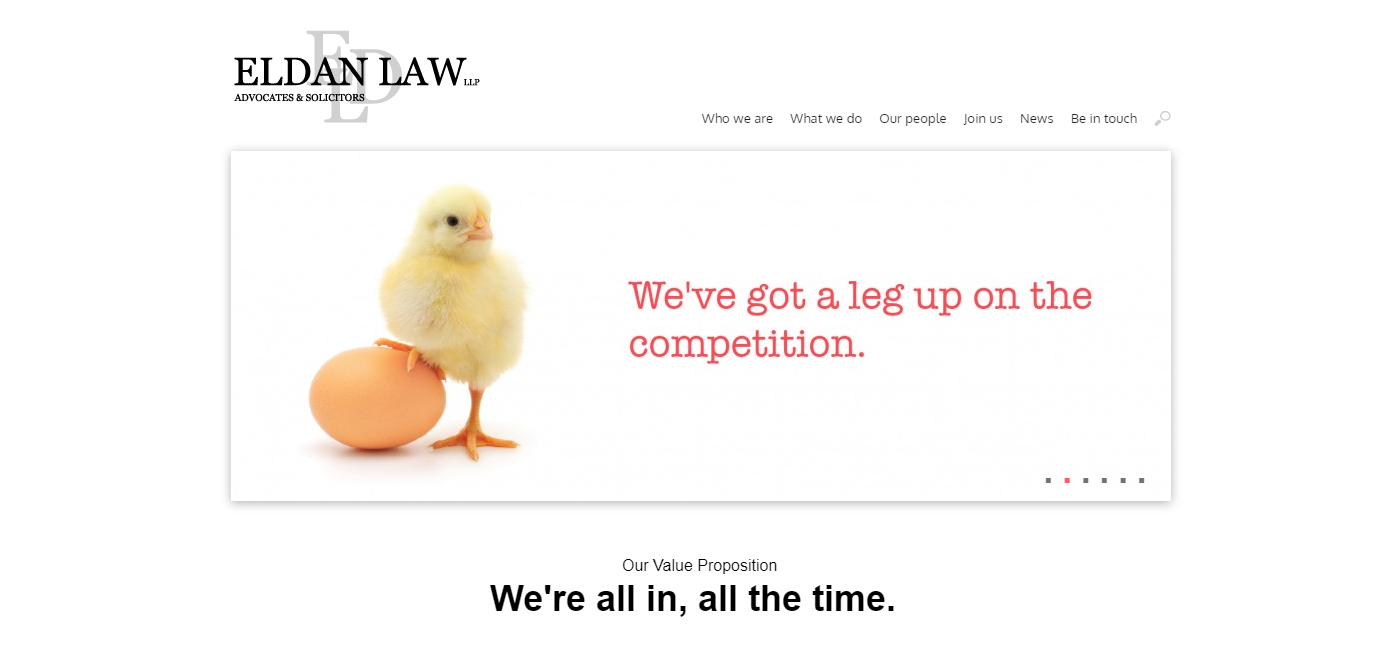 BEST FOR
Full legal services
EXPERTISE

Arbitration, Litigation and Alternative Dispute Resolution
Construction & Engineering
Corporate Real Estate
Employment Law
Energy, Oil & Gas
Family, Probate & Trusts
Insolvency & Restructuring
Intellectual Property
Mergers & Acquisitions and Strategic Corporate Advice
White Collar Crime

WEBSITE
http://www.eldanlaw.com/
ADDRESS
20 Cecil Street
#07-07 PLUS
Singapore 049705
65 6837 8100
CONTACT DETAILS
+65 6837 8100
OPERATING HOURS
Monday – Friday: 9am–6pm
Eldan Law was established in 2010 as a small law firm that offers basic construction legal services. Throughout the years, they have expanded into what is now a full-service firm, catering to almost all possible litigation problems. This makes Eldan Law a one-stop solution for people to consider in case they're in need of more than just one legal assistance.
Their team consists of lawyers of varying expertise, but are all specializing in dispute resolutions. They're passionate about what the do, and always put out the best work possible.
Eldan Law utilizes familiar tools in law, but incorporates new techniques and ways to improve case conditions.Their performances remain top notch and are always improving.
Through their experience on both public and private sectors, Eldan Law ensures that they've dabbled into almost everything, and are able to provide top notch services at the best rates.
Highlights
Ranked in Chambers for Construction Law
Member of Lawyers Associated Worldwide
Cutting-edge legal solutions
8. KGP Legal LLC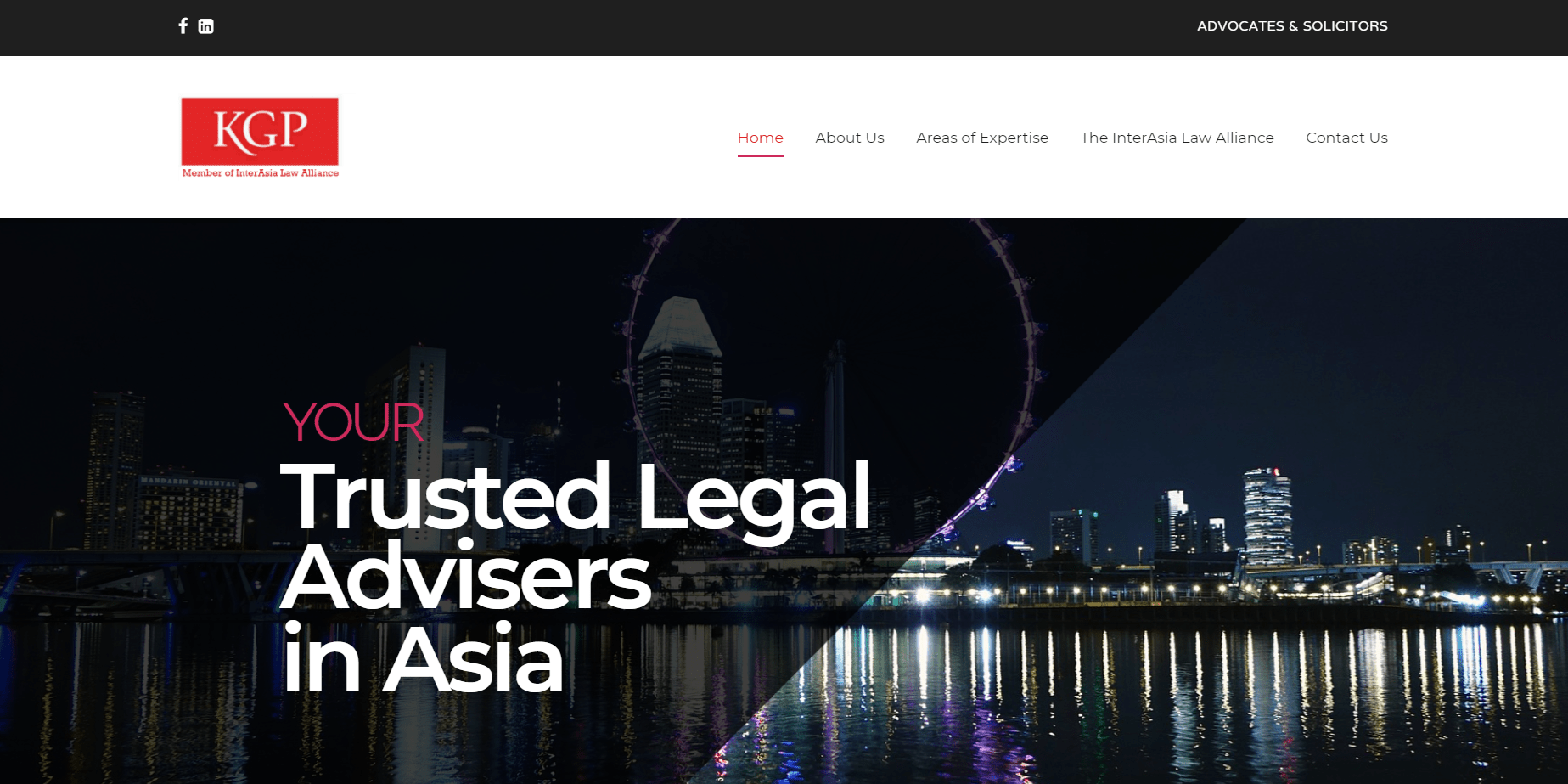 BEST FOR
International Law Firm
EXPERTISE

Corporate and Commercial Law, Financial Services Regulatory, Technology and Start Up Law, Expatriate Employment Law Advice, Insurance Law Advisory, Japan Desk

WEBSITE
http://www.kgplegal.com.sg/
ADDRESS
10 Anson Road #23-05
International Plaza, Singapore 079903
CONTACT DETAILS
Email: [email protected]
Phone: (+65) 6916-1298
Fax: (+65) 6916-1290
OPERATING HOURS
Monday – Friday: 9 am–6 pm
KGP Legal LLC is a firm that aims to provide its services to clients worldwide. They provide high-quality and cost effective legal solutions to their clients.
Corporate and commercial assistance is what they're known for, but that's not all they have to offer. Their other areas of expertise include financial law, technology and start up law, expatriate employment law, and insurance law. 
As a member of the InterAsia Law Alliance, there's no doubt that they have many connections to work with. This allows them to continuously assist clients even if the case falls beyond their capabilities.
Unlike other law firms, KGP Legal LLC doesn't employ an hourly billing or open-ended rate. Instead, they provide fixed-fee arrangements that are comprehensive and transparent.
Given it's reasonable prices and excellent services, KGP Legal LLC is a company one should not fail to consider.
Highlights
Provides solutions to complex problems
Member of the InterAsia Law Alliance
High quality yet cost-effective legal advice
Fixed fee arrangements
And that's it for our list of the law firms with the best employment lawyers in Singapore. We hope that you were able to pick at least a few whom you think can be a huge help in your situation.
If you're an employer who needs help beyond employment contracts, you might want to check out our list of the best corporate lawyers in Singapore. These lawyers definitely know how to best protect your business's interests!