The 10 Best Corporate Lawyers in Singapore
One of the most effective ways to protect your business's interests is to hire the best corporate lawyers in Singapore to guide you with every decision you will make. If you're scouting for one, worry no more because we know a few corporate lawyers that every businessman can trust.
Since we want to make your life easier, we created a list of the best corporate lawyers in Singapore here. All the lawyers in our list have years of experience under their belts, so rest assured that your business will be in safe hands.
Ready to see our picks? Feel free to browse below, and we guarantee that you won't be disappointed.
1. Farallon Law Corporation

| | |
| --- | --- |
| EXPERTISE | Corporate Law, Civil Litigation, Criminal Law, Debt Collection, Employment Law, and International Arbitration |
| WEBSITE | https://fl.sg/ |
| ADDRESS | 6A Shenton Way, #04-01 OUE Downtown Gallery, Singapore 068815 |
| CONTACT DETAILS | +65 6931 9000 | [email protected] |
| OPERATING HOURS | Monday – Friday, 9:00 AM – 6:00 PM |
If you're looking for a law firm with a diverse range of experienced lawyers, then you might want to check out Farallon Law Corporation. It employs some of the best corporate lawyers in Singapore who can give expert legal advice on how to protect your assets and business legally.
What's more, it offers legal advice to those who are planning on starting a business, providing aspiring business owners with tips on dealing with taxes, hiring laws, and sales agreements.
Some of the services offered by its corporate legal team are startup agreements, business contracts, intellectual property, contract reviews, franchise agreements, and a whole lot more. Farallon Law Corporation assures clients that they can rely on their legal expertise to help their business grow.
Highlights
Diverse team of lawyers
Competent lawyers
Competitive rates
Customer Reviews
Here's some of the feedback from its former and current clients:
"I highly recommend this law firm – We worked closely with Nicolas Tang on a jurisdiction case. Nicolas and his team were patient, thorough and kept us up to date on every step of the case. They explained every step and the reasoning being each decision. We felt fully informed, and confident in his team's professional ability. The result of the case was as we hoped! Great experience and would definitely recommend Nicolas and his team."
"From my first call with Nicolas, I knew I was in good and trusted hands. Nicolas and his team were meticulous in their approach, sound in their knowledge and clearly understood my situation. They offered a good array of strategies that made me understand all the possibilities in my case. I would highly recommend them."
2. APEX Law

EXPERTISE
Corporate Law, Criminal Law, Conveyancing, and Family Law
WEBSITE
https://www.apexlaw.sg/
ADDRESS
185 Toa Payoh Central, #02-342/344 346/348, Singapore 310185
CONTACT DETAILS
+65 6717 3131 | +65 9624 9200 |

[email protected]

OPERATING HOURS
Monday – Friday, 8:00 AM – 6:30 PM
APEX Law consists of a team of lawyers who are experts in corporate law, criminal lawyer, family law, property law, and many more. It's no secret that it's among the most trusted and in-demand law firms on the island.
Another thing behind its excellent track record and positive reputation could be its competitive rates, which allow people from all walks of life to gain access to legal services. Even if you're a small business owner, you can hire the services of some of the best corporate lawyers in Singapore.
Its corporate legal team handles a wide range of corporate and commercial concerns such as employment contracts, corporate advisory, contracts, joint venture, mergers and acquisitions, and many more.
Highlights
Personalised services
Competitive rates
3. Tan Lee & Partners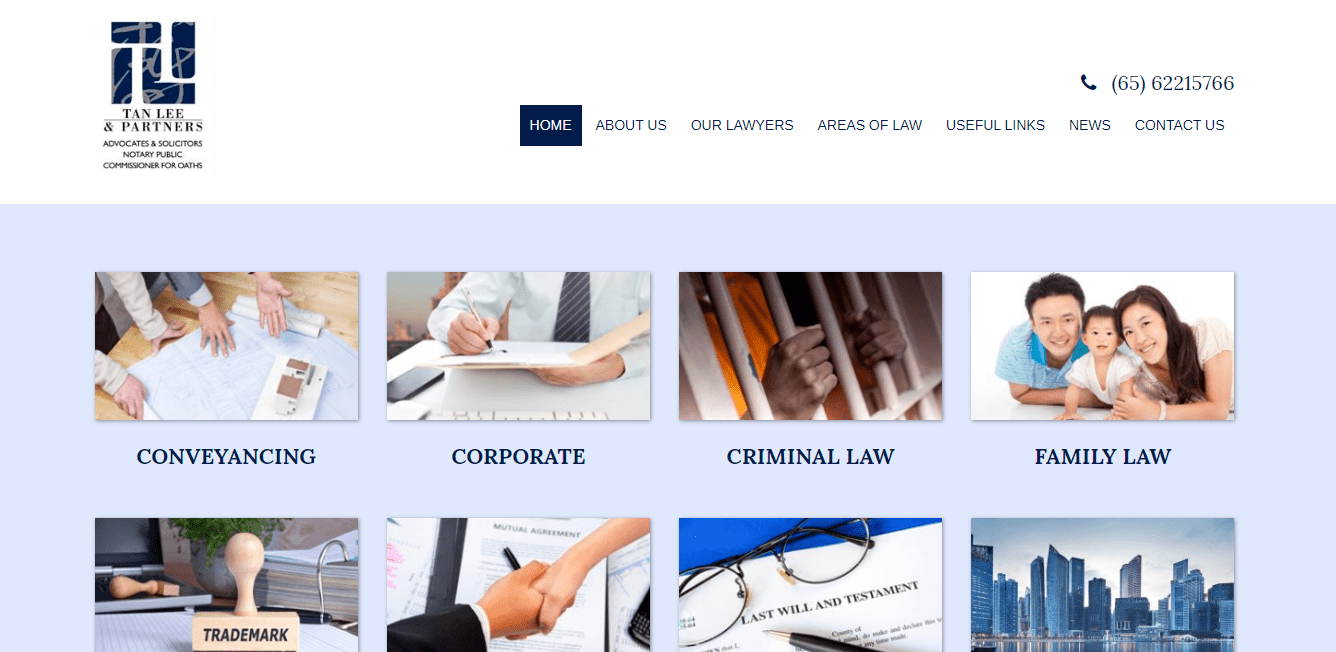 | | |
| --- | --- |
| EXPERTISE | Conveyancing, Corporate, Family Law, Intellectual Property, and Probate |
| WEBSITE | http://www.tanleepartners.com.sg/ |
| ADDRESS | 10 Anson Road, #12-06, International Plaza, Singapore 079903 |
| CONTACT DETAILS | (65) 62215766 |
| OPERATING HOURS | Monday – Friday, 9:00 AM – 6:00 PM |
If you ever need help sorting out an issue with your business, don't hesitate to give Tan Lee & Partners a call. It houses some of the best corporate lawyers in Singapore that can offer all sorts of legal advice that could get you out of trouble.
It's also known for offering customised legal services to ensure that the needs and preferences of their clients will be accommodated. What's more, their services are offered at a competitive price, so you don't have to worry about finding ways to pay for quality legal services.
Beyond corporate law, you may also depend on Tan Lee & Partners for family law, commercial law, criminal law, property law, and more.
Highlights
Customised legal services
Experienced lawyers
Competitive rates
4. Marcus Phuah & Co
EXPERTISE
Infrastructure
Projects
Financing
Brands
Intellectual Property
Technology
Licensing
Negotiation
Energy
Oil & Gas
Contracts
Telecoms, Media & Technology
WEBSITE
http://marcus-phuah.mystrikingly.com/
ADDRESS
MARCUS PHUAH, 3 FRASER STREET, DUO TOWER LEVEL 8-21,Singapore 189352
CONTACT DETAILS
(65) 6828 1600 |[email protected]
OPERATING HOURS
Monday – Friday: 9am – 6pm
If you're in need of a law firm that can assist you in sorting out your business, then you must give Marcus Phuah & Co a call. They offer the best legal services that focus on technology, media, telecommunications, intellectual property licensing, commodities, energy and projects.
Their law firm is comprised of a highly professional team and is supervised by the owner and founder, Marcus Phuah. He's a skilled business lawyer and negotiator with a lot of specialties and years of expertise. He has also helped a lot of clients by giving expert advice with the utmost professionalism and competence.
Through the help of his expertise, best believe that he, along with his co-lawyers, can help you with your legal concerns. Reach out to them today and be provided with the best assistance for your business!
Highlights
Experienced lawyers
Wide range of legal services
Reputable company
5.  WMH Law

EXPERTISE
Construction and Engineering
Commercial Disputes
Art and Cultural Property Law
Corporate Retainers
Criminal Law
Debt Recovery and Insolvency
Defamation
Employment
Family Law
Landlord and Tenant
Mediation
Medical Negligence
Probates and Administration
Wills
Community Assist Outreach ("CARe")
WEBSITE
http://www.wmhlaw.com.sg/
ADDRESS
6 Eu Tong Sen Street, The Central, #07-17/18, Singapore 059817
CONTACT DETAILS

Office / Receptionist
6514 6350

Direct Lines (Directors)
6514 6351 (Wilbur Lim)
6514 6352 (Mark Lee)
6514 6353 (Hazell Ng)

General enquiries
[email protected]

Construction and Commercial Matters
[email protected]

Commercial and Criminal Matters
[email protected]

Matrimonial, Wills, Probate and Administration Matters
[email protected]
[email protected]

Art and Cultural Property Matters
[email protected]

Corporate Matters (Non-Contentious)
[email protected]

Investments, Funds, RFMC, VCC Matters
[email protected]

All other matters
[email protected]

Finance
[email protected]

OPERATING HOURS
Monday – Friday: 9am–6pm
WMH Law Corporation is one of the top firms in Singapore that offers a wide range of assistance, ranging from commercial disputes, to cultural property laws and the likes. Whatever the issue is, they will do their best to help you with it.
Their team of professional lawyers are readily available to provide legal services to clients, not only for individuals, but also for corporate organisations. No problem is too complex for them so you can rest assured that they will be able to help you receive the best outcome in the process.
If you're in need of their legal assistance, feel free to contact them for a free first consultation.
Highlights
Award-winning law firm
Committed to excellence
Contactable 24/7
6.  Vanilla Law

EXPERTISE
Business Law, Corporate Legal Services
WEBSITE
http://www.vanillalaw.law
ADDRESS
20 Collyer Quay, #23-01, Singapore 049319
CONTACT DETAILS
Call Us + 65 6222 2535
Whatsapp +65 8308 7997
Telegram +65 83087997
Email [email protected]
OPERATING HOURS
Open 24 hours
Vanilla Law offers their services to clients all over the world. Many praise them for their world-class legal advice.
It doesn't matter if the case is simple or complex, their team's flexibility allows them to take in cases with a variety of root causes. They're best known for business and corporate law so if that's what you need, then this is a company that's worth considering.
You can rest easy knowing that they will be assisting you every step of the way. From initial consultancy until the finished case, Vanilla Law will accompany you and guarantee success.
Highlights
Client-centric approach
Fixed-fee charging model
Cross border advisory & dispute resolution
7.  Avodah Advocates

EXPERTISE

Corporate Law, Fintech Law, Family Law

WEBSITE
https://avodah.lawyer
ADDRESS

101 Thomson Road #06-01 United Square Singapore 307591

CONTACT DETAILS
Main Line: +65 68295408
Office Mobile +65 9819 5378
OPERATING HOURS

By appointment only
Avodah Advocates is owned and handled by Elaine Phang. With over 20 years of experience in corporate law, she has handled numerous cases from different fields.
In case you're in need of advice for acquisitions, start-up companies, sales, assets, and the like, Elaine Phang and Avodah Advocates is one to consider. They go above and beyond when it comes to assisting their clients, as they are also capable of managing and maintaining strategic business alliances and assets.
Moreover, their mediation-focused approach ensures that an acceptable outcome will be reached for any case they handle. This reduces the occurrence of any unexpected situations that may result from dissatisfied parties.
Highlights
Wide knowledge in the corporate legal arena
Amazing key project agreements drafted
Investor-friendly solutions
Steadfast lawyer
8.  DL Law Corporation

EXPERTISE
Corporate/Litigation Law
WEBSITE
https://dllclegal.com
ADDRESS
8 Eu Tong Sen Street #20-98 Clarke Quay Central, Singapore 059389
CONTACT DETAILS
+65 6557 0215
[email protected]
OPERATING HOURS
Monday – Friday: 9 AM – 6 PM
DL Law Corporation is a law firm that practises a wide range of areas in corporate and litigation law. Many praise them for their proactive approach when it comes to handling their cases, leading to a faster and more satisfying outcome for their clients.
Their team of professional lawyers, legal executives, and assistants are skilled in a diverse set of specialisations, but they have one thing in common– the drive to provide their clients with the best legal services they can offer. With their help, any case will be handled with the utmost care and attention.
General litigation, family disputes, and industrial accident claims are just some of the cases they can handle. Individual businesses and corporations alike can benefit from their services, thanks to their extensive experience in the industry.
Finally, they strive to communicate with their clients as clearly and frequently as possible to ensure that clients will be able to monitor their case as it progresses. Given their expert team, quality legal services, and reasonable rates, DL Law Corporation proves to be a reliable legal partner when it comes to corporate law. 
Highlights
Personalised solutions
Seamless communication
Cost-conscious
Transparent 
9. Tembusu Law LLC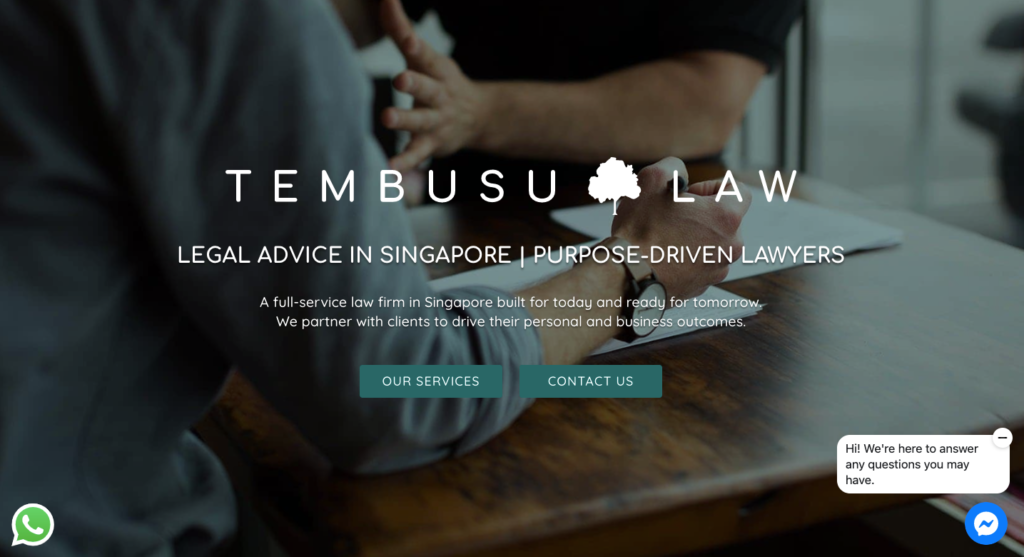 EXPERTISE
A full-service modern-day law firm with purpose-driven lawyers
WEBSITE
https://www.tembusulaw.com/
ADDRESS
11 Keng Cheow St, #02-05, The Riverside Piazza, Singapore 059608
CONTACT DETAILS

Telephone: +65 6974 0068

Fax: +65 6974 0069

Email: [email protected]

24-hr Hotline: +65 8886 0278

OPERATING HOURS
Mondays to Fridays: 9:00 AM – 6:00 PM
Saturdays & Sundays: CLOSED
Next on our list is Tembusu Law. They are a modern-day Singapore law firm founded on a commitment to helping people and driven by a calling to serve a higher purpose – to provide greater access to assistance, answers, fairness, and justice.
You will never need to worry about anything when it comes to running your business when you choose their service as your corporate and commercial lawyers in Singapore. They will see to it that they handle your business legal matters for you.
They advise homegrown and regional startups, emerging small and medium enterprises, and established multinational corporations in industries ranging from hospitality to private equity, venture capital, manufacturing, FMCG, technology, and e-commerce. 
Compared to the other law firms, we are impressed that they offer free initial consultations. Aside from that, they always put their client's interests first.
Giving you a glimpse of their commercial/corporate service, they engineer, assemble, and coordinate domestic and cross-border corporate and commercial business transactions such as Corporate & Commercial, Corporate Finance, and Mergers & Acquisitions across multiple domains, sectors, and industries as a leading corporate & commercial law firm providing business-oriented legal advice and solutions.
They also assist businesses in navigating regulatory changes, updating and improving their operations, expanding their operations, and creating long-term economic value for their clients and stakeholders.
Since they are committed to providing their clients with the best legal advice with clarity, we are amazed that their corporate lawyers possess the technical knowledge of relevant processes and legislation, including the Companies Act, PDPA, GDPR, Competition Act, GST, and more.
Their team consists of highly experienced lawyers in corporate and commercial matters who possess the commercial awareness to get the best outcomes for your business needs, including contract review, company incorporation, employment contracts, and more.
Highlights
Free initial consultation
Employed experienced and skilled lawyers
Handles different corporate & commercial law matters
10. KGP Legal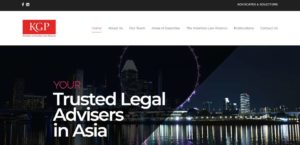 EXPERTISE
Commercial and Corporate Law
WEBSITE
https://www.kgplegal.com.sg/
ADDRESS

10 Anson Road #23-05 International Plaza Singapore 079903

CONTACT DETAILS

Phone: (+65) 6916 1298

Fax: (+65) 6916 1290

Email: [email protected]

OPERATING HOURS

Monday to Friday: 9:00 AM – 6:00 PM

Saturyda & Sunday: CLOSED
KGP Legal is a legal firm that is Singapore-based law firm that is also highly accommodating to private Japanese clients in need of similar services. With a variety of practice areas, they are duly recognized and awarded the Finance Monthly Legal Awards 2021.
We find it exemplary that they are part of the InterAsia Law Alliance to ensure clients that they are provided with personalized and quality corporate and commercial assistance in Singapore, China, Japan, and Hong Kong.
Their signature approach to such services ensures that all endeavors and operations with them are cost-effective, reliable, and efficient in a way that the interest and convenience of the client are put at utmost priority.
Aside from this, clients get to work with and get advice from professionals that are adequately trained and know their way around each procedure that the clients may need to undergo within the transaction with them.
Overall, clients have commended their experience with them to be smooth and done in a professional way wherein clients get the most value out of their service which is why we highly recommend their services for clients in areas they accommodate.
Highlights
Cost-effective services
Smooth and professional transactions
Highly experienced and multidisciplinary team of lawyers
If you ever need help in settling a property dispute related to your business, you might also want to check out our list of the best conveyancing lawyers in Singapore. Any of these lawyers can make sure that you get the best deal out of your legal problems.