9 Best Rechargeable Batteries in Singapore Under $30
We don't realise how important batteries are in our day-to-day life. If you're getting tired of having to throw out disposable batteries, then you might want to start looking for the best rechargeable battery in Singapore!
Unlike disposable batteries, rechargeable ones don't create waste and are generally beneficial for the environment. Instead of spending your money on disposable batteries that don't last long, why not just invest in worthy rechargeable batteries?
Some rechargeable batteries can even be used for more than 400 hours, significantly longer than the typical batteries. However, if you don't know which ones to get, we came up with our own list of rechargeable batteries worth checking out.
But before that, we'll answer some commonly asked questions about rechargeable batteries. We also add some tips to help you get the most out of your batteries.
Anyway, let's start!
Some Questions & Tips on Buying Rechargeable Batteries
There are a few queries you should ask yourself when buying rechargeable batteries:
1. What are the types of rechargeable batteries?
There are 4 common types of rechargeable batteries in Singapore, each of which has its own features. But not all are ideal for everyday use, especially if you want to save money as much as possible.
If you're to ask us which one we'd recommend the most, then we'd have to say the nickel-metal hydride. For one, most rechargeable batteries make use of this chemistry, so finding them is going to be easy.
Another reason would have to be that they provide better value than disposable alkaline batteries. In addition, this type of battery can last for more than 400 hours.
On the other hand, the 3 other types are nickel cadmium, lithium ion, and small sealed lead acid. Nickel cadmium batteries are the fastest to charge among the other types of batteries and are capable of providing high currents.
Lithium ion batteries have a lower self-discharge rate compared to other batteries.
Lastly, small sealed lead acid batteries are considered low maintenance batteries because they can work under any condition.
2. Do rechargeable batteries have other features?
Yes, and the ones worth remembering are the precharged level and capacity in mAh (milliamp hours).
Sometimes, rechargeable batteries are already charged when you buy them at the store. With this feature, you can immediately use them upon opening the package.
As for the battery's capacity, it refers to the amount of electrical charge stored inside a battery.
If a battery has more charge, it has more electric current to power up your device. To give you an idea, a rechargeable battery with a capacity of 800mAh to 2,900mAh is a powerful option.
3. How much are rechargeable batteries worth?
Rechargeable batteries usually come in a pack of four, with a price range of $25 to
$30. Of course, if your battery is rechargeable, then you'd need a charger, which often costs no more than $20.
So, if you're buying a pack of batteries and a charger, then it shouldn't cost you more than $50. However, there are frequent discounts and promos that resellers commonly offer, so make sure to keep an eye out for these in order to save some money.
The Best Rechargeable Batteries in Singapore
Now that we've answered some of the most asked questions about rechargeable batteries, we assume that you're now ready to see our picks of the best rechargeable batteries in Singapore.
Check them out one by one below!
1. Panasonic Eneloop White (AAA)
Best for Long Lifespan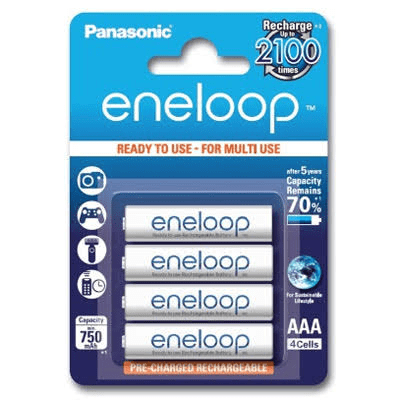 Price: $17.00
If you want aaa rechargeable batteries in Singapore that can last up to 5 years, then the Panasonic Eneloop White is the perfect match for you. It can be recharged up to 2,100 times without decreasing its power and capacity.
In addition, the Panasonic Eneloop batteries were designed with a lower initial voltage compared to other rechargeable batteries. On top of this, they're also fully charged once they're delivered to your address, so you can use them right away.
More importantly, these batteries can function under any climate or temperature. Even if the temperature's freezing cold, they can still operate to maximum performance.
Highlights
800mAh
5-year lifespan
2,100 recharge rate
Green certificate system
Works in cold conditions
Fully charged upon delivery
Customer Reviews
Take time to read some reviews left by buyers on Amazon:
"These are AAA batteries, so you already know most of what you need to know. What I can attest to is they do what they claim – hold a charge. Most rechargeables will die of self-discharge on their own just sitting on the desk uninstalled. These hold their charge for a long time. That makes them useful for things that don't use a lotta power, like clocks, remote controls, etc. where a normal rechargeable (NiCad, NiMH) would self-discharge long before the device they're powering depleted them."
"I can see why so many people prefer this brand. The first thing I noticed was they fit more like regular batteries. Too often the rechargeable batteries fit too tight in items. They seem to last a long time. I have experimented with too many brands and find I would buy these again."
2. Fujitsu Rechargeable Batteries (AAA)
Best for Affordability
Price: $18.00
Priced at no more than $20 and with a capacity of 800mAh, these Fujitsu rechargeable batteries are already a steal. These are among the best-priced rechargeable batteries in Singapore and come from a well-trusted name.
If you tend to get impatient during charging, then you'll definitely like these because they have a fast charging rate. When used with its own charger, the charging time can be cut by almost half!
While most rechargeable batteries tend to lose their power drastically after a year, the Fujitsu rechargeable batteries still operate at 85% even after a year of regular usage.
You will get to save a lot more money in the long run should you choose batteries with long-lasting powers such as these.
In addition, these aaa batteries have a recharge rate of up to 2,100 times! Pair that with their price and you know you have a winner.
Highlights
800mAh
2,100 recharge rate
Low self-discharge
Fast charging
3. Energizer Recharge Power Plus (AAA)
Best for Overall Value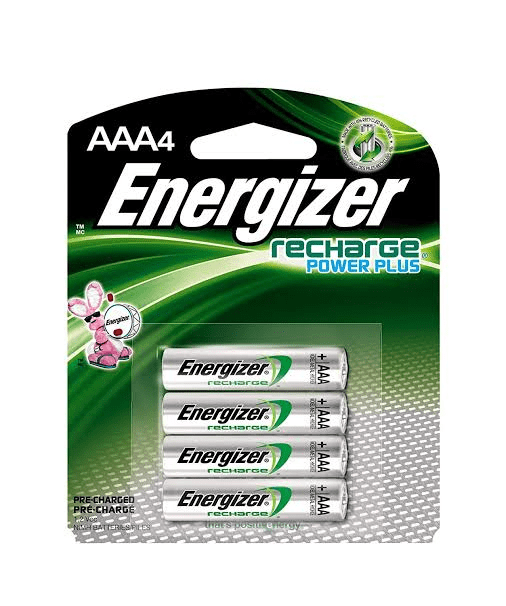 Price: $22.20
The Energizer Recharge Power Pack is composed of high-capacity rechargeable batteries that are precharged and ready to use. What makes these batteries stand out is that they're the first of their kind to be produced from 4% recycled batteries.
Apart from Energizer being a trusted name being a reliable rechargeable battery aaa size, these are worth buying for the reason that they consistently supply power to commonly used devices such as game controllers and digital cameras. In terms of their battery life, they are proven to last for 5 years.
With a recharge rate of only 700, though, they're definitely lower in that area compared to other rechargeable batteries. However, they don't lose their charge as fast as other batteries and that makes up for the former, for most customers.
Highlights
700 recharge rate
Made from 4% recycled batteries
5-year lifespan
Customer Reviews
With an average rating of 4.3 on Amazon, most customers have fallen in love with what the Energizer Recharge Power Plus can do. Here are some comments:
"I purchased these Energizer rechargeable AAA batteries to replace dead rechargeable batteries in our Panasonic cordless phones at home. As advertised, the batteries were fully charged on arrival and worked perfectly in the phones. The batteries in our remote control for our Fire TV pooped out. It wouldn't work with fresh Duracell alkaline batteries I had on hand, so I tried these rechargeable batteries out of curiosity. Lo and behold, they work great in the remote control. So I will be buying more Energizer rechargeable batteries to put in other remotes we have. They are easy to recharge and will do so hundreds of times. Battery life so far is very good. In the end it will cost far less than constantly throwing away dead alkaline batteries."
"I have used these rechargeable batteries in the "AA" size for years, but since my Bose Noise Canceling Headphones use "AAA," I decided to get these rechargeable. I had tried the Duracell rechargeable several years ago, but they just don't hold the charge as well. The Duracell rechargeables have a problem of "leaking," and corroding the terminals. They almost destroyed our TV & sound system remotes, but when I switched to Energizer Rechargeables, it never happened again."
4. Sony Cycle Energy Rechargeable Battery (AA)
Best for High Capacity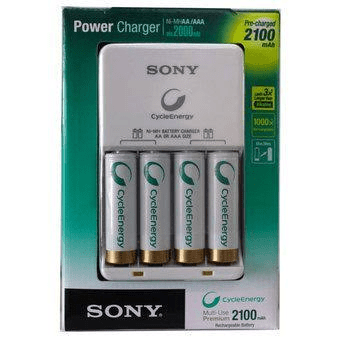 Price: $11.50
If you're looking for a cheap deal that includes rechargeable batteries and a charger, then focus your attention on the Sony Cycle Energy Batteries. What's more, these batteries boast a capacity of 2000mAh (as AA batteries), so these are definitely the best ones out there.
These rechargeable batteries are pre charged, so they're pretty much good to go once they have been unpacked. There's no need for an initial charging, unlike most rechargeable batteries.
However, their charging time can go as long as 7 hours, so make sure that you have a spare set to use while these ones are being recharged. Once they're fully charged, they will automatically stop charging.
Lastly, these batteries last 3 times longer than alkaline batteries. You will definitely get the most out of your money when you settle with them.
Highlights
2000mAh
1000 recharge rate
Precharged
Low discharge rate
Better than alkaline batteries
Customer Reviews
 Here are some reviews for Sony Cycle Energy, proving that they're really one of the best batteries out there:
"I have this set and the recharge plug in, and to be honest I'm really happy with it. The battery life is great for my wireless mouse, and wireless controller. I've charged them many times and the charge stays the same. I've probably saved myself 100's of batteries by purchasing this. Sony did a great job."
"Bought these along with a charger 9 months ago and they've performed flawlessly. They're used in my kids' video game controllers and accessories so they've been recharged several times and last quite a while between charges. I'm ordering more now for other electronics in our house. Pros: Saving money by not buying disposables. Long life in electronics. No noticeable shortening of battery life span after 9 months of use. Cons: Recharge time is considerable with standard Sony charger, at least 6-8 hours if not more"
5.   Panasonic Eneloop Pro (AAA)
Best for Digital Cameras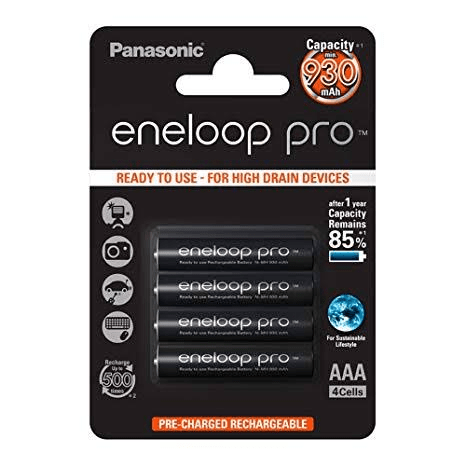 Price: $25.00
If you're looking for the best rechargeable batteries that can handle your camera, we have nothing better to recommend other than the Panasonic Eneloop Pro. While the first one is ideal for all types of electronic devices, these ones are only perfect for cameras.
With a capacity of 930mAh, these beat out all the other AAA batteries. If you have batteries with this much capacity, you will get to take pictures of more pictures of scenery and people.
Gone are the days of your camera suddenly running out of battery when you're equipped with the Panasonic Eneloop Pro. While they can only be recharged 850 times, they retain their capacity far longer than other rechargeable batteries.
Moreover, these batteries can work under all conditions. Some customers even mentioned that they work perfectly fine in -4 degree Fahrenheit weather.
Highlights
930mAh
850 recharge rate
Retains its capacity longer
Works fine in cold weather
Customer Reviews
Here are some praises that Panasonic Eneloop Pro has received from its buyers:
"The eneloop Pro follows the long-standing eneloop tradition of NiMH batteries that run circles around most of the competition. This eneloop Pro battery is NOT designed for general usage, but rather high-drain applications. When paired with these high-drain applications, the Pro excels in a fashion that few other batteries can, giving you performance that other NiMH rechargeable and disposable alkaline AA batteries cannot provide."
"The Eneloop Pro AA remains an excellent choice for things like high output flashlights and other demanding devices, but with some caveats. The overall capacity is higher with Pro but it's still important to be aware of the differences before you buy. To start, the biggest trade off with the Pro version is only about 500 charging cycles in its lifespan versus over 2000 with the white Eneloop batteries. However, this is still a fair amount of longevity considering if you charged them twice a week you'd still get about 5 years from them."
6. Samsung 18650 (AA)
Best for Fast Charging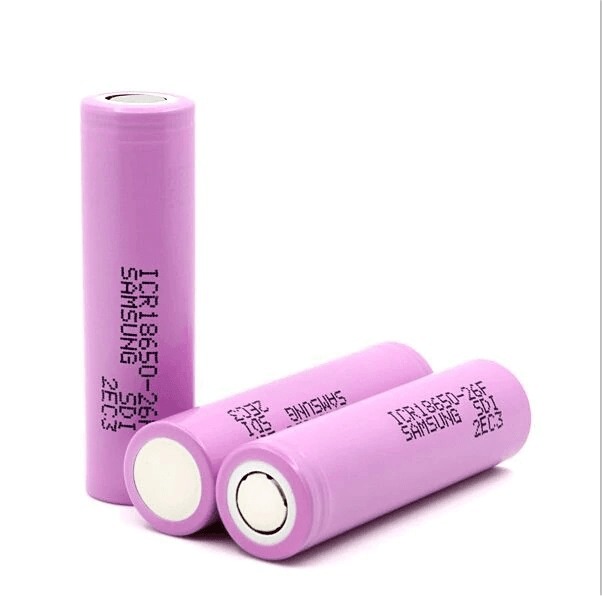 Price: $10.80
While Samsung isn't the most well-known name in terms of batteries, we believe that these particular ones are worthy of anyone's attention, especially if they're looking for a cheaper alternative. On top of the inexpensive price, what makes these batteries great is the fast charging feature.
Some rechargeable batteries can take more than 7 hours to complete charging, but these only need 2.5 hours. We recommend them if you're in a tight budget and want decent rechargeable batteries.
Highlights
2550mAh
5 charging time
1-year life span
7.

Fenix Rechargeable Battery
Best For USB Rechargeable batteries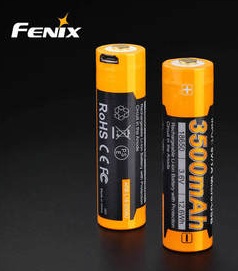 Price: $125.49
At FStop Lights, you can find various kinds of battery including 18650 and rechargeable batteries. What stand out from these products is the Fenix USB Rechargeable battery. The Fenix ARB-L18-3500U has 3500mAh which makes it lasts longer than its competitors. It can be used in flashlights, headlamps, bicycle lights, and camping lanterns requiring 18650 batteries.
It has 2 charging options, namely USB port and charger. As such, you can choose the manner by which you can have your battery fully loaded again after using it for a certain period. According to the manufacturer, a well-maintained Fenix battery can retain up to 75% of its original capacity even after 500 cycles of full charge and discharge.
Highlights
12 months free warranty

Low defect rate (0.3%)

Built-in protection circuit

Pressure relief vent

Three-set overheat protection

500 charge cycles
Customer Reviews
Fenix batteries is incredibly one of the most durable and long-lasting products in the market. This is evident from the feedbacks such as this:
Fenix batteries & lights are one of the best if not the best light product I've used. In the past 17 years performing home inspections & in the fire service I've had the oppertunity to use multiple lights 2 bulb 2 million candle watt (now lumens) flood light, Maglite, Streamlight, & now Fenix. Fenix products are reliable, durable, &Read more about review stating Product image Fenix ARB-L18-3500U USB Rechargeable Li-ion 18650 Battery; bright (sometimes too bright on the high position). – Aaron M
8. Rechargeable 18650HD USB Lithium Ion – CGI
Best For portable charging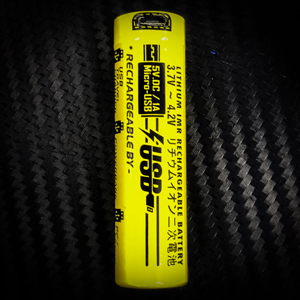 Price: $25.00
You can also find a good number of rechargeable batteries in Black Tactical. This is an online store which offers various products including batteries. The most in demand of all is their Rechargeable 18650HD USB Lithium Ion – CGI. You can get this in their page.
What's great with this product is it comes with a built-in port. This means that you can easily charge your battery whenever the need arises. You can plug it in using your phone charger and wait for the battery to be loaded—just how you usually charge your phone.
Highlights
Built-in micro USB port

High quality grade A cell

Unprotected high drain

3600 mAh
9. FStop Lights: LG HG2
Best for Functionality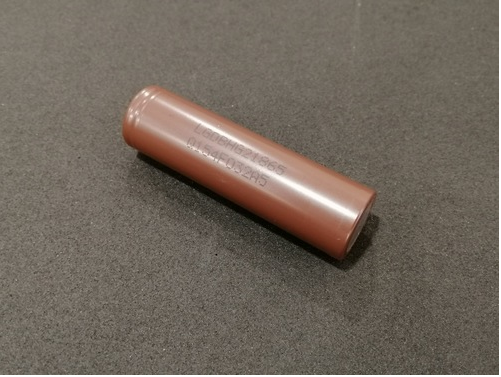 Price: S$11.00
If you're trying to find an excellent battery for your electronic devices, you need not waste any more time and effort. The LG18650 HG2 Chocolate Bar is the most reliable battery you can find out there in the online market.
Featuring a nominal capacity of 3000 mAh, this lithium battery is very efficient and optimal for a person's use. It is absolutely safe, and can easily be charged again to maintain high functionality.
Moreover, this battery is now available to customers at a lower price. Don't miss out on such an opportunity and get yours today!
Highlights
Safe and Reliable Battery
3000 mAh
Rechargeable Lithium Battery
3 months full warranty
And that's it for our list of the best rechargeable batteries in Singapore. These batteries are great options for powering your electronic devices.
Do you have specific batteries in mind that should've been on our list? If so, why not share with us their names and we'll check if we can add them to our list?
By the way, some of the rechargeable batteries on our list are perfect for all types of cameras. In case you're also planning to buy a camera, you might want to check out our list of the best DSLR cameras.
Or, if mirrorless ones are more your thing, try the mirrorless cameras in Singapore. Either way, you should be able to take no end of shots with a great camera and one of the rechargeable batteries we've mentioned!