Our 10 Favourite Pain Specialists in Singapore
Have you been experiencing body pains far longer than expected? Those body pains might count as chronic pain already, and the ideal way to deal with them is by consulting with the best pain specialists in Singapore.
A pain can be considered chronic when it lasts longer than the expected time of recovery. Sometimes, such a pain becomes an issue in itself that needs to be addressed by the best pain specialists in Singapore.
It's a good thing that there are reliable pain specialists scattered all over Singapore. To help you out, we looked for the ones who can deal with all sorts of body pain to make your life easier.
(Note: This list is in no particular order.)
Dr Thor Timothy Anuntapon Chutatape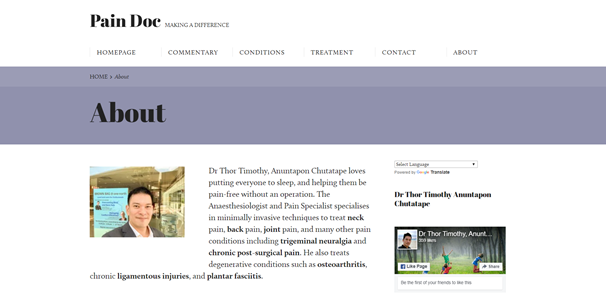 BEST FOR
Non-opioid medication, pain interventions
WEBSITE
https://paindoc.sg/
CLINIC
The Pain & Perioperative Clinic @ Farrer
ADDRESS

Novena Pain Management Clinic
Mount Elizabeth Novena Hospital
38 Irrawady Road
#07-51
Singapore 329563

The Pain & Perioperative Clinic @ Farrer
Farrer Park Hospital
1 Farrer Station Road
1 Connexion
#15-19
Singapore 217562

CONTACT DETAILS
Phone & Whatsapp: (+65) 8860 1861 | E-mail: [email protected]
OPERATING HOURS
Monday-Friday: 9:00 AM – 5:00 PM
Saturday: 9:00 AM – 12:30 PM
Sunday: CLOSED
Dr. Chutatape is a popular anaesthesiologist and pain specialist that focuses on minimal invasiveness when it comes to treating different pains in the body. He seeks not only to diminish the pain a patient feels when in his hands, but also to teach them ways in order to lessen the discomfort on their own. Conducting seminars and masterclasses, he doesn't hold back when it comes to providing the best assistance for the general public no matter if they're his clients or not.
He is easily called an expert in his field, receiving the Ministry of Health Human Manpower Development Programme Award to specialize in Cancer and Chronic Pain at the Prince of Wales Hospital in Sydney, Australia. Not only knowledgeable on physiotherapy, he also manages medications and pain interventions to give the least painful experience for you. So if you're looking for a professional anaesthesiologist for your next surgery or a pain specialist to treat your injuries, Dr. Thor Timothy Anuntapon Chutatape is the one for you.
Highlights
Multiple clinics
Thorough solutions
Dr. Yeo Sow Nam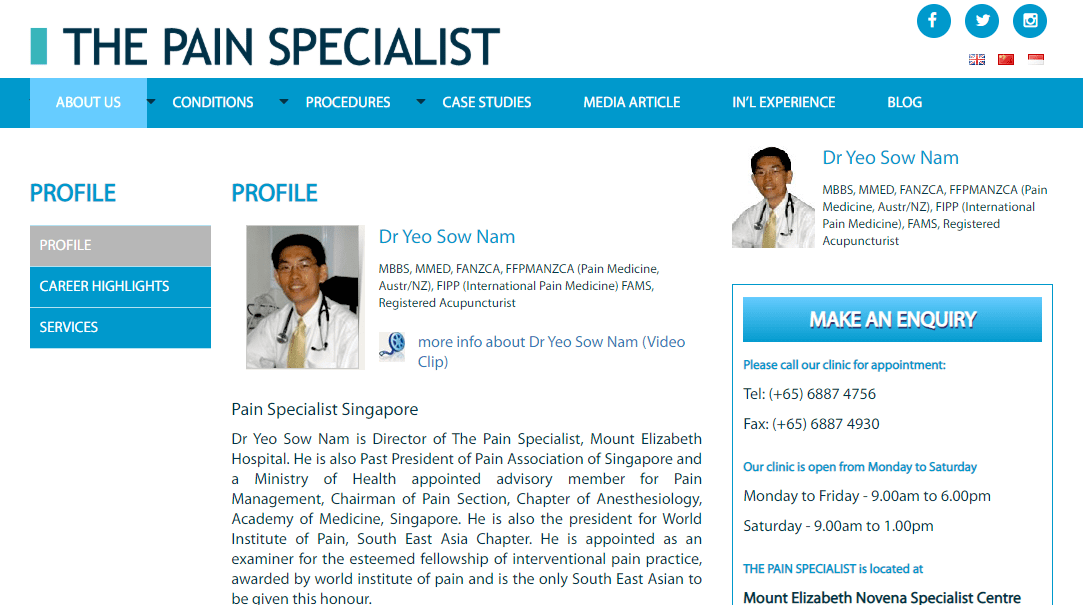 | | |
| --- | --- |
| BEST FOR | Pain Management |
| WEBSITE | https://www.painspecialist.com.sg/ |
| CLINIC | Mount Elizabeth Novena Specialist Centre |
| ADDRESS | 3 Mount Elizabeth #15-09 Medical Centre Singapore 228510 |
| CONTACT DETAILS | (+65) 6887 4756 | [email protected] |
| OPERATING HOURS | Monday – Friday, 9:00 AM – 5:00 PM |
If you're looking for a pain specialist with an impressive education and professional background, then Dr. Yeo Sow Nam would be the right match for you! For one thing, he's the director of the pain management team of Mount Elizabeth.
What's more, Dr. Yeo trained and practiced in Prince of Wales Hospital in Sydney, making him the first physician in Singapore to be accredited in the pain management specialty. Dr. Yeo also has an extensive area of expertise that includes cancer pain, back pain, post surgical pain, neuropathic pain, and many more.
Dr. Yeo is more than capable of dealing with all sorts of pain and providing effective diagnosis and treatments — which is why we name him one of the best pain specialists in Singapore.
Highlights
With local and international exposure
Trusted by patients of all ages
Dr. Choo Chee Yong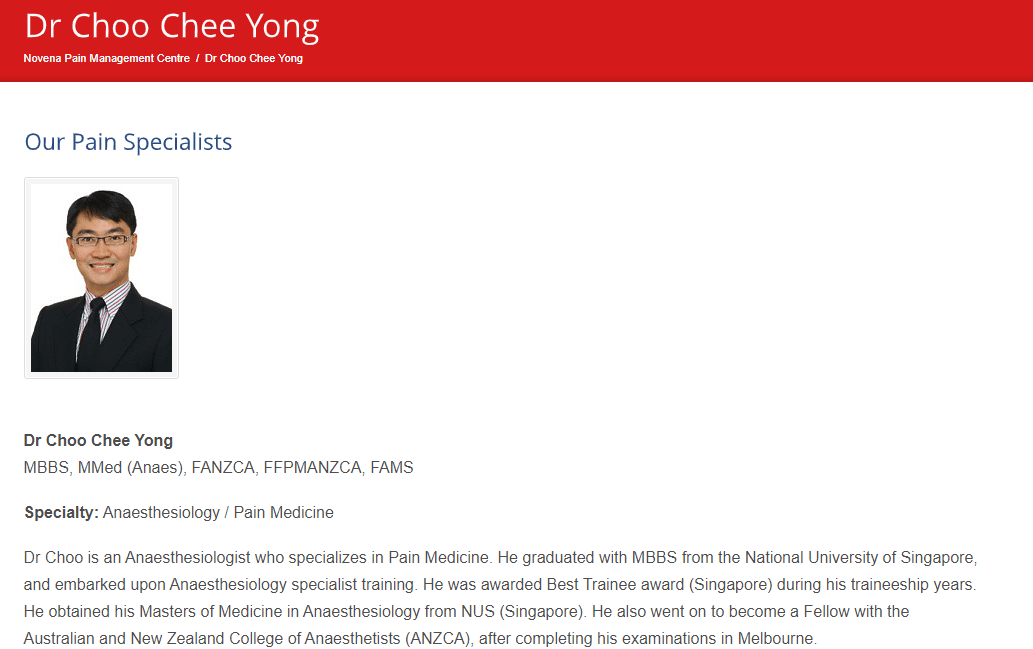 | | |
| --- | --- |
| BEST FOR | Anaesthesiology and Pain Medicine |
| WEBSITE | https://novenapain.com.sg/dr-choo-chee-yong/ |
| CLINIC | Novena Pain Management Specialists |
| ADDRESS | 38 Irrawaddy Road, 08-50, Mount Elizabeth Novena Hospital, Singapore 329563 |
| CONTACT DETAILS | +65 6694 3833 | [email protected] |
| OPERATING HOURS | Monday – Friday, 9:00 AM – 5:00 PM |
Dr. Choo Chee Yong is among the four experienced and professional pain specialists of Novena Pain Management Centre. He's also considered one of the most trusted and best pain specialists in Singapore today, due to his experience here and abroad.
In addition, Novena Pain Management Centre boasts a medical team that can treat patients suffering from acute and chronic pain. It's also equipped with updated treatment and diagnostic technologies to ensure consistent-quality services.
Some of its commonly treated pain conditions include chronic back and neck, spine-related nerve, lower back neuropathic, post-herpetic neuralgia, diabetic neuropathy, sciatica, and many more.
Highlights
Quality health care
Experienced pain specialists
Dr Theo Kieu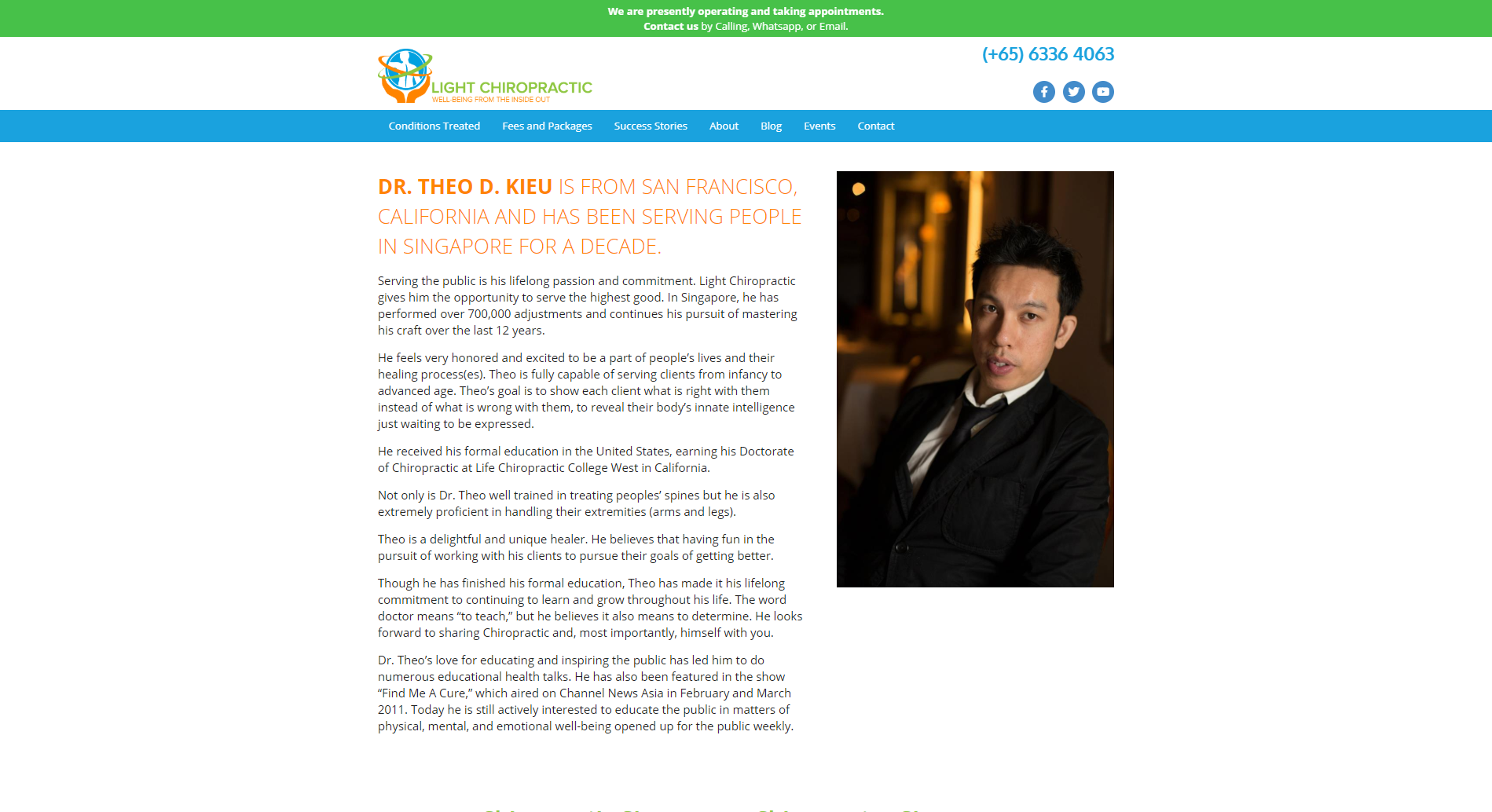 Light Chiropractic focuses on inducing the body to heal naturally, using expert chiropractic care. People seek chiropractic services for various reasons– such as rehabilitation, pain relief, or improved performance and wellbeing. No matter the reason, their expert chiropractors will guide you to your desired result.
One of their professionals is Dr. Theo Kieu, who has been serving people for over 12 years. He was formally educated in the United States, where he earned his Doctorate of Chiropractic at the Life Chiropractic College West in California. He enjoys working together with his clients in pursuit of their personal health goals.
Dr. Theo is proficient not only in spinal treatment, but also in handling extremities, namely the arms and legs. If he's the one handling your treatment, you can rest assured that you're in capable hands.
Highlights
Full spine treatment
Wide range of services
Dr. Wilson Tay
BEST FOR
Interventional Pain Procedures
WEBSITE
http://www.apicaremedical.com/
CLINIC
Apicare Medical
ADDRESS
1 Farrer Park Station Rd, #15-05, Connexion 217562
CONTACT DETAILS
+65 6513 3383 |

[email protected]

OPERATING HOURS
Monday – Friday, 9:00 AM – 5:30 PM
Dr. Wilson Tay is among the few pain specialists in Singapore whose area of expertise includes ultrasound-guided chronic pain interventions. This method is considered best for pain diagnosis and management of pain and chronic body pains.
With Dr. Tay's training abroad, we can say that he's the best person to go to for chronic back and neck pains, headaches, cancer pain, and abdominal pelvic pain. He's fully up-to-date on all the latest techniques and methods in his field.
Another fact worth noting about his clinic is that most of their services are priced competitively to ensure that more people will have access to quality healthcare — which is enough reason for us to consider him one of the best pain specialists in Singapore.
Highlights
Comfortable environment
Affordable medical treatments
Matthew Herd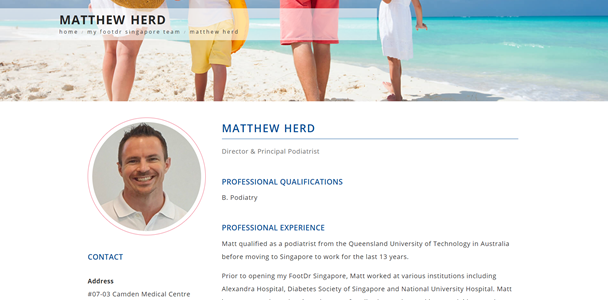 BEST FOR
Footwear advice, biomechanics and paediatric podiatry
WEBSITE
https://www.myfootdr.com.sg/
CLINIC
My Foot Dr. Singapore
ADDRESS
Palais Renaissance #04-04, 390 Orchard Road 238871
CONTACT DETAILS
+65 6836 8144 | [email protected]
OPERATING HOURS
Monday to Friday: 9AM to 5PM
Saturday: 9AM–1PM
Sunday: Closed
If you're nervous about being handled by someone who's new to the field, make sure to check out Matthew Herd from My Foot Dr. Singapore. Easily one of the most skillful in the field of podiatry, he's had over 13 years of experience, having worked in different institutions like the National University Hospital. He opened My Foot Dr. with a vision of providing a revolutionary podiatric and osteopathic therapy with his innovative systems created.
His focus in podiatry helps in alleviating pain from the foot, ankle, and other lower extremities. Being an athlete himself, he knows his ways around how to help with injuries and how to prevent them especially with sports focused in putting pressure on the legs and feet like soccer or running.
Taking into consideration his broad knowledge and experience in most podiatry practices, he's surely a person to go to in case you're in need of podiatric help.
Highlights
Highest quality in podiatry care
Ingenious solutions
Thilaga Govindasamy
BEST FOR
Home rehabilitation, women's health
WEBSITE
http://www.virars.com/
CLINIC
Virar's Physiotherapy
ADDRESS
8 Sinaran Drive, 05-03 Novena Specialist Center, Singapore 307470
CONTACT DETAILS
+65 6256 3106 | [email protected]
OPERATING HOURS
Monday-Friday: 9:00 AM – 8:00 PM
Saturday: 9:00 AM – 1:00 PM
Sunday: CLOSED
Thilaga Govindasamy is well known as a physiotherapist, handling famous tennis players like Maria Sharapova and Leyton Hewitt, as well as world class golf player Scott Adams. In her 25 years of experience, never has she handled a client that left unsatisfied with her practice. Knowing almost everything about physiotherapy, she's easily the most requested in Virar's Physiotherapy, a clinic she is currently working for.
The establishment is as great as their team, offering innovative tools, combining it with their great skills. Some popular services are manual therapy, electrotherapy modalities, and therapeutic exercises.
May it be a simple illness or injury, the experts in Virar's physiotherapy like Thilaga is sure to help in alleviating whatever pain you're feeling. Make sure to give them a call if you want to be in the best hands in the field of physiotherapy!
Highlights
Exceptional Team
Student discounts
Provides health talks
Dr. Travis Fisher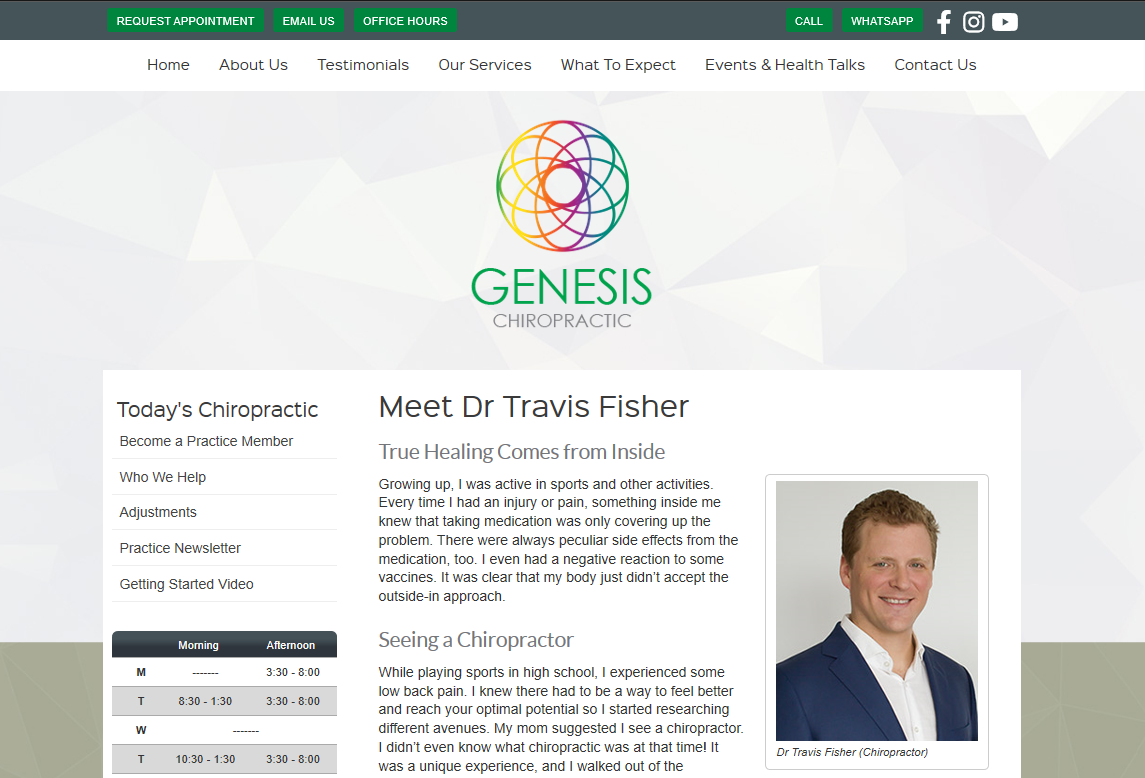 BEST FOR
Wide Variety of Chiropractic Techniques
WEBSITE
https://www.genesischiropractic.sg/
CLINIC
Genesis Chiropractic
ADDRESS
TripleOne Somerset #08-13, 111 Somerset Rd
Singapore, 238164
CONTACT DETAILS

Phone: 9810 9909

OPERATING HOURS
By Appointment
Dr. Travis Fisher, founder of Genesis Chiropractic, had his goal in mind ever since he was young. He had felt all the kinds of pain sports could give, and from what he's experienced, pain pills and ointments don't always work.
He then met a chiropractor who helped him, which influenced him to study the field of exercise science and chiropractor practice. He's well versed in alleviating pain that clients would feel, solidifying his status as one of the best chiropractors there is.
Genesis Chiropractic aims to educate, inspire, and help people become better holistically– improving not only the body but also one's mental wellbeing. As a bonus, the chiropractor in practice has experience and professionalism that will never let you down.
Highlights
Affordable Prices
Highly Skilled Chiropractor
Wide Range of Services
John Abraham
BEST FOR
Physiotherapy
WEBSITE
https://rapidphysiocare.com
CLINIC
Rapid Physiocare
ADDRESS

[email protected] Tanjong Pagar
10 Anson Road 21-15
International Plaza
Singapore 079903

[email protected] Novena
8 Sinaran Drive 02-02/03
Novena Specialist Center
Singapore 307470

[email protected] Paya Lebar
1 Paya Lebar Link #01-06
PLQ 2, Paya Lebar Quarter
Singapore 408533

CONTACT DETAILS
+65 9654 0427
OPERATING HOURS
MON – FRI: 8:00am – 7:00pm
SAT: 8:00am – 2:00pm
SUN : Closed
Rapid Physiocare's goal is to deliver excellent care to their patients. Their team of professionals work hard to continuously pursue that goal.
One of their physiotherapists is John Abraham, their Managing Director. He has been working as a physiotherapist for more than 15 years.
He is dedicated to refining his skill to the utmost so that he can serve his patients better. Best of all, his quality care and services come at a minimal price.
Highlights
Provides holistic physiotherapy treatments
Continuously works on refining his skills
Has experience working in various sectors
Provides free physiotherapy sessions on occasion
And that's it for our list of the best pain specialists in Singapore. If you've visited any of these pain specialist clinics before, don't hesitate to share your experiences with us!
By the way, if some of your body pains are a bit manageable, you might want to seek out the services of the best chiropractors in Singapore first. If days after consulting with these chiropractors and the pain persists, it's really the right time to drop by a pain specialist's clinic.