The 9 Best Computer Tables in Singapore for Students
Are you struggling to do homework on your old, unstable computer table? If so, then we strongly suggest getting your hands on the best computer tables in Singapore that can help all students be more productive.
Using the best computer tables in Singapore comes with different benefits such as improved posture, better concentration, and the like. This is why you should never settle for low-grade and substandard computer tables that offer nothing in terms of convenience or ergonomics.
So, if you're on the lookout for the best computer tables in Singapore, then you've come to the right place. We're here to show you the ones we thought to be worth every student's (and even gamer's) attention.
Before we introduce you to our picks, we'll share a few tips that you should keep in mind while buying a computer table. Let's start, shall we?
Factors to Consider When Buying a Computer Table
One man's perfect computer table can be another man's throwaway desk. That's why it pays to select based on your needs in particular, not someone else's.
Here are a few things to consider before taking home a computer table:
1. Size
Computer tables come in various sizes. If you want to know which size is ideal for you, keep in mind the amount of work you do on your computer table.
If you write, study, play games, and even take a nap on it, might as well get yourself a large computer table. It will also allow you to store other items such as books, bags, lamps, and many more on the table.
We also recommend going for a large computer table if you're using a desktop instead of a laptop. That said, you may have no choice but to get a smaller one if you have little space in your room.
2. Shape
Similar to size, computer tables have different shapes as well, based on the needs of the user. We believe that computer tables with a rectangular shape are the common model sold on the market.
If you want to do away with the traditional shape, though, you can opt for hutch desks, which are getting more popularity these days. There are also circular-shaped computer tables if you want to save space inside your room.
3. Material
Material is perhaps one of the most important components of a computer table. It determines not only its quality but its weight and price as well.
If you're looking for a cheaper option, you might want to check out metal and particle board computer tables. These kinds of computer tables are cheaper compared to others, but we can't guarantee that they can last for a long time.
If you want value for your money, you'll definitely not regret going for computer tables made from premium wood. They're visually appealing and extremely durable, more so than other computer tables.
4. Set Up
A handful of computer tables are now available either as pre-assembled or ready-to-assemble units. If you're not willing to go through the stress of setting up a computer table, then you should opt for a pre-assembled unit.
However, most of these models are a bit more expensive compared to the ready-to-assemble units. You might also have to spend extra on shipping because pre-assembled units aren't easy to transport.
The Best Computer Tables in Singapore
Now you know our tips on how to spot the best computer tables in Singapore for your specific situation. At this point, you're probably ready to see our picks.
So, without further ado, here are the ones we thought to be the best computer tables in Singapore.
1. LOGAN Study Table
Best for Overall Value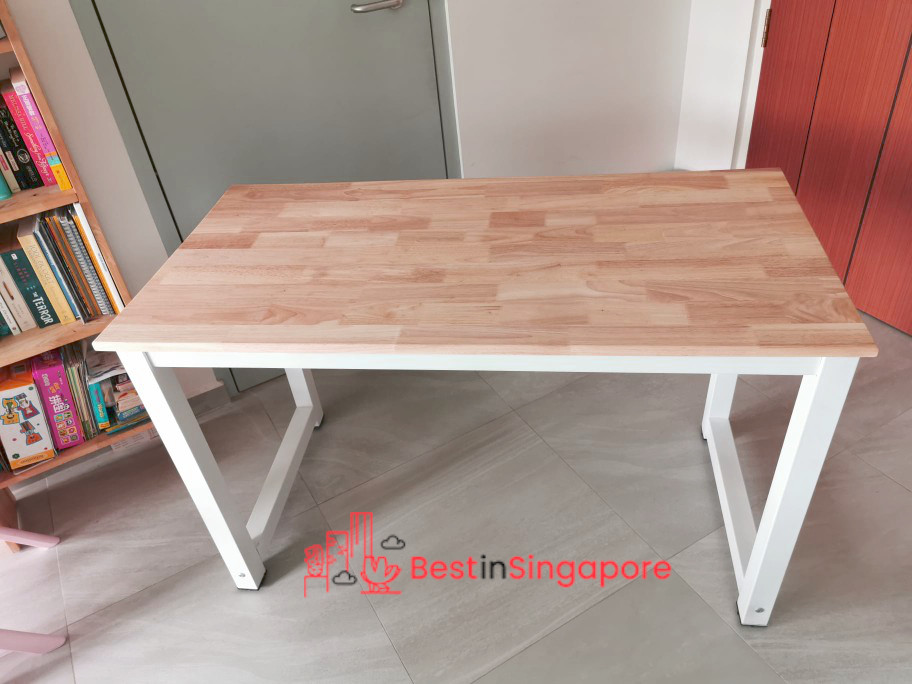 Price: $79.90
Since MYSEAT is considered one of the most trusted furniture brands on the island, we couldn't help but include one of its computer tables in our list. Here's the LOGAN Study Table, and we're sure it's among the best computer tables in Singapore.
It's made with a toxic-free and kid-friendly rubberwood/pinewood, so rest assured that you're not going to be exposed to harmful chemicals when you're using the LOGAN Study Table.
What's more, you can choose between white or black for the colour of its legs, meaning you can opt for the colour that will suit the interiors of your room. There are also four types of table top finishes to choose from: natural, honey, walnut, coffee, coffee, and coal.
The LOGAN Study Table also comes with a cable management hole and a USB extension port, all for an additional price.
Highlights
Toxic-free wood
Durable structure
Sturdy and stable
2. Nordic Style Modern Minimalism Study Desk
Best for Affordability
Price: $35.90
If you're looking for a cheap computer table, look no further than the Nordic Style Modern Minimalism Study Desk. It may be cheap compared to other computer tables, but it's made from premium materials, so rest assured that it can withstand years of usage.
More than that, it looks stylish and sleek thanks to its minimalist style. If you're the type of person who doesn't like complicated and overly intricate designs, then you're going to like the Nordic Style Minimalist Desk.
In terms of comfort, it surely doesn't fall short. It features round edges and a curved design to ensure that it won't cause any discomfort with sharp edges, especially when you've been using it for an extended period of time.
The Nordic Style Modern Minimalism Study Desk is extremely spacious as well, allowing you to place other things such as books, lamps, and even flower vases atop it. All these reasons are why we consider it one of the best computer tables in Singapore.
Highlights
Curved design
Round edges
Sturdy and stable
Waterproof
Easy installation
3. Miss3 Professional Home Desk
Best for Durability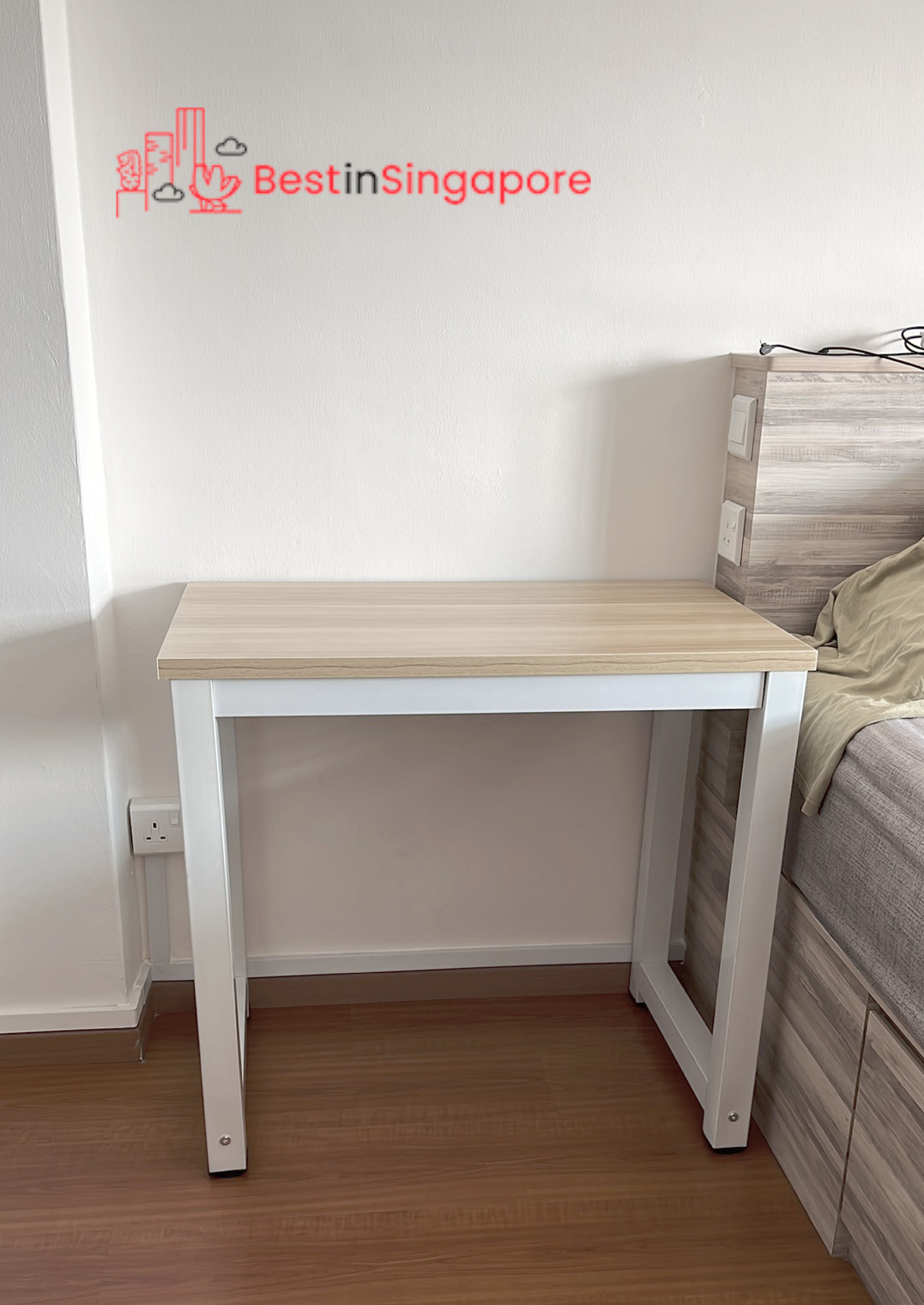 Price: $79.00
If you want a computer table that can pass the test of time, then consider checking out the Miss3 Professional Home Desk. It's deemed one of the most durable computer tables on the island as it's made from high-grade and premium wood.
It's also designed for heavy weight support, allowing users to place more than just their computers on top of it. You may place your books, notebooks, speakers, lampshade, and even flower vases on it, without worrying about whether it can handle multiple items at once.
What's more, the Miss3 Professional Home Desk features a sturdy frame that keeps it stable at all times. It also comes with an adjustable rubber foot to prevent scratches on your floor.
Highlights
Made from premium wood
Silent rubber feet
Wooden-steel structure
4. Foldable Laptop Table
Best for Bedside Work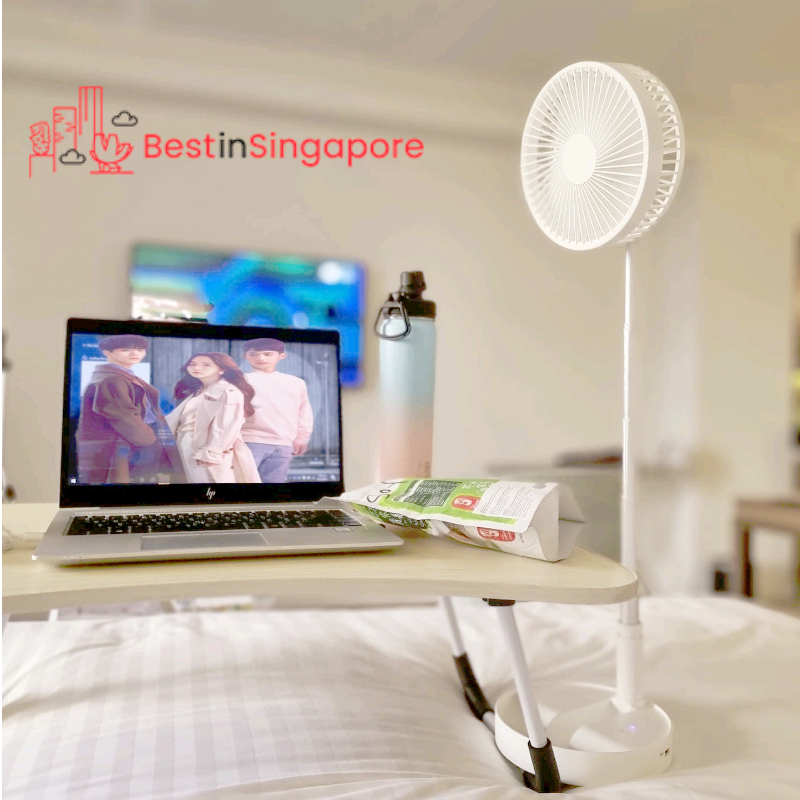 Price: $14.90
If you prefer doing work while on the bed, the Foldable Laptop Table would be the perfect option for you. For no more than $16, you will get a sturdy and durable foldable table that will allow you to work without getting out of bed.
One reason we consider it one of the best computer tables in Singapore is how compact and portable it is. Its measurements are 60x40x28cm, so finding a place to store it wouldn't be a hassle as well.
On top of these, it also comes with an anti-slip base that prevents it from slipping while placed on a mattress.
Highlights
Portable design
Anti-slip base
5. Storage Table Computer Desk
Best for Extra Storage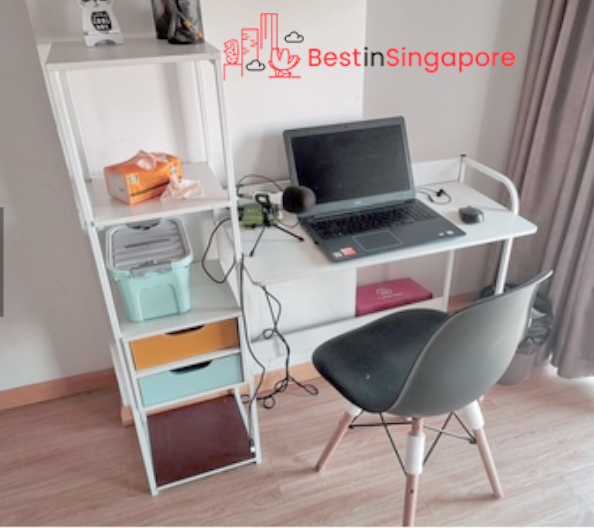 Price: $46.71
The Storage Table Computer Desk is the priciest computer table in our list, so we can only recommend it to those with money to spare. If there's one thing we can guarantee, it's that it will be worth your money, down to the last cent.
It functions not only as a computer table but as a bookshelf as well, with a carrying capacity of more than thirty books. More than that, it has enough space for two computers/laptops, making it the perfect option if you share a room with a friend/sibling.
Above all, it's made with high-grade stainless steel and premium wood, so rest assured that it can last for years without breaking down. All these reasons are why we call it one of the best computer tables in Singapore.
Highlights
Storage for books
Space for 2 computers
High-grade steel
Premium wood
6. Suar Wood
Best for Customisation
Price: Inquire for a Quote
Every time you look for furniture to be used in the house, it is a must to see how strong, durable, and safe it is to use. It's a bonus if the furniture looks presentable and attractive.
Based in Singapore, there is a team of Solid Wood experts that creates top-quality Scandinavian woodworks, using premium Suar Wood. Unlike most suppliers who try to salvage every slab possible, for them, it is ensured that every slab is free from defects, of regular shape, and perfectly processed.
So if you're aiming for a classic ambiance in your home or office, give their showroom a visit. You can choose the perfect wood for yourself, and get it for good price.
Highlights
Intricate Hand Cut Designs
Meticulous Craftsmanship
Exquisite yet Functional
7. Deska Series: AF-126B Cabinet
Best for Adjustable Functions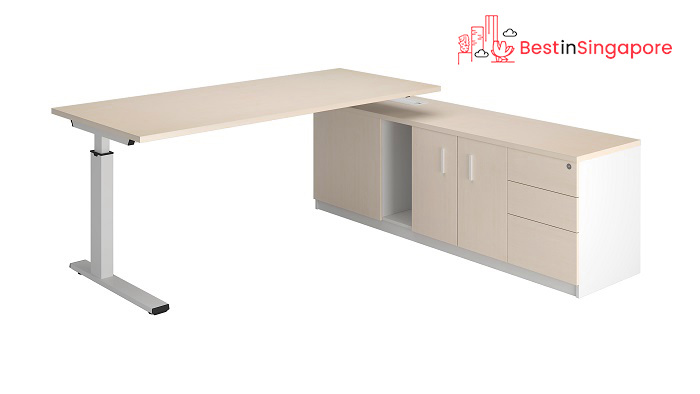 Price: $1 399 – $ 1599
Do you find it hard to crouch down every time you use your PC? Having a table isn't enough, you need a specific one that caters to all of your needs.
The Deska Series is a range of table tops that are designed with ABS Edging. It has powder coated quality steel frame that comes with electronic adjustable functions and a wooden side cabinet.
With this desk, you'll never have to encounter the same problems again. The Deska Series will provide anything that you want when it comes to table tops.
Highlights
With Electronic Adjustable Functions
Comes with a Wooden Side Cabinet
8. Spaceman – Ensemble mini shelves ~ wall mounted table + chairs
Best for Space Saving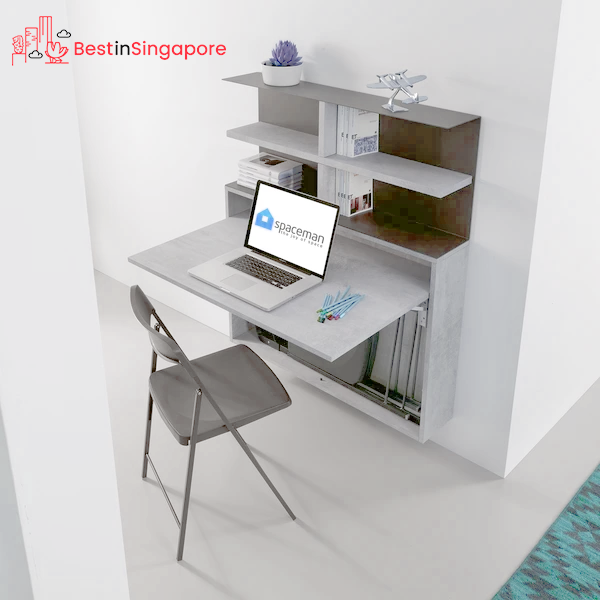 Price: S$1,388 – S$2,288
If you're in need of a computer desk for work or studying, but don't have enough space for bulky furniture. Spaceman's Wall-mounted ensemble is the perfect thing for you!
It comes with multiple shelves you can use to store decor or stationery for added space. And in time you may need the desk, you can simply prop it up from below and take the chair from inside.
The ensemble fits 2-3 persons, so you can easily have a mini group study with your friends. You can even put more things on the chairs for materials you might need.
All in all, Spaceman's Ensemble wall mounted table and chairs is genuinely a revolutionary creation where you get more storage without taking up too much space at the same time!
Highlights
Multi-functional
Multiple colours to choose from
Sturdy and beautifully designed
9. Howfine Electric Computer Desk
Best for Ergonomic Design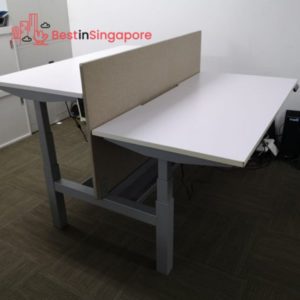 Price: S$481.50
With the recent shift to a work from home set up these days, having an ergonomic desk to work at is important. This is why we think that the Howfine Electric Computer Desk is a great table. 
We especially like that its height is electrically adjustable, so you can easily change it to any height that's comfortable for you at any time. 
Overall, its design provides simplicity and maximum comfort at the same time. 
A con for others may be that it's already used, so for those who are not too keen on buying secondhand, this may not be the best option for you. 
While it may be used, it still appears to be in good condition and you can get it for a reasonable price. All in all, we think it's still worth the consideration. 
Highlights
Ergonomic design
Built-in electric height adjustment 
And with that, we conclude our list of the best computer tables in Singapore. If you've purchased any of these computer tables before, share with us what you think about them!
Of course, a workstation wouldn't be complete without a comfortable office chair. Should you want to buy one, do check out our list of the best office chairs in Singapore.