Where to Find the Best Workout Supplements in Singapore
The results of your hard work at the gym are often better when you're also taking the best workout supplements in Singapore. That's because sometimes, we need the help of workout supplements to see faster results.
If you want to try the best workout supplements in Singapore for yourself, then you definitely can. We're here to help you with our list of the places that sell the best workout supplements in Singapore.
Check them out below to see which store is closest to where you live!
1. CrazyBulk Pro Gym Stack
| | |
| --- | --- |
| BEST FOR | Increasing muscle mass |
| PRODUCTS | Chocolate-flavoured Tri-Phase supplement |
| WEBSITE | CrazyBulk |
| ADDRESS | Delivers throughout Singapore |
| CONTACT DETAILS | [email protected] |
| OPERATING HOURS | Contact for more details |
CrazyBulk takes prode in offering a chocolate-flavoured Tri-Phase supplement that is a perfect blend of muscle-growing nutrients and digestive enzymes. It combines six sources of protein with DigeZyme®,their bodybuilding, multi-enzyme formula can help increase muscle mass while enhancing the absorption of vital bodybuilding vitamins and minerals.
Furthermore, CrazyBulk's CRN-5 is a creatine supplement combines five different forms of creatine, an organic compound found naturally in muscle cells that helps produce explosive energy during heavy lifting or high-intensity exercise. It also has added electrolytes, including calcium, magnesium and potassium, which contribute to the functioning of muscle and nervous systems.
Lastly, it is vegan friendly and gluten free.
Highlights
Increasing strength and energy
Reducing post-workout pain and tenderness
Aiding digestion and nutrient absorption
2. TSW @ Circuit Road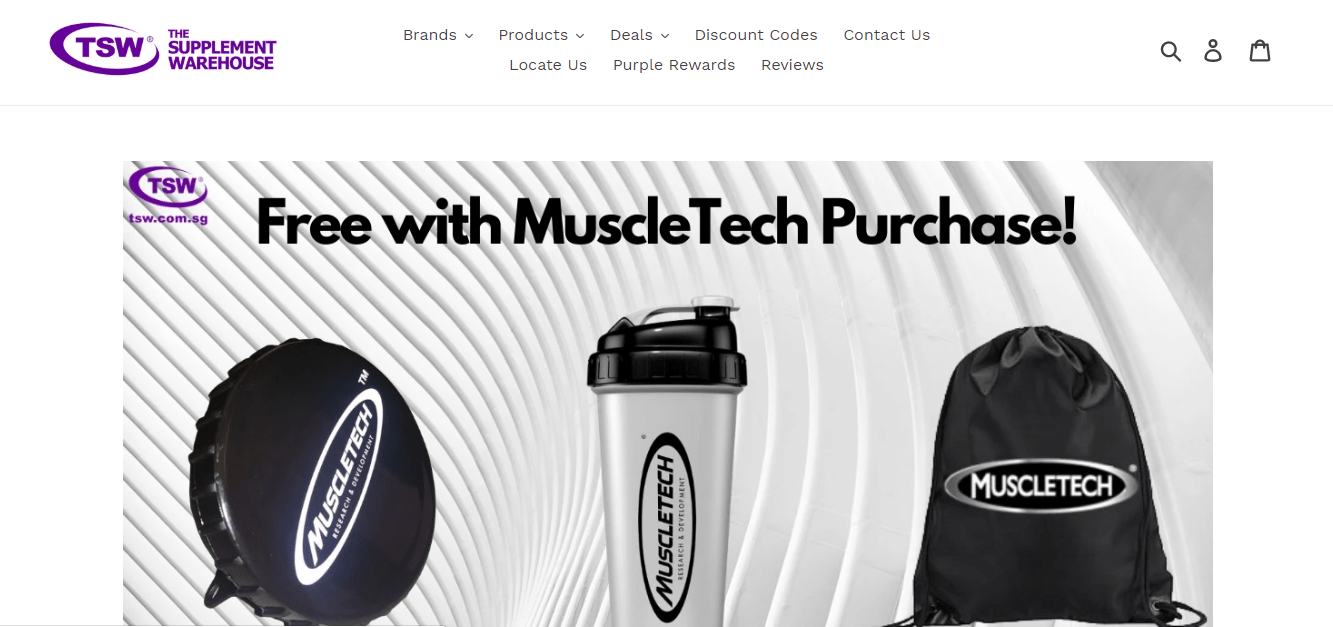 | | |
| --- | --- |
| BEST FOR | Delivery Services |
| PRODUCTS | Protein Deals, Mass Gainer, Meal Replacement, Protein Bar, Amino Acids, Creatine, and Essential Oils |
| WEBSITE | tsw.com.sg |
| ADDRESS | Circuit Rd, #01-345 Block 64, Singapore 370064 |
| CONTACT DETAILS | +65 62846550 |
| OPERATING HOURS | Monday – Sunday, 12:30 PM – 8:30 PM (except Tuesday) |
If you're looking for a store that sells an impressive collection of workout supplements, then you have to check out TSW. It has everything that a gym goer might need, from workout clothes down to protein powders.
TSW also offers frequent deals and discounts, especially to regular customers — which is why we consider it one of the top stores with the best workout supplements in Singapore. Most of its products also come with freebies.
If you have no time to drop by its store, though, you may opt for its extremely convenient delivery services.
Highlights
Fast deliveries
Freebies
Discounts and promos
3. NutriFirst

| | |
| --- | --- |
| BEST FOR | Branded Products |
| PRODUCTS | Whey Protein, Fat Burner, Mass Gainer, Glucosamine, Amino Acids, and Anti-Aging Formula |
| WEBSITE | https://www.nutrifirst.com/ |
| ADDRESS | 694, #01-01 Geylang Rd, Singapore 389614 |
| CONTACT DETAILS | +65 67440600 |
| OPERATING HOURS | Monday – Saturday, 8:00 AM – 5:00 PM |
NutriFirst operates both a physical and an online store, making it easier for customers to purchase its products. Some of the gym supplements it sells are whey protein, mass gainers, amino acids, fat burner, and many more.
If you need other gym equipment to make your workouts more productive, NutriFirst sells them as well. Above all, all its products are branded and of high quality, so rest assured that your money isn't going to waste.
Another reason we consider it one of the top stores with the best workout supplements is that it has convenient methods of payment, from credit cards to cash on delivery.
Highlights
Cash on delivery
Quick delivery
4. Supplement Shop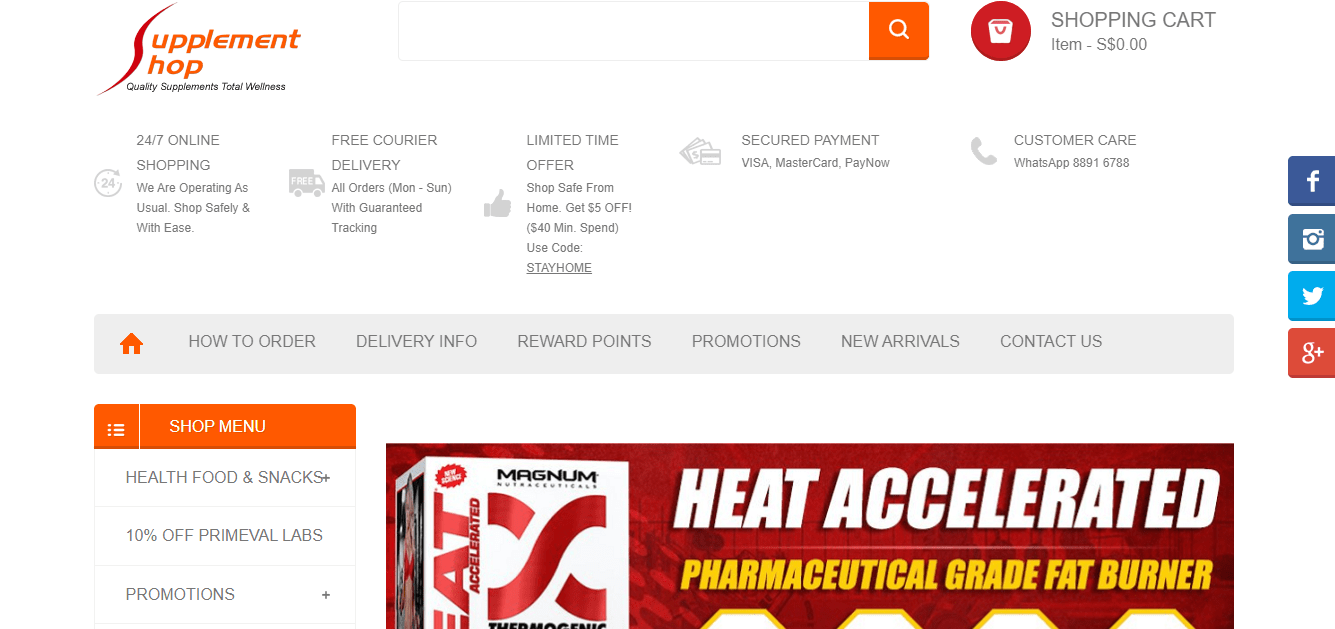 BEST FOR
24/7 Online Shopping
PRODUCTS
Sports Supplements, Diet Care, Fat Loss, and Health & Wellness
WEBSITE
http://sg.suppsshop.com/
ADDRESS
35 Kallang Pudding Road, #03-05 Tong Lee Building A, Singapore 349317
CONTACT DETAILS
+65 8891 6788 |

[email protected]

OPERATING HOURS
Monday – Friday, 10:00 AM – 12:00 PM
What makes Supplement Shop stand out from other stores is that it offers different brands for a lot of workout supplements, allowing customers to choose which one they prefer. Some of the brands it houses are MuscleTech, Max Pharma, Optimum Nutrition, Primeval Labs, and many more.
Besides this, customers may also shop online any time of day and have their orders shipped right away. Every order also comes with free delivery, so no need to worry about paying a huge delivery fee for a small product.
Highlights
Sealed, branded products
Free delivery
With tracking number
5. 4WN Supplements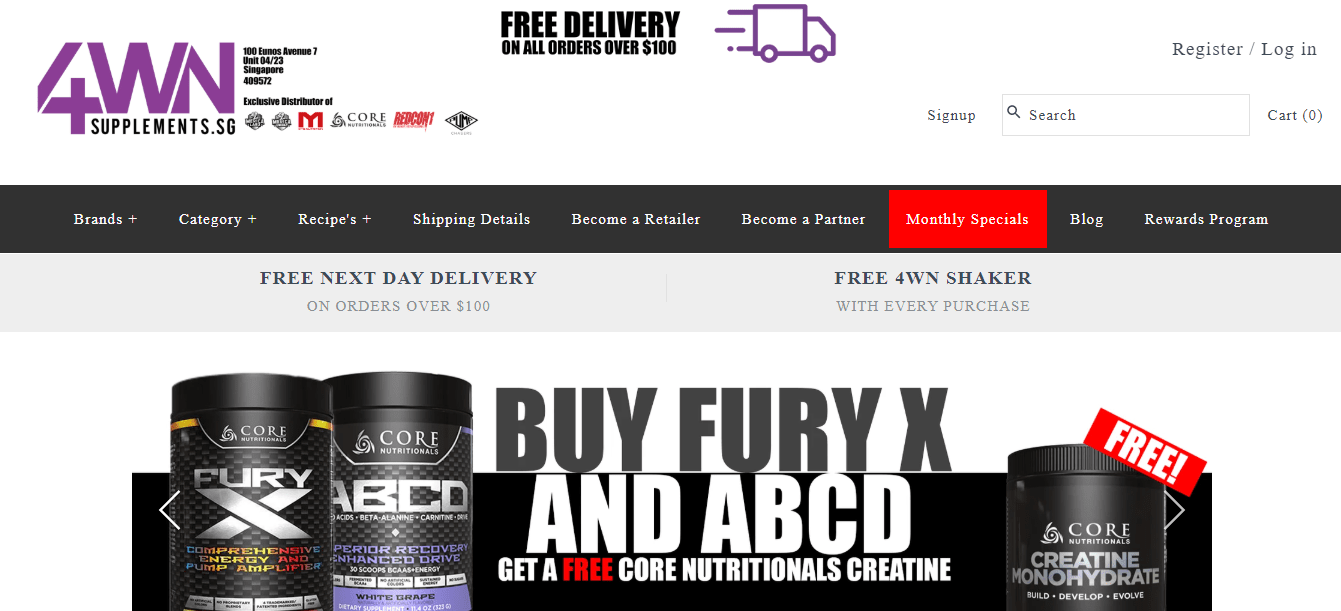 | | |
| --- | --- |
| BEST FOR | Next-Day Delivery |
| PRODUCTS | Whey Protein, Mass Gainer, Supplement Shaker, Amino Acids, Pre-Workout, Carnitine Capsules, and Fish Oil |
| WEBSITE | https://4wnsupplements.sg/ |
| ADDRESS | #04/24, 100 Eunos Avenue 7 S(409572) |
| CONTACT DETAILS | +65 8480 1044 |
| OPERATING HOURS | Monday – Friday, 9:00 AM – 6:00 PM |
If you're looking for a shop that delivers immediately, then 4WN Supplements might be the shop for you. It offers free next-day delivery for orders that exceed $100.
4WN Supplements is also known for having cheaper products compared to other online and physical stores. It proves that gym goers don't need to spend thousands of dollars on supplements just to achieve their dream bodies.
On top of that, 4WN Supplements also sells gym equipment and clothing to help you be more motivated working out.
Highlights
Cheaper products
Free delivery
6. GNC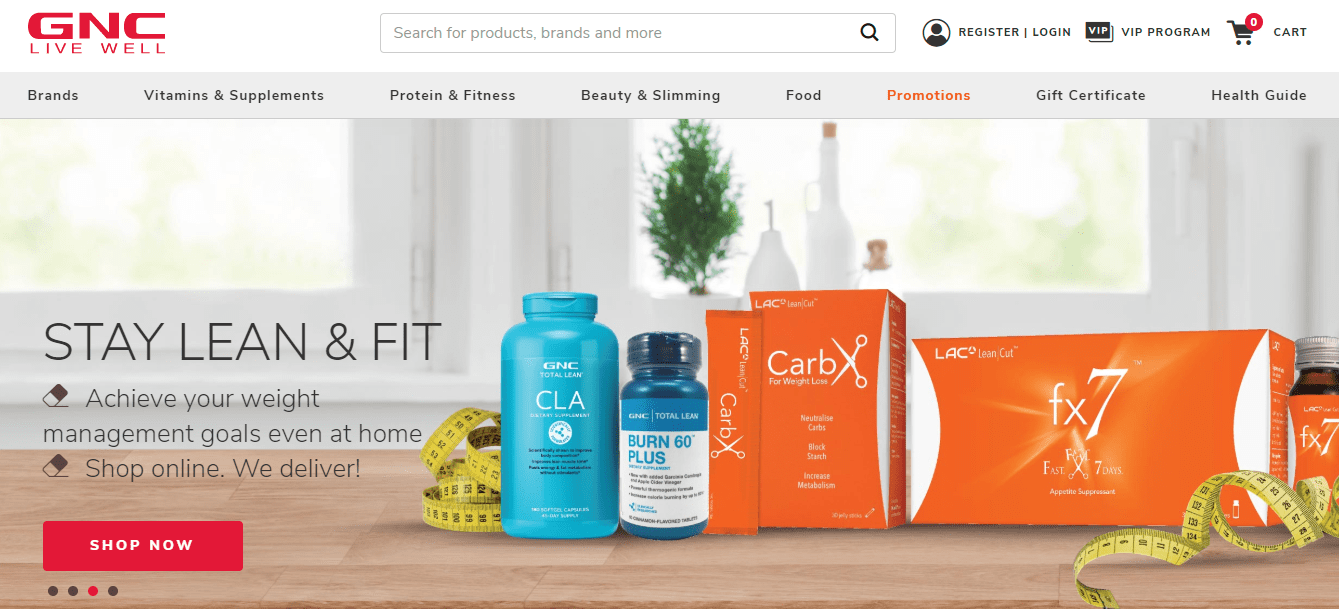 | | |
| --- | --- |
| BEST FOR | Variety of Products |
| PRODUCTS | Whey Protein, Amino Acids, Fat Burners, Creatine, Protein Bars, Weight Gainers, and Muscle Recovery |
| WEBSITE | https://www.gnc.com.sg/en/home |
| ADDRESS | 1 Bukit Batok Central Link, #B1- 08, Singapore 658713 |
| CONTACT DETAILS | +65 6896 6435 |
It's no secret that GNC is one the top stores for the best workout supplements in Singapore. It's also known as the world's biggest chain of health food stores and the largest manufacturer of workout supplements, so rest assured that it likely has whatever you're looking for.
It has also recently opened its online stores in Singapore to make its products more accessible to locals. In terms of product variety, GNC surely doesn't disappoint.
Besides gym supplements, it also sells vitamins, ready-to-eat food, and skincare products.It's truly one of the best supplement and beauty stores in Singapore.
Highlights
Promos and discounts
Quick delivery
7. HealthPro
BEST FOR
Complimentary Consultation with Pharmacist & Dietician
PRODUCTS
Sports Performance & Recovery, Pain Management, Hormone Control, Cardiovascular Enhancement, Weight Management, Skin Care
WEBSITE
www.healthpro.com.sg
ADDRESS
37 Jalan Pemimpin, #06-09 Mapex, Singapore 577177
CONTACT DETAILS
Tel: +65 6353 5560 Email:

[email protected]

OPERATING HOURS
Monday – Friday : 9am to 6pm
HealthPro specialises in supplying pharmaceutical grade supplements to doctors who use them in the clinical management of their patients. These doctors range from General Practitioners to specialists in Sports Medicine, Orthopaedic, Endocrinology, Cardiology, Aesthetics, etc.
They also have a showroom where customers may browse the more than 220 supplements they carry or have a consultation with their Pharmacist and Dietician.
Customers may also shop online and enjoy friendly delivery options, which includes having their purchases delivered to them free by the next business day.
Highlights
Large selection of supplements
Quick delivery option
8. BYOP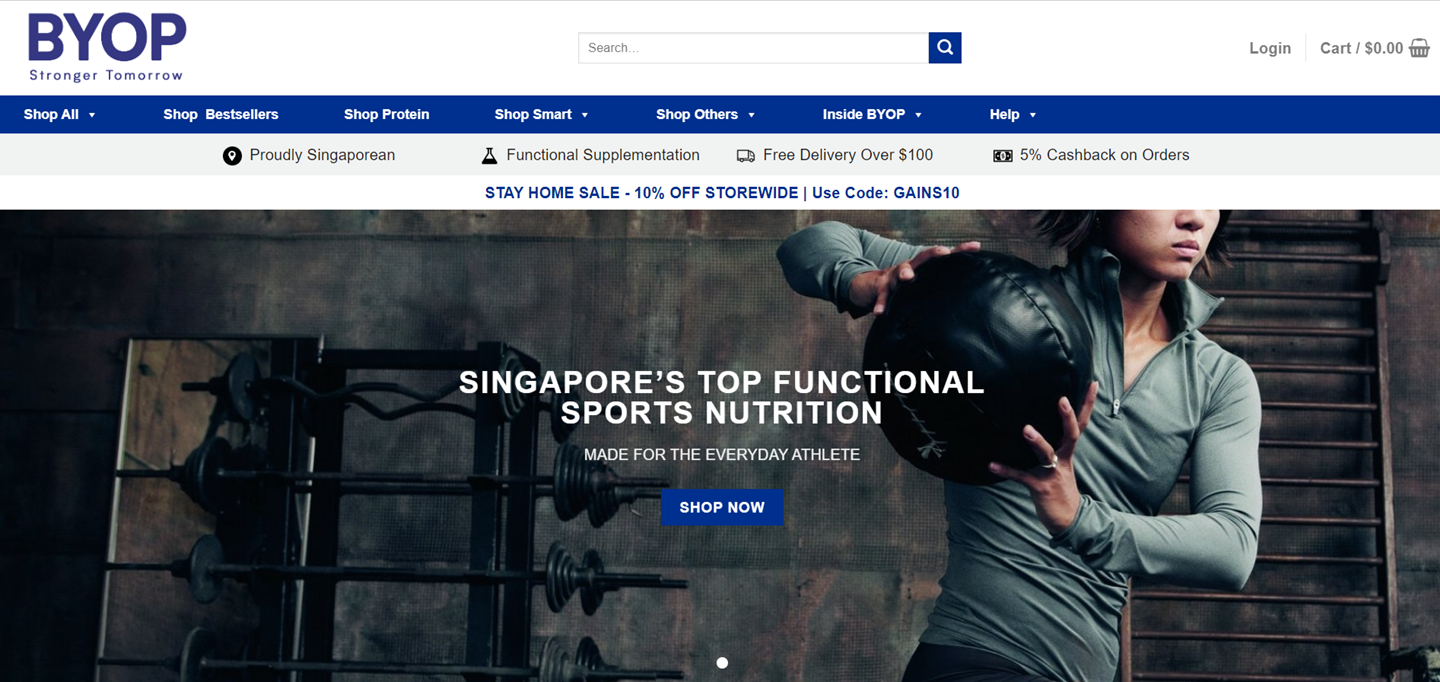 BEST FOR
Highly Functional Supplementation
PRODUCTS
Whey Protein, Vegan Protein, Health Supplement Pills and Powder, Fitness Supplement Pills and Powder
WEBSITE
http://www.byoprotein.com/
ADDRESS
18 Kaki Bukit Road 3, #02-13 Singapore 415978
CONTACT DETAILS
+65 8776 6850
[email protected]
OPERATING HOURS
MON-FRI: 09:00 – 17:00
SAT: 10:00 – 17:00
Considered as one of Singapore's top functional sports nutritionists, BYOP is a provider for any and every workout supplement that you might need. They're one of the best as they only use ingredients in their products that are 100% safe, proven and tested. Not only that, they are the very first in the world to create functional whey protein that is much more effective than your regular whey.
BYOP is definitely an unmatched competitor in the field, with their uncompromised quality being especially commendable. They always ensure that their clients receive optimal results from each of their products.
Make sure to check out your options on their website, because if you're able to buy items that are worth more than a hundred dollars, then you can receive them at your doorstep with no shipping fee!
Highlights
High quality protein powder blends
Free Delivery Over $100
5% Cashback on Orders
9. Vitadeals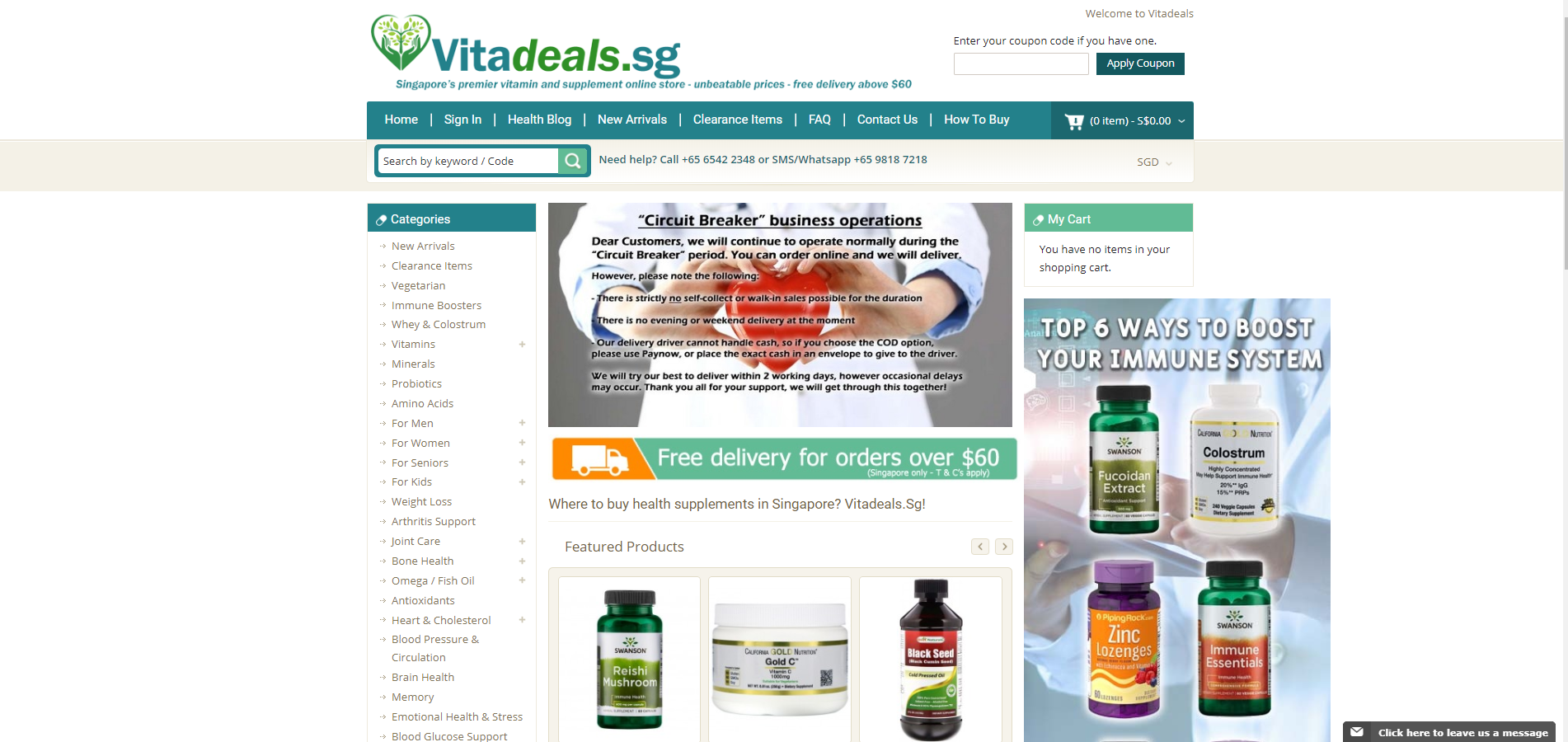 | | |
| --- | --- |
| BEST FOR | Health Supplies |
| PRODUCTS | Immune Boosters, Vitamins, Minerals, Probiotics, Amino Acids, Joint Care, Fish Oil, Bone Health, Antioxidants, Brain Health, Heart & Cholesterol |
| WEBSITE | https://vitadeals.sg/ |
| ADDRESS | 30 Loyang Way #05-06, Singapore 508769 |
| CONTACT DETAILS | (+65) 6542 2348 l [email protected] |
| OPERATING HOURS | Monday – Friday, 9:oo am – 6:00 pm |
When looking for health supplements online, sometimes it is hard to find a legitimate seller. Fortunately, Vitadeals is available as your one stop shop.
With their focus on delivering "value for money" health supplements, they are willing to expand even more, with the aim of providing a huge variety of products for the benefit of their customers. They want to make sure that their customers receive the right kind of service.
They never compromise on quality, ensuring that all the brands they carry are genuine and authentic. Every product has met strict US federal standards and regulations so you don't have to worry if their products are dangerous– all they want is to keep you safe and healthy.
Highlights
Free delivery
Reasonably Priced Products
Genuine and Authentic Brands
10. Pure & Well Health Nutrition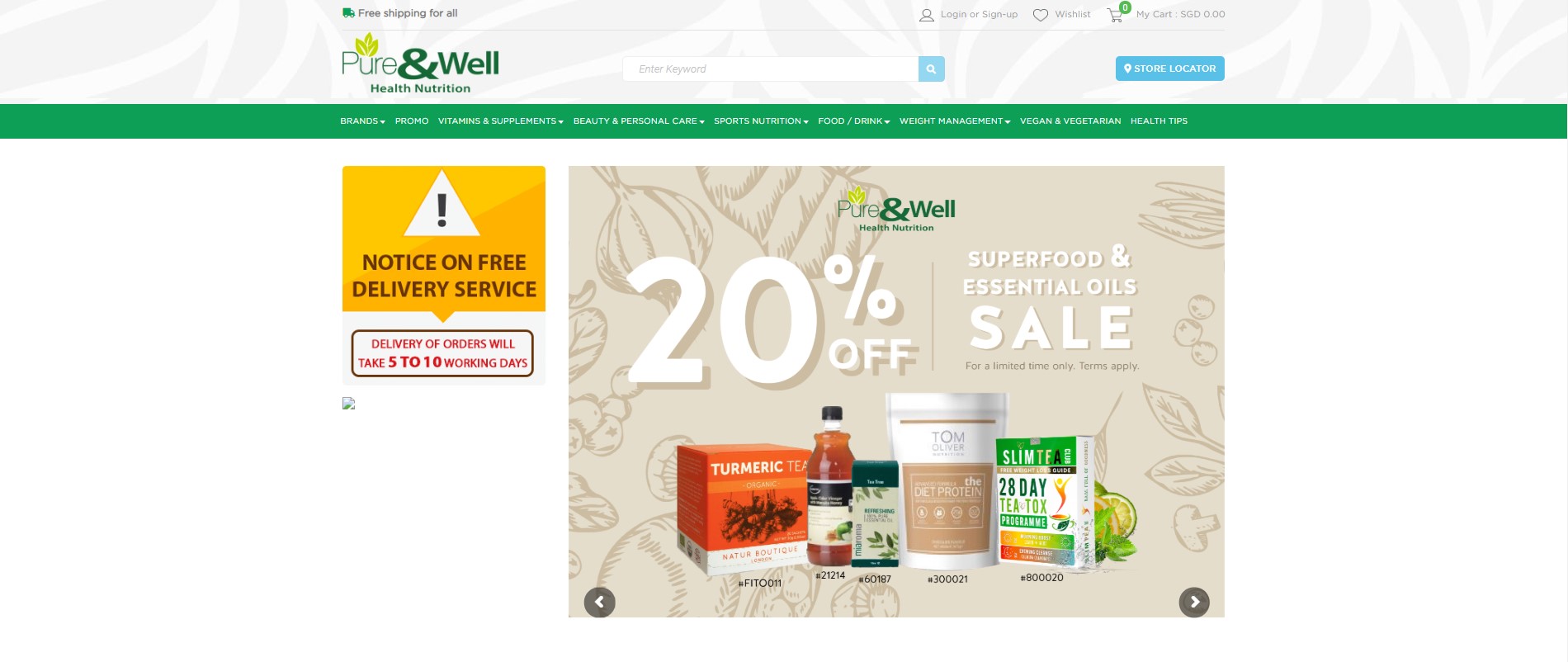 Several people nowadays are very much inclined to sports and athletics. Well aware that such activities require great strength and endurance, Pure & Well Health Nutrition came up with a nutrition supplement for sporty individuals: the Precision Engineered Muscle and Size Gainer Powder Strawberry.
These supplements serve as the body's helpers in dealing with strenuous activities. When taken by an individual, these greatly enhance his or her organs' response to pressure and stress.
After a lot of exercise, your body still needs other means of gaining nutrients besides healthy food. Avail of Pure & Well's supplements today and achieve optimum health!
Highlights
Free delivery
Affordable items
Genuine and authentic brands
11. Halal Nutrition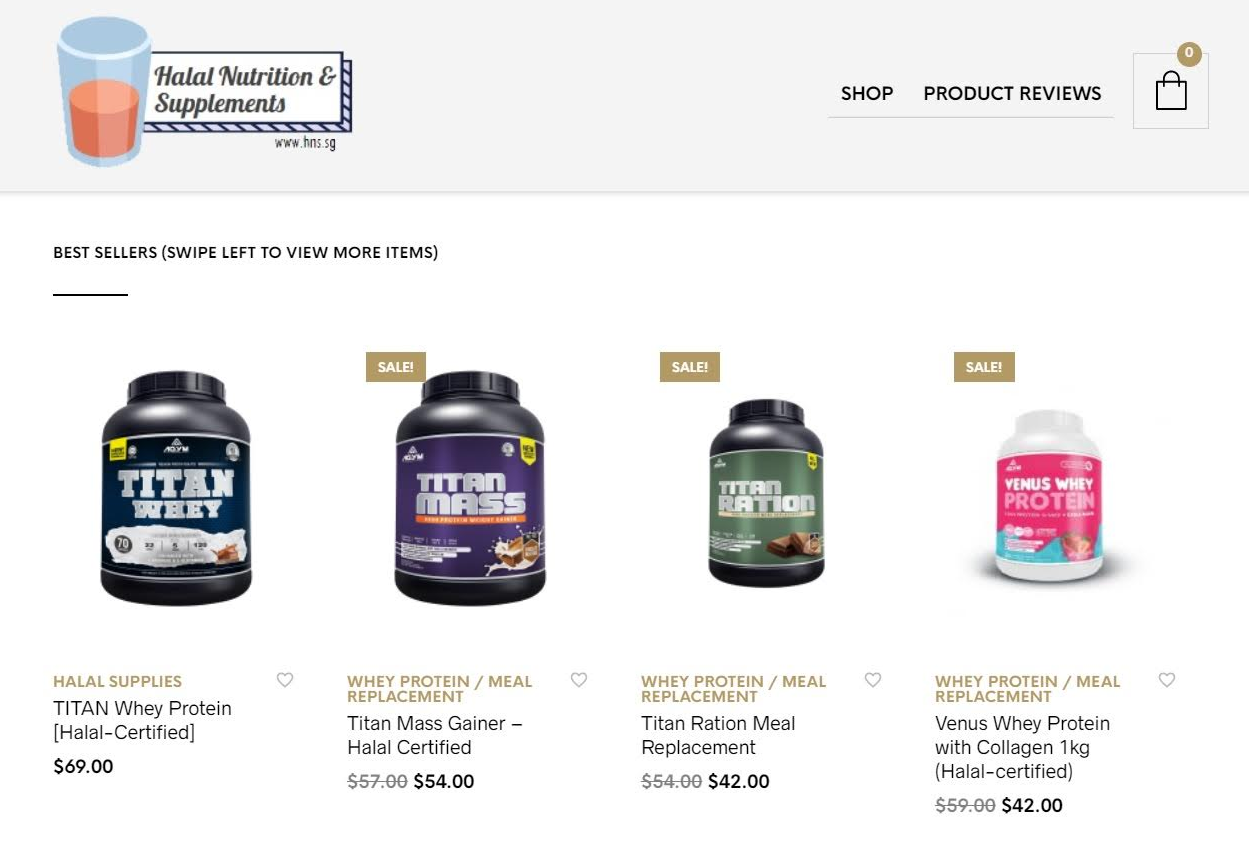 BEST FOR
Halal Whey Protein
PRODUCTS
Vitamins, Whey Proteins, Supplements
WEBSITE
https://hns.sg/
ADDRESS
10 Genting Lane, Melwani House
Level 10
CONTACT DETAILS

Whatsapp: 85348247

OPERATING HOURS
N/A
Next on our list is Halal Nutrition, whose catalogue may be one of the smallest on the list, but doesn't fail in providing plenty of options for customers. The shop showcases various products, like vitamins, whey proteins, supplements, and drink equipment.
What makes them stand out, though, is their renowned Titan line, which are pre-workout, whey proteins, and meal replacements that are, as the shop's name suggests, Halal-certified. Countless customers have raved about this line, claiming how the Titan products have helped them in their journey to better fitness.
Highlights
Halal-certified products available
Fairly priced products
Guaranteed next working day delivery.
And that's it for our list of the stores that sell the best workout supplements in Singapore. If you've tried any of their products before, share with us how it affected your body!
And if you want to see even better results, we highly recommend seeking help from the best personal trainers in Singapore. These trainers know the best ways for you to achieve your dream body.