The 13 Best Website Builders in Singapore
Gone are the days when you had to learn complex codes just to make your ideal website. In this modern age, you can now create and publish your own site with the best website builder in Singapore.
Website builders are easy to use and navigate and they feature ready templates where all you need to do is customise the display and input the content. The only hard thing to do is to choose the right one that can give you the most responsive and dynamic website that you need.
That's why we've made this task easy for you today. Here, we have some of the best website builders in Singapore! Read our list below to see which one suits you the most.
1. Shopify
Next on our list is Shopify. What's great about them is that they are known all over the globe.
Which makes them able to power over 1,700,000 businesses worldwide! This is happening because they are an all-in-one commerce platform to start, run, and grow a business.
A reason why we can recommend them is of their design expertise. They ensure that your website will be designed accordingly to your brand and that any users will be able to understand its interface easily.
We think they are great because aside from web design, they also offer other services that may also still help you and your business grow to its full potential.
Highlights
24/7 customer support
Modern design
Competitive pricing
Customer Reviews
Here is a testimonial from one of their previous clients:
"I had all my signs and my branding ready to go and it was a matter of is this going to work… but people loved it, it wasn't just in my head."
2. Weebly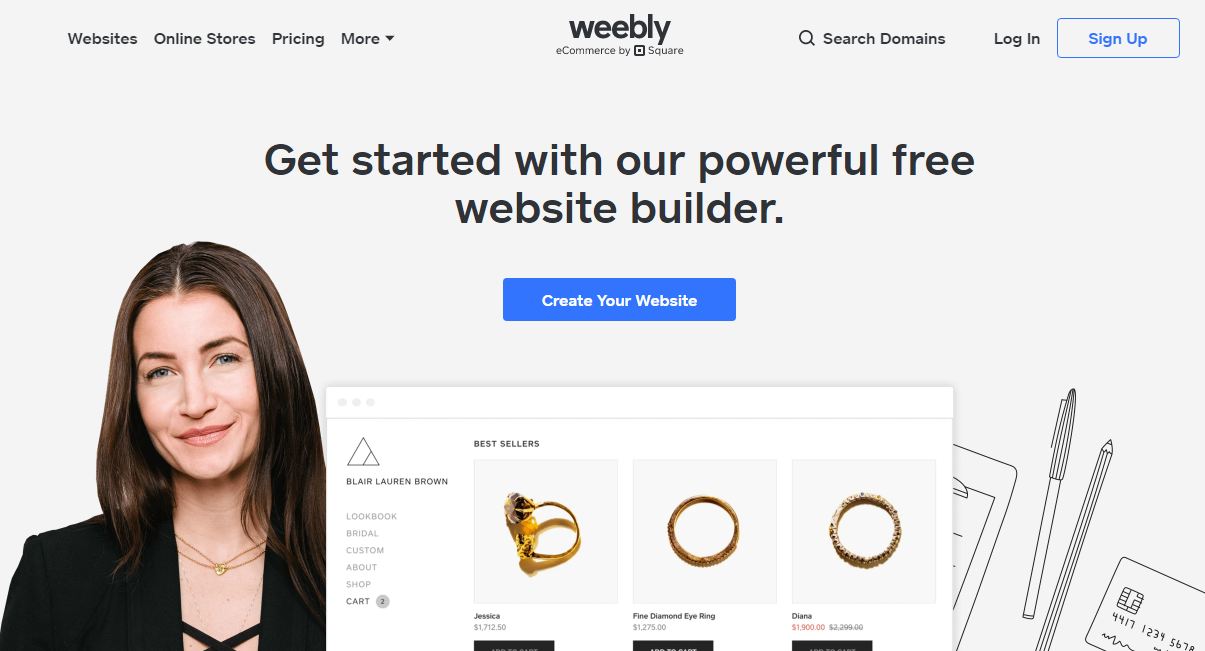 | | |
| --- | --- |
| BEST FOR | Business websites, Integrated marketing tools |
| PRICING | Starting from $5 per month |
| WEBSITE | https://www.weebly.com/ |
Weebly offers a collection of customisable templates for entrepreneurs. On this platform, you can simplify every business transaction, such as management of orders, shipping, and payments.
You can also gain faster progressive growth with its default marketing tools like Facebook ads, email campaigns, and many more.
There's no need to worry if you don't have any experience in creating a website given how easy this is to use. It has starter guides and planning tools that take you through simple and step-by-step instructions.
Highlights
Themes, eCommerce, and branding tools
Collection of apps and services for your website
Customer Reviews
Most users shared that they were able to easily manage business transactions through the practical online business features of Weebly. This is why many have considered them to be the best website builder in Singapore.
A reviewer wrote this verdict:
"After giving it a thorough test, we can confidently say Weebly is the best website builder for small businesses on the market right now. It's uncluttered, simplistic, and relatively easy to navigate, so you won't feel overwhelmed.It may have come out of our testing with a lower ease of use score than Wix, but once you've got used to the platform, it becomes a breeze."
3. WordPress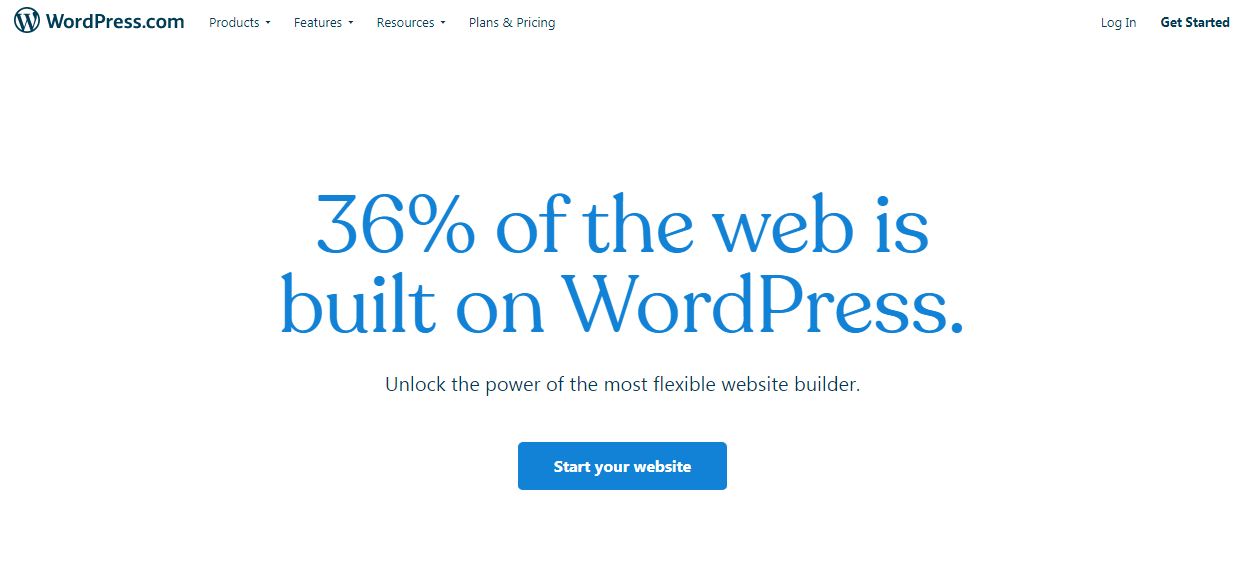 WordPress is known to be one of the most well-known and most-used website builders for many blog owners. So, if you're planning to start your own blog and share wonderful and interesting content with the world, then this might be the right platform for you!
At WordPress, every setting is highly customisable, from the style up to the features. The offered templates are suitable for any type of blog, such as lifestyle, travel, food, sports, or fashion.
It also has countless add-ons to choose from, helping you collect leads, create subscriptions, backups, and more.
It even features built-in SEO tools like Mailchimp, Google Analytics, and more digital marketing strategies so you can discover your target audience and promote effective campaigns.
Highlights
Customisable eCommerce platform
Easy to install addons
Built-in SEO tools
Domain plans
Customer Reviews
Many users have named WordPress as the best website builder in Singapore due to its simple and easy interface as well as the endless customisation options and add-ons that they can use to further improve their site.
An online shop owner gave this feedback:
"I first started utilizing WordPress back in 2014 when I was building a website for my flower shop company. Since then I have been addicted because this is the only website building tool kit that you can manage that is hassle-free. Speaking for myself personally. I have tried other website developer programs but water pressure is always taking the lead and stands on great representation. I feel good to finally come through here and give you all such a great review. Keep up the good work"
4. Squarespace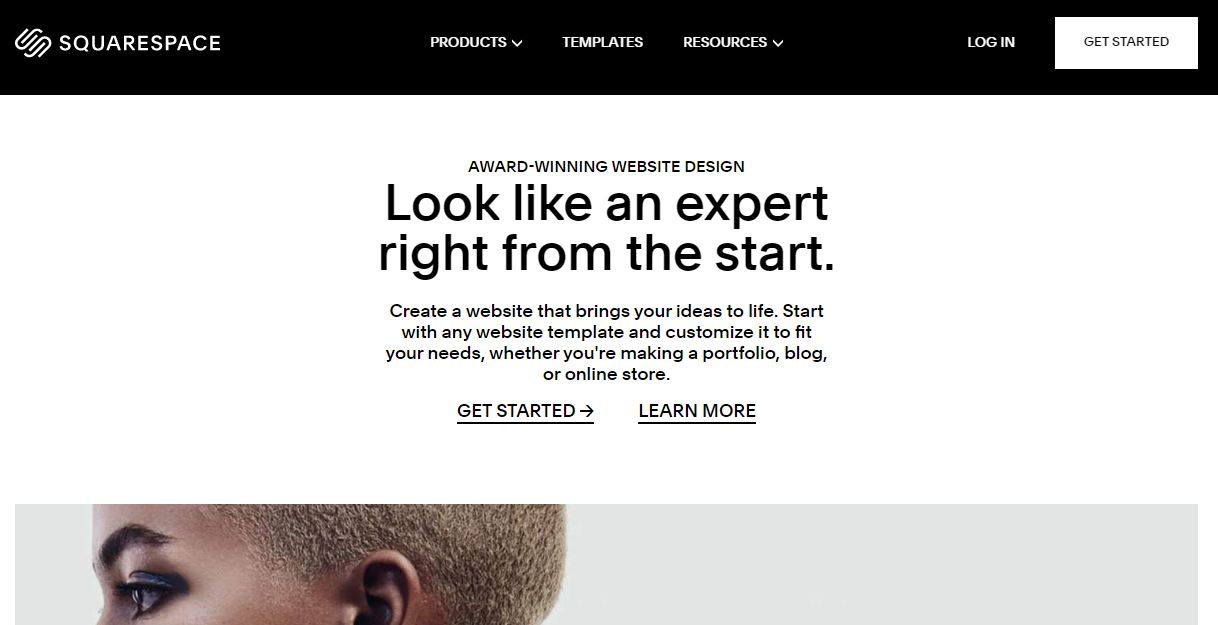 Squarespace can make your website look professional with effortless customisation from their easy-to-use style editor. It features award-winning website designs suitable for creating a portfolio, a blog, or an online store!
The best thing about it is that you can use multiple layouts in a single website, allowing you to promote your products and services with a multifaceted display.
Most creative professionals such as photographers, fashion designers, and more artists use this platform to showcase their skills, talents, and works. Entrepreneurs of small and big businesses are also fond of promoting their services through this website builder.
Highlights
Integrated SEO and email campaigns
G Suite Integration
Inclusive analytics
Built-in custom CSS editor
Customer Reviews
Users cited that it has unlimited hosting, top-notch security, and competent business foundations, which is why it has become the best website builder in Singapore for professional artists.
Here's a review posted by one of the reviewers:
"Squarespace is a website builder designed to help creatives build their own websites and showcase their work, no matter their technical ability. Without any coding knowledge, you can put together your own beautiful website in a matter of hours. All you need to do is create an account, choose a template, and then edit it to create a totally unique and professional looking website. Mostly, though, there's something for everyone: more than 2 million people pay to keep using Squarespace after its free 14-day trial, and that's a solid testament to the quality of results it delivers."
5. Hostgator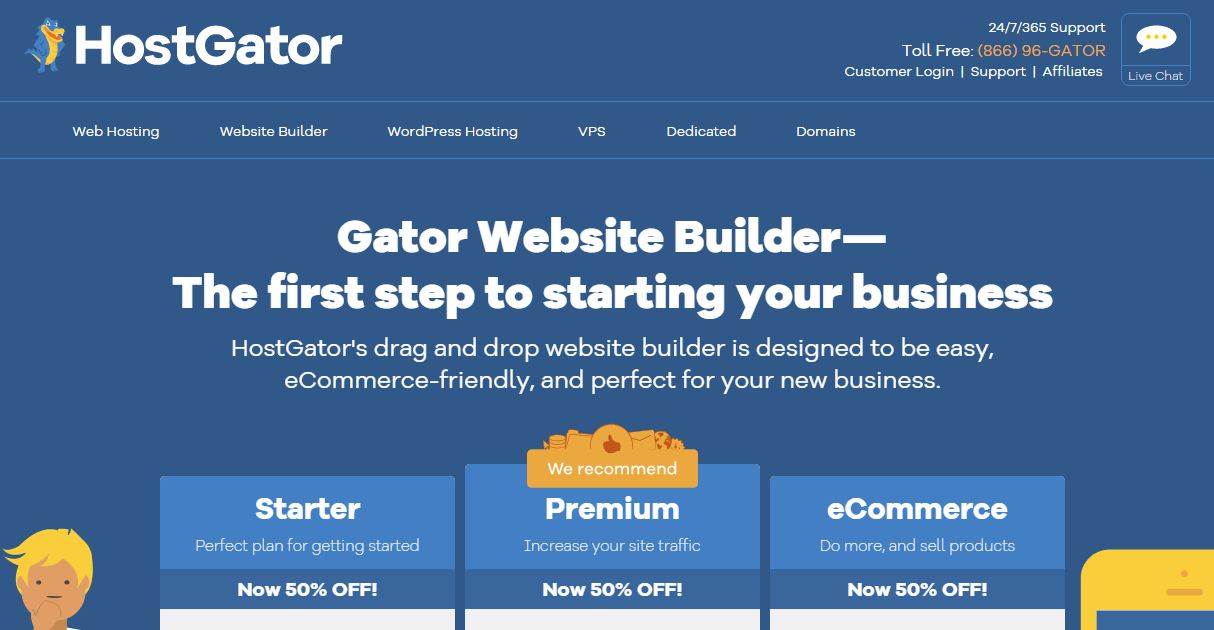 If you're searching for a website builder that offers various domain plans, Hostgator is the perfect option for you! Hostgator's drag and drop website builder has a complete set of tools for starters and established eCommerce owners alike.
It features fully customisable templates that'll look engaging and dynamic on any device. These layouts are designed for an online store, blog, portfolio, business, and even technology services.
With its integrated social media tools, you can post your promotional content with ease on social networking sites.
Highlights
G Suite productivity tools
Website analytics
Free SSL certificate
Customer Reviews
Most users were satisfied with their overall experience when using the site builder on Hostgator. They complimented the platform for its excellent management of inventory and other business transactions.
Therefore, they've claimed it as the best website builder in Singapore. A reviewer posted this feedback:
"The feature-packed HostMonster gives you all the tools to craft attractive, functional websites, but the interface requires plenty of digging to find what you need.
6. Wix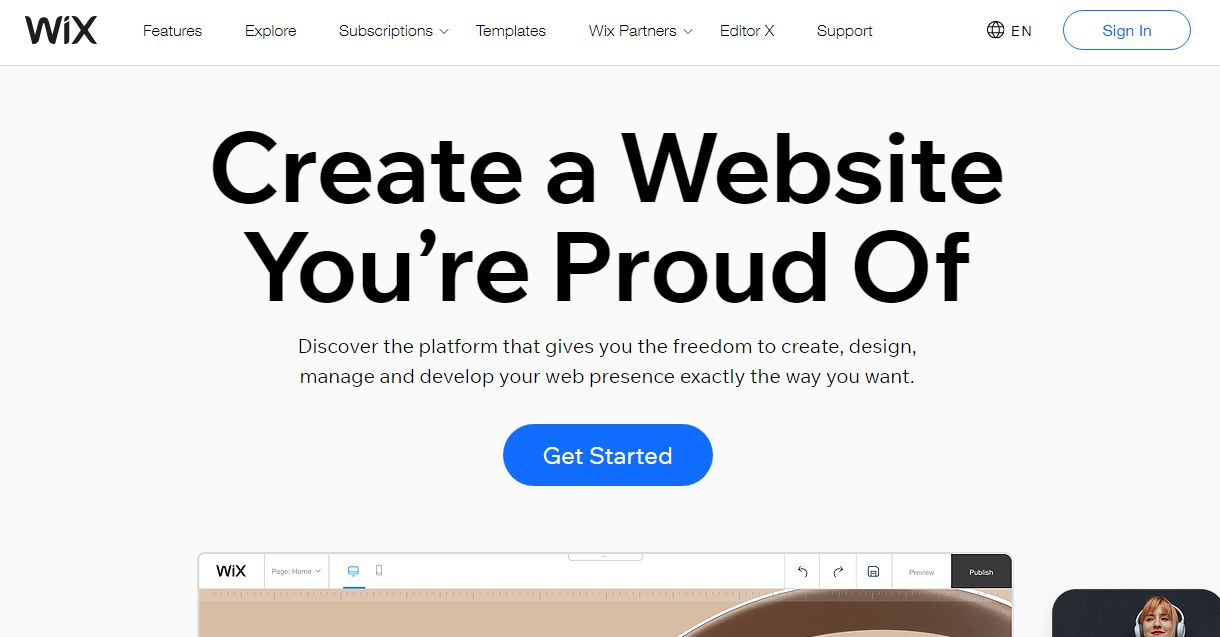 | | |
| --- | --- |
| BEST FOR | Designer-made templates, Advanced SEO tools |
| PRICING | Starting from $5 per month |
| WEBSITE | https://www.wix.com/ |
Wix can instantly build you a website based on your needs, let you choose your own layout, and add features like a booking system. You can also add some video backgrounds or animation to your site to make it look more powerful and appealing.
Moreover, it has a separate mobile editor where you can do more tweaks to enhance mobile user experience. For the professional web developers, you can include your own code if you have a particular design or feature in mind.
Its advanced and accessible features are the reasons it's known to be one of the best website builders in Singapore.
Highlights
Custom domains
Professional logo maker
Customer Reviews
Many users loved using Wix because of its wide selections of designs, easy-to-use interface, and free reliable web hosting. They say that it's a great choice for an eCommerce store, business, blog, or portfolio.
Here's the feedback from the reviewers who've experienced a smooth website creation process.
"We'd recommend Wix to anyone looking to build either a small business or personal website. For businesses, Wix has brilliant templates, SEO and marketing tools, and tons of apps to help you scale. For personal sites, you have everything you need for blogging, portfolios or CVs at your fingertips.Wix needn't cost you anything other than half an hour of your time, so give it a whirl! After all, that's the best way to find out if it's really the right website builder for you."
7. Adssential Marketing

Adssential Marketing aims to assist your brand by making it noticeable for your target market. To help you achieve business success, they use their Digital Marketing Tools and Website Development in order to increase your brand visibility.
Their team is skilled in SEO, Website Development, and Analytics Marketing. With their continuously updating knowledge, they can easily keep up with the current trends. Adaptability is one of their strong suits.
Stay ahead of your competitors by reaching out to your primary audience easily– give their expert services a try.
Highlights
Search Engine Optimization
Search Engine Marketing
Social Marketing
Website Creation
Customer Reviews
Here is a review left by a very satisfied client:
"Amazing group of digital marketer offering beyond their job scope to enable us to be digitally seen. They are willing to provide helpful tips to help us improve on our rankings." – Hong Yew
8. Maple Tree Media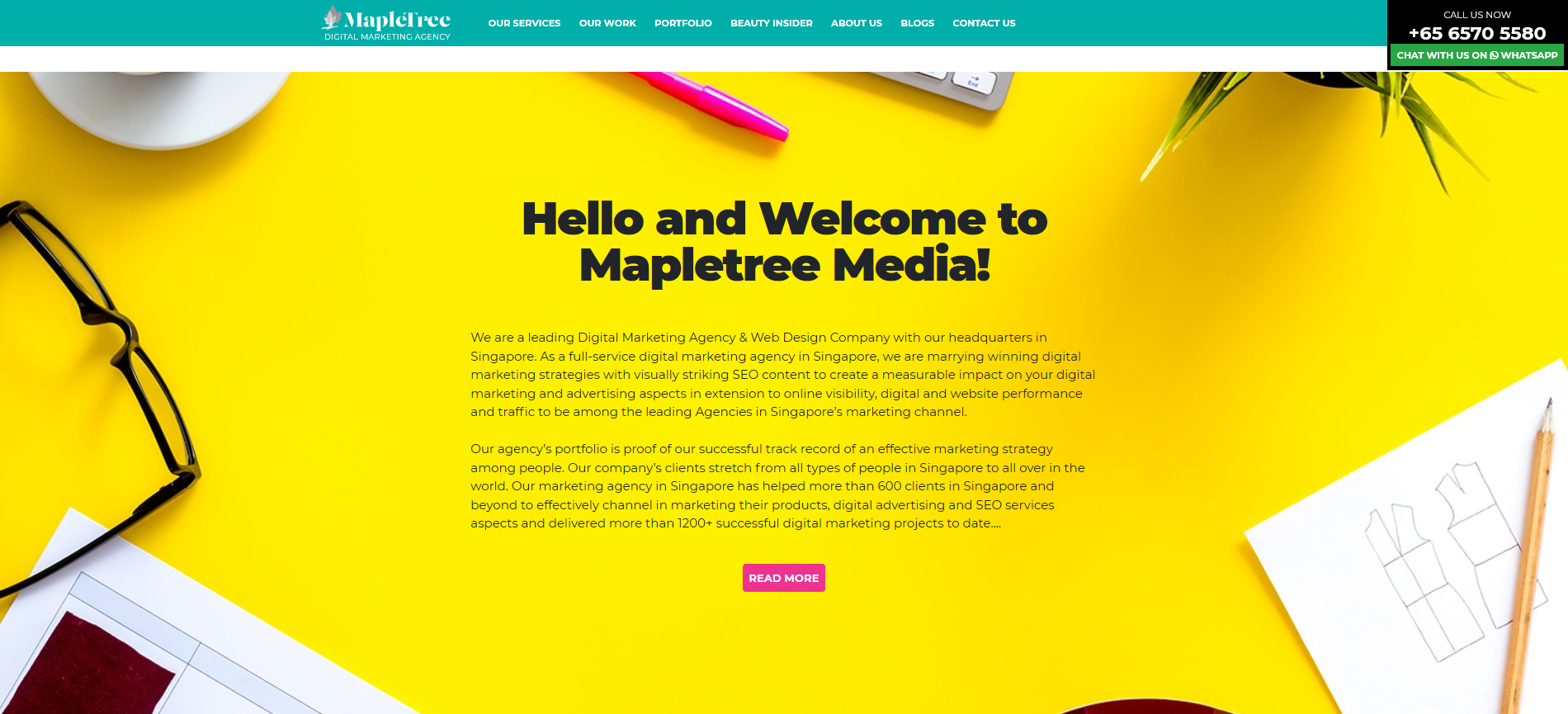 Mapletree is one of the leading Digital Marketing agencies and Web Design companies in Singapore– you can expect only the best quality service from them. They are experts in digital marketing, utilising various online strategies to make visually impactful content.
Even before "digital" became a catch phrase, Mapletree Media has already been producing their own content. After beginning print publishing in 2006, they have created over 60 magazines and 7 coffee table books. Their works have also been distributed across Southeast Asia.
As publishers, they know what works well for which market– they can easily cater to the audience of your choosing. Their strongest advantage over other digital agencies is their deep understanding of customer psychology.
Highlights
Digital Marketing Services
Website Design Services
SEO Services
Social Media Marketing & Management
Design & Copy Writing
E-commerce Development
Customer Reviews
Here is a review left by a very satisfied client:
"The Account Servicing was really impressive and I had Gio regularly speak to me and go over various rounds of changes with me. They produced a great looking site for my skincare launch and I have enjoyed working with their team and would be happy to recommend them to you for your future services." – Sandra Yeo
9. 360&5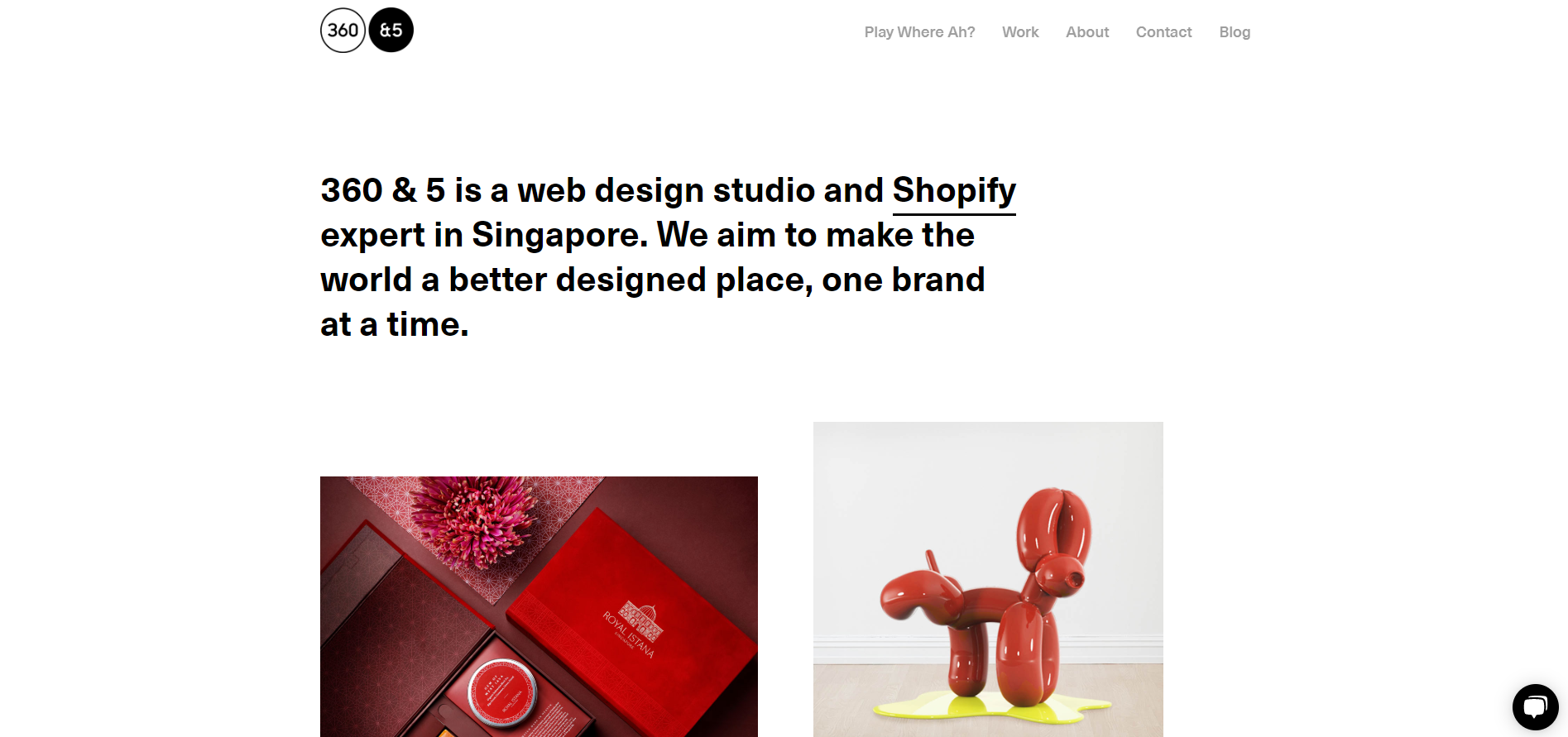 Your brand is power, and for the 360&5 agency, helping you fashion and wield it in the most effective way possible is of utmost priority!
With the 360&5 team as your partner, developing your own brand becomes a guaranteed success. In need of an iconic design that catches the eye of potential clients? A unique strategy with the assurance of advancement? A hand in navigating the Web for your business? They have it all covered!
As a Shopify Plus Experts agency, 360&5 is keen to provide only the best service to its clientele. By putting your trust into the technological expertise of their team, they can help transform your brand into a business bursting with opportunity.
Highlights
Branding Strategy
Digital Strategy
10. Jumpstart
Are you in search of the best Shopify partner? Look no further — Jumpstart is here to help your business ascend into even greater heights!
Equipped with fifteen years of experience in the industry, Jumpstart offers high-standard services for your enterprise's benefit. May it be in the digital field, the technological field, or the operational field — Jumpstart will help maximise your opportunities and client size!
Leave the development and design aspects of your brand into the care of their team. Jumpstart will ensure that your business becomes a smashing success!
Highlights
Customised Design
Store Setup
Customer Reviews
Here are some reviews from a satisfied clients.
"Jumpstart worked with NYP to create Market+, the first eMarketplace for NYP students and alumni to nurture innovation and entrepreneurship. The students and team have learned alot from the Jumpstart team on Shopify and how to setup their own online business. Thank you Jumpstart!"
11. Vinova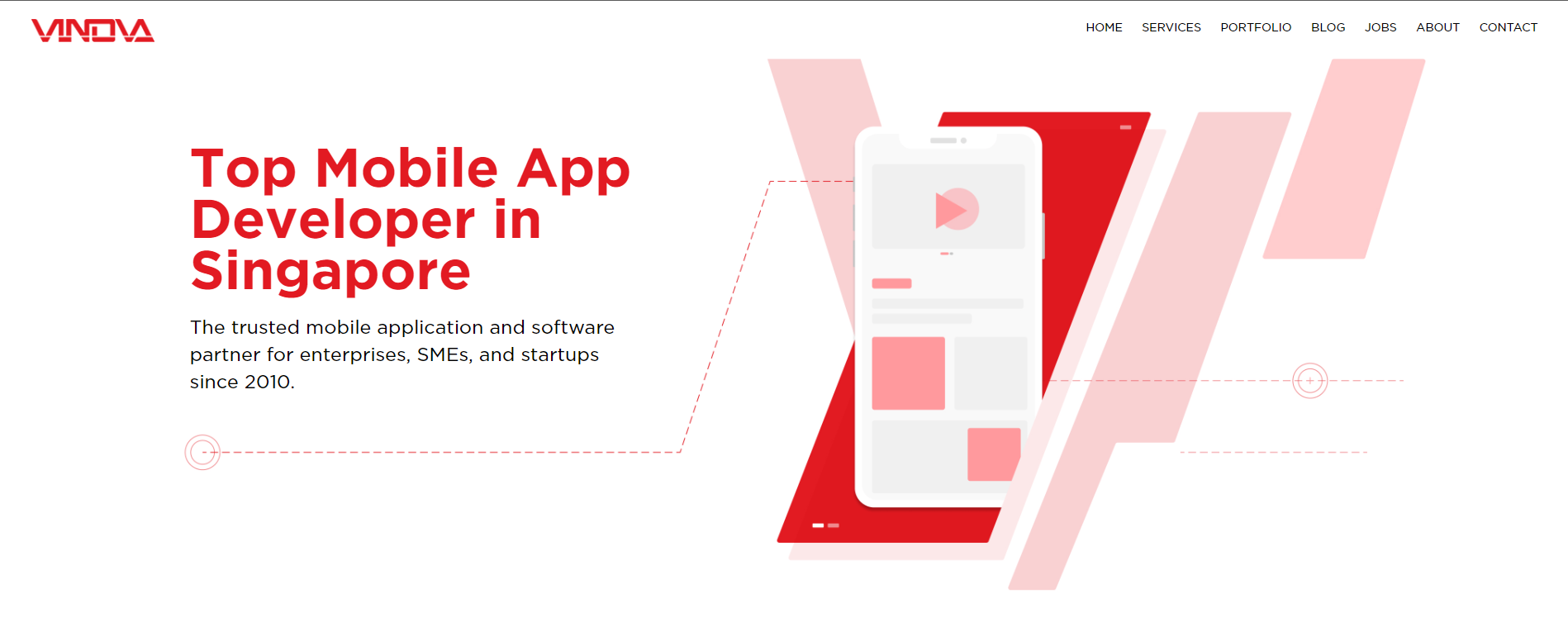 BEST FOR
Application Development
WEBSITE
https://vinova.sg/
ADDRESS
18 Sin Ming Lane #08-21
Midview City
Singapore 573960
CONTACT DETAILS
Phone: +65 6707 3597
Email: [email protected]
OPERATING HOURS
N/A
Vinova is among the top application development agencies in Singapore. Having worked in the IT industry for a decade, they are well known for rendering services of superior quality.
The professionals of Vinova are innovative, efficient, and dedicated. They are capable of providing clientele with strategies, solutions, and advice fit to address any of their needs. Moreover, they keep themselves updated on the latest trends in technology, ensuring that the assistance they give remains highly reliable at all times.
Vinova knows what is best for your business, and as a trusted partner they offer their valuable support through the creation of topnotch applications in any Web-based or mobile platform. With the help of their team, you can be sure that your business will improve in profit, productivity, and appeal to customers.
Highlights
Professional
Expert Staff
Customer Reviews
Here are some reviews from a satisfied clients:
"They are specialists that have the skill sets that are needed to complete projects in a timely manner."
12. Lemonade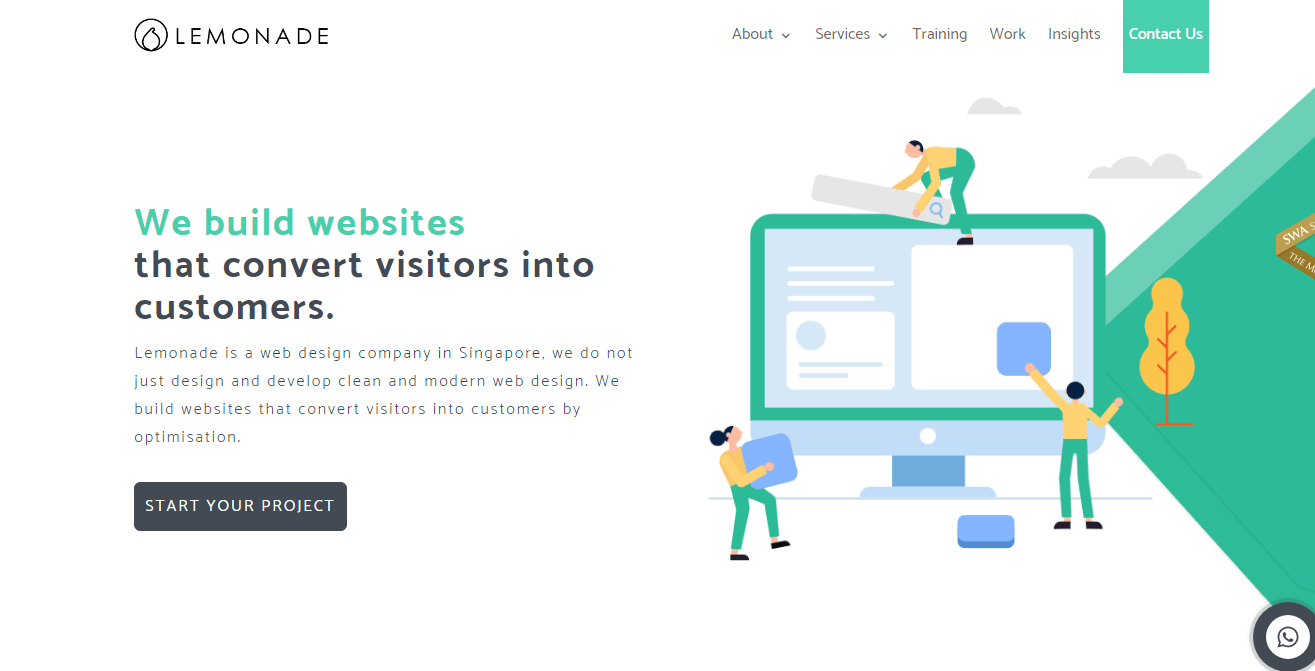 Lemonade's passion lies in directing the spotlight towards your brand. Its team of talented web designers, IT experts, and marketing gurus will be more than happy to make this possible!
As your journey together begins, the Lemonade staff attending to you will be divided into two units: the delivery team, and the support team. The first one will be in charge of innovation and assistance during the course of the project, while the second one will serve as your companion when it comes to a close. Now, isn't that just awesome?
When it comes giving your brand a face online, nothing beats the creativity and enthusiasm of Lemonade's team. Are you thinking about calling them up at this point? Do it!
Highlights
Multiple Services Offered
Many Experienced Specialists
Customer Reviews
Most users shared that they were able to easily manage business transactions through the practical online business features of Lemonade.
"Ran into some seriously sticky tech issue on our website today. However, Lemonade-IT was generous with a very last minute call and attended to our predicament. Within a few quick hours this afternoon, they solved our problem in a professional and very efficient manner. And yet, so friendly and patient while we were like cats on a hot tin roof. Words aren't enough to say how grateful we are for Lemonade-IT in getting our site back in order. Thanks guys, really appreciate it."
13. WebHost SG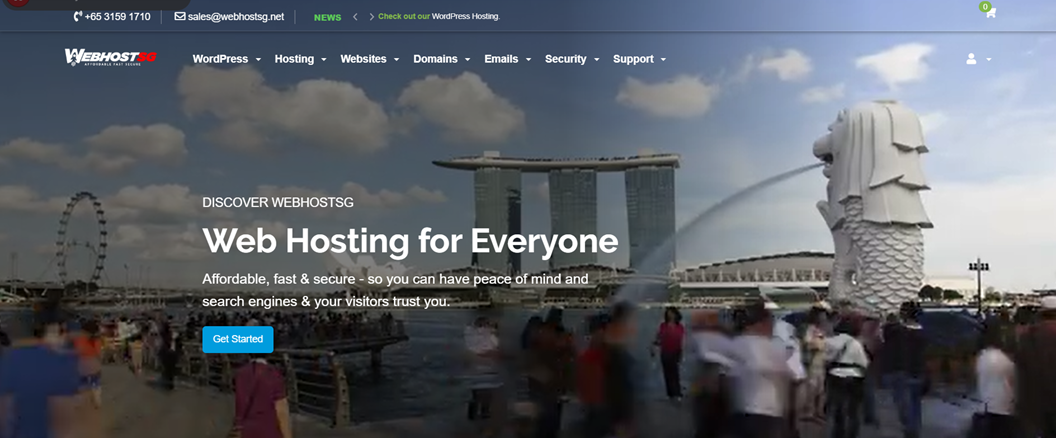 | | |
| --- | --- |
| BEST FOR | Website building, SEO Tools |
| PRICING | Contact company for more information |
| WEBSITE | https://webhostsg.net/ |
An eye-catching and efficient website will definitely help you garner more customers. WebHost SG is here to help you with just that.
Their drag and drop website builder allows you to put your visions into actual designs. No technical skills are required, so anyone can do it. Just choose your layouts, prefered color scheme, pictures and videos, and you're good to go!
You may choose between the different packages they offer, such as the Professional and Business package, which allows you to have more freedom to create, or the Lite package, which is allows you to a simple, one-time creation. Whatever you decide on, you can be sure that they're all available for an affordable price.
Highlights
Good local business startup
Fast and reliable web hosting
Very Affordable Hosting Service
Customer Reviews
Here's a review on WebHost SG:
"WebhostSG has given an excellent service with affordable hosting plan. Assisted me thru out the process and very responsive to question. Strongly recommended ! Thank you webhostSG!"
And there we have it! That's our list of the best website builders in Singapore!
Have you already tried one of these platforms? If you have, tell us about your first time using it and how it went!
By the way, if you're planning to upgrade your domain hosting, you might want to see these options for the best web hosting in Singapore. These selections offer affordable yet high-quality hosting plans, so you'll surely find the right one for you!