The Top 21 Gyms for Best Personal Trainers in Singapore
Staying fit and maintaining a healthy regimen might be a bit challenging for many people. That's why it'd be a great help to have the best personal trainer in Singapore.
A fitness expert that's solely focused on your goals will help you have a consistent schedule, diet meals, and more.
So, take a look at our list of the best personal trainers in Singapore that'll help you achieve your body goals in no time!
1. Ultimate Performance Fitness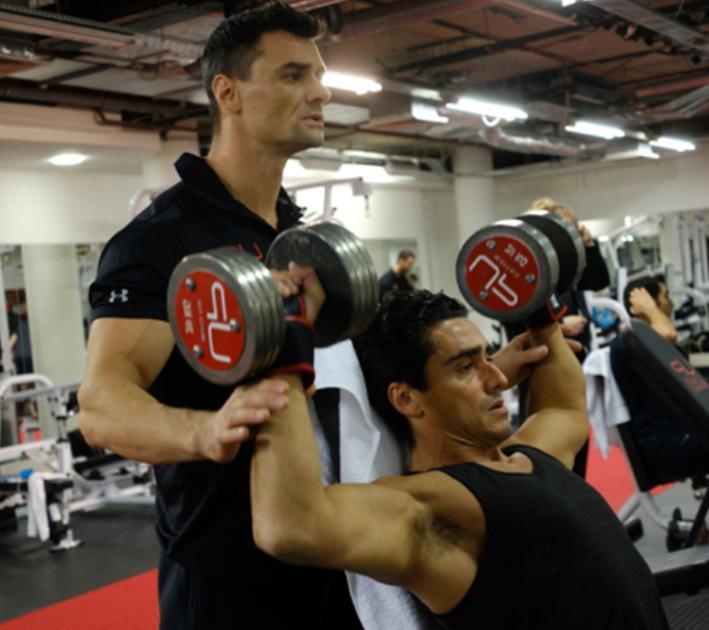 Ultimate Performance is considered to be the leading company for personal trainers, and they have branched out in Singapore to provide people in the country, access to their amazing programs
If you're in need of getting maximum results in minimum time, then definitely head out to try out their personalised training managed by experienced and qualified trainers.
Check out more of the details on Ultimate Performance's website.
Highlights
Multiple locations all over the world
Top-notch personal training program
Tailored exercises for each individual
Customer Reviews
Receiving a perfect 5-star rating from over 700 of their clients, Ultimate Performance Fitness has continuously provided top notch training for residents ot only in Singapore, but in other various branches of theirs as well from all over the world. Here's what some of them had to say:
"Training with Michelle at UP has been a really positive and enjoyable experience! With the knowledge she has given me on exercise and diet, I've come to enjoy going to the gym and have also lost 15kg along the way. She has also taken the time to answer all my questions, give me recipes for healthy food, and check up on me especially on difficult days during the lockdown period. These past few months at UP have made a huge difference to my health and my body confidence. Thank you Michelle for your patience, I look forward to training with you again!" – Samantha Guru
"After hearing my friend raved about how good the group trainings (GT) are, i decided to drop by to experience it myself. The GT are conducted in a small group with a maximum trainer to students ratio of 8:1. This group size allows the trainers to focus, ensure form and postures are maintained during workout to engage the right muscles, also to prevent any injuries. The gym itself is huge and a lot of equipment for various trainings. As the gym focuses on personal trainings (with selected timings on group trainings), you will not find an overcrowded gym. The changing and shower rooms are also well kept. Ever since I have been with UP from end August 2019, I am much stronger with a toner body. A huge shout out to Mei and Marco for making the weekday classes at 630AM enjoyable, so much so that waking up early for gym is no longer a chore. ????" – Andrew Gan
"I've been working with Ryan from UP for the past 7 weeks and in that time the workout program he designed for my middle aged, broken down body has enabled me to lose over 11 kgs. More importantly, my understanding of a healthy diet and exercise regime has increased ten fold during that time. If you need help getting healthier I would heartily recommend UP based on my experience." – Stuart Pike
2. Fitness First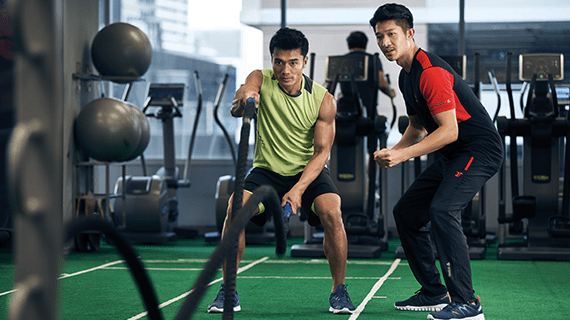 If you want to know more about your full fitness potential and want to go beyond your normal exercise routines, you might be interested in the personal training services of Fitness First.
Their trainers focus on improving your posture, mobility, core muscles, strength, stamina, and endurance. They go through the level-by-level approach so you can easily adjust to new routines and reach a specific goal in time.
 This gym will guarantee you certified fitness coaches, health and wellness genetic tests, and most importantly, personalised focused sessions where all exercises cater to your needs and benefits.
With their professional fitness experts, excellent amenities, and flexible schedule, they've become one of the gyms that have the best personal trainers in Singapore.
Highlights
Online class booking
Corporate memberships
Special promotions
3. SmartFit Pilates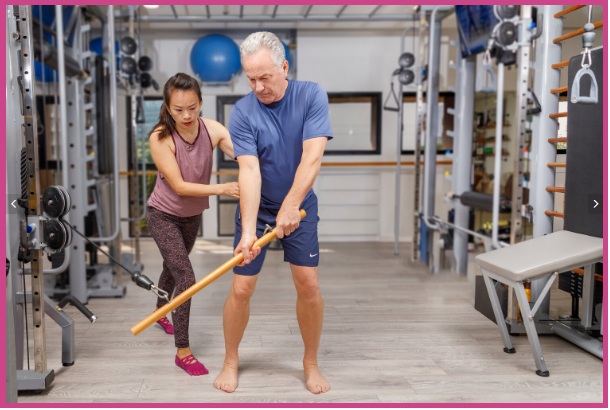 BEST FOR

Tailor-made fitness programs

SERVICES

Pilates, Functional Training, Rehabilitation, Self Gym

WEBSITE

https://www.smartfit.com.sg/

ADDRESS

91 Tanglin Road 04-03, Tanglin Place Singapore 247918

CONTACT DETAILS

Phone (English) +65 85718549

 

 

Phone (Korean) +65 98534014

OPERATING HOURS

Monday-Thursday: 9am-5pm 

 

 

Friday-Saturday: 9am-2pm 

Sunday: 10am-4pm
At SmartFit Pilates, the highly-qualified instructors aim to help people to become healthier, fitter and more confident than ever before.
Each Private Session at SmartFit begins with postural assessment and discussion about what the client would like to achieve from their sessions. This enables the instructor to create a personalised program for each client that is tailored to their needs, body and goals.
This boutique studio in Tanglin specialises in rehabilitation, pre/post-natal sessions and sport-specific training, and offers a combination of Private Sessions and small group classes. Regardless of which you pick, SmartFit Pilates guarantees you an instructor who is knowledgeable, experienced and passionate about helping you to feel great and improve your fitness.
Highlights
Private Sports-specific Training (e.g. golf, basketball, horseriding, etc.)
Private Pre/Post Natal Sessions
Small Group Classes
Customer Reviews
SmartFit Pilates' best asset according to their clients are their highly-professional and knowledgeable trainers that make workouts fun as well as effective. Here's what one of them posted in a review:
"I have started personal training with SmartFit since 2017. I am grateful to have a personal trainer like Marina. She is knowledgeable, very patient with me. At times, I'm not able to do certain exercises, she will assist and encourage me to try harder, The exercise motto "No pain No gain".
Thank you to the customer service staff that provide good support to my booking and also clean and comfortable environment to do my workout."
4. 1-Habit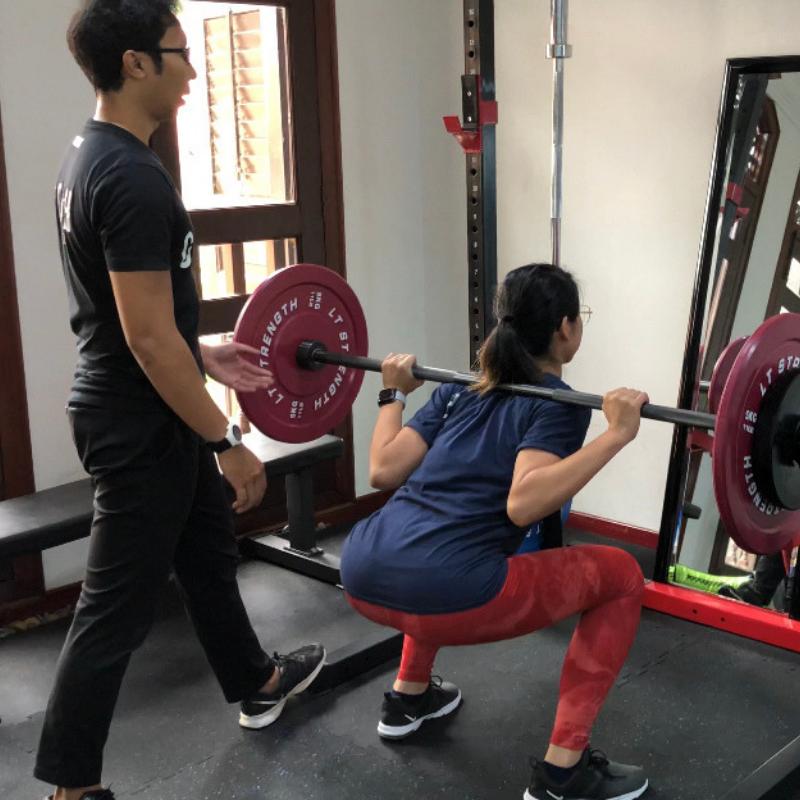 BEST FOR 
Beginners
WEBSITE
https://1habit.co/
ADDRESS
Bussorah St, #02-01 51A, Singapore 199467
CONTACT DETAILS
+65 9385 0338
OPERATING HOURS
Weekdays: 7am–8pm

 

 

Saturday: 8:30am–12:30pm

Sunday: 9:00am-11:00pm
For those who are just starting to build interests in fitness routines, 1-Habit might have the best personal trainers in Singapore for you! They encourage their clients to learn and master one habit or routine at a time.
When it comes to personal training, they assure you a successful body transformation within a specific time duration, as fast as 12 weeks. You'd also love to attend their small group classes in which all clients will be given fair attention and treatment.
Highlights
Online coaching
12-week Asian body transformation
12-month coaching program
5. Level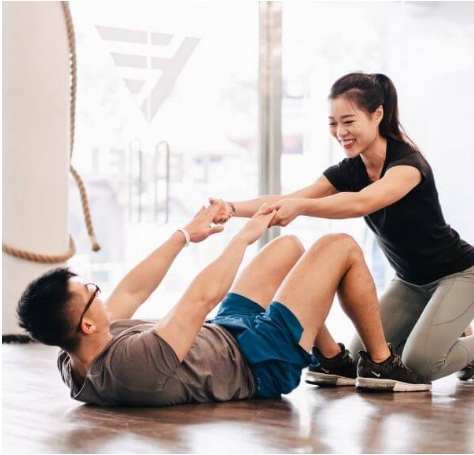 BEST FOR

World-class personal trainers

PRICING

Rates

WEBSITE

https://level.com.sg/

ADDRESS

#01-03 137 Telok Ayer Street Singapore 068602

 

 

14 ROBINSON ROAD Singapore 048545

CONTACT DETAILS

[email protected]

OPERATING HOURS

TELOK AYER GYM

Mon – Fri – 7:00 am – 8.00 pm

Sat & Sun – 7:00 am – 12:00 pm

ROBINSON GYM

Mon – Fri – 7.00 am – 8.30 pm

Sat & Sun – 7.00 am – 12.00 pm
Level is a boutique gym with two studios conveniently located in the CBD – easy for lunchtime or a before- or after-work workout. It specialises in personal training (overall fitness and strength, Olympic weightlifting, rehab, pre/post-partum) led by world-class coaches who were former athletes and national champions.
You may opt to have a one-on-one session with any of their personal trainers or you can invite your friends for small group or couple's personal training, and make personal training your sort of regular bonding.
Aside from the state-of-the-art facilities, complete gym equipment, and world-class coaches, Level also onsite physiotherapists and osteopaths for clients who need rehabilitation
Level's philosophy revolves around functional fitness and sustainable training, emphasizing fundamentals, not fads. Unlike transformation gyms, Level believes in consistency, not extreme effort, in order for clients to train sustainably and remain injury-free.
Highlights
Cosy, non-intimidating gym

Various classes in a day

Solo or small group training

Highly-qualified trainers

Competitive rates
Customer Reviews
"Working out at Level is pretty much one of the best choices I made for my fitness. It keeps me on my toes and the grind is well worth it. The trainers are experienced and they know how to push you to your limit, within safe standards. Definitely would recommend to any of my friends."
6.  Strength Avenue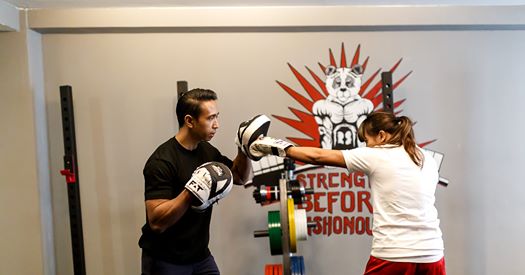 BEST FOR 
Buddy training
PRICING
Rates
WEBSITE
https://strengthavenue.com.sg/
ADDRESS
 57B Boat Quay Singapore 049846
CONTACT DETAILS
+65 9168 5900
OPERATING HOURS
Weekdays: 7am–9pm

 

 

Saturday: 9am–4pm

Sunday: 9am–3pm
If you want to do personal fitness training with your close friend, you can book a private coaching session with Strength Avenue as they also offer buddy training.
You can make your own schedule and they'll be able to give you a customised program dedicated to your needs and goals. They also offer trial packages in case you just want to have glimpses of their sessions.
Highlights
Trial session
Nutrition coaching
Athletic performance
Customer Reviews
Clients were very impressed with the knowledge and skills of the trainers at Strength Avenue. They mentioned the particular classes where they've practised new expertise, this is why many consider them to have the best personal trainers in Singapore.
"I trained with Pen whilst visiting my daughter in Singapore, I'm an ABA boxing coach that practices Muay Thai. I enjoyed a mixture of strength and conditioning and Muay thai classes; Pen is an excellent instructor and if he were in the UK I would train with him regularly."
7. EzFit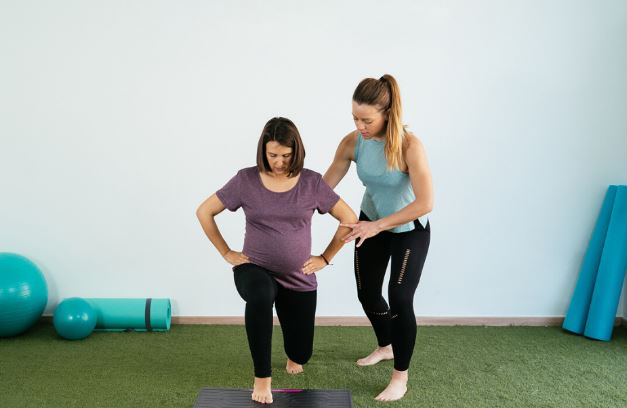 | | |
| --- | --- |
| BEST FOR  | Home-based personal training |
| PRICING | Rates |
| WEBSITE | https://www.ezfit.sg/ |
| CONTACT DETAILS | +65 6777 4612 |
| OPERATING HOURS | Open 24 hours |
For those who are searching for gyms that offer extensive options for personal training programs, you should see the services of EzFit. They have a home-based personal training program where you no longer have to travel long distances.
Their customised routines are made for total fitness, strength improvement, fat-loss, maintenance, and even enhanced athlete performance. You can also choose your own time, an ideal option to fit this activity into your hectic schedule.
They also do post/prenatal exercises, senior fitness, and more. If you have kids that you'd also like to take some simple fitness exercises, they offer personal training for kids.
Highlights
Online personal training
Personal training for kids
Sports training and conditioning
Customer Reviews
Most of the clients who've had personal training experience from EzFit complimented the skilled trainers and their effective routines. Hence, they're known to have some of the best personal trainers in Singapore.
A customer from Google Reviews wrote:
"I've trained with Vanan for a year now. He is an intuitive trainer, and is able to correctly assess the fitness needs and goals of his client. His knowledge is deep, and it shows in how he trains. No session is monotonous, as he is excellent in mixing things up, which is great for someone like me who gets bored with repetition. His philosophy is one of positive reinforcement and one that sees fitness as a holistic process, not just weight loss."
8. DENNIS GYM JURONG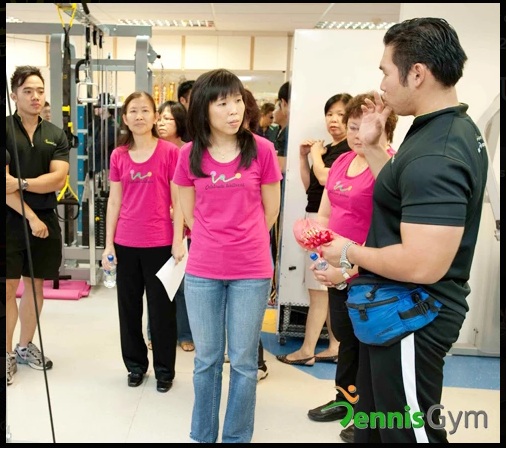 Dennis Gym was founded by a well known bodybuilding coach, Ms. Dennis Tew. His group of professional trainers are providing quality services to individuals and health club organizations to stay fit.
You could get the service of these personal trainers. This will give you a customized workout that would yield better results. They make sure that your needs are consulted to ensure that your needs were met. 
They also have different programs and classes that you could also join. They have a combat group, muscle toning, and transformation program. 
Highlights
Customized training programs

Skilled trainers

Private classes and trainings

Flexible membership rates and packages
Customer Reviews
Their customers love the spacious gym which makes it easier to do routine workout. It also has various gym equipment that are well maintained and good for keeping your body fit. 
"Has all the equipment needed for a good workout, whether it be strength training or cardio, clean, properly maintained, and the fact it's a 24 hour gym is a bonus."
"After  their 4 sessions, I couldn't be happier and feels different.  I can feel and see my tummy is tighter! It's feels great to find a trainer who REALLY knows what they are talking about."
9. PTWorks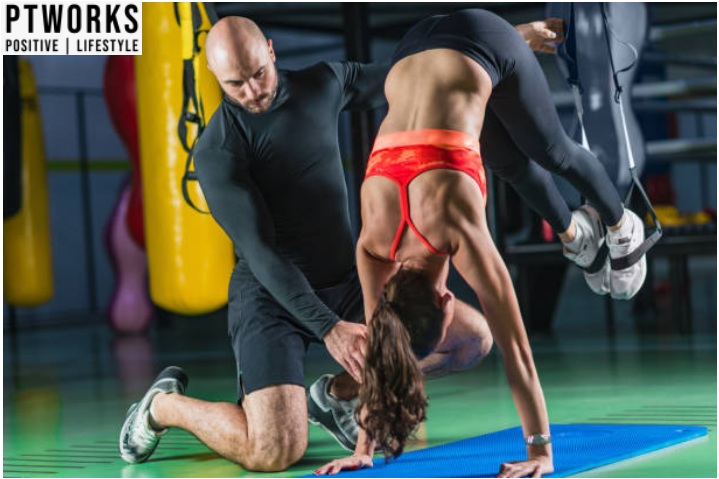 PTWorks is all about creating a tailor-fit program that will not only be suitable for your needs but will also work with your budget. 
Everyone has their own special fitness goal so it just follows that each one would differ in pacing and style that's why this company has full-time affordable fitness instructors readily available to create a training package that will work with you. 
Plus, their home-based personal coaching is a godsend especially for those undergoing post-injury rehabilitation! 
Highlights
Strength and conditioning

Post-injury rehabilitation 

Outdoor or indoor home-based personal coaching 
Customer Reviews
PTWorks fitness programs that are tailored to the client's needs is the main selling point of this company. Not to mention their dedicated team of trainers has a wide variety of specializations so you'll have no problem choosing the expert that can guide you efficiently. 
"Hi, I am Josh. Have been training with Sean Lee since 2011. He is truly a functional training specialist that makes every workout fun and challenging, definitely worth every cents! Having a very busy work schedule, i have to travel very often. He is very flexible and always being able to fit me into his busy schedule. Very easy going, enthusiastic and humble trainer"
"As an actor and radio DJ for station 97.2FM, my schedule are super tight, making fitness impossible. Trainer Clement Tan motivated me and train as early as 6am!  I had to get fit for my role in "World Under Your Feet" very quickly. Clement managed to help me reduce my 10 years old tummy to a flat stomach in just 2 months! It was an amazing experience. Clement is a very knowledgeable and motivated coach. Never regret training with him!"
10. One Personal Training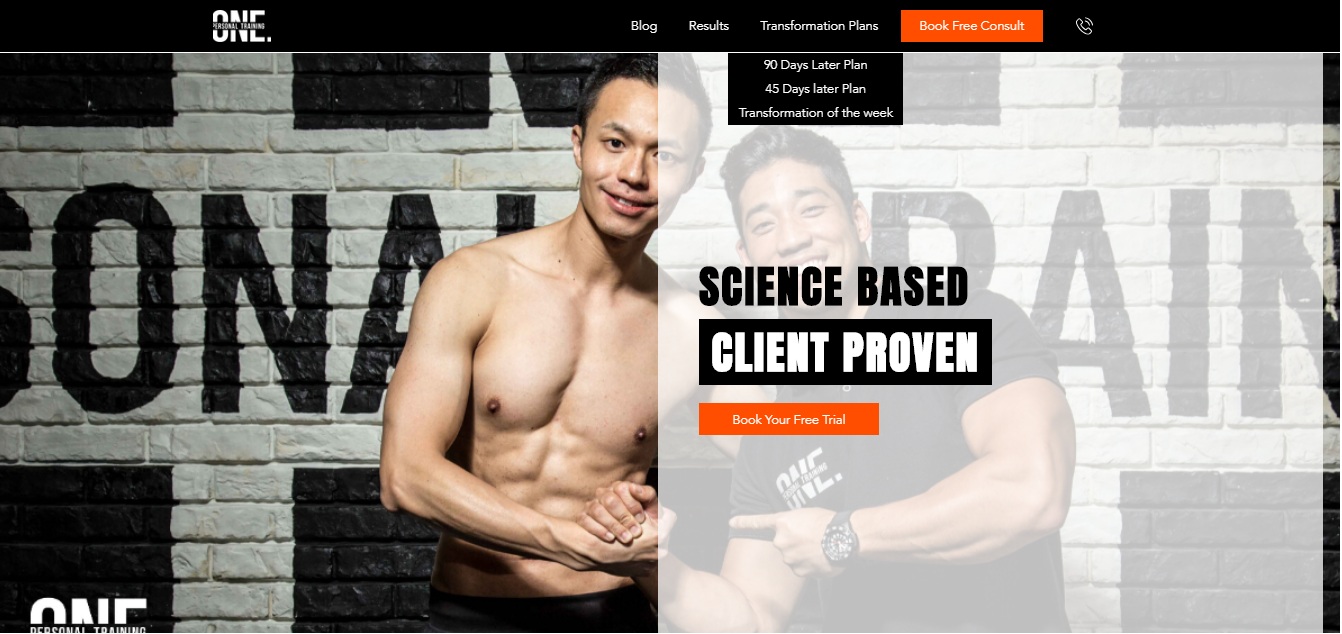 One Personal Training is dedicated to helping their clients achieve their weight and fitness goal by going through the journey in a more organized way. Their transformation plans help them set a realistic goal and achieve desirable results.
Each of their clients are allotted with a unique program tailored according to their current condition and desired target by the end of the session. It can be a 45-day or 90-day plan and each week your personal coach will provide a progress report.
With One Personal Training you are guaranteed to receive bespoke lifestyle and health advice, all designed to complement your goals.
Highlights
Smart/ Tailored Diet Plan

24/7 Support

Weekly Progress Reports From Your Trainer
Customer Reviews
"Great facilities with great trainers who really make a difference and focus on your individual goals! Caitlin is always very supportive and clear on the right form for different movements / work-outs. They really know what they're doing here. Excellent Service!"
11. FITNESS LX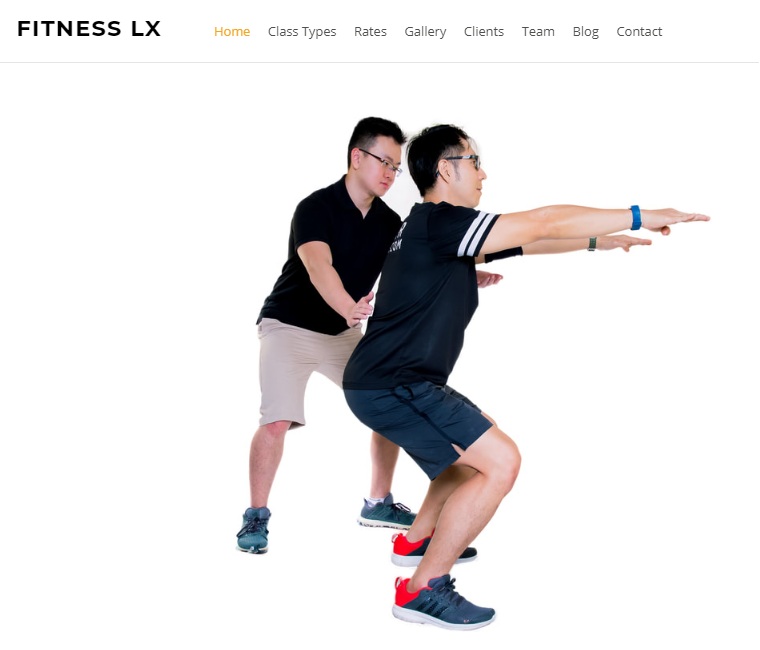 Fitness LX believes that in order to fulfill your health and fitness goal, a training that fits your needs and requirements should be put into play. They offer personal trainers to keep an eye on you every step of your journey towards getting a fitter body. 
A personal training plan entails customized training routines that could yield best results. It also provides mental support from your personal trainer to keep you motivated to move forward. 
Aside from this, they also offer private classes like yoga and pilates and group classes for yoga, pilates, and zumba. 
Highlights
Personal Trainer

Various fitness classes

Customized Training Plan

Reasonable Prices
12. FITLUC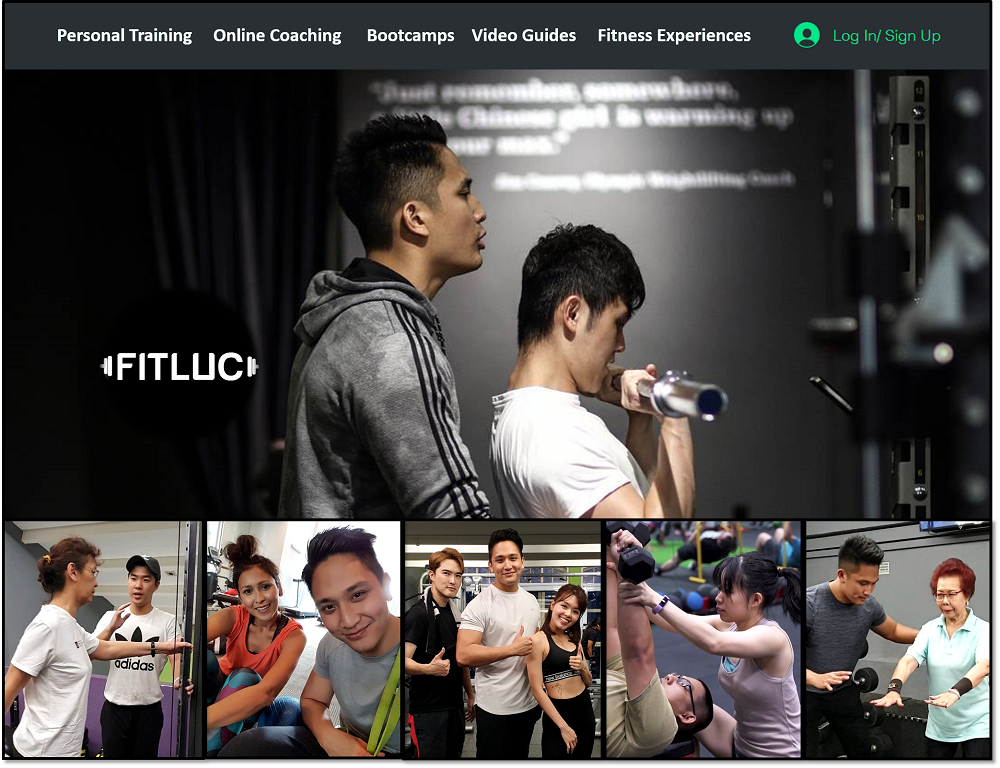 FITLUC specialises in Personal Training and Fitness Experiences( Bootcamps, Sailfit, Travelfit). Their unique selling point is that their trainers are all degree holders and certified personal trainers hence they are able to work with people from all walks of life ranging from 13-80. They can help them not only in the conventional weight/fat loss and muscle gain, they can also assist in injury rehabilitation, youth development and elderly training.
The founder and director Lucas Lim himself is the winner of Manhunt Singapore 2016 and a Celebrity trainer. He graduated from NTU Sports Science and Management and has been coaching since 2014. He has trained celebrities such as Lee Teng, Jayley Woo, Hazelle Teo, Nurul Aini and is very comfortable working with business owners, office workers, aligning and customising FITLUC's training programmes according to each individual's needs and wants. He personally mentors all his trainers and equip them to be exemplary trainers.
Also, their website also provides online coaching programmes which comprises of fitness tips and videos for e-learning worldwide. House call PTs are available too.
Highlights
Trainers are degree holders and certified PTs
Organises exciting fitness experiences
House call PTs available
13. The Posture Lab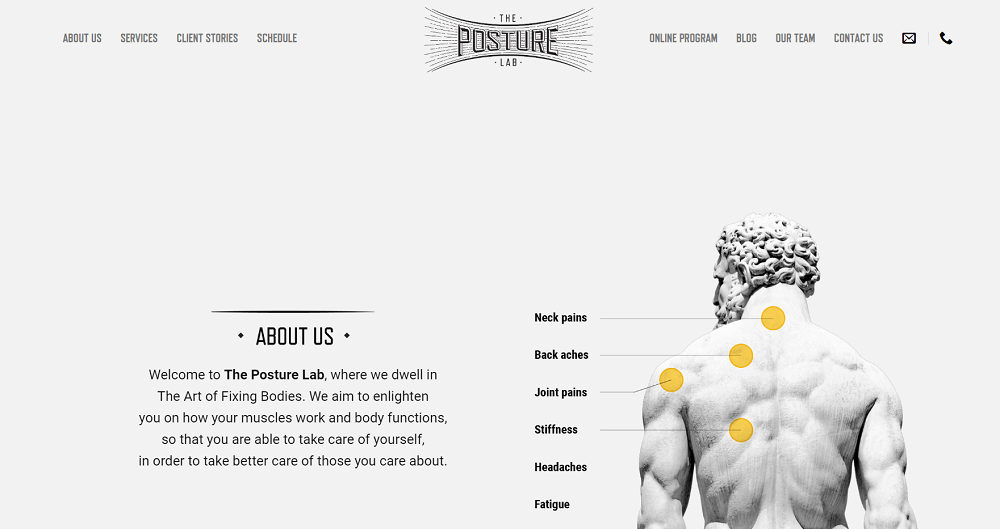 | | |
| --- | --- |
| BEST FOR  | The Art of Fixing Bodies |
| SERVICES | Posture analysis, physiotherapy, sport massage therapy, performance coaching, performance testing |
| WEBSITE | http://theposturelab.sg/ |
| ADDRESS | Orchard: *SCAPE, 2 Orchard Link #02-15, Singapore 237978Jalan Bukit Merah: 11 Jalan Bukit Merah, #01-4454, Singapore 150011 |
| CONTACT DETAILS | Orchard: +65 8792 7172 | Email: [email protected]Jalan Bukit Merah: +65 9424 7154 |
| OPERATING HOURS | 9 AM to 9 PM |
If you are concerned about the functions of your body, consider visiting The Posture Lab, with a team that specializes in "The Art of Fixing Bodies." Their team commits to educating their patients on how to properly guard and protect their and others' bodies through the comprehensive services they offer. These include but are not limited to posture analysis, physiotherapy, and sport massage therapy.
The Posture Lab's team of highly skilled individuals also empower their patients to achieve their goals by helping personalize a training method under their Performance Coaching and Testing service. If you believe in absolute care for your body—as well as care for those that matter to you—come and be enlightened at The Posture Lab!
Highlights
Experimental and artistic methods
Helps athletes that struggle to perform
Alternative ways of dealing with pains are taught
Customer Reviews
Here are some reviews left by satisfied clients of the clinic:
"It was my first time with posture lab and I loved it. The therapist was very professional and he knew exactly which part of my body needs help without me telling him. At the end of the session, my body felt so much better and he went the extra mile by giving me advice to strengthen up my body as a whole. Thank you posture lab. It's definitely worth it!"

"Have done a sports message here twice and both experiences have been great. Emile was very knowledgeable and answered all the questions I had – he also explained the potential root causes of my pain and suggested things I could do to manage it. This helped to alleviate the anxiety I was feeling about my pain. Would totally recommend!"
14. Personal Trainer Solutions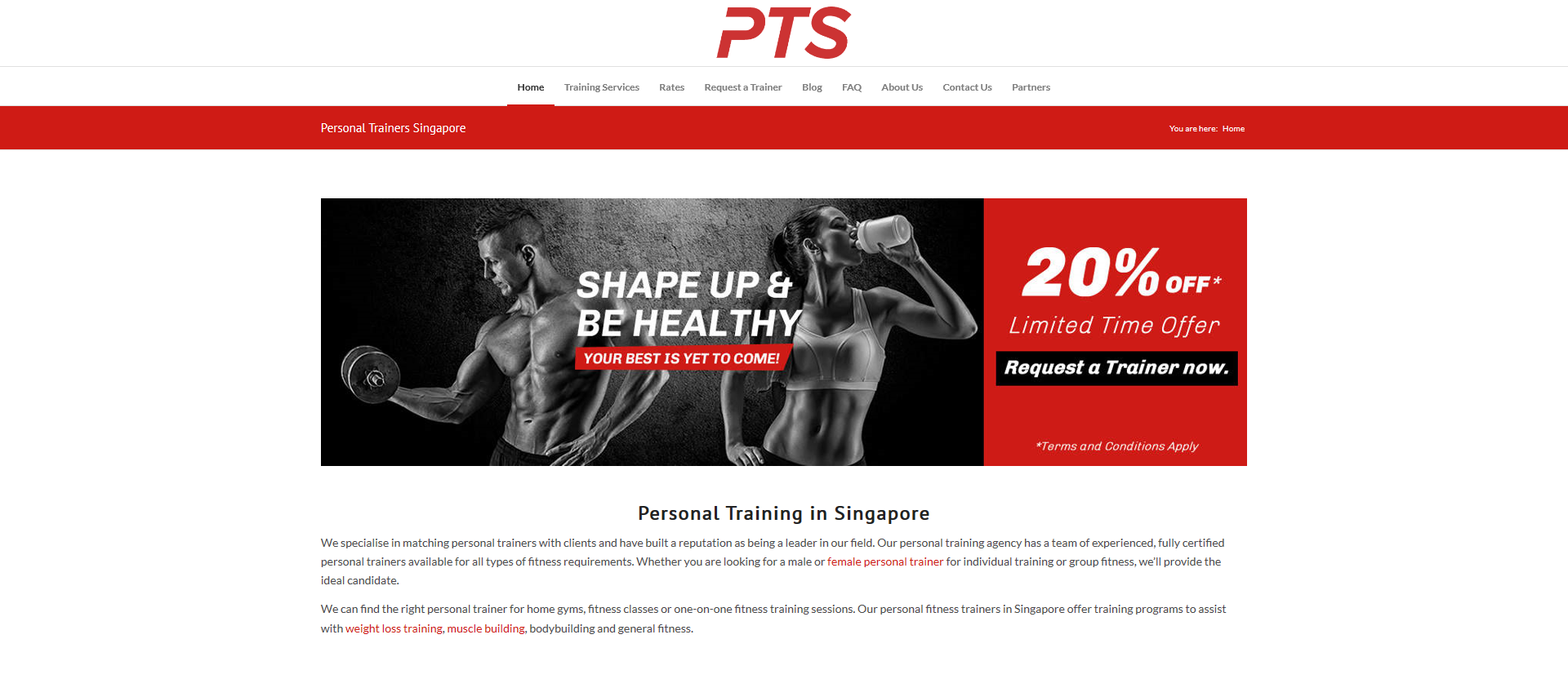 Are you physically active, or a couch potato? Is your way of staying fit done best at your apartment, or at a nearby gym? Whatever lifestyle you may lead, Personal Trainer Solutions is here to cater to all your workout needs! Simply name your preferred schedule and workout setting, and we'll take care of the rest.
With our help, you can have top notch fitness trainings within your reach. We hire only the most skilled and versatile trainers, fully equipped to meet the demands of every client. Whether you're interested in building muscles, losing weight, or rehabilitating your injuries– Personal Trainer Solutions will help you achieve your goals in the best way possible.
We are currently one of the most patronised business partners of individuals from all over Singapore. Choose us, and you can be sure that we will select the trainer that is best suited for your personality and lifestyle!
Highlights
Fitness Training
Skilled Personal Trainers
15. Gymmboxx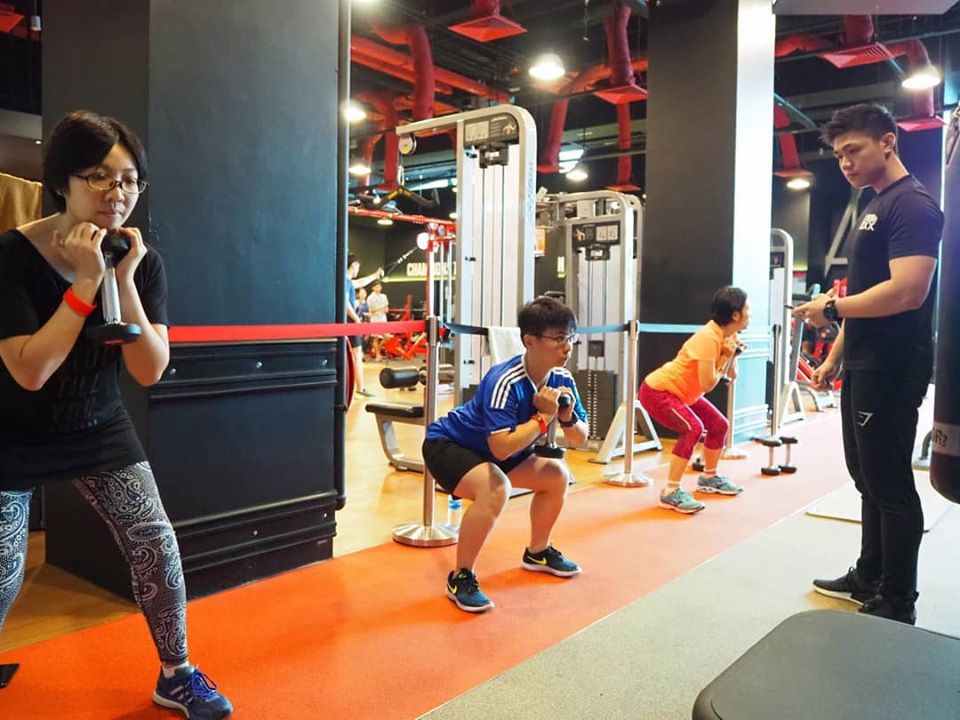 | | |
| --- | --- |
| BEST FOR  | Affordable session packages |
| PRICING | Rates |
| WEBSITE | https://gymmboxx.com/ |
| ADDRESS | 60 Paya Lebar Road Paya Lebar Square #06-20 S(409051) |
| CONTACT DETAILS | Open 24 Hours |
Gymmboxx takes pride in having the best personal trainers in Singapore who've also experienced the same instances that their clients have been through. Because of this, they're able to curate a set of exercises perfect for your desired goals.
Their services come in packages in which costs are based on the number of sessions. They also have branches all over the country so you can easily go to the nearest one.
Highlights
Accessible locations
Special promotions
16. Genesis Gym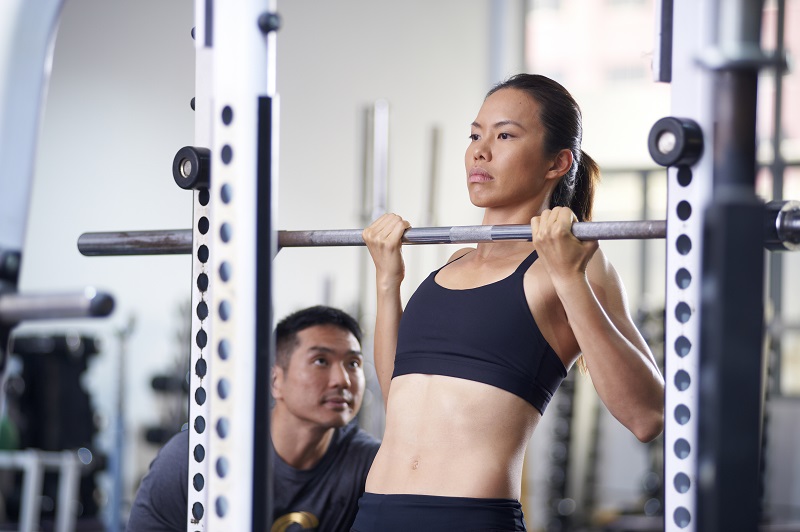 Genesis Gym has operated in Singapore for almost 15 years and has 3 personal training gym locations. Besides delivering results for clients, they have a reputation for educating and empowering clients with life-long skills and knowledge. If you like a philosophy that emphasizes an efficient approach to total fitness and health, check out their website at www.genesisgym.com.sg
Highlights
Over 1 Million Hours Of Personal Training Experience
Programmes customized to goals, health and injury issues
Trusted by Olympians and international athletes
Customer Reviews
Here are some reviews left by previous clients:
"It was so frustrating to hit a weight loss plateau despite trying all the best health advice given to me elsewhere. At Genesis Gym, I was finally able to make great progress with my customized lifestyle, training and nutrition plan."
"I tried crash diets and excessive cardio with no results. But with the Genesis personal training programme I am able to stay fit even with my hectic lawyer job and schedule. I even manged to do 3 chinups!"
17. Fitness Tutors

If you're looking for a gym that offers science-based training for busy middle-aged professionals, then look no further than Fitness Tutor! They offer a full range of specialised and general fitness solutions that are specifically customised to meet the unique needs of each of their clients.
Their nutrition and training methods are backed by science so they guarantee that you will have effective and long-lasting results. They also have a team of coaches that are equipped with knowledge, skills and extensive years of experience so rest assured that you are in capable hands.
They look forward to providing you the highest quality of service with utmost integrity and professionalism. Contact them now and experience a training like no other!
Highlights
Latest advanced methods
Backed by Science
Personal trainer
Free consultation
Customer Reviews
Clients of Fitness Tutor are condemned for their accomodating and efficient services. Here are some of the reviews left by their clients:
"For a very busy working professional with irregular erratic training schedule, I can only find limited time to train with Paul. Nevertheless, Paul identifies my personal needs and then does on to develop and customize training exercise program to suit my individual requirements and goals. He leaves training instructions so that I can do it on my own when I can find time between my sessions with him. This ensures minimal lapse in my quest for a healthier body" – Dr Benjamin Tham
"I am a client of fitness tutor since Nov 2014. I only lost 6 kg so far. Do not misunderstand me. I have dropped at least 5 inches off my belly and my clothes size has dropped. I have gain more muscles and lost fats for this 4 years. Therefore I am a happy client. I even recommend my wife to join me in 2017. Coach Paul can customize to your fitness goals. At the very beginning, I told him that I only need to lose some weight and be physically fitter as I have a spine issue, therefore, I request a slow and steady pace, which Coach Paul did. After 3 months of training, I am able to finish my first 10km without stopping for a breather. Therefore I will highly recommend Coach Paul to anyone who wants to start a training program. Do not procrastinate but take action!" – Robin Ng
18. Body Thrive/Fitness Guru Private Ltd.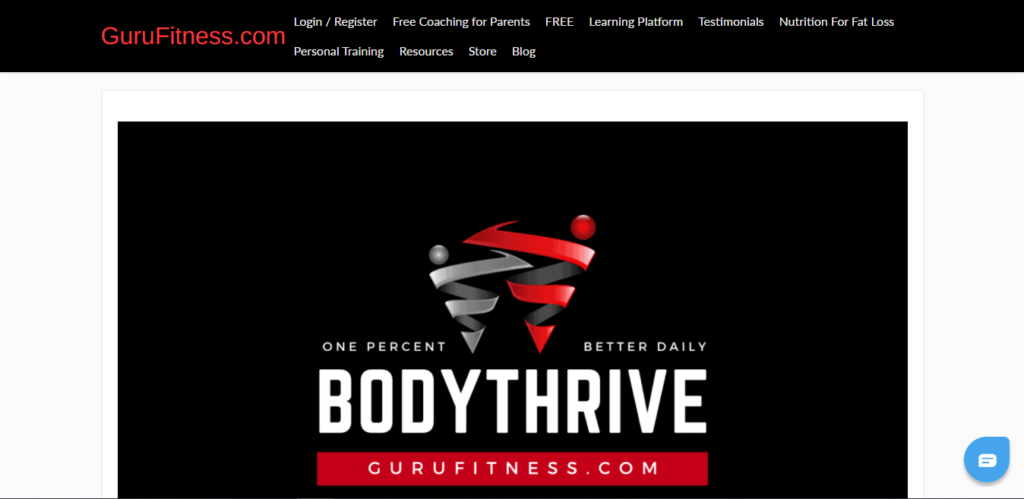 | | |
| --- | --- |
| BEST FOR    | Slow yet steady progress |
| PRICING | Contact for more details |
| WEBSITE | https://www.gurufitness.com/ |
| ADDRESS | Jln Sultan, Sultan Plaza, Singapore 518185 |
| CONTACT DETAILS | +65 9109 0995 |
Body Thrive believes in continuous improvement and getting better incrementally daily. In this gym, you'll be given exercise routines and nutritional guides as part of personal training.
One of the best things about Body Thrive is they won't deprive you of eating your favorite foods. Body Thrive's personal trainer, Coach Sharma, has numerous credentials to provide you with a science-based weight loss program.
He even uses fat-loss psychology tactics to help you put in the right headspace for your body goals. Aside from weight-loss, Body Thrive also offers strength training, weightlifting, help with sleeping issues, and running coaching.
Highlights
Science-based process
Knowledgeable personal trainer
Focus on slow but steady weight loss
No weird diets and unrealistic workouts
Free online resources
Customer Reviews
Customers find Body Thrive's Coach Sharm to be one of the rare trainers who will listen to your very own vision. Read these reviews to know more about Coach Sharm's services:
"It was an amazing one year. Huge improvement in lifestyle and fitness….. I also did my yearly medical checkup – improvement of more than 50-60% on all counts. My doctor was pleasantly surprised and happy."
"Very easy to understand,he provides variations and caters to everyone's level of fitness. He makes sure that everyone has fun and challenges themselves in every activity. He takes care of our well being and motivates us. He also shows professionalism and respect to every individual."
19. Fitness Bravo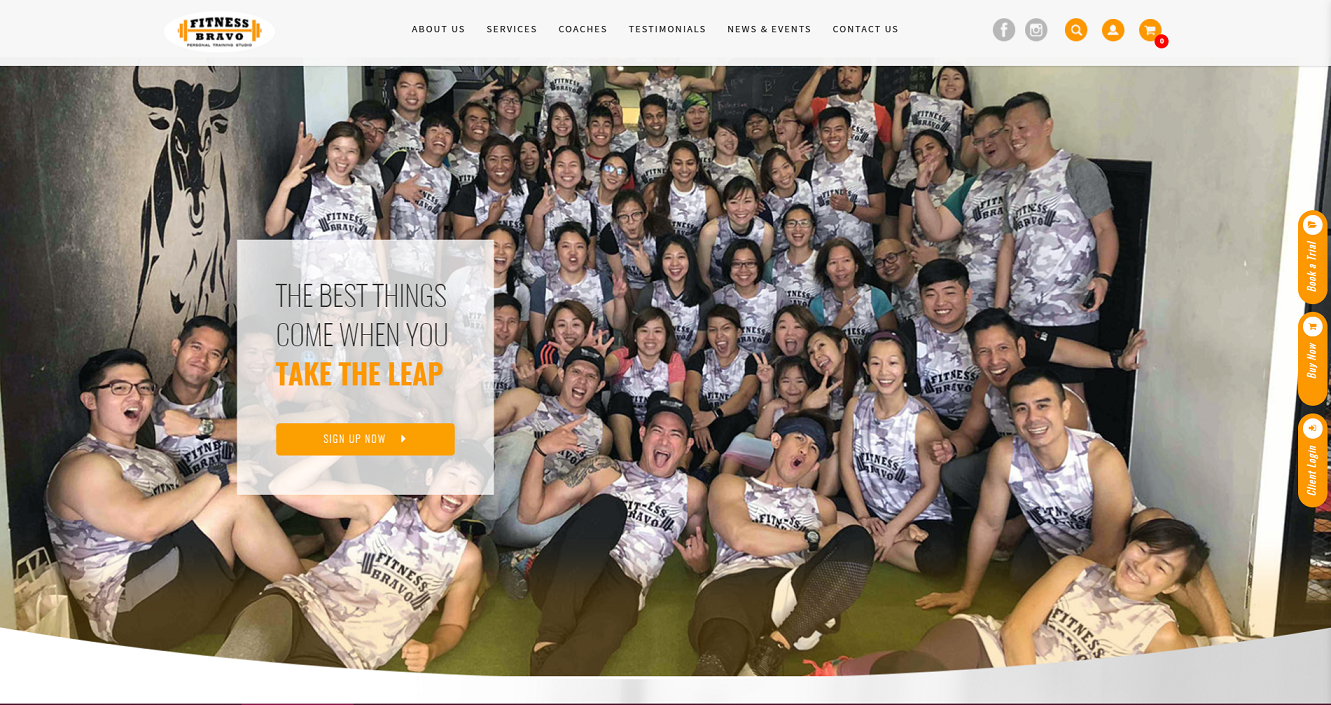 BEST FOR   
Personally customised training and small group classes
PRICING
Contact for more information
WEBSITE
https://www.fitnessbravo.sg/
ADDRESS
762 North Bridge Rd, Singapore 198730
CONTACT DETAILS
Phone: (65) 97990517 (Johnny)
Phone: (65) 90038116 (Jay Tee)
Email: [email protected]
Fitness Bravo is a studio that focuses on helping their clients become more physically fit. They offer personal fitness training, fitness classes, and corporate training services. 
Their team of personal trainers specialise in various aspects of fitness. Each and every one of them are experts in what they do.
If you're interested, their personal training courses come in one time payments and installments. No matter what you choose, Fitness Bravo is sure to help you attain the fitness level you want.
Highlights
Established 2013
Personalised training programme
Friendly instructors
One time payment and installment packages available
Customer Reviews
"Bravo's classes have always been excellent. The instructors often try out a different format for variation, and once in a while, you find a format that really hits you. Today's class with Johnny was SHIIT indeed. For some reason it felt shorter than usual, but it was super intense. It's easy for regular members to take Bravo's awesome classes for granted, but it's when SHIIT happens that you are reminded why you keep coming back and always choose Bravo over any other studio."
"It has been 10 years since I passed my IPPT, I lost 13kg and passed my IPPT. I would like to credit Fitness Bravo."
20. UNREAL PT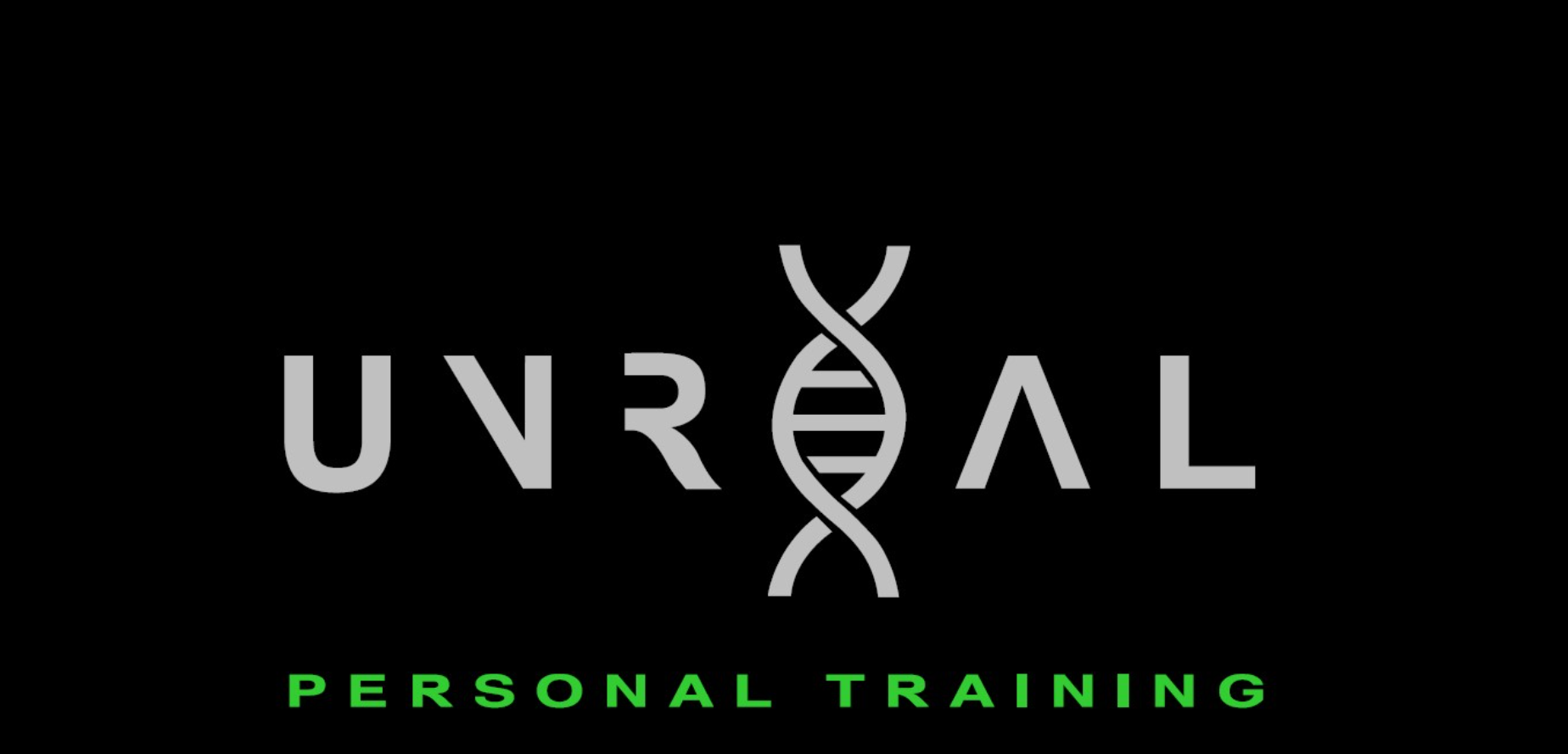 BEST FOR   
Personal Training
PRICING
Enquire for more information
WEBSITE
https://www.unrealpt.sg
ADDRESS
The Octagon
105 Cecil Street
Level 21
Singapore 069534
CONTACT DETAILS
+65 9711 5905
[email protected]
UNREAL PT is a gym that offers personal training and group classes. They focus on all the factors that influence a person's fitness — particularly one's diet.
Their trainers use their personal traning methods themselves. They always strive to learn more and improve their techniques to continue providing the best personal training possible.
Their gym contains state-of-the-art facilities, all of which are cleaned and maintained properly. You can count on UNREAL PT to guide you to fitness with their skilled personal trainers.
Highlights
Personalised treatments
State-of-the-art facilities
Continuous learning and self-improvement
Free consultation available
21. ATP Personal Training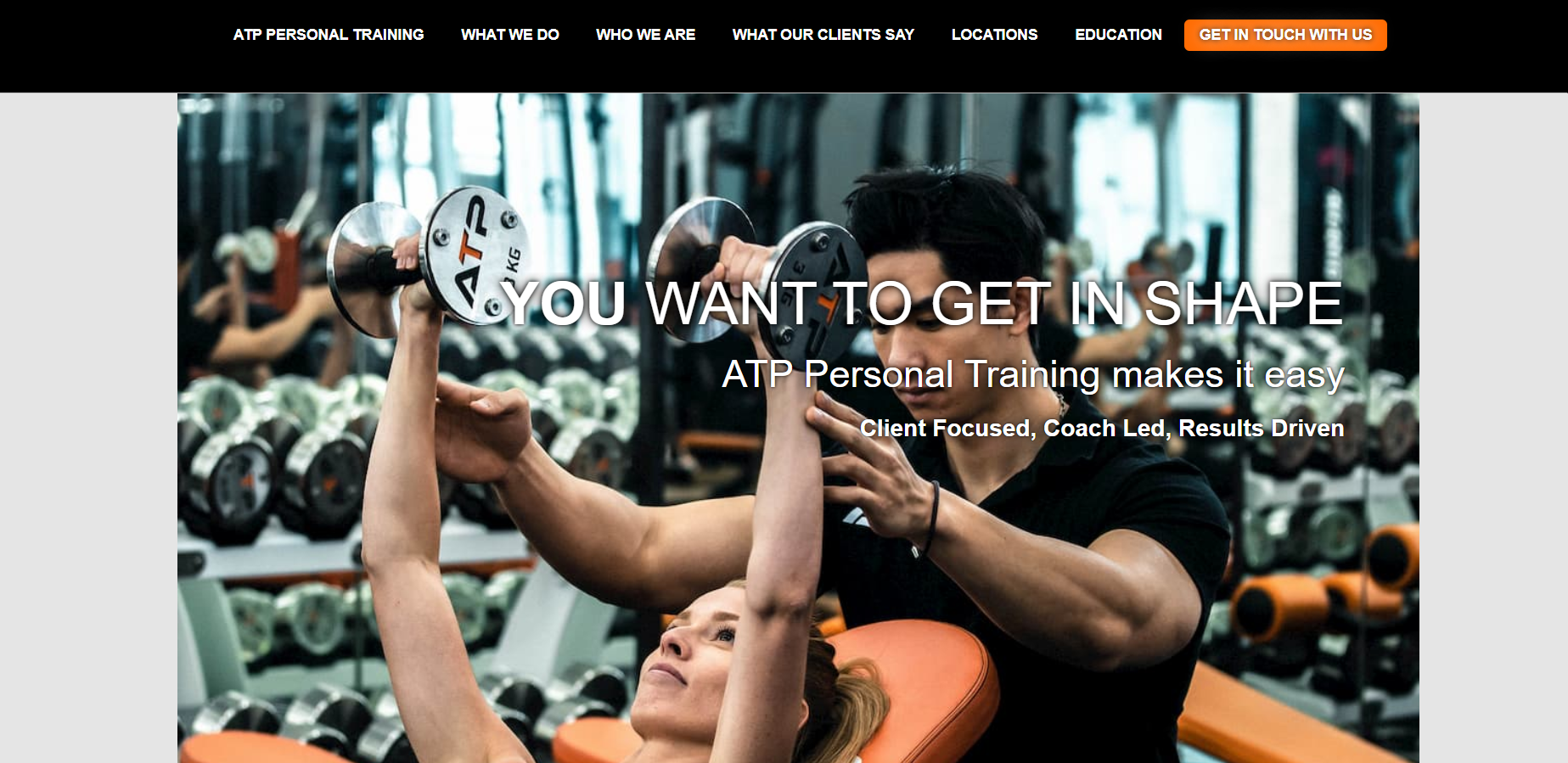 BEST FOR   
Improved and Sustained Fitness
PRICING
Enquire for more information
WEBSITE
https://atp.fitness
ADDRESS
105 Cecil Street
#01-01 The Octagon
Singapore 069534
CONTACT DETAILS
+65 6721 9588
[email protected]
ATP Personal Training's goal is to improve their client's health and confidence. They do so by improving their fitness with the use of custom-tailored plans for each and every one of their members.
Their coaches strive to learn all there is to know about health and fitness as much as they can. They practice what they teach, so you can count on them to provide advice that actually works.
Their plans may push you to your limits, but you can rest assured that your safety will never be compromised in the process. The changes they will bring to your lifestyle are ones that will last for a long time.
Highlights
Tailored plan
Holistic approach
Performance tracking
Continuous support
And that's our list of the best personal trainers in Singapore!
If you want to know more accessible gyms, here are the best gym memberships in Singapore. Some of the listed gyms offer personal training services so take your time in choosing the right trainer for you!
*Images are taken from each company's official websites/social media.