The 8 Best Coffee Roasters in Singapore for a Fresh Experience
Image Source: Dutch Colony Coffee Co.
Freshly roasted beans make a huge difference to the quality of our coffee. So today, for all the coffee lovers out there, we're going over the best coffee roasters in Singapore.
To help you with that, we've gone over the places selling the best roasted coffee on the island. Without further ado, here are the best coffee roasters in Singapore!
1. Sarnies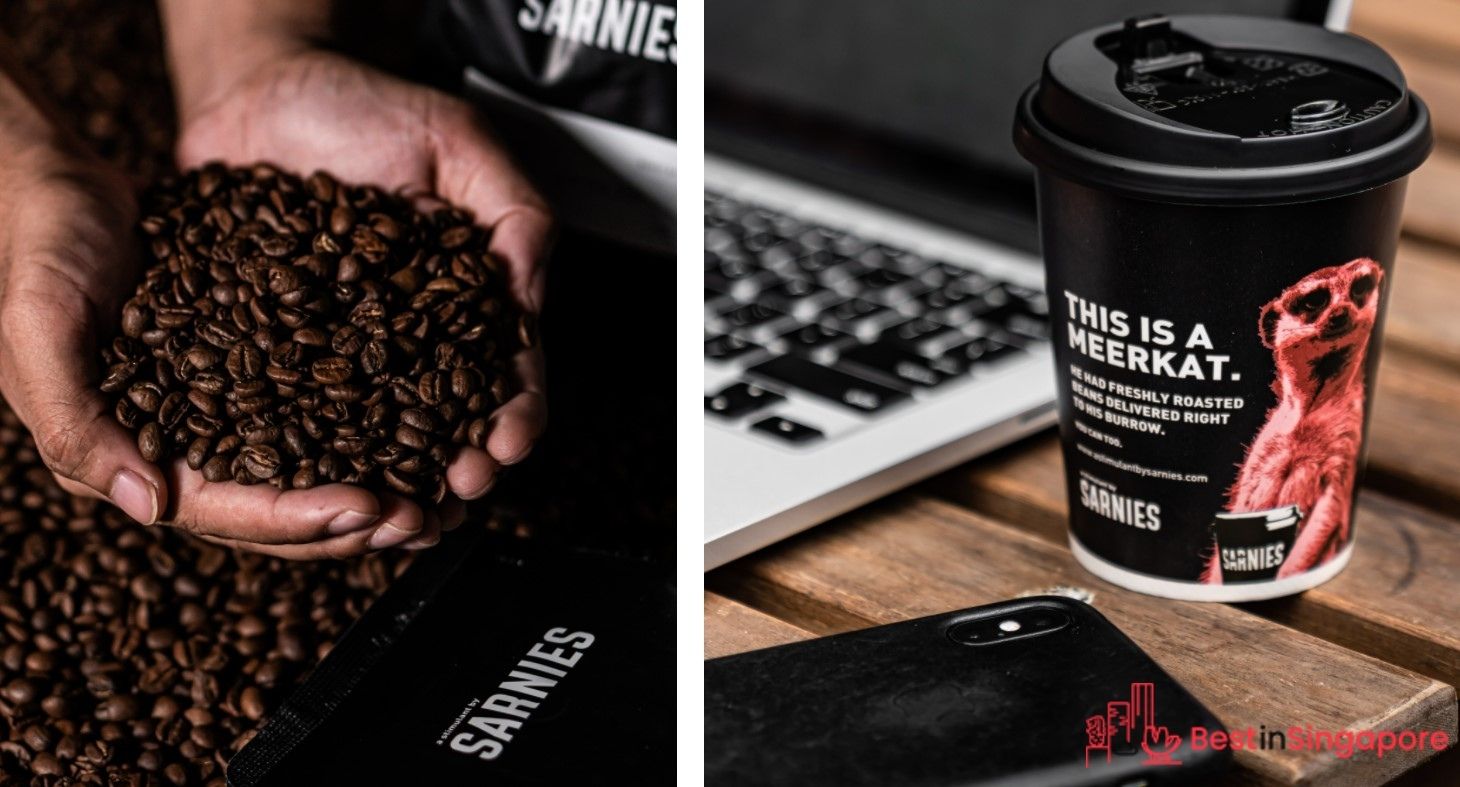 BEST FOR
In-house roasted coffee beans
PRICING
Menu
WEBSITE
http://sarniescafe.com/
ADDRESS
136 Telok Ayer Street Singapore 068601
CONTACT DETAILS
+65 6224 6091
OPERATING HOURS
Monday & Tuesday: 7:30am–10:30pm

Wed to Fri: 7:30am–12am

Saturday & Sunday: 8:30am–4pm
If you're looking for a place to chill and have some espresso or cappuccino made from in-house roasted beans, you should definitely visit Sarnies. They have a broad range of coffee selections and each is offered for less than $7.
They're very particular with their services as they let the customers choose the type of beans, how they want it ground, and how much coffee they need. They also provide online delivery if you're planning to order some coffee as a gift.
They also offer full-course meals for breakfast, lunch, dinner, and even brunch! The cafe has a very laid-back style so you can certainly have quality time with your family and friends in it.
Highlights
Catering services
Grab food delivery
Wholesale
Online store
Gift delivery
Customer Reviews
Most customers loved the atmosphere, good food, and great coffee selection of Sarnies. They also complimented the quality of the roasting in particular.
A customer posted this feedback on the cafe's official Facebook account:
"Amazing food + great coffee + nice crowd + cool location + very attentive and professional staff (they are a happy bunch). Perfect place to have breakfast, brunch or just to get your daily caffeine fix. Right now, this is our favorite breakfast spot. Limited seats in and out so go there early or prepare to wait."
2. Five Oars Coffee Roasters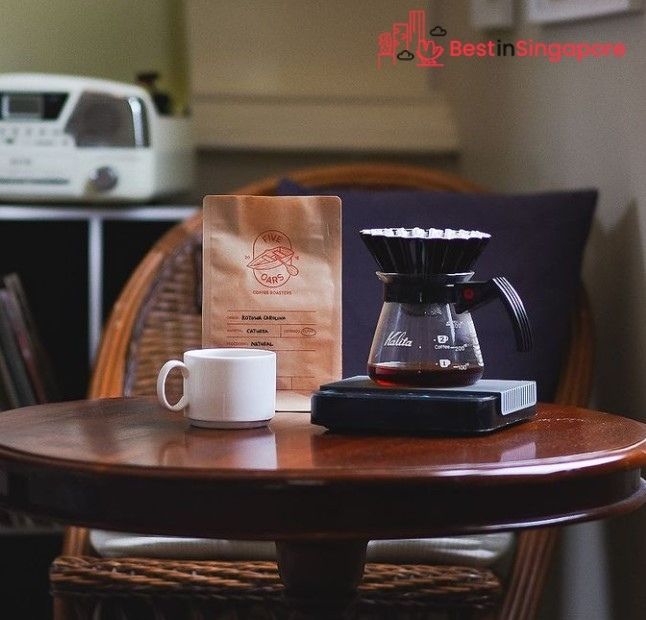 For nature lovers, you'll absolutely love the beautiful scenery of the botanical garden at Five Oars Coffee Roasters. Besides, they also make some of the best coffee drinks in the country.
The most famous drink on their menu is their signature espresso blend, made with personally roasted beans. For their other coffee selections, they have black, white, mocha, and some add-ons such as bonsoy and oat milk.
Apart from this, they also have salads, burgers, pasta, sweets, and other treats. It can truly be the best coffee roaster in Singapore if you also want a nice meal while ordering some roasted beans.
Highlights
Accessible locations
Wide selections of coffee beans
Signature drinks
Customer Reviews
Many customers were very satisfied with its brunch menu and they also liked the bean selections.
Some of them had a slight concern about the noises in the area, though, possibly because of the old building. Regardless, they still recommended the place.
A customer left this feedback on Google Reviews:
"Delicious french toast, one of the best ones I ever tried in Singapore!! Coffee was averagely good but I do like that they have selection of different beans that you could choose from means they are serious about their coffee. Cafe was clean with no sticky residue on the wooden tables so this is good. One downside is that it is kinda noisy I think due to the space of the old building structure. So chatting with friends would be slightly more of a shouting one. They have a different menu for brunch and dinner. Will definitely go back to try the rest of the brunch menu and also hopefully their dinner menu too!!"
3. Toby's Estate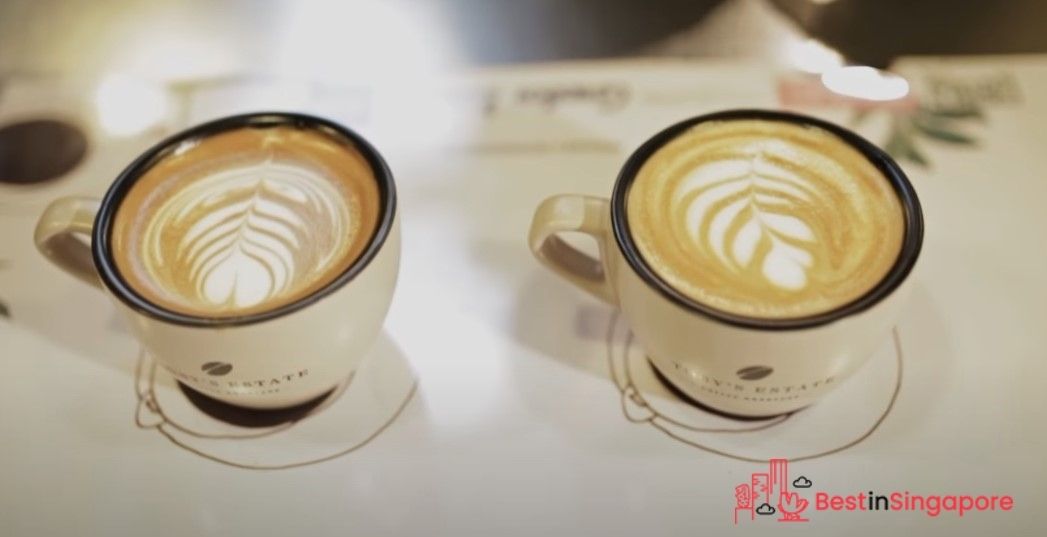 BEST FOR
Single-origin beans and coffee blends
PRICING
Menu
WEBSITE
http://www.tobysestate.com.sg/
ADDRESS
8 Rodyk Street, 01-03/04 Singapore 238216
CONTACT DETAILS
+65 6636 7629
OPERATING HOURS
Sunday to Thursday: 7.30am-6pm

Friday to Saturday: 7.30am-7pm
Being one of the most well-known cafes in Singapore, Toby's Estate produces handcrafted and roasted coffee beans that are directly from the owner's farm and of premium quality.
They own a large collection of single-origin beans so if you're one of those who don't settle for less when it comes to coffee selection, this place can be the best coffee roaster in Singapore for you.
They also offer breakfast, lunch, salad, snacks, and other drink menus. Their cafe is also quite big so you can bring a large group of friends and family here.
Highlights
Finest coffee bean quality
Wholesale
Delivery services
Customer Reviews
Visitors had a wonderful experience at Toby's Estate and said that it's a homey place with excellent coffee bean selections.
A customer gave this review on Google Reviews:
"Good location on a very nice and fully pedestrian river side district. The coffee was interesting, made of Tiger nut milk and orange peel… for the other items, brunch and breakfast seems to be popular for locals, probably a good offering overall."
4. Common Man Coffee Roasters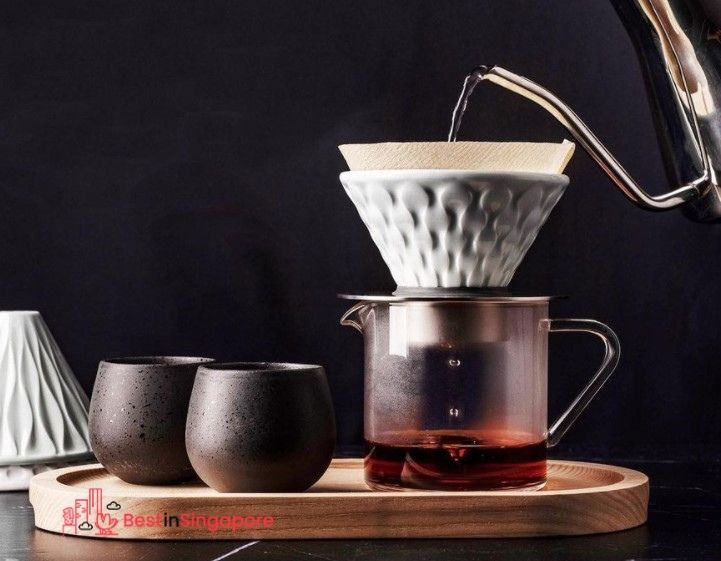 BEST FOR
Sustainable coffee beans
PRICING
Shop
WEBSITE
https://commonmancoffeeroasters.com/
ADDRESS
22 Martin Road 01-00, Singapore 239058
CONTACT DETAILS
+65 6836 4695
OPERATING HOURS
Monday to Friday: 7.30am – 5.00pm

Saturday to Sunday: 7:30am – 6:00pm (last orders at 5:30pm)
Common Man Coffee Roasters serves an all-day brunch-style menu that has been recognized by many locals and tourists. They take pride in their signature blends and extensive coffee menus.
Similar to the previous option, they also offer single-origin beans. Moreover, they also have decaf, brewing gears, ceramics, and many more.
Highlights
Signature blends
Wholesale
Barista courses
5. Bean Rock Coffee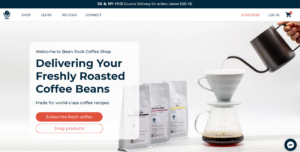 | | |
| --- | --- |
| BEST FOR | Coffee enthusiasts and minimalists |
| PRICING | |
| WEBSITE | |
| CONTACT DETAILS | |
Bean Rock Coffee focuses on creating a sustainable coffee experience with fresh roasting and awesome coffee recipes.
If you're a minimalist, you'll love their simplicity and concept of "buy only what you need". Their flexible coffee subscription allows you to buy freshly roasted coffee in small quantity at affordable prices, to suit your coffee routine needs.
On top of roasting fresh and grinding to your order, they also feature very useful step-by-step coffee recipes online, so anyone can brew awesome coffee right from the start!
If you do not have any coffee gear or machine, check out their coffee bags! It's a convenient and therapeutic way to make a delicious cup of specialty coffee – just bounce and steep, no coffee skills required.
Highlights
Freshly roasted specialty coffee

Coffee sustainability and minimalism

Fuss-free coffee bags

User-friendly and affordable coffee subscription
Customer Reviews
One of their coffee lovers say:
The Drink to Start My Day With!
"Tried a few other brands of coffee beans before I gave Bean Rock Coffee's Nostalgia a try. It is by far my favourite! You can quickly tell that it is of good quality when you open the packaging, the aroma is amazing! It has a distinct taste – strong but not too overwhelming. I like to drink it as cappuccino, very smooth and creamy!"
6. Dutch Colony Coffee Co.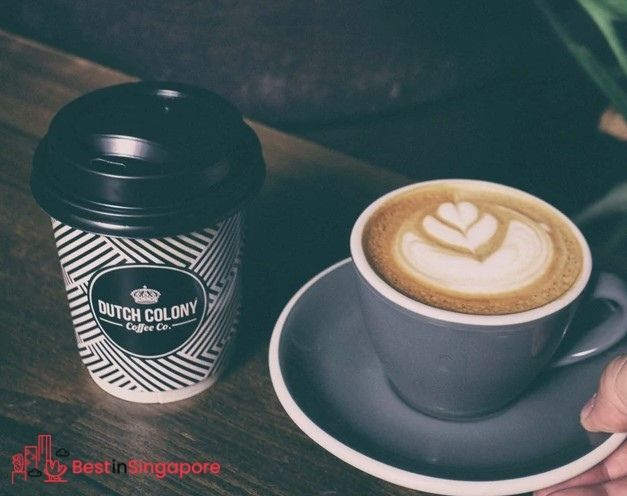 Dutch Colony Coffee Co.'s coffee beans are carefully selected. From the plantations up to the extractors, they take each stage seriously and ensure they offer only the best to customers.
They have a variety of blends, beans, and even equipment and other merchandise. They also have several branches in Singapore.
Highlights
Fine sourcing and roasting
Workshops
Worldwide shipping
Customer Reviews
Despite the slightly long waiting lines, most customers were still very impressed with the overall services of Dutch Colony Coffee Co. They complimented the cafe's atmosphere, brunch options, and beans selections.
A customer from Google Reviews wrote:
"If you are in the neighbourhood and looking for a good coffee Dutch should be your choice; great coffee and a very trendy atmosphere. Staff are always friendly and cultivate a nice atmosphere. It's very much a 'local' spot. As well as good coffee you can pick up a good selection of beans for home and they also have good brunch options. Only one downside; it can get very busy and you might have to wait for a table around lunchtime on weekends."
7. Perk Coffee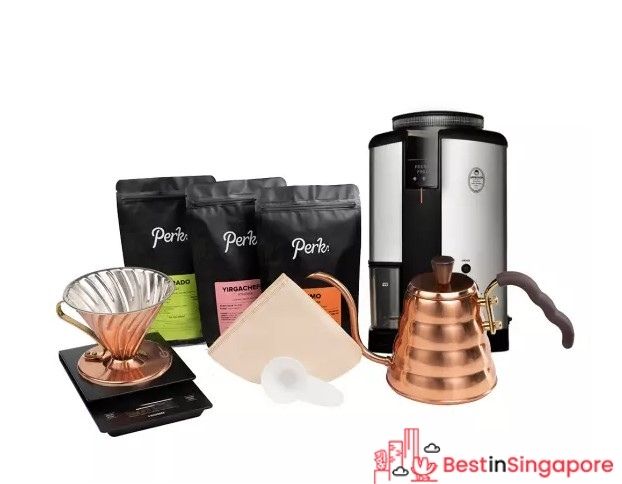 Perk Coffee scour the globe to bring you the best beans from around the world. They proudly support local farmers by ensuring that they pay above Fairtrade rates for all their coffees.
You will also never have to worry about running out of your favourite roasted coffee because Perk Coffee offers subscription based orders which will cost you way less per cup than regular coffee at a cafe.
Perk Coffee makes sure that you only get the freshest coffee by roasting them fresh to order every Monday and Wednesday, and sends them to you within 48 hours.
Highlights
Ship products across Singapore

Affordable prices

Offers coffee subscription
Customer Reviews
The aroma of a freshly roasted coffee beans is what's hyping up the customers of Perk Coffee. Plus, the fact that they can have it shipped to them anywhere they are in Singapore. Here's one review posted by Rowena O.
"My daily Perk-me-up!
I'm still amazed how I can receive these precious packs of freshly roasted aromatic beans in my HDB letterbox. Evenly roasted and freshness guaranteed 🙂 Love the variety of beans that I can explore and impressed by the lovely touch seen in the stickers, cards, journal, free packs with more orders … my favs are still the Ethiopian beans by far!"
8. The Beans Grocer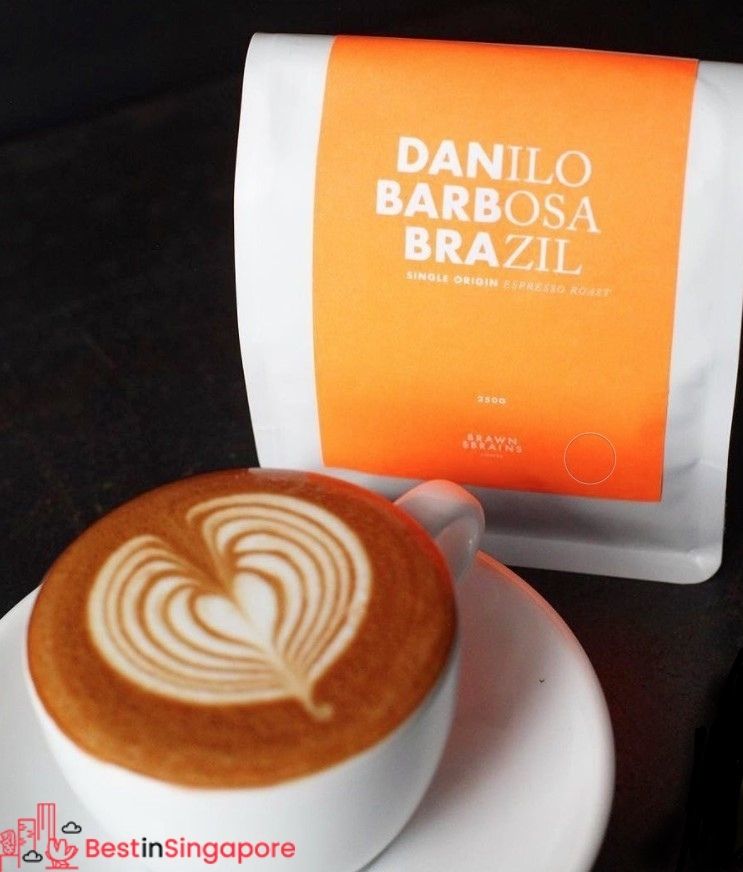 The Beans Grocer is one of the best coffee roasters in Singapore, and source of premium coffee from different parts of the world.
They have different types of coffee to offer, namely single origin, blend, geisha, espresso, filter, capsules, drip bags, and decaf.
No matter what you need or prefer, The Beans Grocer will probably have it in store so make sure to check out their online shop!
Highlights
Specialty coffee
Wide range of selection
Affordable coffee
And that's a wrap for our list of the best coffee roasters in Singapore! Come and visit these cafes and they'll guarantee you a refreshing coffee experience that you've never had before!
If you know of other must-visit places, share them with us and we'll add them to our list to provide more options.
If you'd rather have home-brewed coffee and really just want the roasted beans from these stores, though, you might want to also try these best coffee grinders in Singapore. Especially if you like to prepare your own coffee with your favourite aroma and flavour!