The 8 Best Tablets in Singapore for All Purposes
The best tablets in Singapore can provide you with a portable and efficient platform where you can get your work (or recreation) done, anytime and anywhere. Luckily for you if you're shopping for one, we're going over the best ones today!
They're built with different sizes, specs, and features, though. So, it might be a bit hard to choose the right one if you've never bought one before.
To ease your struggle, we've come up with all of the factors that you must bear in mind for table shopping. After we've gone through them, we'll proceed with our list of the best tablets in Singapore.
Things to Consider When Buying a Tablet
There are a lot of things to consider when buying a tablet, besides the obvious points of size and cost. Let's go over them one by one:
1. Purpose
Before considering the specs, you must ask yourself first, what are you going to use it for? Is it for work or entertainment purposes?
Do you want one that you can use for gaming? Perhaps you're even buying it for your kids.
Regardless of your reason, it's very important that you know your purpose as it'll be your guide in choosing the one that best suits your needs and preferences… as you'll see in the next points.
2. OS (Operating System)
Most tablets are designed with a mobile operating system, including iOS, Android, Windows, and Amazon's Fire. So, some software that you use on your desktop/laptop may not work on the tablet.
The bigger issue is often usability or user-friendliness, though. Unless you're good at figuring out new operating systems, this can be a problem.
That's why it's advisable to use the same OS that your smartphone has. In this way, you can easily get familiar with its settings and other functions.
Here are the common operating systems for tablets:
a. iOS
iPads and other Apple products use an iOS operating system. It features the same interface as an iPhone, more or less.
The only downside of it is the limited selection of apps because it'll only be compatible with the apps available on the Apple store. If you're going to use open-source software or an Android app, this might not be a good choice for you.
b. Android
As we all know, most smartphones use the Android OS, which makes this OS a versatile option. You can choose from a wide range of apps and install them.
Hence, an Android tablet would be perfect or those who need a user-friendly and very accessible platform.
c. Windows
For those who want to purchase a tablet to replace their old laptop, a Windows tablet is what you need. It might not have a large selection of apps but you can use several traditional (desktop) software.
d. Amazon's Fire
It runs on an Android system and is the only OS that has direct access to Amazon's app store and services. It also features particular software that caters to kids, so it can be a nice gift for them.
3. Apps and Software
Once you've determined the OS that suits you the most, you should now look into its apps and software compatibility. Check if you can use your needed apps on the tablet and make sure that they're compatible with the tablet's operating system.
This is one area where purpose (which we mentioned earlier) can play a big role. Some tablets may not be capable of running some apps, and if those are necessary to you, the tablet becomes incapable of serving your needs.
4. Tablet and Screen Size
The size of your tablet and screen must be based on your intentions for it. If it's for watching movies, playing games, or drawing, then you'll probably need a larger screen size.
The price is also dependent on the size, so the bigger it is, the more expensive the tablet. Keep that in mind when shopping for the best tablets in Singapore!
5. Resolution
Along with the screen size, you also need to look at the tablet's resolution. Most specifically, for the movie lovers and gamers, you'll definitely enjoy a high-definition display.
However, if you're only going to use it for documentation, reading and writing, then an average resolution would be fine.
6. Processor
This will determine the speed of the tablet's system. A powerful processor can help you do multiple tasks within a short period of time and give better performance, particularly when you're playing games.
Dual-core and Quad-core processors are the standard for a good tablet as they provide competent performance and allow you to multitask.
7. Storage
To store more books, movies, and games, larger storage is needed. Check the tablet's internal storage and see if it's enough to save all of your files.
Some tablets have a Micro SD memory slot for additional storage or even cloud storage, to be more efficient.
8. WiFi Connectivity
In every device, it's very important to have access to an Internet connection. This will let you check your email, download apps, movies, games, and books, and other stuff.
It's common for a tablet to have WiFi connectivity to your workplace or home network. Also, there are tablets that offer connectivity to a cellular network.
9. Keyboard
For the professionals who want to bring their work during travel, you might want to check if the tablet can connect to a physical keyboard.
Some devices allow direct attachment between the tablet and the keyboard to make it look like a laptop, so it'll be easier for you to work on your tasks.
10. Battery Life
Last but not least, you can never go wrong with a device that has a long battery life. The average battery life of a tablet is seven hours, which is quite good for work-related tasks.
However, if you're going on a long trip and you'd want to spend most of your time, watching movies and playing games, you need the one that can stay up with you for more hours.
The Best Tablets in Singapore
Now that you know which factors to look out for when buying a tablet, let's jump right into our list of the best tablets in Singapore. Each selection was chosen based on its uses, performance, and price so there'll surely be a perfect option for you!
1. Apple iPad Pro
Best for Overall Value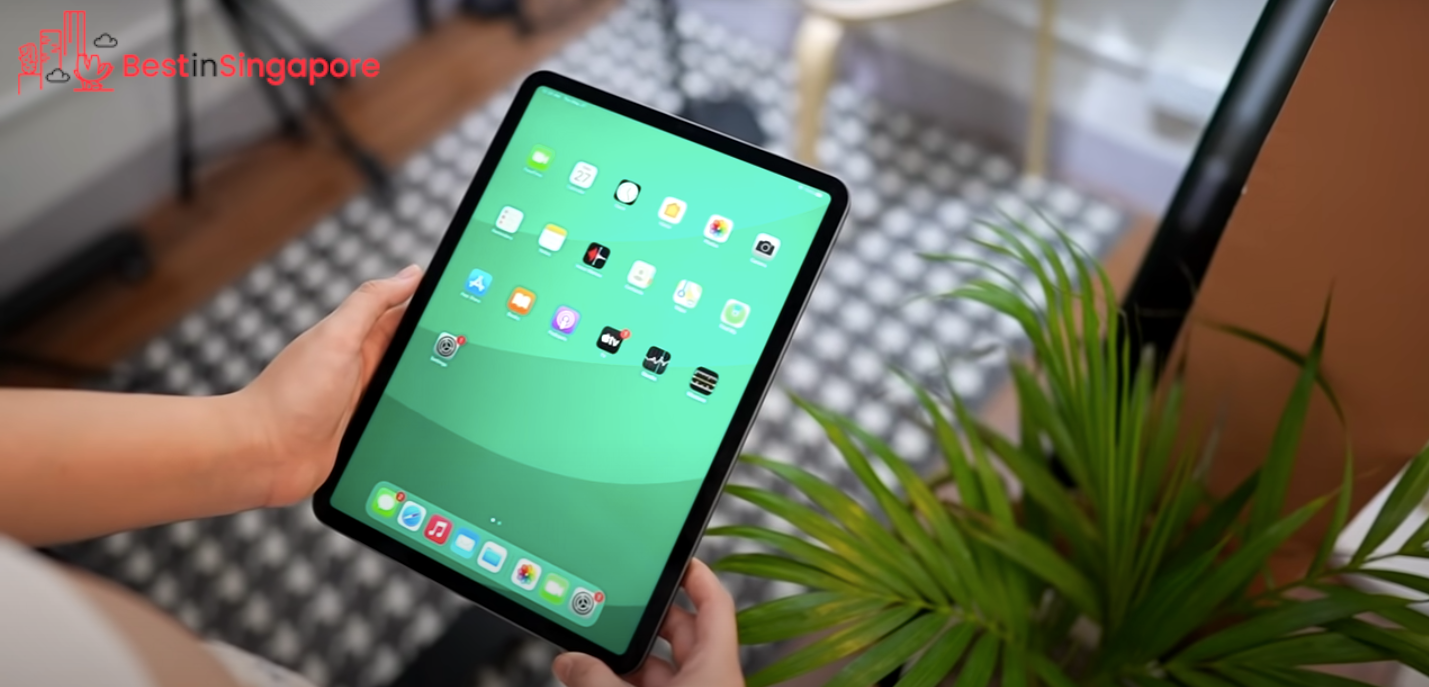 Price: $1,149.00
The Apple iPad Pro is a natural entry on this list. It's one of the most popular tablets for a reason.
It has a big 11-inch screen that's filled with features such as the interactive interface that includes intuitive gestures. Navigating settings and apps is wonderfully easy with this one.
It features a high resolution and liquid retina display that allows you to have a more accurate and vivid viewing experience. And with its powerful processor, you can do multiple tasks at the same time, like working on your tasks, chatting with colleagues and friends, and many more.
It has a magnetic pen that you can use for notes and drawings. With a simple double-tap, you can change its settings, turning it into an eraser or changing the brush type.
It also includes a keyboard, so whenever you need to finish up some homework or documentation, you can do that easily with the tablet. The tablet itself also comes with a stand at the back for a better viewing angle as you type.
Highlights
iOS operating system
11-inch (screen size)
60 x 214.90 x 5.90 mm (tablet size)
2388 x 1668 pixels
Octa-core processor
64gb storage
7812 mAh battery
4G LTE Advanced and fast Wi‑Fi
Keyboard included
Customer Reviews
The Apple iPad Pro has been praised by many reviewers and customers due to its sophisticated and thin design, high definition display, competent battery life, and even the well-made pen.
Though some say that it's not as flexible as the desktop platform, it's still one of the best tablets in Singapore that they can rely on it for almost everything.
T3 blog gave this verdict on their published review:
"It comes down to this: this is the best tablet on the market – it's slick, the design is class-leading, and it's insanely powerful, which means it's only going to get more capable with updates as time goes on. But it's not a laptop replacement for everyone just yet. Even though it's more powerful than the new MacBook Air, at the same price, you might be able to get your work done more easily (and therefore more quickly) on that Or, if you want the tablet form factor but really need more flexible features, the Surface Go and Surface Pro are very capable.But if the iPad Pro fits with what you need to do, it's a truly brilliant work device."
2. iPad Mini 4
Best for Gaming Experience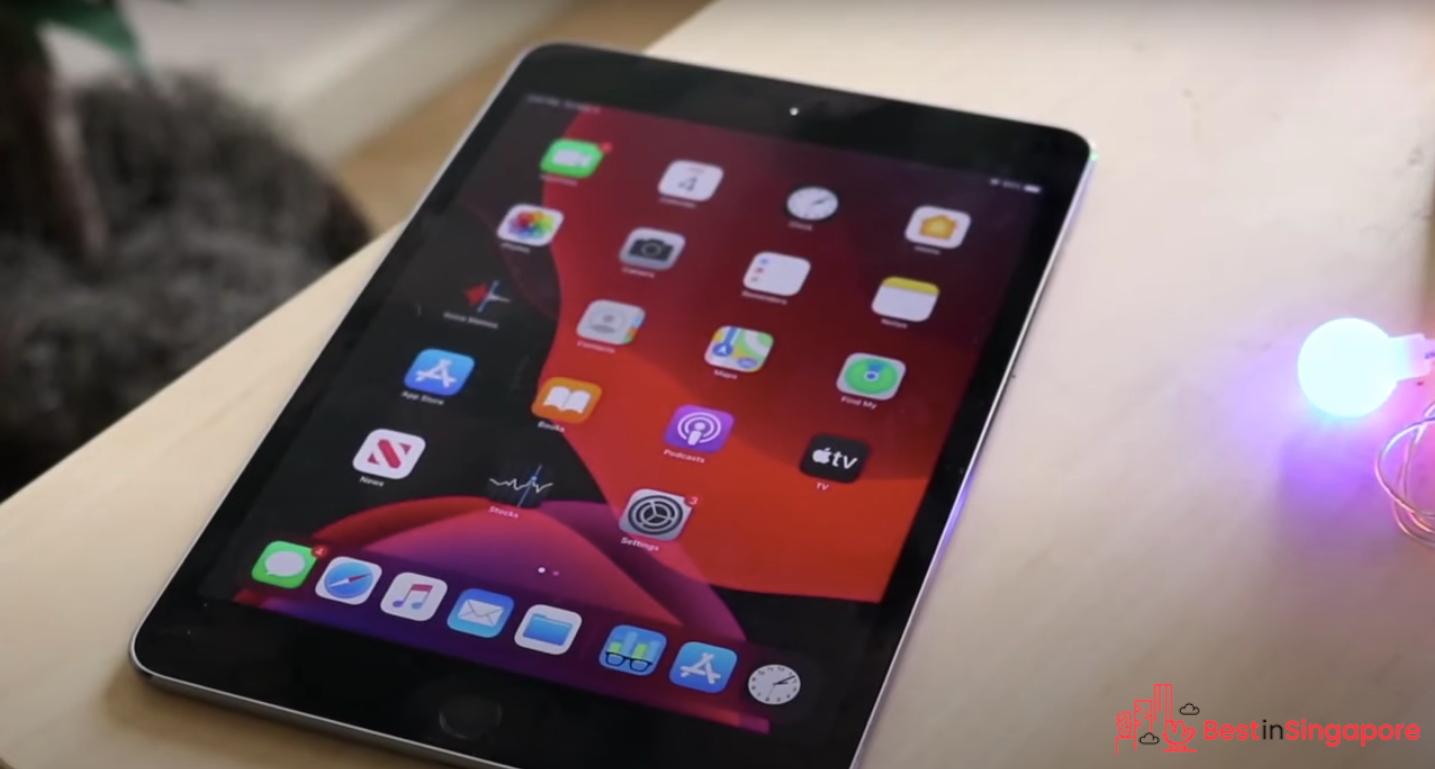 Price: $500.00
The iPad Mini 4 is quite similar to the previous option. However, this one is more compact and it features an incredible retina display with a true tone, giving you a precise graphics display.
This is one of the reasons it's considered the best tablet in Singapore for a lot of tablet gamers.
This lightweight and thin tablet is a must-have travel buddy. It's so portable that you can easily take it out from your pocket whenever you want to take some notes or play some games during travel.
With its remarkable A12 Bionic chip with Neural Engine, you can also play thrilling and immersive games, and experience augmented reality. The notable resolution makes you forget about the small screen size and enjoy watching videos and reading books for a few hours.
You can also use the Apple pencil for little notes, document signing, or sketching. It features iCloud Drive, where you can have unlimited storage and access your files on all your devices.
Highlights
iOS operating system
9 inch (screen size)
2 x 134.8 x 6.1 mm (tablet size)
1536 x 2048 pixels
Dual-core processor
128gb storage
5124 mAh battery
Wi-Fi and 4G LTE Advanced
Customer Reviews
Most customers were very impressed with the large storage and sleek design of the iPad Mini 4, yet it's offered at a cheaper price. There are a few who said that it may be an older version but it can still compete with the latest releases.
TechRadar posted this review:
"The iPad Mini 4 is going to be an underground hit for Apple. While the Mini 3 was woefully disappointing (coming with literally just Touch ID and a new colour as upgrades over the mini 2), there's a real step forward here. Despite being an older tablet, there's still a lot of desire for something this small. Yes, Apple has started making phones that are pretty much this size, but the Mini 4 comes with a lot of storage and a much cheaper price tag."
3. Samsung Galaxy Tab S3
Best for Drawing Activities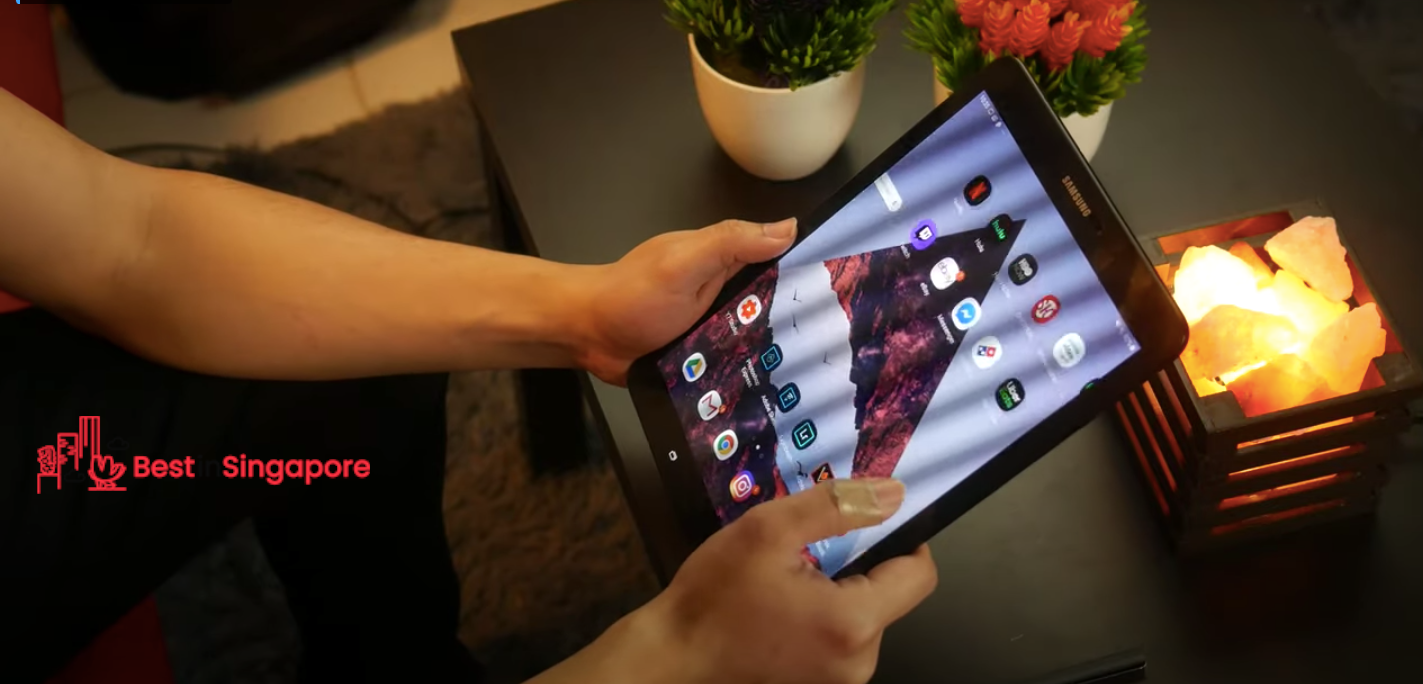 Price: $439.00
Have you ever experienced some interrupted work because you needed to charge your digital pen?
If so, then you should take a look at the Samsung Galaxy Tab S3. It features a non-rechargeable pen that is redesigned with an excellent ballpoint and comfortable grip for a more natural and precise movement.
It has specific apps where you can use your pen to jot down important notes, sketch drawings, and even compose a tune. It also provides a brighter display to see every line and stroke.
The sleek design gives you a smooth and glossy back, making it comfortable to hold. It also comes with a keyboard that has an optimised layout so there'll be fewer typos.
Highlights
Android operating system
7 inch (screen size)
3 x 169.0 x 6.0 mm (tablet size)
1536 x 2048 pixels
Quad-core processor
4gb storage
6000 mAh battery
Wi-Fi direct
Keyboard included
Customer Reviews
Some customers said that it can't stand as an alternative to a laptop but the Samsung Galaxy Tab S3 is still a part of the best tablets in Singapore for it has a brilliant stylus and screen resolution.
TechRadar gave this verdict:
"The Samsung Galaxy Tab S3 is headlined by an HDR-ready screen, four powerful speakers and an upgraded S Pen that's included in the box, although you're going to have to pay for the keyboard. Just don't expect Android meet all of your 2-in-1 tablet needs next to a similarly priced laptop."
4. Microsoft Surface Pro 7
Best for Laptop Alternative, Professionals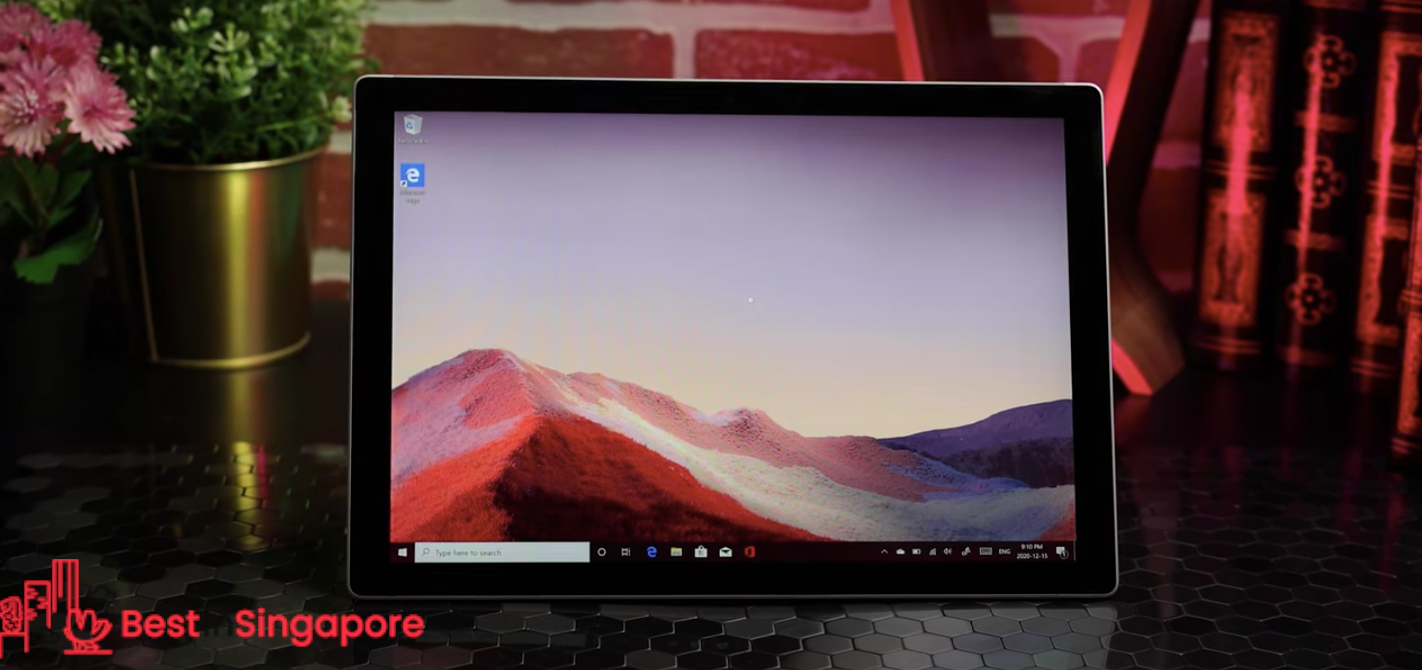 Price: $1,863.00
As you may have noticed from the previous options, most of them have the downside of not being able to replace a desktop platform. If you're one of those users who prefer to use a top-notch device that can almost like a laptop, then the Microsoft Surface Pro 7 may be the best tablet in Singapore for you!
This versatile and ultra-light tablet stands out among the rest because of its advanced and higher specifications. Since it's a Microsoft product, it has built-in Microsoft Office apps too.
Unlike other options, it has a great processor — the i5 Core, providing a faster interface and improved graphics. The storage is also big enough to store important files and other multimedia apps.
To transform your tablet and make into a laptop, there's a built-in kickstand and a keyboard that you can easily set up before you start working. This is the perfect companion to bring during business trips.
Highlights
Windows 10 Home7 operating system
3 inch (screen size)
292 x 201 x 8.5 mm (tablet size)
2736 x 1824 pixels
Quad-core 10th Gen Intel Core i5 processor
128gb storage
Up to 10.5 hours of typical device usage (battery life)
WiFi connectivity
Keyboard enabled
Customer Reviews
Reviewers loved the fast performance, bright display, and the smoothly designed keyboard of the Microsoft Surface Pro 7. Despite having complaints from some customers regarding the short battery life and the accessories being sold separately, they said that it's still worth buying.
LaptopMag wrote this feedback:
"Microsoft's convertible remains the best option on the market for those who want the portability of a tablet combined with the convenience of a laptop. But the Surface Pro 7 does little to move the needle. The few new things it brings to the table — USB-C and 10th Gen processors — are certainly welcome but not enough to make the Surface Pro 7 a required upgrade if you already own the Surface Pro 6. All things considered, the Surface Pro 7 remains at the top of its class but is overdue for a proper overhaul."
5. Huawei Mediapad T2
Best for Students Use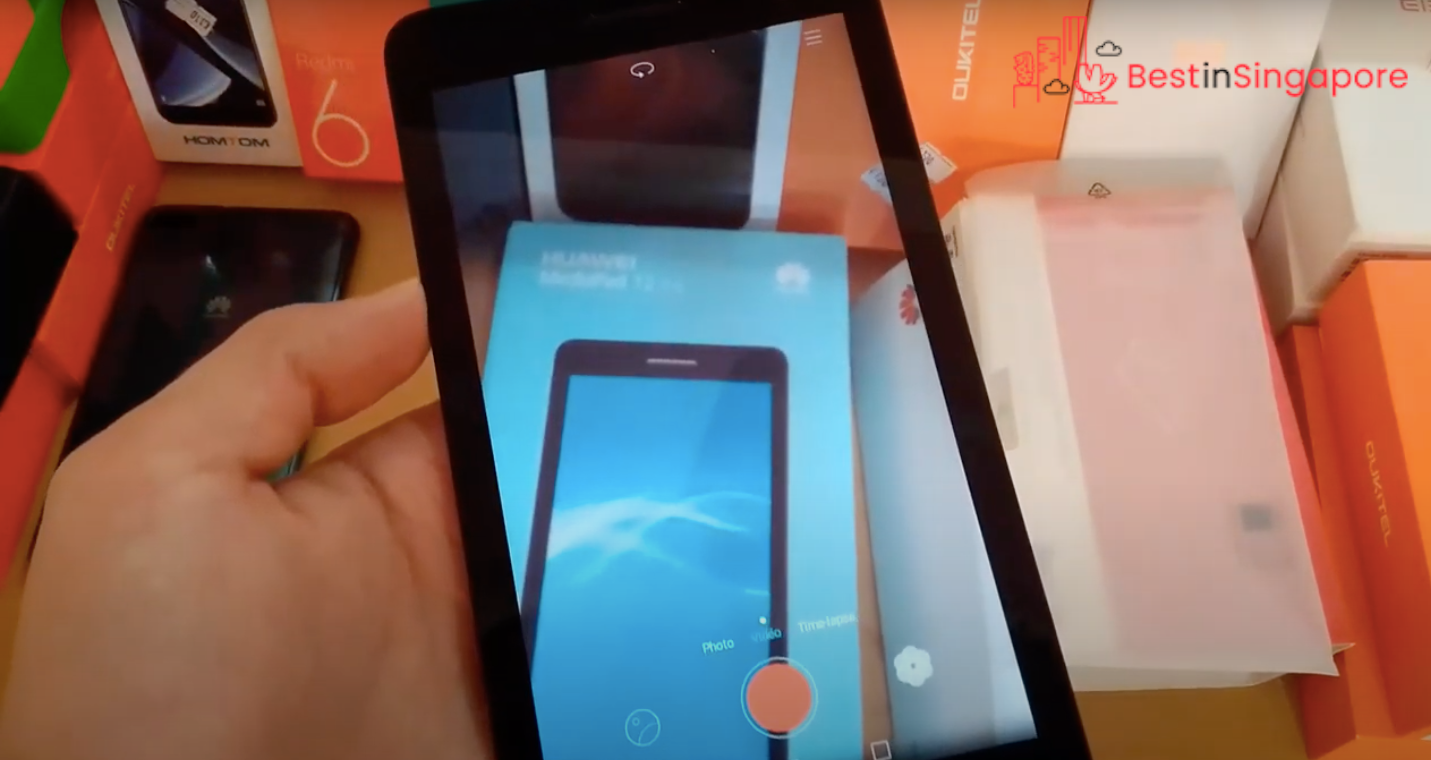 Price: $176.00
The Huawei Mediapad T2 features specs that are great for students who need a tablet to help them do their homework, write down lectures, and read some books. The cheaper price can also fit within the means of a regular student.
It features a compact design that you can simply slip in your bag or pocket. It also has a quad-core processor, which is quite impressive for an average tablet.
The battery life can also last throughout the day so you can surely use it for every class. If you're looking for a simple and affordable tablet to bring at school, this could be the best tablet in Singapore for you.
Highlights
Android operating system
7 inch (screen size)
8 x 107 x 8.5 mm (tablet size)
600 x 1024 pixels
Quad-core processor
26gb storage
4100 mAh battery
Wi-Fi and 4G LTE
6. Amazon Fire HD 8
Best for Kid-friendly Features
Price: $111.00
For the parents who are looking for a nice gift for their children, you may consider giving them the Amazon Fire HD 8. This tablet is particularly designed for kids as it gives parents absolute control over the settings and apps.
Parents can make customised profiles for their kids, set time limits, and give them access to age-appropriate apps, books, videos, and games. It also includes a easy-to-use interface so the whole family can use it.
As it's an Amazon product, you have direct access to Amazon Prime, which offers unlimited access to your favourite movies and series. It features a responsive interface, vibrant display, large storage, and excellent battery life so you can have a delightful viewing experience!
Highlights
8 inch (screen size)
Android operating system, Fire 5.4
214 x 128 x 9.7 mm (tablet size)
1280 x 800 pixels
Quad-Core processor
26gb storage
3210 mAh battery
WiFi-enabled
Customer Reviews
The Amazon Fire HD 8 has received positive responses from many customers saying that it's very affordable and has a durable build. They also pointed out its flaws such as the standard battery life and screen quality.
Still, they've named it as possibly the best tablet in Singapore that most kids can enjoy. TechRadar posted this feedback:
"The Fire series of tablets exists very definitely within its own special niche. These are throwaway devices that fit their specific brief very nicely and offer a decent experience overall, but with a number of glaring issues. The design of the Amazon Fire HD 8 (2018), while distinctive, is perhaps a little too utilitarian, the screen is bright and has a reasonable resolution but the color reproduction is poor."
7. Lenovo Yoga Book
Best for Reading and Writing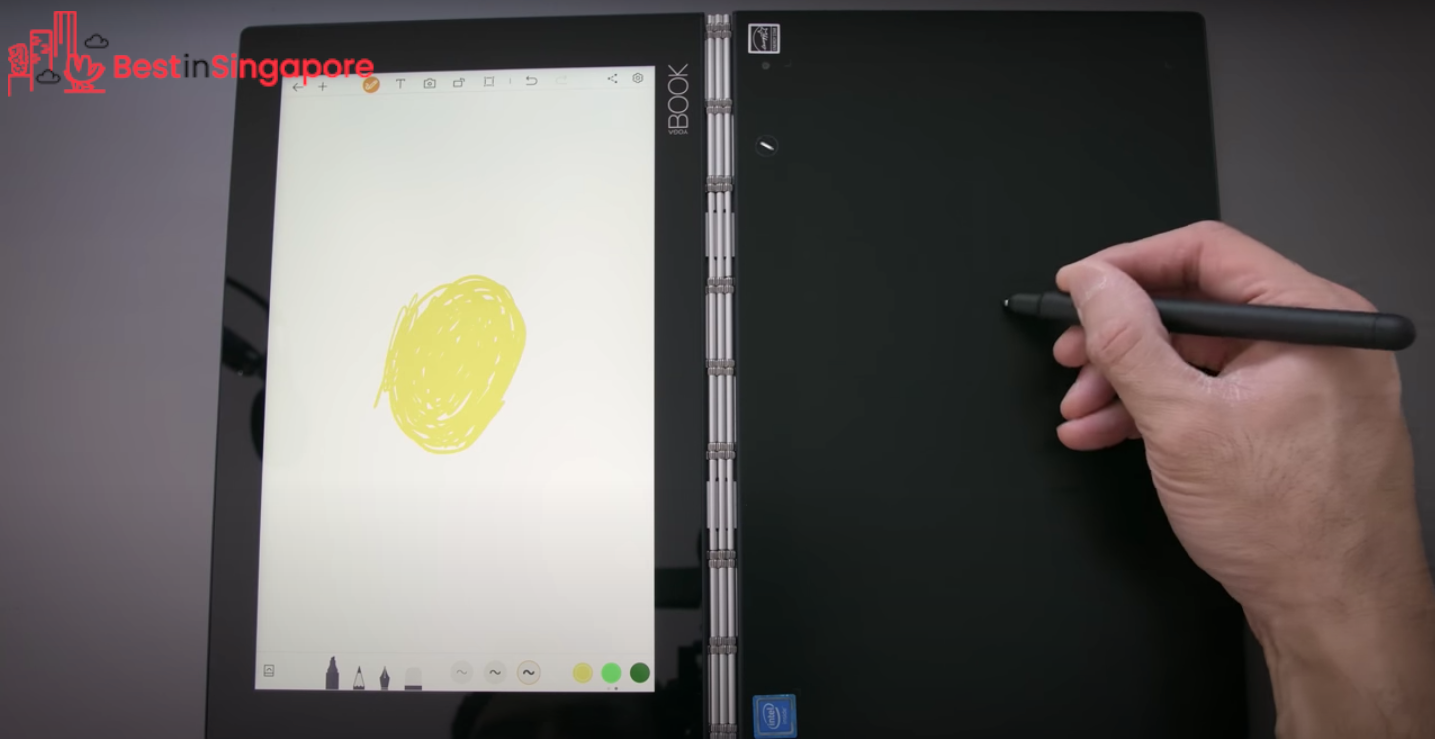 Price: $1,146.26
If you're a book lover and you always want to have something to read on whenever you travel, you can leave your heavy physical books behind and bring the lightweight and slim Lenovo Yoga Book. In this tablet, you can store plenty of books and read them while you're on the go.
It features a smart paper pad and a real pen stylus so you can digitise your notes and have a secure copy on your storage. A software-optimised keyboard that can auto-correct your typos is an ideal function for everyone who has a lot of writing and documentation to do.
It's powered with a Windows OS, giving you the familiarity and full use of Microsoft Office. The special thing about this tablet is that it has a total of 4 modes for drawing, browsing, watching, and typing.
Highlights
Windows 10 Home operating system
1 inch (screen size)
6 x 9.6 x 170.8 mm (tablet size)
1920 x 1200 pixels
Quad-core processor
64gb internal storage
8500 mAh battery
WiFi-enabled
Includes keyboard
Customer Reviews
There are reviewers who shared that it has limited ports and is a bit slower compared to other tablets. But they still admired it and complimented its slim design, flexible keyboard, and the brilliant pen as well as the paperlike surface.
That's why the Lenovo Yoga Book made it to the list of the best tablets in Singapore. CNET gave this review:
"The Yoga Book is a fun-sized conversation piece, impressively thin and light, while still packed with features. It's stylus and drawing/sketching/note taking skills are impressive, especially when you use the whole ecosystem (pen, magnetic pad, ink-based tip) that comes packed in the box. And despite the long list of unusual features, the Yoga Book does an admirably good job of making its special skills intuitive to use. In most cases, you won't have to RTFM."
8. Samsung Galaxy Tab A 10.1
Best for Easy-to-use Features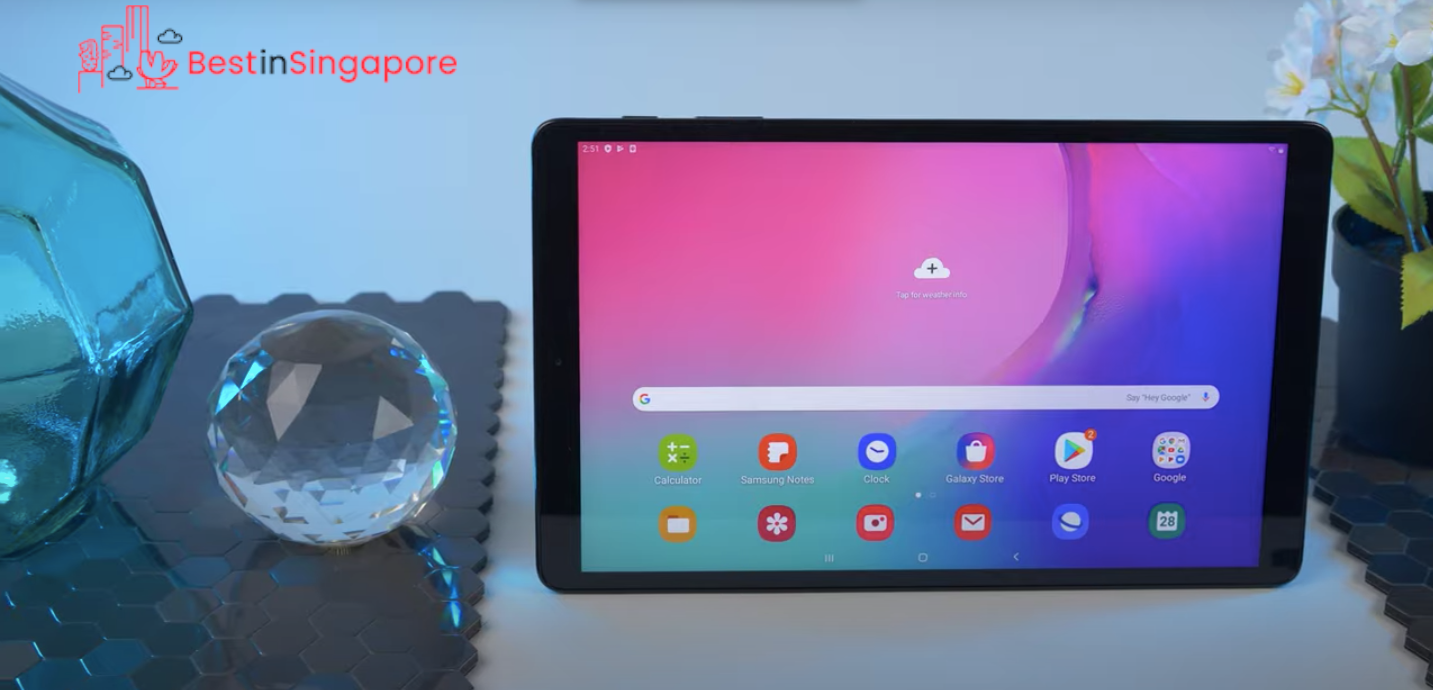 Price: $289.00
If you're not very familiar with using a tablet and you just want a casual one for entertainment purposes, the Samsung Galaxy Tab A 10.1 can be the best tablet in Singapore for you.
This mid-range tablet is quite versatile, for it has an immersive audiovisual quality that lets you enjoy your movies and music. It also features a degree of parental control, with a kids' home panel that only includes kid-friendly settings and apps.
The best feature of this tablet is the SmartThings app that allows you to connect other devices and even appliances at your home. This will help you monitor and control their usage conveniently.
Highlights
Android operating system
1 inch (screen size)
2 x 149.4 x 7.5 mm (tablet size)
1920 x 1200 pixels
Octa-core processor
32gb storage
6150mAh battery
WiFi and 4G LTE
Customer Reviews
Reviewers and customers were satisfied with the kids mode, good interface, and overall performance of the Samsung Galaxy Tab A. In spite of it having a dimmer display compared to its previous version and not being a great device for gaming, they still recommended it.
My Next Tablet wrote this review:
"That's my Samsung Galaxy Tab A 10.1 2019 review. Overall, I really like this tablet. We get a solid metal body, a pretty full HD screen, and especially when considering its price, the performance is very good. I also like that we're getting Android 9.0 Pie and it should get updates longer than all competitors.
Sadly, the speakers are located on one side only. And while the battery life is alright, it could be better. It would be nice to get 3GB of RAM for all versions to make it more future-proof. But well, those 2GB of the base model are still usable.
You've seen that I've noticed some downsides of the Galaxy Tab A 10.1. However, when considering that prices start at just 229 US Dollars, those almost don't matter at all. For this price, I think it is a very good tablet. Usually, I complain that the suggested prices from Samsung are way too expensive. This is the first time that I think the pricing is fair."
And that's our list of the best tablets in Singapore! If you've thought of another tablet that should be included in the options, let us know all about it and we'll greatly consider adding it on the list!
For more options, particularly for illustrating and sketching purposes, you may want to see these best drawing tablets in Singapore. Whether you're a professional artist or an art hobbyist, you'll definitely be delighted with these selections.