Making Waves: 5 Best Wakesurfing Schools in Singapore
We might complain about the heat and humidity of Singapore, but this climate is perfect for wakesurfing all year round. With easy access to the sea, wakesurfing is a breeze in this tiny island nation.
But this isn't your typical surfboard-in-the-ocean experience. It's an adrenaline-pumping ride behind a boat, with the perfect wave created by cutting-edge watercraft.
So, if you're considering a new, thrilling hobby, let's explore the best wakesurfing schools in Singapore!
How much does a session cost at wakesurfing schools in Singapore?
Wakesurfing schools charge students around $150 to $350 per hour, with a minimum booking of at least two hours. Other factors contributing to rates include boat rental, board rental, group size, and the skill level of coaches.
How We Chose
1. Dreamwake Academy
Address: 11 Northshore Drive, Pier, #5 Marina Country Club, Singapore 828670 (Google Maps)
Contact Details: +6586123321
Operating Hours: Tuesday, Wednesday, Friday, 9:00 am to 7:00 pm, Thursday, 9:00 am to 1:00 pm, Saturday and Sunday, 7:00 am to 7:00 pm
Dreamwake Academy, led by veteran wakesurfer Quentin Oliver, offers skim and surf-style wakesurfing coaching for all levels. Beginners enjoy extended two to three-hour sessions that prioritise water confidence over immediate board standing. The learning process includes mastering balance with a tow rope at novice-friendly speeds of approximately 10 mph.
Their well-maintained pro-grade equipment from Kanuk Board Co, including the 2022 Axis T23 speedboat with Bluetooth speakers and an extended Bimini top, ensures comfort and leisure during and after sessions.
The pricing of $220 per hour, with a minimum booking of two to three hours, might seem steep, totalling nearly $700. However, this covers life vests, board rental, boat rental, and coaching fees, making it a premium but worthwhile investment for wakesurfing enthusiasts.
The head coach has over 30 years of experience
Uses regularly upgraded speedboats 
Relatively pricey hourly rates
Usually fully booked
Customer Reviews
Super clean and comfortable boat
"Amazing experience, you get a dedicated coach and captain unlike others. Most of us were beginners and with Oliver's great tips and superb coaching we were all able to stand and excel. Great big boat and it's super clean."
-Ms. Michelle Wong, Google Review 
Fun and easy going coach
"Although it wasn't our first time wakesurfing, Oli patiently coached each of us without any preconception of our abilities. Such was his dedication to seeing us improve that he would assiduously point out and correct our bad techniques / posture even when we thought we had hit a wall. To top it off, Oli's easy-going personality makes learning fun and just being out in the waterway enjoyable."
-Mr. Benjamin Ng, Google Review 
2. Wakemusters
Address: 11 Northshore Dr, Marina Country Club, Singapore 828670 (Google Maps)
Contact Details: +6590487060
Operating Hours: Monday to Friday, 10:00 am to 7:00 pm, Saturday and Sunday, 8:00 am to 7:00 pm
Founded in 2016 by Marcus and a team of athletes and drivers, Wakemusters is a pioneering wakesurfing school in Singapore. Their unique approach pairs a certified coach with a driver onboard, providing students with dual expertise.
Wakemusters offers coaching for both groups and individuals, with a focus on grouping students by skill level to ensure tailored instruction. These classes involve mastering skills like gripping the tow rope, maintaining balance, and standing up as speeds increase, eventually leading to independent wakesurfing.
They utilise top-quality speedboats from Malibu and Axis equipped with Surf Gate technology, ensuring clean waves. Pro-grade boards from Kanuk, Verb, and Mission complete the setup.
Group sessions are priced at approximately $150 per person for a two-hour time limit. Private coaching can accommodate up to 8 students simultaneously, and it starts at $350 per hour per boat.
These rates are notably budget-friendly, making wakesurfing here accessible for beginners.
Rates are on a per-person basis
Releases regular promotions and discounts
Pre-requisite classes before availing of group classes
High surcharge fees for rescheduling
Customer Reviews
Seamless booking
"Had a great experience wakesurfing with Wakemusters. Booking was easy and straightforward. They are responsive to requests and pretty accommodating to changes as well as we had to shift our slot around. Step by step guidance is provided if it's your first time. The boat's comfortable to chill on and there's an icebox so you can bring along your own booze! Some say it's a tad pricey but I guess you're paying for premium and service. Looking forward to my next session!"
-Ms. Eileen Fong, Google Review 
Best for beginners
"My experiences with WAKEMUSTERS are always positive. Weekends are always made great! A good place to go if you want to try Wakeboarding or Wakesurfing for the first time. A friendly platform for beginners. You won't be disappointed! Indeed #TheCompanyThatMatters"
-Ms. Sheri Zukeika, Google Review 
3. Ryders Singapore
Address: 11 Northshore Dr, Marina Country Club, Singapore 828670 (Google Maps)
Contact Details: +6591895957
Operating Hours: Monday to Sunday, 7:00 am to 7:00 pm
Ryders, a 20-year-old wakesurfing school in Singapore, caters to enthusiasts of all levels.
They provide personalised coaching for beginners and advanced riders, allowing you to choose your preferred certified coach at an additional professional fee. There's a minimum booking requirement of 1.5 hours, and students have the freedom to choose Mandarin-speaking coaches.
Boat assignments are skill-based. Smaller boats for beginners are at $150 per hour, and larger boats for more advanced surfers are at $190 per hour, with units like Nautique and Mastercraft.
Safety is a priority; first-aid-trained coaches brief students before entering the water. On land, students practise balance and board technique, which helps boost coordination and retention before heading out to sea.
Standard sessions typically last around two hours, providing ample time for small groups to master the fundamentals.
Multilingual coaches
Offers different boat sizes for different skill levels
Hourly rates differ based on the coach 
Group sessions are limited to only three students at a time
Customer Reviews
Coaches are easy to understand
"My first time with this company and the coach, Tze Wei, was really good. She provided a very sharp analysis of what we were doing well and how to further improve the next try, which were easy to understand and execute. She was also encouraging and a very cool coach. The whole trip was well organised, and we had a lot of fun out in the waters. Highly recommend her and this company!"
-Mr. Jake Ong, Google Review 
Puts techniques into perspective
"Booked a 2 hour wakesurf session with Don and had a really great time. Don was very good in explaining the required techniques and putting them into perspective for us. Will definitely go back again when we can!"
-Ms. Jacqueline Chong, Google Review
4. Surf N Wake
Address: 11 Northshore Dr, Marina Country Club, Singapore 828670 (Google Maps)
Contact Details: +6598556623
Operating Hours: Monday to Sunday, 8:00 am to 6:00 pm
Yen's unwavering passion for wakesurfing fuels Surf N Wake, where he serves as the sole coach for students of all levels, from novices to experts. Yen's genuine love for wakesurfing motivates newcomers to try their hand at the sport, even if they're initially apprehensive.
Beginner sessions prioritise water confidence and safety, beginning with essential water-safety skills to ensure students can stay afloat with the help of a life vest. Once these fundamentals are mastered, students progress to on-water training.
Yen seamlessly handles both coaching and boat operation, expertly adjusting wave characteristics according to each student's proficiency level using the Super Air Nautique 210.
A two-hour session with Yen accommodates two students at an approximate cost of $500, covering equipment and boat rental.
Booking online grants access to discounted rates, making Surf N Wake an ideal choice for wakesurfing enthusiasts seeking smaller class sizes and cost-effective options.
Discounted rates when booking sessions online
Smaller class sizes
Small coaching team
Limited slots available 
Customer Reviews
Fuss-free booking
"My husband and I had such a great time surfing with Yen yesterday! The booking was fuss free and he guided us through the session well! Highly recommend trying even if you haven't tried wake surfing before!"
-Ms. Marissah Goh, Google Review 
Patient and professional coach
"Super happy experience with Yen today, he's really the most patient and professional coach. My first try on wakesurf today, failed many times and could not stand up…but I made it eventually! Thanks so much for Yen's patient instruction. Look forward to the next class which could make my posture more natural and correct and surf longer! I really enjoyed today!"
-Ms. Krystal Xu, Google Review 
5. Wake Time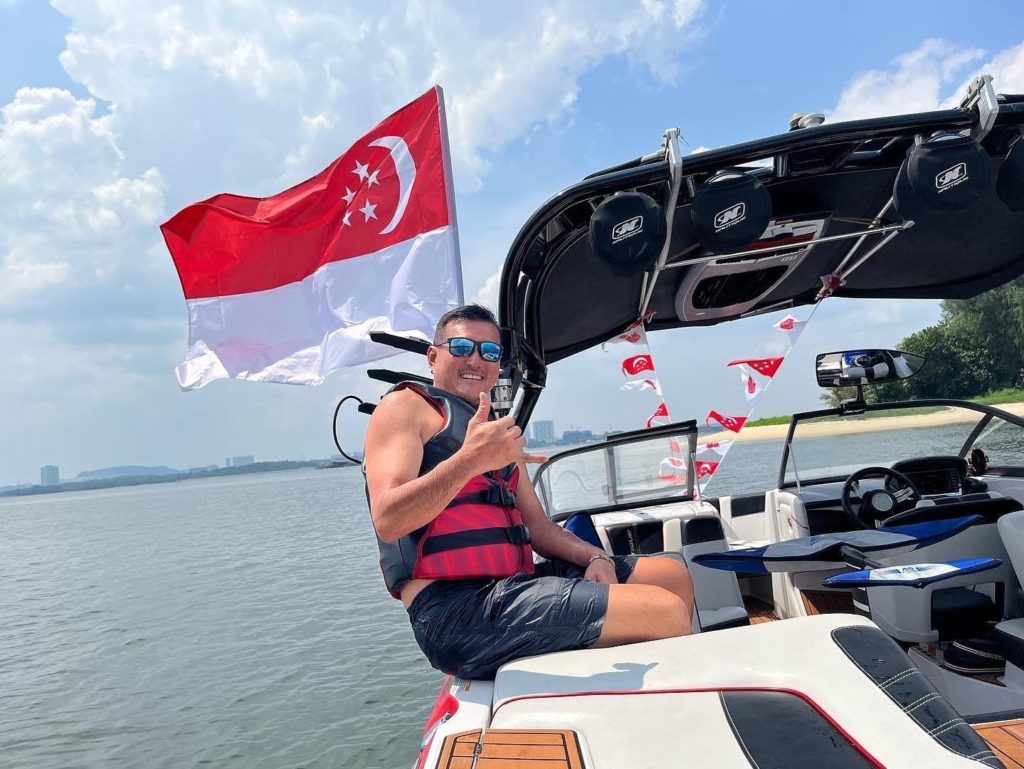 Address: 11 Northshore Dr, Marina Country Club, Singapore 828670 (Google Maps)
Contact Details: +6583337666
Operating Hours: Monday to Sunday, 7:00 am to 7:00 pm
Wake Time provides wakesurfing sessions catering to all skill levels. It uses the latest Mastercraft and Nautique boats, along with various equipment, including boards, bindings, life jackets, and wakeskates.
Head coach Jim brings over two decades of wakesurfing expertise to each session. A three-hour session with him typically costs around $180 per hour, although rates are negotiable and may vary for foreign visitors and boat preferences.
Jim is a first-aid-trained coach who emphasises hands-on learning. He allows students to try out techniques on the water, offering guidance via a walkie-talkie attached to the student. This approach, although more trial and error, often helps dedicated wakesurfers learn faster and master tricks more quickly.
Prices are negotiable 
Uses a walkie-talkie system when coaching
Strict no refund policy 
Tendency to charge foreigners higher rates
Customer Reviews
Encouraging and supportive coach
"This is our family's first wakeboarding experience and the instructions provided by Jim couldn't have been clearer! Me in my fifties and my 13 yo twins had zero difficulty standing up in the water and wakeboarding on our first try! Jim provided plenty of encouragement and tips to help us improve. Great fun!"
-Mr. Koh Tee Chin, Google Review 
Real-time tips
"Jim is awesome. Really took the time to teach me as a beginner. Thanks to his patient coaching and super useful audio headset walkie talkie hat that allowed him to give me super useful coaching in real time, I made a huge amount of progress in just one session. Was super super happy, and will definitely be back."
-Mr. Eu-wen Ding, Google Review