Our Top 5 Business Valuation Specialist Picks in Singapore 
Business valuation is like trying to find the perfect balance between optimism and realism—it's like walking a tightrope with spreadsheets!
In Singapore, business valuation specialists should be more than just financially savvy; they must also possess cultural sensitivity and multilingual proficiency. Given the country's diverse, ethnically mixed population, effective communication is a must.
Whether you're involved in mergers or acquisitions or need industry-specific insights, relying on a trusted business valuation specialist in Singapore is essential for your company. And that's where this guide can help!
How much does a business valuation specialist charge in Singapore?
The cost of hiring a business valuation specialist in Singapore can vary depending on the complexity of the valuation, the size of the business, the industry it operates in, the purpose of the valuation, and the reputation and experience of the specialist or the valuation firm.
Generally, business valuation services are priced at a fixed fee or an hourly rate.
Simple small business valuation: S$2,000 to S$8,000
Medium-sized business valuation: S$8,000 to S$20,000
Large and complex business valuation: S$20,000 to S$100,000 or more
The valuation specialist might also offer different pricing models, so be sure to clarify the terms and scope of their services before proceeding.
How We Chose
1. Business Valuation Singapore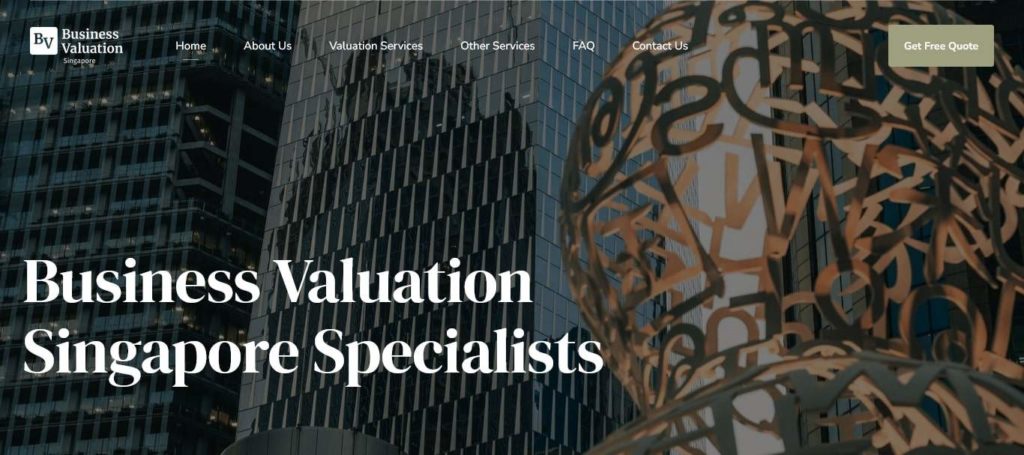 Location: 6A Shenton Way, #04-01 OUE Downtown Gallery, Singapore 068815
Contact: +65 6950 1120
Hours: Monday to Friday, 9 AM – 6 PM
Business Valuation Singapore is the most specialising in the valuation catered to SMEs in Singapore. Their team includes valuers and analysts with extensive experience from audit firms, investment banks, and deal advisory firms.
They are the only company in this list that specialises solely in valuation services for businesses, startups, shares, intangible assets, ESOP, and financial instruments for various purposes like business sales, fundraising, divorce, litigation, and disputes.
The firm provides transparent, tier-based flat-fee services with no hidden charges. It seems they provide the most competitive rates for a professional-level type of valuation.
Their past work includes Kumon, Subway, Rental Hygiene Services, Singapore Government Staff Credit Co-Operative, the Nigerian High Commission of Singapore, and numerous others. Their services have reached across diverse sectors, including retail, technology, logistics, manufacturing, and professional services.
The firm was awarded Best Business Valuation Services Company 2022 (Singapore) and Best Business Valuation Services Company 2023 (South East Asia).
Tier-based flat-fee transparent rates
Specialists in valuations for SMEs
Professional valuation service
Impressive clientele
Walk-ins not preferred
Urgent fee for priority cases
Customer Reviews
Their services are value for money
"They are very professional, reliable, and speedy in answering my enquiries, especially with lots of patience & helpfulness makes me feel very comfortable partnering with them. Their services are value for money as compared with other companies. Well done for being so professional! Keep it up. It saves a lot of my time & effort."
– Manoj Thakur, Google Reviews
Very professional, knowledgeable, and helpful
"They are very professional, knowledgeable, and helpful. Highly recommended to anyone seeking a business valuation in Singapore."
– Michael de Waal-Montgomery, Google Reviews
2. RSM Singapore
Location: 8 Wilkie Rd, #03-08 Wilkie Edge, Singapore 228095
Contact: +65 6533 7600
Hours: Monday to Friday, 9 AM – 6 PM
Globally, RSM Singapore is the largest professional services firm outside the Big Four. It expresses a strong commitment to sustainability and eco-action.
To demonstrate its eco-efforts, it partnered with the (ISC)2 Singapore Chapter for an environmental event at Bishan Park in April 2023.
Led by Head of Advisory Terence Ang, a chartered valuer and appraiser, the firm offers valuation for transactions, financial reporting, intellectual property, and financial instruments.
RSM Singapore aims to foster business growth, enhance profits, and internationalise businesses. It provides valuation advisory for financial instruments, employee share purchase and option plans, transaction valuation, business planning, and litigation and dispute resolution.
The firm has a diverse clientele ranging from SMEs to international and public-listed companies like Brook Compton Holdings and Powermatic Data Systems.
Its office is near the Rochor MRT and Little India MRT stations and within walking distance from Wilkie Edge.
Offers expert insights on its website
Accessible location
Clients include SMEs and international companies
No online appointment system
Doesn't provide a pricing model
Customer Reviews
Exceedingly professional
"Exceedingly professional and friendly staff."
– Koh Wen Qian, Google Reviews
Best services
"Best services, next time again."
– Rico Jayus, Google Reviews
3. Grant Thornton Singapore
Location: 8 Marina View, #40-04/05 Asia Square Tower 1, Singapore 018960
Contact: +65 6805 4110
Hours: Monday to Friday, 9 AM – 6 PM
Grant Thornton Singapore offers clients a valuation experience with a direct line approach, where clients can directly connect with a team member for personalised service with one phone call.
As part of the global Grant Thornton network spanning over 130 countries, the firm brings in-depth global expertise to the table. The adviser of the valuation team is Lou Barsleve, who has 25 years in corporate finance.
Its valuation services cover financial reporting, dispute resolution, transactions, and fund administration. Grant Thornton Singapore's focus on providing defensible advice covers business valuations, valuations of unquoted or thinly traded securities, complex financial instruments, and quantification of damages in disputes.
Additionally, its restructuring and insolvency team can identify and resolve issues affecting profitability and protecting enterprise value.
The firm's office in Asia Square Tower 1 is well-connected to public transportation, with multiple bus routes nearby, making commuting convenient for clients.
Offers dispute resolution under its valuation services
Clients can call valuation team members directly
Convenient office location
No online appointments offered
Customer Reviews
They answered my many questions, listened to me daily with a kind ear and put my mind at ease
"I was overwhelmed with debt. Grant Thornton was very compassionate and understanding. They answered my many questions, listened to me daily with a kind ear and put my mind at ease. This was by far the best decision I made."
– Kathleen Collier Billard, Facebook Reviews
There was not one part of this process that was difficult or where I did not feel supported
"I was anxious about getting in touch with anyone about my finances. Each of the people, from the initial contact to the Trustee, follow up and the financial counselling, were kind, understanding and very helpful.
There was not one part of this process that was difficult or where I did not feel supported. They made it agreeable and they were clear about what my responsibilities were in order to keep this proposal. That's what I counted on them for since they are the experts in this area."
– Kim Lewis, Facebook Reviews
4. OneStop Professional Services
Location: 10 Anson Rd, #13-09 International Plaza, Singapore 079903
Contact: +65 9644 9531
Hours: Monday to Friday, 9 AM – 6.30 PM
OneStop Professional has been around since 2011. It offers upfront pricing and fees, with starter packages at just S$600 and transparent rates for additional services like accounting, tax, and company secretarial tasks.
It can also provide a full-scale analysis of its client's business and tailored solutions to boost profits. Led by Chairman John Ngan who has over 22 years of expertise in audit, accounting, and corporate services, it caters to both local and international clients.
The firm's approach involves close collaboration with clients' top management, board of directors, and audit committee. Its comprehensive services encompass accounting, auditing, taxation, business advisory, and more in its aim to be a one-stop business service provider.
Its valuation services cover businesses and enterprises, ensuring compliance with relevant financial reporting standards. It addresses issues from purchase price allocation to equity valuation and valuation support for litigations.
Its office building is well-connected to public transportation, with Tanjong Pagar MRT station located nearby.
Wide range of valuation services
Upfront pricing models and fees
Accessible location
Doesn't offer online appointments
Valuation isn't the firm's main focus
Customer Reviews
Very professional, reliable and easy to work with
"OneStop Professional has excellent services, provide a one-stop service that is very convenient for foreigners like us. Ms Crystal Neoh is a very responsive, friendly, helpful and efficient person. Very professional, reliable and easy to work with. Highly recommended!"
– Emily Kong, Google Reviews
Extremely satisfied with their service
"I was desperate to find a reliable auditor for a specific government-required audit. I contacted Onestop Professional via their website; a few minutes later I received a call from Xin Yun discussing my needs and requirements. I could have saved a lot of time by starting with the Onestop Professional team instead of us looking for the auditor ourselves. Extremely satisfied with their service! Highly recommended!"
– Lolita Alfafara, Google Reviews
5. Max Lewis Consultants Pte Ltd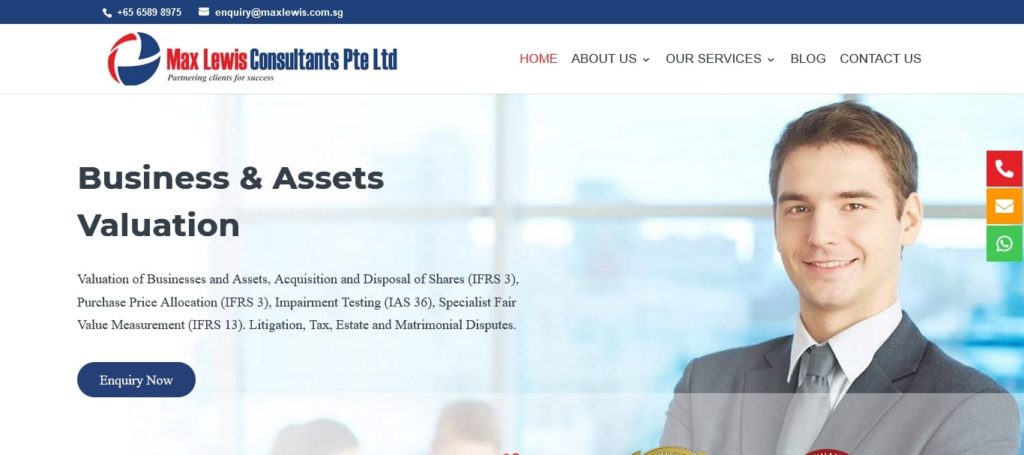 Location: 1 Scotts Rd, #24-10 Shaw Centre, Singapore 228208
Contact: +65 6589 8975
Hours: Monday to Friday, 9 AM – 6 PM
Since 2007, Max Lewis Consultants' specialists have been offering services like transfer pricing advisory, enterprise risk and fraud risk management, incorporation, company secretarial tasks, and comprehensive tax advisory.
But its forte is on valuation services, covering businesses, assets, intangible assets, derivatives, and ESOP. The firm caters to listed companies, multinational enterprises (MNEs) and SMEs.
Guiding the team is its managing director and CEO, Albert Tan, who has over three decades of financial, M&A, tax, and legal expertise.
The Max Lewis team is made up of skilled professionals including chartered accountants, accredited tax advisors, insolvency practitioners, chartered secretaries, and an in-house legal counsel.
It's been recognised as the Best Business Valuation Firm 2022 at the APAC Insider Singapore Business Awards and the Best Transfer Pricing Advisory Specialists – Singapore 2022.
The firm's location on Orchard Road makes it accessible to a wide range of businesses, including financial institutions and multinational companies.
Caters to SMEs and multinational companies
Multi-awarded firm
Online appointments available
Great location
No available pricing matrix 
Customer Reviews
Always available to address our questions and concerns
"Albert's expertise and assistance were invaluable to our Company during our recent collaboration on a valuation report for one of our business divisions.
His prompt and effective communication was one of the most impressive aspects of working with Albert. He was always available to address our questions and concerns and maintained a high level of responsiveness throughout the project.
Should the need arise, we would gladly collaborate with him again."
– Rojit Jathliya, Google Reviews
Very professional and attentive in advising various TP and tax matters
"Albert Tan was engaged to prepare transfer pricing reports for our company. Very professional and attentive in advising various TP and tax matters. He draws on his many years of experience in corporate and consulting fields and gives sound and helpful advice. we are very pleased with his work and would recommend him for future TP or other professional consulting work."
– Wk H, Google Reviews