The 17 Places For the Best Storage Space in Singapore
No longer have extra space inside your garage? Welel, maybe now's the perfect time to consider renting a storage space to house some of your unnecessary belongings.
To make things easier for you, we did the work ourselves and compiled the best storage spaces in Singapore. You'll know more about them today, including their rental terms, prices, and what customers seem to like about them.
Before that though, we'll look at the average cost of renting a storage space on the island, so you'd know if you have a budget for it.
The Best Storage Spaces in Singapore
After detailing the cost of renting a storage space in Singapore, it's time to go over which ones we think are worth your money.
Check them out below to see which storage company offers the storage size and type you're looking for.
1. EZ Storage
If you're looking for both storage spaces and moving services, then we highly recommend checking out EZ Storage. It's a storage facility that provides a quick and convenient way of storing your belongings.
With EZ Storage, you won't have to lift a finger because everything will be taken care of for you, starting from collecting the items down to sorting them inside the storage space. All you have to do is book an appointment and wait for its team to arrive at your place.
This may be the perfect storage facility for you if you're not after a huge storage space due to budget restrictions. If most storage facilities charge on either a weekly or monthly basis, EZ Storage charges per item.
It only costs $10 per item to store your belongings into its storage spaces, making it one of the cheapest storage facilities in Singapore. We're sure it'd be a great choice for those who only need to store a few of their belongings.
The only problem we have about EZ Storage is that there's no way to choose the type of storage space in which your items are going to be stored, which means it's not for temperature-sensitive items.
However, we couldn't help but add it to our list considering how affordable their storage and moving solutions are, making them suitable for both individuals and businesses.
2. Boxpark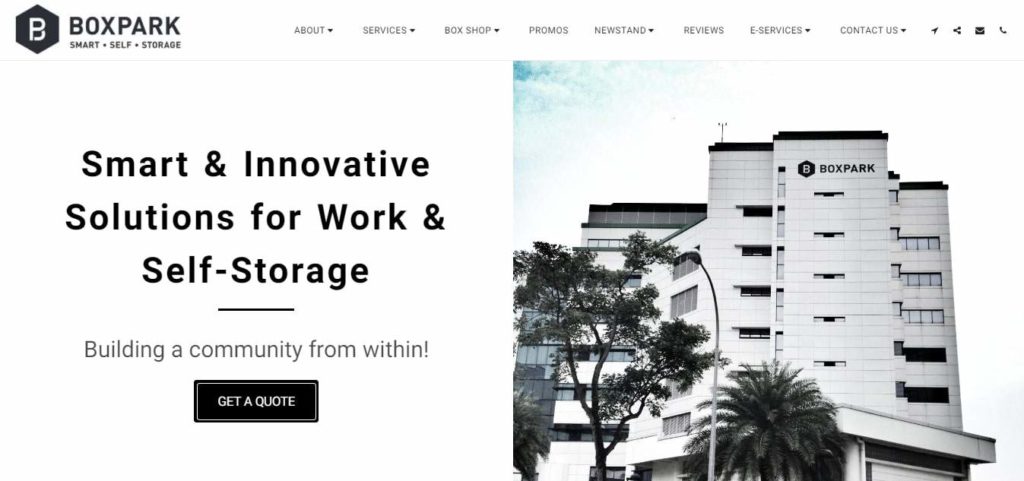 Boxpark is one of the top-rated storage facilities in Singapore, carrying an average rating of 4.9 out of 5 based on 192 reviews on Google Reviews. Here's why it earned a spot on our list:
First, it's a storage facility that doubles a co-working space suitable for freelancers and small businesses. You will get a dedicated desk and access to high-speed Wi-Fi here, on top of the spacious storage units.
Additionally, Boxpark doesn't force its customers into long-term, strict rental leases. You can rent for as long as seven days or stay with them for as long as six months.
Boxpark offers a variety of storage sizes as well, ranging from 6sq ft to 320sq ft. All of its storage units come with 24-hour digital CCTV and are protected by security guards to make sure that no item will be stolen.
There are also temperature-controlled storage units for those who are planning on storing furniture, electronics, and other humidity-sensitive items. This is to make sure that your items remain in great condition despite being stored for an extended period of time.
Another thing we like about Boxpark is the extensive coverage of its storage insurance, so in case there's an accident, you can be compensated for lost and damaged items.
Customer Reviews
Take a look at these comments shared by customers:
"Willingness to show us around and provide great help when we are in doubt👍🏻 Thank you for the help rendered from day one of me renting the storage to the last day. What a great facility. Immaculately clean, and first class all the way. The staff was friendly and courteous, and very efficient in helping me, especially Ms.Suriani as an example. Amazingly, after about six months, there was hardly any dust on my things – stayed really clean. I would really recommend this place to others." -Malciano Fourteen
"Staff were extremely helpful and friendly in answering my questions and even suggested better options that fitted my requirements and suggested a cost effective way .Super smooth process in signing up and obtaining the unit." -Jen Ella Yap
3. Shalom Movers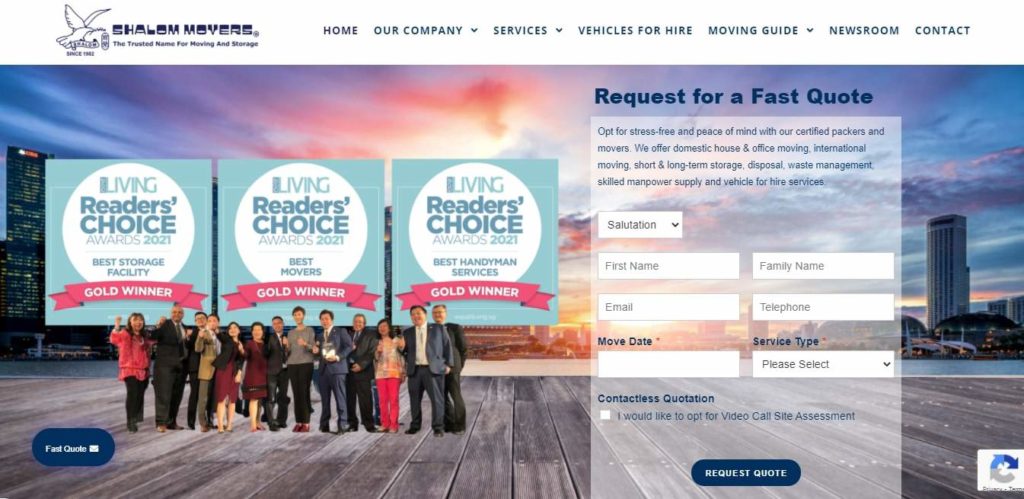 Shalom Movers is among the longest-running logistics providers in the country, operating for more than four decades now. It's mainly known as a moving company, but we believe that its storage services are also worth checking out.
As a full-serving logistics company, Shalom Movers will take care of everything, including packing your belongings, unwrapping them at the storage site, and even disposing of items you no longer need.
On top of that, a free on-site survey is offered to all customers to help them identify the right storage size and type for their needs. You won't have to worry about spending money on a storage space too large for your actual belongings.
Shalom Movers is a company with more than 200 movers and packers, which means that you will always be attended to as a customer. It's no surprise that current customers only have positive things to say about its customer support.

With that much experience and manpower, you know that it's a company that has your back, which is why it earned a spot on our list of the best storage spaces in Singapore.
Customer Reviews
Here's what customers had to say about Shalom Movers:
"Shalom provides excellent service and is very professional. Highly recommended! Thanks to Daniel and his team, we have a smooth relocation. The Shalom team is super, I can't find words to express my happiness while working with them. Just perfect!" -Lizzy Lee
"Glad that I chose their packing services. They really did a good job in packing my items and being very careful with them. Thank you Shalom Movers! I will definitely recommend it if I have any friends that are moving." -Angela Chew
4. SG Box Storage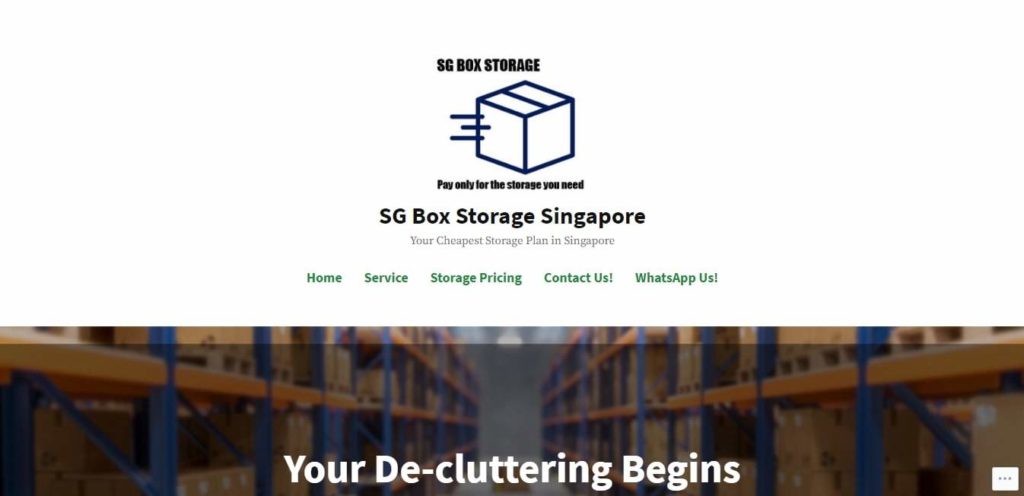 If you're looking for the cheapest storage facility in Singapore, then look no further than SG Box Storage. Here's why it's among the most cost-efficient options among our picks:
Unlike most storage facilities, SG Box Storage charges only the space that a customer needs. Storing five boxes costs no money, you only need to pay $6 per additional box. No need to worry about hidden costs.
This may be the perfect storage facility for you if you want someone to do most of the work for you as it offers pickup and delivery services. All you have to do is book an appointment on your preferred date and time.
As the cheapest storage facility in Singapore, don't expect that it will have top-notch equipment and storage units. There's no temperature-controlled and biometric access, but it surely doesn't fall short when it comes to security.
5. Spaceship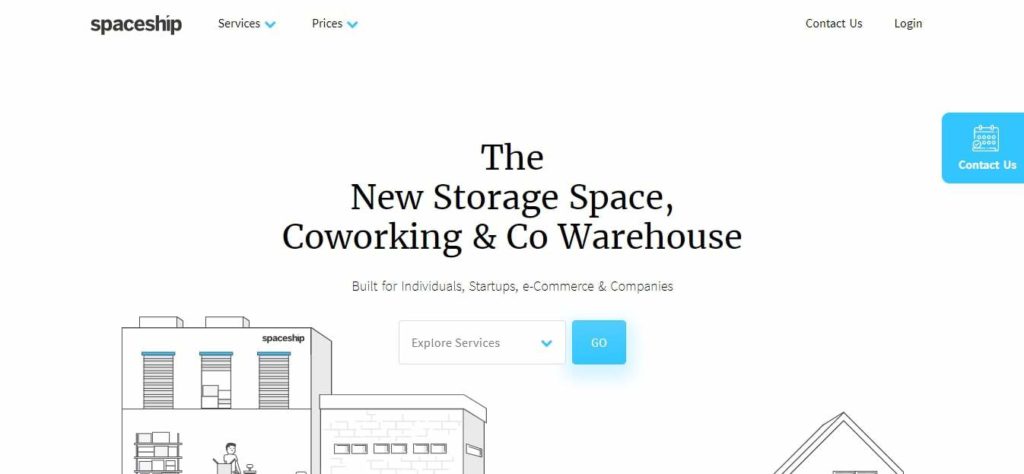 Compared to most storage facilities in Singapore, what Spaceship offers goes beyond the traditional storage spaces. It's a one-stop storage and moving company that caters to both individuals and small businesses.
One thing to know about Spaceship is that your belongings aren't simply thrown into a storage space. Every single item is packed and inventoried before placing them into one of its storage hubs.
It's a perfect choice for both homeowners and business owners because its storage spaces include regular storage units, self-access units, document storage units, and even e-Commerce warehouses.
Its self-access storage units come highly recommended due to the 24/7 access, flexible rental terms, insurance coverage, and surveillance cameras. There's a variety of sizes as well, so you can choose which storage size fits your needs.
Spaceship comes with a cloud-based online platform and mobile application that customers can use to check on their belongings and monitor the stock of their products. If you're too busy to personally drop by, you'll definitely find its app useful.
For the convenience of its mobile app and online platform alone, Spaceship would be a perfect match for anyone who wants an affordable storage space without the unnecessary hassle.
Customer Reviews
Here are some comments shared by customers on Google Reviews:
"Spaceship staff, all of them are very helpful and Bernice also helped me out with some promo discount during the COVID-19 difficulty periods. The operation staff Peter & Eunice were both very helpful & friendly whenever I wanted to retrieve my items and pleasant warehouse. Their movers are also very reliable & efficient. Overall I'll definitely highly recommend it to all my friends & clients."-Jamie Ng
"SSo glad we found the perfect place to work from! It has everything you could need to grow your company from – great co-working space, fulfilment and warehousing facilities, and well-equipped meeting rooms. Best part of the place is the awesome team – Joey, Wei Ming, Angeline and Elaine – who bring such a great vibe to the place and are always ready to lend a helping hand."-Kelly Ann
6. Storefriendly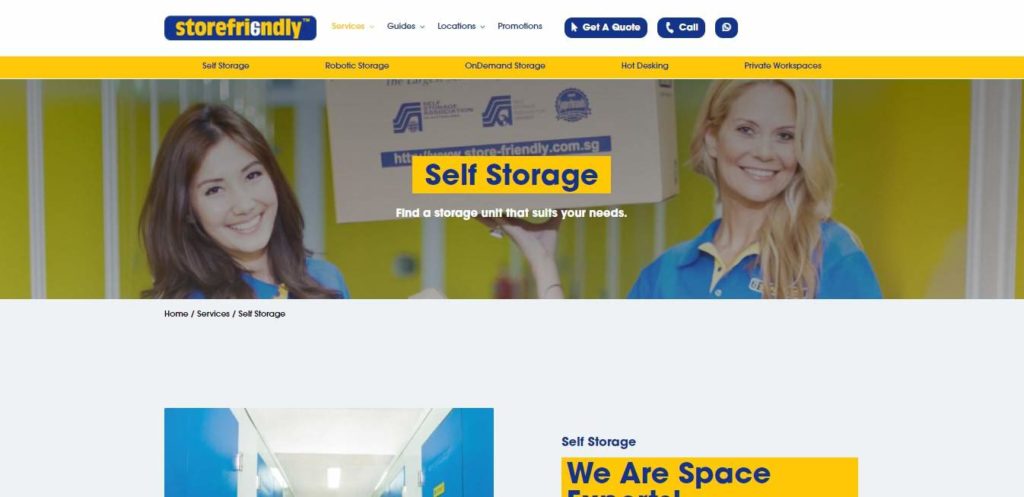 Considered to be the largest self-storage operator in all of Asia, Storefriendly is the place for you to keep your belongings with no worries. Its 24/7 security surveillance and card access systems will make sure that your storage units and items are well-protected and secured.
With the integration of robotic technology, you will experience a storage service unlike any other. Storefriendly has GObots, which are robots that will transport your storage cabinets to designated terminals providing you with an automated self-storage service.
Once you're done, GObots will retrieve and safely keep your storage cabinets into safe no-man zones, which means that security is pretty much impenetrable.
Storefriendly offers air-conditioned storage facilities that can keep your stored items free from mold, mildew, corrosion, and even dad odours. With all these perks, it's no surprise it earns a spot in our list.
It's also considered to be the most accessible storage facility in Singapore due to round-to-clock operations, allowing customers to visit their storage units any time of the day.
Customer Reviews
Here's what customers had to say about its services:
"Nice and friendly staff, recommended for storing things inside their storage and I have rented a 42 square feet storage for 3 months due to move house into a room rental even though I am a local Singaporean. Would be happy to sign up again when it's necessary. Thank you Favian and your fellow colleagues for your help especially with your Equus movers as well. Punctual and reliable services." -Vincent Ng Kian Wee
"Great building and a new type of storage! The interior feels more like a hip co-working space than old fashioned self-storage. Plus, it's amazing to watch the robots bring your storage locker to you instead of having to lug your stuff down hallways to find your storage room like in other facilities…and the location in Paya Lebar is so convenient.." -Keirn O'Connor
7. S-STORE Self Storage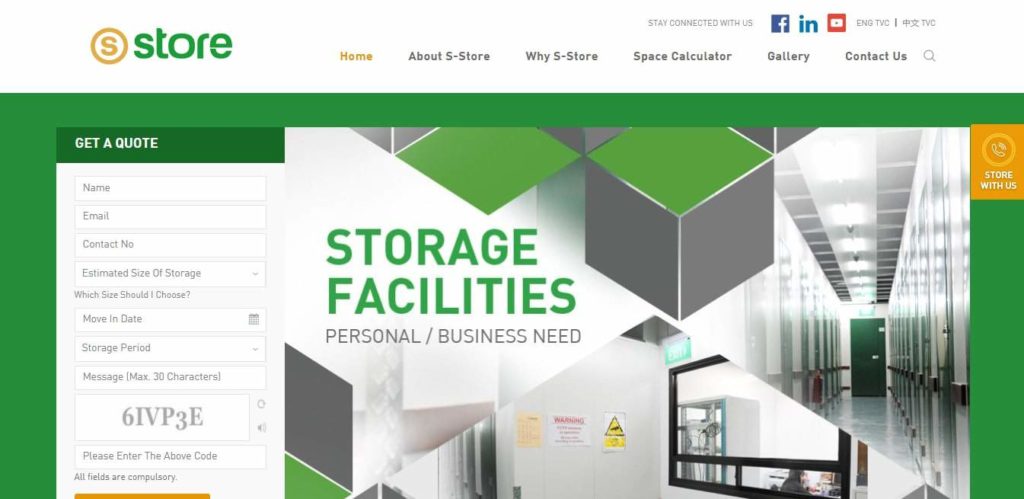 Located along Bendemeer Road, S-Store Self Storage is considered one of the best storage spaces in Singapore for its variety of storage sizes, and top-notch facilities and round-the-clock surveillance.
Its storage units range from extra small lockers with a total floor area of 8.40 sq ft to extra large classroom-sized units with a floor area of 818.50 sqf. Also, any of its storage spaces are open for both personal and business use.
There's no restriction as to which items can be stored inside their units, but keep in mind that
S-Store Self Storage doesn't have temperature-controlled rooms, so you may want to think twice about storing your furniture and electronics for a long period of time.
If you're a business owner looking for a space that can house your equipment, then this one couldn't be a better option for you. Its spacious storage units can accommodate large machineries, or equivalent to 20 desks and chairs.
No worries about being tied to long-term contracts because S-Store Self Storage offers flexible lease periods according to your needs. It's even possible to terminate your contract earlier than what's agreed upon.
All in all, S-Store Self Storage is a perfect choice if you're after accessibility, top-notch facilities, 24-hour security, and flexible contracts.
Customer Reviews
Customers only have good things to say about S-STORE, saying its prices are reasonable and facilities are clean. Here's what one of its users had to say:
"Most wonderful experience at S-STORE Self Storage – cheap rental fee, clean and fully air-conditioned facility gives me a sense of assurance, comfort and security. Really convenient via public transport to Boon Keng MRT station."
8. Extra Space Asia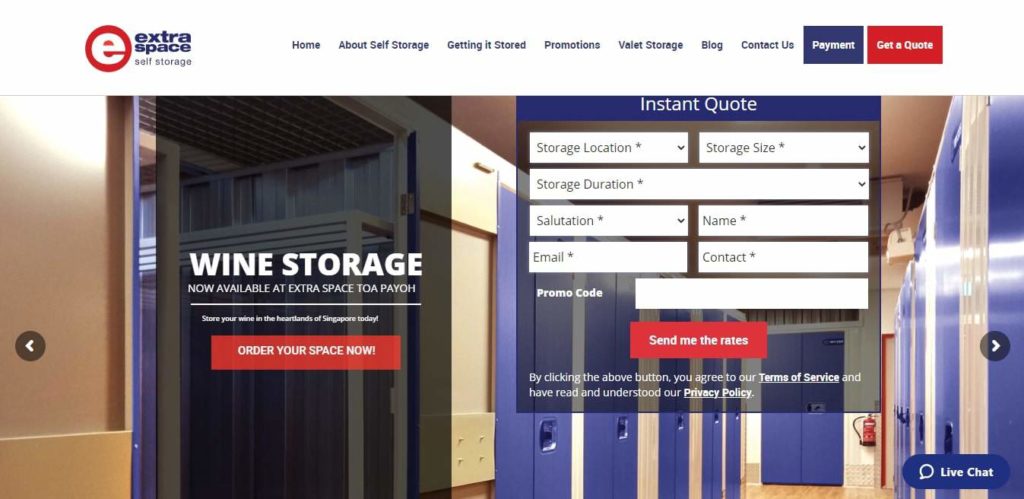 Established in 2007, Extra Space Asia is a storage facility that provides personal storage, business storage, wine storage, and valet storage. We added it to our picks mainly for two reasons.
First, it has ten locations islandwide, making it one of the most accessible storage facilities in Singapore. No matter where you are on the island, we're sure that there's a storage facility near you.
Second, Extra Space Asia comes with a wide selection of storage solutions and flexible plans to choose from. Even if you're a small business owner, there's a storage option that's most suitable for your needs.
Another thing we like Extra Space Asia is the endless list of perks that customers get to enjoy, such as free parking, 24-hour access, insurance coverage, and free packing materials.
In terms of security, it's been repeatedly praised for its intense surveillance programme. Nothing will get past its round-the-clock closed circuit monitoring network, so there's no other person that you who can get close to your belongings.
By the way, Extra Space Asia is notorious for its big discounts given to current and new customers. There are promos like two-month free storage, two-month free wine storage, and 30% discounts frequently posted on its website.
Customer Reviews
Here's what customers had to say about its Boon Keng branch:
"Very helpful and friendly. Deborah Valentine especially helped me figure out the best unit for me and guided me through the whole process. The units are clean and maintained well with security throughout. I would definitely recommend it as a storage option. They have a range of rental options for different lengths of time and space requirements." -Rachel Mammen
"I've been using Extra Space Boon Keng services for many years now. It is convenient, accessible and the space has catered for my needs. Thanks for Andy for his impeccable service. His sincere attitude and willingness to help always makes my day!" -Meng Fei Wong
9. Work+Store Space

Space optimisation is an important factor to consider regardless if one is moving or not. If you're looking to optimise your space at home or at the office or store, then you may want to consider looking into Work+Store Space.
Work+Store Space is a storage unit company known for its self-storage services. As we all know, it's sometimes difficult trusting other people to handle our belongings, which is something that can be solved when working with Work+Store Space.
It's also worth noting that there are other options to consider, such as flexi space and valet storage. Shared facilities are also available on the premises.
Aside from the various storage service options, Work+Store Space is also known for its accessibility. This is because the company has several locations scattered around the island, making it easy to use one no matter where you are in Singapore.
So, if you're looking for units to store your belongings in for the time being or for long-term, Work+Store Space comes highly recommended.
10. Storhub Self Storage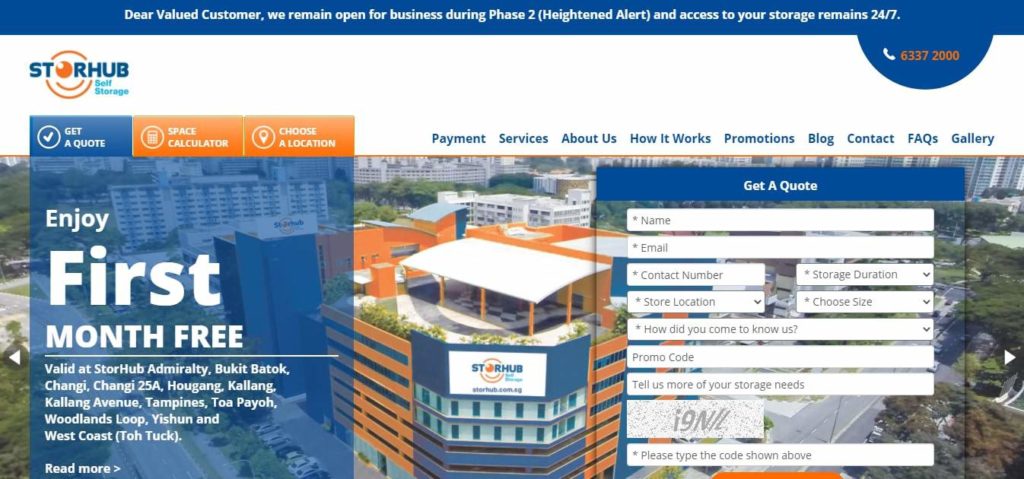 With 13 storage facilities all over Singapore, Storhub Self Storage is considered the largest self storage operator on the island, which is enough reason for us to add it to our list of the best storage spaces in Singapore.
Storhub Self Storage can be found in Changi, Bukit Batok, Hougang, Tampines, West Coast, and Kallang Avenue, among others, so there's no doubt that it's the most accessible option out of our picks.
It's a highly recommended storage facility if you want spacious and clean storage spaces with flexible rental terms. Customers aren't pressured into long-term leases just to have a bit of money, which is what we like the most about it.
Another thing we like about Storhub Self Storage is that it allows customers to drop by any time of the day and as often as they want. There are 24-hour surveillance cameras to ensure that no item will be stolen as there are hundreds of people who come in and out every day.
There are multiple ways to pay your weekly or monthly dues as well, so there's no need to drop by just to hand in your payment. You can pay via credit card, cheques, and even online banking.
Customer Reviews
Storhub Self Storage has a lot of faithful clients praising them for how easy they make things for their customers. Aside from the neat storage units and professional staff, they also provide moving essentials like trolleys, boxes, and vans.
Amy Bruce shared this comment on Google Reviews:
"Highly recommend this storage service. Got a unit for 5 months for storing some furniture and other items while between permanent homes. Wasn't sure what size I needed and the staff were super helpful, brought me around to see a few units of different sizes so I could decide. Didn't try to pressure me into add ons or a longer contract – they just helped find what I needed. I will use it again in future if I need storage again."
Nathaniel Chua shared this feedback as well:
"Signed up for a storage space as I urgently needed to store personal toy and books collections for a few months while transiting between shifting homes. Was attended by staff member Clement Kwek who was friendly, showed me the storage space personally and made my enrollment really hassle free. Thumbs up! :)"
11. Rodex Movers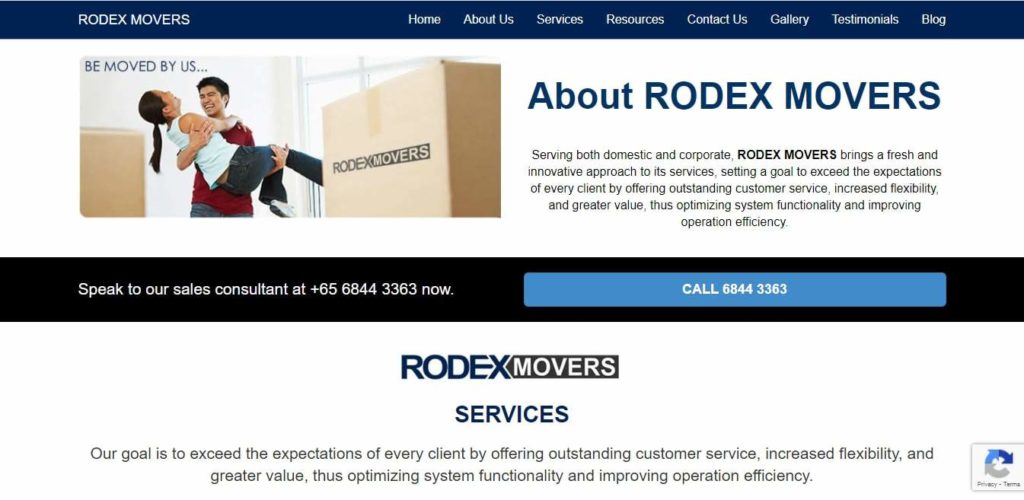 If you're looking for cheap storage space for rent in Singapore that's both a storage and moving company, Rodex Movers is one of the best companies for you. It's primarily known as a mover, but its warehousing solutions are worth trying as well.
For one, it's a hassle-free alternative to self storage spaces that cost an arm and a leg per week or month. There are no strict contracts involved as well, so you can use its warehouse for as long as you want.
More than that, you won't have to struggle packing and moving your belongings on your own because Rodex will take care of everything for you, from manpower down to logistics.
Its storage facility is secure and can accommodate any item you may need to throw into storage to lessen the clutter inside your home.
However, it doesn't have temperature-controlled storage spaces, which means that temperature-sensitive items like furniture and electronics aren't recommended to be stored for a long period of time.
If you're only planning to use its warehouse for a short time though, then we're sure that it'd be a great option for you.
Customer Reviews
Lynn Wood posted this comment on Google Reviews:
"This is the third move we have done with Rodex movers and have been extremely happy with the experience each time. This last move was unexpected and Rodex went out of their way to accommodate the move in a very tight time frame while maintaining a high level of service which is why I will continue to use Rodex for future moves and often recommend them to others."
Another customer posted the following comment:
"Ms Amy Liang was consistently very responsive and prompt and helpful – from the initial queries right up till post move. The move team on-site (led by Mostafa) was very fast and efficient, and knew what they were doing, and careful with handling of the items. Would certainly consider using Rodex again for my next move due in a few months time.
12. Safekeep Self Storage (Performance Studios)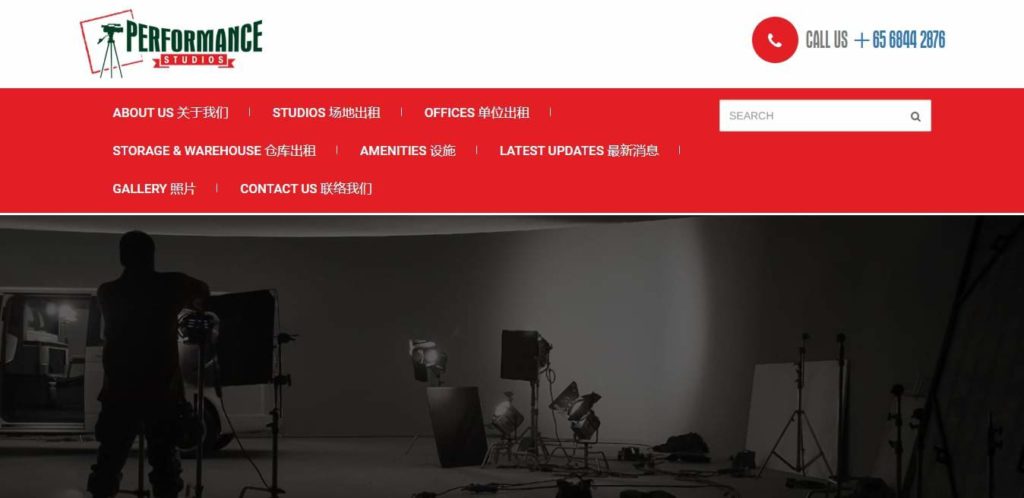 If you're looking for air conditioned storage spaces offered at a budget-friendly price, then you might want to check out Safekeep Self Storage. It earns a spot here for two main reasons.
First, rent increase will never be an issue as it owns the entire building, so it has total control over the property, including the rent. You can be sure that the management will not use rising property costs as an excuse to hike up the rent unreasonably.
Second, its air conditioned storage units include biometric access, carpeted floors, motion sensor lighting, and two-lead door. You can basically store any time of item here without worrying about them being stolen and destroyed due to high humidity.
Safekeep Self Storage is conveniently located in Kallang Way, so accessibility wouldn't be an issue as well. You're good as long as you know how to commute around the island because it's near major roads.
Another thing we like about this storage facility is the flexible rental periods, which is good news for those who only need to rent a storage unit for a short period of time. No one will pressure you into long-term leases.
Safekeep Self Storage may not be the most popular option out there, but it's still worth a try considering its low rates, decent facilities, and flexible leases.
13. Urban Space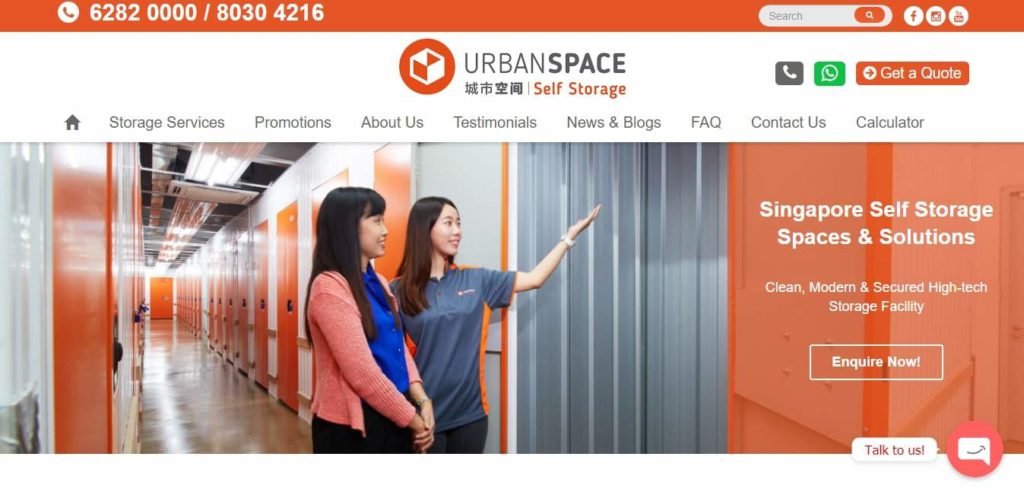 Founded in 2015, Urban Space is a modern storage facility that provides self storage solutions and co-working spaces, catering mainly to small businesses and start-ups in Singapore.
There aren't a lot of storage companies that cater mainly to business on the island, so we're glad to have found Urban Space. Choosing it as your storage provider is like hitting two birds with one stone, because you have the options to sign up for its co-working spaces as well.
The sizes of its storage spaces range from 9 sq ft to more than 140 sq ft, all of which are well-maintained and highly secured. All customers will have 24/7 personal access to their storage units as well.
Additionally, Urban Space has a wide range of amenities available on-site. It has a total of 376 storage spaces, including temperature-controlled units and lockers.
Other perks of using its storage spaces include free Wi-Fi, access to working lounge, flexible rental terms, transport services, and friendly and professional concierge services.
Basically, with Urban Space, you will get more than just a secure and spacious storage unit. You will also gain access to a wide range of benefits, something that most storage facilities in Singapore don't have.
Customer Reviews
A client named Cai Shaoyang posted this feedback on Google Reviews:
"I like that your loading bay and the storage area were clean. I like that it was easy to find my storage space. I like that there's an air-conditioned workspace for me to carry out my work. No more working in my storage area! Most of all, I like that the staff patiently and confidently answered my questions about storage. I was deciding between several storage areas sizes and the staff patiently showed me around the different rooms and answered my questions. Thank you, Urban Space, for your patience and generosity."
14. Mandarin Self Storage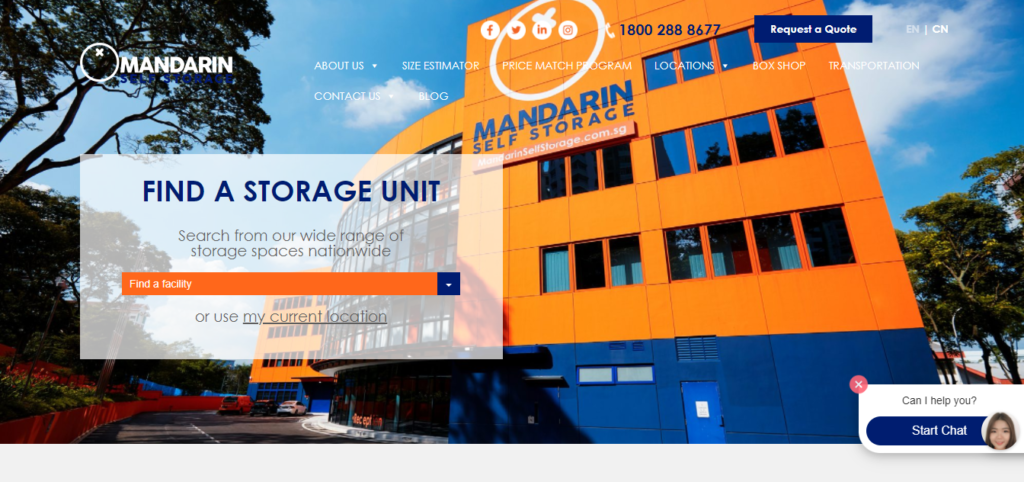 Mandarin Self Storage is a fully integrated owner, operator, and manager of multiple self-storage properties in the Asia Pacific region, and the company is headquartered in Singapore.
What makes them unique is that they provide a 1-way van transport that will absolutely help you save money. In addition to this, they also provide co-work facilities for free such as WiFi, power socket, pantry, workspaces, and more.
Another great thing about their company is the size estimator on their website.
The size estimator feature can guide you on what size you need. You may either choose from a locker, small, medium, large, or even extra-large storage.
Plus, you can view their spaces through their gallery or a visual tour.
15. Beam Storage
Beam Storage allows customers to choose a storage option most suitable for their needs and budgets. You can pick whether you want storage by item or storage by space, depending on the quantity of items you want to store.
What we like the most about the option to store by item is that you won't have to spend money on a dedicated storage unit too large for your actual needs. It's perfect if you're storing only boxes and odd-sized items.
Storage by space, on the other hand, comes in various sizes which you can rent on a monthly basis. It's also quite cheaper compared to other storage facilities, ranging about $55 to $300 per month.
Unlike most storage facilities, Beam Storage doesn't ask deposits from customers, which means that you won't be locked in on long-term leases. The only thing you have to pay is your daily, weekly, or monthly dues.
Beam Storage comes with its own mobile application as well, which makes the entire storage experience even more convenient. You can easily schedule a pick up and delivery of your items through your smartphone.
16. Yellow Co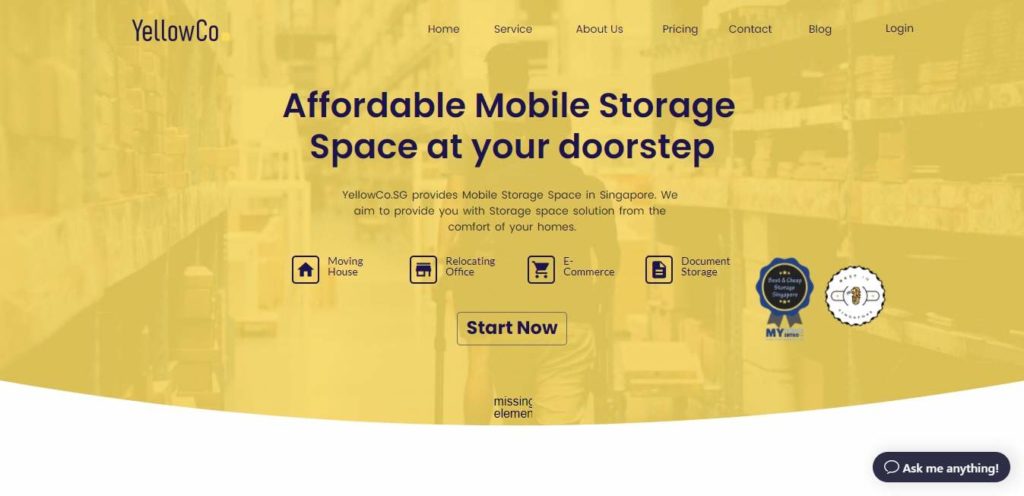 If you're too busy to move your belongings to a storage unit on your own, then we recommend checking out YellowCo. It's a storage facility that provides hassle-free storage space solutions from the comfort of your own homes.
All you have to do is book an appointment on your preferred date and time. Once it's confirmed, a storage box will be delivered to you for the items that you want to store away.
Afterwards, YellowCo will pick it up and put it into its warehouse facilities for you, so you don't have to drive all the way there. The same rule applies if you want your items back: just book a schedule and wait.
YellowCo is a suitable storage option not only for individuals but for office relocations and e-Commerce businesses as well.
It may not be the largest storage facility out there, but its convenience and affordability is enough reason for us to add to our picks.
17. EBC Lifestyle Hub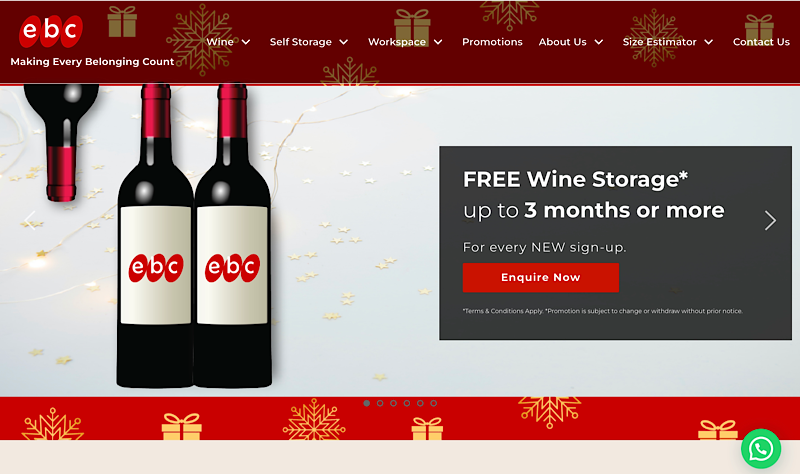 EBC Lifestyle Hub has been providing storage options in Singapore for more than 10 years. With over 1000 units of wine/self storage, 150 service offices, and 80% rate of occupancy, the company is known for premium storage solutions.
Its services include wine storage, self storage, co-working space, and event space. Clients may opt for either long-term or short-term leases on storage spaces.
EBC Lifestyle Hub also offers free wine storage and/or aircon storage, work & store, as well as co-working space for up to three months or more for first-time clients. Terms and conditions apply for promotions.
The company also offers a free quotation for its clients to determine pricing and the kind of storage solution most suitable.
Payment can be made through cash, credit/debit card, iBanking, cheque & AXS machine. Both credit and debit cards are accepted.
FAQs about Storage Spaces
---
So, now you know where to keep your belongings when you lack space. These providers of storage space in Singapore are genuinely the most trustworthy we could find, so you should feel safe about engaging their services.
Whether you're looking for the most reliable or the cheapest storage space in Singapore, we hope our article has been quite helpful.
By the way, if what led you to seek storage space is a move, you may also want to check out our list of top moving companies on the island. With the help of the best movers in Singapore, your relocation should go as painlessly as possible.