The 9 Best Sewing Shops in Singapore
Are you looking for the best sewing shops in Singapore with an extensive collection of fabrics and haberdashery? If so, you've come to the right place because we're making a rundown of trusted sewing shops worth checking out.
One of our criteria when choosing a sewing shop is how large its collection of fabric is. Some of the different types of fabric that the best sewing shops in Singapore carry are cotton, linen, jersey, silk, and satin, among others.
Anyway, we combed through the island and asked locals about their recommendations for the best sewing shops in Singapore. We listed those with quality services and mostly positive reviews.
Check them out below!
1.  Lye Nai Shiong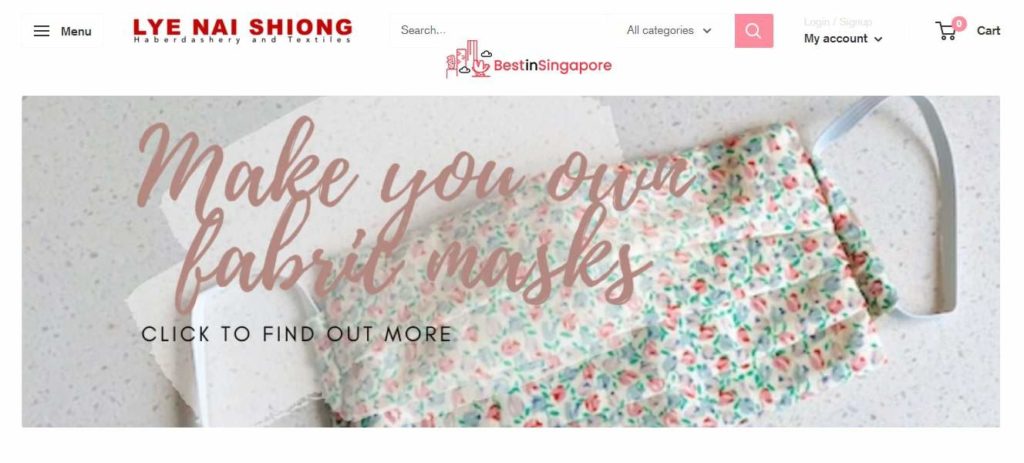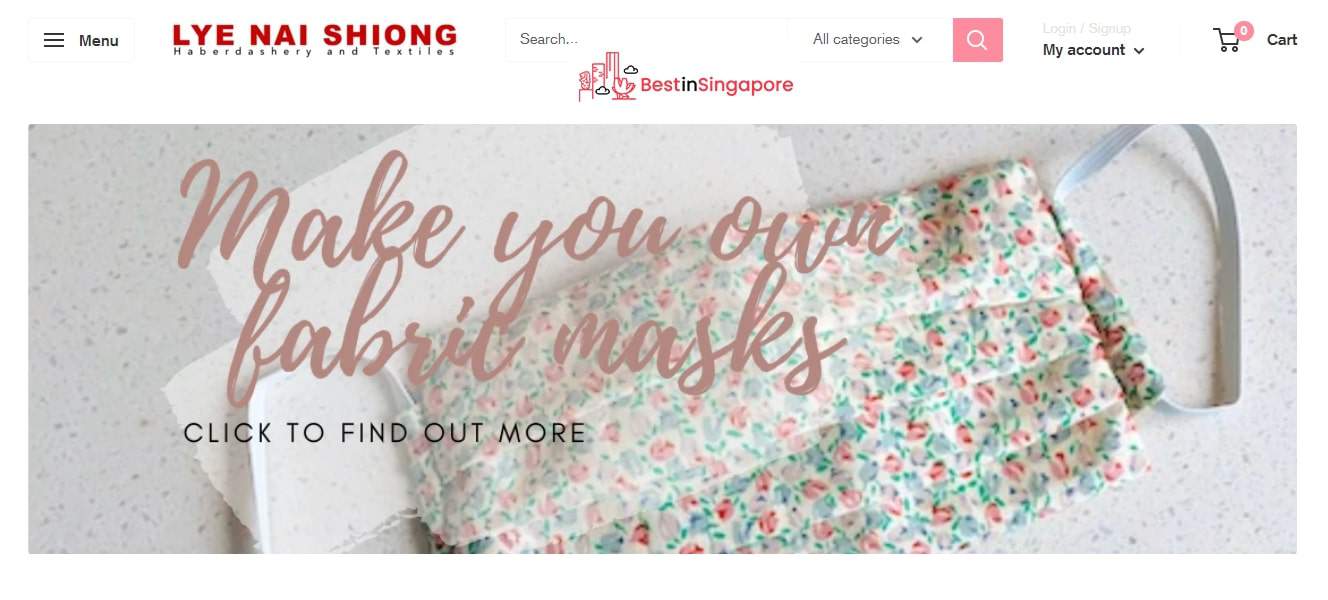 | | |
| --- | --- |
| BEST FOR    | Wide range of sewing supplies |
| PRODUCTS | Fabrics, scissors and cutters, thread and yarns, buttons, ribbons, adhesive, pins and needles, and sewing machines |
| WEBSITE | https://www.lyenaishiong.com/ |
| ADDRESS | 32 New Market Road #02, 1018A B, Singapore 050032 |
| CONTACT DETAILS | +65 6532 6013 |
| OPERATING HOURS | Monday – Saturday: 10:00 AM – 6:00 PM |
Established more than 30 years ago, Lye Nai Shiong remains one of the most in-demand sewing shops in Singapore that sell all types of fabric and haberdashery. It aims to help professional tailors and sewing enthusiasts by providing all their sewing needs.
Some fabrics that you can find from its shop are cotton, lightweight muslin, polyester, faux-leather, satin, nylon, and a whole lot more. It also sells printed fabrics which are perfect if you like making something for kids and babies.
For those who are too busy to personally drop by its store, you may opt for its online shopping platform and have your orders delivered to your doorstep. Lye Nai Shiong requires no minimum spending and the cost of delivery is extremely cheap.
If you have the time to visit its store, you will be greeted and attended to by its friendly customer service team. This is why we call it one of the best sewing shops in Singapore!
Highlights
30 years in the business
Broad collection of fabric
All types of haberdashery
Friendly staff
Customer Reviews
Here are some comments that some customers shared on Google Reviews:
"Fantastic and affordable place for all haberdashery needs – wide range of interfacing, battings, notions like ribbons and twill tapes, YKK zippers, threads, fabric markers and needles. The shop is pretty packed on the weekends but for the range of notions available, it's worth the wait."
"Nice, cozy family shop with a great variety of different products for all your sewing and embroidery needs. Place can be a little crammed during the weekends, but overall thumbs up"
2.  Sing Mui Heng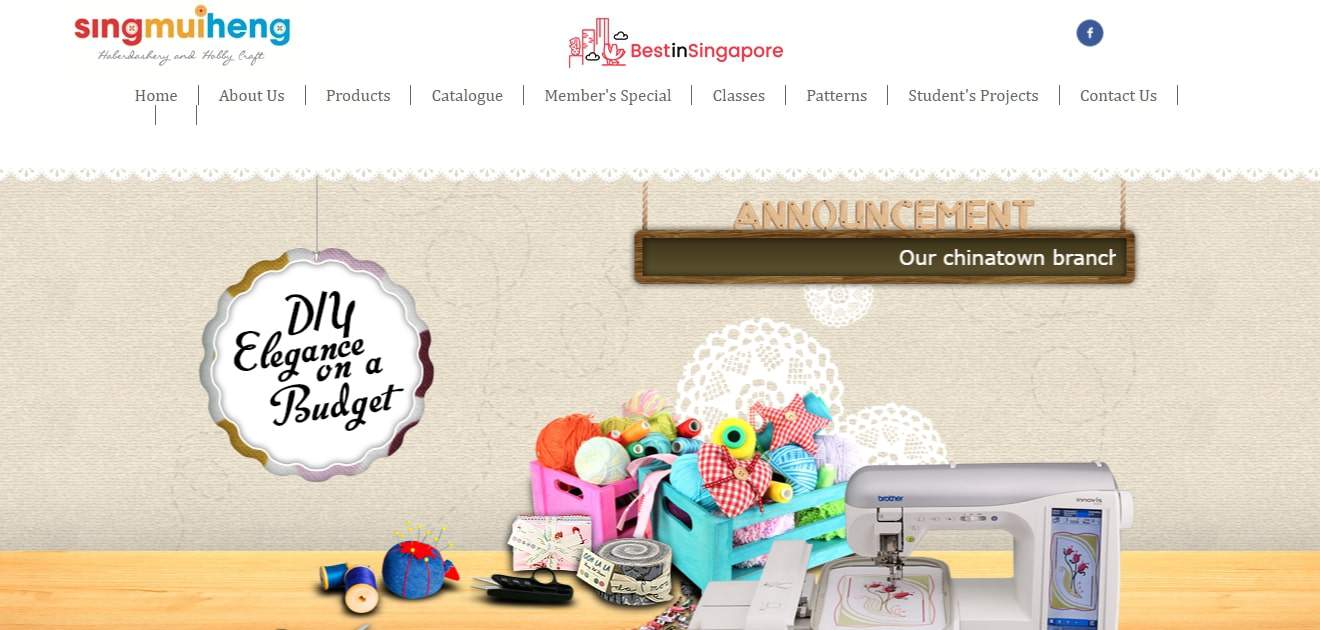 | | |
| --- | --- |
| BEST FOR    | Affordable sewing products |
| PRODUCTS | Fabrics, sewing machines, sewing supplies, and pre-packed sewing kits |
| WEBSITE | http://www.singmuiheng.com/ |
| ADDRESS | 101, Upper Cross Street, #01-36, People's Park Centre, Singapore 058357 |
| CONTACT DETAILS | +65 6533 2445 |
| OPERATING HOURS | Monday – Saturday: 11:00 AM – 8:00 PM |
Sewing isn't a cheap hobby because one needs to purchase different sewing tools and materials. Luckily, there are sewing shops like Sing Mui Heng that sell high-quality crafts and haberdashery accessories at affordable prices.
If there's one thing that makes it stand out from its competitors, it'd have to be its imported collection of needlecraft and notions. It's known for carrying international brands such as Sewmate, Clover, Kawaguchi, and Swarovski.
When it comes to the range of its fabric collection, Sing Mui Heng has some of the world's most trusted names like Robert Kaufman, Michael Miller, Tilda, Lecien, Cosmo, Quilt Gate, and Cloud 9.
If what you're after are affordable quality sewing products, then there's no better place to buy from than Sing Mui Heng.
Highlights
Carries trusted names in fabric
Affordable products
Excellent customer service
Customer Reviews
Take a look at some of the comments shared by its customers on Google Reviews:
"One of the most well stocked craft shops in Singapore. You can buy all your quilting needs in this shop including fabric, wadding, buttons, zippers, bag handle, beads, patterns etc. They also have sewing machines and tiny quilting irons. Shopkeepers are very friendly and helpful. Do note they are closed on Sundays."
"This store stocks a wide range of fabric,  sewing accessories, craft materials & sewing machines etc. A popular place for people who enjoy sewing. If you need assistance, do approach the staff who will share/suggest what you need to get."
3.  Poppy Fabric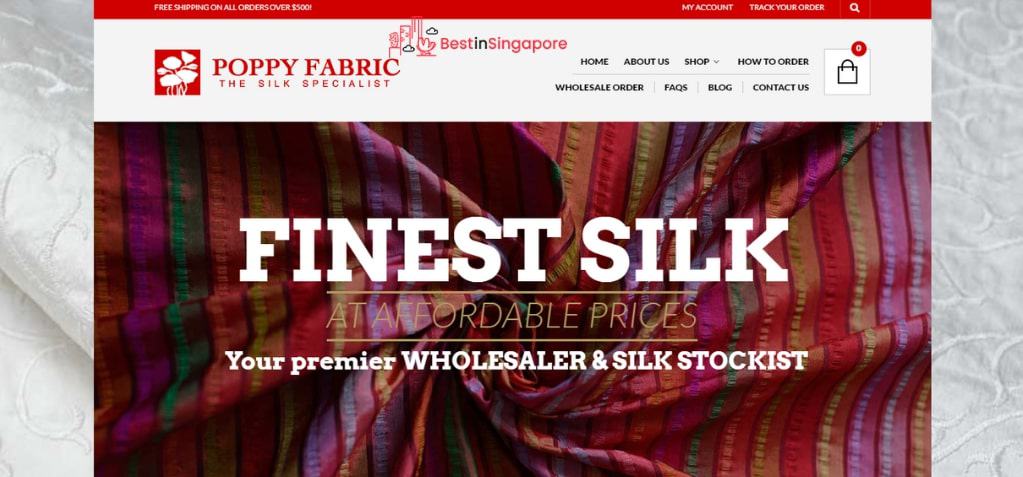 | | |
| --- | --- |
| BEST FOR    | Latest trends and designs in silk |
| PRODUCTS | Silk and sewing materials |
| WEBSITE | http://www.poppyfabric.com.sg/ |
| ADDRESS | 111 Arab St, Singapore 199807. It's a 1-min walk from the Masjid Sultan |
| CONTACT DETAILS | +65 6296 6352 |
| OPERATING HOURS | Monday – Friday: 10:00 AM – 6:45 PM |
If you're looking for the best quality of silk on the island, then look no further than Poppy Fabric. It's one of the few sewing shops in Singapore that carry a wide variety of fine quality silk, all offered at affordable prices.
Poppy Fabric sells the finest quality silk of all shades, hues, and texture — something that only a few sewing shops on the island have. And even though it has the largest stock of fine quality silk in Singapore, Poppy Fabric still manages to deliver orders quickly and efficiently.
Another reason we consider it one of the best sewing shops in Singapore is the fact that its products remain affordable despite being one of the leading suppliers of silk on the island.
As a shop that sources directly from manufacturers, it's no surprise that its prices remain competitive.
In line with that, Poppy Fabric is the perfect option if you're planning to purchase in bulk. In fact, the shop offers free delivery if your order goes over S$100.
Highlights
Finest quality of silk
Wide selection of silk
Perfect for bulk purchase
Competitive prices
4.  The Shophouse Fabric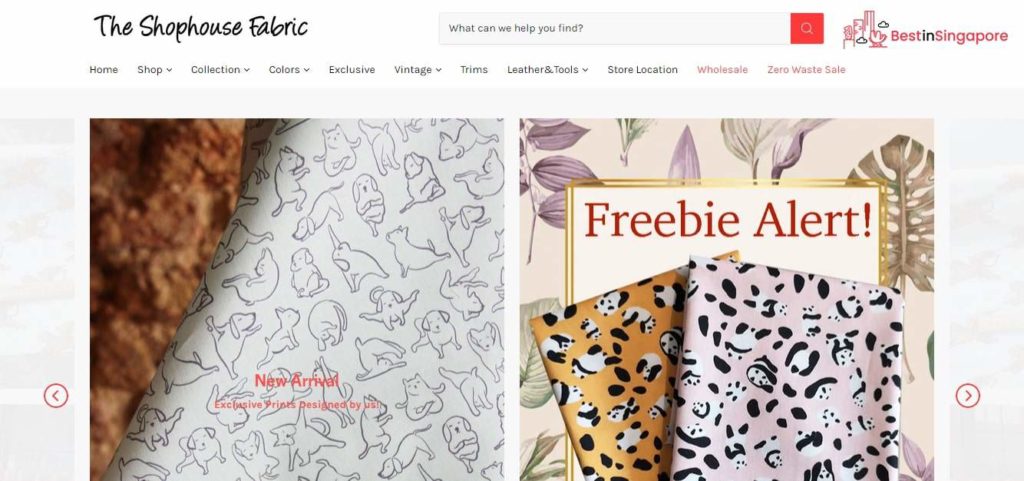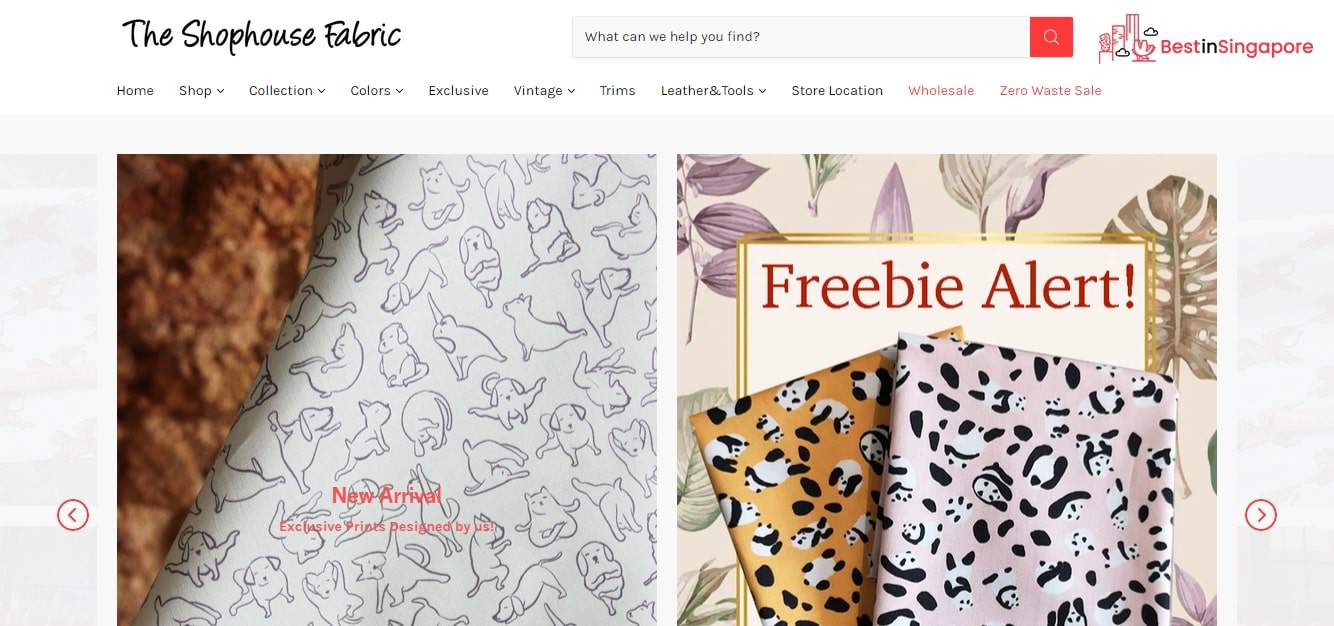 | | |
| --- | --- |
| BEST FOR    | Fabrics for curtains, table cloths, and bedsheets |
| PRODUCTS | Sewing materials, cotton, linen, silk, leather,  leather paint, and cotton canvas |
| WEBSITE | https://theshophousefabric.com/ |
| ADDRESS | 33 Erskine Road The Scarlet Hotel Shop#01-04, Singapore 069333 |
| CONTACT DETAILS | +65 8128 9232 |
| OPERATING HOURS | Monday – Friday: 11:00 AM – 5:00 PM |
If you're planning to make curtains, beddings, table cloths, and rugs, we highly recommend checking out The Shophouse Fabric. When we visited its shop, we found that its fabrics — most of which are printed — would be perfect for home use.
It has fabrics with tigers, pandas, flowers, trees, pineapples, cats, dogs, and cartoons prints. If you love abstract designs, The Shophouse Fabric carries a whole bunch of them as well!
Aside from adorable fabric prints, The Shophouse Fabric sells sewing materials such as threads, needles, pins, buttons, and even cutters. It sells everything that most sewing enthusiasts need, so you won't have to look in other shops anymore.
Highlights
Printed fabrics
Abstract designs
Sustainable products
5.  Fabricity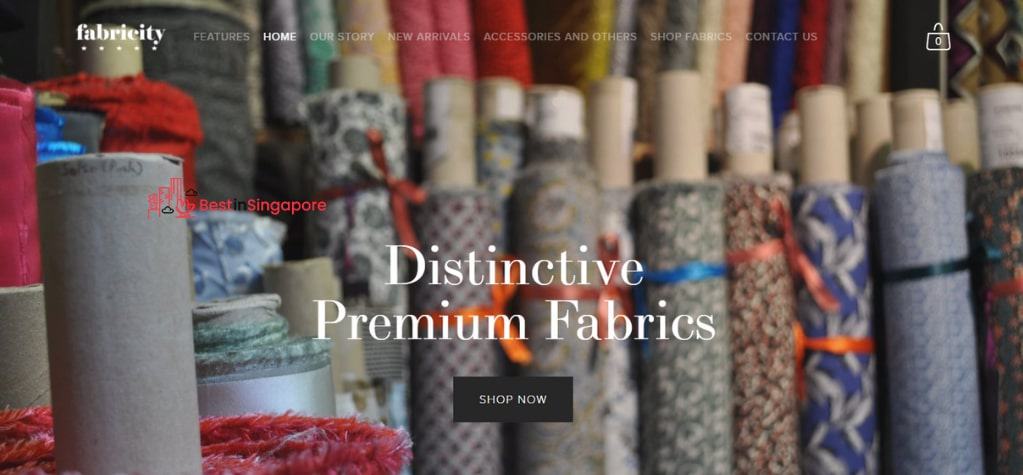 | | |
| --- | --- |
| BEST FOR    | Premium fabrics |
| PRODUCTS | Fabric, sewing materials, and ready-made bags, dresses, and masks |
| WEBSITE | http://www.fabricity.com.sg/ |
| ADDRESS | 32 New Market Rd, #02- 1098, Singapore 050032 |
| CONTACT DETAILS | +65 6533 3033 |
| OPERATING HOURS | Monday – Friday: 12:00 PM – 7:00 PM |
Considered one of the best sewing shops in Singapore, Fabricity is known for selling high-end fabrics, from cotton to silk. It's not the cheapest source of premium fabrics on the island, so we can't recommend it to everyone.
However, if you're willing to spend extra on gorgeous, smooth, and high-end fabrics, then we definitely recommend their products. Most of its fabrics are imported from European countries like France and Italy.
While other sewing shops sell fabric mostly for home use, Fabricity carries a wide collection of fabrics that can be turned into garments as well. Some customers have even made dresses and suits using their products.
Another thing we like about Fabricity is that it frequently rewards new and loyal customers with discounts and promos. If you spend more than S$100, you will be entitled to 10% off your order with free delivery.
Highlights
High-end, imported fabrics
Frequent discounts
Free delivery for orders above $50
6. The Art of Stitch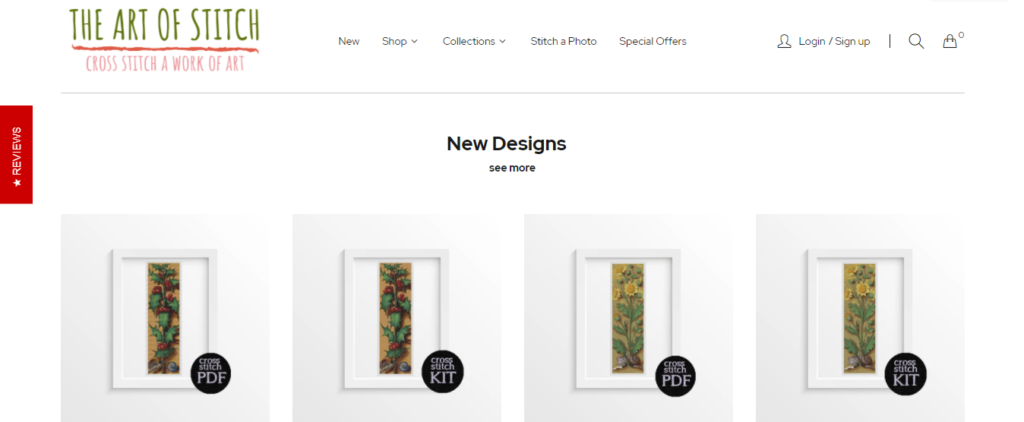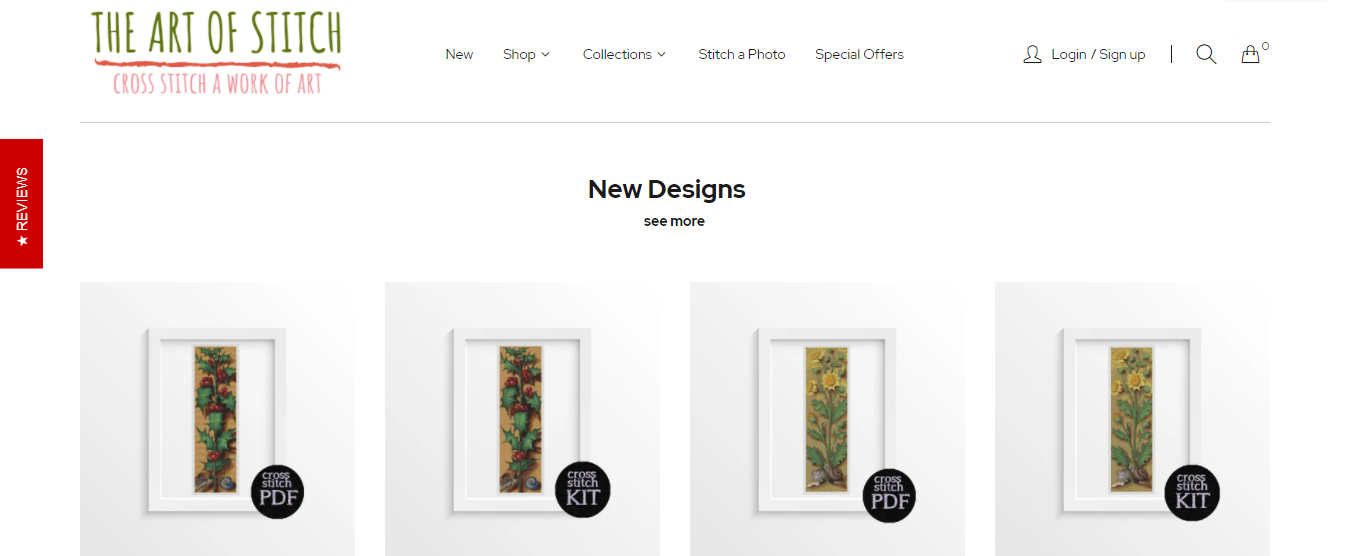 BEST FOR   
Cross stitch products
PRODUCTS
14 count cross stitch designs
18 count cross stitch designs
Bookmarks
Cross stitch sets
WEBSITE
https://www.theartofstitch.com/
ADDRESS
Singapore
CONTACT DETAILS
+60 14-963 4072


[email protected]

OPERATING HOURS
24/7
If you're more into creative sewing, then The Art of Stitch may just be what you're looking for. They are an online-based store selling classic and contemporary cross stitch designs you can follow and indulge in during your free time.
The Art of Stitch has a wide selection of designs, from abstract to religious, and from fictional characters to architecture. Their shop has circulars, mini, four squares, as well as cross stitch sets.
You can even stitch a photo you love by requesting a custom design from them. All you need to do is upload an image with a form, and you'll receive a 14 or 18 count design, depending on your request.
The Art of Stitch guarantees to ship products worldwide within 3-5 days after orders have been processed. They even offer free shipping for bulk orders worth $150-$250.
Highlights
Vast collection of cross stitch designs and styles
3-5 days shipping
Stitch a photo feature
Customer Reviews
Here's what a customer has to say about The Art of Stitch's online collection:
"The designs are lovely, and the charts are clear and easy to read! Great stuff :)"—Missy H.
7. Stitched Custom Singapore
BEST FOR   
Custom-made Suits
PRODUCTS
Tie & Bowtie
Freshly Pressed Socks
Cufflinks
Lapel Pin
Rental Suits
WEBSITE
https://stitchedcustom.com
ADDRESS
193A Kitchener Road Singapore 208534
CONTACT DETAILS
+65 9720 3000
OPERATING HOURS
Monday – Friday: 12 PM – 8 PM
Saturday: 12 PM – 4:30
Closed on Sundays
Get your custom suits made with no fuss or hassle by getting it made at Stitched Custom Singapore. With their help, all you need to do is book an appointment, come at the scheduled time to get measured, and pick up the finished suit once its made.
Their extensive collection of fabrics and numerous customisation options ensure that you'll be able to get the best suit made for you. If you aren't satisfied with the fit, alterations are free within 30 days of receiving your suit.
Highlights
Extensive collection of fabrics
Wide range of customisation options
Bulk orders available
Free alteration within 30 days
8. Ban Soon Sewing Machine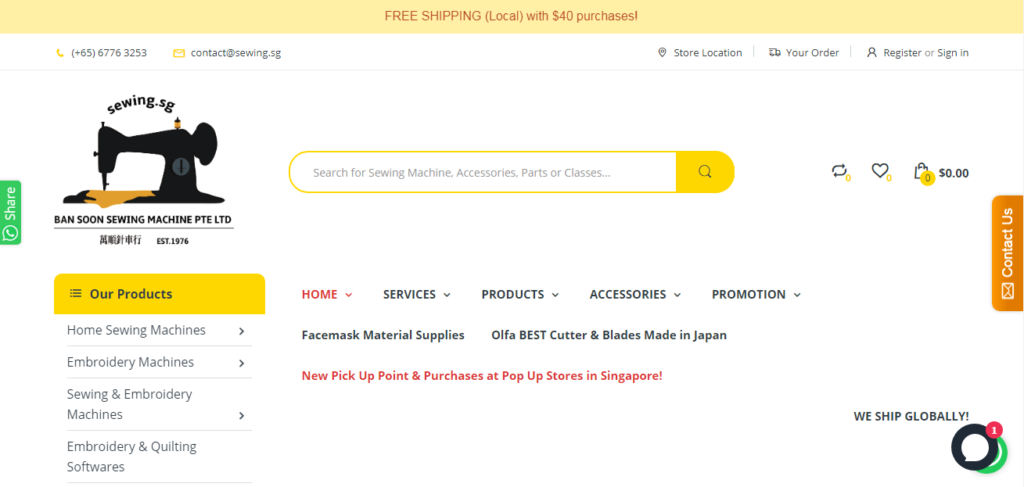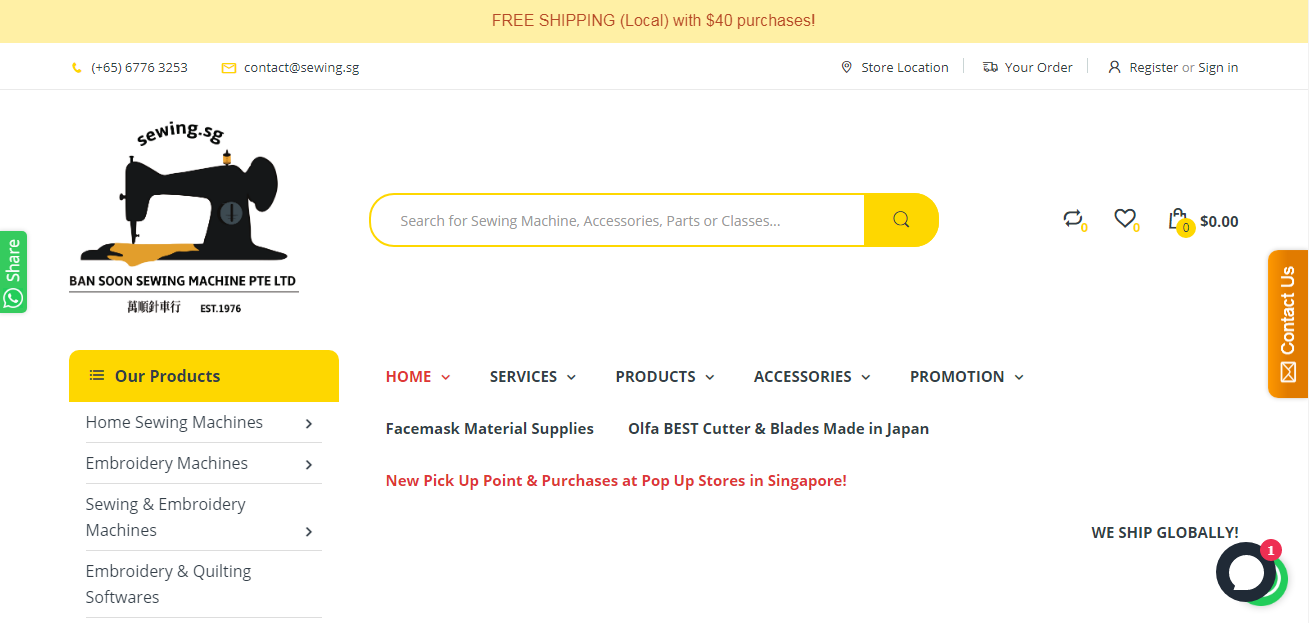 BEST FOR   
Home & Industrial Sewing Machines
PRODUCTS
Shop
WEBSITE
https://www.sewing.sg
ADDRESS
431 Clementi Ave 3
#01-328
Singapore 120431
CONTACT DETAILS
+65 6776 3253


[email protected]

OPERATING HOURS
Mon – Sat : 1030am – 7pm
Sun/P.H. : Closed / By Appointment
Sewing.sg specialises in selling home and industrial sewing machines. They have more than 40 years of experience in their line of work.
They carry numerous brands, some of which include Janome, Juki, Pegasus, and more. They're proud distributors of the prestigious brands Babylock and Brother.
For the full sewing experience, they also offer sewing accessories, spare parts, and attachments. With their sewing machine repair and maintenance support services, you can count on them for any of your sewing needs.
Highlights
High quality
Best value
Fast delivery
Customer oriented
9. Singer Repair & Services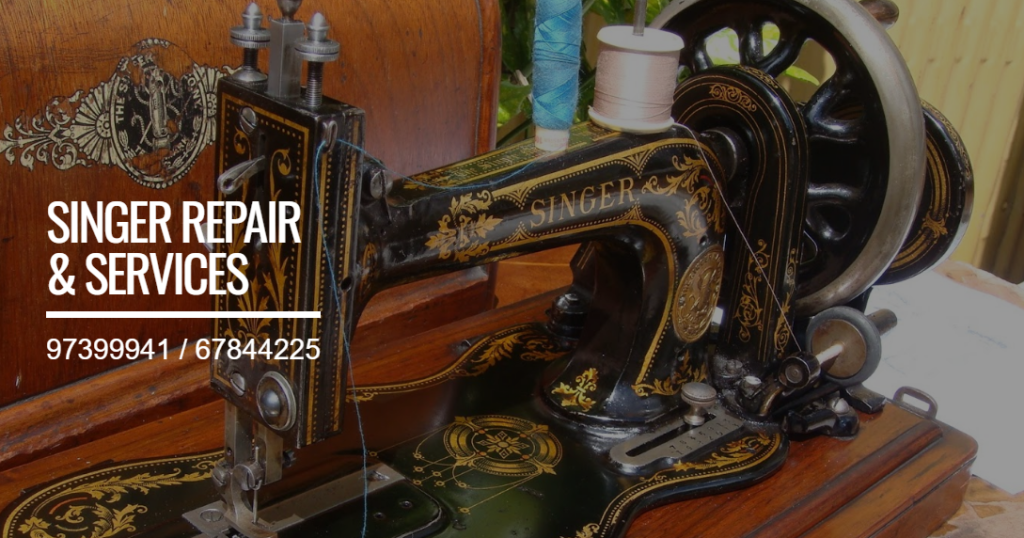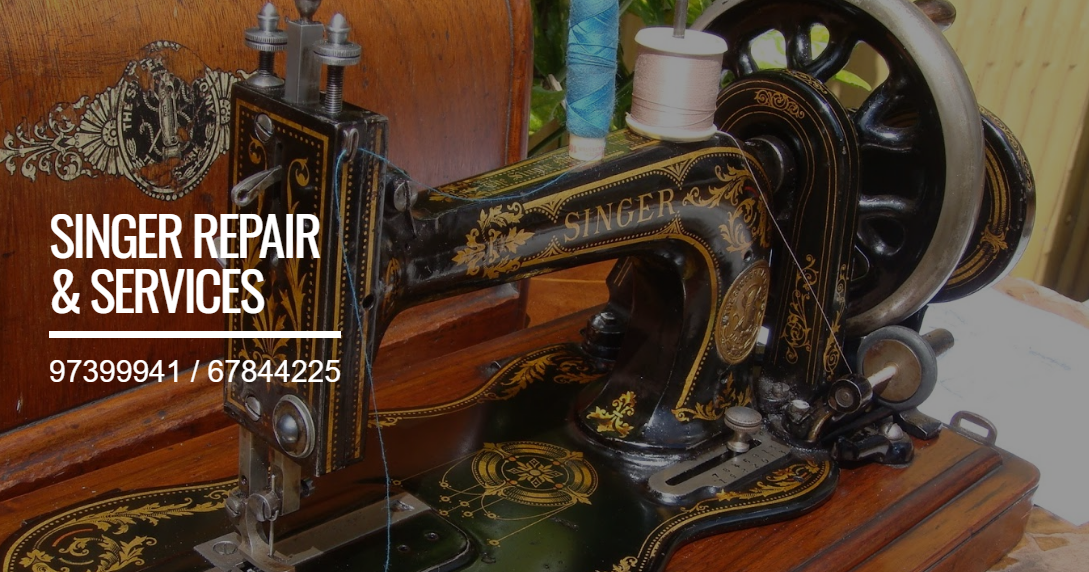 BEST FOR
Repairs and Services for Singer machines
PRODUCTS
Repairs, sales, service, parts, change table cabinet, and convert leg paddler for portable and other sewing machine related matters
WEBSITE
http://www.singerrepairs.com/
ADDRESS
Blk 139 Tampines Street 11, #01-38
Singapore 521139
CONTACT DETAILS
Mobile: 9739 9941
Phone: 6784 4225
[email protected]
OPERATING HOURS
Contact for more information
Singer Repair & Services is one of the longest standing businesses in this list, having been established in 1968 with the goal of providing specialised professional services for Singer machines. Since then, the shop has consistently provided these services, which include sales, rental, part replacement and repairs.
Aside from that, Singer Repair & Services have also offered advice on trade-in services, conversion to portable and resale of refurbished second-hand machines. The company is one of the most trusted centres on the island, with the company comprising highly professional and communicative team members.
Not only that, but Singer Repair & Service is also very transparent in their services, so clients can rest easy knowing that they are getting their money's worth.
Highlights
49 years in the business

Extensive range of services catered to Singer products
And with that, we conclude our list of the best sewing shops in Singapore. If you've been to any of these shops in the past, share your experience with us in the comments below.
Since there are hundreds of sewing shops on the island, we couldn't include every single one of them here. If you know other shops worth checking out, tell us their names!
For those who are looking for ready-made wedding dresses, you might want to read our list of the tailors that have the best wedding dress in Singapore. No need to sew up the dress yourself when there are hundreds of gorgeous dresses waiting to be worn.