Where to Find the Best Wedding Dress in Singapore
Every bride dreams of wearing the best wedding dress in Singapore on their most special day. Luckily, there are more than a few bridal shops on the island that offer special-occasion dresses that every woman would love to get her hands on.
If you're in the process of listing bridal stores with the best wedding dress in Singapore, then you're going to like what we have in store for you today. We've just compiled some of the most trusted bridal stores in Singapore with wedding dresses that every soon-to-bride would want to check out.
At any rate, browse through our picks below to see which one carries the dress you've been dreaming of wearing.
1.  Z Wedding
| | |
| --- | --- |
| BEST FOR  | Luxury Wedding Gowns |
| SERVICES | Bridal Gown Selling and Rental |
| WEBSITE | https://www.zwedding.com.sg/ |
| ADDRESS | 33 Tras St, Singapore 078973 |
| CONTACT DETAILS | +65 6327 8880 |
| OPERATING HOURS | Monday – Saturday, 8:00 AM – 5:00 PM |
If you've always dreamed of wearing an expensive, luxurious wedding gown, then you might want to check out Z Wedding. It's one of the most esteemed wedding boutiques on the island run by a team of professional in-house fashion designers.
Z Wedding is also one of the biggest luxury bridal studios in Singapore, offering a wide range of wedding dresses and gowns, all of which are perfect for any wedding theme.
If you're going to need some help picking out the best wedding dress in Singapore for you, its team of designers will be more than happy to extend a professional opinion.
On top of wedding gowns, Z Wedding offers wedding photography packages too, which include pre-wedding, actual day, and post-wedding shoots.
Highlights
High-end gowns
Professional fashion designers
Wedding photography
2.  Blessed Brides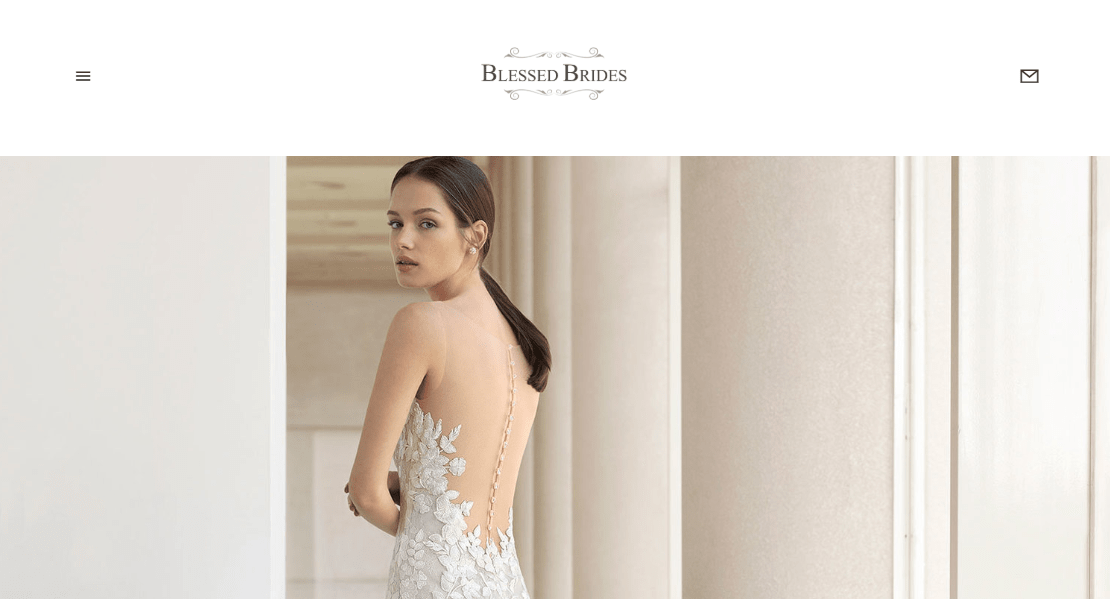 | | |
| --- | --- |
| BEST FOR  | Traditional and Modern Wedding Gowns |
| SERVICES | Bridal Gown Selling and Rental |
| WEBSITE | https://www.blessed-brides.com/ |
| ADDRESS | 190 Clemenceau Avenue #05-11 Singapore Shopping centre, Singapore 239924 |
| CONTACT DETAILS | +65 9834 5543 |
| OPERATING HOURS | Monday – Saturday, 11:00 AM – 8:00 PM |
As one of the most trusted bridal shops in Singapore, Blessed Brides has become one of the go-to places for women looking for the best wedding dress in Singapore. Most of the wedding gowns it offers are made by the best fashion designers based on the island.
Blessed Bride carries a few wedding gowns made by international wedding designers as well, including Enzoani, Pronovias, Lazaro, Pnina Tornia, and Rosa Clara.
Highlights
International fashion designers
Alteration services
Nationwide delivery
Customer Reviews
Here are some examples of feedback given by its previous clients:
"I absolutely love the dress I wore for my wedding and received so many compliments for it. The gown selection is great and I looked forward to my fittings each time. Kenji is extremely accommodating and also made sure that no details were missed when it came to alteration. Thank you for the pleasant experience!"
"Blessed Brides has an awesome collection of romantic dresses that will take your breaths away, and I am very grateful to Kenji and Estella for helping me choose *the* gown of my dreams! Kenji is amazing – one look at you and he knows which gown will make you look priceless. Estella is very patient and attentive, she simply makes you feel ultra special. We strongly recommend Blessed Brides and this team duo!"
3.  The Gown Warehouse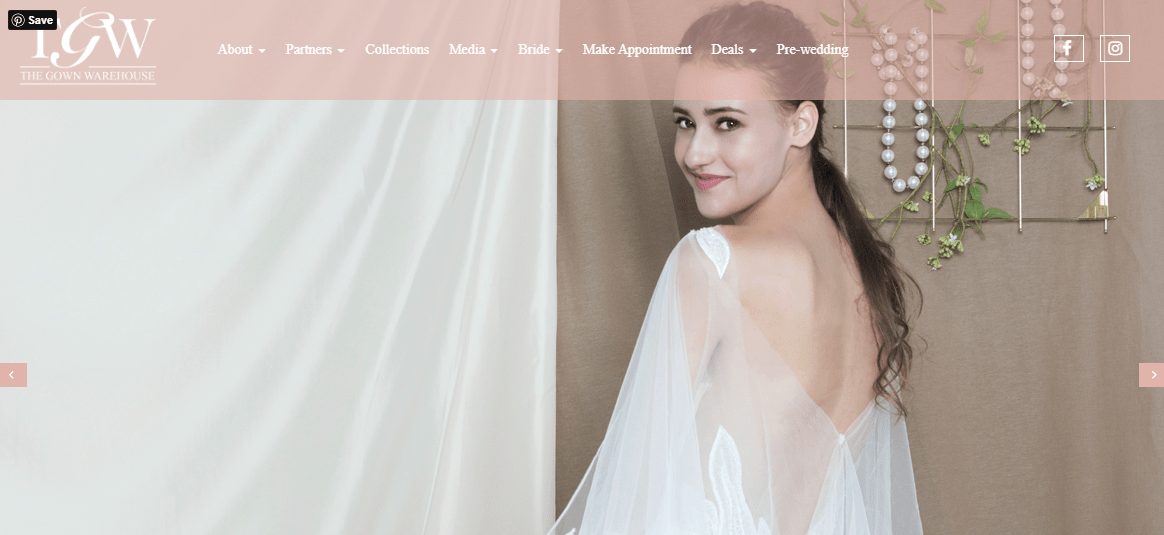 | | |
| --- | --- |
| BEST FOR  | Wide Range of Gowns |
| SERVICES | Bridal Gown Selling and Rental |
| WEBSITE | https://www.thegownwarehouse.com/ |
| ADDRESS | 25 Lichfield Rd, Singapore 556845 |
| CONTACT DETAILS | +65 6734 3998 |
| OPERATING HOURS | Monday – Saturday, 11:00 AM – 8:00 PM |
The Gown Warehouse is one of the most established bridal stores on the island that offer not only the best wedding gowns in Singapore, but other types of dresses for different occasions as well.
If you're looking for gorgeous wedding dresses that won't make a dent in your wedding budget, then you're going to like the selections of The Gown Warehouse. It has dresses that range from $400 to $2,000.
It's also received recognition for its work in helping Singaporean women find the perfect wedding dress for their special day. These include accolades from Singapore Trade Association Pte Ltd and Blissful Bride Magazine.
Highlights
Affordable wedding gowns
Gowns for all occasions
Customer Reviews
Take a look at what customers had to say about their experiences with The Gown Warehouse:
"I had such a great experience here. Hassle free. I was able to try on as many gowns as possible until I found the gown which suits me! I signed the package that comes with a made-to-measure suit for my Husband, and it's great as well!!! Very good experience. Highly recommended to brides who want to DIY for her wedding!"
"The service was very nice, the environment very comfortable and I managed to find my perfect dress for my perfect day, even though I had no idea what type of dress or style I wanted at first. The appointments were always very pleasant and questions were answered very fast and they were flexible too to cater to my personal wishes/schedule."
4.  Frieda Brides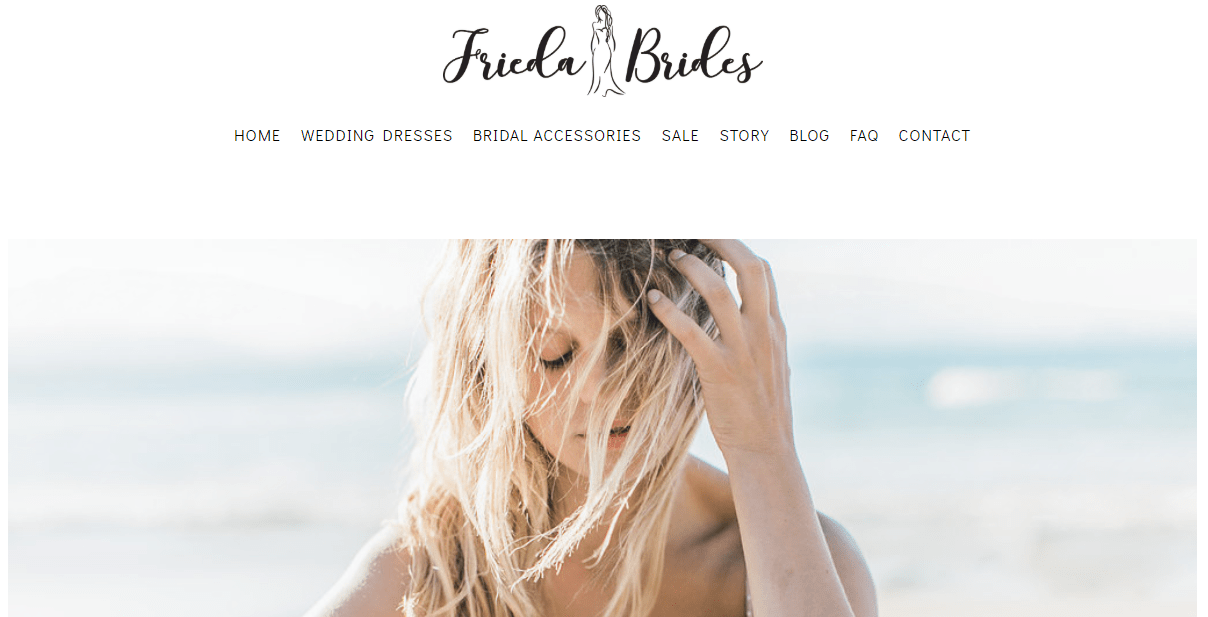 | | |
| --- | --- |
| BEST FOR  | Themed Wedding Gowns |
| SERVICES | Wedding Gowns and Bridal Accessories |
| WEBSITE | https://friedabrides.com/ |
| ADDRESS | 45A Kampong Bahru Rd, Singapore 169360 |
| CONTACT DETAILS | +65 6220 0941 |
| OPERATING HOURS | Monday – Saturday, 12:00 PM – 8:30 PM |
For those who want to do away with the conventional, princess-style wedding gowns, then you might want to check out the collection of Frieda Brides.
It's one of the few bridal shops that specialise in bohemian and simpler wedding gowns from trendy international bridal designers such as Made with Love, Catherine Deane, Anna Campbell, Jenny Yoo and more. To make quality international designer wedding gowns more accessible, Frieda Brides offers its collection for rental in addition to brand-new purchase
If you're curious about how their bohemian dresses would look on you, please visit their website to make a fitting appointment. We've listed it above!
Highlights
Bohemian, minimalist and simple wedding dresses
Quality designer gowns at accessible prices for purchase and rental
Up-and-coming international bridal designers
5. Alangkaar

BEST FOR
Complete Wedding Services
SERVICES
Photoshoot
Photography
Videography
Decoration
Food & Catering
Gowns and Suits Rental
Wedding Car Rental
Photo Booth
Wedding/Event Planner Service
Bridal Makeup & Hair
Traditional Garlands
Western Bouquets
Emcee DJ and Sound
WEBSITE
https://www.facebook.com/AlangkaarStudio/
ADDRESS
9 Kerbau Rd, Singapore 219148
CONTACT DETAILS
Sales hotline: +65 9008 2244
Office: +65 6294 0201
E-mail: 

[email protected]
The most perfect day in a woman's life should be partnered solely with the most perfect gown, and Alangkaar is ready to provide it for them. With over 400 beautiful wedding gowns, and even more of the evening gowns and pre-wedding dresses, their collection is every girl's dream. Another plus factor is that they also made sure to have gowns for everyone!
Having Indian Wedding Services, Indian Muslim Wedding Services, Church Services, Chinese Wedding Services, Punjabi Wedding Services, and more, Alangkaar prides themselves on having the most diverse resources and assistance in all of Singapore.
They also offer more than just wedding gown rentals, even having suit rentals for grooms, photography, and videography services, as well as decoration service and caterings. You can have anything you need and at a snap of a finger, Alangkaar will provide it for you.
Highlights
Customizable options
Affordable payment plans
Actual Day Rentals
Top Indian Makeup Artists in Singapore
Customer Reviews
Here are some reviews left by satisfied customers of Alangkaar:
"Alangkaar team was friendly, efficient and very warm towards not only to the bride and groom but everyone."

"Amazing creativity from the team! An eye opener for the great shots taken from different angles and places. I have complete faith and trust in Vin and he delivered it with flair and charisma. Thank you so much guys for the experience that you all have given for me and my wife to be."
6. My Little Bow

My Little Bow has come a long way from their humble beginnings in 2013. However, their goal remains the same– they still aspire to be a one-stop-shop for bridesmaids and groomsmen.
They have many services available, all of which are intended to ease the logistical needs of weddings. Some of their specialities is providing the latest wedding and trends and offering a huge range of convertible dresses in numerous colours and sizes from UK 4-18. They also provide services for those who require bigger sizes.
You can count on them to deliver top-notch products and services for your special day.
Highlights
Numerous services available
Affordable prices
Customer Reviews
"I recently enquired on the availability of the bridesmaid dresses from My Little Bow website, and Duane was the one that assisted me with this. As it was a last min request, Duane went beyond the extra mile to have the dresses delivered to my doorstep, Ensuring that it arrives on time for the big day. I have to say i'm really impressed by his service. Besides maintaining his professionalism throughout the whole process, Duane is also extremely friendly and patient 🙂 given any chance, would like to liaise with him again 🙂 As for the product, I'm very satisfied with it as the material remains soft and comfortable even when stretched to accommodate my bridesmaid's size. If i were to rate everything from a 1 to 10, it will be 11. 🙂 Highly recommended to all soon-to-be brides! :)"
7. The Red Wedding

BEST FOR
Traditional Chinese Wedding Attire
SERVICES
Makeup & Hairstyling, Concierge, Wedding Chaperone
WEBSITE
https://www.theredwedding.com/
ADDRESS
392 Yishun Avenue 6 #07-1000
Singapore 760392
CONTACT DETAILS
[email protected]
+65 9843-5577
The Red Wedding was created to cater to couples who want a traditional Chinese wedding. They offer the finest handcrafted Chinese attire, the Qun Kua and Ma Kua, for rent and sale.
Besides wedding attire, they also provide matching accessories– such as shoes, hairpieces, and jewelry. The Red Wedding will ensure that you experience the Chinese wedding of your dreams.
Highlights
Partnered with renowned wedding photographers and event planners
Handmade traditional Chinese wedding attire
Customer Reviews
"I had many comments about my Kua during my wedding. Everyone said it was really beautiful with fantastic workmanship.
Janet was really helpful and friendly too!
Highly recommended!"
8. Stitch by Stitch Co.

Stitch by Stitch Co. aims to provide brides-to-be with the perfect wedding dress. To do this, they create bespoke dresses that not only suit your personality but are also extremely comfortable to wear.
You have many options for your dress– you can have them modify an existing dress, or create a new one from scratch. No matter your choice, you're sure to receive a dress that will make your special day perfect.
Highlights
Bespoke dresses for rent or for sale
Wedding photography available in their packages
Customer Reviews
"Thank you so much for my outfit. You were right and it fit perfectly on the day! I loved it- I felt so comfortable and beautiful the whole day… and OMG when the skirt came off I could dance till 3 in the morning!"
9. LIILOODESIGNS™

BEST FOR
Custom Tailored Wedding Dresses, Suits, and Outfits
SERVICES
Custom Wedding Dresses, Custom Tailored Suits, Custom Dresses & Outfits
WEBSITE
https://liiloodesigns.com/
ADDRESS
N/A
CONTACT DETAILS
+65 8101 4893
[email protected]
LIILOODESIGNS is a company that is passionate about designing and expressing its creativity. Besides offering innovative designs, they also work together with their clients in creating their respective ideal dress.
From wedding dresses to tailored suits, you'll have a variety of options to choose from. Visit them now for a free consultation!
Highlights
Free consultation
Plus-size women friendly
Customer Reviews
"I came across Liiloo Designs online while searching to custom make my wedding dress. I was very impressed with how professional their website was done up and also how prompt Emily responded to my email enquiry. Emily turned out to be very a experienced and professional seamstress/designer. She knew what I wanted and would also offer valuable suggestions and advice along the way. It was a delight working with Emily because she is such a genuine character and was even as excited about my wedding as I was! The end product was as gorgeous as I expected it to be and I had a blast on my wedding night so much so that I ended up ripping parts of my dress! Emily was such a sweetheart that she offered to mend my dress for free (with some of my leftover materials she saved)! Excellent service with quality and a personal touch – I definitely highly recommend Liiloo Designs for custom made dresses."
10. Zion Creation

BEST FOR
Occasion Wear
Weddings Outfit
SERVICES
Custom Made Wedding Gown & Evening Gown & Cheongsam for all Ladies

 

 

Ready-Made Mothers Gown, Modern Cheongsam, Tea-ceremony Dresses for purchase.

WEBSITE
https://www.zioncreation.com.sg
ADDRESS
1 Irving Place #07-08 The [email protected] Singapore 369546
CONTACT DETAILS
+6563844337


[email protected]

OPERATING HOURS
By Appointment Only
Close on Thursdays & Sundays
Zion Creation takes pride in their craftsmanship and custom-made clothing. All their products are made from scratch, specially crafted for each individual.
Their dedication to excellent work ensures that you will receive only the products, no matter what you request. They'll help any client look their best– no matter the occasion.
Highlights
30 years of experience
Specialises in modern cheongsams and evening gowns
Customer Reviews
"Good workmanship and responsibilities to make sure my gown is in good shape and colour suits my skin tone. Everyone was admiring my gown. They said you choose the right Color, sewing, cutting, very fits well. Especially the front and back the pattern well sewn."
11. L'Atelier Carte Blanche

BEST FOR
Unique Gown Selection
SERVICES
Gowns, Statement Suits
WEBSITE
https://carteblanche.me/
ADDRESS
1 Marne Road, #01-21, Singapore 208380 (By Appointment Only)
CONTACT DETAILS
+65 8753 0356
[email protected]
Inspired by the modern female spirit, L'Atelier Carte Blanches offers fashion-forward gowns you won't find in most boutiques in Singapore. No matter the occasion, you're sure to find the right outfit – various luxurious fabrics, classic and iconic designs, and a wide range of sizes are available for your perusal. L'Atelier Carte Blanche is also the exclusive partner of Eva Lendel and WONA Concept, which have been featured in fashion runways worldwide, and dressed the likes of Adriana Lima.
Even their exclusive Kua collection features unique colours, never-before-seen embellishments and dramatic trains fit for royalty. These are available for rent on their own or with a gown package.
If you're trying to avoid cliché designs, drop them a message and a dedicated stylist will happily walk you through all the details.
Highlights
Wide variety of surprisingly affordable designer gowns
Unique and contemporary styles and designs
Customer Reviews
"Extremely helpful and amazing customer service! Definitely recommend for any future brides wanting someone to listen to them and find them the perfect dress."

12. Luna Bianca Bridal Boutique

| | |
| --- | --- |
| BEST FOR | Complete Wedding Packages |
| SERVICES | Wedding Gowns, Wedding Photography, Wedding Makeup & Hair |
| WEBSITE | https://www.lunabianca.com.sg/ |
| ADDRESS | 21 Tan Quee Lan Street, Heritage Place, #01-02, Singapore 188108 |
| CONTACT DETAILS | Tel:+65 6388 9839 | What's App: +65 8114 2888 |
Luna Bianca Bridal Boutique is chosen by many due to their extensive wedding packages.
Clients can customise their packages by selecting which options they'd like to include from the following: an ROM gown, a groom suit, a bridal bouquet, one session of makeup and hair styling, and two hours of photography.
Besides wedding packages, they also offer customisable pre-wedding packages. They're the definitely a one-stop-shop for your wedding needs!
Highlights
Fully customisable pre-wedding and wedding packages
Affordable prices
13. The Louvre Bridal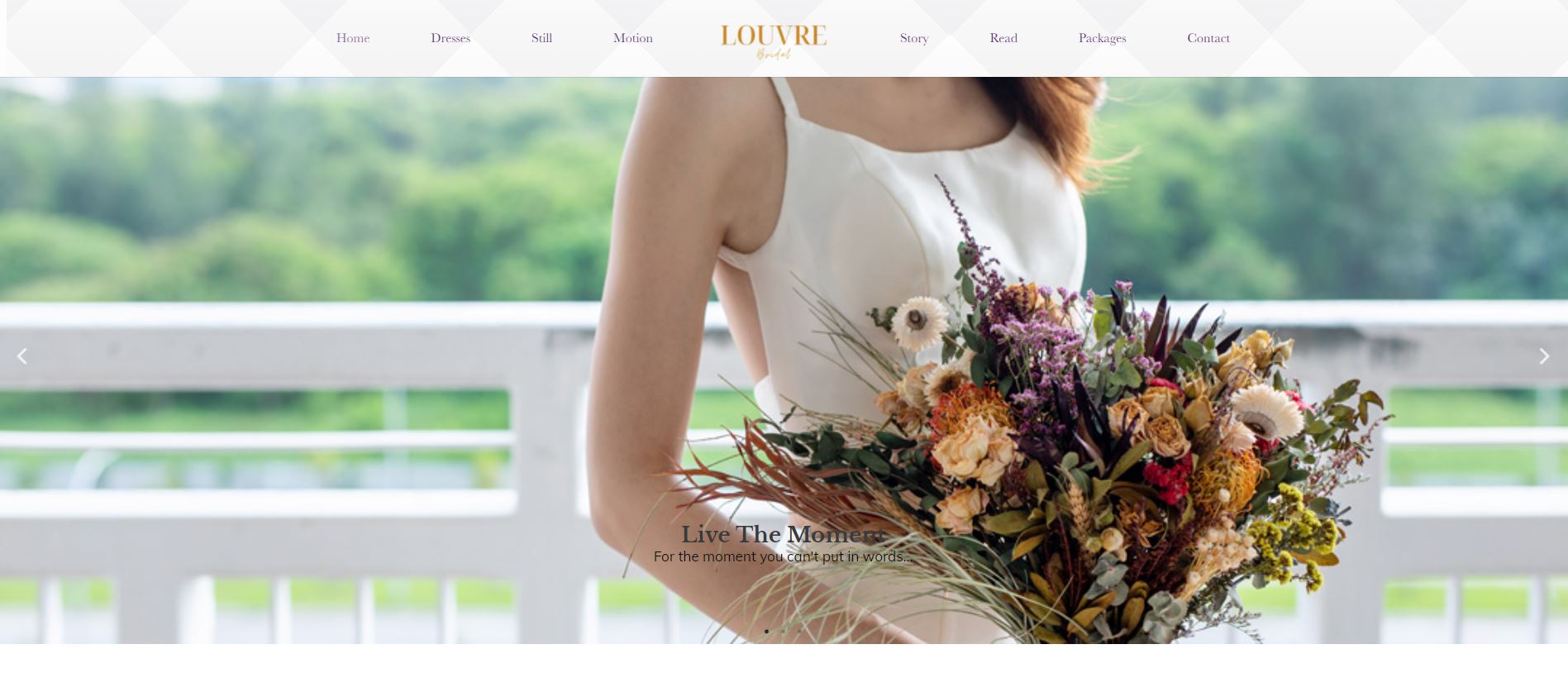 | | |
| --- | --- |
| BEST FOR | Elegantly Designed Dresses |
| SERVICES | Bridal Couture, Pre-Wedding Services, Wedding Services |
| WEBSITE | https://www.thelouvrebridal.com/ |
| ADDRESS | 91 Bencoolen Street (Sunshine Plaza) #06-06, S189652 Singapore |
| CONTACT DETAILS | |
The Louvre Bridal prides itself on making sure that every customer that walks in their door becomes the most beautiful bride on their wedding day.
With this in mind, they offer various designer gowns, all made with your comfort in mind. With their pre-wedding and wedding services, you won't have any worries.
The Louvre Bridal will transform you into the elegant vision you deserve to be on your special day.
Highlights
Pre-wedding and wedding services available
Many elegant and designer gowns to choose from
14. Giorgia Couture

Since 2015, Giorgia Couture continues to offer the most diverse set of dresses for brides who want to stand out and have a memorable wedding.
Their gowns are available for rent. Bridal packages are also offered for those who need it, complete with professional styling advice, makeup and hair, headpieces, and accessories.
More importantly, their wedding dresses can be customised according to your preferences. If you're looking for excellently crafted dresses, turn to Giorgia Couture– you certainly won't regret it.
Highlights
Customised dresses available
Also works on traditional and ethnic dresses
15. Odelia Bridal


BEST FOR
Excellent Wedding Photography
SERVICES
Wedding Gowns, Wedding Photography
WEBSITE
https://www.odeliabridal.com/
ADDRESS
78 Tras Street. Singapore 079017
CONTACT DETAILS
Email: [email protected]
Tel: 62210728
Whatsapp: +65 93202422
Odelia Bridal Studio is dedicated to bringing only the best and personalised wedding experience for newlyweds. Thanks to the management of an award-winning wedding photographer and established gown designer, they remain one of the top bridal boutiques in Singapore.
They offer comprehensive bridal packages for reasonable prices. No matter what you choose, you're sure to have fond memories of your special day with Odelia Bridal Studio.
Highlights
Bridal packages include wedding photography
Managed by an award-winning wedding photographer and established gown designer
16. My Bridal Room
BEST FOR
Bridal Shop Services
SERVICES
Actual Day Photo/Videography
Bridal Gown
Pre-wedding Photography
Overseas Photography
WEBSITE
http://mybridalroom.com
ADDRESS
420 North Bridge Road, #01-03
North Bridge Centre Singapore 188727
CONTACT DETAILS
Telephone: +65 6338 1908
Whatsapp: +65 8128 9546
E-mail: [email protected]
My Bridal Room can help you achieve the wedding that you've always been dreaming of. They provide a wide range of services, suited for any of your wedding preparation needs.
Some of their services include pre-wedding and actual wedding photography, grown and suit rentals, as well as makeup and hairstyling services. With their help, planning and documenting your wedding will be a breeze.
Highlights
Wide range of services
Extensive collection of wedding gowns
Professional and personalised treatment
Professional team
17. Fleur D'sign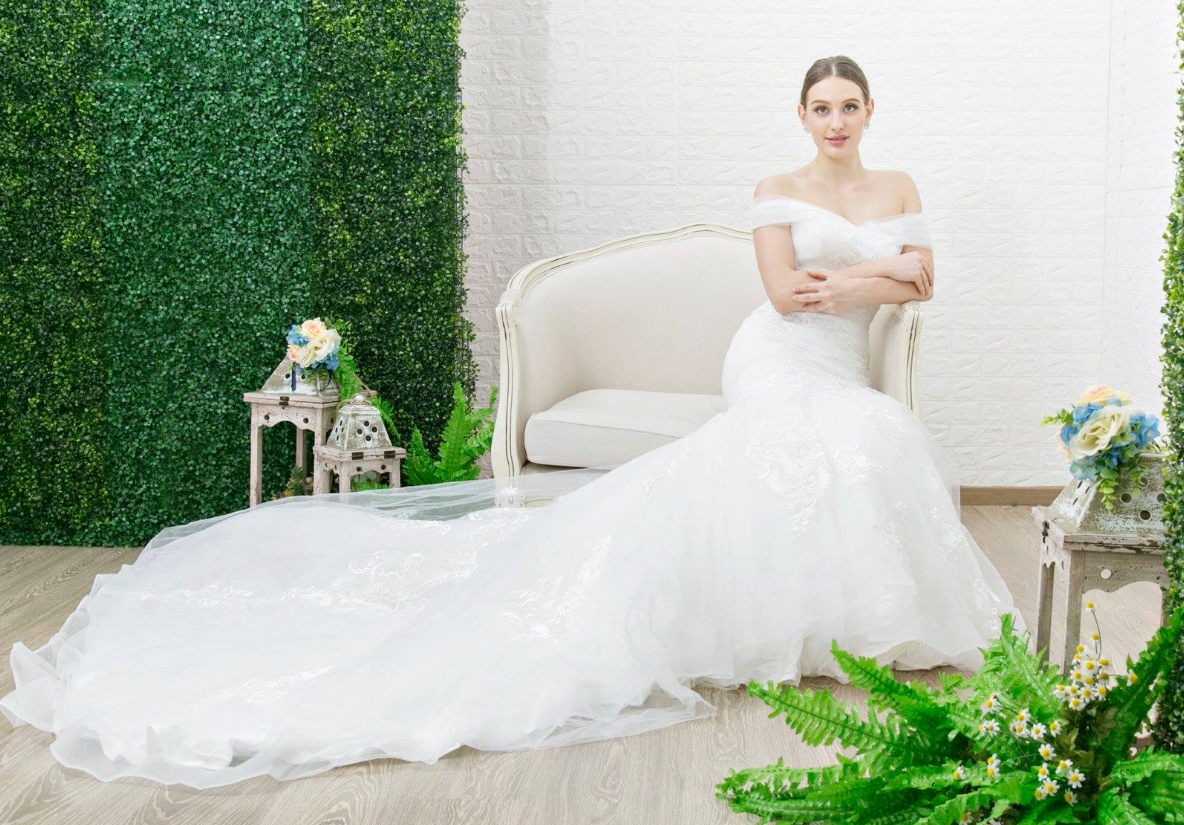 | | |
| --- | --- |
| BEST FOR | Wedding Gown Rental |
| SERVICES | Bridal Boutique, Wedding Florist, Bridal Studio |
| WEBSITE | https://fleurdsign.com |
| ADDRESS | 371, Upper Paya Lebar Road #01-05 YiKai Court, Singapore 534969 |
| CONTACT DETAILS | +6591698088 | [email protected] |
Every bride has some dreams about her wedding day.
They want their most beautiful and unique look, especially their wedding dress, to be unique and pretty. To fulfill your dream, Fleur D'sign bridal boutique has come up with a collection of the most gorgeous and unique wedding dresses in Singapore.
Fleur D'sign is one of Singapore's largest luxury bridal studios, with a diverse selection of wedding gowns perfect for any wedding theme.
They understand that every bride has her fashion style that makes her royal and glamor or classic. Considering these aspects, they wonderfully make each dress.
All of their wedding gowns are designed by the hands of a house designer. And from the ever-present A-line silhouette to the sexy mermaid wedding dresses have created their unique collection of bridal gowns.
Their modern, dreamy, and graceful wedding dresses are available for brides to try on at the boutique to explore the shape, color, and fabrics. The wedding gown designs are made from sumptuous silk, lace, crepe, and chiffon, and the quality, fit, and comfort show their core elements.
When they are working with their brides, from gowns to weddings, they keep in mind that it is a sincere reflection of their style and personality. Colors, textures, and scents mix with their beautiful arrangement and unique style for a beautiful glimpse of enduring romanticism on your wedding day.
Their number one priority is to make Singapore brides feel comfortable and make their dream wedding dress the best. They are always ready to give the brides a gorgeous and affectionate environment.
Their gowns are not only fashionable and suitable for your personality but also comfy to wear.
You have lots of choices for your dress- you can modify their existing dress or make a new one from scratch. Whatever your choice, you will get the outfit that will make your special day perfect.
They also offer wedding dress and gowns rental in Singapore on a friendly budget, and also provide flower bouquet and decoration arrangements at the wedding. They give you an unparalleled experience.
If you're interested to see how their wedding gowns would look on you, please visit their website Fleurdsign to book a fitting appointment.
Highlights
Highly affordable
Gorgeous array of gown styles
Transparent fees
Bridal packages available
18. Elizabeth Grace Couture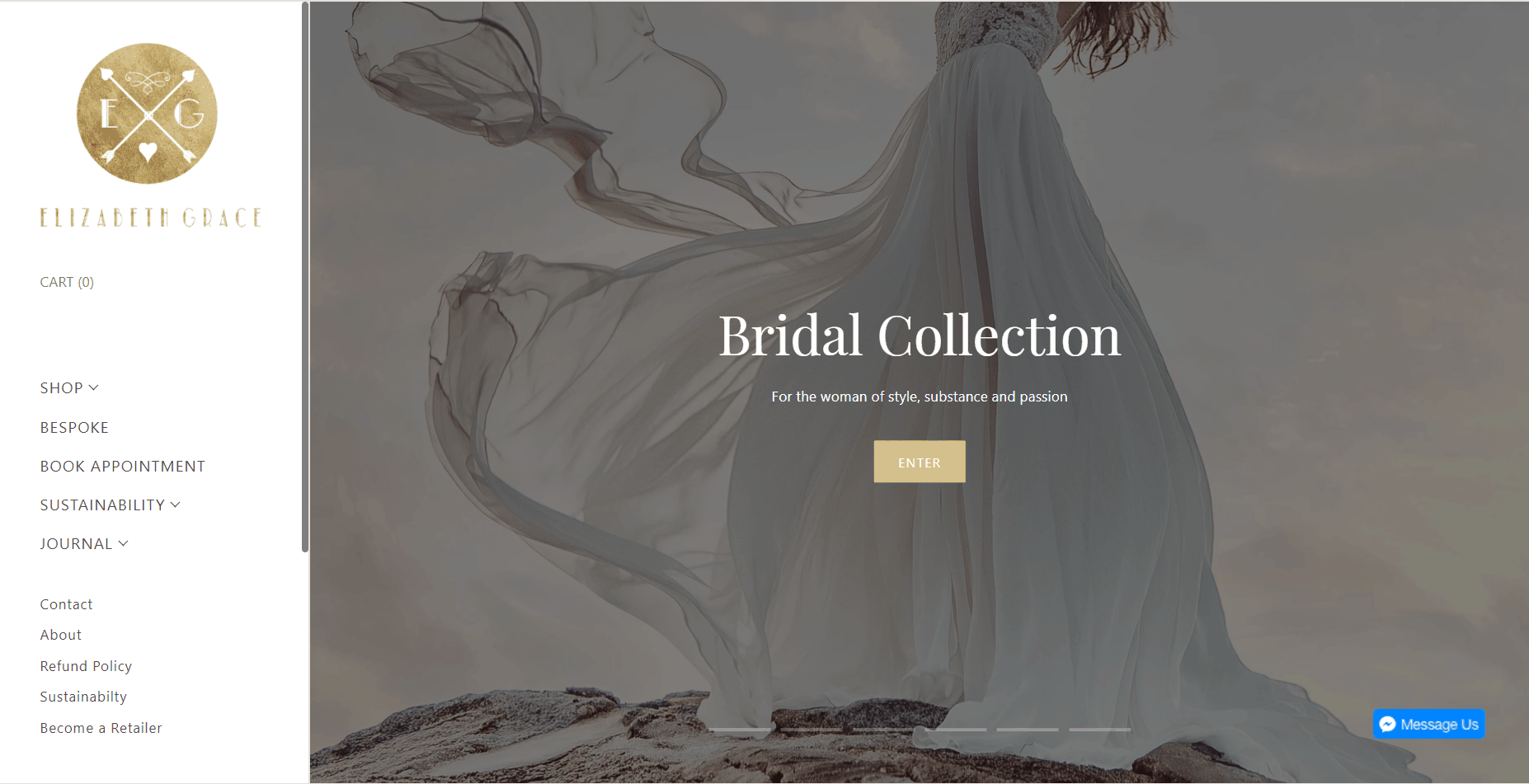 BEST FOR

Bespoke and Pre-Made Wedding Gowns

SERVICES
Wedding Dresses
Jewellery
Occasion
Pre-Loved
Robes
WEBSITE
https://elizabethgracecouture.com/
ADDRESS

119a E Coast Rd, Singapore 428806

CONTACT DETAILS
Whatsapp: +65 9006 6047
Email: [email protected]
OPERATING HOURS
By appointment only
Elizabeth Grace Couture was founded in 2015 after owner Elizabeth Grace had difficulties finding 'The One' for her wedding day.
What started as a small store has now grown into a boutique that carries pre-made gowns, gowns for different occasions, pre-loved gowns, robes, jewelries, and, of course, bespoke wedding gowns.
Now, what makes Elizabeth Grace Couture stand out from the rest of the crowd? The dresses themselves are the main selling point, with each and every design crafted so that brides can wear them even after the Big Day.
To put it simply, the transformational nature of the gowns make Elizabeth Grace Couture a sustainable, affordable, and overall worthy choice for one's wedding dress dreams.
Highlights
Carries pre-loved wedding gowns
Physical location found in Grace Atelier Weddings
Gowns for other occasions available
Free tailoring services
19.

Vivian Gown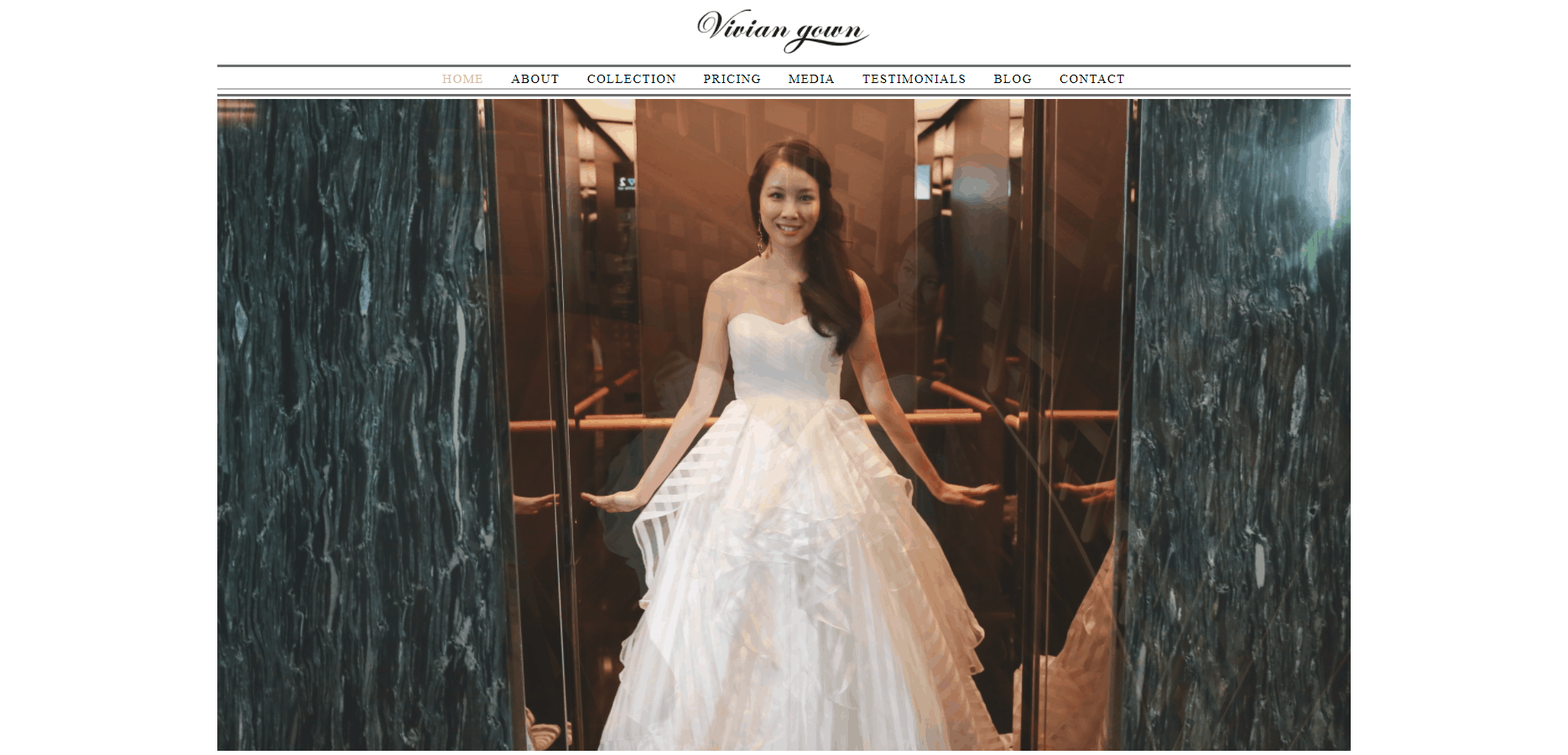 BEST FOR

Affordable customised wedding gowns

SERVICES
Ready Made Wedding Dresses
Bespoke Wedding Dresses
Design and Make
Style Coach
Sketching of Clients Ideas
WEBSITE
http://www.viviangown.com/
ADDRESS
Blk 308A,
Anchorvale Road,
Singapore 541308
CONTACT DETAILS
Mobile:+65 94550375
Email:[email protected]
OPERATING HOURS

Contact for more information
Weddings are typically once-in-a-lifetime events, so it's not at all surprising that brides want their weddings to be as perfect as possible.
Among all of the factors that contribute to a picture-perfect wedding day, the wedding gown is often the one that most brides worry about simply because it can be quite expensive to purchase or have made.
Here is where Vivian Gown comes in.
See, Vivian Gown was established with one goal in mind: To provide brides with dresses that are as affordable as they are beautiful. The boutique is most known for the design and make dresses, but they also have ready-made gowns for brides who have to get married sooner.
Aside from the dresses, it's also worth noting that Vivian Gown strives to provide clients an exceptional, cosy, stress and fuss-free experience for the most important dress in their lives. The Vivian Gown staff are personable and patient, taking the time to consult with each client to ensure that they get the gowns of their dreams.
Highlights
Caters to brides from all walks of life
Specialise in bespoke wedding gowns for 14 years 
Various gown collections available
Offers ready-made and bespoke wedding gowns
Unlimited alternation for customer satisfaction
And with that, we conclude our list of the bridal shops to go to for the best wedding dress in Singapore. If you think one of these shops has what you're looking for, don't hesitate to schedule an appointment right away!
For those who know of other bridal shops worth checking out, tell us their names and we'll check if we can include them in our roster.
For more options, we recommend checking out our list of the best wedding gown rentals in Singapore. Our list features other bridal stores that offer a wide range of wedding gowns for all budgets.