By Colin Ng
Did you and your kids get invited to a costume party? If you need costumes, we're here to help you out with our list of the best costume rentals in Singapore that offer a wide array of costumes.
Some of the costume rentals we found have attire for birthday parties, formal dinners, dance performances, and photoshoots. Of course, we also made sure to include only those that offer their costumes at an affordable rate.
So, if you're curious about where to find the best costume rentals in Singapore, then keep reading below!
1.  CCM

BEST FOR 
Wide Collection
SERVICES
Costume Rental and Custom-made Customs
WEBSITE
ccm.com.sg
ADDRESS
3 Kelantan Ln, #01-01, 02-01, Singapore 208625
CONTACT DETAILS
(65) 6333 9440 |  (65) 9299 9064 |

[email protected]

OPERATING HOURS
Monday – Saturday, 11:00 AM – 8:00 PM
CCM isn't called Singapore's number-1 costume supplier for no reasons. Besides having a huge collection of costumes, it offers both costume rental and custom-made costumes that can be used for birthday parties and cosplay events.
Some of the costumes it offers are ones for superheroes, mythology, retro, anime, victorian, medieval, Christmas, Halloween, and a whole lot more. If you're planning to have a custom-made costume, you will be assisted by their professional tailor.
On top of that, CCM also provides costume buffets, photobooths, and alteration services. It's one of the best costume rentals in Singapore today.
Highlights
Variety of costume concepts
Alteration services
Professional and experienced tailor
Costume packages
Customer Reviews
Here are some of the reviews posted by customers on Google Reviews:
"My family had a great fun family photoshoot session at CCM. It was a totally new experience for us and my children enjoyed themselves the most! What is great about CCM is that they have quality costumes and they are well maintained, that is why we felt very comfortable throughout the session. Staff are always proactive and assist us not only with costumes but additional props for better effects on the shoot. As we look at our photos now, we recall very clearly our lovely memory there. Thank you CCM!" 
"I have never seen such a big range of costumes at one place. It indeed covers most of the popular characters and party themes. If I ever want to wear a costume, surely I will go straight to CCM again. The staff are friendly and the rental fee is reasonable, too."
2.  Moephosis Concepts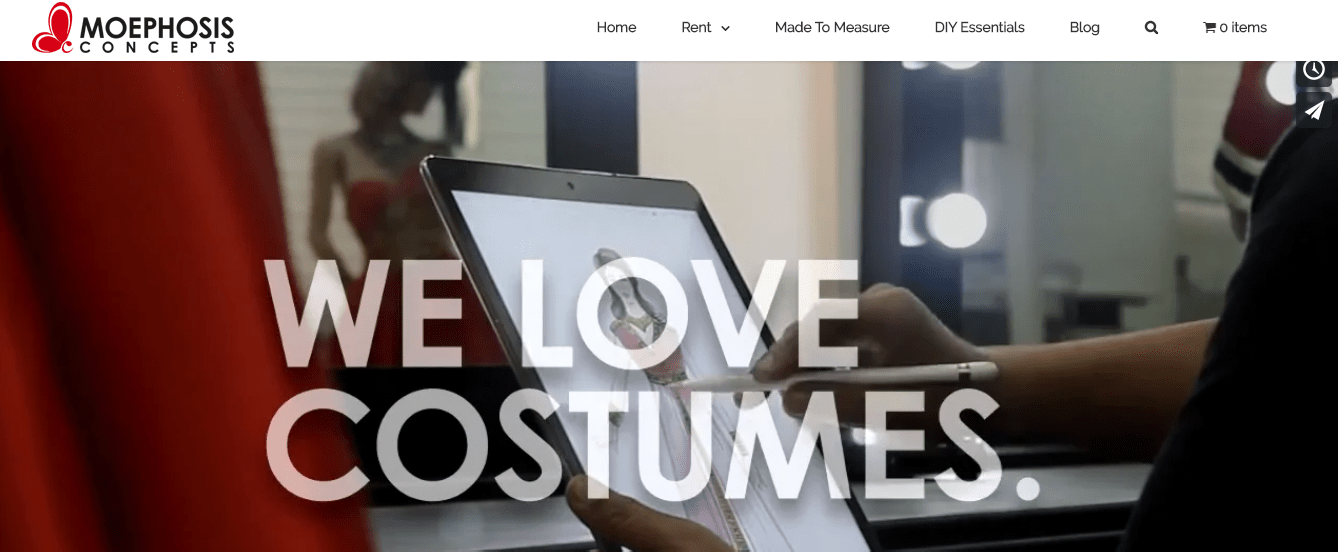 BEST FOR 
Boutique-style Costumes
SERVICES
Costume Rental, Made to Measure, and DIY Essentials
WEBSITE
http://moephosis.com/moephosis/
ADDRESS
15 Shaw Rd, #08-02, Singapore 367953
CONTACT DETAILS
6345 8731 |

[email protected]

OPERATING HOURS
Monday – Saturday, 11:00 AM – 7:00 PM
If the event you're going to is a formal one, then renting a costume at Moephosis Concepts is your best option. It's one of the few costume rentals on the island that provide formal, boutique-costumes made for Dinner and Dance events and fancy dress functions.
On top of the vast collection of costumes, it also has masks, accessories, and wigs to compliment your look for the night. Moephosis Concepts can guarantee that your costume will be one of the highlights of the event!
What's more, Moephosis Concepts also works with theatre producers and creative agencies to supply customers, proving that it's one of the most trusted and best costume rentals in Singapore.
Highlights
12 years of experience
Formal costumes
Custom-made costumes
Customer Reviews 
Moephosis Concepts has received tons of positive feedback over its 12 years of operation. Here are some of them:
"Thanks Moephosis for helping me with my D&D costume. Now I finally understand the difference between renting a costume and buying online. The quality is sooo different and I get to look special from everyone else. Special thanks to Mr Mahmud for styling me up and making sure my costume fits well. I will never buy another costume from Taobao again."
"The best costume shop in Singapore! I've been to so many shops over the years, and Moephosis is the one with the best costume designs and cleanliness. Even though they did not have the specific design I wanted, the staff was very helpful to suggest alternatives. 5 Stars! =) P.S. Thank you for accommodating, even though I came at the last minute!"
3.  Awesome Costumes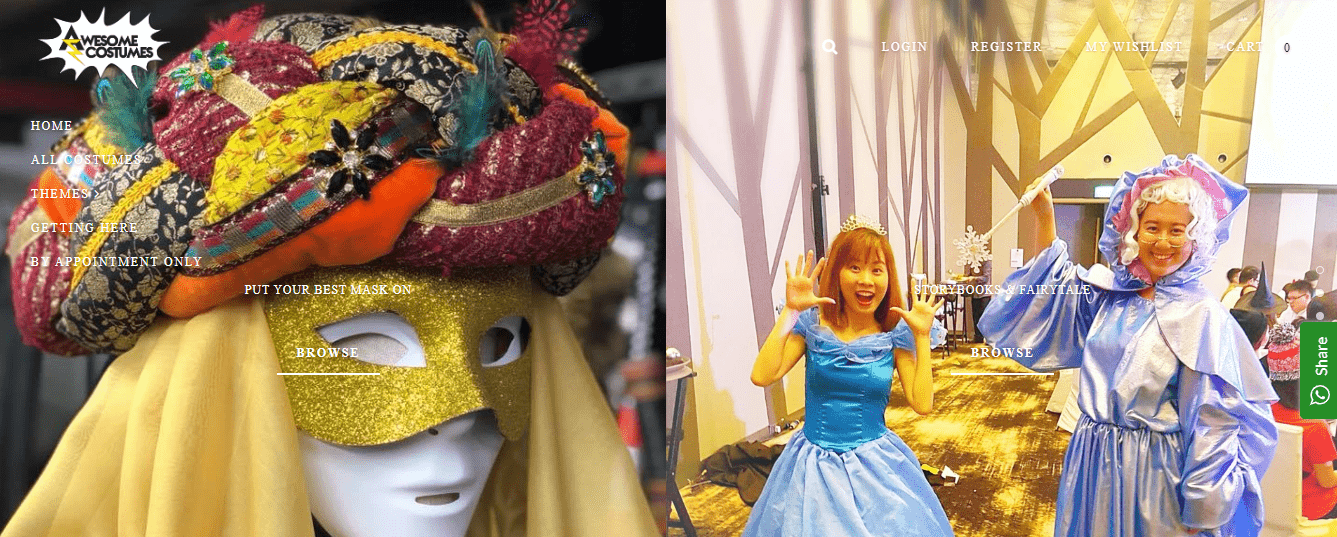 | | |
| --- | --- |
| BEST FOR  | Quality and Durable Costumes |
| SERVICES | Costume Rental |
| WEBSITE | https://awesomecostumes.com.sg/ |
| ADDRESS | 3 Pemimpin Dr, #03-04E, Singapore 576147 |
| CONTACT DETAILS | +65 8892 7553 |
Considered one of the best costume rentals in Singapore, Awesome Costumes has attire for all occasions. It's headed by Grace, who studied and practiced Fashion Studies here and abroad, so rest assured that her creations are of high quality and one-of-a-kind.
One of the reasons we've named it one of the best costume rentals in Singapore is its impressive range of costume concepts, which include The Great Gatsby, celebrities, fairies and forest, games, historical, movies and television, pirates and gypsies, and a whole lot more.
Awesome Costume also offers free alteration services if you buy/rent costumes from them in bulk.
Highlights
Trained tailor
Different concepts
Free alteration
Customer Reviews
Take a look at what customers have to say about the company's services:
"An amazing costume-rental shop. Grace actually makes the costumes and readily gives good advice about options and sizing, and the rental price includes simple alterations such as adjusting hem length. She is friendly and forthcoming and made the whole process a pleasure. The costume range is impressive, ranging from classic to current movies and Eastern to Western."
"I am very very happy I got the rental of Frozen Anna and Frozen Kristoff from Awesome Costumes… it was so comfortable and Grace did excellent  customer service to us. We are so satisfied… Our daughter was very very happy to see us in that costume."
4.  Ministry of Costumes

Established in 2016, Ministry of Costumes has slowly grown into one of the best costume rentals in Singapore for its quality and extensive collection of costumes. Despite being in the industry for less than 4 years, it's managed to gain the trust of thousands of customers.
The Ministry of Costumes specialises in costumes for birthday parties and cosplay events. Some of the concepts for its costumes include pirate, Alice in Wonderland, circus, Christmas, cartoons, Halloween, and anime.
On top of that, all of its costumes are priced reasonably. So, you don't have to spend a lot of money just to find the right costume for an event you're looking forward to attending.
Highlights
Made from quality materials
Affordable costumes
5.  Costumes 'N' Parties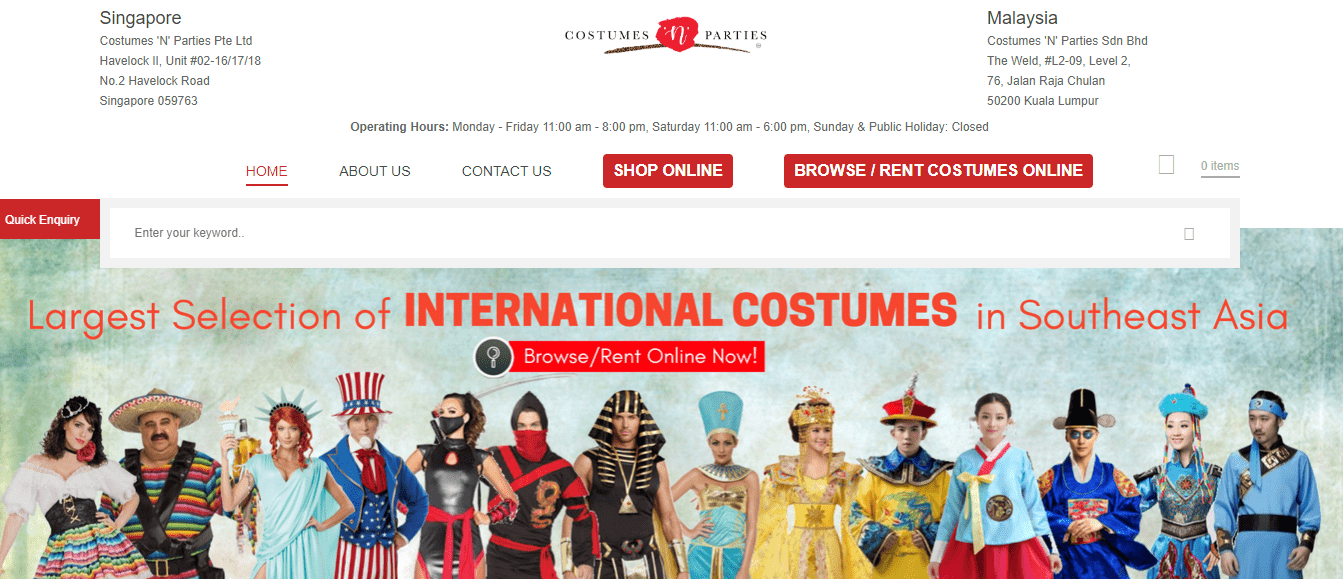 BEST FOR 
Largest Collection of Costumes
SERVICES
Costume Rental
WEBSITE
costumes-n-parties.com
ADDRESS
No.2 Havelock Road Unit #02-16/17/18, Havelock II, Singapore 059763
CONTACT DETAILS
+65 6224 8742 |

[email protected]

OPERATING HOURS
Monday – Saturday, 11:00 AM – 8:00 PM
Costumes 'N' Parties is known for having the largest wardrobe of costumes in all of Southeast Asia, making it one of the best costume rentals in Singapore for sheer variety of choice. With over 20 years of experience, it has helped clients find the perfect costume for both formal and casual events.
Besides costumes, it also provides wigs, accessories, masks, and hats to go with the costume chosen by its customers. It has over 20,000 sets of costumes, so rest assured that it carries the attire you're looking for.
Highlights
20 years of experience
20,000 costume sets
Quality and durable costumes
Customer Reviews
Here are some of the comments left by satisfied customers:
"The staff were all very friendly & happy to guide me on how to go about renting the costumes & purchasing for the additional accessories. There are many varieties of costumes for you to choose from & to try on before you decide. Will definitely rent my costumes there again for my next party!"
"Awesome selection of costumes and friendly staff. Pretty chilled store, no one on my back, you're free to roam and find the costume that suits you. Air conditioned with change rooms so it is great. Dog costumes available here too!"
6.  Covetella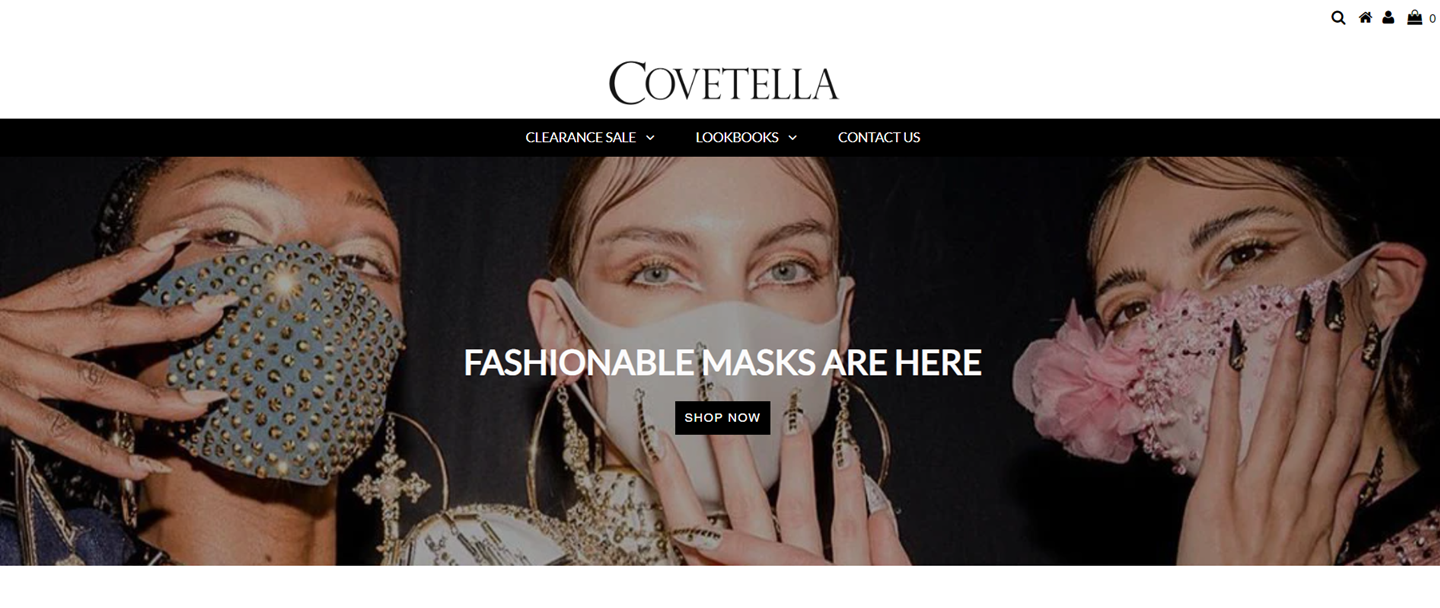 BEST FOR 
Personal Styling
SERVICES
Evening Gowns
Cocktail Dresses
Accessories
WEBSITE
https://www.covetella.com/
ADDRESS
201 Henderson Rd, #04-08, Singapore 159545
CONTACT DETAILS
Phone: +65 8751 3560
Email: [email protected]
OPERATING HOURS
By appointment only
Looking for an affordable but astonishing gown for your event? Well look no further, as Covetella is here to provide you designer styles that would surely make every head turn.
Covetella is a popular rental place in Singapore that offers beautiful outfits for you to try, ranging from cocktail dresses to long gowns and formal wear. With their beautiful pieces, you can best believe that you'll find something that suits your taste and your style.
You may visit their showroom for a more personal fitting, and rent the perfect dress for you to wear on a special day. You also won't have to worry about rushing it back to the shop, as they give you the option to rent it for a longer time– without much of an increase to the price.
Highlights
Outstanding rental service
Amazing selection for all body types
High quality fabrics
Customer Reviews
Read some of the best reviews left on Covetella's Google Review:
"Covetella's indeed every girl's Fairy Godmother! Each and every piece of the stunning designer gowns are of top notch quality. When I first walked in, I was really impressed at the wide variety of apparels all neatly displayed according to their colours and length.. but what struck me most was the stunning material of the chiffon gowns selected and the sparkling crystals that are of premium quality! Gown rentals of such quality are really affordable and highly recommended for your special occasion."
7.
PartyAllo

| | |
| --- | --- |
| BEST FOR  | Party and Event Planning |
| SERVICES | Carvinal Game Booth, Inflatable Carnival Booth, Bouncy Castle, Animal Rides, Face Paint, Caricature, Balloonist, Henna, Mascot Costume, and Photobooth |
| WEBSITE | https://partyallo.com.sg/ |
| ADDRESS | 80, #05-13 Playfair Rd, Singapore 367998 |
| CONTACT DETAILS | +65 90251902 or [email protected] |
| OPERATING HOURS | Open 24 Hours |
Based in Singapore, PartyAllo is a leading party and event planning firm. They have a dedicated team of 30 crews that helps their clients with everything related to events.
They are your one stop station for birthdays, celebrations and many more. They take pride in providing their very best when it comes to services, especially for you and your special ones.
With exceptional skills and passion, the team will plan, execute and create the perfect celebration for your special occasion. They are not familiar with failures– they make sure that everything they do ends up successful.
Highlights
Carnival Game Booth
Inflatable Carnival Booth
Henna
Bouncy Castle
Animal Rides
Face Paint
Caricature
Photo Booth
Balloonist
Mascot Costume
Customer Reviews
Here is a review left by a very satisfied client:
"Very good service. Service provider/party planner Khayen is extremely polite, initative, extremely helpful and kind as well. He made sure everything go well during our party & made all of us happy for hours! Thumbs up for his professionalism. Highly recommended for photography, face painting and balloon twisting services. I will sure to engage Party Allo again next year. Appreciated lots for everything earlier. "
8.  Glamourdoll SG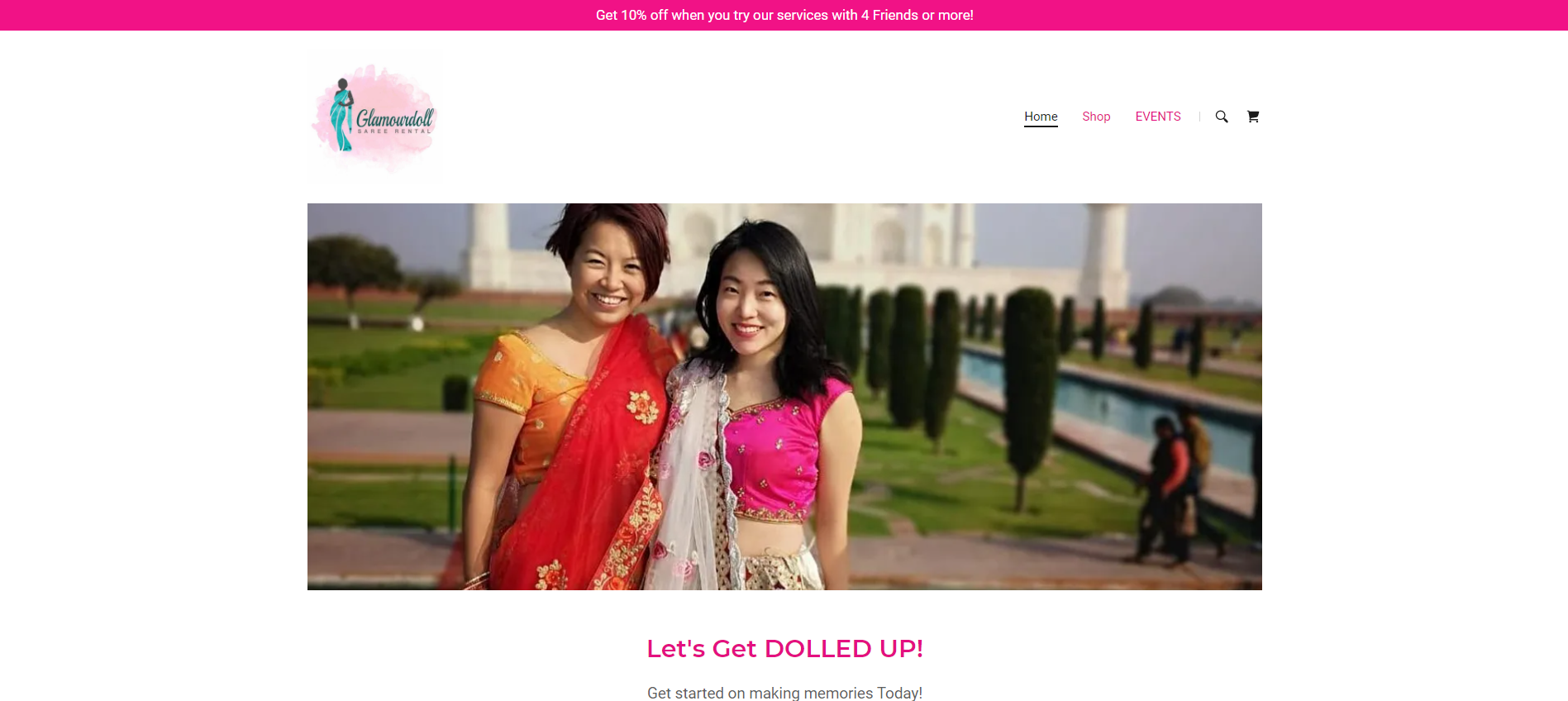 BEST FOR 
Events Clothings, Makeups and Customized Cards
SERVICES
Bollywood Costume Rental, Henna Art and Henna Art Workshops, Makeup & Hair Styling, REFLEXION BEUTY CENTRE
WEBSITE
http://glamourdollsg.com/
ADDRESS
66 Prinsep St, Level 2 Fl 2, Singapore 188668
CONTACT DETAILS
+65 91807595 YASMEEN
+64 94230237 FARIDA
OPERATING HOURS
Monday – Saturaday, 11:00 am – 8:00 pm
If you're looking for ideas on how to dress tastefully and appropriately for an Indian themed event, Glamourdoll SG is the special place for you. From Corporate Events, to Indian Weddings and Private Parties, rest assured that they got your back.
They provide free alteration and fitting services to ensure you look and feel comfortable throughout your event. You can choose from a wide variation of choices, with the a bonus which is glamorous accessories.
Get dolled up for your next event without having the fear of standing out because of wrong clothing choices. They believe in living life to the fullest, and the best way to do that is to dress to impress, in clothing which is both beautiful and functional.
Highlights
Wedding Clothing
Accessories
Food Hampers
Wedding Favours
Customized Hand-Pressed Cards
Customer Reviews
Here is a review left by a very satisfied client:
"We rented 2 sets of lehenga to India for our friend's wedding 2 weeks ago. My overall experience was superb, Farida was extremely sweet and provide superior customer service. She also has great taste if you need her suggestions to pick the right outfit for you. I will definitely recommend my friends if you need a fuss free glam up outfit! Do check it out! No regrets."
And that's it for our list of the best costume rentals in Singapore. If you've been to any of these shops before, please share your experiences with us!
By the way, if you're also in the early stages of wedding planning, you might want to consider these best wedding gown rentals in Singapore. These rental stores offer not only quality and beautiful dresses but affordable ones too!