By Ryan Lim
Do you have crooked teeth or poorly aligned jaws that you want to get fixed? Well, with the help of the best orthodontists in Singapore, you no longer have to suffer through the pains caused by teeth and gum problems.
It's worth remembering that there are some gum and tooth conditions that can only be fixed by orthodontists and not dentists. Some of these include correcting bites, straightness of teeth, and occlusions.
At any rate, if you're currently feeling pain caused by any of those conditions, then it's time to bring yourself to the best orthodontists in Singapore to prevent further damage to your oral health.
Anyway, we created our own list of the best orthodontists in Singapore to help you out. Check them out to see which one is closest to your area.
(Note: This list is in no particular order.)
1. Symmetry Dentofacial Aesthetics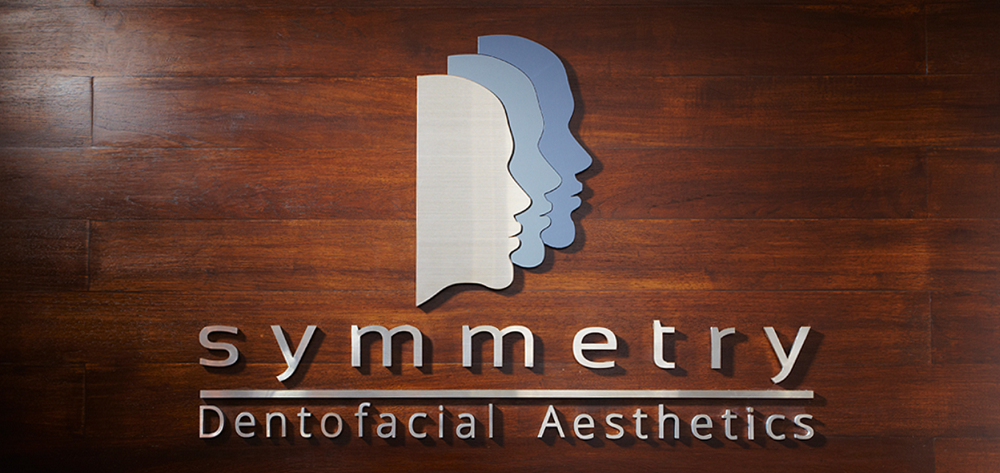 BEST FOR 
Dentofacial Aesthetics
SERVICES
Braces/ Dental Alignment
Functional Aesthetics
General Dental Maintenance & Aesthetics
WEBSITE
https://www.dentalsingapore.co/braces/
ADDRESS
Symmetry Dentofacial Aesthetics, 1 Farrer Park Station Road, #15-15 Connexion Farrer Park Medical Centre, Singapore 217562
CONTACT DETAILS
(65) 3138 4425
OPERATING HOURS
Tuesday to Friday: 9:30 AM to 7:30 PM
Saturday: 8:00 AM to 2:30 PM
Closed on Sundays, Mondays and Public Holidays
Committed to identifying, managing, and understanding patients' dentofacial aesthetic needs, Symmetry Dentofacial Aesthetics ensures that they offer a wide range of comprehensive treatments including but not limited to Aesthetic Braces Treatment, Adjunctive Non-surgical Aesthetic Treatment, and Oral Surgical Treatment.
This premier specialist clinic also aids discerning patients by working with other specialists to offer dental implants, dental prostheses, root canal treatment, and periodontal treatment. Furthermore, they have a smooth process that are handled efficiently by their highly trained and knowledgeable team.
If you are in need of a comfortable and professional service for your dentofacial aesthetic needs, try booking an appointment at the Symmetry Dentofacial Aesthetics in Singapore!
Highlights
Caters to individualized needs of patients through personalized services
Friendly and professional service
Engaging and knowledgeable orthodontists
Customer Reviews
"Went to did my scaling with Dr Wee. He is a friendly, professional and passionate orthodontist ! He explained on how to take care of our teeth and urged the importance of our teeth! He also helped my hubby to do filing and the outcome is more than satisfactory! Strongly recommend Dr Wee!"

"Dr. Wee was very professional and engaging and ensured my comfort was his top priority. The facilities and staff were top notch as well. I was able to do a walk-in and have a procedure done on the same day. Hands down the best experience I've had at a dentist. Thanks again for everything and I look forward to my next visit!"

"Dr. Wee is one of the best I must say in this industry! Went for scaling and polishing, entire process was smooth and knowledgeable as Eugene explains to you what is he going to do next. I sensed the passion in his work when he does the explanation, somehow I felt like a student haha! Well for those who fret visiting the dentist, I do highly recommend getting your teeth checked."
2.  My Braces Clinic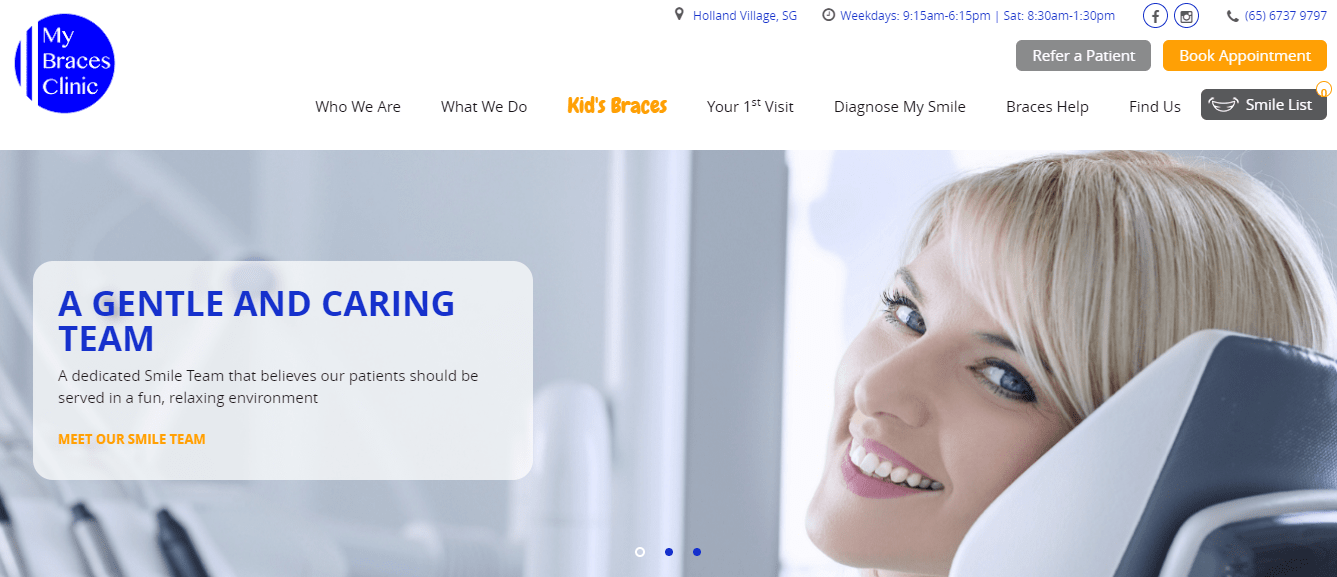 | | |
| --- | --- |
| BEST FOR  | Children Dentistry |
| SERVICES | Ceramic Braces, Invisible Braces, Sports Mouthguard, and Jaw Surgery |
| WEBSITE | https://www.mybracesclinic.com/ |
| ADDRESS | 43 Jln Merah Saga, #01-80 Chip Bee Gardens Holland Village, Singapore 278115 |
| CONTACT DETAILS | (65) 6737 9797 |
| OPERATING HOURS | Monday – Friday, 9:15 AM – 6:15 PM |
If you're in search of an orthodontist that offers a variety of braces, then look no further than My Braces Clinic. Among the types of braces offered are InvisAlign braces, lingual braces, ceramic braces, and even kids' braces.
On top of these, it also does minor jaw surgeries, tooth replacement, sleep apnea treatment, dental trauma treatment, and so much more. It's definitely called one of the best orthodontists in Singapore for a reason.
What's more, kids tend to be afraid of visiting the dentists, but they have nothing to worry about My Braces Clinic. It has a team of orthodontists who know how to deal with kids when it comes to dental procedures.
Highlights
Services for children
Experienced orthodontists
Different kinds of braces
3.  One Orthodontics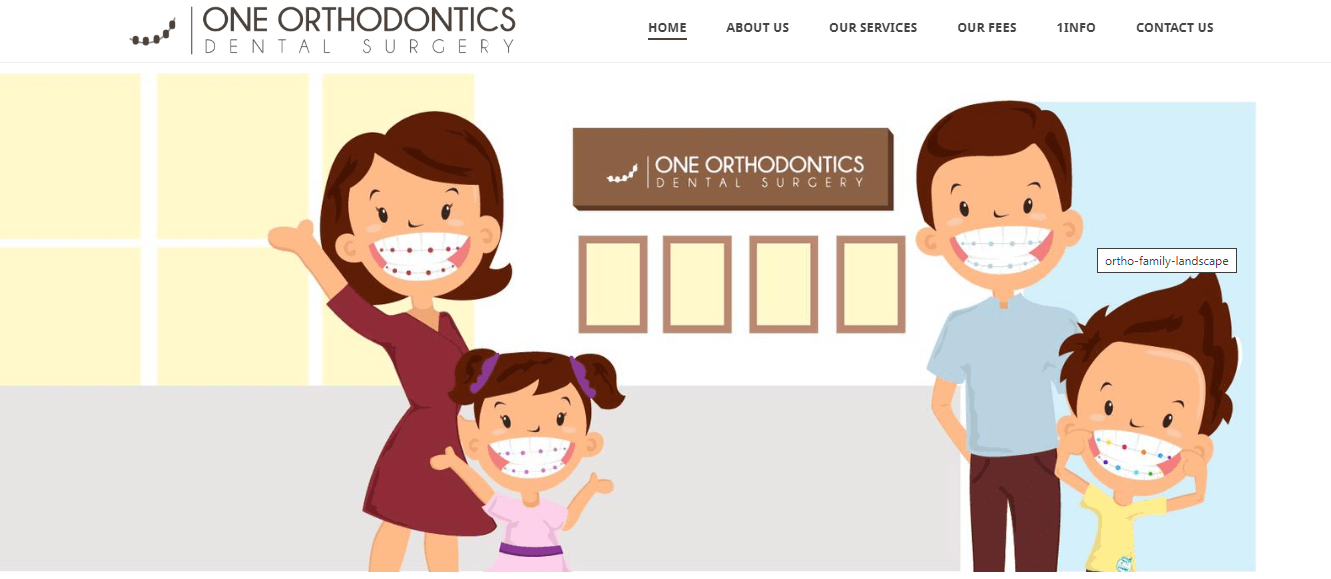 BEST FOR 
Dental Surgeries
SERVICES
Surgeries, Orthodontics for Children, Preventive Treatments, Restorative Treatments, and Whitening
WEBSITE
https://1orthodontics.sg/
ADDRESS
10 Sinaran Dr, #10-29, Singapore 307506
CONTACT DETAILS
6397 2848 | Email:

[email protected]

OPERATING HOURS
Monday – Friday, 11:00 AM – 7:35 PM
One Orthodontics offers a wide variety of procedures such as metal braces, ceramic braces, extractions, surgeries, fillings, whitening, and a whole lot more. What makes it stand out from other clinics is its treatments that are designed for all ages — from children to adults.
Another thing worth noting about One Orthodontics is its team of orthodontists. Everyone on its team has both local and international exposure, so rest assured that every patient will be given only the best orthodontic treatment.
Highlights
Treatments for all ages
Experienced orthodontists
Cozy environment
Customer Reviews
One Orthodontics has an average rating of 4.9 based on 26 reviews on Google Reviews. Here's what some customers have to say about its services:
"Dr Koh is a great Dentist having thorough knowledge in orthodontics, he is kind and very informative and goes out of his way to educate patients and family. His staff is very nice and very understanding, putting patients at ease. They did Braces for me and I would greatly recommend them to everyone!"
"I usually hate getting my teeth cleaned, but after getting my teeth cleaned by Darren once many years ago, now I regularly make my dental appointments with One Orthodontics! Darren is always very careful and thorough, and he will patiently answer my questions about oral health."
4.  Expat Dental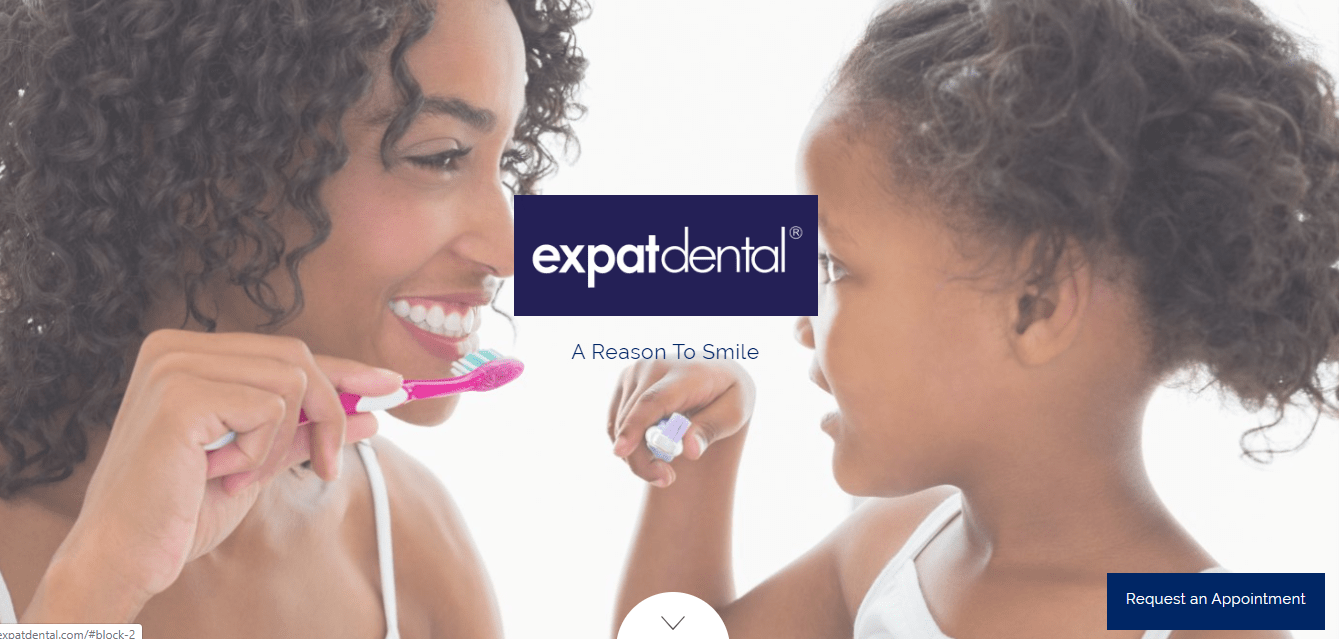 | | |
| --- | --- |
| BEST FOR  | Advanced Medical Technologies |
| SERVICES | Restorative Dentistry, Oral Hygiene, Children's Dentistry, Cosmetic Dentistry, Sports Dentistry, and Digital Dentistry |
| WEBSITE | http://expatdental.com/ |
| ADDRESS | 12A Lor Mambong, Singapore 277676 |
| CONTACT DETAILS | +65 6397 6718 | +65 9833 8706 |
| OPERATING HOURS | Monday – Friday, 11:00 AM – 9:00 PM |
There are lots of dental clinics scattered all over Singapore, but there are only a few that cater to the needs of foreigners — Expat Dental is one of them.
Among its goals as a company is to ensure that expats will feel at home through its high-quality dental procedures. It has some of the best orthodontists in Singapore if you're an expat on the island.
It also offers a long list of services geared towards putting an end to your gum and teeth problems. Some of these include braces, dental surgeries, InvisAlign, dental aesthetic, and even sports dentistry.
Highlights
Holistic approach
Professional orthodontists
Competitive rates
5. MT A Dental Centre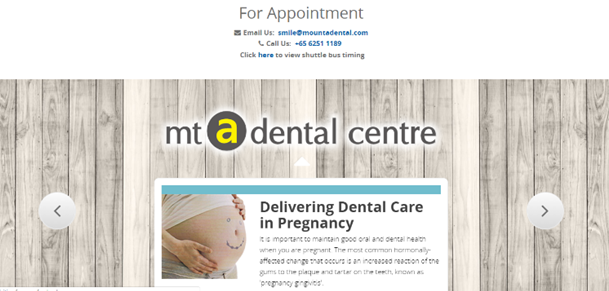 BEST FOR 
Clinical Specialties (Endodontics, Orthodontics, Prosthodontics, Pediatric Dentistry, Specialised Diagnostic Radiology)
SERVICES
Pregnancy Dental Care, Root Canal, Dental Implants, Baby Teeth, Wisdom Teeth, Braces, General Medical, General Dental
WEBSITE
http://mountadental.com
ADDRESS
820 Thomson Road, #08-51 Medical Centre D, Mount Alvernia Hospital, Singapore 574623,
CONTACT DETAILS
Work: 65 6251 1189 / Fax: 65 6251 5394 | [email protected]
OPERATING HOURS
Monday to Friday : 09:00 am to 12:00 pm, 01:00 pm to 04:00 pm
Saturday : 09:00 am to 12:00 pm
Mt. Alvernia Dental Centre is a Dental Clinic that specializes in endodontics, orthodontics, prosthodontics, and children's dentistry. It ensures that the patient's' best interest are put first, especially for those frightened during dental visits, as well as for medically-compromised patients. Other than providing expert dental services, its team of doctors value their relationship with their patients by carefully listening to their patients and their concerns.
Highlights
Excellent and commendable team of doctors
Provides patients adequate information regarding their dental concerns in order to decide on which treatment is best for them
6. About Braces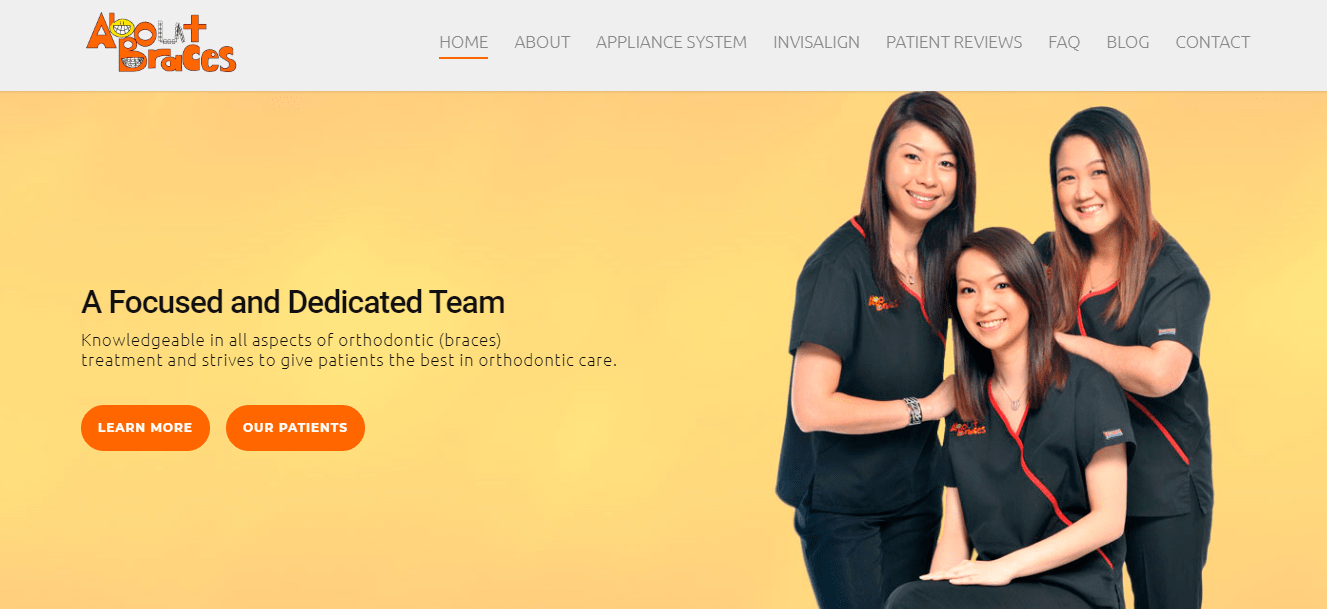 BEST FOR 
Braces and Invisalign
SERVICES
Metal Braces, Ceramic Braces, and Invisalign
WEBSITE
https://aboutbraces.org/
ADDRESS
8, #06-01 Sinaran Dr, Novena Specialist Center, Singapore 307470
CONTACT DETAILS
6397 7177 |

[email protected]

OPERATING HOURS
Monday – Friday, 8:00 AM – 5:00 PM
About Braces is famous for its high-quality yet affordable braces and InvisAligns. It's among the few dental clinics in Singapore that focus on all aspects of orthodontic treatments — which is why we name it one of the best orthodontists in Singapore.
It has a team of dedicated and experienced orthodontists who provide different options for teeth straightening and offer clients only the best orthodontic care.
Over its years of operation, it has managed to earn the trust of thousands of patients through its impeccable orthodontic treatments, so rest assured that you will be in safe hands when you sign up for its services.
Moreover, About Braces doesn't end with quality orthodontic procedures — its staff is also known for being friendly and accommodating with all patients.
Highlights
Dedicated orthodontists
Affordable braces
Customer Reviews
Take a look at some of the comments left by satisfied customers:
"Friendly staff, did not have any issues arranging an appointment. Dr Vaz was an extremely professional and friendly doctor. He will do his best to answer all the questions my parents have. Demonstration at how to brush properly and put on the rubber bands was very clear. I liked the way my teeth looked at the end. It was not what I imagined but definitely a huge improvement in my teeth. However there is some room for impression, I wish the waiting time to meet the doctor was shorter."
"The staff are all very kind, friendly and also help with my request especially towards the last few months of my braces journey. Dr Vaz is a very reliable orthodontist as I feel secure to have him to fix my teeths. He is also very patient with my request towards the last few months of my braces journey as there were some changes that I want to make after I sign the confirmation form. It was a pleasant journey having my braces in About Braces. Thank you so much."
7. Neosmiles Dental Studio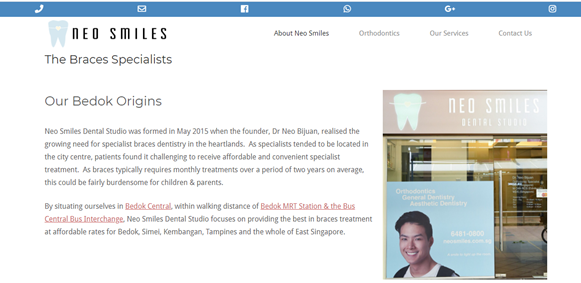 BEST FOR 
Braces Specialties
SERVICES
Orthodontics, Braces, Invisalign, Cosmetic Dentistry, Wisdom Tooth Surgery, Implants, Root Canals, Dentures
WEBSITE
https://neosmiles.com.sg/
ADDRESS
Bedok Branch: 214 Bedok North St 1, #01-153, Singapore 460214

Kovan Branch: 210 Hougang St 21, #01-273, Singapore 530210

CONTACT DETAILS
[email protected]

Bedok Branch: 6481-0800 | 9669-0789 (Whatsapp)

Kovan Branch: 6386-0700 | 9669-0789 (Whatsapp)

OPERATING HOURS
Bedok Branch: Mon – Thu : 10am – 8pm
Sat : 9am – 5pm
Sun : 9am – 2pm
Closed Fridays & Public HolidaysKovan Branch: Tue – Fri : 10am – 8pm
Sat : 9am – 5pm
Sun : 9am – 2pm
Closed Mondays & Public Holidays
Established in Bedok Central in May 2015, Neo Smiles Dental Studio was founded by Dr. Neo Bijuan due to the growing need for specialist braces industry. Neo Smiles Dental Studio's focus is to provide excellent braces treatments at affordable rates. Aside from its latest dental chairs and X-ray machines, its clinic provide free WiFi internet access, in-chair entertainment, and top-class patient care. By 2017, a branch in Kovan was opened to serve more patients.
Highlights
Has two branches
Recognized by Baby Bonus, Community Health Assist Scheme (CHAS), Medisave, Pioneer Generation (PG), Merdeka Generation
Customer Reviews
"I did invisalign braces with Dr. Neo at Bedok last December. The treatment lasted a year. She and her team is always friendly and offer good services. The price of invisalign treatment is slightly pricier but the quality is great!" (Source: Neosmiles Dental Studio Website, 4 months ago)
"Lots of clients when we arrived at the clinic but we were prioritize since we had booked our visit several days ago. The clinic is cozy, lots of magazines and other prints you can spend time reading while waiting. The dentist is also accommodating and he is explaining what he will do before the procedure. Thank you" (Source: Neosmiles Dental Studio Website, 5 months ago)
"Really friendly, patient and caring orthodontist! They have a new high tech machinery that didn't require me to put the mould in my mouth. Just needed to scan my teeth. It was completely pain free and I could not be happier with my experience! Highly recommend!" (Source: Neosmiles Dental Studio Website, 6 months ago)
"Had my braces fitted and teeth cleaned in one day. Friendly staff, and friendly orthodontist (Dr Neo) to get my braces fitted. She made sure to walk me through all the different types of braces and tried to make me more comfortable during my treatment by making small talk. Even offered to buy bubble tea at the end of the session! Thank you Dr Neo and staff!" (Source: Neosmiles Dental Studio Website, 8 months ago)
8. The Orthodontic Clinic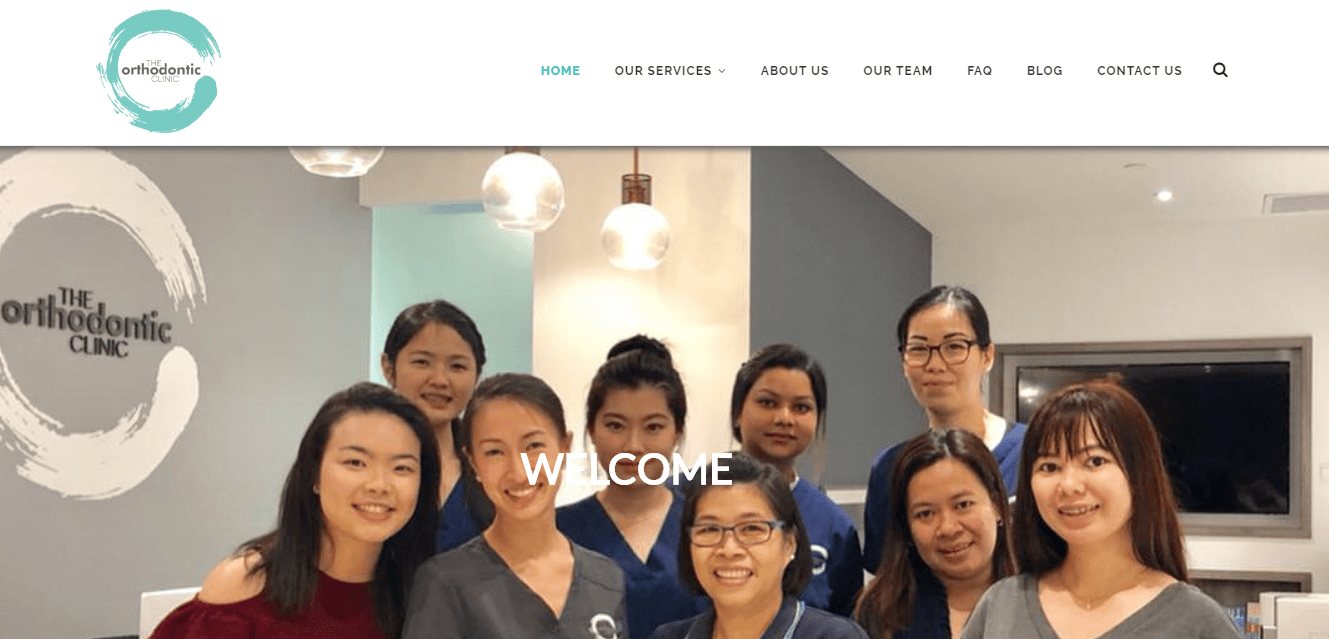 BEST FOR 
General Dentistry
SERVICES
Orthodontics, Invisalign, Aesthetic Dentistry, Dental Implants, and Teeth Extraction
WEBSITE
https://orthodontic-clinic.sg/
ADDRESS
9 Scotts Road, Scotts Medical Center (above Pacific Plaza), #08-02, Singapore 228210
CONTACT DETAILS
6737 3850 |

[email protected]

OPERATING HOURS
Monday – Friday, 9:00 AM – 6:00 PM
It's no secret around the island that The Orthodontic Clinic houses some of the best orthodontists in Singapore. It has a team of professional orthodontists who have been practicing  for quite some time now.
Among the services offered by The Orthodontic Clinic are general dentistry, aesthetic dentists, dental implants, tooth extraction, among others. It's known for providing services that are geared towards improving the oral health of patients and giving them something to smile about.
The Orthodontic Clinic ensures the quality of its services by using state-of-the-art and advanced medical technologies in every procedure.
What's more, all its treatments are priced competitively. Even if you're on a budget, it's indeed one of the best orthodontic clinics in Singapore.
Highlights
Affordable rates
Experienced orthodontists
Advanced medical equipment
Customer Reviews
Most customers commended the professionalism of every orthodontist on the team. Some also noted that its orthodontists made sure that they were comfortable throughout the entire procedure.
Here's a comment posted on Google Reviews:
"I am so happy with the service and care that the entire clinic has provided to me. Dr Lee is such a lovely person and I felt really welcomed every time I went in for treatment. I now wear a smile that many of my friends compliment and I am definitely recommending more people to them! Thumbs Up!"
9. Gentle Dental Centre
| | |
| --- | --- |
| BEST FOR  | Dental Care |
| SERVICES | Restorative Treatment, Orthodontics, Oral Surgery, Paedodontics, Cosmetic Dentistry, Periodontics, CAD-CAM Prosthodontics, Endodontics |
| WEBSITE | http://www.gentledental.com.sg/ |
| ADDRESS | 110 Jalan Jurong Kechil, #01-01 Sweebi House, Singapore 598606 |
| CONTACT DETAILS | 6466 6110 l [email protected] |
| OPERATING HOURS | Monday – Saturday, 9:00 am – 5:00pm |
Using the most modern techniques, the Gentle Dental Group cares for you like a friend or family while maintaining fair, honest and effective practices. With the clinic's many advances, you no longer have to settle for stained, chipped, or misshapen teeth.
Their mission is quite simple: to offer their 'gentle touch' to all and to treat their customers with top quality treatment and service. They continuously uphold their philosophy of using modern equipment and materials to provide world-class dental care to all of their patients.
You can now have choices that can help you smile with confidence. Their dental surgeons have decades of experience in providing cutting edge dental solutions to patients.
Highlights
Modern Techniques
Modern Equipment and Materials
Skilled Surgeons
Customer Reviews
Here is a review left by a very satisfied client:
"I was served by Dr. Melisa Lazaroo. The treatment was comfortable and she was very detailed in explaining to me the problems with my oral health condition, and also taught me useful method for managing my dental problem. She is friendly, gentle and kind, it was a pleasant experience to be treated by her. The clinic is very clean and surrounding of the dental chair are equipped with LCD displays for viewing relaxing videos and also other advanced dental equipment. Customer service is also excellent and very accommodating in helping me arrange a good time for appointment. Gentle Dental Group is excellent! Thank you very much!."
10. NoFrills Dental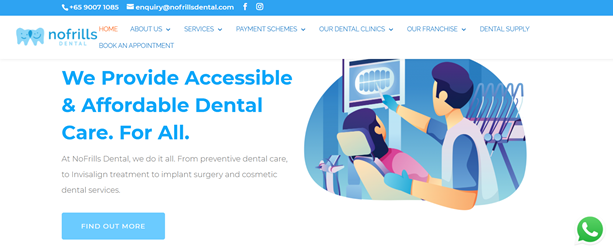 BEST FOR
Wide range of services
SERVICES

All-On-4 Treatments
Clear Aligners
Invisalign
Braces
Crowns & Bridges
Dental Implants
Dentures
Digital X-Rays
Fluoride Treatment
Gum Treatment & Surgery
Polishing & Scaling
Root Canal Treatment
Sleep Apnea
Tooth Extractions
Tooth Filling
Tooth Sensitivity Treatment
Veneers
Whitening
Wisdom Tooth Surgery
Suntec City
3 Temasek Boulevard,
Suntec City North Wing/Sky Garden (Between Tower 1 & 2), #03-317 (Lobby H) S(038983)Tel: +65 6337 7319
WhatsApp: +65 8281 5514Marina Square
6 Raffles Boulevard, #B1-11, Marina Square (Exit B, Esplanade MRT),

WEBSITE
https://nofrillsdental.com.sg/
ADDRESS

Suntec City
3 Temasek Boulevard,
Suntec City North Wing/Sky Garden (Between Tower 1 & 2), #03-317 (Lobby H) S(038983)Marina Square
6 Raffles Boulevard, #B1-11, Marina Square (Exit B, Esplanade MRT), S(039594)Corporate HQ
81 Ubi Avenue 4, UB.One, #10-10/09/08, Singapore 408830

CONTACT DETAILS
+65 9007 1085 [email protected]
OPERATING HOURS
Open 24 hours
No matter how late your dental emergency may be, or how severe the damages are, rest assured that NoFrills Dental has got you covered.
Offering an accessible means of providing top-quality dental services, NoFrills is the place to be if you want to be handled only by the best dentists in the country. They deliver a holistic dental experience for all ages, at a very affordable price.
Materials and technology used in the clinic are unmatched, proving just how amazing NoFrills is.
The clinic is open 24 hours for emergencies and offers a comprehensive range of services for you to acquire, making them a one-stop solution for any of your dental needs.
Highlights
Accessible locations
Affordable dental services
Highly skilled dentists
Dental insurances are accepted
Customer Reviews
Below are some of the feedback from patients of NoFrills Dental:
"Dr Joshua Chong had gentle hands and provided the information in a clear manner. He was patient and answered all the queries I had. Would highly recommend : )"
"The clinic is very clean and bright and staff are very friendly. I had a filling and a clean with Dr Li, she was very patient and thorough with her explanations and the filling didn't hurt at all.Very pleasant experience overall, highly recommend."
And that's it for our list of the best orthodontists in Singapore. There's no need to suffer through the pains caused by gum and tooth problems if you can depend on these reliable orthodontists.
If you know of other dependable orthodontists in Singapore, by the way, share their names with us and we'll check if we can add them to our roster.
For more options, you might want to visit the best dental clinics in Singapore. We're certain that any of these dental clinics has the treatment that you're looking for.