The 14 Best Orthodontists in Singapore
Do you have crooked teeth or poorly aligned jaws that you want to get fixed? Well, with the help of the best orthodontists in Singapore, you no longer have to suffer through the pains caused by teeth and gum problems.
It's worth remembering that there are some gum and tooth conditions that can only be fixed by orthodontists and not dentists. Some of these include correcting bites, straightness of teeth, and occlusions.
At any rate, if you're currently feeling pain caused by any of those conditions, then it's time to bring yourself to the best orthodontists in Singapore to prevent further damage to your oral health.
Anyway, we created our own list of the best orthodontists in Singapore to help you out. Check them out to see which one is closest to your area.
(Note: This list is in no particular order.)
Nuffield Dental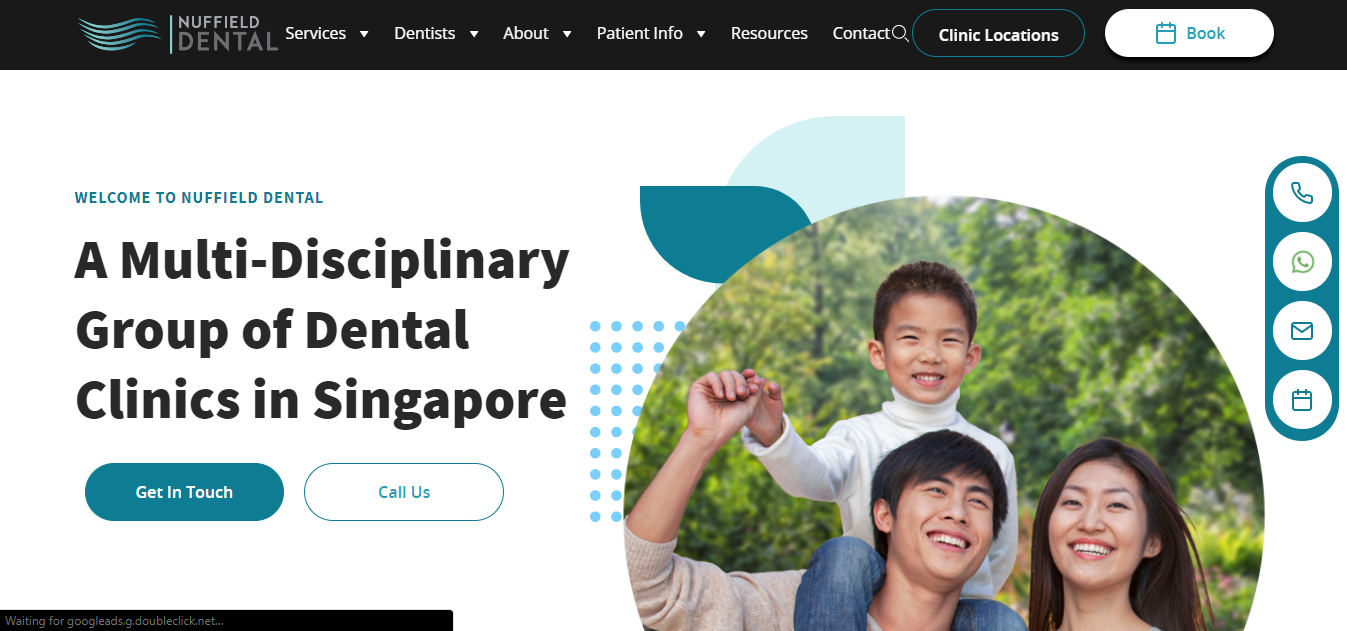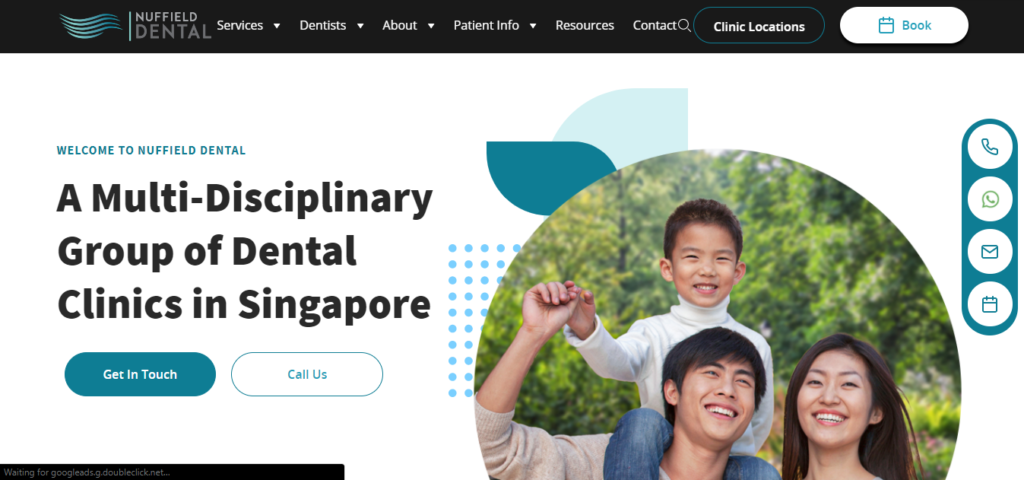 SERVICES
https://www.nuffielddental.com.sg/our-services
WEBSITE
https://www.nuffielddental.com.sg/
ADDRESS
HarbourFront
Nuffield Dental HarbourFront
1 Maritime Square, #02-64A,
HarbourFront Centre,
Singapore 099253

Kovan
Nuffield Dental Kovan
2 Kovan Road #01-03,
Simon Plaza,
Singapore 548008

Novena
Nuffield Dental Novena
09-26 Novena Medical Centre,
10 Sinaran Dr,
Singapore 307506

Orchard
Nuffield Dental Jewel
05-01, Wheelock Place,
501 Orchard Road,
Singapore 238880

Raffles Place
Nuffield Dental Raffles Place
1 Raffles Place, #05-19,
Singapore 048616

Central
Nuffield Dental Central
2 Serangoon Rd, #02-27/28,
Tekka Place,
Singapore 218227

Seletar
Nuffield Dental Seletar
1 Seletar Road #01-07/08,
Greenwich Village,
Singapore 807011

Serangoon Gardens
Nuffield Dental Serangoon Gardens
57 Serangoon Garden Way,
Serangoon Garden Estate,
Singapore 555953

Siglap
Nuffield Dental Siglap
914 East Coast Road #01-03,
The Domain,
Singapore 459108

Simpang Bedok
Nuffield Dental Simpang Bedok
430 Upper Changi Road #01-63,
East Village,
Singapore 487048
CONTACT DETAILS
HarbourFront
+65 6264 0422
+65 9230 7343
[email protected]

Kovan
+65 6281 4313
+65 9830 3286
[email protected]

Novena
+65 6397 2739
+65 9823 7556
[email protected]

Orchard
+65 6950 2866
+65 9657 4331
[email protected]

Raffles Place
+65 6532 2644
+65 91711955
[email protected]

Central
+65 6293 0355
+65 98308497
[email protected]

Seletar
+65 6481 4261
+65 98360452
[email protected]

Serangoon Gardens
+65 6280 7909
+65 98307847
[email protected]

Siglap
+65 6636 1303
+65 98307325
[email protected]

Simpang Bedok
+65 6702 3238
+65 98307396
[email protected]
OPERATING HOURS
Contact for more information
Nuffield Dental is a one-stop and multi-disciplinary dental care clinic. We think they are great because they always provide personalized services for each patient.
They have been serving Singaporeans since 2014. With their different locations across the island, from Serangoon Gardens to Siglap, you can experience their great services no matter where you are.
In comparison to other dental centers, they carry out their assessments thoroughly. This enables them to provide their clients with comprehensive information that can help them in making decisions about their treatment plan.
They are one of the clinics we recommend because of their state-of-the-art technology. Their clinic places a strong emphasis on integrating technology to increase the exact of our procedures: digitalizing manual procedures, incorporating 3D printing, intraoral scanners.
They invest in these to gain a better understanding of their patient's unique oral conditions and treat them better.
Need a tooth implant? Wisdom tooth extraction? Root canal treatment? Or any other dental services?
They can help you for they offer almost all the services an individual can need.
Highlights
Has a lot of branches in the country
Devise treatment plans that are suited to each client's needs
Dentists have specialized in implant dentistry and oral surgery for more than 20 years
Customer Reviews
Here's what past patients had to say about their experience with Nuffield Dental:
"Easy to book dental appointments online and over the phone.
Dr. Menon is great and humble, kind, the way he explains dental procedures to patients, more patiently😁"
"Wow got the best experience at Nuffield dental Siglap , yesterday just got my wisdom tooth removed by Dr Unni , I was a person who was really afraid of going to dental have not been to a dentist for almost 15yrs because of bad experience last time but Dr Unni was so experience that I feel 0 pain , 100% recommend Nuffield Dental at Siglap and a great Thank You to Dr Unni great experience Thank You so much"
Zenyum
BEST FOR
Accessible dental services
SERVICES
Aesthetic and Orthodontics 
WEBSITE
zenyum.com
ADDRESS
298 Jln Besar
Singapore, Singapore
CONTACT DETAILS

Email: [email protected]

Tel: (+65) 3165 4923

WhatsApp: (+65) 8768 1823

OPERATING HOURS
24/7
Many dream of being able to smile without worry. Fortunately, you'll be able to do just that with the help of Zenyum. Their mission is to help empower their clients with the most reliable solutions available.
Their staff is composed of some of the top dentists in Southeast Asia. They work together with the best industry professionals in order to continue providing the best and latest services they can offer.
If you're looking for clear aligners, make sure to try their ZenyumClear Aligners! Use the promo code BestSGAligners to get $100 off your purchase. 
Highlights
Safest and smartest dental solutions
High quality products
Large network of industry professionals
Works with trusted orthodontists and dentists
Customer Reviews
Here are some verified feedback from previous clients:
"zenyum gave me the confidence to smile brightly!! it was an amazing experience with the team, giving me all sort of help and also answer to my questions at all time. zenyum is suitable for ppl that need minimum changes without having to pay for the normal braces. everything went smooth, able to see small changes thru the sets. quite satisfied with the result!!"

"Incredibly smooth process for getting my whitening trays – appointment made with the dentist, had my scans done and had my trays delivered to me – affordable and hassle free!"
Symmetry Dentofacial Aesthetics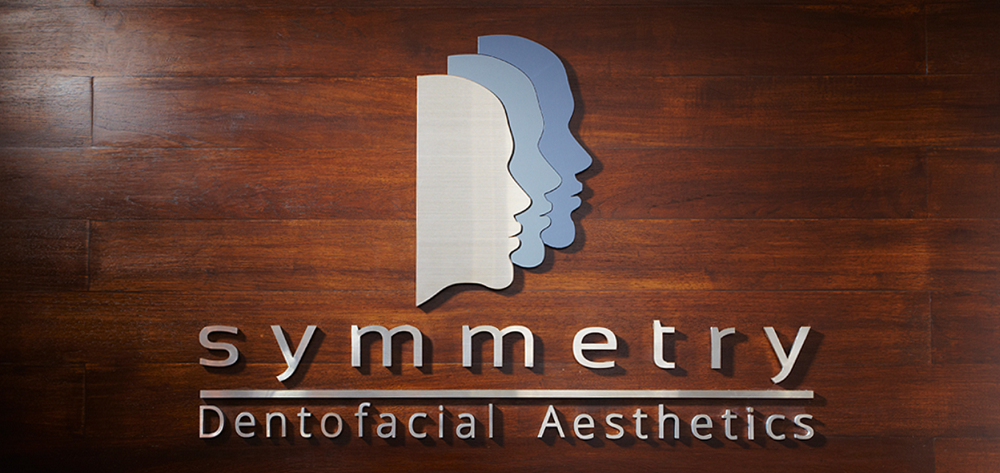 BEST FOR 
Dentofacial Aesthetics
SERVICES
Braces/ Dental Alignment
Functional Aesthetics
General Dental Maintenance & Aesthetics
WEBSITE
https://www.dentalsingapore.co/braces/
ADDRESS
Symmetry Dentofacial Aesthetics, 1 Farrer Park Station Road, #15-15 Connexion Farrer Park Medical Centre, Singapore 217562
CONTACT DETAILS
+65 6432 8285 
OPERATING HOURS
Tuesday to Friday: 9:30 AM to 7:30 PM
Saturday: 8:00 AM to 2:30 PM
Closed on Sundays, Mondays and Public Holidays
Committed to identifying, managing, and understanding patients' dentofacial aesthetic needs, Symmetry Dentofacial Aesthetics ensures that they offer a wide range of comprehensive treatments including but not limited to Aesthetic Braces Treatment, Adjunctive Non-surgical Aesthetic Treatment, and Oral Surgical Treatment.
This premier specialist clinic also aids discerning patients by working with other specialists to offer dental implants, dental prostheses, root canal treatment, and periodontal treatment. Furthermore, they have a smooth process that are handled efficiently by their highly trained and knowledgeable team.
If you are in need of a comfortable and professional service for your dentofacial aesthetic needs, try booking an appointment at the Symmetry Dentofacial Aesthetics in Singapore!
Highlights
Caters to individualized needs of patients through personalized services
Friendly and professional service
Engaging and knowledgeable orthodontists
My Braces Clinic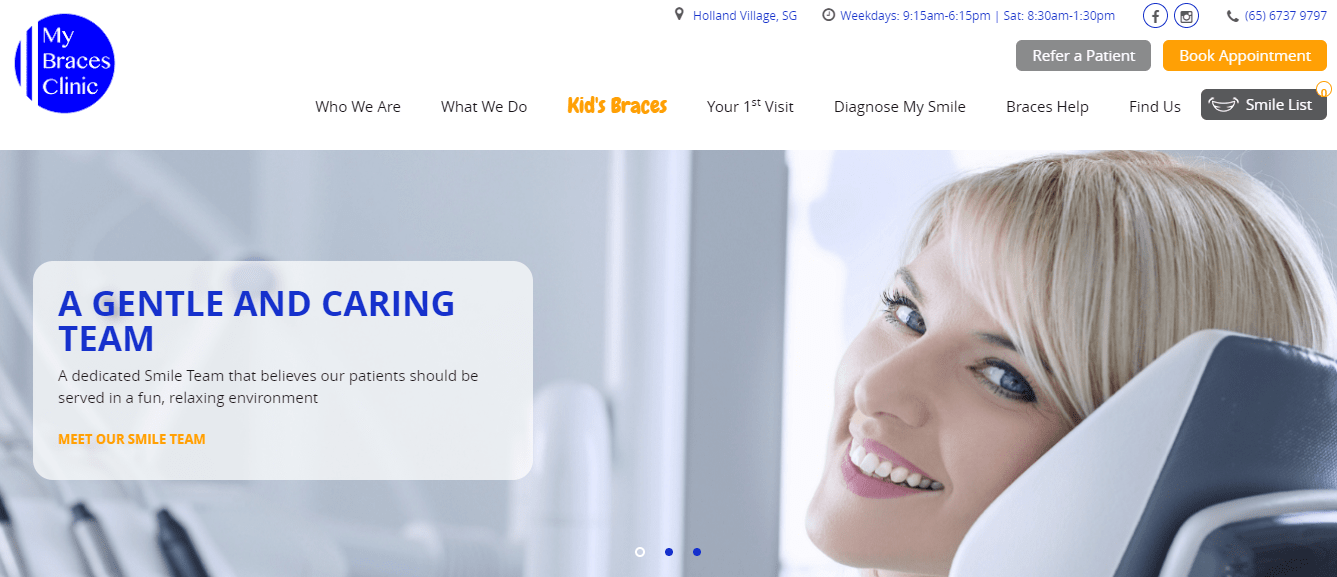 | | |
| --- | --- |
| BEST FOR  | Children Dentistry |
| SERVICES | Ceramic Braces, Invisible Braces, Sports Mouthguard, and Jaw Surgery |
| WEBSITE | https://www.mybracesclinic.com/ |
| ADDRESS | 43 Jln Merah Saga, #01-80 Chip Bee Gardens Holland Village, Singapore 278115 |
| CONTACT DETAILS | (65) 6737 9797 |
| OPERATING HOURS | Monday – Friday, 9:15 AM – 6:15 PM |
If you're in search of an orthodontist that offers a variety of braces, then look no further than My Braces Clinic. Among the types of braces offered are InvisAlign braces, lingual braces, ceramic braces, and even kids' braces.
On top of these, it also does minor jaw surgeries, tooth replacement, sleep apnea treatment, dental trauma treatment, and so much more. It's definitely called one of the best orthodontists in Singapore for a reason.
What's more, kids tend to be afraid of visiting the dentists, but they have nothing to worry about My Braces Clinic. It has a team of orthodontists who know how to deal with kids when it comes to dental procedures.
Highlights
Services for children
Experienced orthodontists
Different kinds of braces
One Orthodontics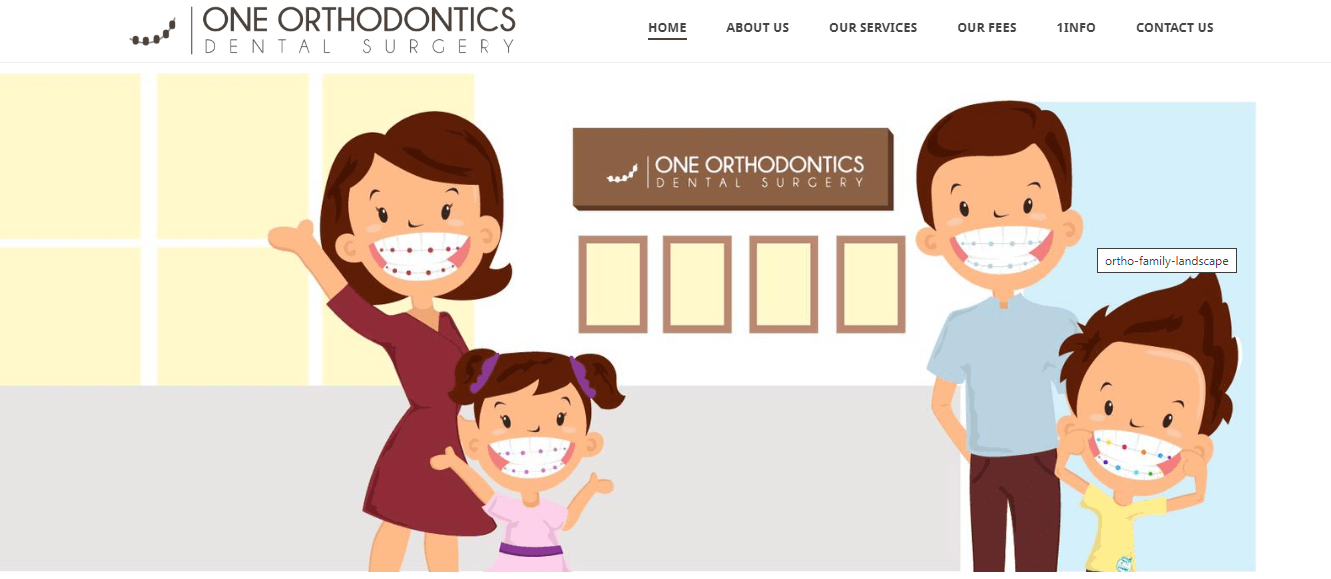 BEST FOR 
Dental Surgeries
SERVICES
Surgeries, Orthodontics for Children, Preventive Treatments, Restorative Treatments, and Whitening
WEBSITE
https://1orthodontics.sg/
ADDRESS
10 Sinaran Dr, #10-29, Singapore 307506
CONTACT DETAILS
6397 2848 | Email:

[email protected]

OPERATING HOURS
Monday – Friday, 11:00 AM – 7:35 PM
One Orthodontics offers a wide variety of procedures such as metal braces, ceramic braces, extractions, surgeries, fillings, whitening, and a whole lot more. What makes it stand out from other clinics is its treatments that are designed for all ages — from children to adults.
Another thing worth noting about One Orthodontics is its team of orthodontists. Everyone on its team has both local and international exposure, so rest assured that every patient will be given only the best orthodontic treatment.
Highlights
Treatments for all ages
Experienced orthodontists
Cozy environment
Expat Dental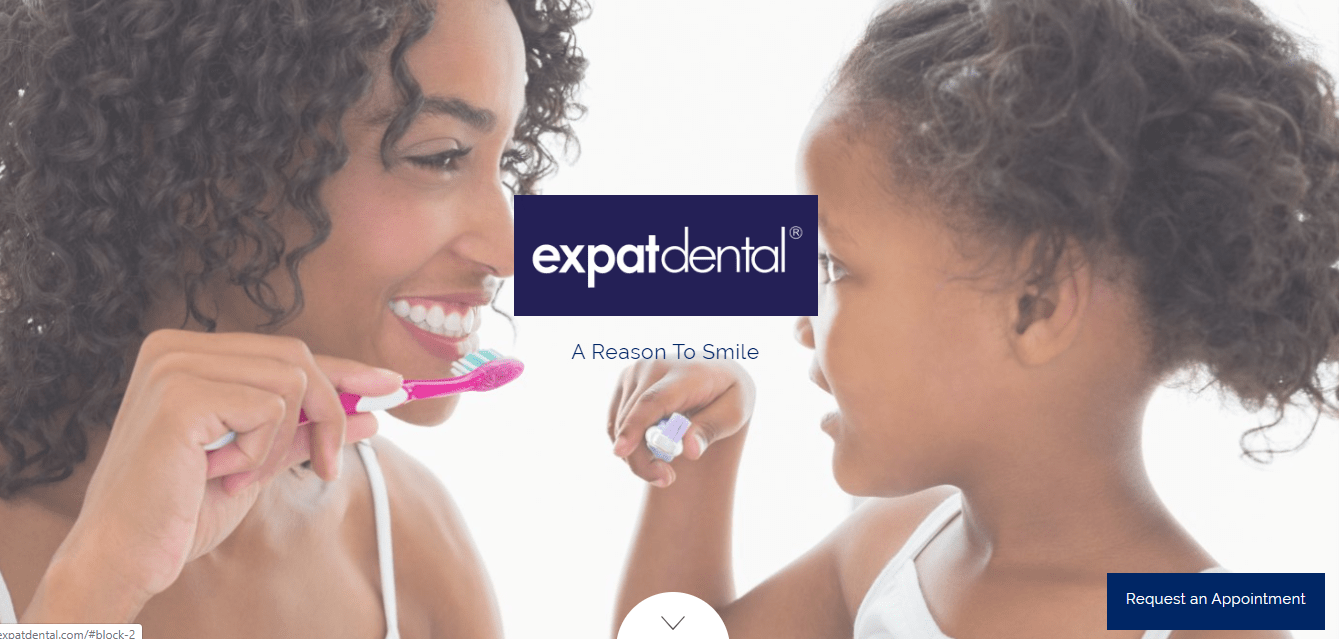 | | |
| --- | --- |
| BEST FOR  | Advanced Medical Technologies |
| SERVICES | Restorative Dentistry, Oral Hygiene, Children's Dentistry, Cosmetic Dentistry, Sports Dentistry, and Digital Dentistry |
| WEBSITE | http://expatdental.com/ |
| ADDRESS | 12A Lor Mambong, Singapore 277676 |
| CONTACT DETAILS | +65 6397 6718 | +65 9833 8706 |
| OPERATING HOURS | Monday – Friday, 11:00 AM – 9:00 PM |
There are lots of dental clinics scattered all over Singapore, but there are only a few that cater to the needs of foreigners — Expat Dental is one of them.
Among its goals as a company is to ensure that expats will feel at home through its high-quality dental procedures. It has some of the best orthodontists in Singapore if you're an expat on the island.
It also offers a long list of services geared towards putting an end to your gum and teeth problems. Some of these include braces, dental surgeries, InvisAlign, dental aesthetic, and even sports dentistry.
Highlights
Holistic approach
Professional orthodontists
Competitive rates
About Braces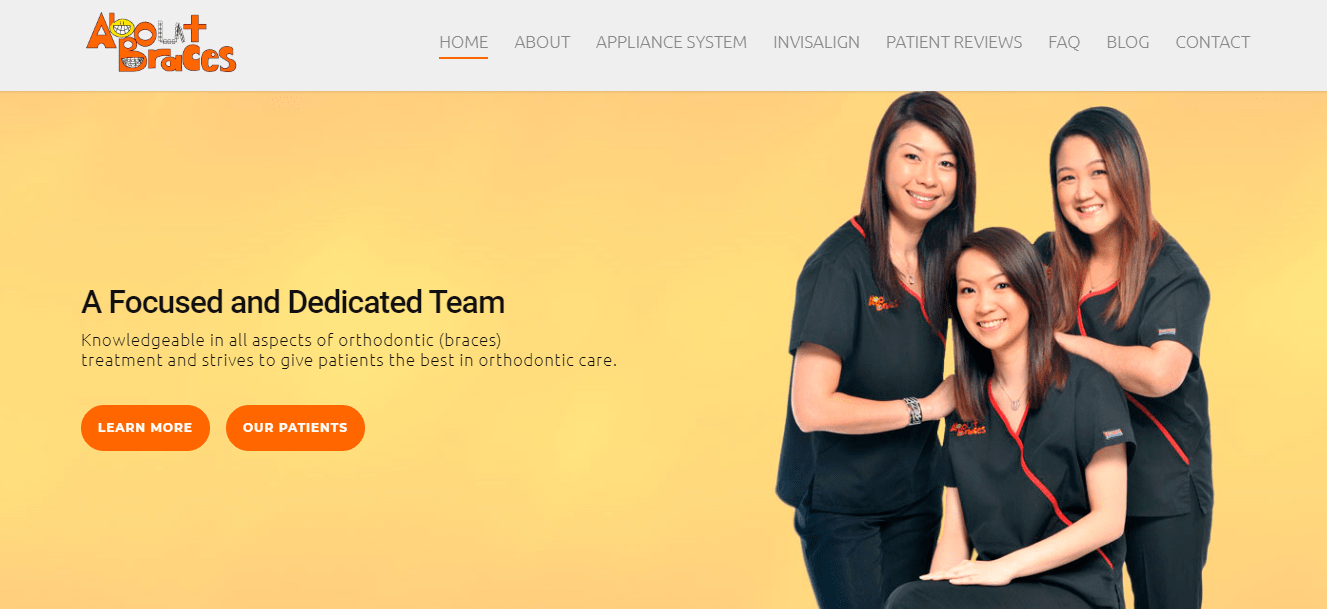 BEST FOR 
Braces and Invisalign
SERVICES
Metal Braces, Ceramic Braces, and Invisalign
WEBSITE
https://aboutbraces.org/
ADDRESS
8, #06-01 Sinaran Dr, Novena Specialist Center, Singapore 307470
CONTACT DETAILS
6397 7177 |

[email protected]

OPERATING HOURS
Monday – Friday, 8:00 AM – 5:00 PM
About Braces is famous for its high-quality yet affordable braces and InvisAligns. It's among the few dental clinics in Singapore that focus on all aspects of orthodontic treatments — which is why we name it one of the best orthodontists in Singapore.
It has a team of dedicated and experienced orthodontists who provide different options for teeth straightening and offer clients only the best orthodontic care.
Over its years of operation, it has managed to earn the trust of thousands of patients through its impeccable orthodontic treatments, so rest assured that you will be in safe hands when you sign up for its services.
Moreover, About Braces doesn't end with quality orthodontic procedures — its staff is also known for being friendly and accommodating with all patients.
Highlights
Dedicated orthodontists
Affordable braces
Neosmiles Dental Studio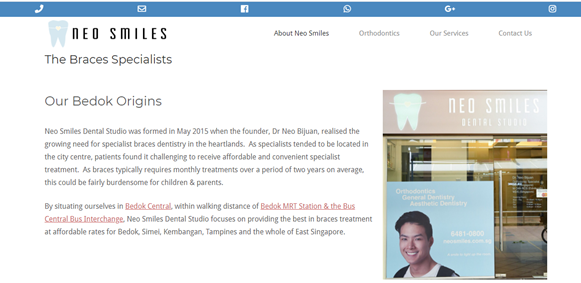 BEST FOR 
Braces Specialties
SERVICES
Orthodontics, Braces, Invisalign, Cosmetic Dentistry, Wisdom Tooth Surgery, Implants, Root Canals, Dentures
WEBSITE
https://neosmiles.com.sg/
ADDRESS
Bedok Branch: 214 Bedok North St 1, #01-153, Singapore 460214

Kovan Branch: 210 Hougang St 21, #01-273, Singapore 530210

CONTACT DETAILS
[email protected]

Bedok Branch: 6481-0800 | 9669-0789 (Whatsapp)

Kovan Branch: 6386-0700 | 9669-0789 (Whatsapp)

OPERATING HOURS
Bedok Branch: Mon – Thu : 10am – 8pm
Sat : 9am – 5pm
Sun : 9am – 2pm
Closed Fridays & Public HolidaysKovan Branch: Tue – Fri : 10am – 8pm
Sat : 9am – 5pm
Sun : 9am – 2pm
Closed Mondays & Public Holidays
Established in Bedok Central in May 2015, Neo Smiles Dental Studio was founded by Dr. Neo Bijuan due to the growing need for specialist braces industry. Neo Smiles Dental Studio's focus is to provide excellent braces treatments at affordable rates. Aside from its latest dental chairs and X-ray machines, its clinic provide free WiFi internet access, in-chair entertainment, and top-class patient care. By 2017, a branch in Kovan was opened to serve more patients.
Highlights
Has two branches
Recognized by Baby Bonus, Community Health Assist Scheme (CHAS), Medisave, Pioneer Generation (PG), Merdeka Generation
The Orthodontic Clinic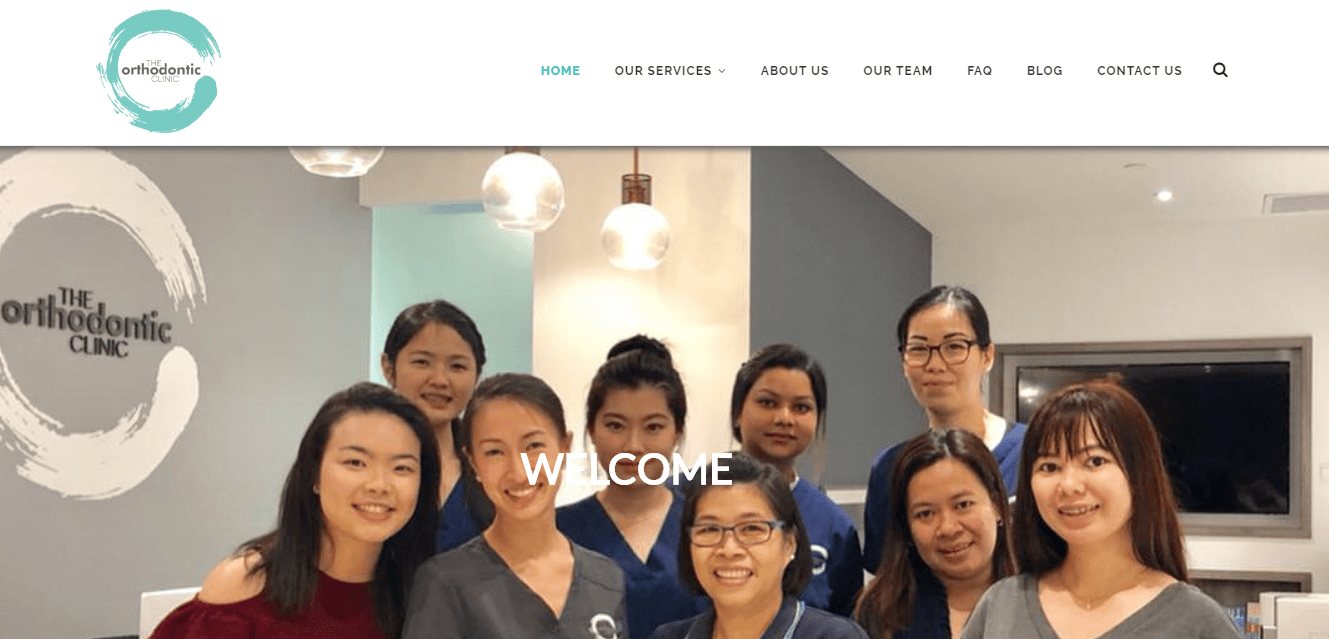 BEST FOR 
General Dentistry
SERVICES
Orthodontics, Invisalign, Aesthetic Dentistry, Dental Implants, and Teeth Extraction
WEBSITE
https://orthodontic-clinic.sg/
ADDRESS
9 Scotts Road, Scotts Medical Center (above Pacific Plaza), #08-02, Singapore 228210
CONTACT DETAILS
6737 3850 |

[email protected]

OPERATING HOURS
Monday – Friday, 9:00 AM – 6:00 PM
It's no secret around the island that The Orthodontic Clinic houses some of the best orthodontists in Singapore. It has a team of professional orthodontists who have been practicing  for quite some time now.
Among the services offered by The Orthodontic Clinic are general dentistry, aesthetic dentists, dental implants, tooth extraction, among others. It's known for providing services that are geared towards improving the oral health of patients and giving them something to smile about.
The Orthodontic Clinic ensures the quality of its services by using state-of-the-art and advanced medical technologies in every procedure.
What's more, all its treatments are priced competitively. Even if you're on a budget, it's indeed one of the best orthodontic clinics in Singapore.
Highlights
Affordable rates
Experienced orthodontists
Advanced medical equipment
Gentle Dental Centre
| | |
| --- | --- |
| BEST FOR  | Dental Care |
| SERVICES | Restorative Treatment, Orthodontics, Oral Surgery, Paedodontics, Cosmetic Dentistry, Periodontics, CAD-CAM Prosthodontics, Endodontics |
| WEBSITE | http://www.gentledental.com.sg/ |
| ADDRESS | 110 Jalan Jurong Kechil, #01-01 Sweebi House, Singapore 598606 |
| CONTACT DETAILS | 6466 6110 l [email protected] |
| OPERATING HOURS | Monday – Saturday, 9:00 am – 5:00pm |
Using the most modern techniques, the Gentle Dental Group cares for you like a friend or family while maintaining fair, honest and effective practices. With the clinic's many advances, you no longer have to settle for stained, chipped, or misshapen teeth.
Their mission is quite simple: to offer their 'gentle touch' to all and to treat their customers with top quality treatment and service. They continuously uphold their philosophy of using modern equipment and materials to provide world-class dental care to all of their patients.
You can now have choices that can help you smile with confidence. Their dental surgeons have decades of experience in providing cutting edge dental solutions to patients.
Highlights
Modern Techniques
Modern Equipment and Materials
Skilled Surgeons
NoFrills Dental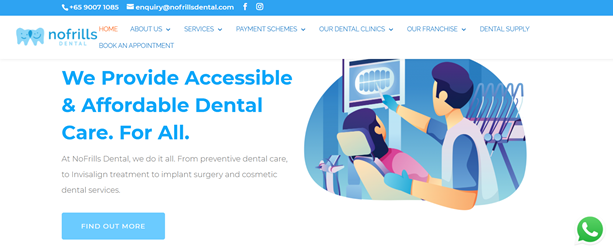 No matter how late your dental emergency may be, or how severe the damages are, rest assured that NoFrills Dental has got you covered.
Offering an accessible means of providing top-quality dental services, NoFrills is the place to be if you want to be handled only by the best dentists in the country. They deliver a holistic dental experience for all ages, at a very affordable price.
Materials and technology used in the clinic are unmatched, proving just how amazing NoFrills is.
The clinic is open 24 hours for emergencies and offers a comprehensive range of services for you to acquire, making them a one-stop solution for any of your dental needs.
Highlights
Accessible locations
Affordable dental services
Highly skilled dentists
Dental insurances are accepted
Ocean Dental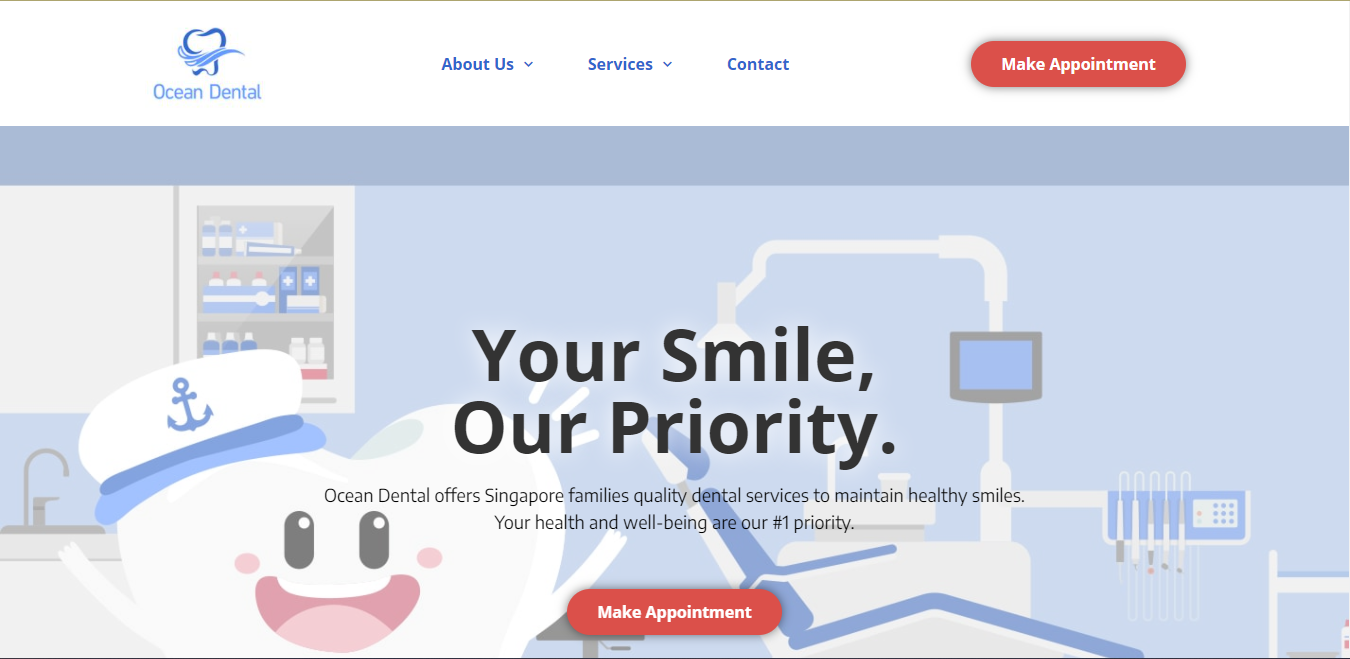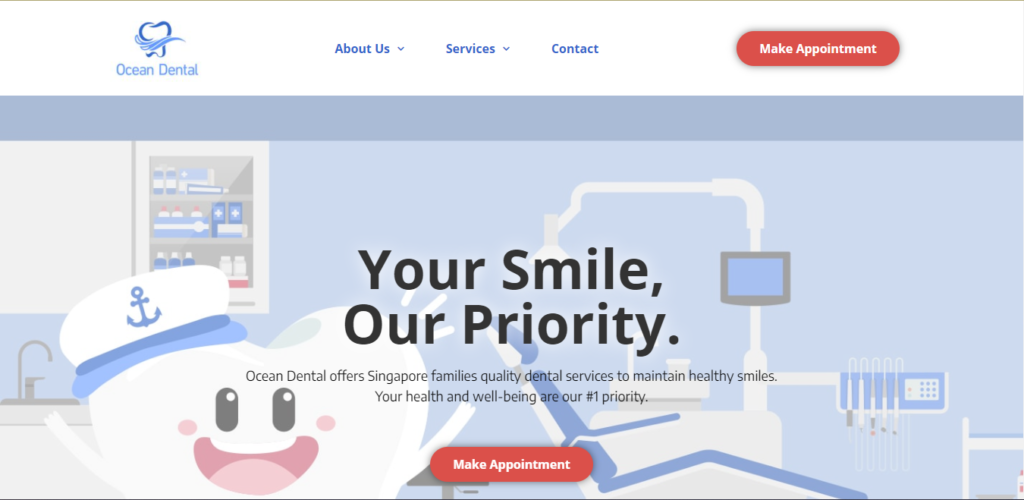 BEST FOR   
Wide variety of services
WEBSITE
https://www.oceandental.sg/
ADDRESS
Blk 721 Clementi West Street 2 #01-118 Singapore 120721
CONTACT DETAILS
+65 6266 3011

[email protected]

OPERATING HOURS
Monday – Friday: 9:00 AM – 9:00 PMSaturday – Sunday: 9:00 AM – 6:00 PM
Ocean Dental is an expert in everything dental, from preventive and cosmetic options to surgical and restorative procedures. 
With modern equipment and dental experts committed to the highest level of customer care, Ocean Dental can provide you with a one-stop-clinic for all your dental needs.
It has the latest technologies, such as Dentsply WaveOne system and 3D Cone-beam computed tomography (CBCT). Each room in Ocean Dental even has X-ray imaging equipment for convenience and efficiency.
Ocean Dental is also accredited by MediSave and Community Health Assist Scheme (CHAS). Thus, you can avail of the clinic's services with sufficient financial backing.
Highlights
Cosmetic, preventive, restorative, surgical dentistry
Latest surgical and imaging technologies
Community Health Assist Scheme (CHAS) and Medisave accreditations
The Braces Practice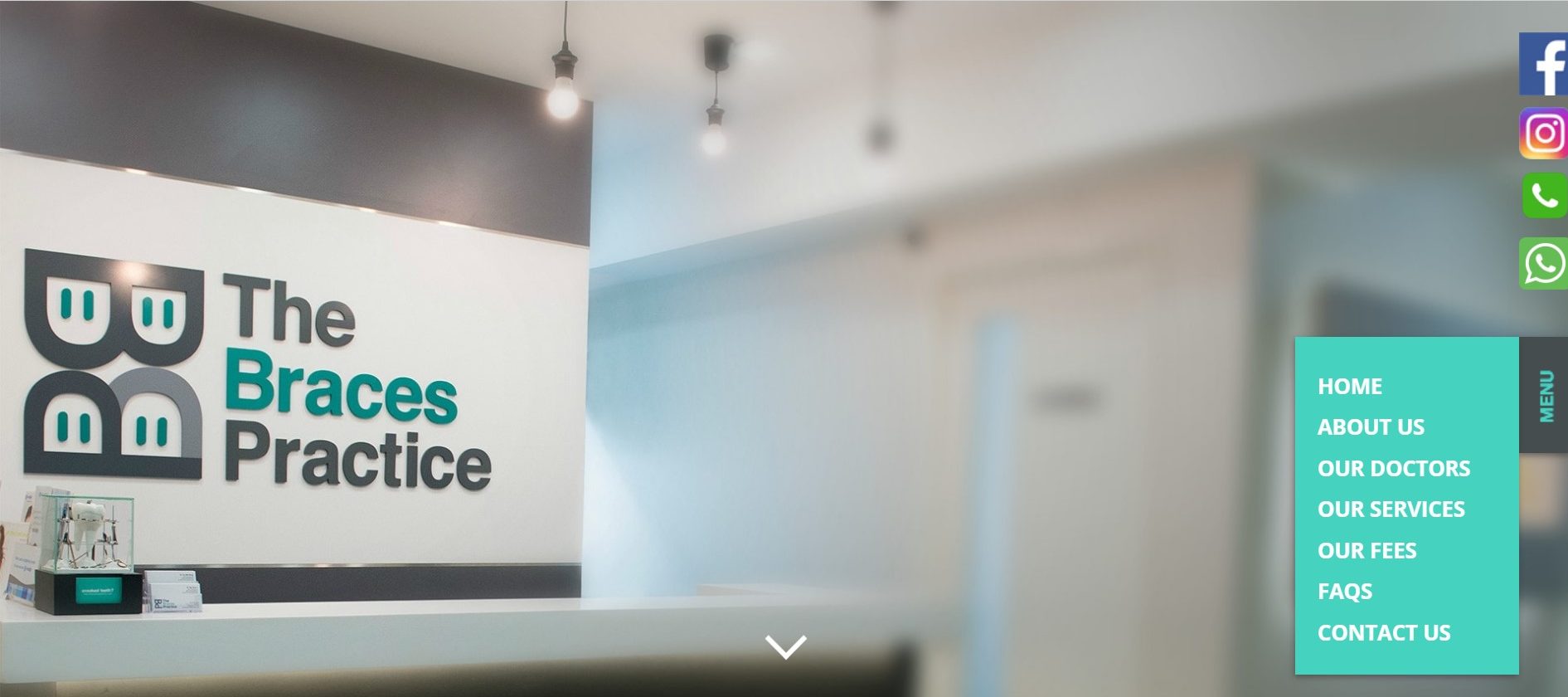 BEST FOR
Braces Application and Teeth Adjustments
SERVICES
Metal braces, invisalign, ceramic braces, Damon Q: Self-Ligating Braces, Damon Clear: Self-Ligating Braces, Children's braces, Braces and Jaw Surgery, Retreatment, Retainers, General Dental Services
WEBSITE
http://www.thebracespractice.com/
ADDRESS
12A Lorong Mambong Holland Village Singapore 277676
CONTACT DETAILS
(+65) 6463 2306, (+65) 9737 6784 (Whatsapp) | [email protected]
OPERATING HOURS
Tuesday-Friday: 11am – 9pm
Saturday: 9am – 5pm
Sunday: 9am – 1pm
Monday & Public Holidays: Closed
Not everyone is born with the perfect set of teeth, which is why The Braces Practice is the place to go to have corrections made. The Braces Practice specializes in braces, teeth adjustments.
They offer a wide variety of services from metal braces, ceramic braces, self-ligating braces, clear braces, retainers and jaw surgery. All these services are available for both children, teenagers and adults!
The Braces Practice guarantees their availability with their extended hours on weekdays as well as being open even on weekends. Another plus is the location of their clinic which is centrally located and conveniently accessible via all modes of transport.
Highlights
Extended hours on weekends
Open on weekends
Accessible location
Customer Reviews
Previous patients wrote on google:
"To say my experience was a fantastic one would be an understatement. Dr Lih has been very patient and kind throughout my entire braces journey right from the consultation to removal. The team assisting him are equally competent in what they do. 10/10 would go here again."
"Got my braces done at The Braces Practice starting 2016 to about 2018. Dr Lih is a really great and patient orthodontist with both me and my sister (who also got braces later on.) The entire process was pretty smooth, never had any issues with getting readjustments every month and I normally hate going to the dentists. Have been going for regular teeth cleaning sessions since taking off my braces as well and the orthodontists there are always pleasant and efficient. The environment is always cheerful and decorated too, really cute. Super recommend anyone to get dental services there."
Dental Designs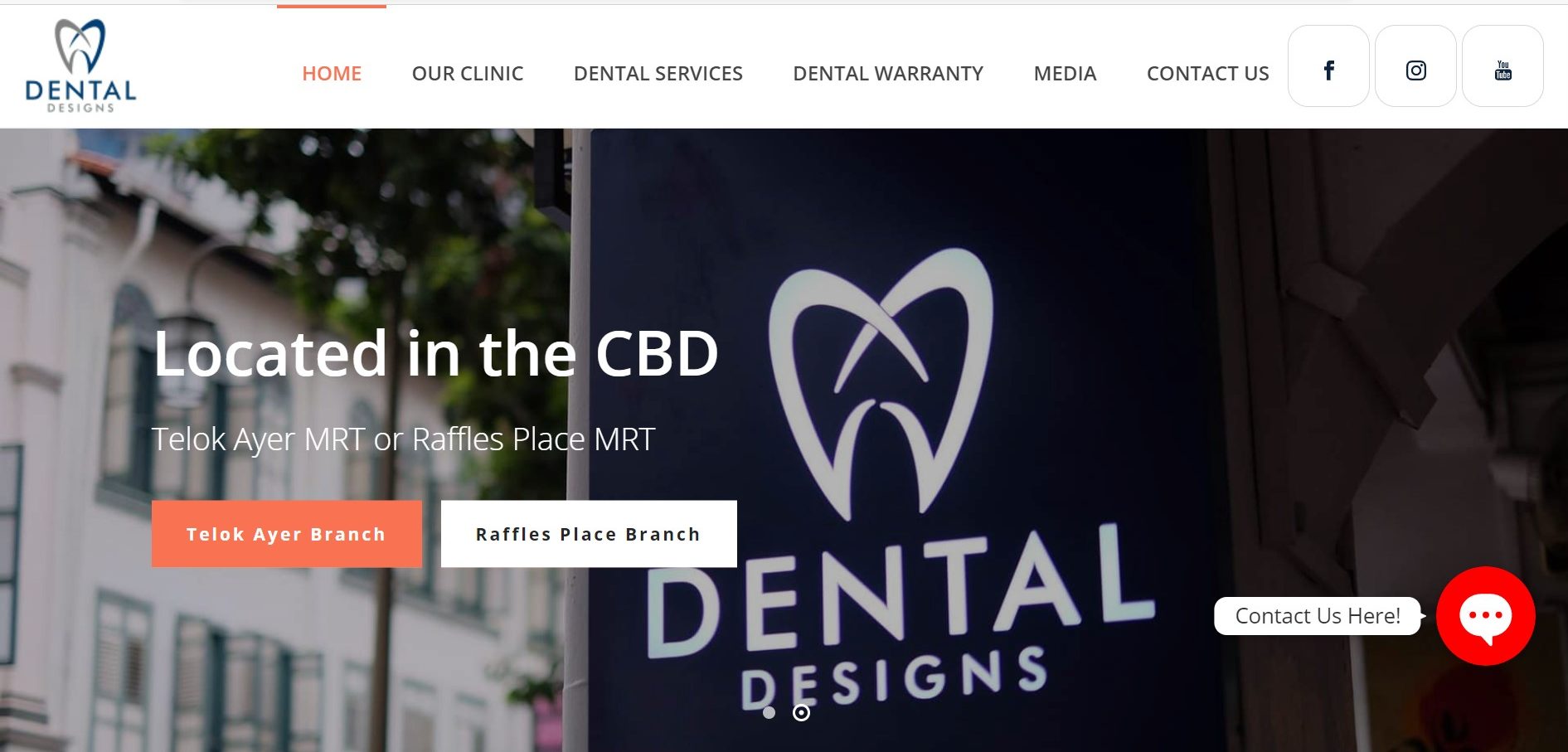 | | |
| --- | --- |
| BEST FOR | CBD Dentist |
| SERVICES | Invisalign, teeth whitening, dental veneers, crowns & bridges, dental implants, root canal treatment, wisdom teeth removal, general dentistry |
| WEBSITE | https://dentaldesigns.com.sg/ |
| ADDRESS | 4 Robinson Rd, #03-01 The House Of Eden, Singapore 048543 |
| CONTACT DETAILS | 6221 8284 | [email protected] |
| OPERATING HOURS | Monday – Friday, 9:00 AM to 6:00 PM |
With the hustle and bustle of work life, finding time to get to the dentist can be tricky. It's a good thing Dental Designs offer the convenience of having an accessible location at the central business distric of Singapore.
They offer various dental treatments such as dental implants, root canal treatment, wisdom teeth removal, invisalign, teeth whitening, dental veneers, crowns & bridges and other general dentistry services. The best part is that some of these services may be given 5-year-warranties!
To top it all off, Dental Designs have a team of professional and caring dentists as well as a friendly dental clinic staff. Walking into Dental Designs means getting the hospitality and accommodation you deserve.
Highlights
Accessible location
5 Year Warranties available
Safe & Hygienic Clinic
Customer Reviews
Previous patients wrote on google:
"On recommendation by my son, I decided to get cleaning done for my teeth at your clinic which involved scaling and polishing by Ms Kelly.
The cleaning was not painful at all as she was patient, skillful and gentle on my upper molars which are a bit sensitive near the gums. She answered all my queries well and advised me about the condition of my teeth and gums. She also suggested the benefits of fluoride gel application which was optional. I decided to go for it.
I found Ms Kelly highly skilled and was impressed by her excellent service. The staff at reception were nice and courteous. Overall I was quite satisfied with my treatment at Dental Designs."
"I've been going to Dental Designs Clinic for my regular check ups and cleaning with Dr. Hani for over a year now.
Dr. Hani is a friendly doctor who always patiently answers my questions on treatments and dental care. Her scaling and polishing is always meticulously done and I've not had any problems with the filings done by her.
Overall, my dental health has improved considerably since I started going to the clinic and I definitely recommend Dr. Hani and this clinic for their friendly and professional service."
And that's it for our list of the best orthodontists in Singapore. There's no need to suffer through the pains caused by gum and tooth problems if you can depend on these reliable orthodontists.
If you know of other dependable orthodontists in Singapore, by the way, share their names with us and we'll check if we can add them to our roster.
For more options, you might want to visit the best dental clinics in Singapore. We're certain that any of these dental clinics has the treatment that you're looking for.