The 6 Best Aircons in Singapore
With Singapore's humid weather, the only way to survive the extreme heat is to have an aircon at home/office. However, it's also a big investment… and with the thousands of brands on the market, it's not easy to choose which one to buy. That's why we've come here: to help you find the best aircons in Singapore.
Aside from being able to cool the room with fast operation and consistent temperature, there are a lot of other things to consider when buying an aircon.
And so, before we jump into our list of the best aircons in Singapore, let's take a look first at some of the factors to look out for.
How to Choose the Right Aircon
An aircon is something that we use every day, so it's important that you choose a reliable and durable model suitable for your home or office.
Besides, as mentioned before, an aircon also comes with a hefty price tag, so you really need to make sure that you've got a high-quality unit perfect for your needs.
1. Types of Aircon
Air conditioners vary in type and each one comes with a different level of functionality. Here are the most commonly used systems available in the market.
Window Air Conditioner
This type of unit is a standalone model with an all-in-one build. It's mostly considered a unit suitable for homes with smaller spaces as well as for those who can't manage to install the connecting system of a split type aircon.
It's also much cheaper to install and easier to maintain and clean than the split types. However, it takes up a large space in the window area, so you'll need to make a slot in the wall or window area to fit the unit.
It can also be a bit noisy because of its built-in compressor.
Split Air Conditioner
Due to its sleek and compact design, it has become the most in-demand aircon type for most homeowners.
The number of indoor units that it can support and transport cool air to is based on the indicated "System" on the model. A model that's labelled "System 3" means that it can cover 3 indoor units.
Split air conditioners are also quieter than window types because the compressor is placed far away from the unit.
Also, keep in mind that it's an expensive purchase with high installation costs. There's also a need to install an outdoor frame for the outdoor compressor unit.
Wiring and piping systems must also be done to connect the satellite aircons in multiple rooms to the main unit.
Central Air Conditioner
For those who need an aircon unit for offices, large buildings or residential homes, a central aircon would be a great choice.
It's built with a separate and bigger compressor that's typically installed outdoors, capable of cooling down a large space with even and consistent temperature. It's definitely stronger than the window and split aircons, which can only cover selective areas.
There's no need to worry about clogged up spaces, for it has vents, resulting in a well-concealed design. Since it has a larger compressor, it has high energy consumption and needs regular maintenance with heavy usage.
It also requires additional renovation work such as hacking walls and building of ducts for installation.
Portable Air Conditioner
For an efficient and hassle-free installation, you may opt for a portable air conditioner. It works like a window aircon but this one has to be plugged into a power outlet to operate and can also be moved around.
Compared to other types, it uses less energy and is easier to set up and use. It also has its own downsides: it's only suitable for small areas and some models might take a longer time to cool the place.
2. Room Size
Next, you need to calculate the area size of the room and identify the cooling capacity needed to cool down the entire area. To do this, you need to know first about the importance of BTU (British Thermal Unit) capacity.
It refers to the amount of heat that the unit can remove from a certain space, per hour. A bigger BTU capacity means powerful cooling and larger room coverage, but it isn't always a better option.
You need to choose the one that provides the exact capacity needed for the room so you can avoid high energy costs. See the chart below to know which capacity is required for your room.
| | |
| --- | --- |
| Area To Be Cooled (square feet) | Capacity Needed (BTUs per hour) |
| 100 up to 150 | 5,000 |
| 150 up to 250 | 6,000 |
| 250 up to 300 | 7,000 |
| 300 up to 350 | 8,000 |
| 350 up to 400 | 9,000 |
| 400 up to 450 | 10,000 |
| 450 up to 550 | 12,000 |
| 550 up to 700 | 14,000 |
| 700 up to 1,000 | 18,000 |
| 1,000 up to 1,200 | 21,000 |
| 1,200 up to 1,400 | 23,000 |
| 1,400 up to 1,500 | 24,000 |
| 1,500 up to 2,000 | 30,000 |
| 2,000 up to 2,500 | 34,000 |
Source: Energy Star
3. Number of Rooms
There's also a specific type of aircon that fits a certain number of rooms. For a single room, you may use a window or portable aircon.
For multiple rooms, it's recommended to use a split aircon, if the space permits it. For an entire house, it'll depend on the area size.
You may consider having a large split aircon that can cool down more indoor units like the ones labelled with System 5. But if your house is too big for a split type, then you'd need a central aircon for better coverage.
4. Noise Level
You can determine the noise level that a unit produces based on its dB (Decibels) level. An average unit usually comes with around 60dBs.
As mentioned earlier, split type units provide quieter operation unlike other types. Some models even offer 19dB ratings, which is quieter than a sound studio.
Best Aircons in Singapore
Now that you already know how to pick the right one, let's see our selected best aircons in Singapore!
We've listed different types with varied capacity, so you'll surely find the one that you've been looking for!
1.   Mitsubishi Starmex Aircon System 4
Price: $3,399.00
The Mitsubishi Starmex System 4 is a multi-split air conditioner, capable of covering 4 indoor units with silent operation, ranging from 19-45dBs. It also has an energy-saving mode to provide optimal capacity for each room.
This best aircon in Singapore features advanced inverter technology for fast and efficient operation. Moreover, it has an air-cleaning system that fully removes bacteria, germs, and bad odour, ensuring good and healthy air in the room.
So, if you're looking for a reliable aircon that doesn't need any heavy and costly maintenance, this is a great option to have!
Pros
Quiet operation
Durable build
Energy-saving mode
Purified air
Easy to clean and maintain
Cons
2.   Daikin Multi-Split Series Aircon System 4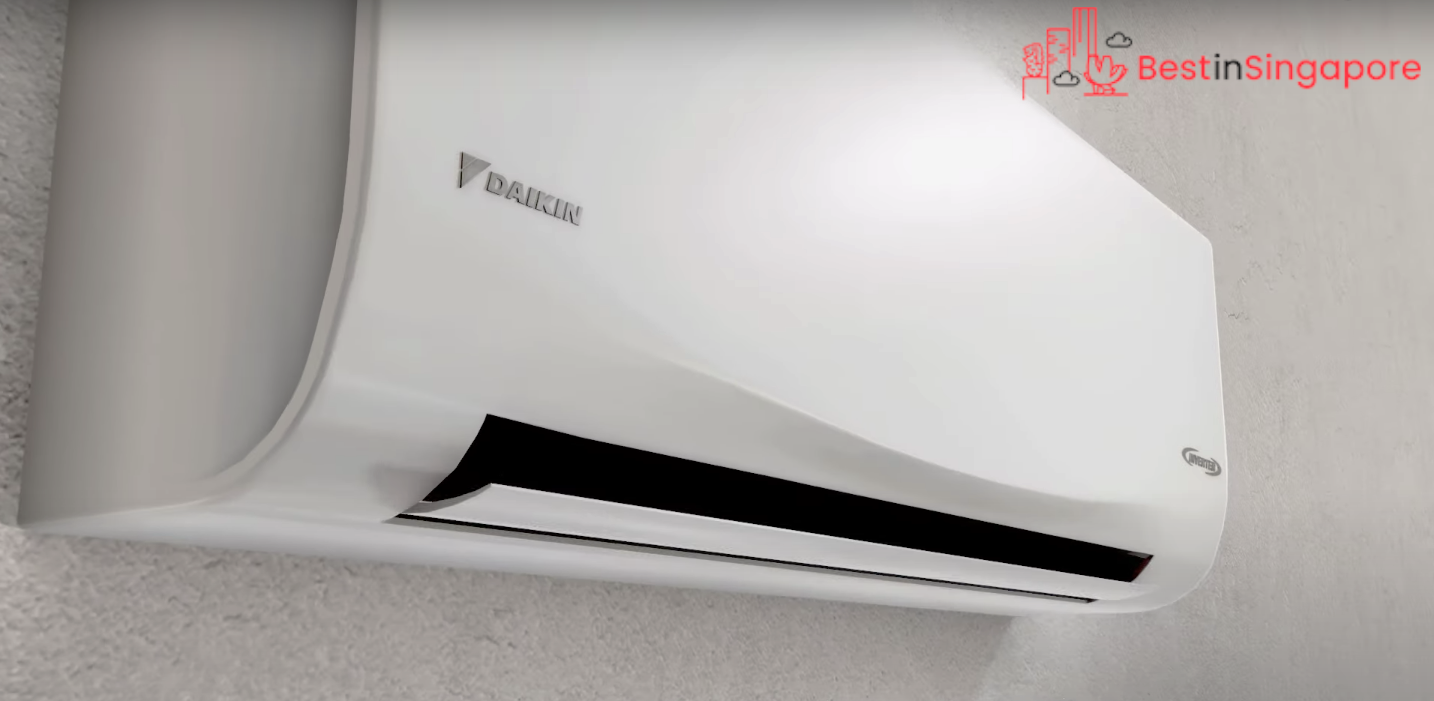 Price: $3,700.00
With the Daikin Multi-Split Series Aircon System 4, you can set customised temperature levels for each room without any ductwork, offering tailored performance and an efficient installation process.
That's why it can truly be the best aircon in Singapore for those who prioritise simple and hassle-free installation.
This model has a highly functional system that can manage humidity at any temperature without the use of a water tank. To further save energy, it also has an enhanced heat pump feature.
It also has inverter technology to keep a consistent temperature, prevent waste, and bring down energy consumption.
Pros
Full control for every room
Humidifying/dehumidifying feature
Doesn't need any ductwork for installation
Energy and cost-efficient
Silent operation
Cons
3.   EuropAce EAC397 Casement Aircon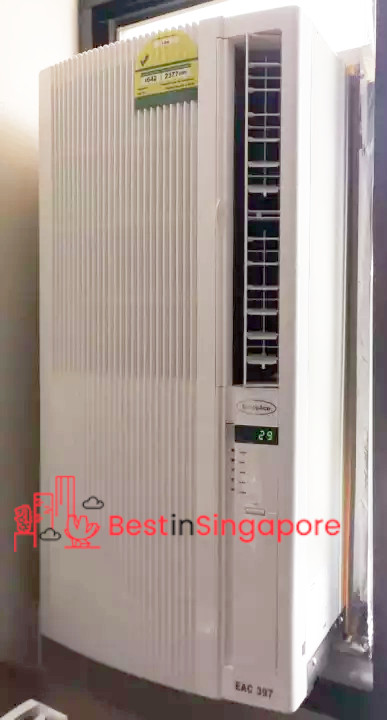 Price: $918.00
The EuropAce EAC397 Casement Aircon is a portable unit that features excellent multifunctionality: you can use it as an air con, fan, dehumidifier, and air purifier. It also provides a powerful cooling capacity of 8000 BTUs, perfect for small to mid-sized spaces.
This portable aircon is also built with copper coils and aluminium for faster operation and lower energy consumption. Along with this is the titanium coiled filter to prevent germs and bacteria spreading throughout the air.
The best thing about this model is that it has a drainless system so you won't have to add another expense for drainage pipe installation. It's also capable of notifying and reminding you to clean the filter.
Pros
Multi-functional
Powerful compressor
Minimal maintenance
Drainless technology
Adjustable louvre
Built-in filter
Cons
4.   EuropAce EPAC 12T2 Aircon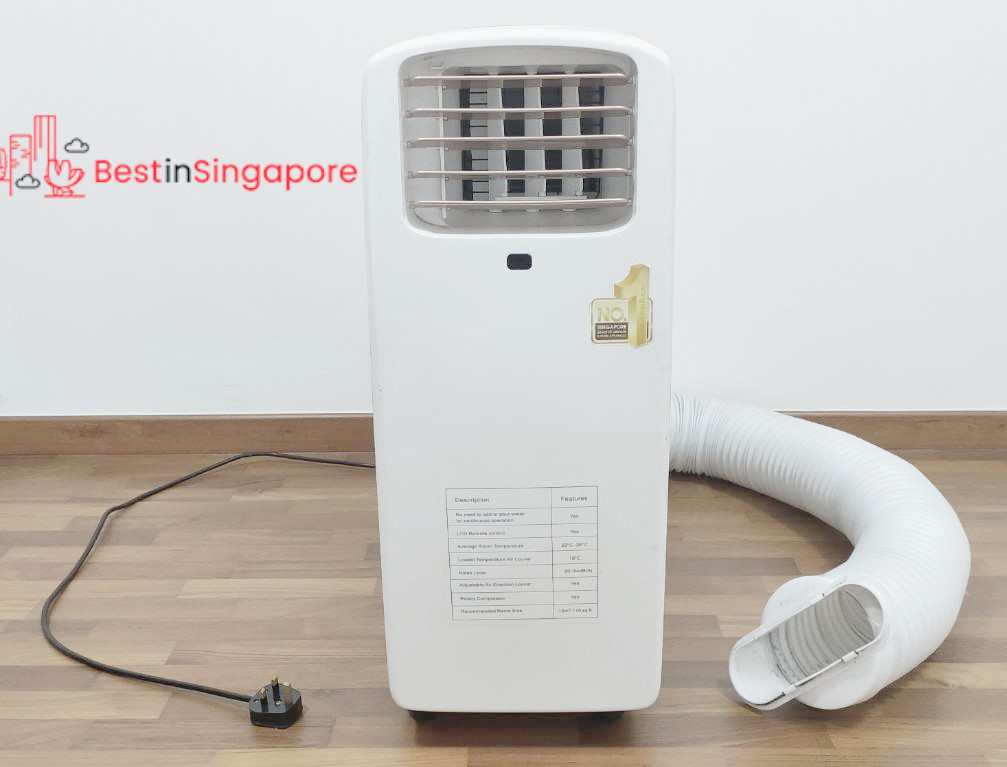 Price: $409.00
The EuropAce EPAC 12T2 Aircon is another portable unit but this one has sturdy caster wheels so you can easily move it from room to room. It's compact and lightweight, yet, it has a powerful compressor with quick-cooling action!
It has a greater capacity of 12,000 BTUs, capable of providing cool temperature for large spaces. You can also conveniently manage the temperature settings with the use of remote control.
With this best aircon in Singapore, you can set different modes such as cool mode for extreme heat, dry mode to reduce humidity, and smart mode to balance usage.
Pros
Excellent airflow
Has caster wheels
High BTU capacity
Different power modes
Cons
Can't be used as an air purifier
5.   Midea MWF09CRN1QC1 Window Air Conditioner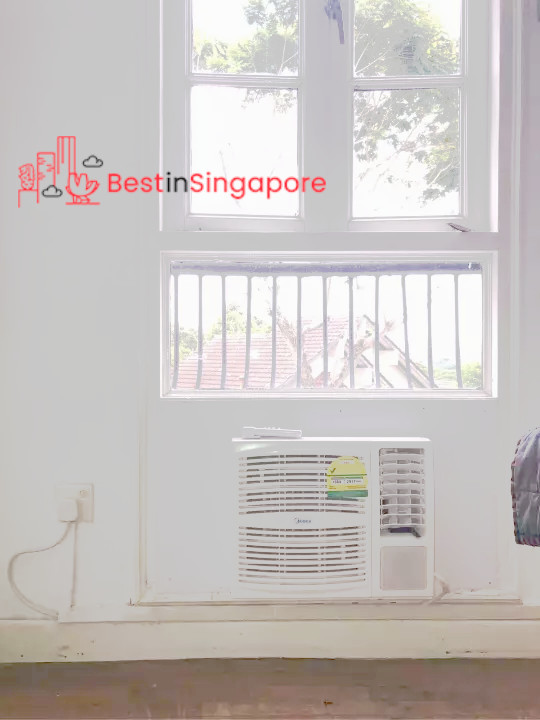 Price: $560.00
For those who prefer a budget-friendly model with competent functionality, the Midea MWF09CRN1QC1 Window Air Conditioner can be the best aircon in Singapore for you! It features a fair capacity of 9,000 BTUs, which is perfect for small and mid-sized HDB flats.
As long as the room has a designated window aircon opening on the wall, it'd be easy to install the unit. With its powerful rotary compressor, you can experience fast cooling and optimal air direction control throughout the room.
It also has a fresh air switch for clean air and a removable panel for easy cleaning. It also has a remote control so you can instantly change the settings without having to go near the unit.
Pros
Compact design
Fast cooling
Removable panel
Comes with a remote control
Cons
6.   Samsung Multi Split System-2 Air Conditioner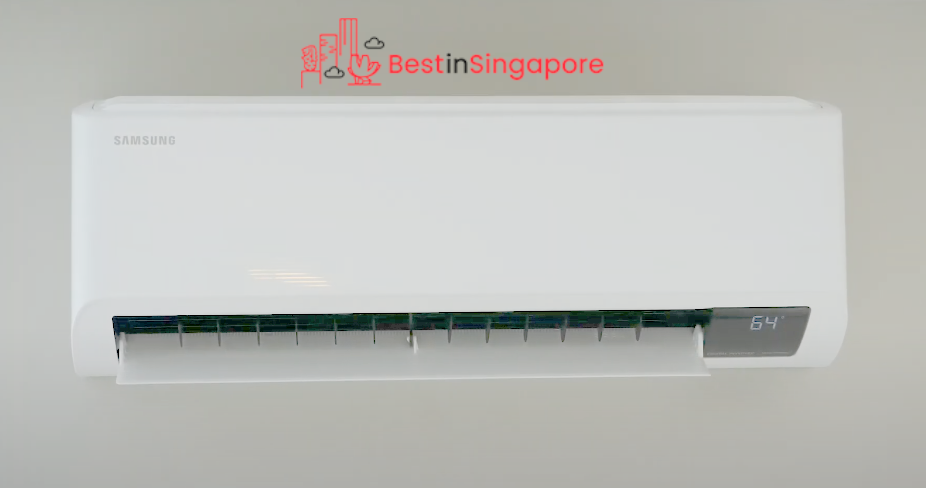 Price: Enquire for more information
The Samsung Multi Split System-2 Air Conditioner is perfect for inducing the ideal sleeping environment. As a plus, it also has a deodorizing filter for a healthier breathing environment.
It uses a smart system, perfect for residential buildings. Enhance your sleeping experience by purchasing their airconditioner now.
Pros
Good sleep mode
Double blade system
Cons
And that's it for our list of the best aircons in Singapore! Have you already decided which unit you would like to purchase? Tell us all about it!
For more options, you should also see these best portable aircons in Singapore! These selections are perfect for those who want to have an aircon unit that they can easily move from room to room.