The 7 Best Projector Screens in Singapore for a Home Theatre
Watching your favourite movies and series is always better on a bigger, wider screen. Therefore, with the best projector screen in Singapore, you'll be able to enjoy the ultimate viewing experience at home!
But what do you want from the best projector screens in Singapore? Broadly speaking, they should be easy to use, highly durable, and most importantly, high-resolution. 
In case you haven't found the best one yet, we've gathered and listed the best projector screens in Singapore here. Any one of these can complete your home entertainment system! 
1. Exzen Semi Buffer Screen 
Best for Clear Display & Durability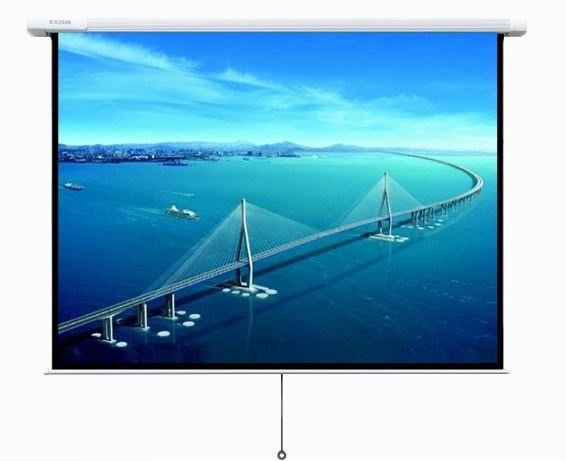 Price: $108.00
If you're currently having problems with your screen because it retracts too quickly and causes a loud noise, then the Exzen Semi Buffer Screen could be the best projector screen in Singapore for you!
It's an upgraded version of the brand's previous release. It features the Exzen technology that lowers the risk of damage with its gentle screen roll-up and durable materials.
It also has a neat design that can complement a modern home entertainment setup. Unlike typical screens, it displays clearer and more vivid screen colours.
Highlights
Finely woven fabric to minimise distortion
HD display quality
Ceiling or wall-mounted
Customer Reviews
Customers applauded the buffer technology, easy installation, and the overall quality of the Exzen Semi Buffer Screen. Hence, it certainly deserves a spot on the list of the best projector screens in Singapore.
Though some said they would have preferred a thicker material for the screen, they were still satisfied with it. Here are the reviews given by Lazada customers:
"Nice screen, easy to install. The buffer mechanism is great..just pull and release without worrying the screen hitting the top at high speed."
"Great build quality but I wish that the material used was thicker and less susceptible to rippling."
2. Mirval Portable Projector Screen
Best for Home/Outdoor Cinema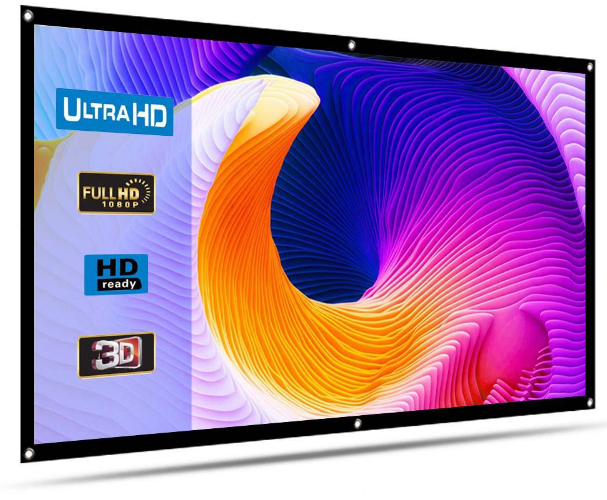 Price: $16.90
For those who want to have a projector screen that they can use at home and even during a trip, the Mirval Portable Projector Screen is a good choice for you!
It's super lightweight and foldable, so it's the best projector screen in Singapore for those who need a projector for both indoor and outdoor activities.
It's also built with a flexible polyester material so there's no need to worry about possible creases when you set up the screen.
Installing it is not that complicated since it already has eye holes and hooks, ready to be attached. It may look a little light on the side but you can still see the display clearly.
Highlights
Foldable screen
Lightweight built
Easy to install
3. Dreamall Projector Screen Canvas
Best For Travel Companion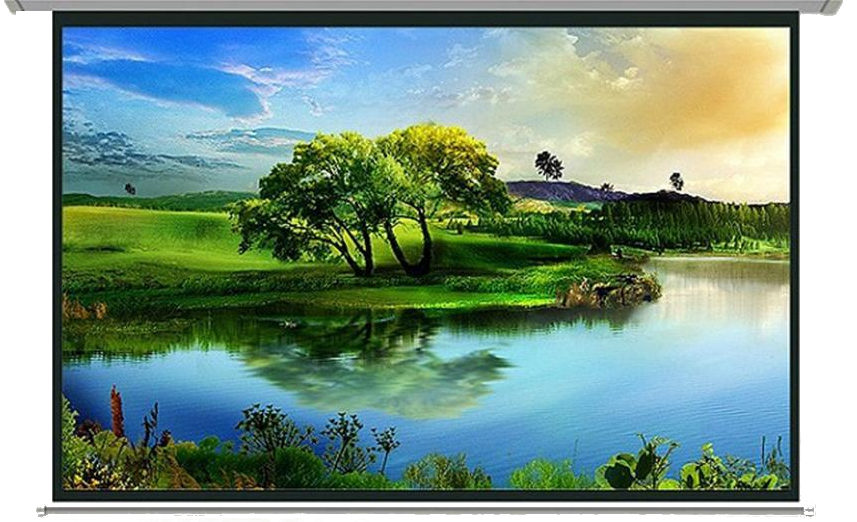 Price: $11.39
The Dreamall Projector Screen Canvas is similar to the Mirval but this one comes in different sizes. So it'd probably be the best to use as a travel buddy!
It's very simple to use, contains no creases, and is easy to clean. Moreover, it's moisture- and mildew-proof, odourless, and causes less deformation.
For a high-resolution image, it uses a special photosensitive material that prevents uneven light display as much as possible. This is why it's one of the best projector screens in Singapore.
Highlights
Portable
Light scattering prevention
Wide visible angle
4. Nikko NKPS-1.1.100 Projector Screen
Best for Multi-purpose Screen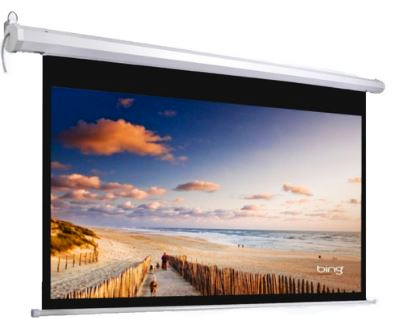 Price: $198.00
Compared to previous options, the Nikko NKPS-1.1.100 Projector Screen is entirely different due to its motorised mechanism.
With this one, you no longer need to pull the strings or attach some hooks. You can simply unfurl it via remote control.
Thus, aside from bringing comfort at home, it also caters to functionality for corporate or educational purposes. What's more, it's built with a glass fibre surface that displays excellent image quality.
For these features, it could be the best projector in Singapore if you want to impress the executives or deliver high-quality educational visuals.
Highlights
Motorised technology
Glass fibre surface
5. Big Shine Cine65 3D Silver Fixed Frame
Best for Grand Viewing Experience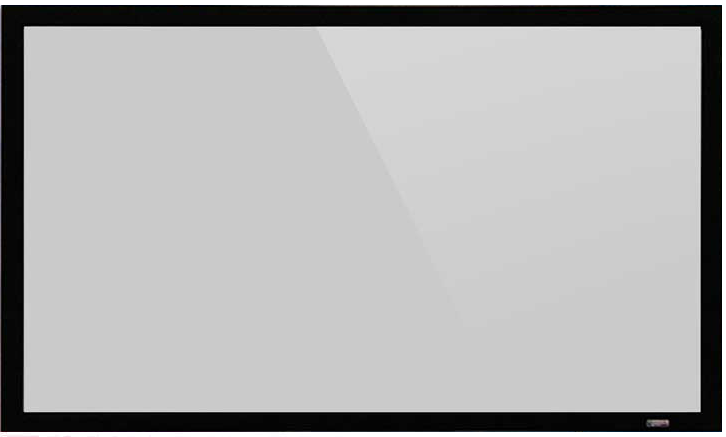 Price: $399.00
Coming from one of the brands manufacturing the best projector screens in Singapore, the Big Shine Cine65 3D Silver Fixed Frame is considered an impressive screen by many.
Just from a glance, you can immediately say that it's highly luxurious and offers precise, vibrant, and clear display. It's also designed with a velvet finishing that absorbs and prevents micro distortion.
It may not be a budget-friendly choice but if you need a top-quality projector screen for work or for your own preferences, then this is a great screen to have.
Highlights
3D grey fabric for high-definition quality
Maximum flatness
Suitable for all projectors
Customer Reviews
Most customers have nothing but praise for the Big Shine Cine65 3D Silver Fixed Frame. They were delighted by the good quality and easy installation.
Customers wrote these compliments on the brand's official website:
"Just had it installed last week. Very nice screen. Match well with my xiao mi ultra short throw projector. Image is very sharp and clear." 
"This screen has grey fabric which make the color very natural. I like it." 
6.  Mi Laser Projector150″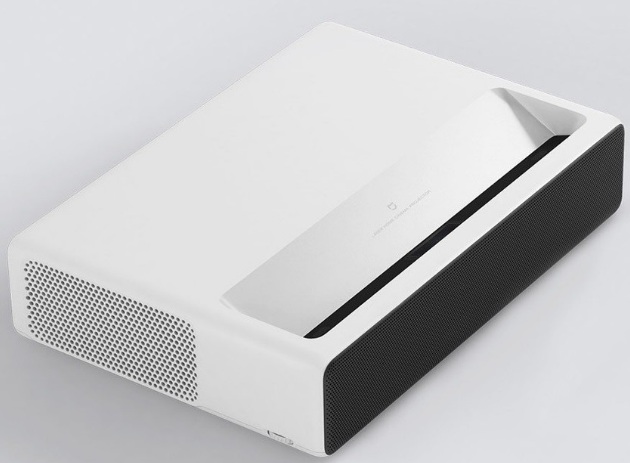 Price: $2,499.00
Time to level up your home theatre game by getting something massive for once. Well, massive in terms of projection area. Mi Laser Projector150″ may be able to give you the biggest screen around but this sleek product remains compact in size. 
This projector's features are so game changing it won Japan's 2017 Good Design Award. Look, this is the world's first ultra-short throw projector with advanced laser display (ALPD) technology. This means it's able to deliver up to 150 inches of full HD quality images from a very very short distance of 50 centimeters! That's the product's signature Ultra-short throw distance that makes it well worth its price. 
Plus, we can't help but admire the overall design of the product. Appearance-wise, it's just stylish in a very modern minimalistic way and packaged in a compact size that fits in anywhere, that we'd love to bring it everywhere. 
Highlights
Winner of Japan's 2017 Good Design Award

Stylishly Compact

Offers brightness of up to 5000 lumens
Customer Reviews
It seems like Mi Laser Projector150″ sounds too good in paper, let's see what customers actually have to say about this product after buying one:
"OMG this UST (Ultra Short Throw) is Amazing!!! I know its not 4k resolution but it looks amazing!! I took the advice of another reviewer and purchased a gray projector screen (Over a standard white). It truly helps to capture all of the light being thrown out of this thing. Just pull the trigger, you wont regret it!!"
"Best projector ever! With 5000 lumens you dont have to pull the shades to blacken the room. I bought this a year ago and never looked back. We play everything on this; video games, movies, tv, photos, etc. 150 inch screen on any wall. Sound quality is good too."
7. Active Visual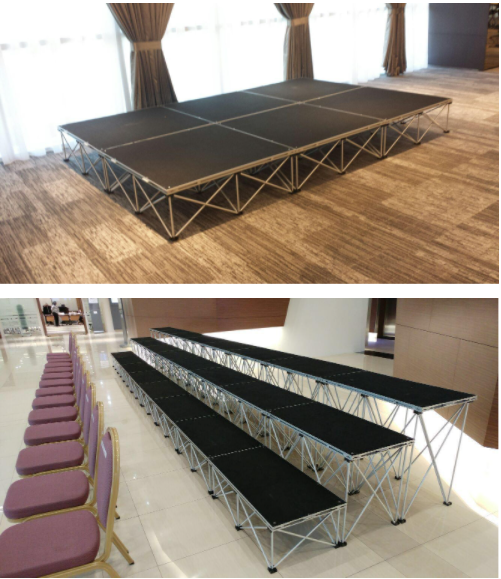 Active stage is a portable staging system that is configurable, customizable, and expandable. As individual platforms and risers are made of different sizes, shapes, and heights, this allows creativity in the assembling and customization of the stage into any desired configuration.
Risers designed with a kris-crossed structure able to withstand the weight of up to 1 ton per meter square. With only the use of an Allen key, the stage can be set up and dismantled with ease. Platforms and risers are also able to be stored in flight cases for maneuverability.
With versatility, functionality, and utility, Active stage is designed to be able to be used for stage performances, fashion shows, product launches and conferences, etc.
Highlights
Stage
Platforms: Length x Width x Thickness
1m x 1m x 30mm (Square)

0.5m x 0.5m x 30mm (Square)

0.5m x 1m x 30mm (Rectangle)
Risers: Height
Minimum = 0.2m

Maximum = 0.8m
Note: Risers are stackable to achieve > 0.8m height.
Steps
Platform: Length x Width x Thickness
1m x 0.36m x 30mm (Rectangle)
Risers: Height
Minimum = 0.2m

Maximum = 0.6m
And with that, we have our list of the best projector screens in Singapore!
Having one of these can give you and your family some spectacular home theatre nights. So, don't hesitate to pick your favourite one and treat your loved ones to a memorable bonding experience!
Do you already have an idea of which one you'd like to buy? Share it with us and let us know about your considered factors while choosing the right one!
And as you take on a movie marathon, you might want a ready source of coffee. If so, check out our list of the best espresso machines in Singapore too!
*Image source for banner: Lifewire