The 11 Best Nutritionists in Singapore
If you've been thinking about fixing your daily diet, we highly recommend consulting with the best nutritionists in Singapore in order to know the right meals to include in your new diet.
Instead of deciding on your own which food to consume and avoid, it's ideal to get the opinion of the best nutritionists in Singapore to maximise the results. It's also worth noting that not all types of diets are compatible with and suggested for everyone.
If you're clueless as to where to locate the best dietitians in Singapore, worry no more because we're here to help. We did the research for you and compiled the ones worth consulting with.
Check them out below!
(Note: This list is in no particular order.)
1. Food n Wellness
BEST FOR
Clinical dietitian
SERVICES
Diabetes, Cholesterol management, Thyroid health, PCOS / PCOD, Weight management, Acidity, IBS, sports nutrition, pregnancy, child and geriatric nutrition
WEBSITE
https://foodnwellness.com/
ADDRESS
12 Marina Boulevard
MBFC Tower 3 #17-01/02
Unit#1778
Singapore-018982
CONTACT DETAILS
[email protected] | +65 9647 9240
OPERATING HOURS
Contact for more details
Food n Wellness helps you achieve the possible whilst still enjoying the process of this life-changing journey. They are driven by passionate and honest delivery of service to those looking towards making an everlasting change in their lives.
Their team does not only specialise in the provision of disease management, weight loss, and weight management programs, but they also provide nutrition and lifestyle guidance on key life-altering stages such as pregnancy (conception, prenatal, and postnatal guidance), menopause, child nutrition, and geriatric nutrition with a core emphasis on food as medicine.
Furthermore, they have a specialised sports nutrition team dealing with the nutritional needs of team sport athletes.
Highlights
Has connected with over 7,000 clients
Varying client profile from different regions of the world including India, Dubai, Singapore, United States, United Kingdom, Australia, Africa, Hong Kong, Vietnam and Indonesia
Has a qualified sports nutrition team that coaches not only the prolific West Bengal state women's cricket team in India but also the Singapore indoor cricket team
Customer Reviews
Here's what one of their patients has to say about them:
"I have known Meenu since 2017, when both my husband and I wanted to opt for a healthy lifestyle and lose 5 kgs. With Meenu's persistence and easy to implement diet we were able to accomplish that . Recently in October 2020, I developed a fatty liver, my energy levels, vitamin B12 and ferritin were drastically Low and during this Covid year I barely exercised, as a result put on adiitional 6 kilos. All this contributed to the fatty liver. I had to rectify my eating and lifestyle habits , which Meenu very patiently explained to me.
Meenu knew that I would follow through as she knew I was health conscious and this situation was born out of the Covid situation.
In a matter of a few weeks I started losing weight as she put down these thumb rules: 1) only 2 teaspoons oil for cooking ,2) no sugar and 3) no alcohol. And quite true to what she has always mentioned that 70 percent of our weight loss depends on what we eat and 30 percent on our exercise. So I began eating a lot of yellow and green vegetables in every meal . Along with 2 fruits in the morning, lots of chutneys, soups and seeds and nuts in appropriate quantities.
There were days when I couldn't be that honest in following through and I would communicate the same to which she would respond by encouraging me to start afresh. Along with regerating the liver , Meenu also introduced probiotics and was helping me deal with my previous digestive issues . She allowed me to be flexible but always very watchful:)
I am really happy to report that after following Meenu's diet for 3 months my liver enzymes are in the normal range, I feel alive as I eat a variety of fresh vegetables, have more energy, lost 6 kilos and I greatly appreciate the bajra and jowar rotis that she got me started with. I feel Meenu pays close attention to all symptoms, can make one persist as a good coach and is always available for clarification and encouragement. All thanks to her now atleast my breakfasts are tastier along with healthier variety for me and my family."
2. The Nutrition Clinic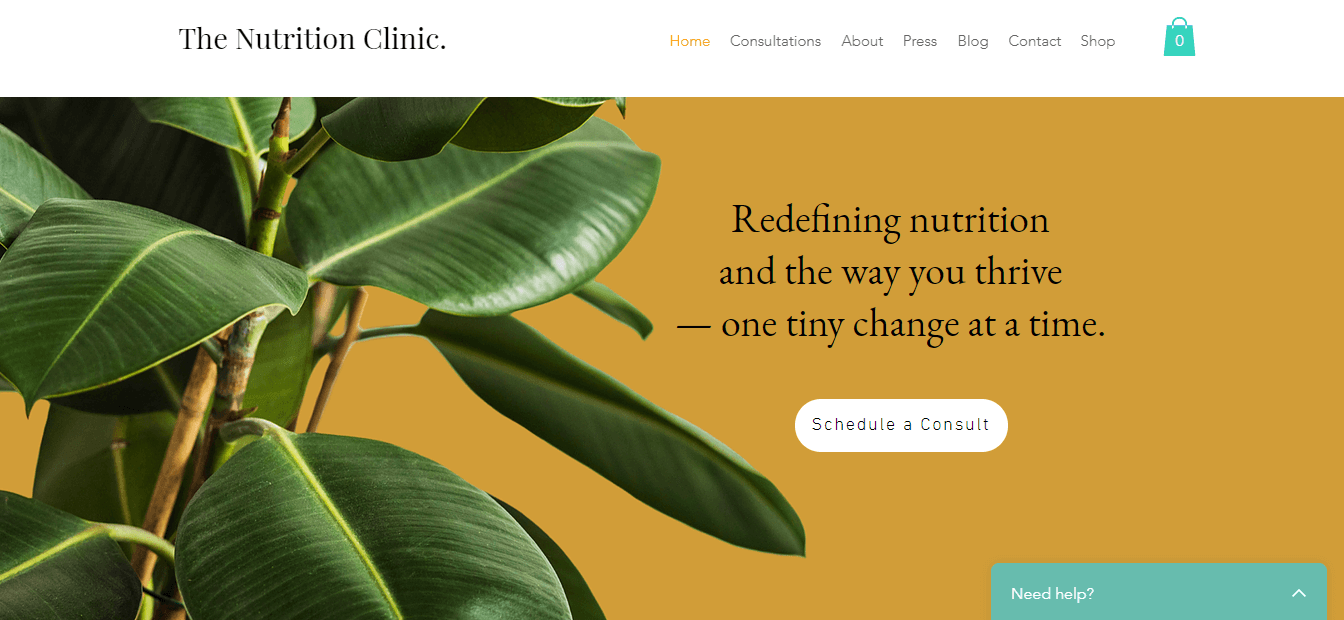 | | |
| --- | --- |
| BEST FOR | Experienced Nutritionists |
| SERVICES | Consultation, Personalised Health Plan, and Diagnostics Tests |
| WEBSITE | http://www.thenutritionclinic.com.sg/ |
| ADDRESS | 45 Craig Rd, Singapore 089683 |
| CONTACT DETAILS | +65 6735 2350 |
| OPERATING HOURS | Monday – Friday, 8:00 AM – 4:00 PM |
If you want to pursue a healthier life through a cleaner diet, then allow The Nutrition Clinic to help you out! It's made up of a large team of the best nutritionists in Singapore with years of experience under their belts, so rest assured that you're going to be in safe hands.
The Nutrition Clinic can help in addressing a wide range of conditions as well, including obesity, diabetes, insomnia, and more. It will also perform a series of diagnostic tests to know which type of diet would work best for you!
On top of that, The Nutrition Clinic offers 24/7 support to all its patients to ensure that they're being guided and monitored every step of the way throughout their new diet.
Highlights
Professional nutritionists
With diagnostics test
24/7 support
Customer Reviews
Here are some comments on Google Reviews posted by its current and previous patients:
"I have had an amazing experience with Pooja, Bonnie and Fong so far. I met Pooja for my first consultation in January – after a complete check on my habits, daily life rituals, work habits, symptoms and personal background – she gave pointers and suggestions on my diet for the first month. I started feeling a difference immediately. The supplements have been great for managing my energy levels, gut health and overall mood. Even when I went through a major relapse, the whole TNC team marshaled together to get me back on track. Would highly recommend TNC to anyone looking to understand food and their individual body constitution better!"
"Pooja helped me diagnose the nutritional support for my autoimmune conditions. By doing the right tests, analysing the findings, and then prescribing the right nutritional support for my health. I have not felt this energized and healthy in over a decade and cannot thank D.r Pooja Vig enough for her thoughtful and exceptional treatment. Every tip she offered has made a marked difference in my wellness."
3. Sheeba The Nutritionist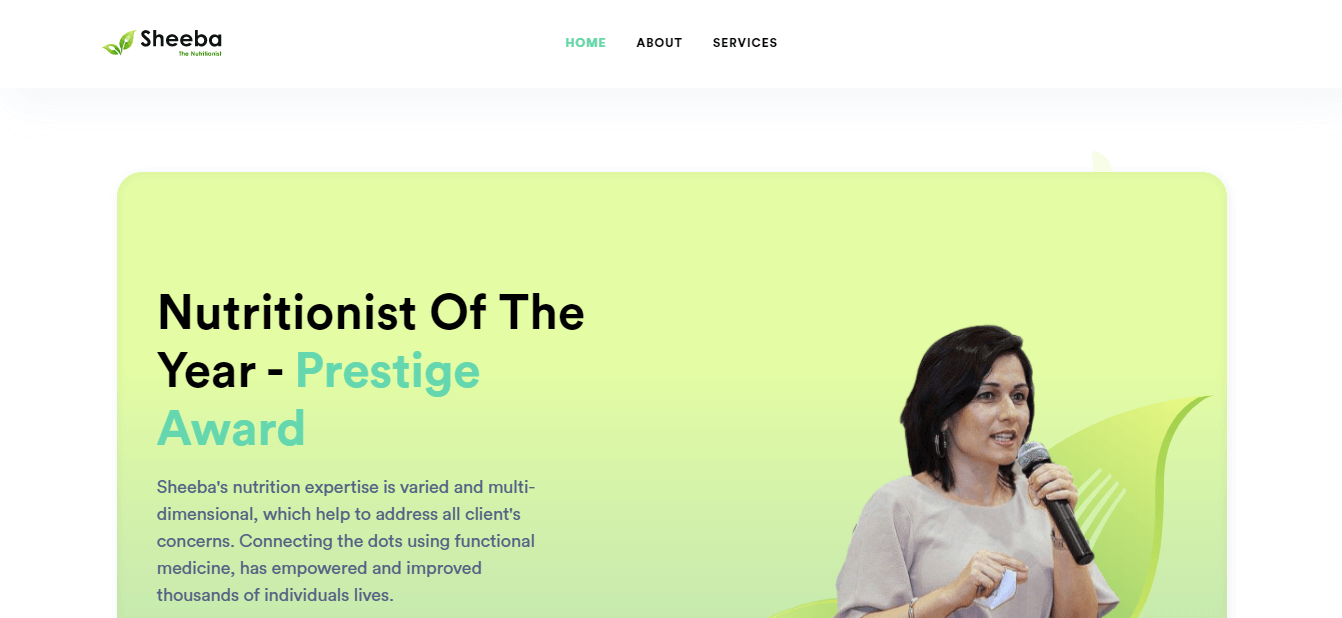 | | |
| --- | --- |
| BEST FOR | Multi-awarded Nutritionist |
| SERVICES | Biodynamic Craniosacral Therapy, Gemmotherapy, Biohackk, and Therapeutic Aromatherapy |
| WEBSITE | https://www.sheebathenutritionist.com/ |
| ADDRESS | 03-01, 17 Hong Kong Street, S- 059660 |
| CONTACT DETAILS | +65 9656 6714 |
| OPERATING HOURS | Monday – Friday, 8:00 AM – 6:00 PM |
Considered one of the best nutritionists in Singapore, Sheeba the Nutritionist is an expert in treating an extensive range of diet-related medical conditions. She's also been awarded and recognised multiple times for her contribution in the field of nutrition.
On top of being called one of the best dietitians in Singapore, Sheeba's clinic offers a wide range of treatments too, such as gemmotherapy, biohack, reconnective healing, and a whole lot more.
If you're curious about trying out her services, just go to their website and book a schedule on your preferred date!
Highlights
Experienced nutritionist
Wide range of treatments
Online booking of schedule
Customer Reviews
Take a look at what Sheeba's patient had to say about the experience with her. This comment prove that she's one of the best nutritionists in Singapore:
"I came to Sheeba because I needed to do something about my weight for health reasons. I was apprehensive at first given that my previous attempts at dieting didn't work out. BUT this was a totally different experience. I've lost close to 9kg in less than 2 months on the programme and my health and even my sleep improved significantly. The programme is easy to follow and Sheeba has been very informative. She taught me how to listen to my body and how to be more mindful about the food I put into my system."
4. Food Advisory Group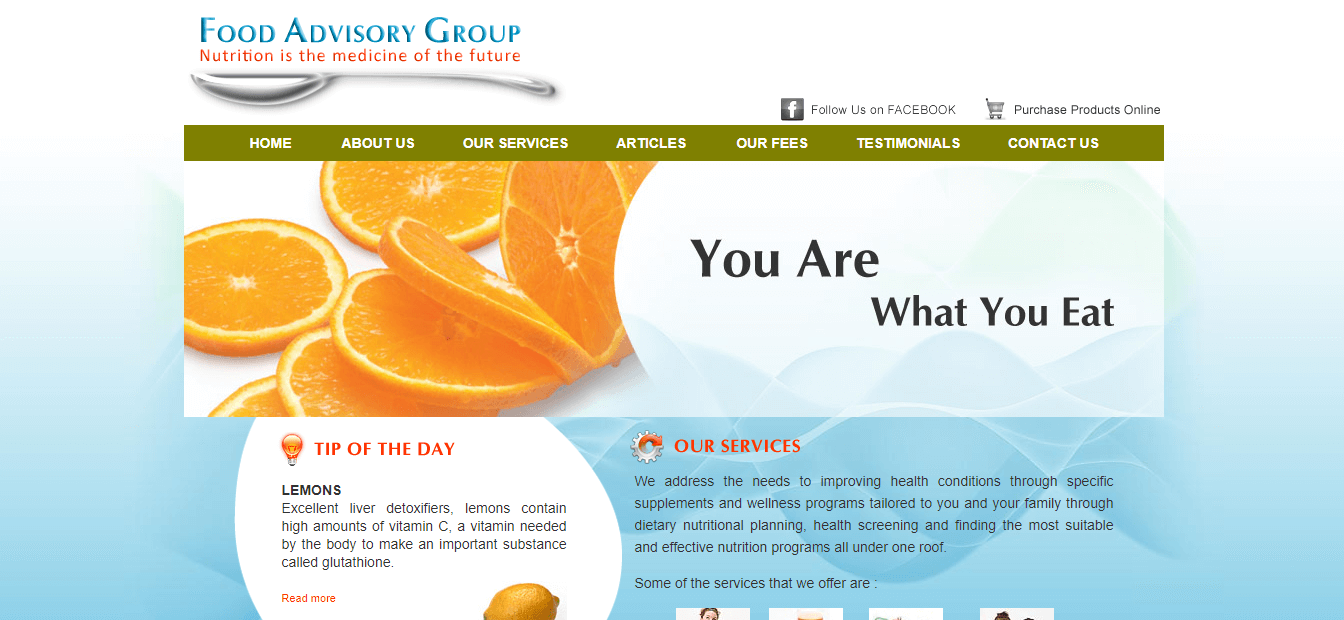 | | |
| --- | --- |
| BEST FOR | Long List of Services |
| SERVICES | Consultation, Diet Planning, Cleansing Food, Analysis and Tests, and Healthy Recipes |
| WEBSITE | http://www.foodadvisory.sg/ |
| ADDRESS | 31 Rochester Dr, Level 24 Park Avenue Rochester, Singapore 138637 |
| CONTACT DETAILS | +65 6808 8793 |
| OPERATING HOURS | Monday – Friday, 10:00 AM – 6:00 PM |
Food Advisory Group is known for housing a large team composed of the best nutritionists in Singapore, all of whom have years of experience under their names. Every dietitian and nutritionist on its team is recognised and part of a known health organisation.
In terms of services, the Food Advisory Group surely doesn't fall short. Some of its medical services include consultation, diet planning, food cleansing, diagnostic tests, diet analysis, and a whole lot more.
Whatever medical treatments or tests you might need, the Food Advisory Group offers it! This is why we consider them one of the top options for those seeking the best dietitians in Singapore.
Highlights
Large team of nutritionists
Diet planning and food cleansing
5. Health Can Be Fun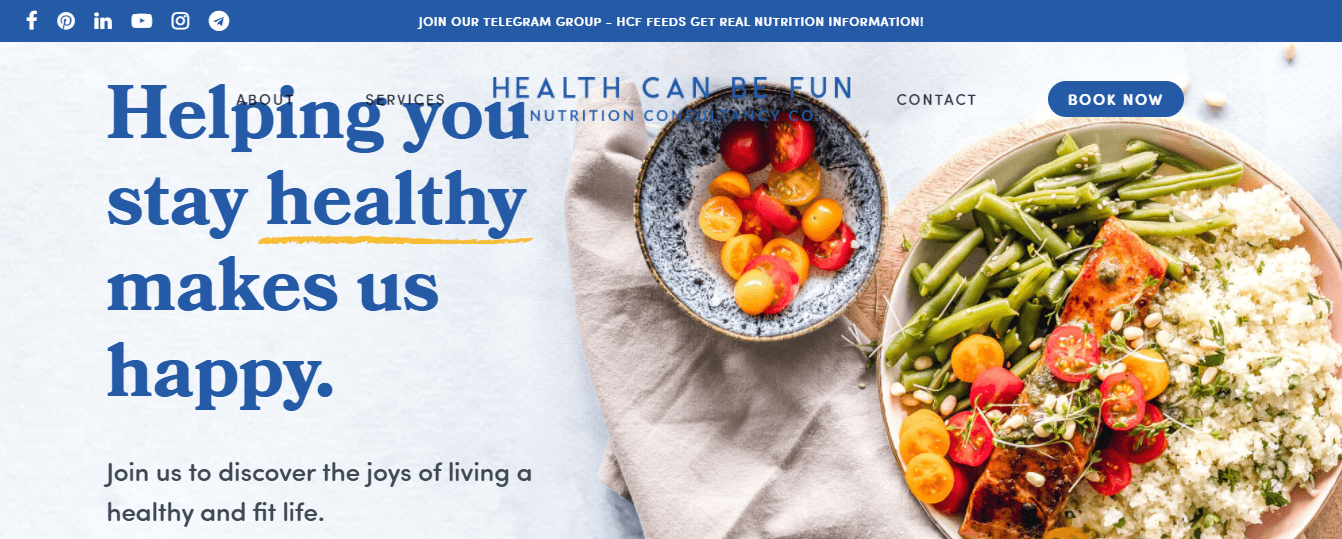 | | |
| --- | --- |
| BEST FOR | Personalised Nutrition Service |
| SERVICES | Consultation and Diet Planning |
| WEBSITE | https://healthcanbefun.com.sg/ |
| ADDRESS | 2 Veerasamy Rd, Singapore 207305 |
| CONTACT DETAILS | +65 6463 3707 |
| OPERATING HOURS | Monday – Friday, 9:00 AM – 7:00 PM |
Established in 2012, Health Can Be Fun has risen to become one of the most trusted nutrition clinics on the island, with a team of experienced and professional nutritionists. It focuses on developing and providing comprehensive health plans for individuals, corporations, schools, and parents as well!
If you want a more personal approach in improving your lifestyle, Health Can Be Fun offers personalised health plans too! This is one of the reasons we call it one of the top options for the best nutritionists in Singapore.
In fact, Health Can Be Fun boasts a huge clientele made up of well-known corporations and the majority of schools on the island.
Highlights
Personal diet plans
Health plans for schools and companies
6. Nutra Nourish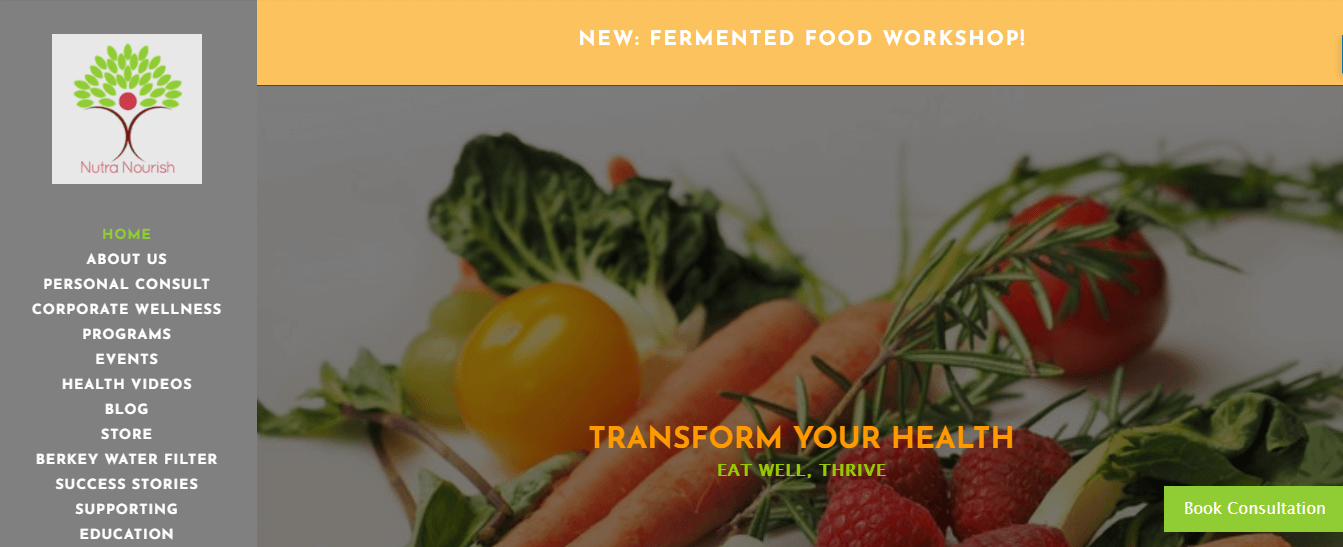 | | |
| --- | --- |
| BEST FOR | Food Workshops |
| SERVICES | Personal Consultation and Corporate Wellness |
| WEBSITE | http://nutranourish.com/ |
| ADDRESS | 428 River Valley Road [email protected], Commercial, #02-10, Singapore 248327 |
| CONTACT DETAILS | +65 6909 7790 |
| OPERATING HOURS | Monday – Friday, 9:00 AM – 2:00 PM |
Consulting with the best dietitians in Singapore can cost a lot of money, but consider Nutra Nourish different. It's among the few clinics on the island that offer its medical services for a much cheaper price as a way of allowing more people to gain access to effective diet plans.
Nutra Nourish focuses on both personal consultation and corporate wellness, so if you're an HR manager looking for ways to keep your colleagues healthy, make sure to avail of its services!
Above all, it's extremely easy to book an appointment with Nutra Nourish, just go online and pick your preferred date of consultation. There's no need to wait hours in line!
Highlights
Corporate and personal services
Competitive rates
7. Fitness Tutor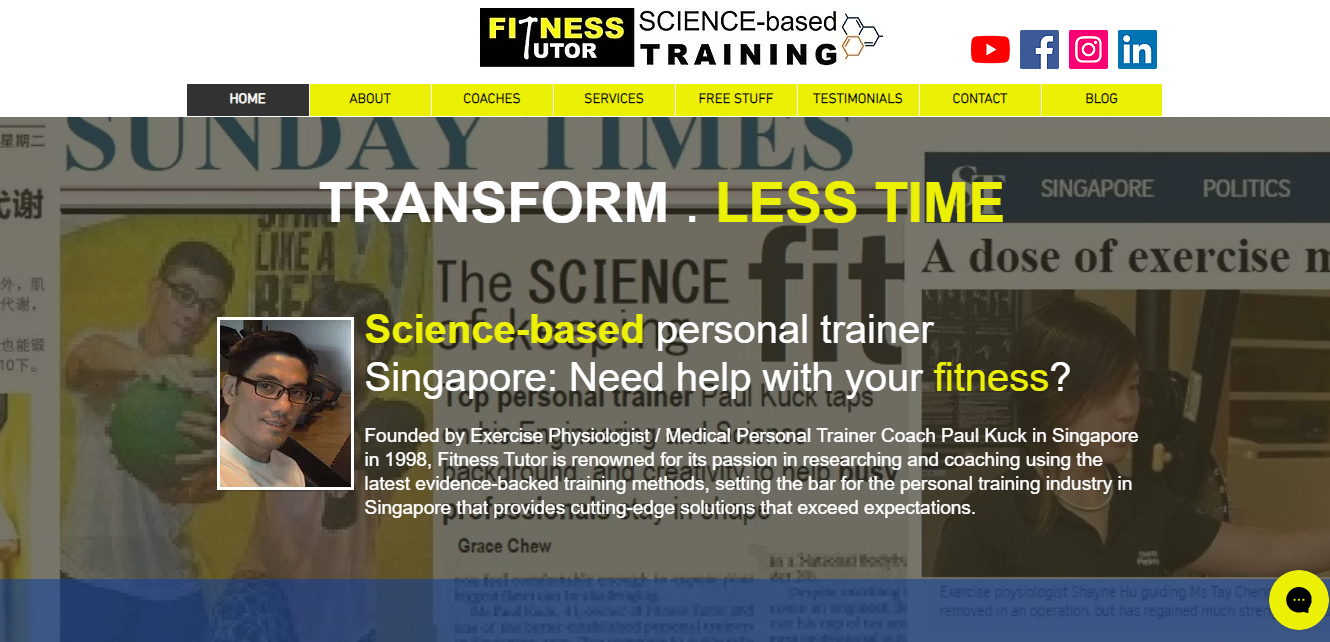 Fitness Tutor is a science-based personal trainer in Singapore. They fulfill any needs and help with fitness and physical training.
The company was founded by Exercise Physiologist and Medical Personal Trainer Coach Paul Kuck in Singapore in 1998. Fitness Tutor is renowned for its passion in researching and coaching.
They are advanced, using the latest evidence-backed training methods, setting the bar for the personal training industry in Singapore. The company aims to provide cutting-edge solutions that exceed expectations.
Highlights
Professional and top-notch trainers
Flexible with schedules
Free consultation and trial session
Customer Reviews
"For a very busy working professional with irregular erratic training schedule, I can only find limited time to train with Paul. Nevertheless, Paul identifies my personal needs and then does on to develop and customize training exercise program to suit my individual requirements and goals. He leaves training instructions so that I can do it on my own when I can find time between my sessions with him. This ensures minimal lapse in my quest for a healthier body"

"I have been a client of Coach Paul for more than 3 years. He is a resourceful and helpful in giving practical routines that I can also carry out outside of the gym. Well recommended!"
8. Sundardas Naturopathic Clinic

Sundardas Naturopathic Clinic (SNC) utilises both traditional and modern naturopathic methods. Their use of the latest technology ensures that your diagnosis will be done quickly and effectively.
Operating since 1989, their healing strategy has gone through a transformation from traditional naturopathy to a powerful blend of tradition and technology. While still maintaining traditional rapport with clients and natural medicine, cutting-edge equipment and technology has been added to multi-diagnose as well as treat your problem.
ABOUT THE NATURAL THERAPIES CENTRE (NTC) HEALING SYSTEM
The unique clinical protocols have been systemized to look after you from the moment you step into our centre. On your first visit, you will probably be scheduled for a series of tests at the Naturopathic Diagnostic Laboratory (this depends on the nature of the condition you are seeing us for).
Their team of specialists are capable of a diverse set of therapies. Take your first step to natural healing and contact them now.
Highlights
More than 30 years of experience
Refined diagnostic services
9. An Apple A Day
BEST FOR
Full range of Natural Therapies
WEBSITE
https://anappleaday.com.sg/
ADDRESS
Como Shambhala Urban Escape
402 Orchard Road
The Delfi Orchard #06-01
Singapore 238876
Tel: +65 6304 3552

Tucker Health
8 Sinaran Drive,
Novena Specialist Center #04-07
Singapore 307470
Tel: +65 6659 6917

CONTACT DETAILS
Como Shambhala Urban Escape
+65 6304 3552

Tucker Health
+65 6659 6917

OPERATING HOURS
N/A
An Apple A Day is one of the most trusted naturopathic care providers in Singapore. They offer natural therapies that can be tailored to fit your individual needs.
With the use of evidence-based medicine and traditional medication, they bolster the body's innate healing ability. Check out their website now if you're interested.
Highlights
Wide range of natural therapies
Many years of experience
10. Body with Soul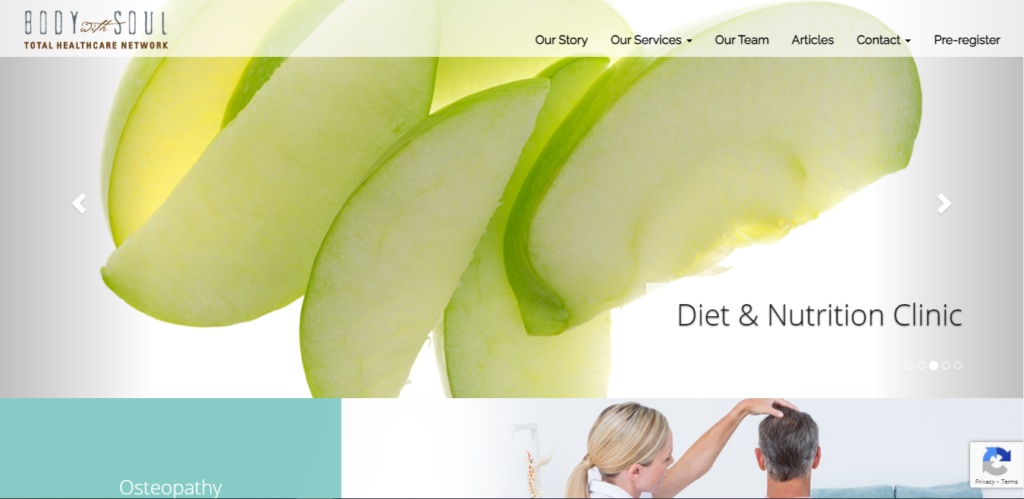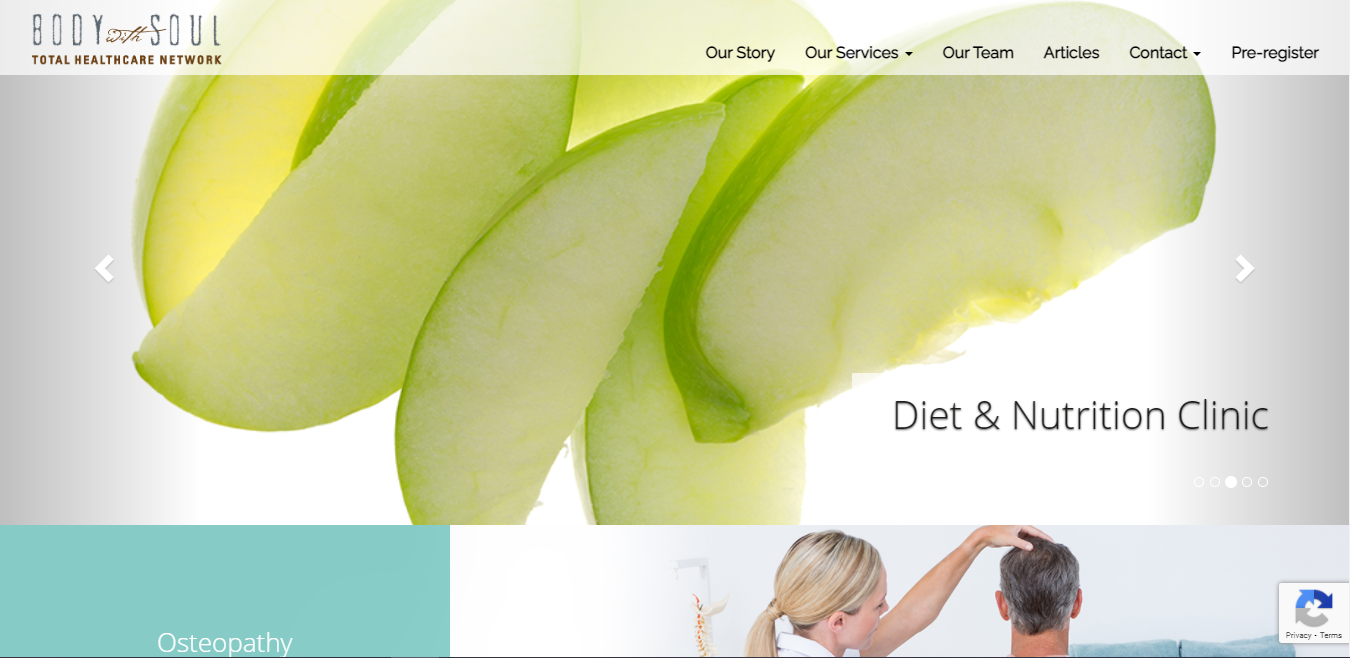 BEST FOR
Various specialised services
SERVICES
Weight management, health eating, sports dietetics, oncology dietetics, paediatric nutrition, food allergy meal planning
WEBSITE
https://www.bodywithsoul.com/
ADDRESS
79 Anson Rd, Unit 21-01, Singapore 079906
CONTACT DETAILS
+65 6779 0660
OPERATING HOURS
Monday and Wednesday: 8.30am – 7.30pm
Tuesday, Thursday, and Friday: 8.30am – 5.30pm
Saturday: 8.30am – 12.30pm
As a total healthcare centre, Body with Soul provides treatments and instills habits good for your overall health and wellness. Since its founding in 2008, Body with Soul has catered to over 16,000 patients with diverse nationalities.
The healthcare centre offers osteopathy, nutrition & dietetics, psychology, occupation therapy, and speech therapy services. For its nutrition and dietetics services, it has three registered dietitians to create the perfect nutritional plan for you.
Aside from being experts in general dietetics, Body with Soul's nutritionists are also knowledgeable and experienced in paediatric, sports, and oncology dietetics. You can even approach Body with Soul for gastroenterology issues or food allergies.
Highlights
Holistic healthcare centre
Expertise and specialisation in various areas of dietetics
Knowledge in gastroenterology and food allergies (IgE and non-IgE)
11. Levitise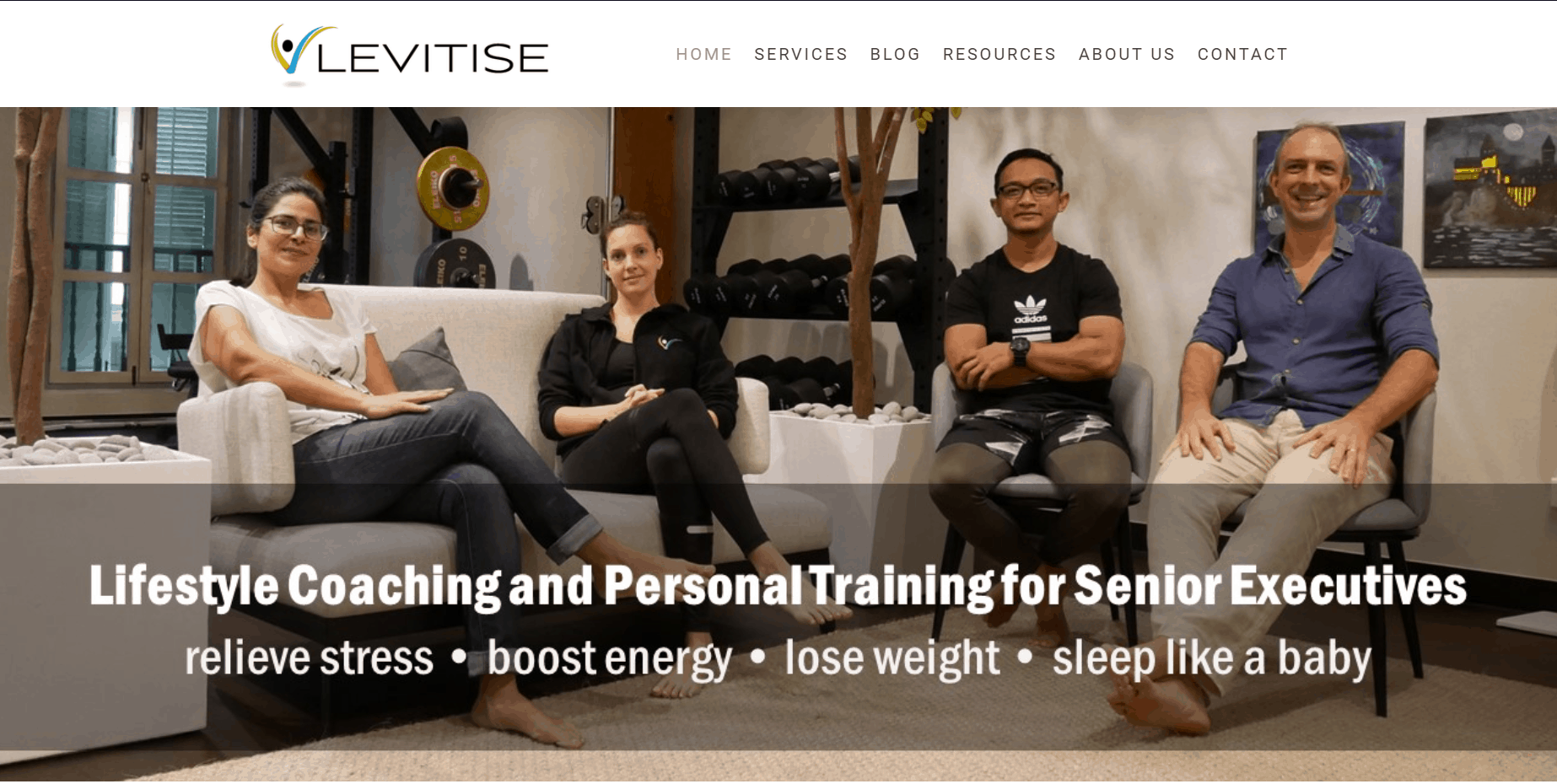 BEST FOR
Health and Wellness for Senior Executives
SERVICES
PERSONAL TRAINING
NUTRITION AND LIFESTYLE COACHING
FULL SPECTRUM INFRARED SAUNA
CORPORATE WORKSHOPS
MENTAL RESILIENCE COURSE
WEBSITE
https://www.levitise.com.sg
ADDRESS
Nankin Row, 3 Pickering Street, #03-11/12, Staircase 4, Singapore 048660
CONTACT DETAILS
+65 6223 1162
+65 9634 1940
[email protected]
OPERATING HOURS
Monday and Friday: 8 AM – 7 PM
Tuesday – Thursday: 8 AM – 6 PM
Saturday: 9 AM – 1 PM
Closed on Sundays
Levitise is a health and wellness centre that aims to serve senior executives. They're well known for providing comprehensive nutrition and lifestyle coaching services tailored according to their client's individual needs.
Their skilled lifestyle coaches work together with their clients in avoiding common health concerns in Singapore, such as weight management issues, sleep disorders, hormone imbalances, and more. They do so not only through physical exercise, but also by identifying one's nutritional needs and planning their diet.
For additional detoxification, they also offer an in-house infrared sauna at their centre. It emits low EMF, ELF, and MF emissions, which has the benefits of lymphatic drainage, weight loss, pain relief, and more.
Best of all, their coaches work through one-on-one consultations, which ensures that their programs will be suited to a client's individual needs. Given their extensive lifestyle solutions and attentive care, there's no doubt that Levitise will be able to guide you properly in your journey towards better nutrition.
Highlights
Personalised nutrition and lifestyle coaching
Helps avoid common health concerns
Full spectrum infrared sauna
One-on-one consultations
And with that, we conclude our list of the best nutritionists in Singapore. If you've already decided which one to go with, share your pick with us!
If your diet-related condition seems to be much more serious than something you can fix with a trip to a nutritionist, though, you definitely need to consult with the best endocrinologists in Singapore for further tests. Check out our list to see where to find the endocrinologists worth consulting with.