7 Best Pineapple Tarts in Singapore That are Super Addictive
Pineapple tarts are one of the most delicious desserts available on the island, famous because of their unique sweet and sour taste. Today's list is for you if you love them, as we're listing the bakeries that sell some of the best pineapple tarts in Singapore.
These are the bakeries that you can run to in case you're having a serious craving for pineapple tarts and other desserts. In any case, here they are!
1. Ding Bakery

| | |
| --- | --- |
| BEST FOR    | Premium Home Made CNY Goodies |
| PRODUCTS | Melt-in-mouth Pineapple Tarts, Kueh Bangkit, Hae Bee Hiam Roll |
| WEBSITE | https://www.cnygoodies.sg/ |
| ADDRESS | 140 Paya Lebar Rd, #03-13 [email protected] LEBAR, Singapore 409015 |
| CONTACT DETAILS | +65 8890 9055 |
| OPERATING HOURS | Mon – Sun, 12pm – 10pm |
Ding Bakery was based in Muar, Johor. Originally just home bakers, the family running Ding have expanded to all over Malaysia and now, even to Singapore. This has been made possible through their delicious and unique tasting delicacies.
Ding Bakery specializes in premium melt-in-your mouth home-made CNY goodies such as pineapple tarts and Kueh Bangkit. Their goodies are freshly baked using only premium ingredients to ensure the highest quality and taste.
These highly raved CNY goodies are 100% handmade and contain zero preservatives, which is perfect for families with young children or the elderly!
Get never before early bird prices when you preorder now. Additionally, enjoy free same day delivery for orders above $100. Check out more promotions on their site today!
Highlights
Award-Winning recipes
Premium handmade and homemade CNY goodies with zero preservatives
Free delivery for orders above $100
Customer Reviews
Read these reviews to learn more about how customers feel about Wang Lai Bakery's melty pineapple tarts:
"Mooncakes are priced reasonably and tastes as good as those reputable brands. Will be back to buy more for relatives and friends" –Leong Jun Jie
"Very satisfied with the quality of the goodies! My family loves the goodies from here a lot! Will definitely come back again for more!"- Marcus Tay
2. Pineapple Tart Singapore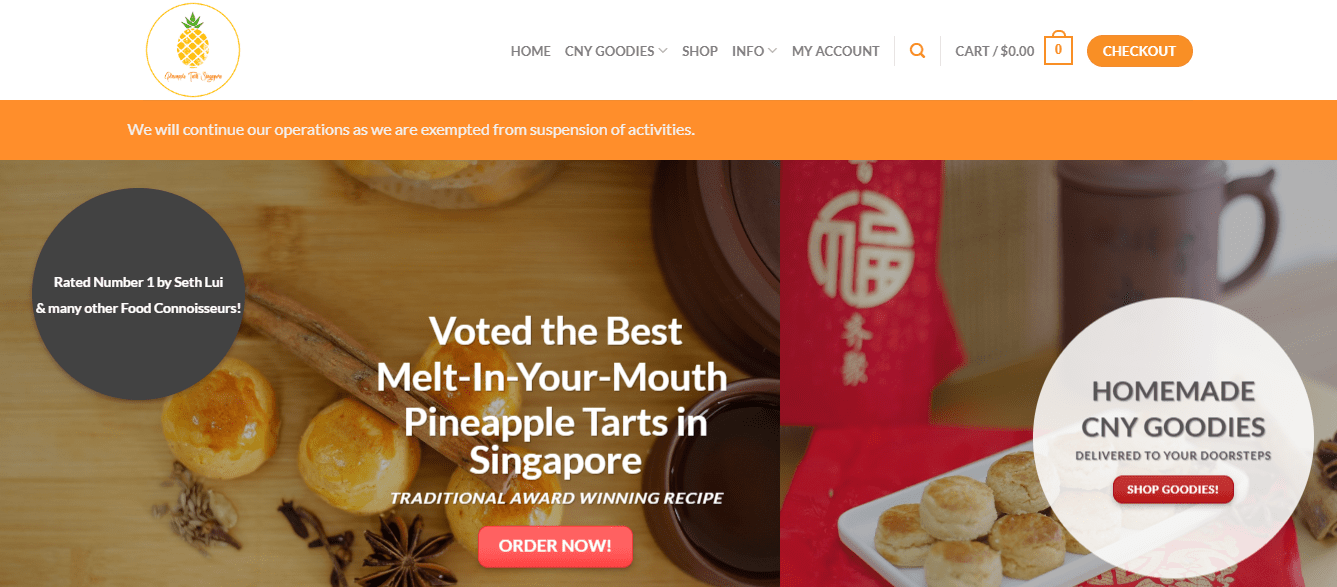 | | |
| --- | --- |
| BEST FOR | Fresh Out of Oven |
| PRODUCTS | Pineapple Tarts, Prawn Rolls, Kueh Lapis, Munchies, Crab Sticks, Love Letters, and Vegan Cookies |
| WEBSITE | https://pineappletarts.sg/ |
| ADDRESS | 11 Sin Ming Road, Thomson V Two, #01-30, S575629 |
| CONTACT DETAILS | +65 9173 7748 |
| OPERATING HOURS | 10am – 6pm daily |
If you've tasted pineapple tarts before, there's a huge chance that you've heard of Pineapple Tart Singapore. It's considered the shop that sells the absolute best pineapple tarts in Singapore, according to thousands of customer reviews.
Pineapple Tart Singapore has also received numerous awards from review sites and food bloggers, proving that it's one of the top bakeries in Singapore. It also assures customers that every pineapple tart handed to them is freshly rolled out of the oven.
If you have no time to visit its shop, you may also opt for its quick delivery services. Your pineapple cravings will be satisfied in no time.
Highlights
Multi-awarded bakery
Free delivery
Free tasting for customers
Customer Reviews
Take a look at the comments proving that it sells the best pineapple tarts in Singapore:
"Their pineapple tarts and chinese new year goodies are so so so good that I order them almost every month just to satisfy my cravings. This time, my friends from overseas visited and I ordered extra just for them to bring back. They loved it so much and even requested me to help ship these goodies over. Thank you Pineapple Tarts Singapore, SUPERB!"
"Many of my friends have recommended me Pineapple Tarts and Chinese New Year Goodies from Pineapple Tarts Singapore. Decided to try them out this year and I was shockingly impressed, literally the best I have ever tasted. Love their salted egg and mala versions, now I'm hooked. But will recommend to purchase earlier to enjoy their early bird discounts."
3. Kele Singapore

| | |
| --- | --- |
| BEST FOR | Expert Pastry Chefs |
| PRODUCTS | Pineapple Tarts, Macadamia Cookies, Bangkit Cookies, Shrimp Rolls, and Love Letters |
| WEBSITE | kelepineappletarts.com.sg |
| ADDRESS | 1 Harbourfront Walk, VivoCity, B2-K10, Singapore 098585 |
| CONTACT DETAILS | +65 6560 1249 |
| OPERATING HOURS | Monday – Saturday, 10:00 AM – 8:00 PM |
With more than 30 years of experience, Kele Singapore surely knows how to whip up the best pineapple tarts in Singapore. It wouldn't be considered one of the top bakeries in Singapore if not for the variety of its pineapple tarts.
On top of the traditional pineapple tarts, Kele Singapore also sells rose pineapple tarts, sweet potato pineapple tarts, and matcha pineapple tarts.
Kele Singapore also boasts a team of experienced pastry chefs who have been making pineapple tarts for quite some time now.
Highlights
More than 30 years of experience
Variety of pineapple tarts
Professional pastry chefs
4. L.E. Cafe Confectionery & Pastry

BEST FOR
Multiple Locations
PRODUCTS
Pineapple Tarts, Moon Pies, Loaf Cakes, Swiss Rolls, Cookies, and Wedding Cakes
WEBSITE
http://www.lecafe.com.sg
ADDRESS
Blk 637 Veerasamy Road #01-111 Singapore 200637

31/33 Mackenzie Road #01-01 ​Singapore 228686

Blk 42 Cambridge Road #01-02 Singapore 210042

CONTACT DETAILS
+65 6294 8813 | +65 6337 2417 | +65 6298 1477
L.E. Cafe Confectionery & Pastry has a total of 3 branches scattered all over Singapore, making it easy to purchase its delicious pineapple tarts and other pastries. But if you're too busy to drop by any of its stores, you may have your order delivered straight to your doorstep for a small fee!
This company not only makes one of the best pineapple tarts in Singapore, they're also a heritage brand. L.E. Cafe Confectionery & Pastry has been making pastries since 1949, making it one of the oldest pastry shops on the island. It's also known for its handcrafted pastries made by trained chefs.
Besides its best-selling pineapple tarts, it also sells a few other pastries such as moon pies, cookies, bean curd tarts, cream cheese tarts, chocolate puffs, and loaf cakes.
It definitely sells everything that a person with a sweet tooth may need.
Highlights
Operating since 1949
Wide selection of pastries
Delivery services
Customer Reviews
As one of the top pastry shops in Singapore, it has received mostly praise from customers. Here are some of them:
"Pineapple balls the size of a golf ball – definitely not one you can finish in a single bite. A nice soft crust (slightly flaky but not too much) and a GENEROUS amount of pineapple jam. Not too sweet and still slightly fibrous, I can see why their pineapple balls are so well-loved. Comes up to abit over a dollar for each ball, which I think is very reasonably priced, considering the amount of pineapple jam in each ball."
"The absolute BEST pineapple tarts in Singapore! The soy tarts, pineapple tarts and coffee cookies are items that I buy most often. Aso have tried the assorted tarts but I don't like them that much compared to the original flavour. Have yet to try the durian tarts! Those should be pretty good!"
5. SunnyHills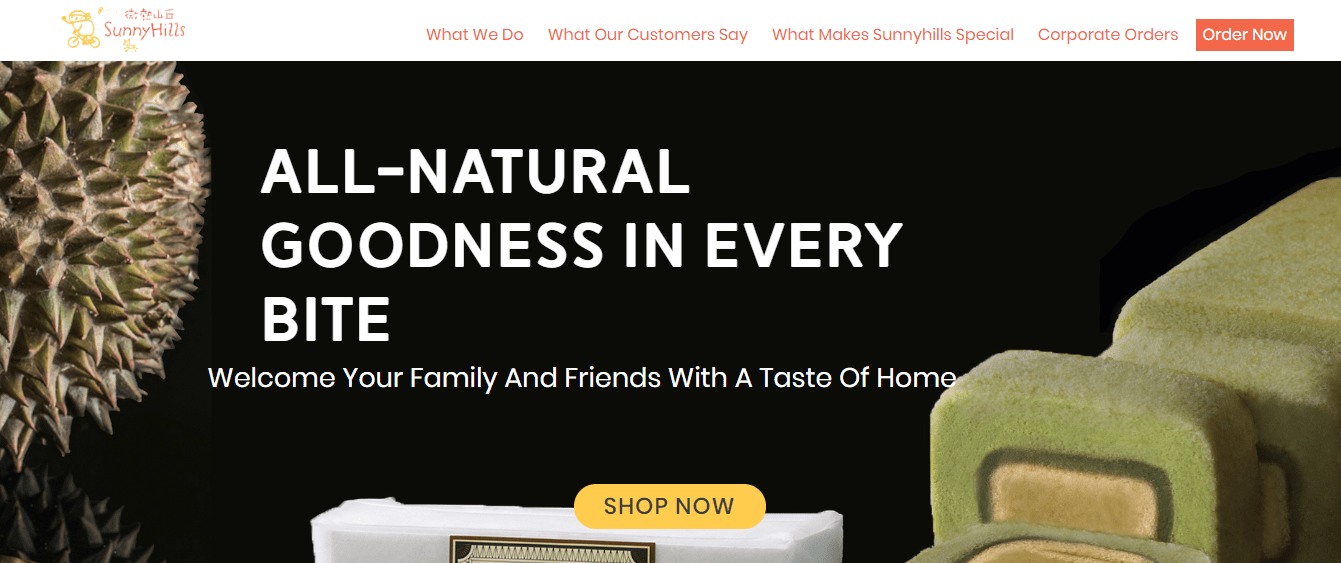 BEST FOR
Organically Grown Pineapples
PRODUCTS
Pineapple Tarts, Durian Rolls, and Durian Roulade Cake
WEBSITE
https://www.sunnyhills.com.sg/
ADDRESS
391 Orchard Rd B2-27A, Takashimaya Shopping Centre, Ngee Ann City, Singapore 238872
CONTACT DETAILS
+65 8522 9605 |

[email protected]
SunnyHills may have a small selection of pastries, but we believe that it sells one of the best pineapple tarts in Singapore. Every pineapple tart is crafted by the expert hands of its award-winning and experienced pastry chefs.
More than this, SunnyHills is also known for using natural baking ingredients and organically grown pineapples harvested by Taiwanese farmers — which is why a lot of customers love its pastries.
If you love durian, you can also grab a durian cake or roll alongside one of the best pineapple tarts in Singapore.
Highlights
50 years of experience
Organic pineapple
Natural ingredients
6. Amethyst Pastry & Cakes

| | |
| --- | --- |
| BEST FOR | Chinese New Year |
| PRODUCTS | Cheese Pineapple Tarts, Crispy Crisp, and Mooncakes |
| WEBSITE | http://www.amethystpastry.com/ |
| ADDRESS | Blk 524A Jelapang Road #02-04 Greenridge Shopping Centre |
| CONTACT DETAILS | 6759 2338 |
| OPERATING HOURS | Monday – Sunday, 9:45 AM – 9:00 PM |
If you're thinking of buying pineapple tarts for friends and family on Chinese New Year, then Amethyst Pastry & Cakes is your perfect option. It's also known for being the originator of the famous cheese pineapple tarts and Hainanese mooncakes that have become a staple during celebrations.
Amethyst Pastry & Cakes has also been around since 2000, so it already knows how to capture the taste buds of Singaporeans when it comes to desserts. Above all, all of its pastries are cheap compared to the prices of other pastry shops.
If you love everything cheesy and want a twist of cheese in your pineapple, this is definitely the best pineapple tarts in Singapore for you.
Highlights
20 years of experience
Affordable pineapple tarts
7. True Blue Cuisine
BEST FOR
Peranakan Dining
PRODUCTS
Traditional Peranakan Food
Pineapple Tarts
WEBSITE
https://www.truebluecuisine.com/
ADDRESS
47/49 Armenian Street Singapore 179937
CONTACT DETAILS
+65-6440 0449 | [email protected]
OPERATING HOURS
Mon-Sun: 11:30am-2:30pm, 5:30-9:30pm
With its inviting décor and authentic Peranakan delicacies, True Blue Cuisine was opened in November 2003 in the heart of the Peranakan enclave– Katong. Many customers were charmed by the all-around experience of the rich Peranakan culture.
To upgrade their premises, True Blue Cuisine decided to move to a property just beside the Peranakan Museum in 2008. This gives the customers an opportunity to fully enjoy Peranakan Culture, in terms of food, art, and history.
Benjamin Seck, the owner, said that the restaurant serves as a 'living heritage,' so when they see people enjoying Peranakan delicacies, their cultures becomes alive again. See it for yourself– try Perenakan Dining at True Blue Cuisine.
They don't just sell one of the best pineapple tarts in Singapore they also offer a historic experience in their stores.
Highlights
Authentic Peranakan Dining
All-Round Experience of the rich Peranakan Culture
Customer Reviews
Here is a review left by a very satisfied client:
"Dined here tonight and what a lovely welcoming restaurant. Food was very good staff where friendly and very helpful in choosing some recommended dishes. Thank you and highly recommend this restaurant." – Lexie Edwards
And that's it for our list of places with the best pineapple tarts in Singapore. If you've tried any of these pineapple tarts before, tell us how they taste!
By the way, if you know of other pastry shops that sell pineapple tarts, don't hesitate to share their names with us and we'll check if we can add them to our list.
If you're also thinking of having other desserts, you might want to visit the best ice cream parlours in Singapore. Visiting these ice cream parlours is the best way to beat those sweet cravings!