Top 10 Places for the Best Cupcake Delivery in Singapore
Sweet treats have always been great presents to our family and friends. In case you can't personally drop by at their place during birthday events or celebrations, you can still easily send some to them through the best cupcake delivery in Singapore.
But which services offer that? Luckily for you, you don't have to go over the whole island looking for the top options for cupcakes in Singapore — we've already done it for you!
So without further ado, here are the most reliable services for the best cupcake delivery in Singapore. Each one of these offers freshly baked treats with lovely designs!
Note: Because of the current pandemic and Circuit Breaker, some of the cake delivery Singapore shops we've listed here have implemented service limitations and some have even temporarily suspended operations. Where applicable, we've noted the policy or service changes for the shops below.
1. Honeypeachsg Bakery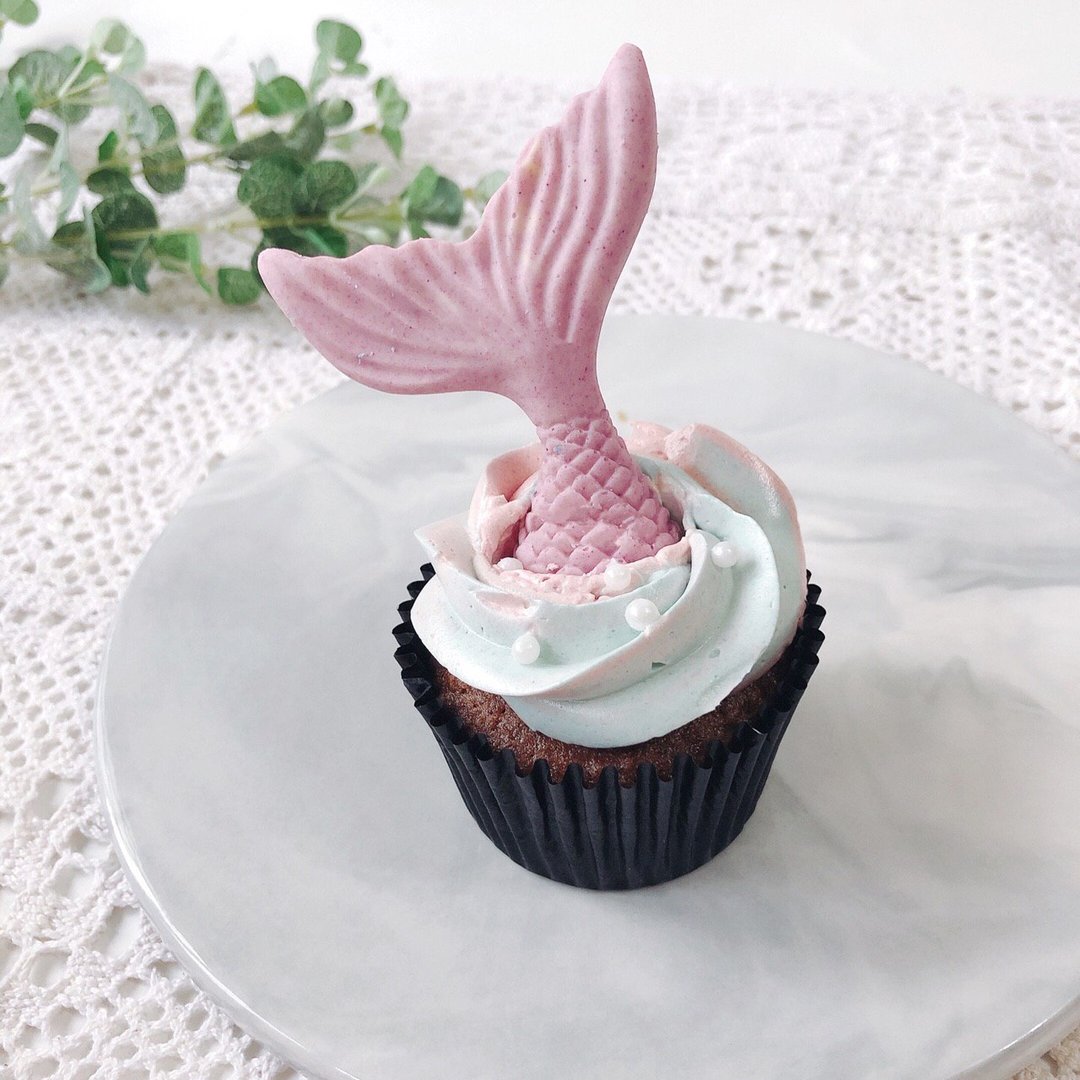 BEST FOR
Cupcakes with customised designs
PRODUCTS/ SERVICES
Customised cakes / cupcakes : Gender reveal, Wedding, Birthday Cakes etc
WEBSITE
https://www.honeypeachsg.com/
ADDRESS
The Promenade @ Pelikat, 183 Jln Pelikat, #B1-64, Singapore 537643
CONTACT DETAILS
+65 9088 4932
OPERATING HOURS
Mondays-Saturdays: 10:00 AM – 17:00 Pm
Sundays: 10:00 AM – 11:00 AM
There are cupcakes, which makes almost everybody smile, and then there are unique and customised cupcakes, which will make everybody break into a song and dance. Everyone loves unique cupcakes that are delivered in Singapore, and no one does that better than Honeypeachsg Bakery.
Honeypeachsg Bakery has a physical shop open 7 days a week, creating customised cakes and cupcakes for almost all occasions. They are most known for their Mahjong Cupcakes which feature life-like and actual-sized Mahjong tiles as cupcake toppers.

Their other best selling design will be Mermaid Ombre Cupcakes decorated with pretty mermaid tails and dreamt sugar pearls.
We highly recommend them because they can customise creations for you and have your cupcake delivered Singapore islandwide. They create customised cakes and cupcakes for all occasions – Birthday, wedding, longevity cakes, and even gender reveal cakes are their specialities.
Pros
Free delivery for monthly promo cakes Or $9.90 Islandwide delivery
Creative and Unique decor
Cakes are moist, cottony soft, and just the right amount of sweet
Cons
Closed on public holidays
Customer Reviews
With over 80 reviews written by their customers, Honeypeaches Sg has a whopping average rating of 4.8 stars online.
Here's a review written by one of their recent customers with a nickname Tiredardtart:
Ordered a gender reveal cake for a friend's gender reveal and it turned out amazing. The cake was beautiful and tasted really good. Ordered two tiered with 2 flavours and we were all very happy with it. Staff who took the order was very nice too, the delivery uncle was also very careful with the cake. Recommended, hopefully it will be consistently good. Am ordering another cake for my sister's birthday.
2. Swirls Bake Shop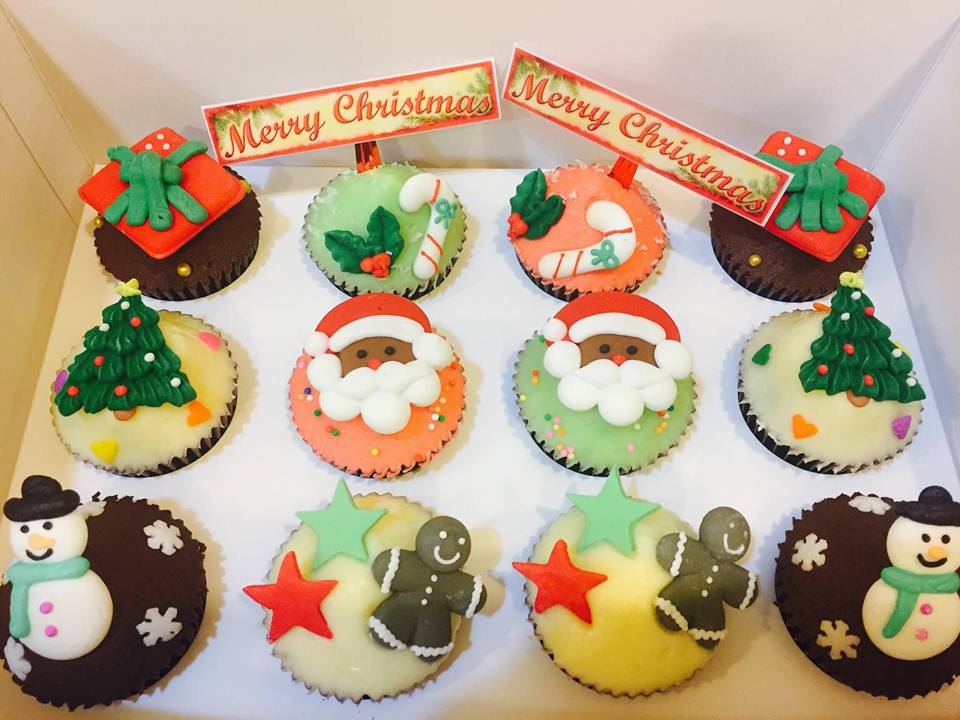 | | |
| --- | --- |
| BEST FOR | Limited edition cupcake flavours |
| WEBSITE | http://www.swirls.com.sg/ |
| ADDRESS | 8 Rodyk Street #01-08 (off Robertson Quay) Singapore 238216 |
| CONTACT DETAILS | +65 6634 4765 |
| OPERATING HOURS | Daily: 11:15am–8pm |
Swirls Bake Shop offers cupcakes, layered cakes, brownies, cookies and more treats. The most special thing about this shop is that they present different flavours every month.
For certain occasions and seasons, they add more flavours, giving you a broad range of cupcake selections to choose from! All of their cupcakes are filled with delicious frostings and toppings.
Moreover, they have islandwide cupcake delivery services, this is why they're known to have one of the best cupcake delivery in Singapore.
Highlights
New flavours every month
Islandwide delivery
Customer Reviews
Many customers keep coming back to Swirls Bake Shop because it's full of a wonderful variety of cupcake flavours and designs. A customer recommended the shop and wrote this feedback on Google Reviews:
"Best cupcakes in Singapore!!! Forget about your twelve cupcakes, creamier or any other cafe cupcake it's because this place make the best cupcakes! I've been buying from them for the last 7yrs and they never fail! Cupcakes are moist and comes in wonderful flavours! I recommend trying the Nutella, Carrot cake or Earl Grey! My fav!! The owners are a wonderful couple! Love to share their story and dreams! Totally recommended!!"
3. Fluff Bakery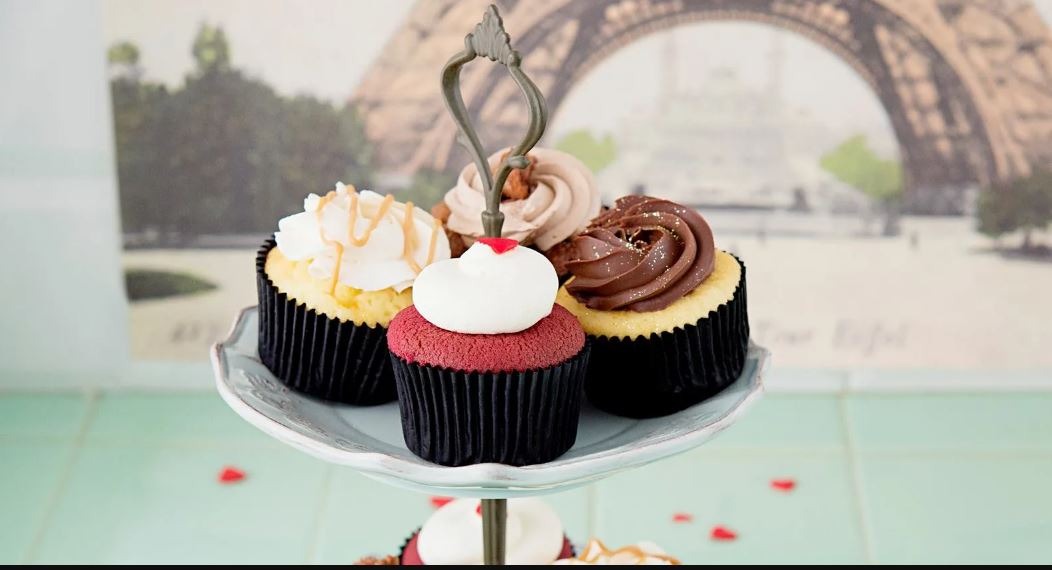 BEST FOR
Weekly flavours, signature bakes
PRICING
Shop
WEBSITE
https://www.fluffbakery.sg/
ADDRESS
4 Jln Pisang, Singapore 199071
CONTACT DETAILS
+65 8251 1353
OPERATING HOURS
Tuesday- Saturday: 12–7:30pm

Sunday: 11am–5pm
Fluff Bakery has been serving sweet treats and desserts, and cupcakes in Singapore for many years. The shop's menu selection includes cupcakes, layered cakes, rustic cakes, tarts, and many more desserts!
At their online shop, you can see different kinds of desserts including signature bottled cookies and special gift sets.
When it comes to their delivery, they offer half-priced fees, which makes them a part of the shops that have the best cupcake delivery in Singapore.
Note: They've chosen to do delivery from 13 May onwards, but have no takeaway just yet, since the Jalan Pisang store is closed
Highlights
Weekly menu changes
Online shop
Special gift sets
Customer Reviews
Customers said that Fluff Bakery has never failed to make exceptionally great cupcakes in Singapore. This has earned them plenty of compliments, like this feedback posted on Google Reviews:
"Their cupcakes are very, very good. Every cupcake was well made, including the bun, the filling, as well as the frosting on top. One of the best in town. They have various flavours and cycles their flavours regularly. The donuts are quite good as well. Overall worth a try."
4. The Ugly Cake Shop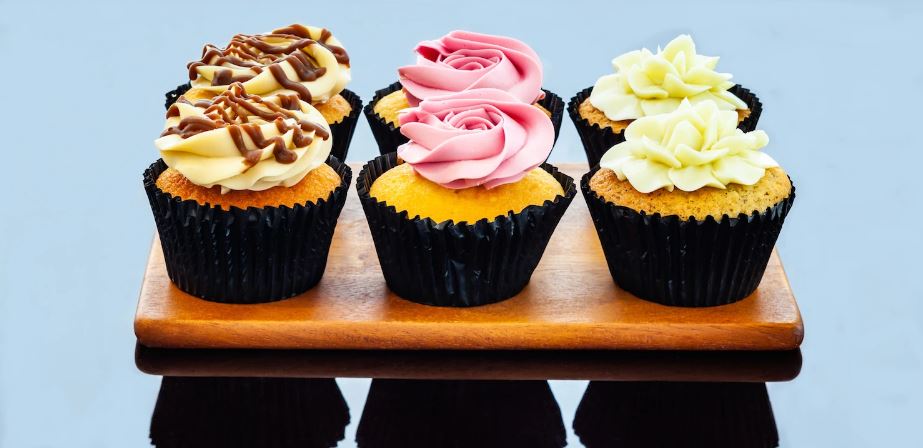 | | |
| --- | --- |
| BEST FOR | All-natural flavoured bakes |
| WEBSITE | http://www.uglycakeshop.sg/ |
| ADDRESS | 535 Kallang Bahru, GB Point, #01-06, Singapore 339351 |
| CONTACT DETAILS | 82288300 |
| OPERATING HOURS | Mondays to Saturdays: 10am – 7pm |
If you're too worried about unhealthy artificial coatings on your cupcake, you should visit The Ugly Cake Shop. They only use high-quality ingredients and all-natural flavours in all their cupcakes.
Their menu consists of birthday cakes and other occasional bakes, cupcakes, cookies and goodies. They're known for their cute, lovely, and decorative cake designs.
They've also been featured on various media outlets, showing that they're indeed one of the places that offer the best cupcakes delivery in Singapore.
Note: The shop doesn't take orders at the moment due to Circuit Breaker, but is keeping customers updated on its Facebook page, so check that if you want to know when they'll open again.
Highlights
Natural food dye
Online cake shop
Customised cake designs
5. Creme Maison Bakery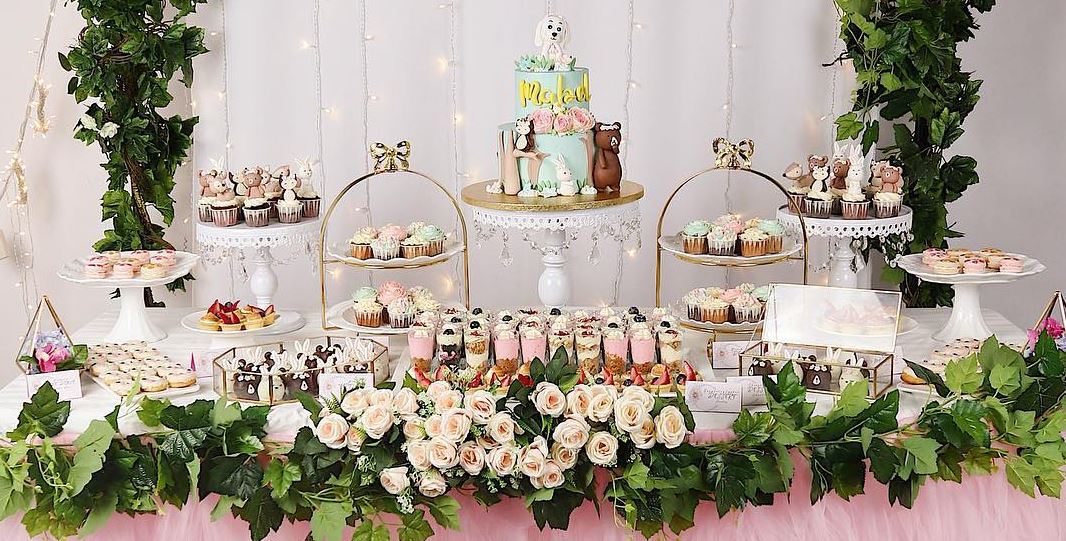 BEST FOR
Gourmet cupcakes for occasional events
WEBSITE
https://crememaison.com/
ADDRESS
30 Tai Seng Street #08-03C Singapore 534013
CONTACT DETAILS
+65 8181 3689
OPERATING HOURS
Monday, Wednesday to Saturday: 9am – 5pm

Sunday: 10am – 1pm
For those who are searching for a bakeshop that caters big birthday parties, weddings, baby showers or other events, Creme Maison Bakery might be the ideal option for you.
They're the perfect partner for those who are hosting party events because aside from the cupcakes and cakes, they offer backdrop styling services. Together with their creative team, you'll be able to pull out an amazing and stylish theme.
For their cupcakes, they have various collections including terrarium, floral, and gourmet. You can also opt for customised themes for your cupcakes in Singapore.
Note: They closed for a time due to Circuit Breaker, but started operating again on 5 May.
Highlights
Personalised and gourmet cakes
Dessert table and styling
Workshops
Customer Reviews
Most customers had a very delightful experience with the menu of Creme Maison Bakery. They mentioned that the designs were beautiful and the same goes for the flavours, which are very tasty.
A customer from Google Reviews gave this review:
"I ordered cupcakes for my bride to be. I gave Creme Maison pictures of the cake I would like them to make and it turned out exactly as the picture. We do not want to eat the cupcake as it too gorgeous. The taste of the cupcake is absolutely tasty and you can feel every dimensions of the flavour. My personal favourite is definitely Red Velvet!"
6. The Cake Shop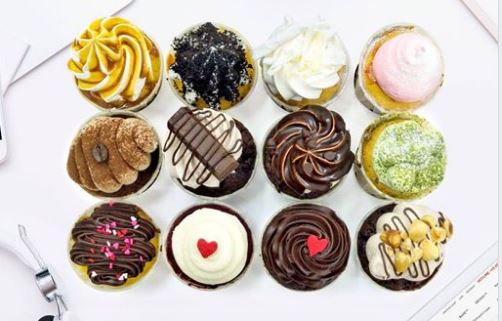 Treat yourself and your loved ones with freshly baked cupcakes and other pastries from The Cake Shop! They have islandwide cupcake delivery in Singapore that'll let you have your orders be instantly delivered to your doorstep.
Most of their cupcakes are made with specific themes such as cute cartoon characters, sporty styles, and more. They also have drip cakes and flower cake pots.
They even have a complete event package with their offered partyware as well as special bundles for gift sets.
Note: They're still baking! They even have "Stay Home" cupcakes you can send to loved ones.
Highlights
Themed designs
Special bundles
3D Fresh cream and fondant
Partywares
Customer Reviews
The Cake Shop received positive feedback from many customers, complimenting their personalised cupcakes, and fast and efficient services. Therefore, they claimed it as one of the bakeries that have the best cupcake delivery in Singapore.
A customer wrote this post on Google Reviews:
"Best service. Cater to last minute request. Staff very helpful. Had ordered customised cupcakes few times from here for birthdays and anniversary. Affordable price and end product is exactly like what we wanted."
7. MONICE BAKES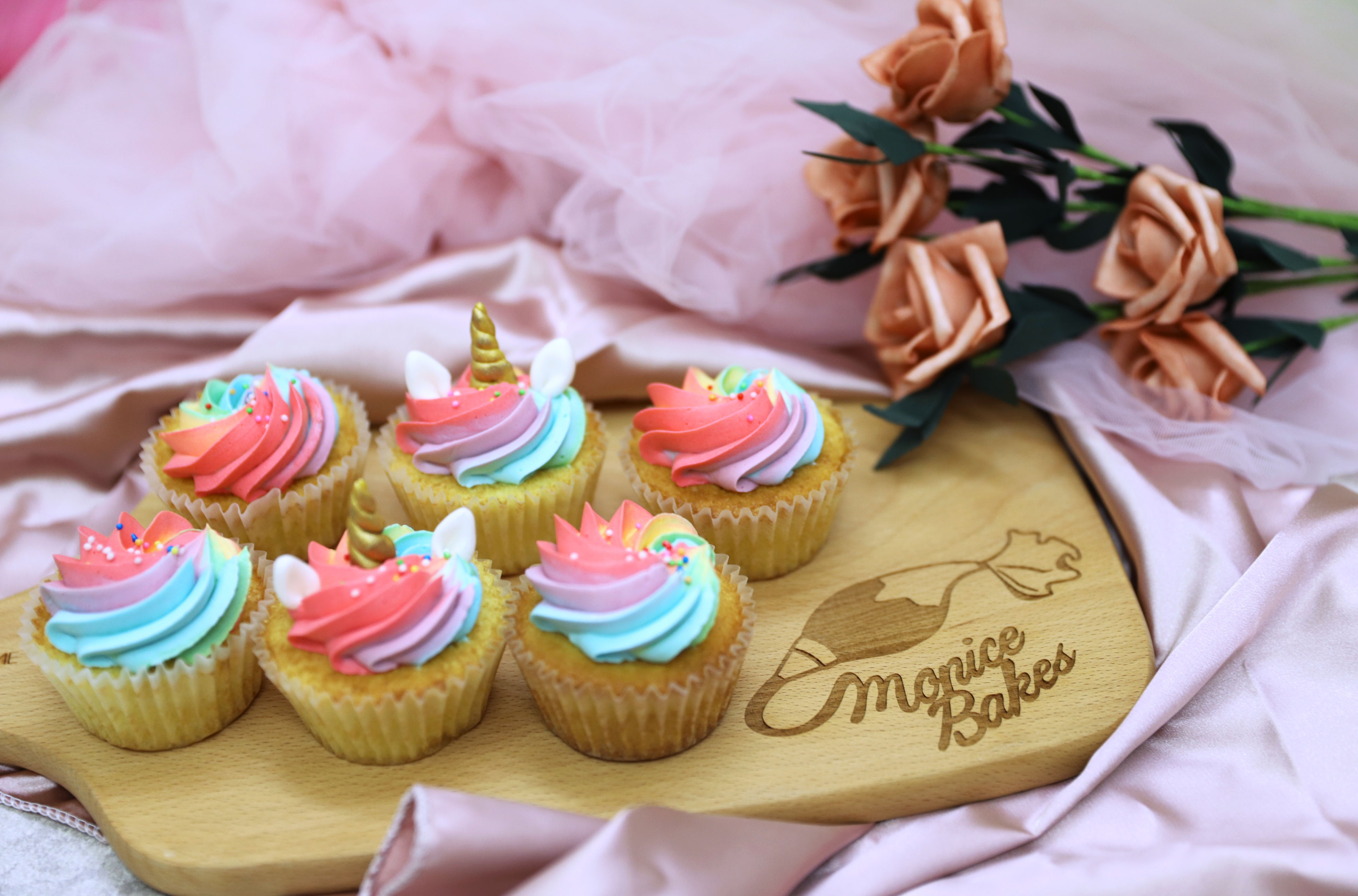 Monice Bakes' freshly baked cupcakes are perfect for those who refrain from consuming too much sugary products because their cupcakes are not so sweet yet still taste delicious. They also mix and match arts with baking as they offer custom-made designs from different themes such as cartoon, unicorn, bubble tea, anniversary, floral, and more.
Some of their best selling unique and signature flavours include Chocolate Coffee, Black Sesame Matcha, Earl Grey. With this, the shop has a consistent 5 star reviews from customers on FB and google
Monice Bakes' starting price for basic chocolate & vanilla cupcakes are very affordable at $2 each.
Highlights
Customised Designs

Less sweet and moist

NO preservatives and artificial flavouring
Customer Reviews
Taken from Facebook:
"Monice's cupcakes are my absolute favorite! Not only are they instagram-worthy, they taste amazing! Never a fan of cupcakes as most of them are way too sweet for me… Yet with just the right amount of sweetness, monice's cupcakes had me at first bite ❤️ will definitely order from monice again for future parties and events!
Kalui Lam"
"We bought cupcakes and cake for our birthday girl. Very tasty, not sweet and pretty cakes and reasonable price! Very delicious and suitable for people who don't like sweet. We enjoy the cakes very much???highly recommended. Will be back!"
8. HAPPY OVEN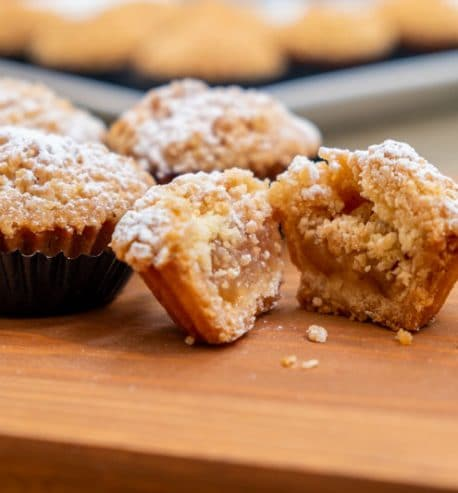 BEST FOR

Baked Goods

SERVICES

Cakes, Pastries, and Tarts

WEBSITE

https://www.happyoven.com.sg/

ADDRESS

40 Beo Cres, Singapore 160040

CONTACT DETAILS

+65 6270 7411

OPERATING HOURS

Monday-Sunday 5 am – 7.30 pm

Closed on Chinese New Year Day 1, 2, 3
Most cupcakes in Singapore that are sold in the market are usually made of artificial ingredients. Happy Oven does the traditional way of baking by using natural ingredients for their products.
Their prices are a bit expensive than those in the market but this is because they serve you fresh and healthy baked goods.
Highlights
Delicious products

Friendly staff

Multi-awardee
Customer Reviews
Here's a review from one of Happy Oven's clients:
"Ordered the party package for my son's preschool birthday celebration. The fruit tart and apple crumble are delicious. The size is perfect for little hands so easy to handle and no mess.
Pleasant transaction from enquiring, ordering to delivery. Very responsive to messages. Couldn't be more happy to recommend Happy Oven! Will definitely order again in future." – Pauline Ooi
Here's another one:
"Happy Oven is a definitely go-to cake shop if you like those traditional cake. I ordered their ondeh-ondeh cake and tried almost all their pastries. They taste great and not overly sweet. Will definitely order again in the future." – Felix Chen
9. Cuppacakes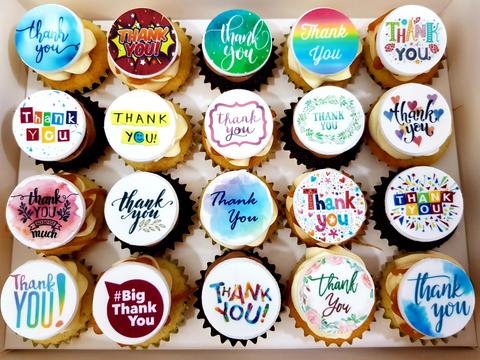 BEST FOR
Natural flavours, less sugary cupcakes
PRODUCTS / SERVICES
Cupcakes for all occasions
WEBSITE
https://store.cuppacakes.com.sg/
ADDRESS
183 Jln Pelikat, #01-05 The Promenade @ Pelikat, Singapore 537643
CONTACT DETAILS
+65 9006 7868
OPERATING HOURS
Mondays – Fridays: 09:00 AM – 18:00 PM
Saturdays – Sundays: 10:00 AM – 16:00 PM
When it comes to cupcake delivery in Singapore, Cuppacakes may seem to have the most colourful designs and option. However, they keep their ingredients simple and natural. They proudly have the least amount of sugar among all options for cupcake delivery in Singapore. They use the least possible amount of sugar and their milk and dark chocolate frosting do not contain sugar at all.
And if you are looking for healthier options in your cupcake delivery in Singapore, Cuppacakes has got your back. They happily accommodate special dietary requests like vegan, gluten-free, or sugar-free, etc in their cupcakes. For flavourings, they also use natural fruit purees, berries and fruits. Nothing artificial in this Singapore cupcake delivery!
We also like that on top of creating customised designs, they already have dozens of available decor and designs available to choose from. Cuppacakes' delivery charge is SGD 18 for delivery from 10am to 6pm, or SGD 25 for delivery before 10am or after 6pm.
Pros
Healthier, guilt-free cupcakes
Tons of available designs and decor
All orders are fresh (made-to-order)
Cons
They have a minimum order of 12 cupcakes per batch
No free delivery option
Customer Reviews
As a relatively new company, Cuppacakes has already garnered an average of 4.6 star reviews online. Here's one of the latest reviews from their customer who goes by the username S:
Ordered birthday cupcakes for my daughters birthday to be sent 2 days prior to the event, thru wataspp the order was taken and the company ensured that every detail was captured to ensure the order was correct. I was impressed by the quick communication of the staff, turnaround of the order and how well done the cupcakes were.

The delivery timing was spot on as well which was crucial to ensure everything was smooth., all in all it was a great experience ordering from them and the kids thoroughly enjoyed the cupcakes.
10. AJ Delights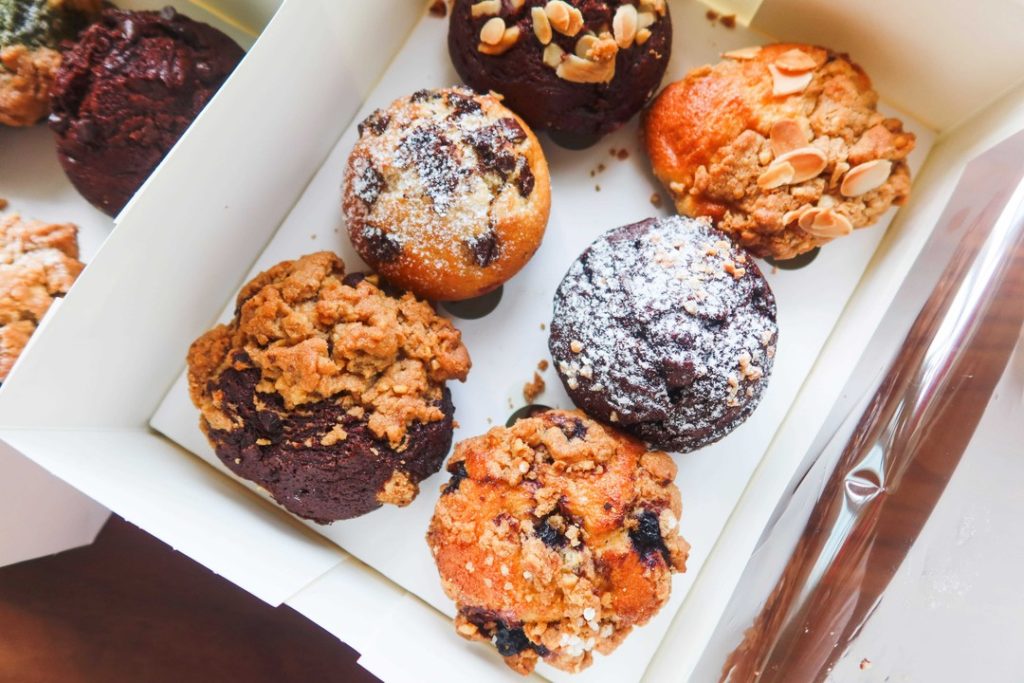 BEST FOR
Halal-certified, homestyle muffins
PRODUCTS / SERVICES
Muffins
WEBSITE
https://ajdelights.com.sg/
ADDRESS
Blk 120, #01-82 Bukit Merah Lane 1, Alexandra Village Food Centre, Singapore 150120
CONTACT DETAILS
+65 9752 5973
OPERATING HOURS
Mondays- Saturdays: 13:30 – 17:00
Sundays: Closed
Browse through AJ Delights' website and we dare you not to suddenly clamour for those warm, delectable muffins with loads of homemade feels. AJ Delights may not be your usual company for cupcake delivery but they make (and deliver) the cupcakes' close cousin very well: homemade style muffins.
AJ Delights was founded by two very passionate home bakers, Amy and Jerry (which explains the name), and even though they now operate at the Alexandra Village Food Centre, they've still retained that personalised and great homemade quality in their muffins.
Unlike most cupcake delivery companies in Singapore, AJ Delights' muffins do not have fancy designs. The muffins look naturally delectable and that alone gives them an endearing and refreshing look. To ensure quality in flavour, they currently only have 9 flavours. All of them look truly tempting, especially their latest flavour : Chocolate Cranberry!
AJ Delights is also available via Food Panda, Deliveroo and Grab Food.
Pros
Natural ingredients
Great for a quick muffin fix
Free delivery for 100 muffins or more
Cons
No customised designs
Not open on Sundays
Customer Reviews
We gotta admit, going through the reviews of AJ Delights has made us want to order their muffins once more. They have a lot of happy and satisfied customers who happily write detailed reviews about their muffins. This is one of the reviews written by a customer of theirs named S. Wun:
If there is a six star rating, I would have given 6! Superb service despite the snaking queue. No complains at all and everyone patiently waited for their turn.

After taking my first bite into the first of the half a dozen muffins I bought, I knew why. The muffin had just enough moisture and firmness. Not overly sweet and had a good balance of butter and flavour.

Even for muffins which I kept overnight in the fridge, the moisture was somehow retained and tasted as good as the one I had on the first day.

Definitely will visit again and I wanna try all flavours!!
And that's a wrap on our list of the best cupcake delivery in Singapore! If you'd like to suggest more places, share them with us and we'd love to add them to our favourite picks!
On top of their intricate designs, we like that they have promotions all the time and they also cater to groups / corporate packages.
In line with this, here's the best cake delivery in Singapore, in case you want to know more incredible cake selections you can send to your loved ones.
*Images are taken from each company's official websites/social media.