Top 7 Shops for the Best Ladders in Singapore
There are a lot of things that may cause you to go looking for the best ladders in Singapore. Whether it's to replace light bulbs, clean the ceiling, or repaint the walls, a safe and trusty ladder can be a big help.
But not all ladders in Singapore are made equal. Some are a pain to move or pack up… and others are so flimsy that you'd feel safer standing on a stool than on them.
That's why finding the right step ladder may take a long time. Luckily for you, we've shortened the process by narrowing down the places carrying the best ladders in Singapore.
The following are the top shops to head to in the island when you need a ladder. All of them carry a superb range of products that can satisfy most people's needs when they're seeking the best ladders in Singapore.
1. Horme Hardware

BEST FOR
Multi-purpose ladders
PRODUCTS
Ladders
WEBSITE
https://www.horme.com.sg/
ADDRESS
1 Ubi Crescent Number One Building Singapore 408563
CONTACT DETAILS
(65) 6840 8888
OPERATING HOURS
Monday to Friday – 8am–6pm

Saturday – 8am–5pm

Sunday – 9am–1pm
Horme Hardware is a one-stop-shop that has everything you've been looking for when it comes to hardware supplies. They provide cleaning supplies, interior paints, bathroom and kitchen faucets, trolleys and carts, and even safety footwear.
For their ladders and platforms, they have a wide range of kinds too. These include step, extension, telescopic, trestle, multi-purpose, rope, and many more!
They're also built with different types of materials, including stainless steel, aluminium, steel, fibreglass, etc. The products are offered at reasonable prices and the store locations are highly accessible.
Highlights
Famous brands
Special promotions
Affordable prices
Customer Reviews
Throughout the years, Horme Hardware has gained a reputation for providing the best ladders in Singapore. That's why buyers are very impressed with their product quality and customer service.
Some reviewers gave these compliments on Google Reviews:
"A very comprehensive collection of professional/DIY tools, ladders, building materials (nails, screws, glue, etc.). Probably the best collection that I have ever seen in Singapore."
"Tools! OMG! Lots of hard to find tools for any special projects! Heavy duty and much selection. Also WD40 type oils and speciality chemicals for tools, small motors, glues, solvents. A good amount of cleaning and building care items too. Squeegees and mops, cleaning chemicals, pressure washers, even safety footwear. Sometimes it is difficult to leave here without wanting to take home one of everything."
2. MasterPro

In order to prevent risky consequences during construction work, you should pick up a ladder at MasterPro. It has the most solid and durable climbing equipment for your industrial needs.
From the basics up to the most advanced features, their ladders have it all. So, if you're currently looking for a ladder to assist you in heavy duties, you can simply take a look at their products.
They offer extension ladders, work platforms, stepladders, dual-purpose ladders, portable scaffolding, step tools, and more. Most of them are either made of aluminium or fibreglass.
Most clients of MaterPro come from the business and construction industries too. They serve large organizations in the country with their offerings of the best step ladders in Singapore.
Highlights
Online shop and great deals
Free delivery service
Accessible locations
3. Home n Office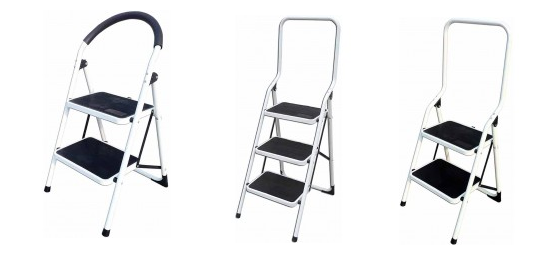 If you need some simple step ladders in Singapore for your office, Home n Office is the right place for you! Their options might be limited to step ladders only, but they offer the best quality.
Their products include foldable stainless steel ladders, foldable aluminium ladders with trolleys, and many more. They come in a number of different lengths and are even available in bulk.
So, for those planning to buy a bunch of these ladders for several departments at your company, this would be a great choice for you!
Note too that their retail outlets are mostly located in commercial areas. This means you can easily find the best ladders in Singapore.
Highlights
Easy online payment
Discounted prices
Customer Reviews
Home n Office might have limited selections, but both homeowners and business owners are highly satisfied with their products and services.
This has helped them earn the loyalty of many customers. Here's some feedback from Google Reviews:
"Great customer service. Ordered an urgent bulk order during the cny period and they agreed to send it to me immediately after they reopened despite the short notice."
4. Tangs

Tangs is known as a department store that offers many different products. However, they also offer some of the best ladders in Singapore.
All of their products are of high quality and score points, safety-wise. They also come in a wide range of heights, from mid-height to tall.
They have both platform ladders and step ladders as well. In short, this is a great place to go if you're not quite sure yet what type of ladder you need and want to see the variety available.
Highlights
Wide range of products
Grand sales
Membership benefits
Customer Reviews
This place may not specialize in construction equipment, but most customers consider Tangs as one of the biggest retail stores in Singapore. They offer amazing range on their products, so it only makes sense that they also carry some of the best ladders in Singapore, as far as consumers are concerned.
That's why a lot of buyers keep coming back for their products and customer service. A reviewer gave this feedback on Google Reviews:
"Tangs has a really nice thematic vibe about it. The range and brands carried here are in between the posh Ion and the mass market heartland "shopping malls". What I love most about Tangs is the level of service from the staff, as well as the sparkling clean and spacious washrooms. And of course, it is not as crowded as the other shopping areas in the orchard."
5. Spring Well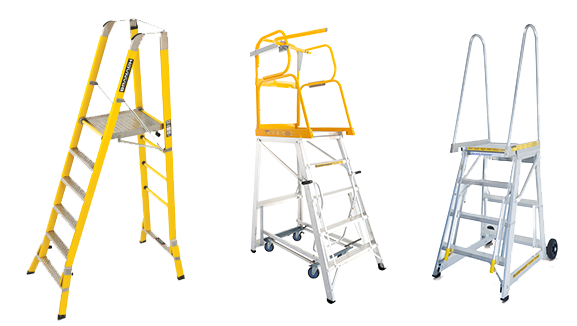 | | |
| --- | --- |
| BEST FOR | Professional work platform ladders |
| PRODUCTS | Ladders |
| WEBSITE | https://springwell.com.sg/ |
| ADDRESS | No. 50 Tuas Avenue 11, #03-37 Tuas Lot, Singapore 639107 |
| CONTACT DETAILS | +65 6483 0319 |
| OPERATING HOURS | Monday to Friday – 9am–5pm |
Spring Well serves you with one of a kind ladders in Singapore designed for big construction and maintenance working projects.
As they are a company that focuses on providing well-made industrial equipment, their products are highly suitable for heavy-duty use. They can even create custom-made solutions.
They offer professional aluminium ladders and fibreglass platform ladders, step tools, step ladders, multi-purpose or extension ladders, and even aerial work platforms.
Spring Well is one of the oldest companies in hardware on the island. It provides some of the best ladders in Singapore and even offers hardware solutions for big industries.
This has made them a leading, highly-trusted brand. If you're looking for the best ladders in Singapore, you could do much worse than to seek them at Spring Well.
Highlights
Customised work platforms
Equipment rental
Repairs and replacement
6. Laddermenn

| | |
| --- | --- |
| BEST FOR | Certified safety features |
| PRODUCTS | Ladders |
| WEBSITE | http://www.laddermenn.com/ |
| ADDRESS | 160 Kallang Way, Storhub Unit 1506 Singapore 349246 |
| CONTACT DETAILS | 6846 3840 / 6846 3841 |
As their brand name indicates, Laddermenn is considered a prominent ladder specialist in Singapore. Their products are made with durability, sturdiness, safety elements, accessibility, and more.
They offer multi-purpose, fibreglass with wheels, staircase, platforms with wheels, extension stairs, a-frame, and family ladders. Apart from these, they also have rods, mop holders, and rod holders.
They take pride in their ladders and platforms. Their products are known for incorporating safety precautions like secured footing and non-slipped threads.
Highlights
Easy to use
Accessible for storage
BizSafe certified
7. RS Components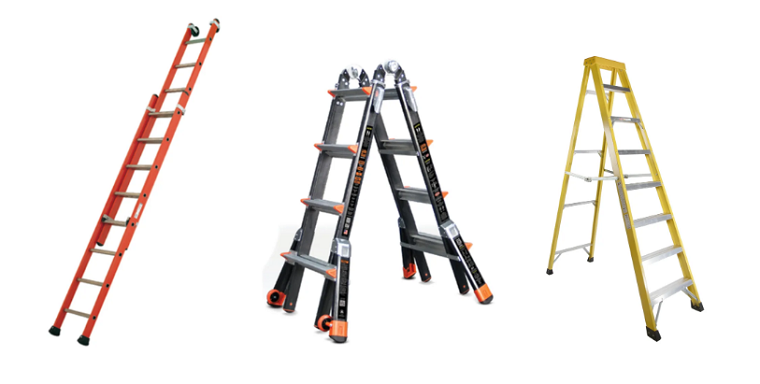 For over a decade, RS Components has been providing excellent products for the construction industry.
They offer electronics, control components, and other tools. This includes the best ladders in Singapore, which are produced by the most well-known manufacturers in the country.
In their ladders section, they have a variety of products such as extension, stair, combination, step, and telescopic ladders as well as scaffolding and work platforms.
Highlights
Ladder accessories
Extensive delivery options
So now you know where to get the best ladders in Singapore. The shops above should be capable of supplying the precise ladder you need, no matter your specifications.
For those who've already bought ladders from the stores listed above, let us know about it! Tell us what ladder you got, from where, and how it worked out for your project.
And, if you were getting a ladder to do some home repairs or a little repainting around your house, you may also want to pick up something to help with the cleanup afterwards. Try our list of the best vacuum cleaners in Singapore if so!