The 5 Cheapest Broadband in Singapore Reviewed
Singapore is known for being one of the countries with the fastest Internet connection, but how is it in terms of affordability? If you're looking for the cheapest broadband in Singapore, it's your lucky day… because we've just made a roundup of the best broadband in Singapore.
Besides being affordable, the ones we found are ideal for seamless gaming, social media browsing, and doing research for school. Imagine having fast and lag-free Internet without burning a hole into your wallet!
So, without further ado, here's our list of the cheapest broadband in Singapore.
5 Cheapest Broadband in Singapore Reviewed:
1.  MyRepublic

Whether a casual or professional gamer, nobody wants to settle for a slow Internet connection to the point that our gaming sessions are affected. It's a good thing that MyRepublic has come up with a plan called GAMER to cater to the needs of all types of gamers, and we believe it's one of the cheapest broadbands in Singapore.
What's more, it also takes the top spot in Steam download speeds on the island, which is the reason a lot of gamers love it. It comes with a free home landline with unlimited local calls as well!
More than this, customers are also entitled to a one-month free subscription provided that they renew their contract. That's a sweet offer if you're looking for the cheapest broadband plan in Singapore.
Highlights
Ideal speed for gamers
With home landline
Free 1-month subscription
2. Starhub

Starhub is considered one of the leading Internet providers in Singapore for its affordable plans and reliable Internet connection. One of its cheapest fibre broadband plans to date costs only $39.90 a month, and it's ideal for streaming high quality videos.
It can also reach every corner inside your house, so rest assured that you're always connected wherever you are located. Starhub promises that there will be no dead spots in your home, which is why we name it one of the best and cheapest broadbands in Singapore.
On top of that, Starhub also offers free service installation, 6 free months of Junior ProtectBasic and 12 free months of HomeInsured!
With all these perks, it's hard not to sign up for one of the cheapest broadbands in Singapore!
Highlights
No dead spots
Free installation
Plug-and-play ready
For quality video streaming
3.  WhizComms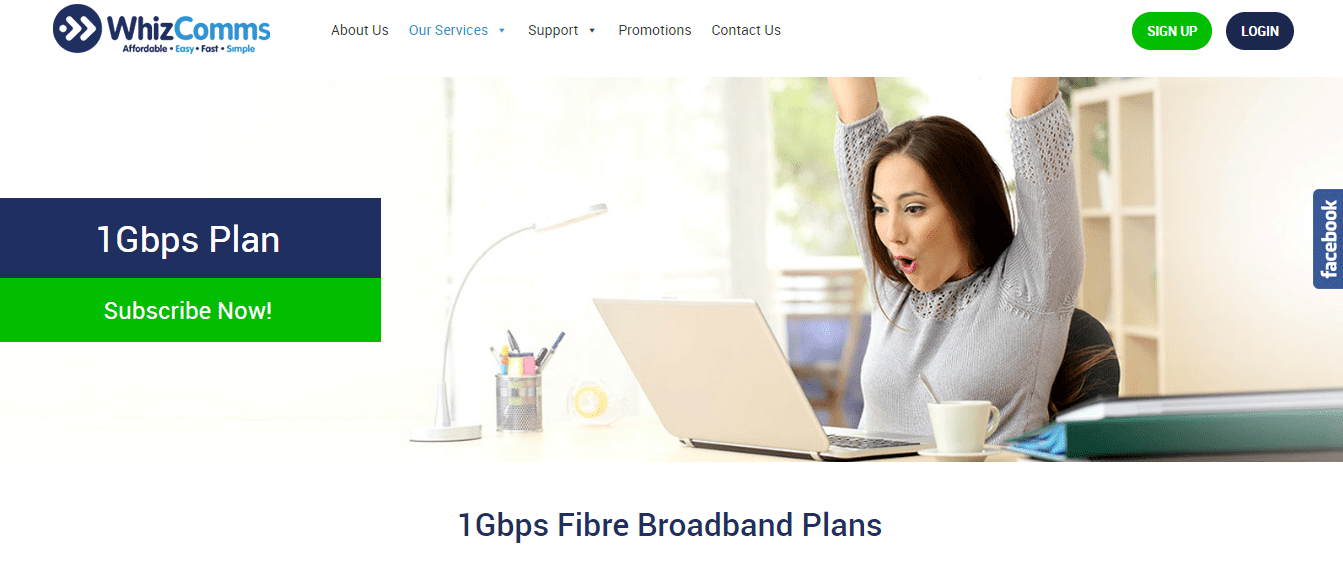 WhizComms has been providing Singaporeans with fast and stable Internet since 2016, earning the title of one of the most reliable Internet providers on the island.
It's also dedicated to making its services accessible to most people, which is why it offers its broadband plans for a much cheaper price than others.
Customers have the option to choose between a 12-month or 24-month contract. If you're looking for a cheaper option, then opt for the longer contract, which is among the cheapest broadband plans in Singapore.
If you choose the 12-month contract, you'll be entitled to a free activation fee, and a discounted delivery and installation fee that usually costs around $100 combined. It's the reason most customers prefer Whizcomms as their Internet provider!
For customers who want all the equipment required can go for Whizcomms' Wireless Router and Mesh Solution plans (1Gbps only). Meanwhile, those who want to reuse their old router (cost-saving) or buy their own router, may go for the No Frills plan (no router included).
Bandwidth-wise, customers can opt for 300Mbps plans that come with a FREE speed boost to 500Mbps after 6 weeks!
Highlights
Free activation
Free installation
Free delivery
Stable Internet network
4.  Singtel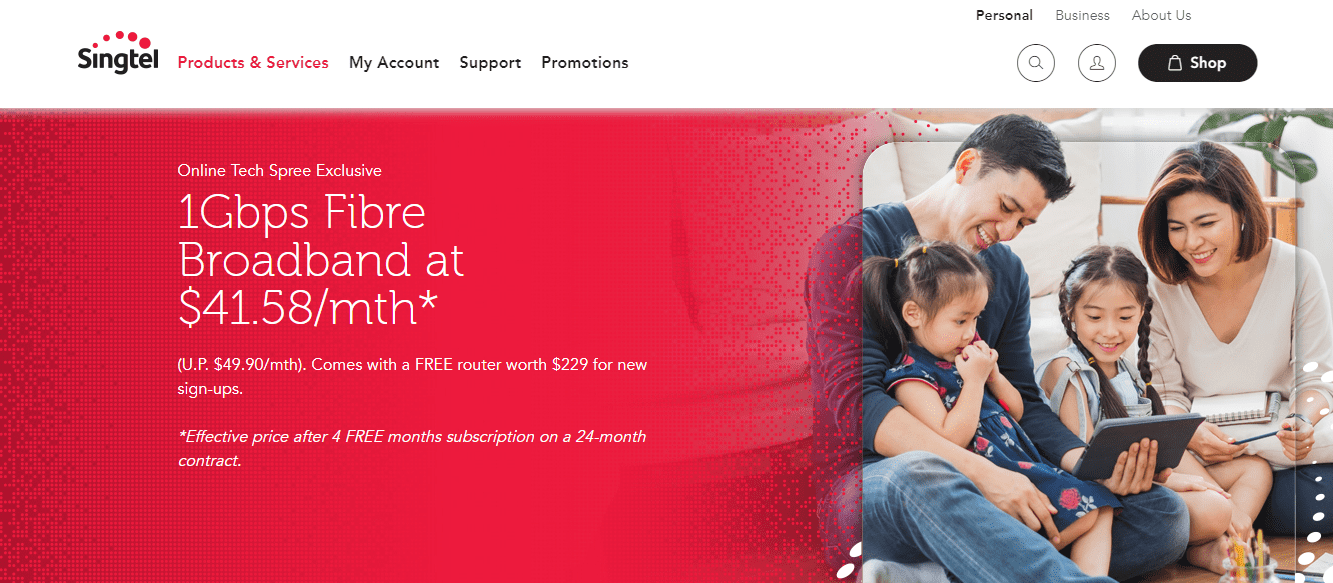 If you're looking for a reliable Internet provider, then look no further than Singtel! It's no surprise that it's part of our list of the cheapest broadbands in Singapore given that it's been consistent in providing Singaporeans with fast yet affordable Internet connections.
Priced at $41.58, its 1Gbps broadband plan is perfect for all-day gaming and binge-watching Netflix. You will never have to worry about any of these things getting interrupted because Singtel has a secure and stable network.
Singtel also offers promos and discounts to customers who will sign up online. Some of these perks include free installation and registration, free weekday/end service, home line, AC Plus Router, and 10% off their mobile subscription.
If you're an existing customer planning to renew a contract, we guarantee that Singtel has a lot more perks and promos to offer you which are great bonuses in looking for the cheapest broadband in Singapore.
Highlights
Ideal for gaming and video streaming
Free registration and installation
Excellent customer service
5. M1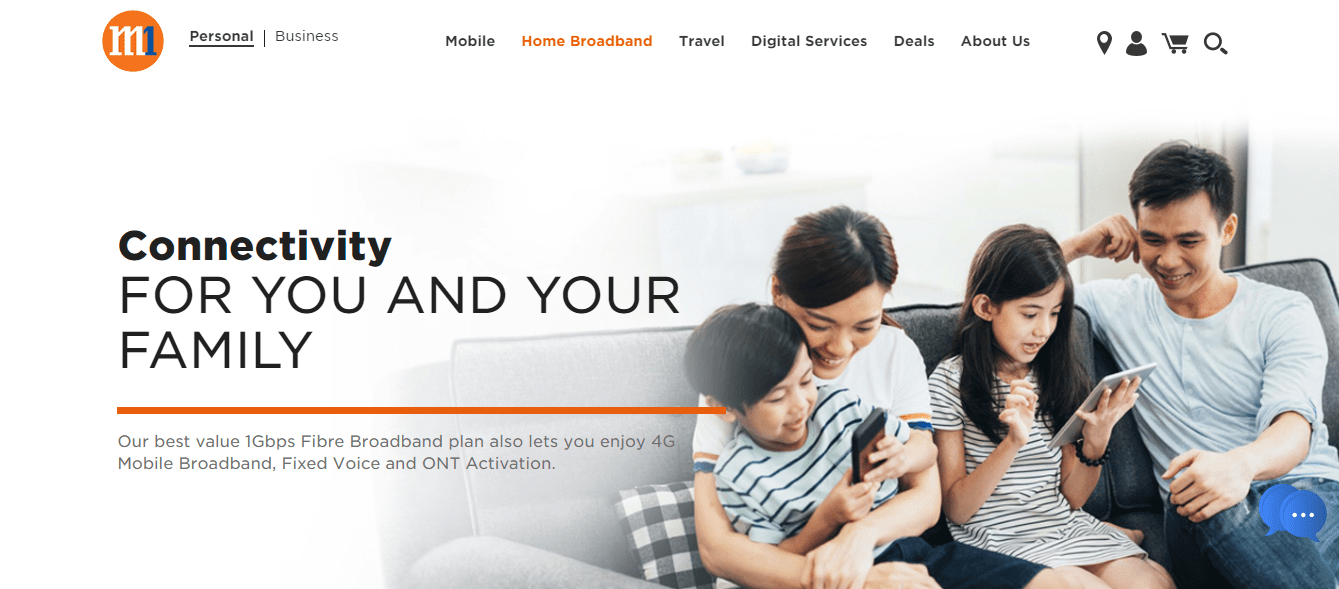 M1 has finally come up with a broadband plan that addresses the needs of homes with bigger families! Customers only need to pay $39.00 to be able to enjoy a fast and stable Internet connection and share it with the rest of their family members.
Another reason we consider it one of the cheapest broadbands in Singapore is that customers can avail of the free 2-month subscription! They can also choose to include add-ons in their plans such as Google Nest, Apple TV and iPad, and Lyra for a small additional price!
Highlights
Add-ons
4G mobile broadband
ONT activation
And with that, we conclude our list of the cheapest broadbands in Singapore. If we missed out on other cheap broadband plans, let us know about them and tell us what makes them worth checking out!
And if you think surfing the Internet is more enjoyable if you know that no one's tracking what you're doing, you need a VPN. For that, you'd better get your hands on the best VPNs in Singapore.