A Guide to the Best Latex Mattresses in Singapore
Is your old mattress preventing you from sleeping well at night? Maybe now's the perfect time to get rid of it and start looking for a better and more comfortable mattress – and we can help you with that!
Here, we're listing some of the best latex mattresses in Singapore, as well as their prices, features, and what makes them stand out from other options.
Since there are hundreds of options on the island, we've also listed some key points that can help you choose one. All of this should make sure that you end up with the right latex mattress for your needs.
How to Pick the Best Latex Mattress in Singapore
Looking for a latex mattress may look easy at first, but there are multiple things you need to take into consideration in order to find the one that complements your needs.
We'll cover some of the most important factors below, which include type, mattress construction, firmess, and durability.
Let's go over the types of latex mattresses first.
1. Type
Latex mattresses can be made from either natural or synthetic materials. Either way, both latex mattress types can get the job done in terms of comfort, but synthetic ones are considerably cheaper.
A natural latex mattress is made from the sap of the rubber tree and processed using eco-friendly and biodegradable ingredients. Aside from being safe and hypoallergenic, it's considered the most durable mattress material on the market.
Most people who are looking for an environmentally friendly option tend to go with natural latex mattresses–for obvious reasons.
As its name suggests, a synthetic latex mattress is made from petrochemicals created to mimic the properties of a natural alternative. For better stabilisation, most manufacturers usually include synthetic additives.
It's definitely the cheaper option between the two, but it comes with its own faults, such as being less durable, more prone to wear and tear, and susceptible to strong offgassing.
You may want to consider a blended latex mattress if your budget isn't enough for the natural one. It's made from a combination of natural and synthetic foam latex that doesn't cost as much as the natural option but is more durable than the synthetic ones.
2. Mattress construction
After considering the type of latex mattress, the next thing to do is to check how the mattress is constructed, including both layers of the mattress.
A real latex mattress doesn't have materials other than latex foam, not even springs or other types of foam. Its main support should come from the latex core, usually a firmer base layer that's about six to eight inches thick.
There are some mattresses that consist only of a core layer, but there should be additional thinner layers above that usually range from one to six inches for increased comfort.
Ideally, the top layer of the latex mattress should have additional padding made out of cotton or wool to preserve the benefits of the latex.
What we just described is the ideal construction of a latex mattress that most manufacturers follow. Of course, not all latex mattresses are constructed the same way, so it's still up to you to check how your mattress is made.
3. Firmness
Compared to other types of mattress, latex mattresses tend to have more specific descriptions of firmness.
A latex mattress's firmness is measured through the ILD or indentation load deflection. The figure refers to the weight it'd take to compress latex foam, so lower numbers mean softer foam and higher numbers mean firmer foam.
Super-firm latex mattresses typically have an ILD of 40 to 44 while medium-firm ones range from 28 to 32.  Some extremely soft ones go as low as 14 to 19.
So, before taking home the latex mattress, you might want to check its ILD first, usually displayed on the label.
4. Durability
Another factor to consider when looking for the best latex mattresses in Singapore is durability.
As we mentioned earlier, the natural ones are the most durable options, so if you're getting either a synthetic and blended latex mattress, you might want to pay close attention to the material in the comfort layer.
Over time, wear and tear will likely appear in the comfort layer because it's where most of the pressure is going to be applied. If you don't want to deal with that, then you're better off with a natural latex mattress.
The Pros and Cons of Latex Mattresses
As with any other type of mattress, latex mattresses in Singapore come with strengths and weaknesses as well. It's up to you how each strength and weakness is going to affect your decision making.
Anyway, here's a list of its pros and cons that can help you determine if a latex mattress is the type of mattress for you:
It's considered the most comfortable and durable type of mattress on the market.
It promotes pain relief, so it's the perfect option for those who have recurring neck, back, and shoulder pains.
It promotes proper spine alignment, better pressure distribution, and improved blood circulation.
It has natural resistance to mould and dust mites.
It doesn't contain metal and springs, so there's no amplification of electromagnetic radiation.
It has a natural open-cell structure, allowing for good airflow.
It's more expensive than a regular spring coil mattress or polyurethane foam mattress.
Sometimes, it takes more than a month to break the material in.
It's heavier than other types of mattresses, so it might be difficult to transfer it from bed to another.
The 9 Best Latex Mattresses in Singapore
Now that you know more about latex mattresses, you're probably more than ready to see which ones we think best!
Let's start off our list with the cheapest latex mattress in Singapore (that we liked and could find):
2.   Sofzsleep Playpen Latex Mattress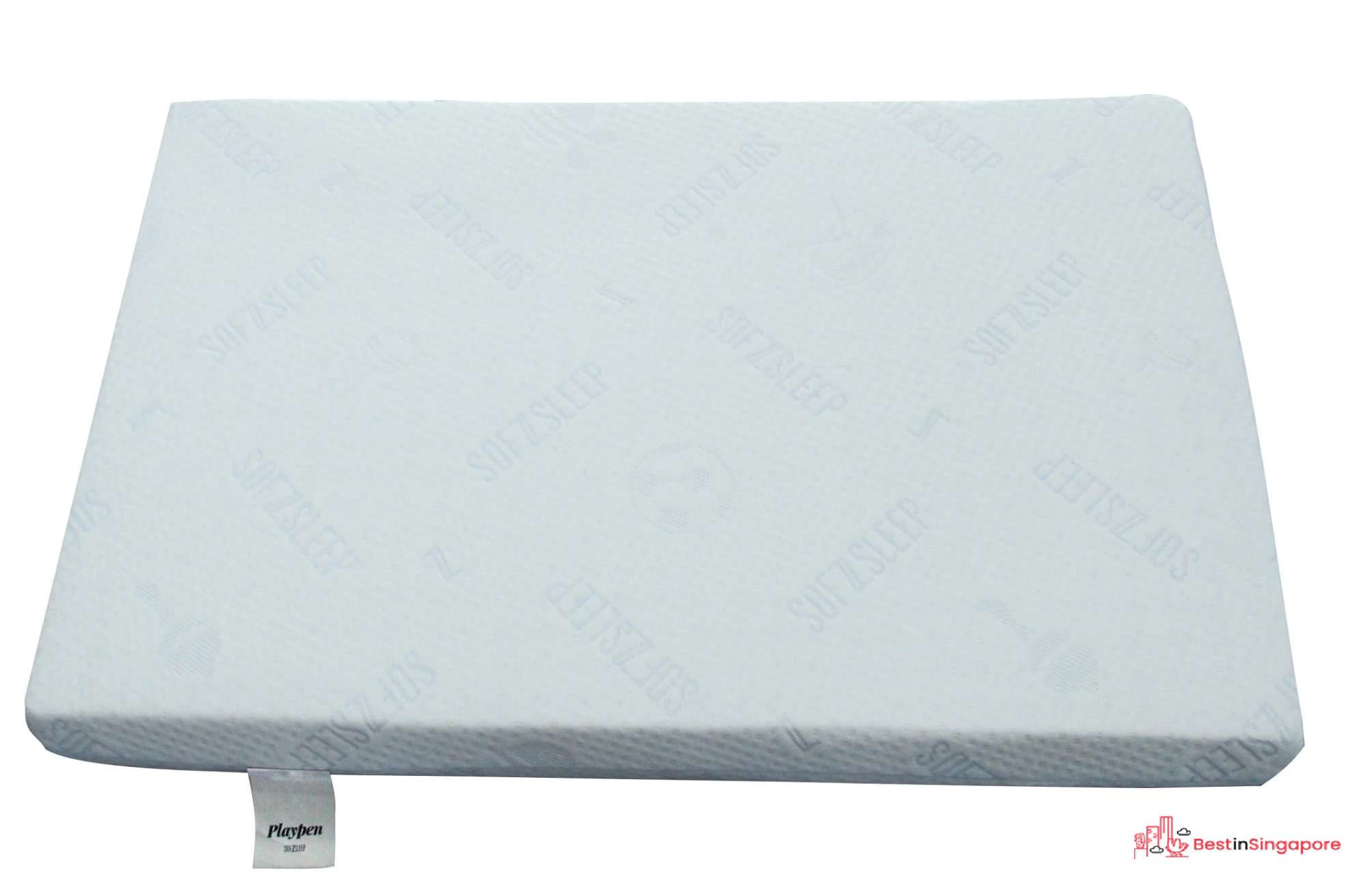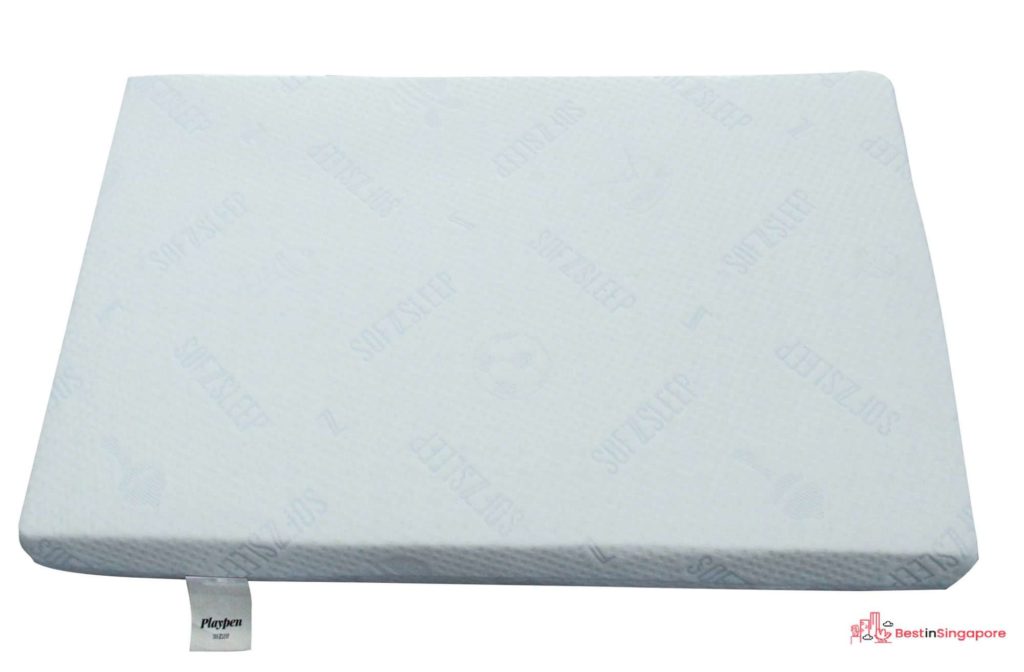 | | |
| --- | --- |
| BEST FOR | Superb air circulation and natural ventilation |
| TYPE | Natural latex |
| THICKNESS | 4 cm |
| SIZE | 96 x 66 cm |
| PRICE | S$169.00 |
The Sofzsleep Playpen Latex Mattress is a budget-friendly mattress that comes with a long list of impressive features. It's a mattress specifically made for babies' comfort, but adults can enjoy it as well.
It may be the cheapest option on our list, but it doesn't fall short in any way. For one, it's made with 100% pure natural latex, with no metal springs, coconut sheets, or any polyurethane foam.
There's also no need to worry about discomfort because the Sofzsleep Playpen Latex Mattress is naturally breathable due to its open-cell structure, which promotes air circulation and moisture regulation.
It comes with a high-end cover made from bamboo fibres too. The cover is antifungal, antibacterial, and resistant to a variety of odours.
In light of all these features, we think it's truly one of the best latex mattresses in Singapore for babies and toddlers. It's also worth noting that all of Sofzsleep's mattresses are sanitised with a Swiss antibacterial treatment to ensure that no babies will be exposed to dust mites, allergens, and other toxic chemicals.
Made with all-natural materials
One of the most affordable latex mattresses in Singapore
Antibacterial and antifungal mattress cover
With a 3-year limited warranty
Made for babies, but adults may still use it
Durability is questionable
3.   MyLatex Rio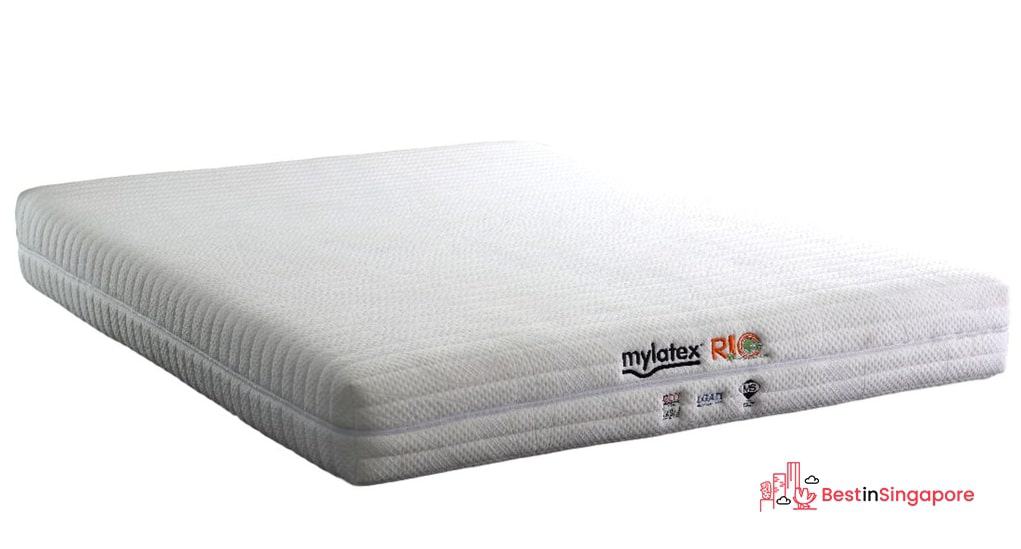 | | |
| --- | --- |
| BEST FOR | Hypo-allergenic and antimicrobial properties |
| TYPE | Natural latex |
| THICKNESS | 20 cm |
| SIZE | 190 x 183 cm |
| PRICE | S$579.00 |
MyLatex Rio isn't as budget-friendly as the previous option, but we still believe it's worthy of being called one of the best latex mattresses in Singapore for value shoppers.
For one thing, it's made from pure and organic latex material without any synthetic padding.
It uses a natural latex that's been tested and certified by various international laboratories, so no questions about its safety. It even has hypo-allergenic and antimicrobial properties to protect the user from different skin and respiratory allergies.
Comfort-wise, the MyLatex Rio couldn't be more perfect for people suffering recurring complaints. It gently conforms to the user's movements, quickly adjusting to properly support the head, neck, shoulders, and spine.
In terms of thickness, we believe that the MyLatex Rio takes the top spot. Its king-sized version can go as thick as 20 centimetres, making it one of thickest latex mattresses on our list.
Laundry days won't be a hassle as well because the MyLatex Rio comes with an easy-to-remove zippable cover that can either be hand-washed or machine-washed.
Made with natural materials
Easy-to-wash covers
Perfect for relieving body pains
20 centimetres thick, so it's one of the thickest mattresses on the market
4.   Nuloft Latex and Memory Foam Mattress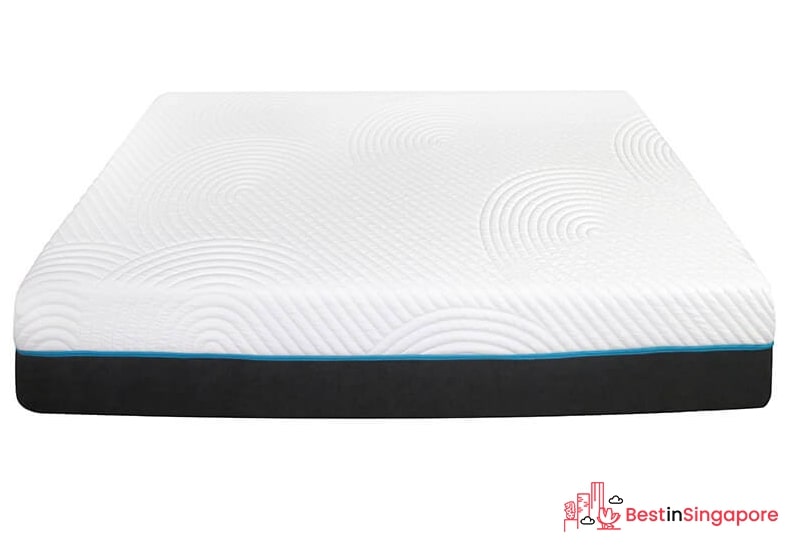 | | |
| --- | --- |
| BEST FOR | Four layers of foam |
| TYPE | Blended latex with memory foam |
| THICKNESS | 25 cm |
| SIZE | 183 x 190 cm |
| PRICE | S$749.00 |
The Loft Latex Mattress is made from a combination of latex, memory foam cooling gel, and tri-zone transition foam, making it one of the most unique latex mattresses on the market.
It comes with a washable and removable bamboo fibre knit cover that's odour-free, antifungal, antibacterial, and anti-dust mite. It's both stretchy and snug, providing a breathable, cool feeling.
The Loft Latex Mattress is constructed with four layers of foam for extra body support during sleep too. This is as opposed to the usual two-layer construction.
Since it's also made with tri-zone ultra-firm transitional foam and memory foam, it promotes natural spine alignment and improved blood flow better than most all-natural latex mattresses.
Another thing we like about the Loft Latex Mattress is that it has perforated vents infused with cool gel technology for better ventilation, even during humid conditions. It's a latex mattress designed to reduce the chances of sweating while sleeping.
Its overall structure effectively limits motion transfer, which is perfect for those who are sharing beds with their partners.
Built for bed sharing
Competitively priced
Infused with cool gel technology
Antifungal and antibacterial cover
Limited warranty coverage
Probably better for adults than younger users
5.   Armour Natural Latex Mattress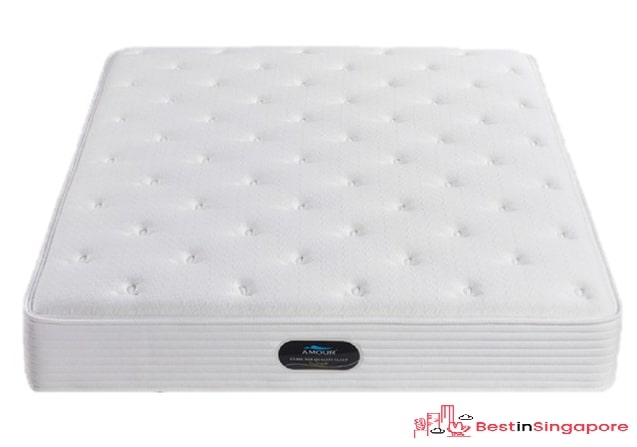 | | |
| --- | --- |
| BEST FOR | Orthopaedic support |
| TYPE | Natural latex |
| THICKNESS | 27 cm |
| SIZE | 180 x 190 cm |
| PRICE | S$1,299.00 |
With a height of 27cm, the Armour Natural Latex Mattress stands as the thickest latex mattress on our lists. It's a mattress that's large enough to accommodate two adults or four children, making it the perfect option for families who share beds.
One of its top features would have to be its orthopaedic support that not only relieves body pain, but supports children and adolescent bone development as well. It's even capable of aligning the spines of both adults and children.
It can also reduce the chances of developing allergies and rashes due to its skin-friendly and breathable material. It's also resistant against dust mites, allergens, and a variety of bacteria.
Optimum orthopaedic support
Suitable for children and adults
The thickest latex mattress on our list
Expensive
Limited warranty coverage
6.   Sofzsleep Moonlight Natural Latex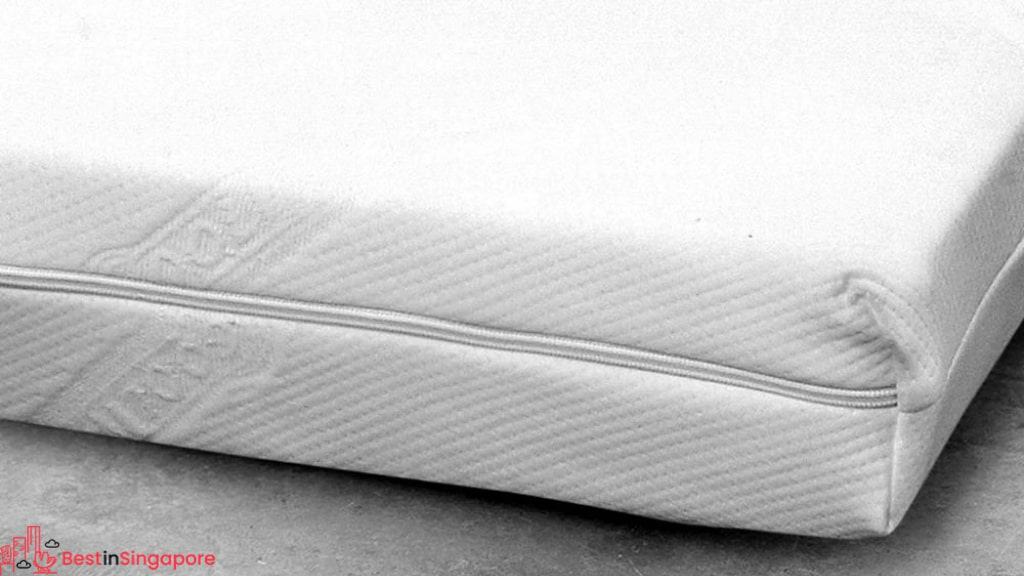 | | |
| --- | --- |
| BEST FOR | Pull-out beds and floor mattress |
| TYPE | Natural latex |
| THICKNESS | 10 cm |
| SIZE | 190 x 180 cm |
| PRICE | S$1,390.00 |
Since we couldn't get enough of Sofzsleep's latex mattresses, we decided to include another one in our list. Here's the Sofzsleep Moonlight Natural Latex, a latex mattress perfect for toddlers, teens, and adults.
The Sofzsleep Moonlight Natural Latex is the perfect mattress for people with limited space and looking for a floor mattress. It's smaller and slimmer than most mattresses, so it won't eat up a huge space in your room.
In terms of materials, it's made from natural and pure latex, as is true of other mattresses on our list. What makes it stand out amongst them though, is the Coolmax Technology for added comfort and breathability.
Oh, it also comes with an easily removable cover that can be thrown into the washer, so you shouldn't have to worry about washing it manually.
Every purchase of the Sofzsleep Moonlight Natural Latex even comes with a 10-year warranty against latex sagging. That's great warranty coverage because sagging is a common problem in latex mattresses.
10-year warranty
Easy-to-remove covers
Made from natural materials
Slimmer than the standard latex mattress
The most expensive option on our list
BEST FOR
Hot and humid weather in Singapore
TYPE

Ozzy Cool-SILK Technology knitted Fabric

THICKNESS
91-183cm
SIZE
Single

Length : 190cm
Width : 91cm
Height : 11 inches
Super Single

Length : 190cm
Width : 107cm
Height : 11 inches
Queen

Length : 190cm
Width : 152cm
Height : 11 inches
King

Length : 190cm
Width : 183cm
Height : 11 inches
PRICE
$599.00
Get the best rest at night with Ozzy Cool Boost Pocketed Spring Mattress. It's in premium quality and definitely worth the price.
The mattress' comfort level is medium-firm which is just the perfect hardness to be pleasant and good for your back, with the Orthopedic Pocketed Spring in support. It also offers a Cool Gel Memory Foam Euro Top so it keeps you from heating up during the night.
Pick out the right size fit for your bed frame and have the mattress delivered straight to your home! All the details can be seen more on Ozzy's website.
Pros
Anti Dust mite
Anti Fungal
Anti Bacteria
Non-flip mattress
Free Delivery
Free Installation
10 years warranty on manufacturer defects
Cons
BEST FOR
Firmness and Orthopedic purposes
TYPE
Natural Latex
THICKNESS
No information
SIZE

Single

Length : 190cm
Width : 91cm
Height : 12 inches

Super Single

Length : 190cm
Width : 107cm
Height : 12 inches

Queen

Length : 190cm
Width : 152cm
Height : 12 inches

King

Length : 190cm
Width : 183cm
Height : 12 inches

PRICE
Maxcoil Sleep Moment Individual Pocketed Spring Natural Latex Pillow Top Mattress may be one of the more premium options on this list, but the list of benefit it offers is truly worth the price.
First, the mattress is made from natural latex, making it eco-friendly, hypoallergenic and low maintenance, and durable. Not to mention the fact that the material is breathable, making this specific mattress perfect for the hot and humid weathers in Singapore since it doesn't retain body heat.
Second, this Maxcoil mattress has a comfort level of medium firm, providing ample sturdiness to support your back during naps and longer rests at night. It also comes in four sizes: single, super single, queen, and king.
SGMattress further sweetens the deal by offering free deliveries and installations for this product. Plus, it comes with 10 years warranty that covers any manufacturer defects. 
Pros
Anti-bacteria
Anti-dust mite
Anti-fungi
Turn-free
Free delivery
Free installation
10 years warranty on manufacturer defects
Free pillow and mattress protector
Cons
9. My President Blue Diamond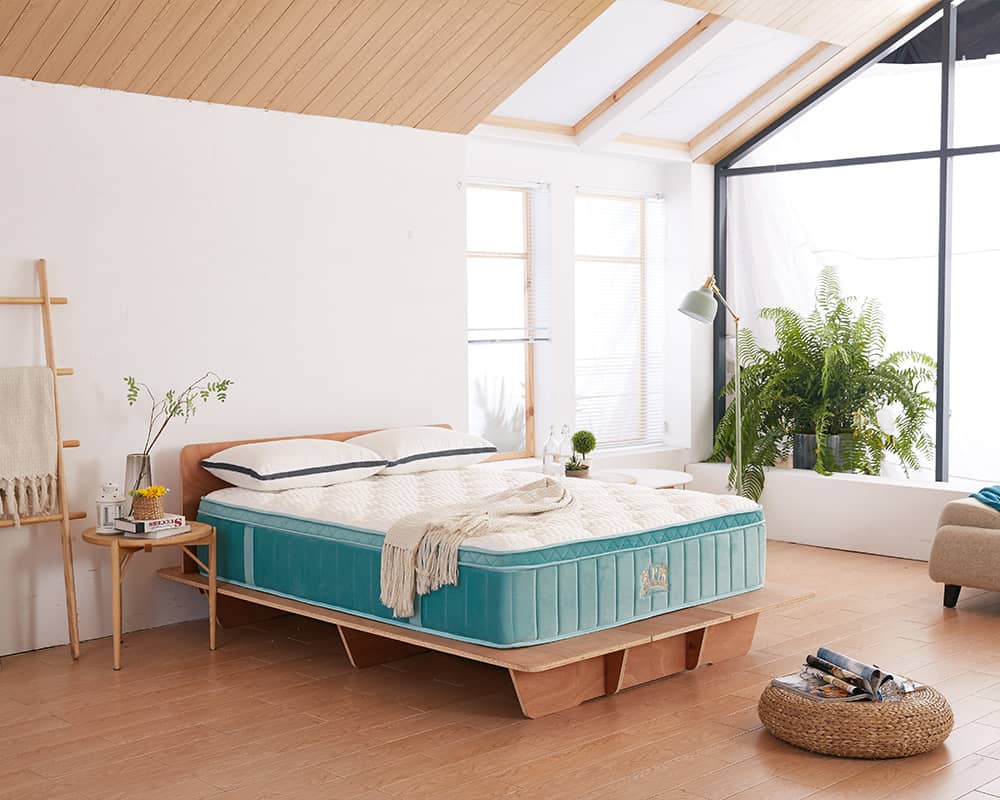 BEST FOR

Cooling 

TYPE

Natural latex and memory foam

SIZE

152 x 190 cm (Queen)

183 x 190 cm (King)

PRICE

Queen: S$1499

King: S$1799
My President's Blue Diamond's mattress is an improved version of its earlier My Ruby mattress. This mattress is a hybrid one, as it uses both natural latex and memory foam, getting the best out of the two materials.
With an icy and silky fabric on top, the Blue Diamond has a cooling technology, thus making it soft to the touch and the body. And by encouraging lower temperatures, Blue Diamond can create the perfect environment and body temperature for a good night's sleep.
Blue Diamond also has excellent breathability and airflow to avoid trapping any heat during sleep, making your slumber as relaxing as ever.
Additionally, Blue Diamond's hybrid nature allows for motion isolation. This way, you'll no longer be disturbed by movements from your partner's side of the bed.
This mattress also features a medium firmness. The 7 zone pocket spring allows for the perfect balance between firm support for the lumbar and thigh area and comfort for the head, shoulders, back, and feet.
However, with all these benefits and the fact that Blue Diamond is only available in two big sizes, you should also expect high prices. Luckily, it has a long 10-year warranty to make it a good enough investment.
Pros
Cooling and breathability technology for a good night's sleep

Motion isolation

Medium firmness for equal comfort and support

7 zone pocket spring

100% natural latex

10-year spring warranty
Cons
Relatively more expensive

Available only in large sizes
BEST FOR
Customisable Mattress Firmness
TYPE
THICKNESS
24 cm
SIZE

Single
Length : 190 cm
Width : 90 cm
Height : 24 inches

Single
Length : 190 cm
Width : 106 cm
Height : 24 inches

Queen
Length : 190 cm
Width : 150 cm
Height : 24 inches

King
Length : 190 cm
Width : 180 cm
Height : 24 inches

PRICE
$3,700.00
No one said the perfect mattress for you only had to come in one form. With Sofzsleep Trilogy Mattress' interchangeable layers, you can configure your mattress' firmness to its most comfortable.
This mattress features three inner layers of latex which come in firmness Soft, Medium, or Firm. These layers can be customised to alter their firmness through opening its zipped bamboo cover and restacking the mattresses in a different order.
Each layer can also separate to form an individual mattress, which is perfect for when you need to accommodate a few guests in a pinch. These layers are all made of anti-bacterial, anti-fungal, and odour resistant material for easier cleaning and maintenance. 
To top it all off, the bamboo fibre fabric is design to be more permeable compared to normal cotton covers, leading to a cooler bed to lie on. While this mattress can be pricier than most, the Sofzsleep Trilogy Mattress is a good investment to make not only because of its customisability, but also due to its higher degree of comfort and cleanliness.
Pros
Three interchangeable layers
Zipped bamboo cover 
Can form individual mattresses
Anti-bacterial, anti-fungal, odour resistant material
Cons
Pricier compared to most items on this list
FAQs about Latex Mattresses in Singapore
---
And with that, we conclude our list of the best latex mattresses in Singapore. If you've tried any of these mattresses already, don't forget to share your experience with us!
For more options, you might want to take a peek into our list of the best Seahorse mattresses in Singapore. We feature only the most recommended mattresses in there!