10 Best Electric Kettles in Singapore for Coffee and Tea
Are you on the lookout for a great electric kettle that can cater to your needs as a coffee and tea lover? Well, this must be your lucky day because we're looking at the best electric kettles in Singapore in today's article!
Electric kettles are a must for every household in Singapore because they make it so much easier to heat water. Instead of using the stove, you can just plug your electric kettle to the nearest electric source to quickly get heated water perfect for coffee and tea.
If you're confused as to how to pick out the right electric kettle, though, worry no more. We'll give you a few tips and factors to consider before buying one.
That way, you'll be sure that the one you take home is worth your money. So, let's begin!
What to Consider When Choosing the Best Electric Kettle in Singapore
While electric kettles may appear simple on the surface, there are a number of things to watch out for. You don't want to end up buying one that can't accommodate your household's needs.
Electric kettles are known for their ability to boil water quickly, so one of the first things you should consider is the speed. On top of this, you also must not forget about its portability, appearance, quietude, and price.
Let's discuss each of these points below.
1. Speed
Most electric kettles available in Singapore can produce hot water in as fast as 3 to 5 minutes. Of course, it varies based on the amount of water — the more water, the more time it takes for it to boil.
To know the speed of an electric kettle, make sure to check its product description. This is where manufacturers place all the information you need to know about their product. 
2. Portability
 In general, compact ones are better because they can be stored easily. In the case of an electric kettle, it would be ideal to get a small one if you have a tiny kitchen already full of appliances and limited counter space.
Since most electric kettles can only hold enough for a few cups, though, you must also think about the number of people who need hot water for their coffee or tea.
If you're using the kettle only for yourself, we suggest that you get a compact one that can hold at least 3 cups of water.
If your family also drinks coffee or tea in the morning — the same time as you — it's advisable to go for an electric kettle with larger capacity.
3. Durability
Durability should always be a concern when buying an electric kettle in Singapore, especially on appliances that use electricity. Nobody wants to spend their hard-earned money on something that won't last for a long time.
If you're a person who never misses out on morning coffee or tea, we highly recommend that you take time to check the materials used in your chosen kettle. More often than not, electric kettles with a sturdy finish are perfect for regular and daily use.
Another thing to remember is the product's warranty. Manufacturers that offer warranties tend to have products that can endure years of usage because they have a sense of accountability.
4. Quietude
If you get annoyed by small noises, we suggest that you get an electric kettle that doesn't create any unnecessary noise. Most electric kettles make noise, but they are quieter compared to the noise made by most other kitchen appliances.
In addition, some of the noises made by electric kettles are "beep" sounds used to notify you that the water is ready. These beeping sounds can get annoying when they go on for a long time and are hard to turn off in some cases, so keep that in mind.
5. Pricing
By now, you should already know that expensive products don't always mean quality products. This also applies to electric kettles.
Buying cheap electric kettles doesn't automatically mean that you save money in the long run, though. After all, most inexpensive products break easily.
We suggest that you go for the electric kettle that fits your budget and offers value at that price point. Don't worry about having trouble finding one, though, because we're here to widen your choices.
The Best Electric Kettles in Singapore
Now you know what to look for when choosing an electric kettle. You're probably ready to see which electric kettles we think are worthy of your attention.
Let's start off with something that reminds us of those classic coffee-maker pots. This is an electric kettle that will appeal to many due to its see-through design.
1. Bosch TWK7101
Best for Easy Cleaning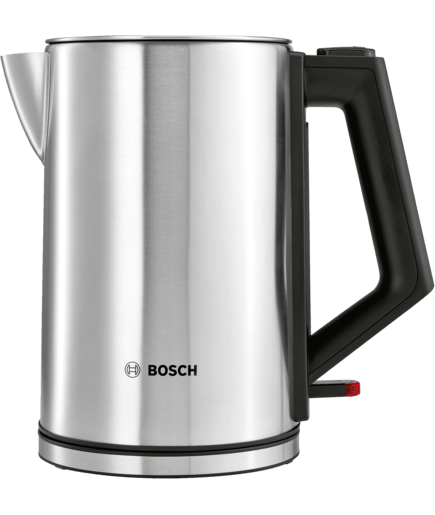 Price: $169.00
Number one on our list is the Bosch TWK7101, a stainless steel kettle that has a capacity of 1.7L.
Aside from these features, we think this product is great because of its limescale filter. This removable and easy-to-clean filter can keep limescale out of  all your beverages.
In comparison to others, this has a pretty unique type of cord. It has a not-so-typical cord since it has an adjustable one, which can increase space and convenience! 
With its readable water level indicator from the outside, you will certainly be heating the perfect amount of water you need.
Highlights
Stainless steel interior base with concealed heating element
360 degree base
Safety locking lid
Automatic switch-off and Lfit switch-off
Customer Reviews
Here's a review from their Lazada page:
"Ordered the toaster and kettle. the kettle came with a bad dent. Informed the support and they arranged to replace with a new one. Other than that, the item is as advertised."
2. Xiaomi Mi Smart Kettle Pro
Best for 
Price: $99.00
The second electric kettle we can recommend is the Xiaomi Mi Smart Kettle Pro. what's unique about this product is that it can be controlled via Bluetooth through its application.
Through its application, you can control it to keep your water warm between 40°C and 90°C and maintain it for up to 12 hours.
Another factor why we love this product is it has a sleek and simple design perfect for homes that have a minimalistic theme. Additionally, this one even has an LCD screen that shows the accurate water temperature in real-time.
Unlike other kettles, this has two touch buttons. One is for boiling the water within 5 minutes and the other is the button to keep your water warm.
Highlights
Capacity: 1.5L

Net Weight: 1.3kg

Dimensions: 204*145*235mm

Rated Voltage / Frequency: 220-240 V / 50-60 Hz

304 stainless steel interior

Double wall design to insulate heat

Triple electric protection

Durable temperature controller from UK brand STRIX
Customer Reviews
Here are a few reviews from their Lazada page:
"fast delivery. easy to pair with sg server mi home. came not uk plug. have to change"
"Pretty and handy. Easy to use."
"Delivery was quick.. product is good to use."
3. My Choice Kettle Glass Jug
Best for Affordability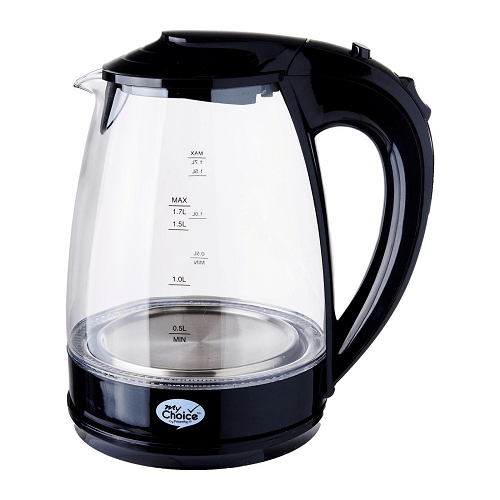 Price: $25.90
What makes the My Choice Kettle Glass Jug stand out from other electric kettles is its transparent body, which allows you to see the water inside. That makes it easy to tell how much water is in it — as well as how clean that water is.
In terms of capacity, it can carry 1.7 liters of water, perfect for bigger families who like drinking tea and coffee over breakfast. You don't need to heat up water repeatedly just to serve everyone when you have this appliance.
It's made with stainless materials too. That means cleaning it won't be much of a hassle, especially because it has a large opening at the top.
Moreover, you don't need to manually turn this one off because it will automatically shut down once the water is ready. Plus, it's also quite durable because of its stainless structure.
Overall, it's the best kettle in Singapore for those who want a minimalist, simple design but also effective and durable.
Highlights
Auto switch
Water pour-out filter
Tempered glass
Made with stainless materials
2-year warranty
Customer Reviews
While My Choice isn't one of the top brands in Singapore, it has a reputation built on quality and durable products that are budget-friendly. Customers who have used their products swear that you will get a lot from their affordable products, especially the My Choice Kettle Glass Jug.
Another customer has noted that it's extremely easy to clean, unlike most electric kettles. They also liked that it has a glass structure that lets them see the water inside. Overall, they argue that it is aesthetically very pleasing as well as practical.
4. Tefal Handy Kettle
Best for Durability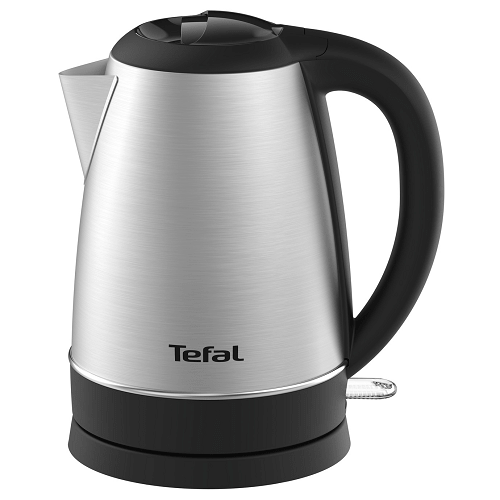 Price: $48.00
Since Tefal is one of the most in-demand names for kitchen appliances in Singapore, it's no surprise that their electric kettle ended up on our list. We present to you the Tefal Handy Kettle, and we think it's beyond brilliant!
If you're looking for a durable electric kettle with a sturdy structure, then this one comes highly recommended. It has a stainless steel body designed to withstand regular use, and can last for years and years.
If you have kids at home, you don't need to worry about having them near this one too because it has a safety lock feature. They won't be able to open it recklessly.
What's more, it's not too big or too small, making it ideal for easy storage because it can fit anywhere in your kitchen. It's also lightweight and handy, so you won't have a hard time carrying it from one place to another.
The Tefal Handy Kettle may be a bit more expensive than other electric kettles, but you will definitely get the value of your money with it, in our opinion.
Highlights
Extremely durable
Large capacity
With light indicator
Safety lock for children
Customer Reviews
Customers who purchased it via Lazada mostly rated it with 5 stars, adding that it's worth the price because it seems that it will last long. They also said that it boils water quickly compared to other electric kettles they have tried.
5. Cornell Electric Kettle
Best for Saving Electricity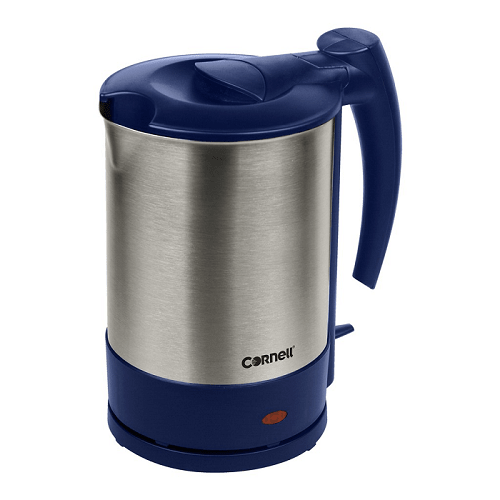 Price: $24.00
Heating up water for your morning coffee won't be much of a hassle with the Cornell Electric Kettle. If you're tired of having to use a stove to boil water, then you should definitely get a hold of this one.
Like most large electric kettles, it has the capacity to boil up to 1.7 liters. If you have an electric kettle that can carry this much water, you won't need to repeatedly heat up water — plus, you get to save time and electricity.
There's also a light indicator to notify you once the water is done boiling. It's made with stainless materials that make cleaning a breeze too.
It may be a bit cheaper compared to most electric kettles, but it does the job of heating up water pretty well. Morning tea and coffee will be much better when you have an electric kettle as great as this.
In general, if you want hot water quickly anytime without spending too much, this might just be the best electric kettle in Singapore for you.
Highlights
Safety lock lid
Dry-boil protection
Stainless steel body
1-year local warranty
6. Kenwood Discovery Electric Travel Kettle
Best for Travelling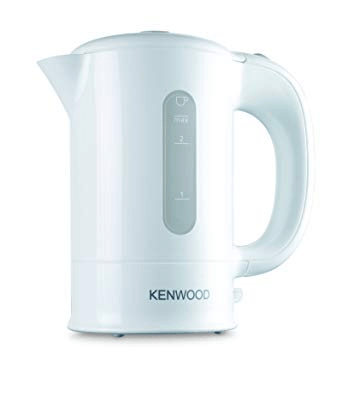 Price: $39.90
The Kenwood Electric Kettle is the best electric kettle in Singapore to get if you're always on the go. Weighing only 1.2kg, it's specifically designed to be carried anywhere and used while travelling.
In terms of its height, it's only a bit taller than the usual iPhone, meaning you can even store it inside your bag because it doesn't take up too much space. It's so compact that you can literally prepare coffee or tea wherever you are, as long as there's a stable source of electricity.
With its clean white finish, it can be pleasant to look at and can go well with any kitchen interior, should you decide to use it indoors. On top of this, its dual water window lets you monitor the water level inside easily.
Overall, we think this electric kettle is worth it despite leaning towards the expensive side. If you have a few coins to spend, this one's a great match for you.
Highlights
Pleasing appearance
Lightweight
Dual water window
Compact design
Customer Reviews
Most customers who bought the Kenwood Electric Kettle gave it a 5-star rating on Lazada, proving that it's a product worth checking out.
Since its selling point is a compact design that is perfect for travelling, owners state that they can actually bring it anywhere, and it is actually convenient for travelling.
Despite its size, it does the job too. For example, another customer claimed that it can boil water in as fast as 3 minutes.
7. Mimica by Mistral 1.8L Double-Wall Electric Kettle
Best for Overall Value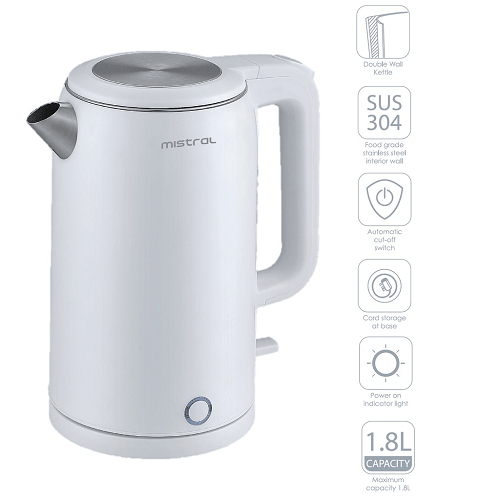 Price: $39.00
If you're looking for an electric kettle in Singapore that won't disappoint you with its features, then you should check out the Mimica Electric Kettle. It may be a bit more expensive than some of the products on our list, but we think you won't regret spending a bit more on this appliance.
One of its striking features is a double wall, meaning that it's safe to touch its surface after use. If you have kids at home, no need to worry about them getting hurt when they become curious about what it feels like to touch the electric kettle!
Another thing that makes it stand out is its elegant exterior. It may be plastic, but it's very elegant, and you can store it anywhere in your kitchen without it taking too much space or being an eyesore.
Finally, its capacity is nothing to sneeze at. A typical electric kettle of this size can carry only up 1.7 liters of water, but this one has the capacity to carry up to 1.8 liters of water.
With such features, we can say that it's one of the best electric kettles in Singapore.
Highlights
Double-wall kettle
Automatic cut-off switch
Bigger capacity
1-year warranty
8. Philips Daily Collection Electric Kettle
Best for Elegant Design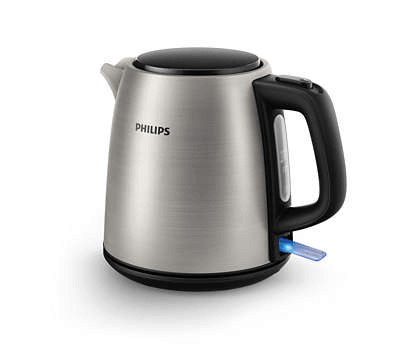 Price: $65.77
As one of the leading kitchen appliance brands in Singapore, Philips is an expected entry on this list. Here we have their Daily Collection Electric Kettle, and we strongly believe that it's one of the best products yet!
If you want an electric kettle that won't take up too much space on your countertop, then this one's perfect for you. Compact, tidy design makes it easy to position or store.
It also has a multiple safety system in place that prevents overboiling. It will automatically shut off when the water is ready or when there's too little water inside.
In addition, it's made from durable stainless materials that can last for a long time, making it ideal for regular and daily usage. You will definitely get your money's worth when you take home this lovely electric kettle.
Highlights
360-degree base
Spring lid
Cord storage
Boil-dry protection
9. Perfectemp® Cordless Electric Kettle
Best for Portability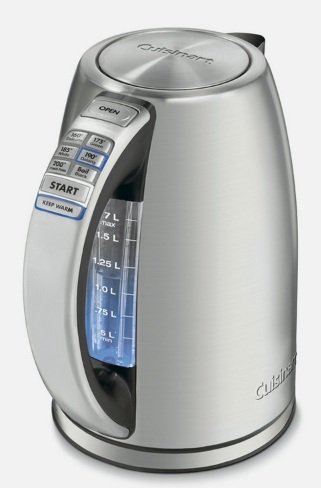 Price: $57.58
Unlike any other electric kettle, Perfectemp® Cordless Electric Kettle does not need to be plugged in to an electrical outlet in order to come into a boil. Rather, it is a 1500-watt cordless kettle quickly brings water to the exact heat and keeps it at temperature for 30 minutes.
With its one-touch controls with blue LED indicators, you can easily select which preset temperature among the 6 you would like to use and more other functions.
Its memory feature also allows the kettle to be lifted off base for 2 minutes without shutting off or losing its place in the brewing process.
It also features a stay-cool non slip handle so it's safe to use even for younger ages.
If you want safe, wireless water heating, this could very well be the best electric kettle in Singapore for you.
Highlights
1.7 liter capacity 

Auto shutoff and boil dry protection 

Concealed heating element to prevent mineral buildup 

360° swivel cordless connector 

6 preset temperatures 
10. KYO-02
Best for Keep Warm Function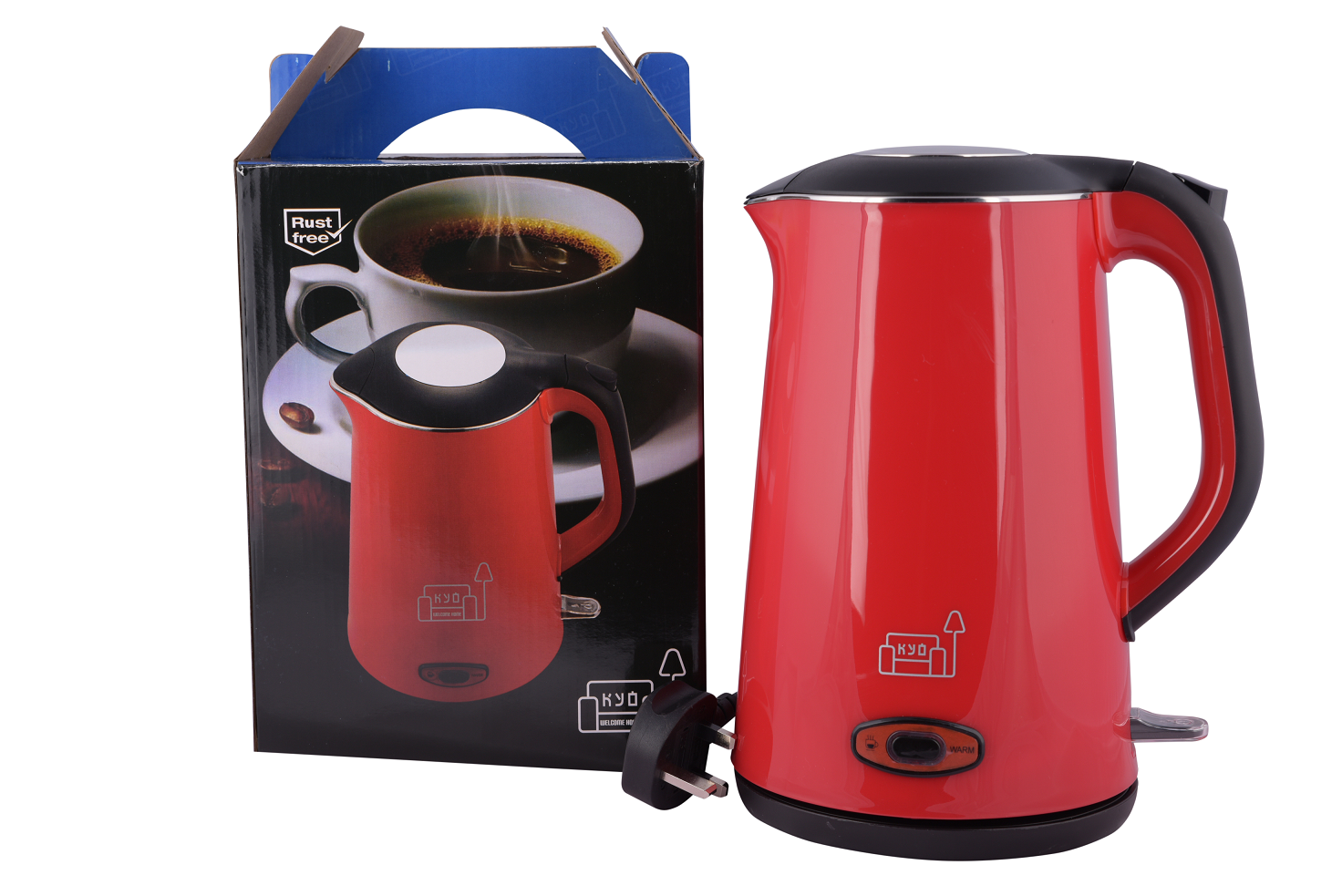 Price: $
Check It Out on KYO Appliances
The KYO-02 is the perfect home appliance for keeping water warm for a long period of time. You won't need to use any other heat insulating containers besides this one.
Unlike most electric kettles, the KYO-02 has a keep warm function available. That means when the water temperature goes below 60 degrees Celsius, the kettle will turn on automatically to keep the temperature between 60 and 80 degrees Celsius.
Its accurate temperature control ensures that your water will be kept warm satisfactorily. With its ease of use and numerous other functions, this is an appliance that your kitchen won't do without.
Highlights
Adjustable power length
Food-grade stainless steel
Accurate temperature control
One-touch spring lid
And with that, we conclude our list of the best electric kettles in Singapore.
Have you decided on which of these products is most suitable for your household's needs? Tell us by leaving a comment below!
However, if you think that we might have missed out on an electric kettle that deserves more attention, let us know by leaving its name and saying what makes it great. We'll be sure to check out every recommendation!
Incidentally, if what you want is something that can handle both water dispensing and cool/hot water demands, you may prefer a water dispenser instead. If so, try our list of the best water dispensers in Singapore!